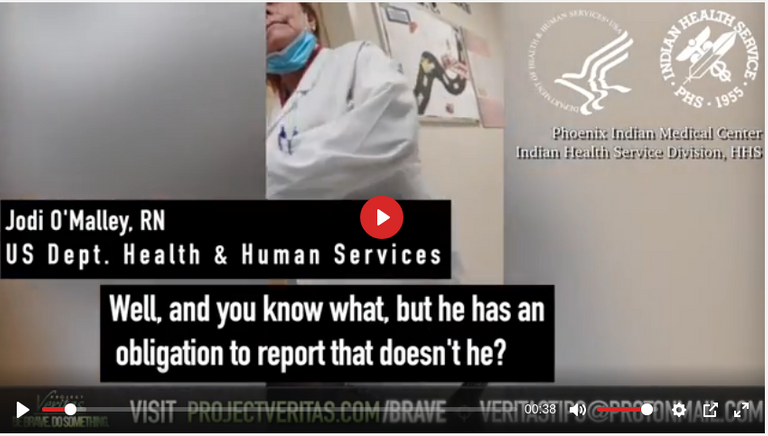 Image: Screen grab of Project Veritas video
Earlier today, I made a video commenting on the Project Veritas' video report of Jodi O'Malley, a nurse employed at an HHS run hospital in Phoenix, AZ reporting on vaccine injury cases she had experienced and the practice of coverup at the hospital. Some of the revelations very shocking. For example, the staff would deliberately not report severe conditions like congestive heart failure in patients who had developed those conditions soon after receiving a COVID vaccine. That failure to report was in direct violation of rules in effect - and the staff were clearly aware of those rules.
Later today, James O'Keefe of Project Veritas was on the Alex Jones show stating that the hospital has stated that they would investigate the allegations. They did not attempt to deny that individuals depicted there were hospital employees. They effectively acknowledged the authenticity of the report.
All the relevant reports will be linked below. Also you will find a ink to a collection campaign to help Jodi O'Malley. This is a good task - we need to help whistleblowers like her for the great service they do for humanity. She will likely experience a job loss and possibly other complications in her life - she does need our support.
So it is real - and it is huge. Let's hope some real change will come out of this revelation.
And stay tuned for other COVID-related releases from Project Veritas - according to O'Keefe, the next one is coming out tomorrow.
References
Project Veritas releases video of a nurse blowing the whistle on COVID-19 vaccine deception and coverup
@borepstein, 21 September 2021
PART 1: FEDERAL GOVT HHS WHISTLEBLOWER GOES PUBLIC WITH SECRET RECORDINGS "VACCINE IS FULL OF SH*T..
Project Veritas, 21 September 2021
Support COVID19 Federal Whistleblower Jodi Omalley
GiveSendGo campaign
JAMES O'KEEFE SAYS HOSPITAL CONFIRMS HHS WHISTLEBLOWER FOOTAGE IS UNDENIABLE
Banned.Video, 21 September 2021