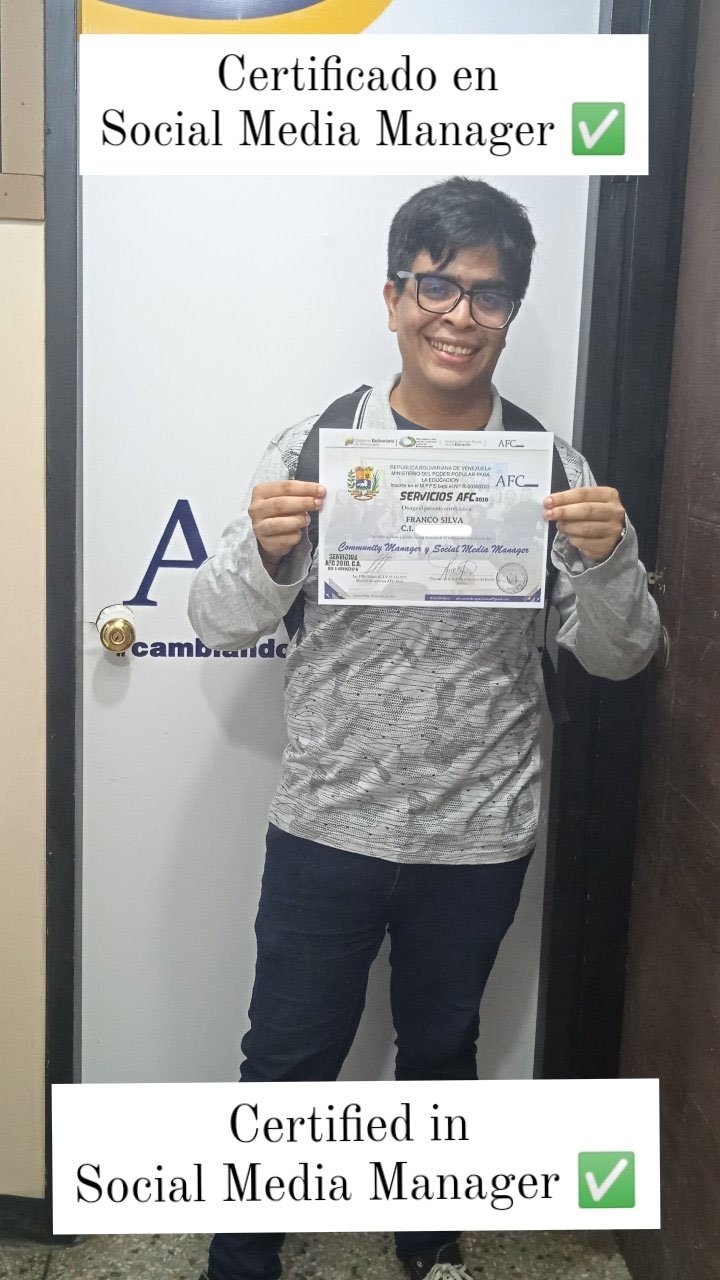 ---
¡Por fin llego el día señores! estimados lectores y querida audiencia, ¡Por fin me entregaron mi certificado avalado por el país y que bueno, a pesar de solo ser 32 horas de clase, fueron 32 horas en donde aprendí muchísimo y donde puede utilizar esta experiencia para toros caminos y futuros empleos, tarda mucho en llegar, amas de lo necesario ¡Pero ya esta aquí! ¡Puedo decir que se algo sobre las redes sociales y sobre como ser un buen Community Manager!
Finally the day has arrived gentlemen! dear readers and dear audience, I finally got my certificate endorsed by the country and how nice, even though it was only 32 hours of class, it was 32 hours where I learned a lot and where I can use this experience for future jobs, it takes a long time to arrive, but it's here! I can say that I know something about social networks and how to be a good Community Manager!
---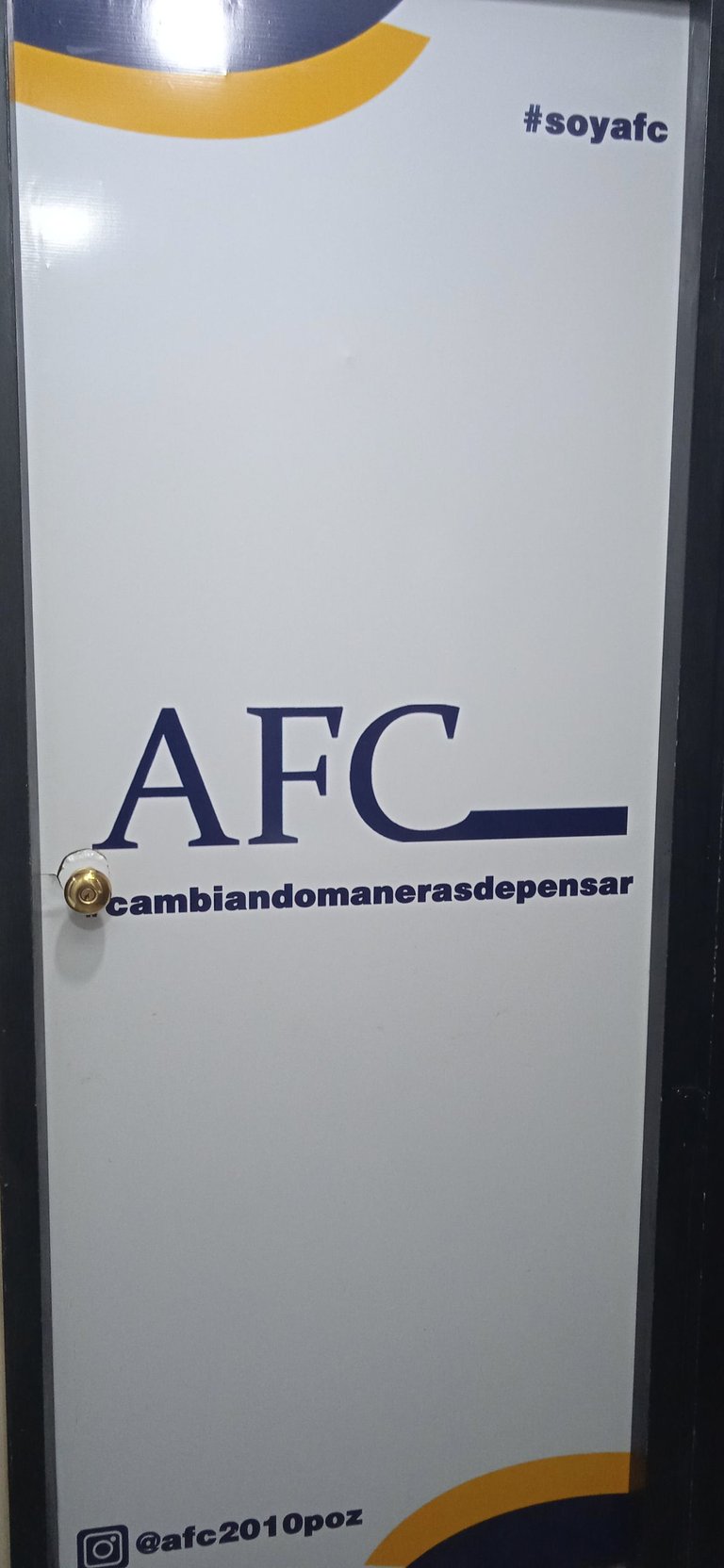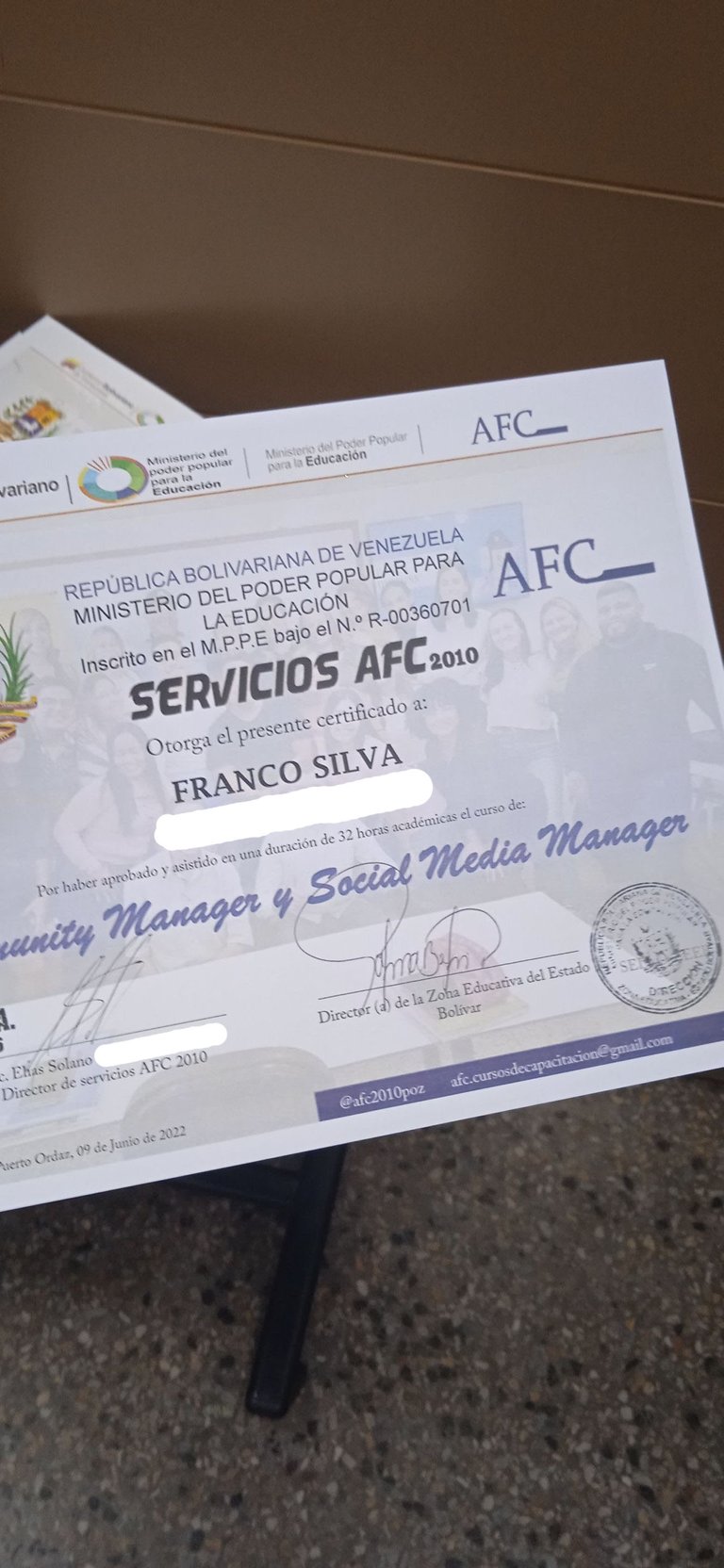 ---
Fueron muchas las experiencias personales que tuve dentro de la institución, y mucho aprendizaje tanto básico como de expertos en la localidad, aunque me hubiese gustado que mas horas hubiésemos visto clase, para explorar con mas profundidad y menos apuro las funciones que cumple un Community Manager, no me voy insatisfecho con las clases, este viene siendo mi segundo curso completado después de un largo tiempo sin poder volver a estudiar, como saben las circunstancias económicas siempre terminan frenando o dificultando bastante el poder estudiar tranquilamente algo que nos guste, muchos siendo mas jóvenes, comenzamos a estudiar algo que quizás sabias que no era lo nuestro pero decidimos cambiarnos o tratar de adaptarnos lo mejor posible al reto de asumir una carrera que no nos llena del todo, en mi caso, conocer más de como funcionan las redes sociales me hacen sentirme más cómodo y mas preparado para ser un creador de contenido excepcional, quizás no el mejor, pero este mas consiente de como funciona su entorno.
There were many personal experiences that I had within the institution, and a lot of learning both basic and experts in the locality, although I would have liked more hours had we seen class, to explore in more depth and less haste the functions that fulfills a Community Manager, I do not leave dissatisfied with the classes, this is my second course completed after a long time without being able to return to study, as you know the economic circumstances always end up slowing or making it quite difficult to study quietly something we like, many being younger, we began to study something that maybe we knew it was not our thing but we decided to change or try to adapt as best as possible to the challenge of taking on a career that does not fill us completely, in my case, knowing more about how social networks work makes me feel more comfortable and more prepared to be an exceptional content creator, maybe not the best, but this more aware of how your environment works.
---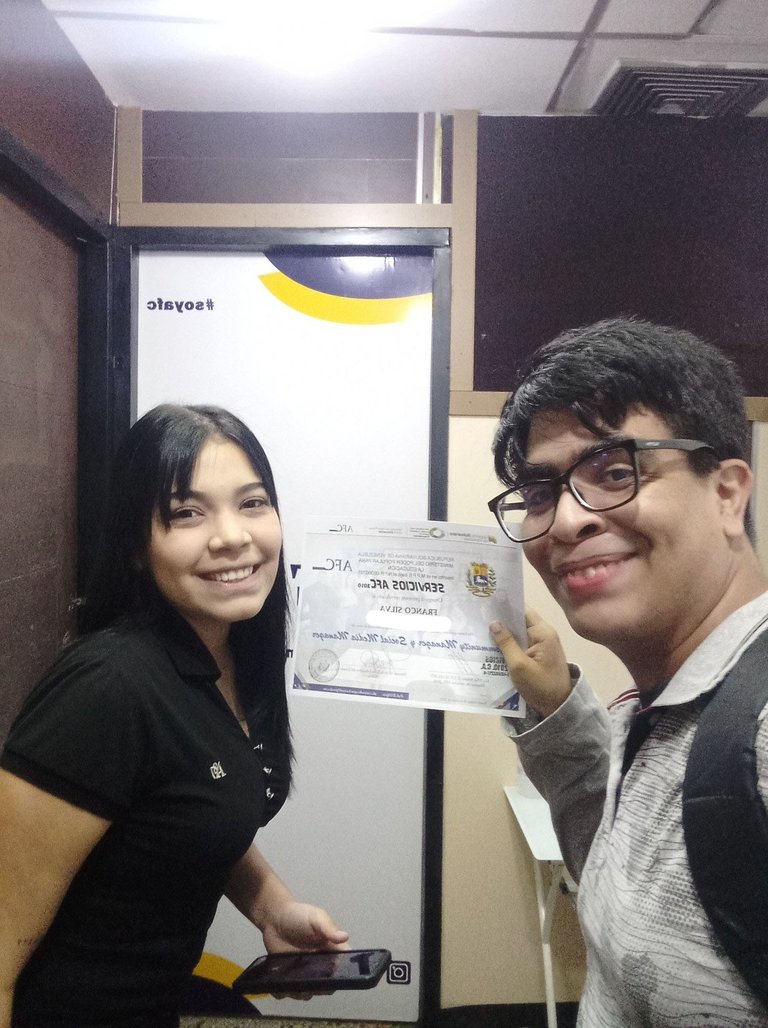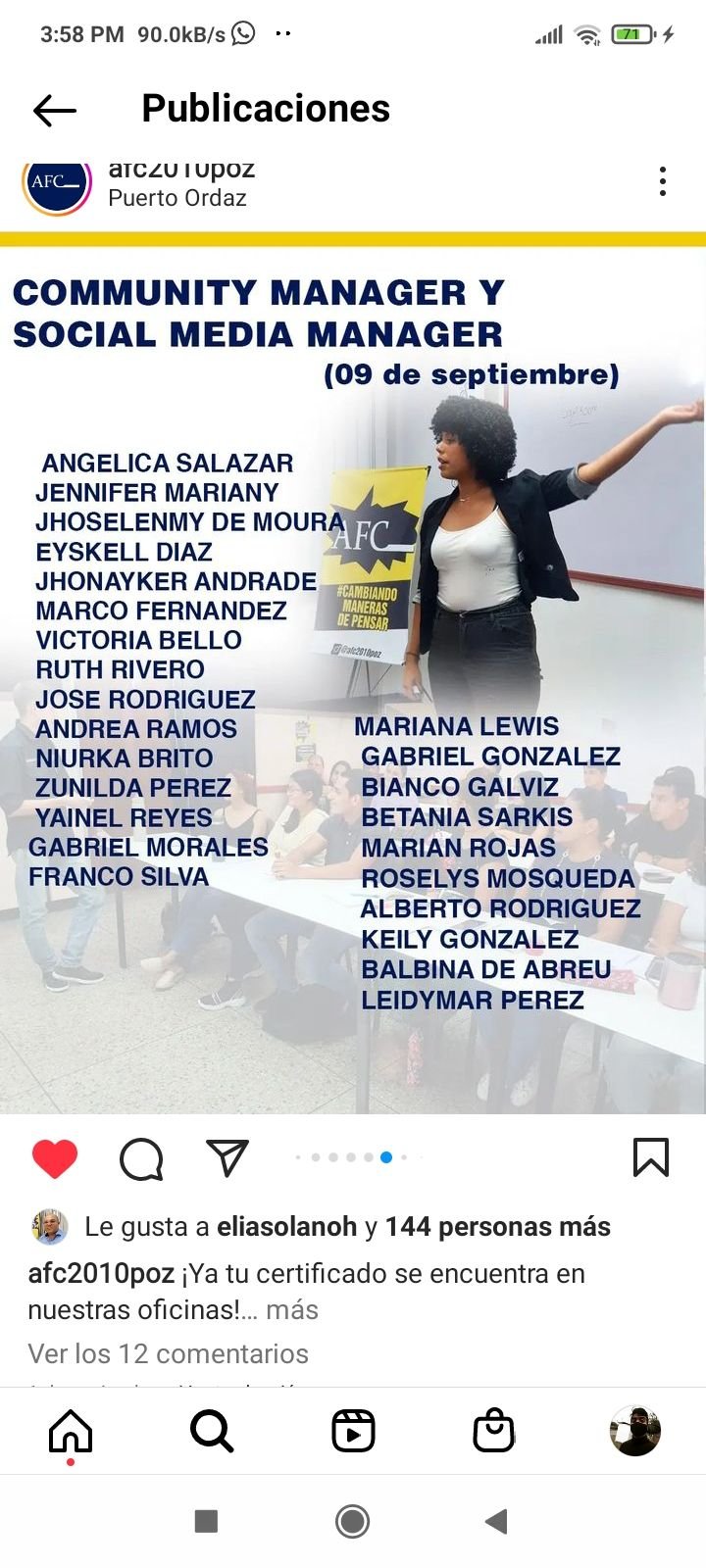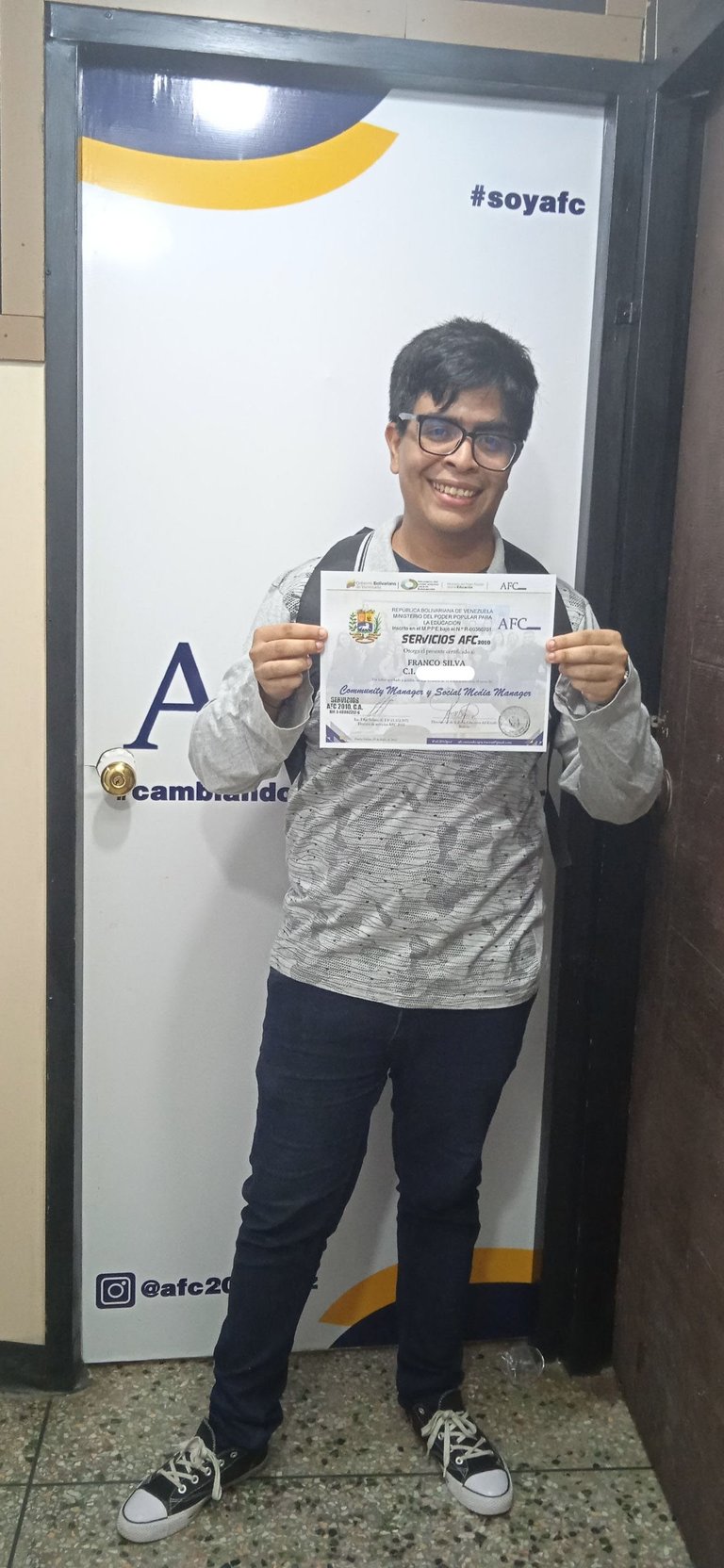 ---
Pero dejando un poquito las palabras técnicas y un tanto secas, solo puedo decir que estoy muy pero muy emocionado jajajaj, había esperando mucho por recibir al fin el bendito certificado, una espera larga, de unos 4 meses mas o menos, imagínense que desde principios de agosto, que ya había finalizado el curso, supuestamente llegarían finales del mismo y no fue si no hasta noviembre que por fin el mío llego a la sede, un poquito lamentable para ser honesto, pero bueno, son cosas que la situación Venezuela nunca deja de cambiar, pero dejando eso de lado, una compañera de clase que ahora trabaja con AFC me entrego el certificado y tuvo la amabilidad de tomarse una foto conmigo :) conversamos un momento sobre lo bien que lo pasamos en el curso y bueno ahí mismo nos despedimos, dio la casualidad que ese mismo día tenia una entrevista de trabajo con una agencia de publicidad, así que podriamos decir que el certificado llego justo a tiempo.
But leaving a little bit the technical and somewhat dry words, I can only say that I am very, very excited hahahahahah, I had been waiting a lot to finally receive the blessed certificate, a long wait, about 4 months more or less, imagine that since early August, which had already completed the course, It wasn't until November that mine finally arrived at the headquarters, a little bit unfortunate to be honest, but well, these are things that the Venezuelan situation never stops changing, but leaving that aside, a classmate of mine who now works with AFC gave me the certificate and was kind enough to take a photo with me: ) we talked for a moment about how much fun we had in the course and then we said goodbye, it just so happened that that same day I had a job interview with an advertising agency, so we could say that the certificate arrived just in time.
---

---
Gracias por leer :3 yo se que no es mucho, no es un titulo universitario, pero es algo que suma al curriculum y al conocimiento y nunca eso puede estar mal, gracias todos, nos vemos pronto :)
Thanks for reading :3 I know it's not much, it's not a college degree, but it's something that adds to the resume and knowledge and that can never be wrong, thanks everyone, see you soon :)
---