In these weekly updates we will bring fresh content to Hive, in the form of our game coding experiences; IBT is a developing PC game - the one to have future Crypto interactions.
Absolute nothingness?!!~
There are parts of Australia where there are miles and miles of... just about nothing. You could call it the nothingness; we feel the environment built for the survival part of the game is really coming together well - the below is a snap shot from the game - yep with the graphics up high.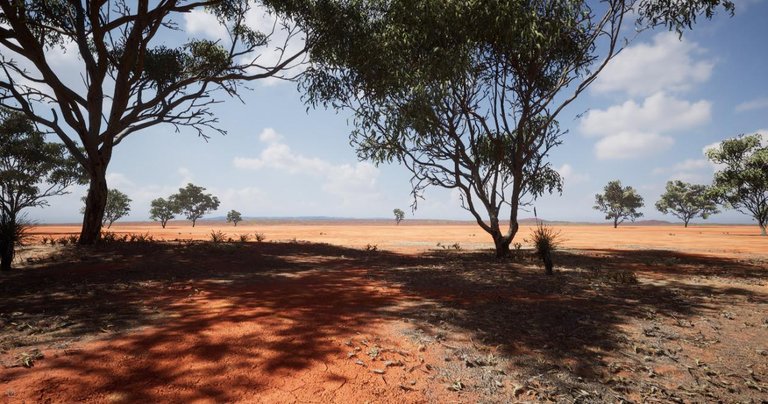 Success! some space for files
Finally, some good news for downloading our latest demos. We were restricted to 2GB but we have reached that point already... So we now have up to 5GB to play around with before making some more decisions later. This amount should be sufficient to have a lot of stuff packed into some upcoming demos.
Real Aussie terrain is our goal!
Compared to our first version of IBT we now have two separate introductions. We are doing our best to give this newer version a true Aussie feel. From the sheep to the trees to the soil on the ground. This whole week has been about creating the most common things you find in the Australian outback. Here is a snapshot of one of the scenes in our newer IBT Intro (survival game).
The Ozzie Windmill
This is the most common windmill found around the Australian outback. Used to pump water from the ground for general purposes they were massed produced and were very reliable. After many hours of painful work this is our end result.
That is it for this update - enjoy your week and if your a coder, happy coding and keep your chin up, what ever the challenge you will make it! sometimes it helps to just stop and come back the next day :)
If your keen to get in on one of our demo's for testing then drop me a line and I'll send you a link for a Discord channel we setup some time ago; where you can get links, ask questions and interact with like minded others if so keen to do so.
Cheers and enjoy our upgoats below, thanks to a @ryivhnn