When we start talking about labyrinths, most people picture some kind of permanent installation, perhaps like the great labyrinth inside Chartres Cathedral in France.
In fact, many labyrinths are more or less "permanent" in their own ways... but a labyrinth can also be a spur-of-the-moment thing.

Leaf labyrinth, Hudson, WI; Fall 2012
Consider the simple "raked leaf" labyrinth, above, created during a labyrinth in Hudson, Wisconsin... it was created with "available materials" on location, and will only last till the next good gust of wind!
At the same event, someone also used spraypaint on the grass to create a quick "triskelion" themed labyrinth. A couple of mowings — or a good rain shower or two — and it will be gone.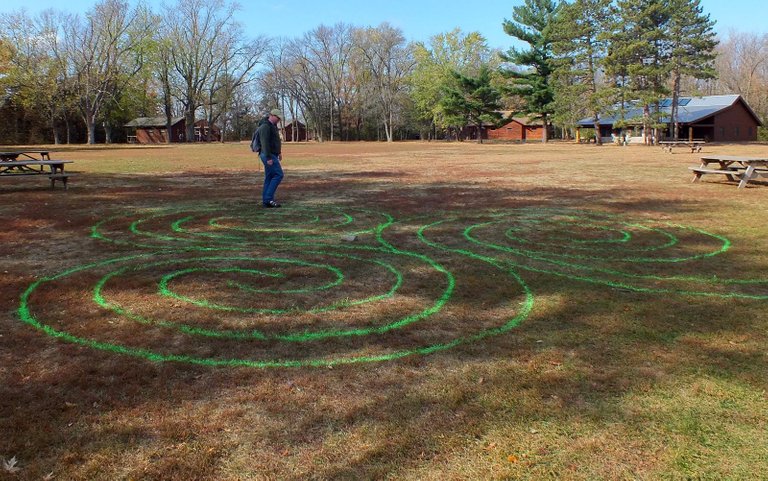 Hudson, WI, Fall 2012
Perhaps the simplest type of "temporary labyrinth" is the one drawn with sidewalk chalk on any flat surface you can find.
This one is quite small; loosely copied after a similar permanent labyrinth at a Montessori school in Zagreb, Croatia.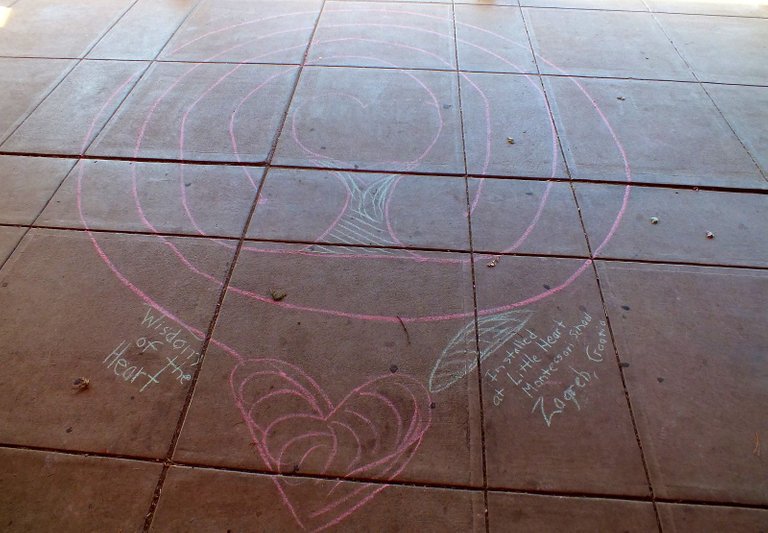 Hudson, WI, October 2012
Of course, temporary labyrinths can also be quite large and extremely complex!
The one pictured below — made for a labyrinth gathering near Baltimore, MD in 2019 — actually involves 100's of yards of purple paracord and tent stakes.
It's a good 70 feet across and took hours to set up... and yet? The materials fit in a standard canvas shopping bag, and can easily be transported around.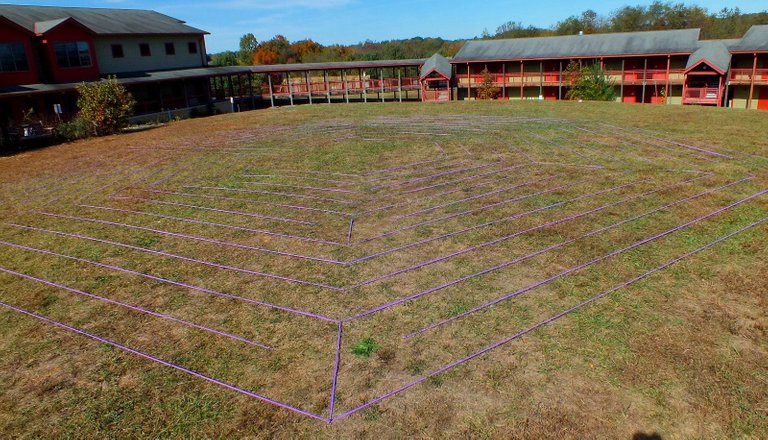 But perhaps one of the simplest and most popular forms of temporary labyrinths is the basic "beach labyrinth," drawn on a reasonably flat piece of beach with a stick.
It takes a matter of minutes to draw, there's no mess, and it'll be all gone again with the next tide.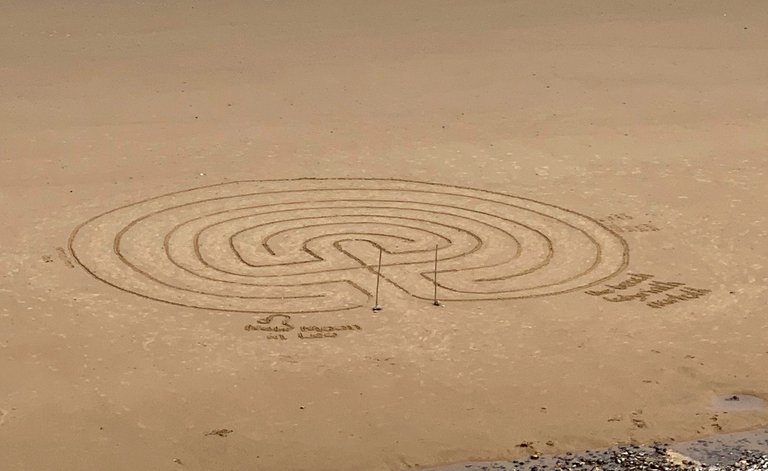 A beach labyrinth (source)
Creating and walking a beach labyrinth on a deserted beach can be a marvelously healing experience; drawing one on a busier beach and just watching others interact and engage with it, likewise.
Temporary labyrinths can also become an interesting and unusual hobby. One person we know builds temporary labyrinths all over the world, photographs them, and periodically turns the outcome into beautiful coffee table books!
Thanks for visiting! Hope to see you again for our next post about labyrinths and labyrinth lore!