A couple of weeks ago I got a new mountain bike. The rainy season stopped about 12 days ago here, so I've been riding it a lot since then when I have free time.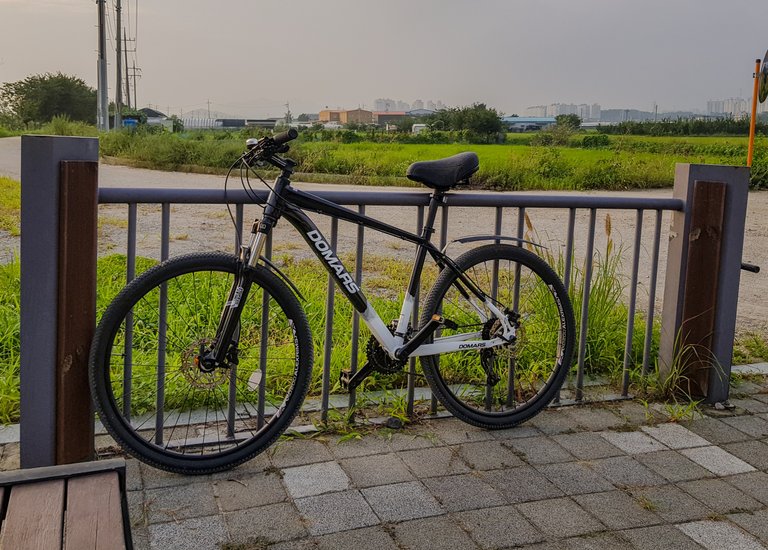 I decided to get a new bike because I sold my road bicycle and my other mountain bike is really old. I didn't use my road bike enough because the bike paths here are limited or too bumpy. I didn't want to wreck it and I got about as much as I paid for it (I bought it used).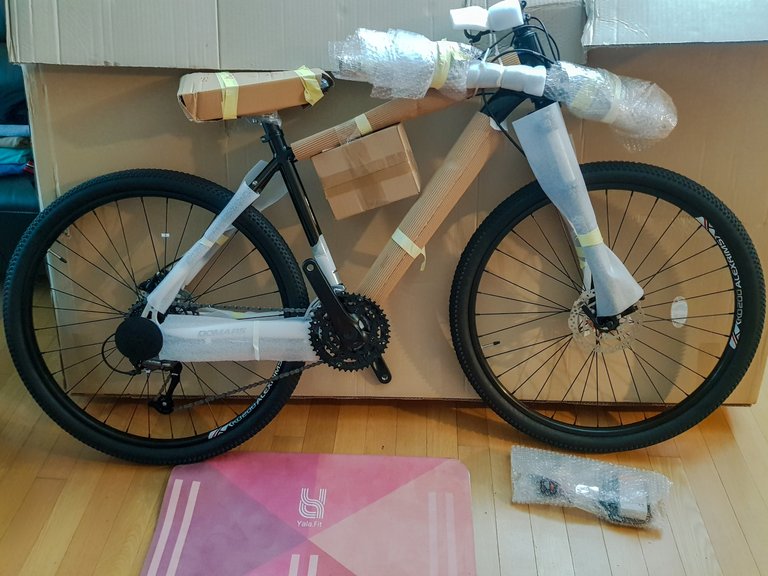 The bike came basically assembled, I just removed the protective stuff, attached the pedals, handlebars, and a few accessories.
Being near the countryside, there are a lot of dirt roads, narrow lanes, and rough trails to bike along, so a mountain bike is best. However, my other one was literally falling apart. I bought it like 9 years ago for 250$. I took off a few parts I wanted to keep (I just got a new seat), and left it where everyone else in my building complex seems to abandon bikes (on the outdoor racks).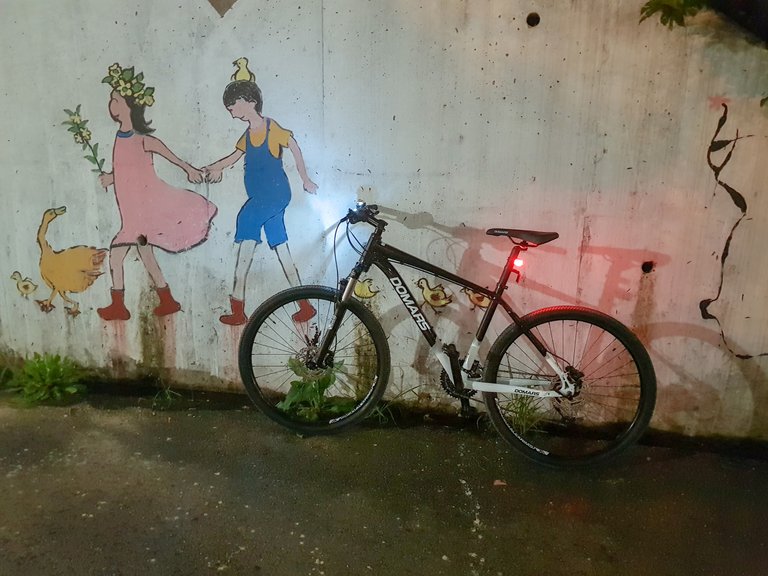 As you can see I attached some lights, riding at night without lights is a death wish.
I paid around 450$ for this bike which means it's in the upper end of a cheap bike. The brand name is Domars, it's made in China, but with Korean design. Most of the components are Shimano stuff. I don't plan on riding down ski hills in the summer or racing with it, so I don't need a light frame or high-end components which is what really raises the price.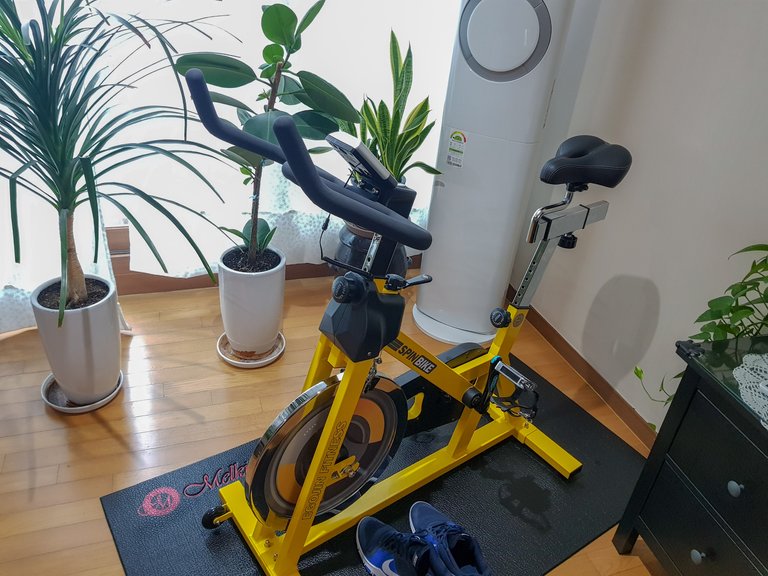 I also got a spin bike about 2 months ago, I got this for the rainy season and when I get home from work late, mostly for exercise...not for practice or training
One thing I found about my old bike is that disc breaks are amazing. However, I had the cheap mechanical disc breaks on my old bike and they would often seize up or slip which is dangerous. So I decided to go with hydraulic disc breaks. They are smooth and amazing. Actually there was a version of the bike for closer to 300$ and the only difference was the fork, breaks and front gear shifter. I decided those were important components worth the significant price difference.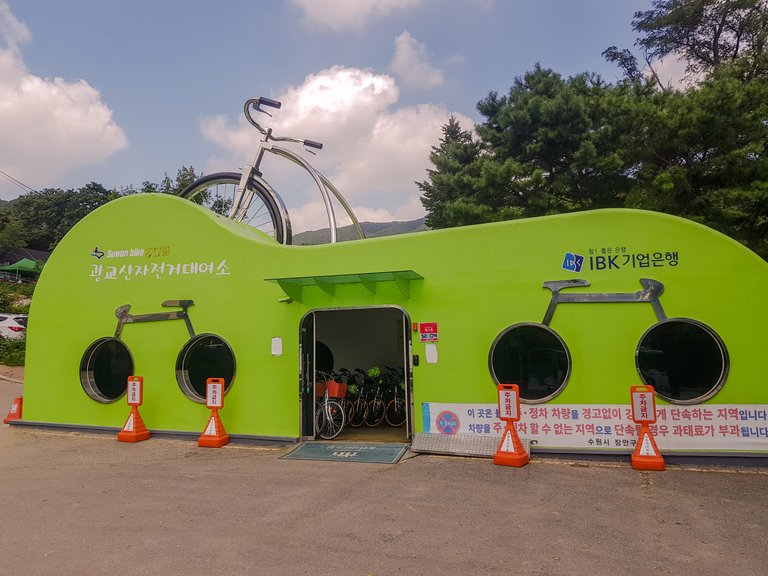 Here is a bike shop where you can rent bikes. It may actually be free for city residents, but I never asked. They give you an adorable frog bike helmet.
I've already been on 3 completely different courses with my bike asides from trying it on my standard course (I use that at night). All of the new courses I tried would have destroyed my road bike and probably my old mountain bike too. No problems on the new one.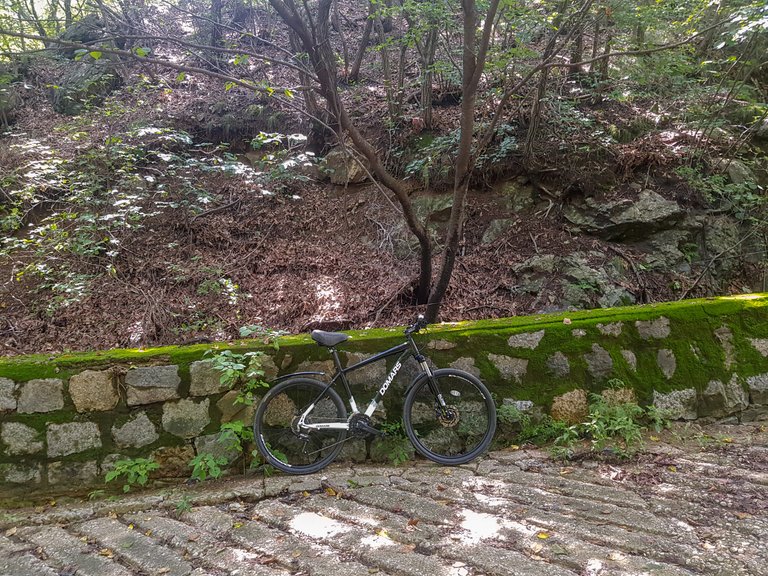 I rode my bike up a nearby mountain called Baekunsan which has a paved road going to about 450m starting from the little bike rental shop above to a military base. Since it is an American base (Camp Madison) and not a Korean base, we can get a lot closer.
I just wanted to do a hill climb. There was only a 300m section I walked which is where you see the washboard style road because it's so steep. Going down was exciting, but I'm sure glad I had the good breaks.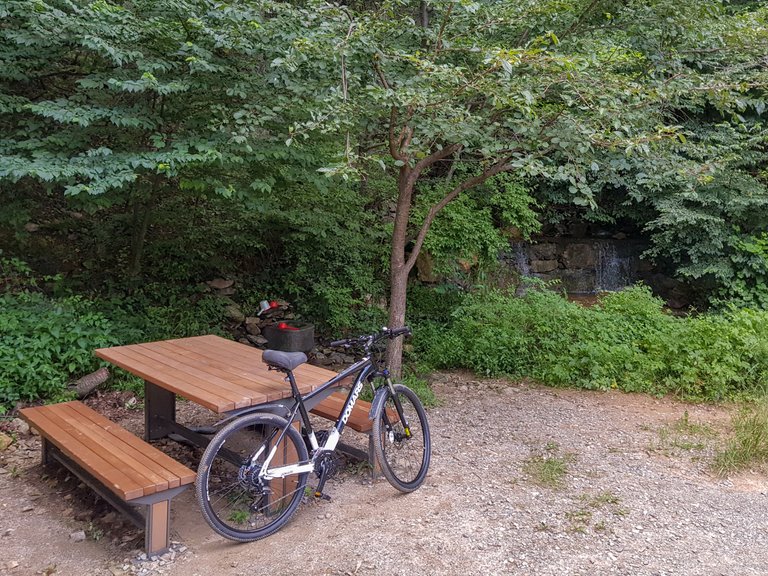 I rode my bike to the spring.
I even road to another mountain with a Korean base on top called Surisan. Actually, I heard the mountain bike trails here were great so I wanted to try. They were however a little rough, but probably because the rainy season just ended. In any case, I doubt I'll go here often, it was far.

I rode my bike up some loose rocky paths, it was nice.
I think my bike has 27 gears, so it climbs quite well. There is also a sticker near the handlebars that says 'push harder', this inspires me to do just that, lol. A few hikers who passed by me gave me a crazy look, but I just assume it was because these country folks don't see too many foreigners (there were other cyclists).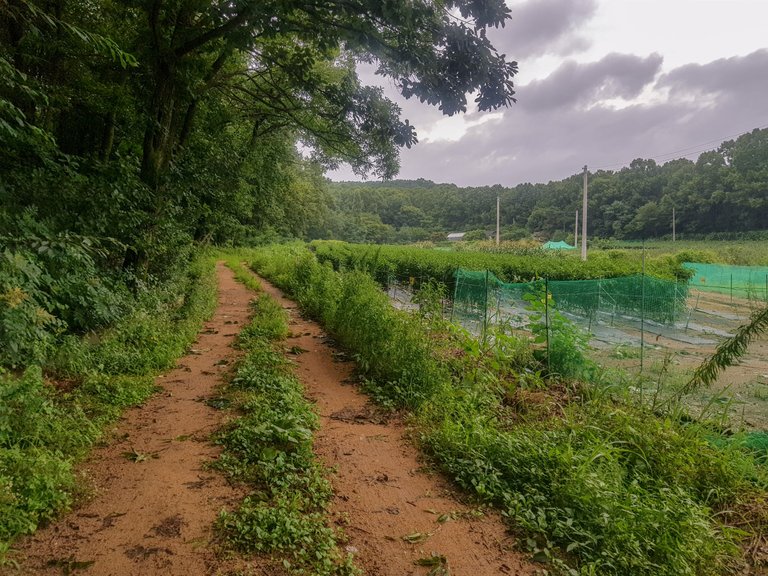 There are a lot of farm roads near me I don't even want to explore in my car
The thing I like most about having a bike is exploring. I've been on most of the major bike trails in Korea. However, there is so much to see without having to travel across the country. I just like being where it isn't so crowded.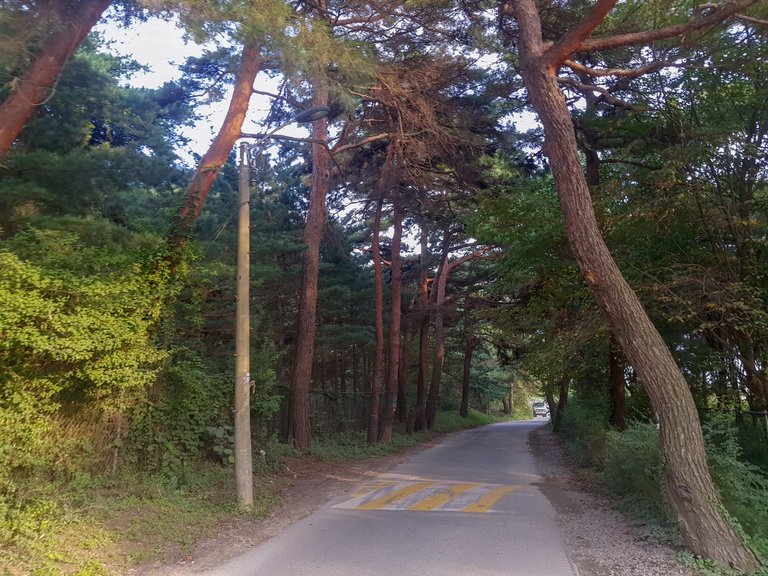 Here is one of my favourite roads, I incorporated it into my regular route.
The route I usually take follows a little stream near my house that starts at a reservoir and goes along the river until it stops at a Korean airbase and American missile site. I've figured out how to turn it into a figure-8, or just follow the river the entire way (there are trails on both sides). If I follow the river it's around 25km there and back, but I can stretch it out to 40km. I like it because I've figured out how to stay on farm roads and non-crowded paths 90% of the time while avoiding level road crossings (under or over :).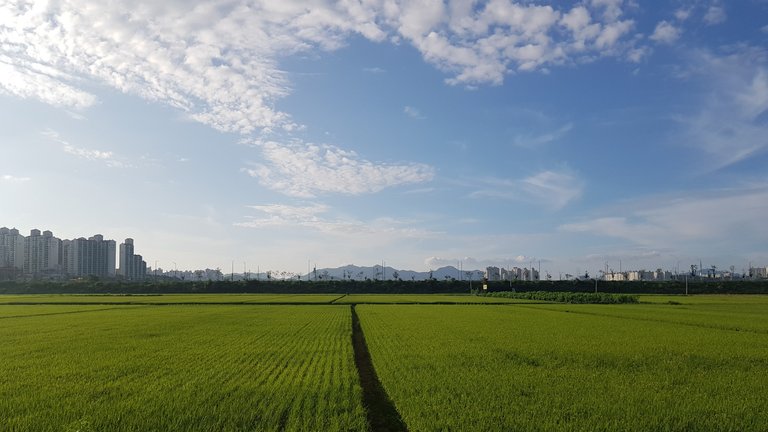 The rice is getting ready to harvest, that's Surisan in the background.
Actually the reason I do the figure 8 is that the trail along the stream is so flat. This gives me variety and takes me up a few small hills in the middle, or partly up one small mountain on the side of the wide valley.
I could ride the other way into Seoul, but that's crowded. I'll pick a good weekend to do it in the fall. It's the only direction I haven't been yet.
---
Maybe you have noticed this is my first post in a while. Actually, I planned on writing this post late last week, but I just never got around to doing it. It was my first week without posting in about 2 years. I don't know when I'll get back to posting 2~4 times a week, hopefully, I'll find the time again in a couple of weeks.
#bike #cycling #fitness #powerhousecreatives #POSH #Twitter: