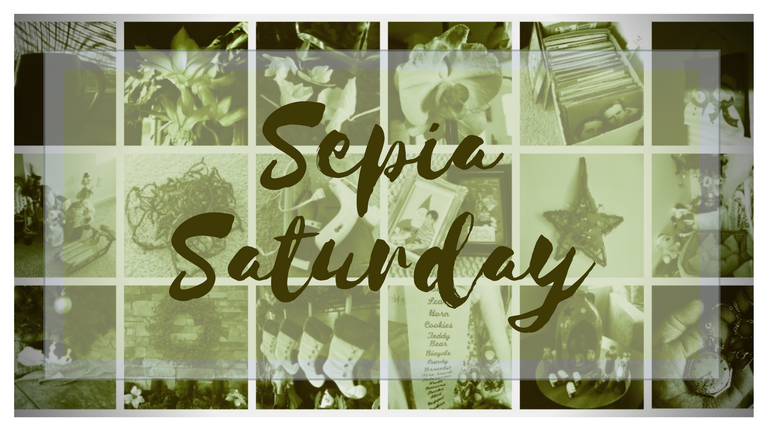 Sepia Saturday Is Upon Me ..
I wake up just as the sun is stretching her arms above the horizon. She is kissing the ground and touching the edges of the nights frosty blanket. I reach for my a favorite mug and ready myself for coffee. The warmth of the morning brew will surely wake me and prepare me for the day ahead of me.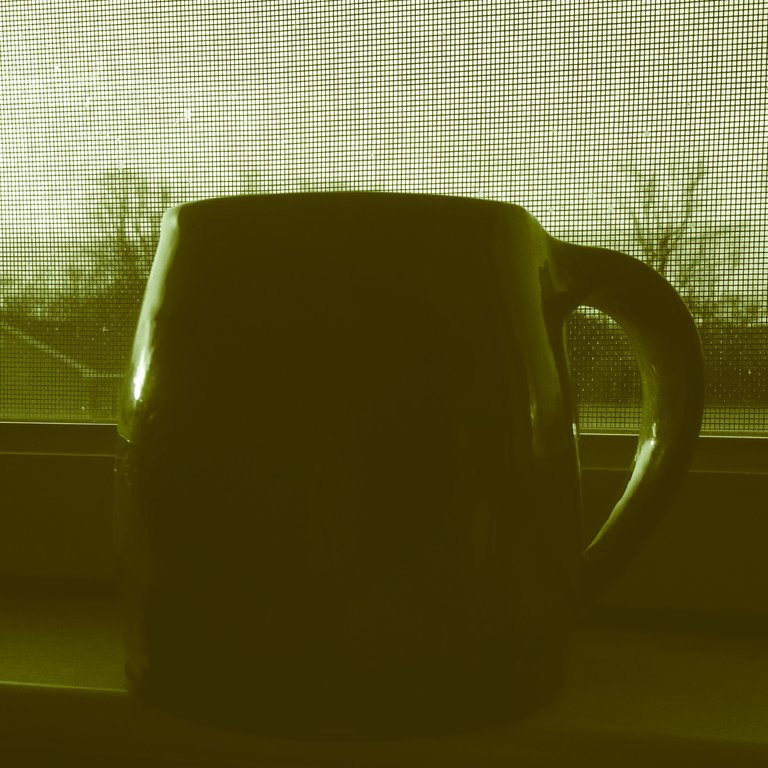 As soon as it finished perking and filling the mug, I lift it to my lips for the first sip of this new day. The sun is reaching higher by the second.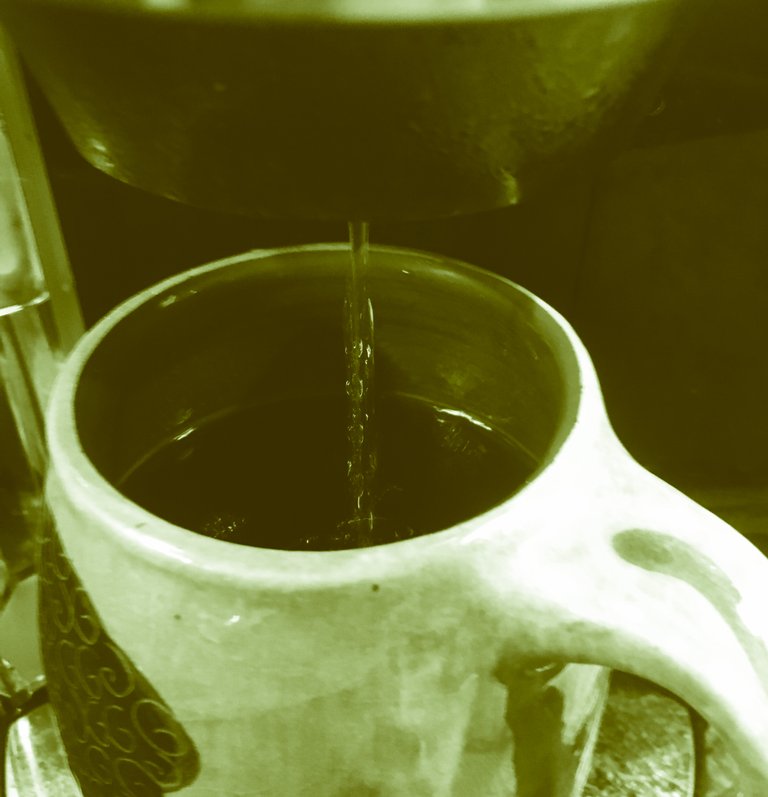 I look to my right as I am letting Molly in from the chilly outdoors. She shakes off the cold and I head over to the Christmas cactus. The flowers appear like they are on fire, as the sun lights them up beautifully. The flowers, long and petals extended outward and back, remind me of a swan dive. They look as if they are jumping off the plant and falling through the sky.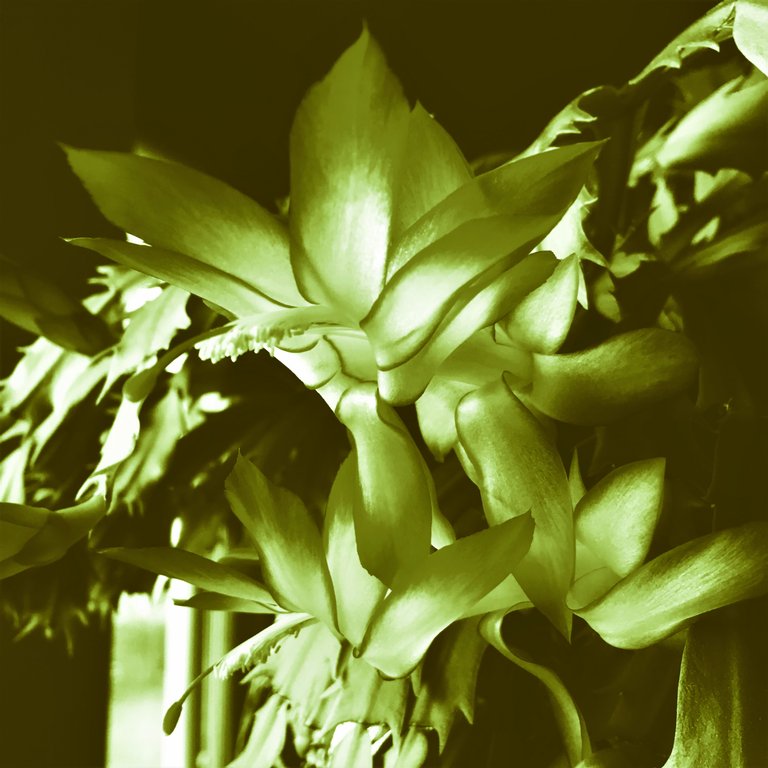 More Orchid flowers, off of Peppers sympathy gift, have fallen this week. They are quietly drying on the surface below and waiting for me to place them with his ashes.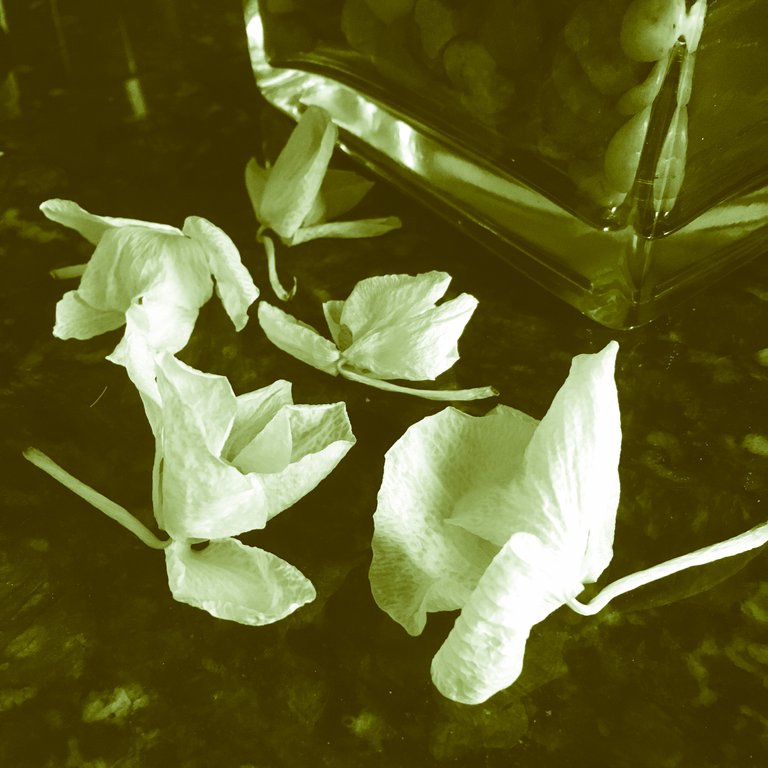 The flowers that are still alive and showing their beauty to our little world, are also turned toward the awakening sun. They too are smiling at her touches of renewing warmth, capturing all they can before its gone again.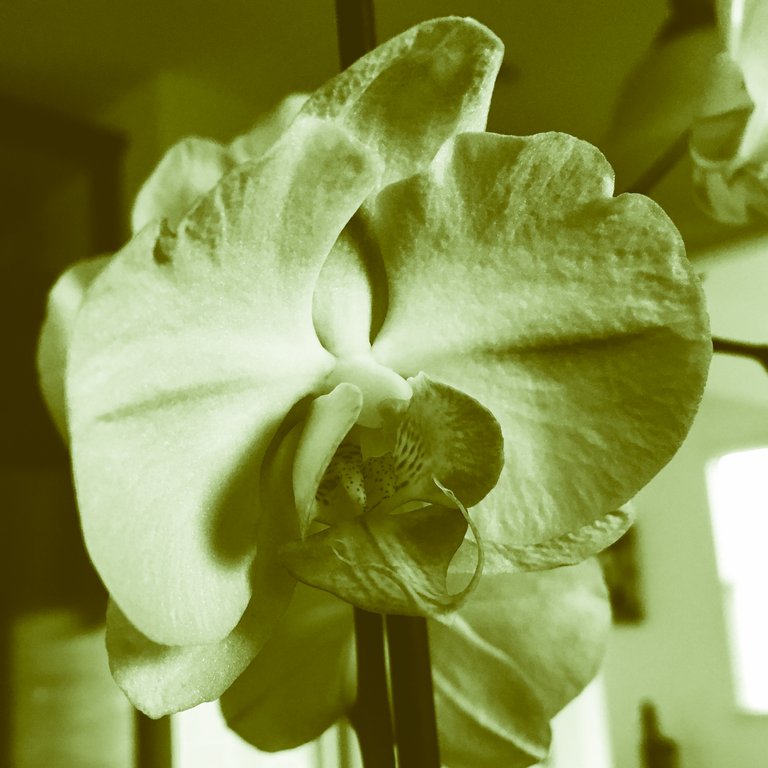 I stroll into the living room and begin thinking about 'Weekend Vinyl' and if I'll be doing one this weekend. Does anyone besides one or two people even care for it? I have fun with it, and I suppose that is all that matters. These records will have to find a new home soon. Come Christmas Eve, a few close friends and family will be filling the space to celebrate. I'll have to move them, for a while at least.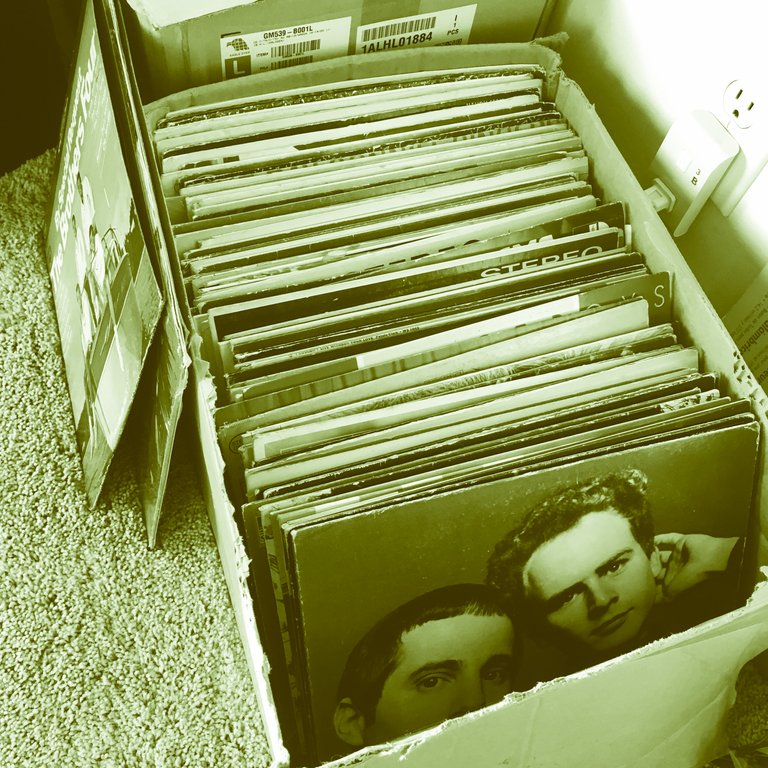 Just above them, Mr and Mrs Frosty are cheery and happy to see the sun peaking through the window. They don't seem a bit afraid of melting.. and why would they be.. it's a painting silly. haha. They seem to be speaking to me. They are telling me I have work to do and that a Sepia Saturday morning is no excuse for the procrastination surrounding me.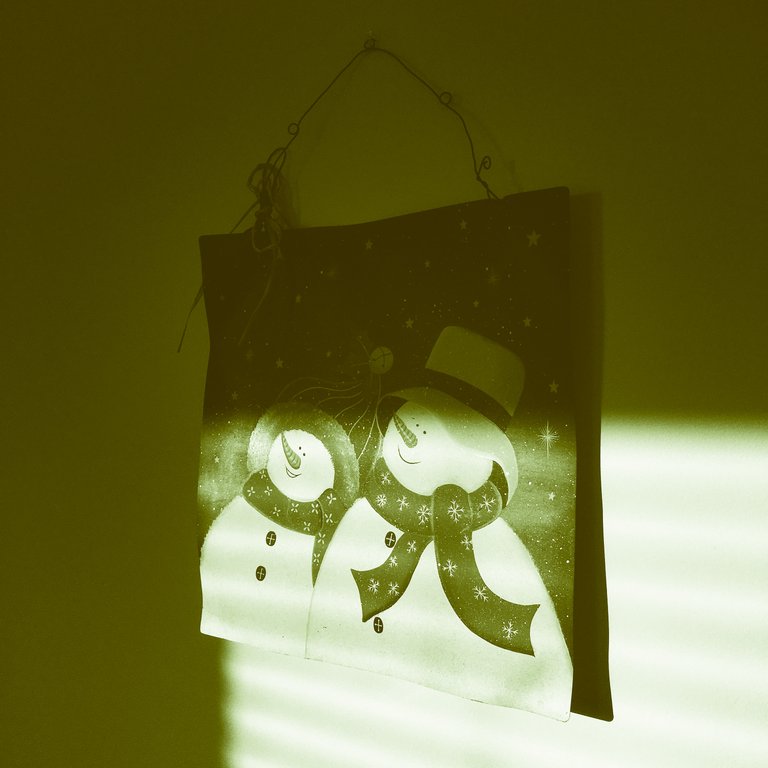 After all, I have a crowd of Santas and other decorations waiting to be tucked into their seasonal resting spots.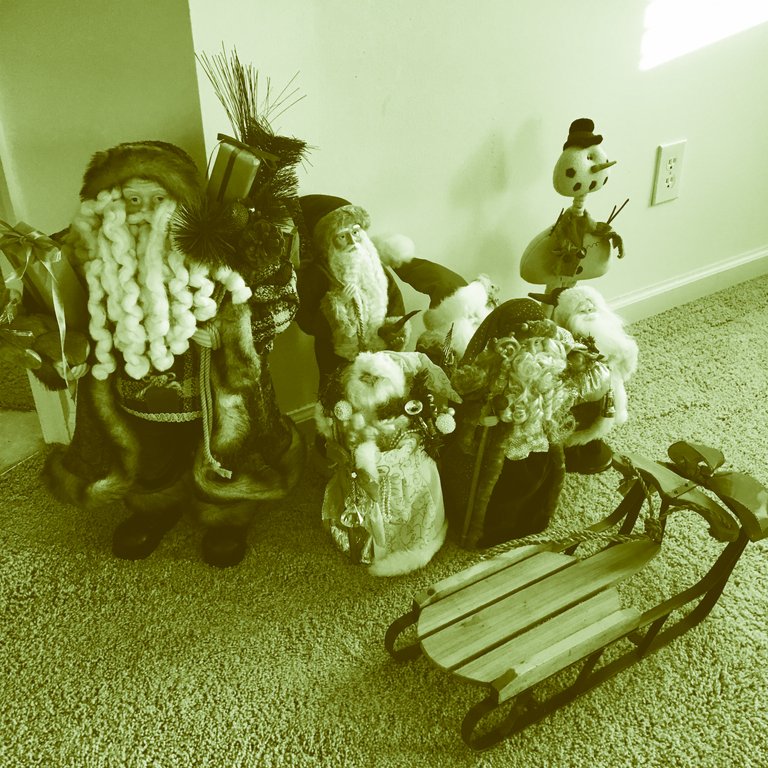 I don't want to even mention this mess.. "Oh The Christmas Lights!"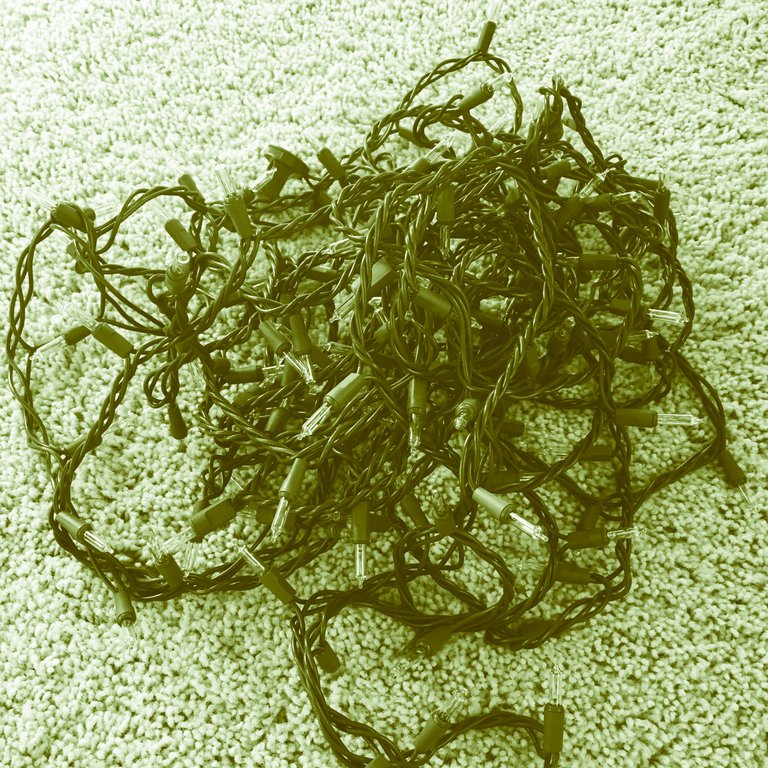 Being stored away for the entire spring, summer and fall, some decorations need a little TLC and fixing up. I'm ready for it! A glue gun is an essential tool for these types of fixes. As you can see, I have already put it to use.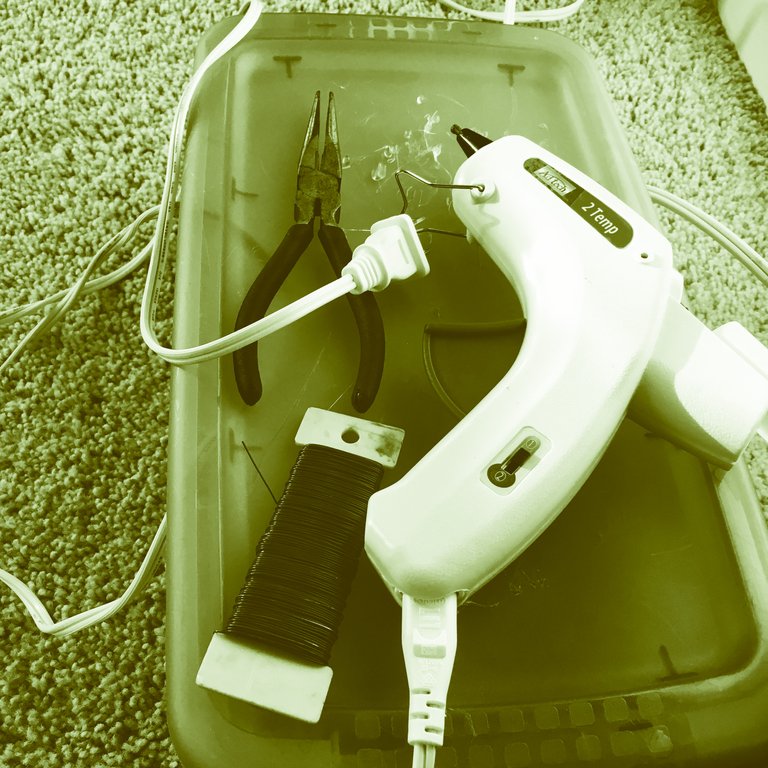 There is work to do, but there is hope. The little wicker star of hope, resting by the front door, reminds me of this small fact. There is hope for me yet. I will get this work done and will be successful in actually being productive today.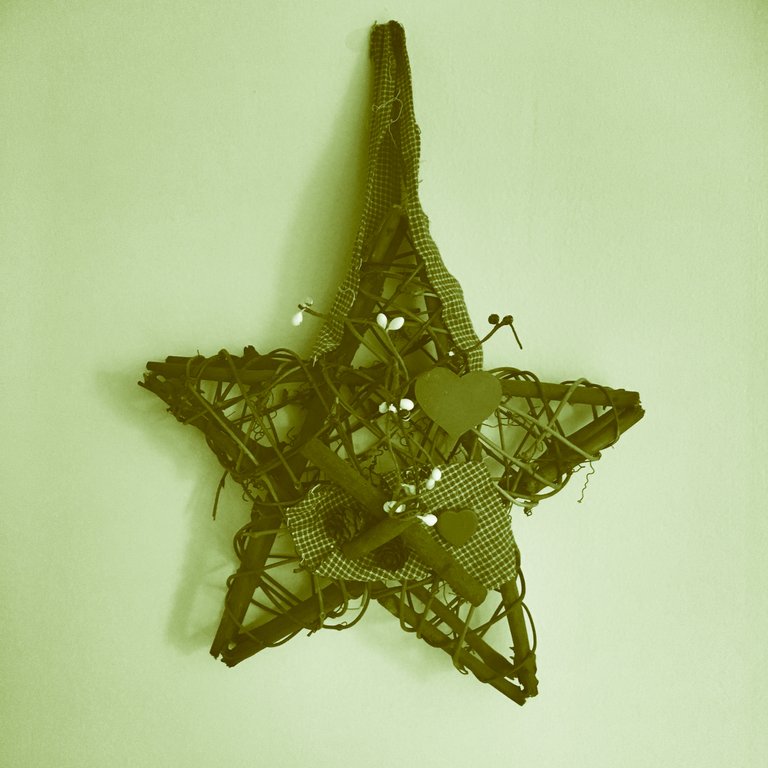 In all of the fuss over the holidays, I can't forget about tiny Miss Molly. With all of these bulky, confusing new additions to her environment, she still needs some familiarity and comfort within it. After all, she's not a artificial pup that sleeps the days away under the trees.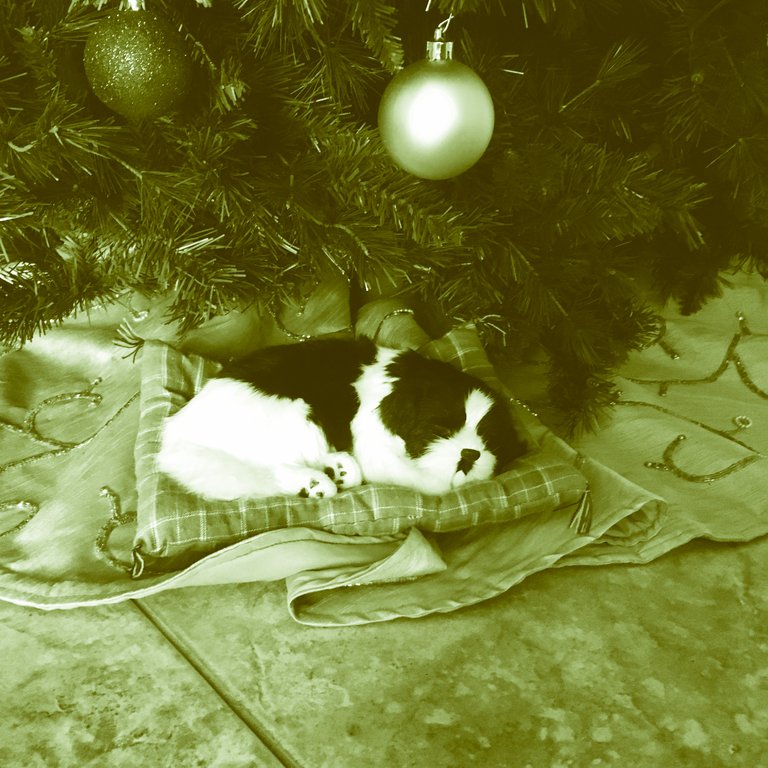 We made sure she has a bed in here normal resting spots, nestled among the towering decorations. Believe it or not, she actually ignores the deco and sleeps here. It surprises me since she is typically scared of EVERYTHING.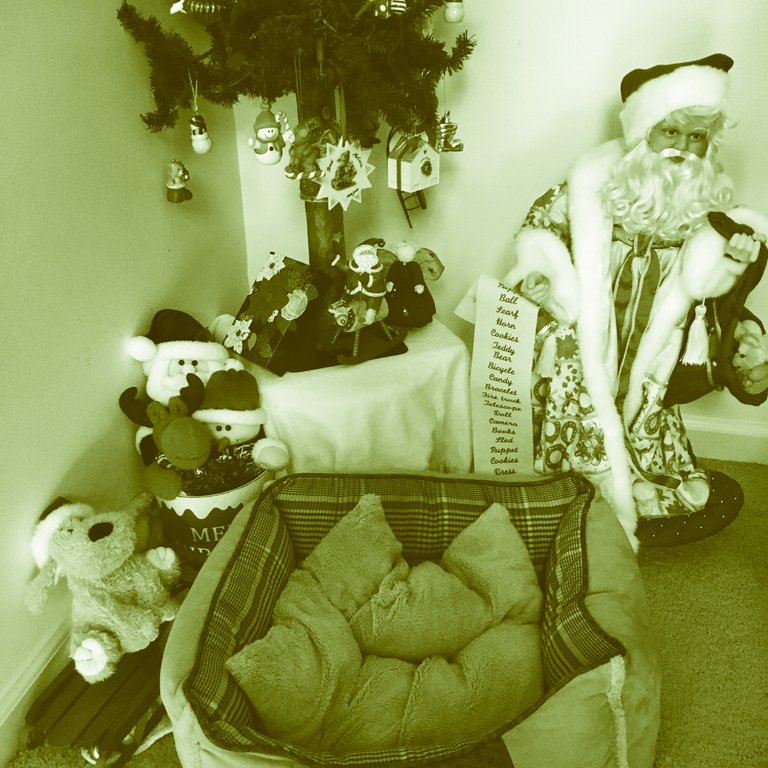 Moving on and I am ready to wrap up this Sepia Saturday. I take another quick glance around the rooms, noting what has been done and what needs finished. The wreath is hung just above the mantle, looking down on the Christmas candles and festive garland.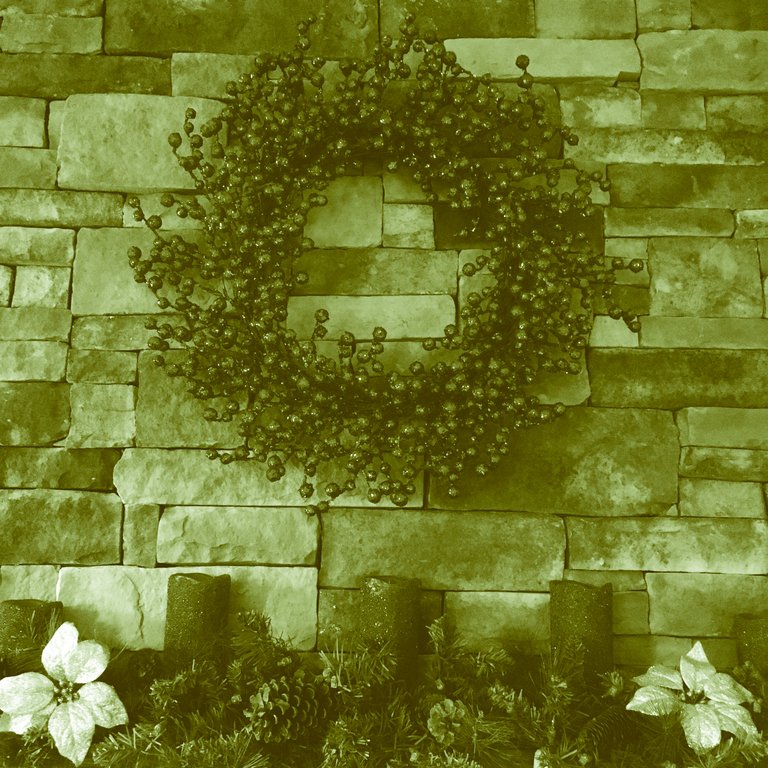 The stockings are hung by the chimney with care, in hopes that St Nickolas soon will be here.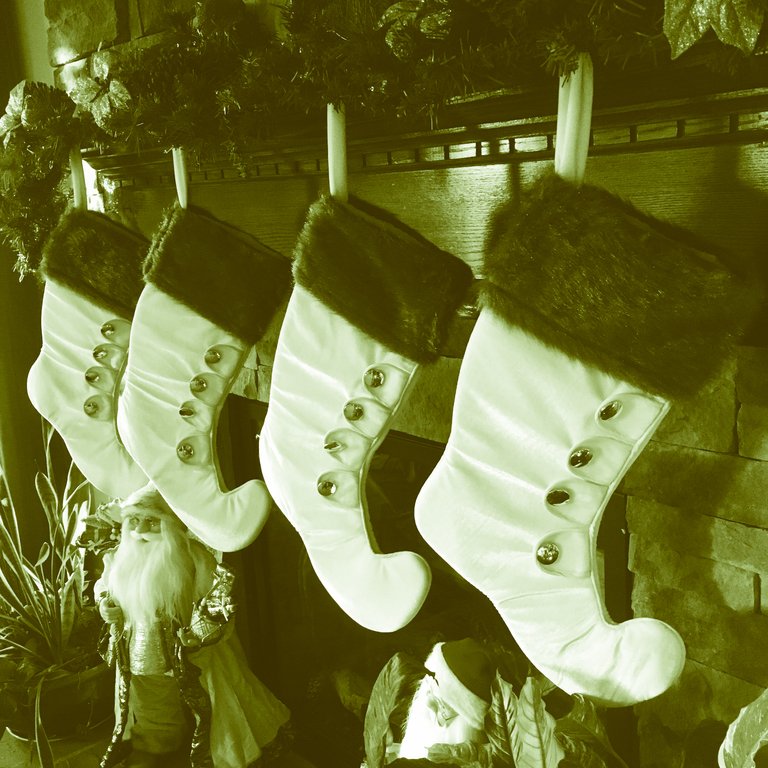 Since Santa hasn't done it yet, I checked his list twice! Everything looks good to me!!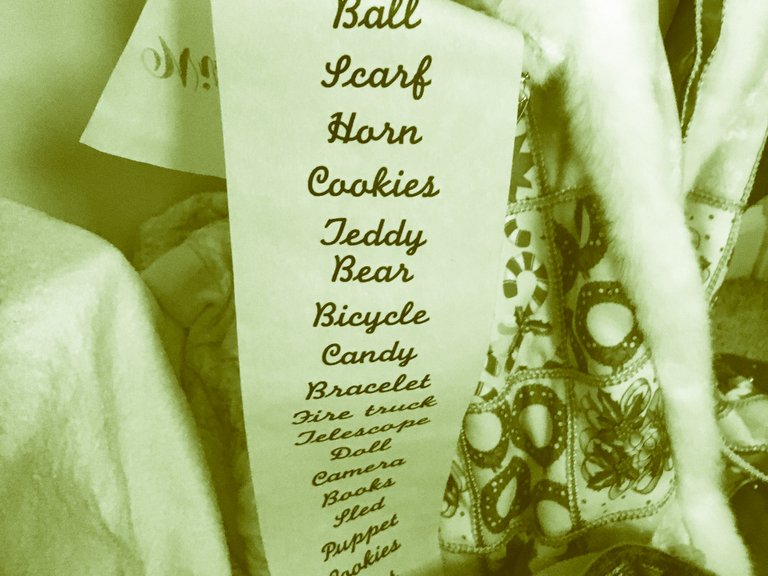 I take a moment to remember my Childhood Christmas past, the visits to the North Pole with my brother and sister, and the creepy fake Santas that I may or may not had believed was real.. hehe. The big man has got the gifts! I knew that much at least.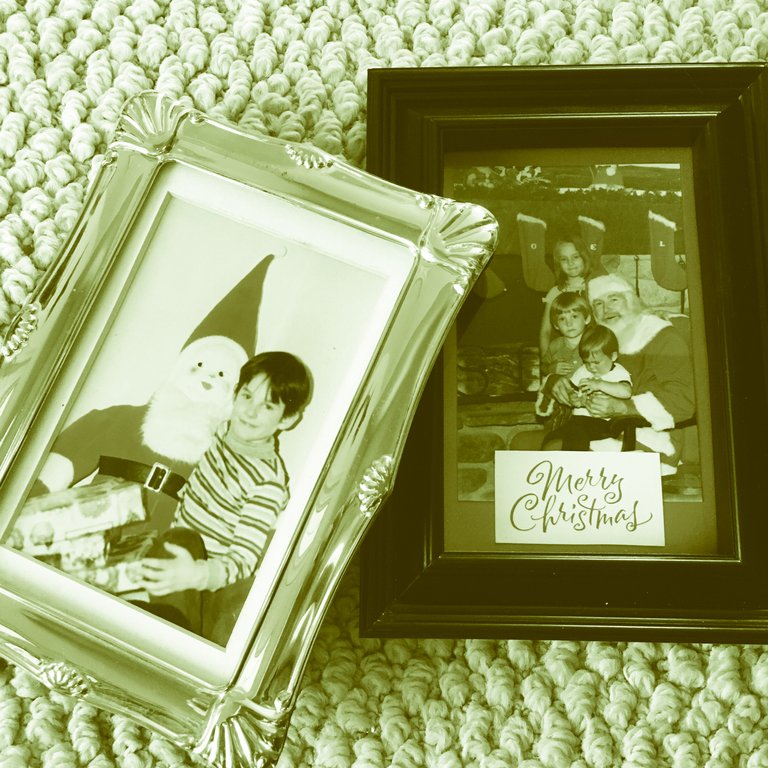 I also pause a moment to remember the real reason for Christmas. The reason I am going to end this post and get to work on the rest of the decorations in preparation of the seasonal festivities awaiting me.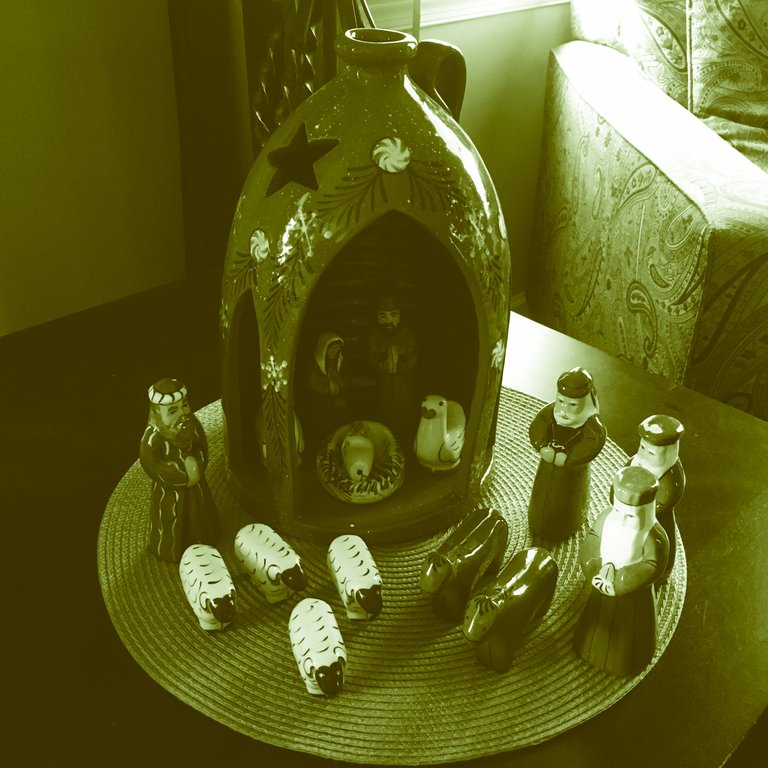 Time is running out.. I have work to do and I'm not getting any younger. Yes, I am NOT getting any younger. Like the White Rabbit in Alice In Wonderland once said, "I'm late, I'm late, I'm late! I'm late, I'm late! For a very important date! No time to say 'hello, goodbye,' I'm late, I'm late, I'm late!"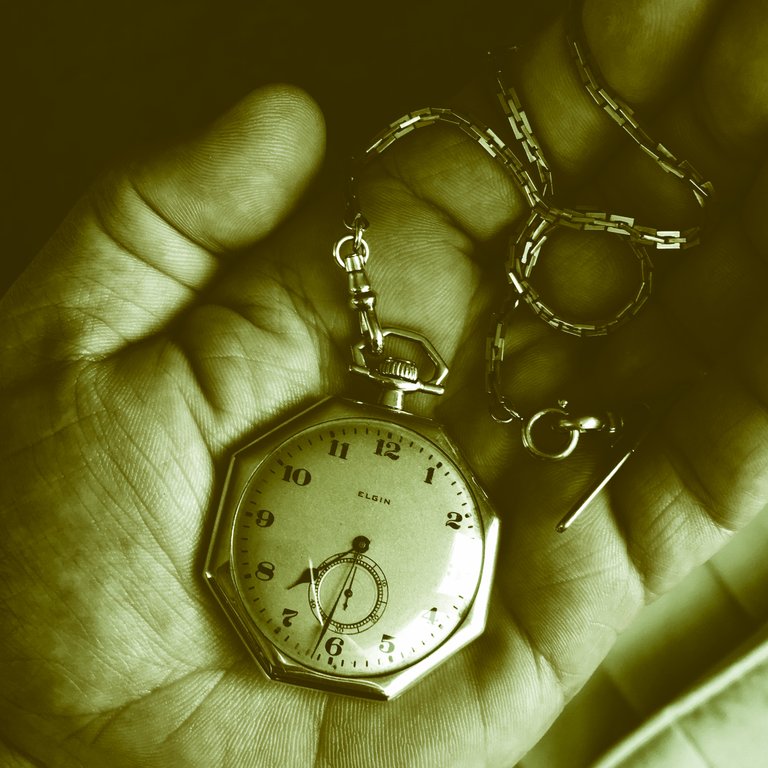 It's shaping up to be a bright, unseasonably warm, sepia Saturday.. I guess that I should go make the best of it. Happy Saturday to all and to all a fun night!" (sorry, best I could come up with)

Thank you for swinging by my blog and checking out the post. Have a great day!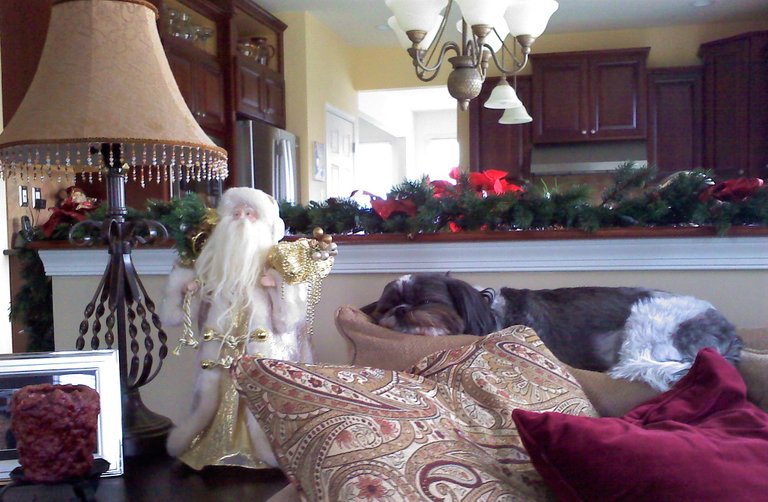 "Decoration is primarily concerned with superficialities—i.e. changing the surface of a thing, and not its substance—and must therefore occupy its own space separate from art..."
― Ryan Muldowney and Jacob Muldowney



All words, pictures and art pieces are the sole property of B D Miller Gallery, unless otherwise noted and credited, and are not to be reproduced or copied without the prior written consent of B D Miller Gallery.

About Me ~ The Artist
My art work incorporates a wide variety of subject matter, including landscape, seascape, cityscape, and still life images. My works are the product of a continuing process of exploration through which I seek to portray personal and visionary interpretations of my surroundings. My paintings are impressions of places and events from everyday life, an interpretation of my imagination, and personal responses to what I see and feel on a daily basis. More recently I have invested generous amounts of time into my landscape painting. I am surrounded by natural and man made beauty, which inherently presents itself in the tri-state area, and almost demands that I paint it.
Not everything is art. Art is not everything, but it comes close. Art is everywhere and all the time. Art makes you experience the beauty of the world, the people in it, and the places we call home. Art itself is so influential that it can tell stories, show feelings, and express passion or fury. Art exists in addition to language; expression of sensations and thoughts, revealing a way of thinking too subtle and delicate for words.
For me art requires love, honesty and perseverance. In return, it reveals some personal, non-analyzable, and creative untamed passion. For the public, art with its magnificent beauty, improves mood and health and builds better human beings and communities. It engages the intellect, softens the heart, strengthens the soul and frees the spirit.

If Your Interested In Purchasing Any Of My Work:
They can be found for sale on
Or
If you don't see the piece in either shop, It may still be drying. Let me know and I can upload it as soon as possible to be available. Or you can always make me an offer (in HBD, Hive or any other crypto) in the comments section of this post. If we agree on a price, I will then ship the painting to you. (shipping costs will be determined by your location).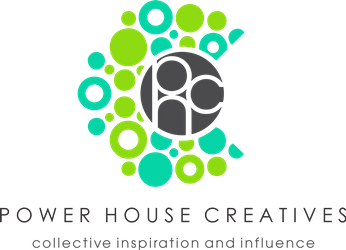 I Proudly Support: