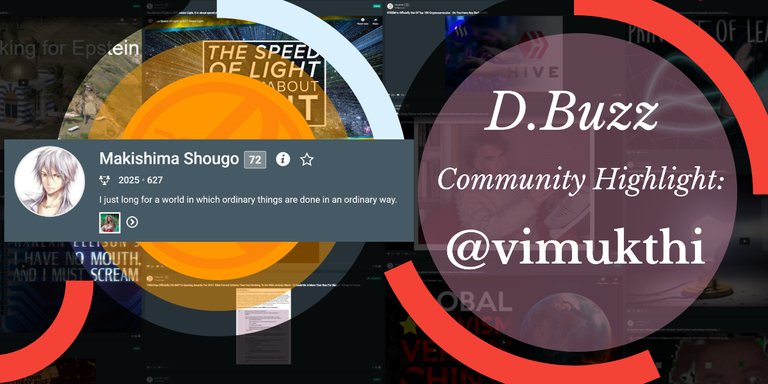 D.Buzz Community Highlight: @vimukthi
Hey gals and guys
Welcome to most epic Thursday!
D.Buzz is more than just a Dapp; it's a community. It is a community of people with a passion for Crypto, a passion for censorship-resistant content, and a passion for spreading their message.
---
We see you, and we love you all.
---
To give back and express our thanks, we will highlight someone from our community in a post across social media each week. They will be listed as a 50% beneficiary in this post as a way to say thanks!
---
Today, We would like to highlight @vimukthi!
---
This particular blogging artist has been on our radar for a minute. If you spend some time scrolling through @vimukthi's newsfeed, you'll see a prolific amount of posts. And I'm not just talking about one-word posts either but decent strong content.
Since way back to July 2017, when they joined, article after article has been published. Quite frankly, I'm not sure how they keep doing it but, but they and I just got to say WOW. Impressive (* Editor: Hides its face in shame and notes plots on how to publish more).
With a mix of informative articles about HIVE, @splinterlands, and investments, while rocking memberships in many great communities and engaging on the Blcokchain like a champ, it is these reasons and more that we wanted to give @vimukthi a shout out in our community highlight this week.
Hey, @vimukthi, thanks for being you. Please keep on posting, keep on rocking, keep on gaming, and keep inspiring this humble editor to post more content. :D
Please enjoy a 50% beneficiary payout for this post :D
And if you are not @vimukthi and are reading this post, you should add this author as a friend and follow them... TODAY!
Much love,
Your Friends over at D.BUZZ
---
Do you have someone you feel we should highlight?
Post their name below and the reason why, and we may highlight them. :D
---
Community Highlights Wall of Fame :
D.Buzz over and out.
---
---
Do you know what D.Buzz is?
D.Buzz is a censorship-resistant short form microblogging platform that empowers you to share your thoughts in 280 characters or less.
If you haven't tried it, give it a buzz today!
@jacuzzi is the content creator of the graphics and text in this article. We strive to have a fun and neutral stance on topics. If you have any concerns with the content, please contact @jacuzzi or us for clarification.
---

---