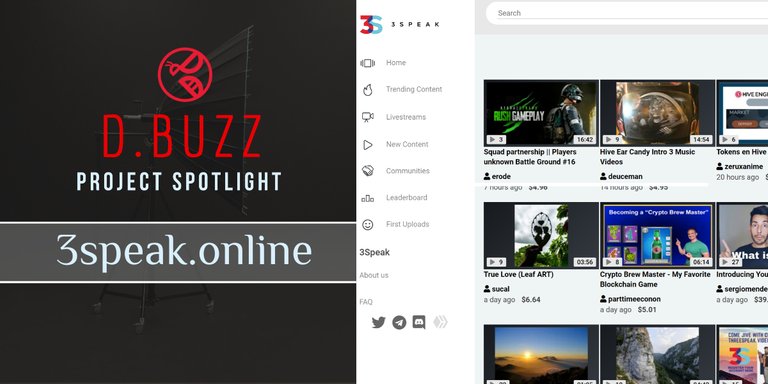 Hey guys and gals,
We made it to Friday! Woot woot.
The weekend is just around the bend and that means ... staying home and being quarantined lol. It's not all that bad. The Internet is filled with a plethora of great media (* along with cat videos) to see and people speaking their mind. That brings us to our DApp Spotlight for today 3Speak.
3Speak Is the video hosting and sharing platform built on the blockchain for a tokenized economy and to host censorship resistant content (* along with cat videos).
As always though, before diving into this review, a big shout out to https://hivedapps.com, a site that lists the TOP DApps. Thank you, @therealwolf, for building and maintaining this fantastic website.
---
This week, we will be looking at "3Speak"
Web URL: https://3speak.online/
Currently, listed as the fifth most used DApp on the block, 3Speak is a platform built to host, share and syndicate video content. All the while providing a censorship resistant base to keep your content safe.
This is a great quote that I think sums up the 3Speak's mission statement.
Freedom of speech means freedom for those who you despise, and freedom to express the most despicable views. It also means that the government cannot pick and choose which expressions to authorize and which to prevent.
-- Alan Dershowitz
3Speak, built a platform for users to upload content that could be shared and viewed, but primarily hosted and then backed up in a decentralised manner through the use of torrents. Being that the videos are backed up via torrents, the content on @threespeak is much more censorship resistant than standard Web 2.0 platforms (i.e. YouTube). That is awesome!
In addition to that, the videos are also posted to the blockchain, enabling monetization through the reward pool on HIVE . . users can also receive donations in 3Speak's proprietary "Speak" token. Awesome x 2.
However, the platform has more than just political content it also has, cat videos, How To guides, Anime, and anything else you might be curious to see.
It really is an elegant solution for posting videos and displaying them on the blockchain, while you monetize your content and keeping it safe.
---
The Daily stats for 3Speak for today (7/31/2020):
Users: 249
Transactions: 516
Volume: HIVE: --
Volume: HBD: --
Rewards: HIVE: 272 HIVE
---
What do you say?
Do you have any thoughts or feelings about 3Speak
Do you use this Dapp?
Let us know in the comments below!
D.Buzz over and out.
---
---
Do you know what D.Buzz is?
D.Buzz is a censorship-resistant short form microblogging platform that empowers you to share your thoughts in 280 characters or less.
If you haven't tried it, give it a buzz today!
@jacuzzi is the content creator of the graphics and text in this article. We strive to have a fun and neutral stance on topics. If you have any concerns with the content, please contact @jacuzzi or us for clarification.
---

---