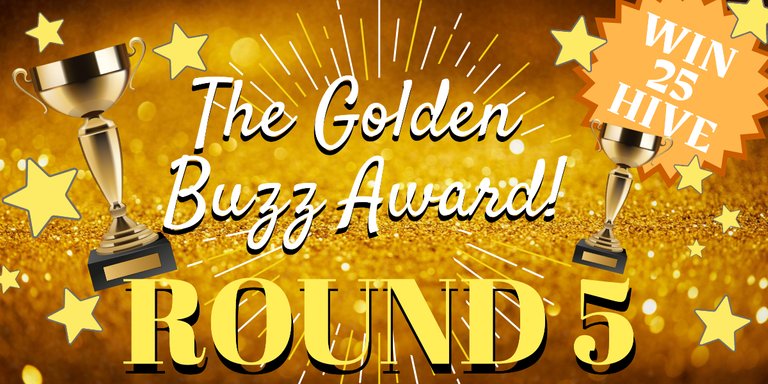 The Golden Buzz Awards: Round 5 (---> WIN 25 HIVE <--- )
Hey guys and gals,
Welcome to another thrilling post from D.Buzz.
I have not been this excited about Saturday since last Saturday. Why do I get excited about Saturday? Well, glad you asked its cause its time for the Golden Buzz Awards.
Yes Sir (Or Ma'am), every Saturday like Old Faithfull, we set it off and put out a call for the best BUZZ on D.Buzz. Do you have what it takes to win? Do you have what it takes to find a winning buzz... let's find out.
---
--> Total HIVE distributed to the community with this post today is: 100 HIVE
Big things coming for D.Buzz as well, so keep on buzzing!
---
Today, the winners are ...
Who Nominated the Buzz:
@atongis
who typed this Buzz :
https://d.buzz/post/atongis/9b7qveqx8a97qx2
---
Yes, a HOT 25 HIVE is going to be divided up and dispatched to you shortly.
As per the rules.
... @godlovermel25 you get %25 of the pot: 6.25 HIVE
... @atongis you get %75 of the pot: 18.75 HIVE
We hope you spend it on something great! (*Like a shirt from our shop http://dbuzz.store/ 😀 )
On to the new week!
---
What is the Golden Buzz?
Every Saturday, we will have a contest to locate and find the best Buzz from the previous week!
Do you think your Buzz is the best?
Do you think someone else's Buzz is worthy of the gold medal?
We want to find that waitress singing in a truck stop that has a voice of a morning dove, give her a bigtime contract and watch her rise like Dolly Parton into fame, that is our Saturday segment, "The Golden Buzz Award"!
So, how does this Golden Buzz contest work?
Post a link to a Buzz from the previous week in the comments below (Last Saturday to this Saturday) that you feel is the best.
If it's a recap of the waitress you heard sinning in a truck stop store, or that you just discovered the next Dolly Parton at a Truck Stop, these can all be contenders for the Golden Buzz.
It just needs to be a Buzz posted on D.Buzz.
We will then give this contest seven days to run, and whichever comment below gets the most votes (Not value, but Vote Counts) wins.
This contest is all well and good, but what do they win? We know you want to loot, so here is the booty.
The honor and respect of winning the golden buzz for the week!
It may be printed out and hung on the wall in our office.
And a cash prize up to HIVE 25 Hive!
And A ticket to see Dolly Parton live at a truck stop! (*Just kidding, I am not sure why I am on a Dolly Parton kick today, it's just one of them days, I guess... ).
CLARIFICATIONS:
If you post someone else's Buzz you feel worthy of the Golden Buzz Award for the week, and this is the winning comment, The original author (the Creator) will get 75% of the prize, and you will get 25% (the Curator)
A Curator and Creator could potentially both post a nomination to their Buzz. The winner is, however, chosen by whichever COMMENT receives the most votes. See point (1) above about payout for Curator vs. Creator.
People can nominate the same Buzz, but again, it's the number of upvotes (not the value of upvotes) that determines the winner. So you can vote with an upvote value of 1% on many buzzes you feel is best. Or, I guess you could make an army of fake accounts and upvote your nomination..., but if you did this, you'd be a D#@k.
In the case of a tie. Both curators battle in Karako songs till one drops of being tired... we will select the winner if it's a tie.
With the contest in place and the rules laid out sort of clear but more I would say "murky" at best, it's my pleasure to say "Let the games begin"!
Seven days... starting ... ... ... NOW.
D.Buzz over and out.
---
---
Do you know what D.Buzz is?
D.Buzz is a censorship-resistant short form microblogging platform that empowers you to share your thoughts in 280 characters or less.
If you haven't tried it, give it a buzz today!
@jacuzzi is the content creator of the graphics and text in this article. We strive to have a fun and neutral stance on topics. If you have any concerns with the content, please contact @jacuzzi or us for clarification.
---

---