My mom, @lizziesworld who passed away on the 20th June 2020 joined this blockchain community in June 2017. Her blog posts were never long, but almost every single day for three years, she shared her gardening knowledge, tips and adventures. I have now decided to compile a few of these "snippets" randomly every week and re-share them with all of you on Thursdays... because that was "our day"... as most of you know.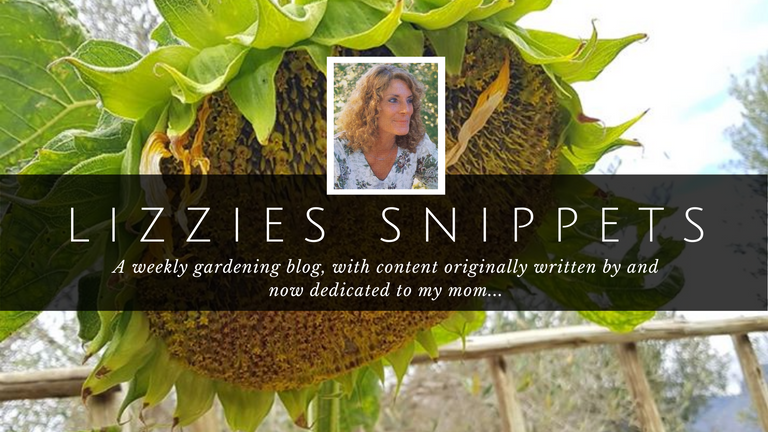 LIZZIE'S SNIPPETS No. 12
A weekly gardening blog, with content originally written by and now dedicated to the memory of my beautiful mom.

The kiss of the sun for pardon, The song of the birds for mirth, One is nearer God's Heart in a garden Than anywhere else on earth. - Dorothy Frances Gurney

Back in the day...
Published July 23rd 2019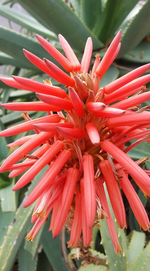 How things have changed over the years when it comes to gardening - I often think how did folk deal with all the pests that can invade the veggie garden. Well for one thing, life was slower and much physical labour was involved - it was a way of life for families if they wanted to eat. Crops were watched carefully as they grew and pests were hand picked off the plants as soon as they were noticed. Today, chemical sprays are used by those that do not practice organic gardening, but years ago, folk would interplant different plants with their veggies so as to deter pests.
This brings me to a post that I did some time ago about how I mix up my plants and plant them close together. Some people may not agree with this, but back in the day, it was done all the time. Pests are attracted to certain scents and by mixing up plants such as herbs, flowers, onions with your veggies, the pests are confused by the different scents from the herbs etc., and will to a large extent, leave your precious veggies alone. Also, the fact that your planting is crowded, makes this method even more successful.
There are some farmers here in the Cape that have changed over to organic methods and they will tell you that after a few years, their yields increased - and the pest invasions decreased and the balance is now healthy the way nature intended it to be.

Waterblommetjie Bredie
Published June 19th 2019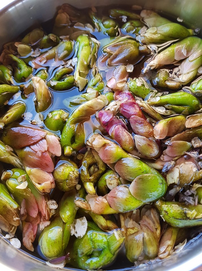 For those of you that do not know what a waterbloommetjie is, let me explain. It is a water plant that grows here in the Cape in and around the many dams and produces very unique looking flowers known to us all as waterblommetjies (water flowers).
There have always been cape communities way back in our history, that went out and harvested these plants and are still today known as the waterblommetjie gatherers. The harvesting was done mainly by the women, who would wade into the water and gather armfuls of the blooms - which had very long stems. There have been many artists - including myself, that have captured these wonderful women as they went about their work.
I do not know how they discovered the fact that these flowers could be cooked and eaten, but their recipe for the wonderful "waterblommetjie bredie (water flower stew) has been handed down from generation to generation and is unique to the cape - the flowers are unusual and remind me of prawns. There are a few variations of the recipe, but most are very similar, so I thought that I would share my own one.
Ingredients:
500g waterblommetjies
600g stewing lamb
1 large onion finely chopped
3 large potatoes diced
2 tablespoons of vinegar or fresh lemon juice
2 cups water
Salt and pepper
(I add a chicken stock cube too)
>Method:
Soak the waterblommetjies in cold salted water for a couple of hours, then wash well and drain.
Brown the onion in a little butter or oil.
Add the meat, salt and pepper and brown slightly.
Add water and cover and simmer for about an hour and a half until the meat is tender.
Now add the waterblommetjies, potato and lemon juice.
Cover and simmer on a low heat until the waterblommetjies and potatoes are soft.
Do not stir as the waterblommetjies will break up
This is a winter dish that I look forward to making as it is delicious.

Connecting with the Seasons
Published February 19th 2020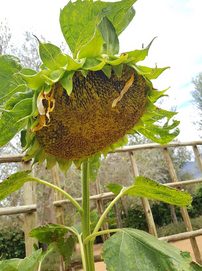 Should you live in an area that has the typical four seasons - spring, summer, autumn and winter, you will understand how we all look forward to a new season. This is especially true for gardeners who have to plan ahead with plantings. When I lived in Zimbabwe, we had a wet season when the rains came and a dry season when everything was hot and dry. Now living in Cape Town, we have all the four seasons and I must say that I enjoy them all - although the Cape winters can be quite violent with wind and rain.
Autumn here in the Cape is a lovely season with sunny days, no wind and a nice not too hot day time temperatures. This is also a wonderful time for gardeners to do lots of planting in all areas in the garden. In the past, when people grew their own food, they were healthier as the food that was eaten was what was grown in that particular season - this is how we are supposed to eat our food and not like today, have everything available in the shops because it has been brought in from other countries.
I am convinced that our bodies respond to eating seasonal food and our health improves. All life goes in cycles and we as the human race are not an exception to this. The more we live close to nature, the better our life will be - nature knows what foods will flourish in each season and we need to pay attention to this.
I always look at the wonderful avocado pear and when it is in season, there is always plenty available to purchase and at a very cheap price - then when you look again, the price has sky rocketed and there are very few on the shop shelves - this is because their season has finished here and so the retailers bring in avos from elsewhere. When you grow your own vegetables and fruit, you soon realize what should be eaten at each season.

PREVIOUS ISSUES

...Love you mom, always ❤
❤❤❤
Until next time...
Much Love from Cape Town, South Africa xxx
Jaynielea
FOUNDER OF THE POWERHOUSE CREATIVES
JOIN ME ON TWITTER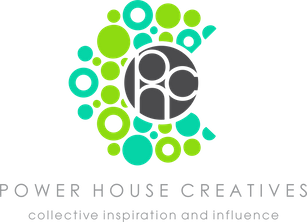 A community dedicated to producing quality content in multiple genres,
offering our subscribers a read worthy feed.
JOIN OUR DISCORD COMMUNITY
SUBSCRIBE TO OUR COMMUNITY FEED
LIKE OUR FB PAGE
FOLLOW US ON TWITTER


Created by @derangedvisions

ALL IMAGES ARE MY PROPERTY UNLESS OTHERWISE CREDITED