Welcome to my blog
Again participating in this interesting contest, and every day the topics are expected. This time the friend @ zord189 invites us to write a letter to someone. That person can be someone close, an organization or anyone.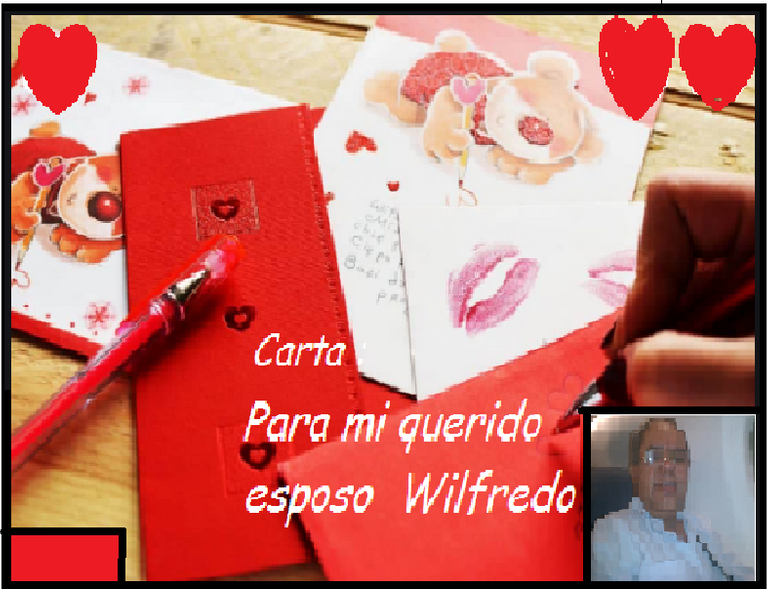 Cumaná, September 15, 2020
Dear husband, my great love:
_
I take this opportunity to write you this letter, to express my love, in these times of crisis, I do not see the day when you return to my side, despite the distance you are always present in me mind and in my heart, a part of me is with you and the other in my memory with beautiful memories which are impossible to erase.
---
I do not see the day when you can return to my side, it is 7 months since you left for another country in search of a better quality of life, but we were surprised by the pandemic, these fortuitous events that never We were expecting are designs of life, things have not gone as we have planned, I just know that I am waiting for you anxiously, your return is not easy but not impossible, I pray to God that he brings you to my side safe and sound and that soon we can materialize our projects that were already scheduled.
---
I feel an immense sadness that overwhelms my days, I know that I am far from your heart, which does not prevent me from remembering you, especially those unforgettable moments that we have spent together, the distance is no greater than the love that unites us, I look forward to your return and my heart flutters and starts when I visualize your arrival, so that we can share as a family again.
---
I live remembering and missing you, my mind always remembers those moments that we spent together being for each other, I miss your caresses, your kisses, your perfume, your voice when you whispered in my ear and you expressed your immense love. I remember your manifestations of love when you told me that you loved me with all your soul that God united us because we are related and we will love each other to infinity, we will grow old loving each other.
---
Amorchi as I usually call you I think of you every day, I think of you at every step, a thousand times I will love you, I feel you deep in my heart and despite the distance you are in every corner of my thoughts. I cry a thousand times to the sky and mention your name to thank you for how much I love you above all else, our love remains intact.
---
I say goodbye with tears in my eyes but with happiness because I was able to express to you through this letter the immense love I feel for you. It is not a see you later, it is a brief goodbye because I know that we will soon meet again.
Yours forever, your beloved:
Mariela Marin
Image taken from google and modified in Paint.

---
Versión en Español
Cumaná, 15 de septiembre de 2020
Querido esposo, mi gran amor:
Aprovecho la ocasión para escribirte esta misiva, para expresarte mi amor, en estos tiempos de crisis, no veo el día en que regreses a mi lado, a pesar de la distancia siempre estas presente en mi mente y en mi corazón, una parte de mi está contigo y la otra en mi memoria con recuerdos hermosos los cuales son imposible de borrar.
---
No veo el día en que puedas regresar a mi lado, son 7 meses que partiste a otro país en busca de una mejor calidad de vida, pero nos sorprendió la pandemia, estos eventos fortuitos que jamás esperábamos son designios de la vida, las cosas no han salido como las hemos planeado, solo sé que te espero ansiosamente, no es fácil tu regreso pero tampoco imposible, le ruego a Dios que te traiga a mi lado sano y salvo y que pronto podamos materializar nuestros proyectos que ya estaban programados.
---
Siento una tristeza inmensa que abruma mis días, sé que estoy lejos de tu corazón, lo cual no me impide recordarte, sobretodo esos momentos inolvidables que hemos pasado juntos, la distancia no es más grande que el amor que nos une, espero tu regreso con ansias y mi corazón se agita y sobresalta cuando visualizo tu llegada, para que volvamos a compartir en familia.
---
Vivo recordándote y extrañándote, mi mente siempre recuerda esos momentos que pasamos juntos siendo el uno para el otro, extraño tus caricias, tus besos, tu perfume, tu voz cuando me susurrabas al oído y me expresabas tu inmenso amor. Recuerdo tus manifestaciones de amor cuando me decías que me amabas con toda tu alma que Dios nos unió porque somos afines y nos amaremos hasta el infinito, envejeceremos amándonos.
---
Amorchi como suelo llamarte te pienso cada día, te pienso a cada paso, mil veces te amaré, te siento muy adentro de mi corazón y a pesar de la distancia estas en cada esquina de mis pensamientos. Grito mil veces al cielo y menciono tu nombre para agradecerle lo mucho que te amo sobre todas las cosas nuestro amor sigue intacto.
---
Me despido con lágrimas en mis ojos pero de felicidad porque pude expresarte a través de esta carta el inmenso amor que siento por ti. No es un hasta luego es un breve adiós porque sé que pronto nos reencontraremos.
Tuya por siempre, tu amada:
Mariela Marin
Imagen libre tomada de google y modificada en Paint.