Because I wanted to have this little fella as my opening picture, the post of today's proceedings is not in chronological order, but that doesn't matter too much since, time is an illusion. As I mentioned, my wife and I had most of the day off together and spent a lot of it running around, but there were photo ops along the way, so this will be a photo-heavy post.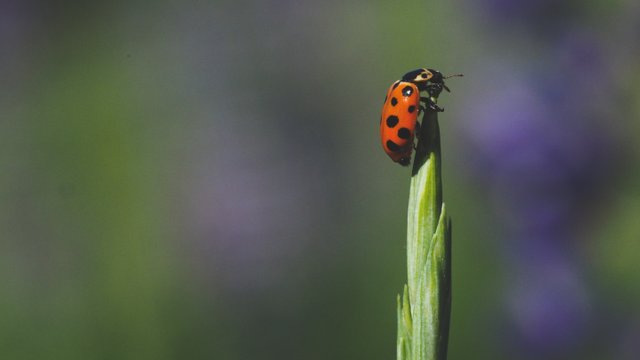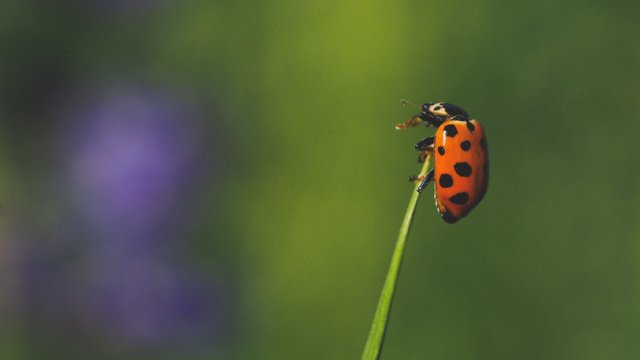 I like it when I get lucky. I like it when I get lucky with the camera also and on the way to the lake for an afternoon swim with the family, I took a meander through a field to see what I could find and chanced upon this pretty little thing at the top of a blade of grass, posing for me. It wasn't for long though and I felt "a little unlucky" when I missed capturing it taking flight by what mush have been a millisecond. Still, I like the colors of the burnt orange on green and the smudges of "lupine purple" in the background.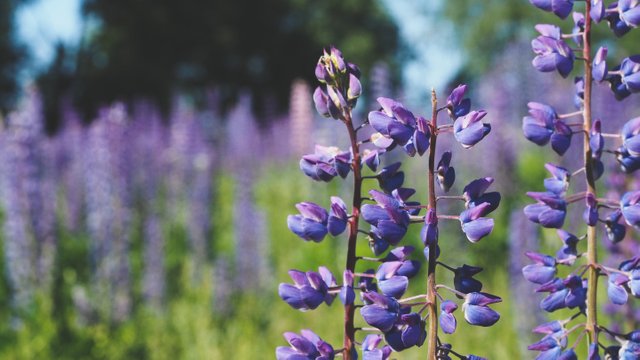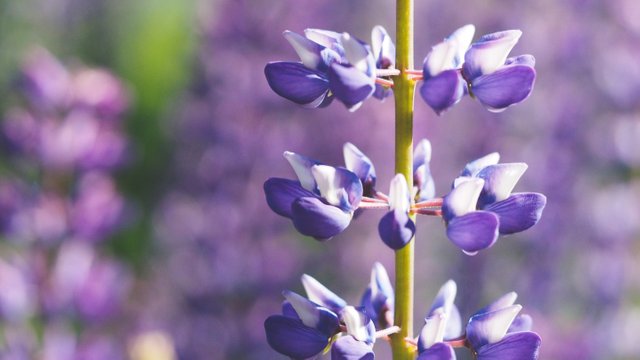 And just on the other side, @momone and @smallsteps walking the trail to the lake beach. Smallsteps has been loving the water this year and spends the majority of her time splashing around by herself commentating on everything she is doing and making up games. Truly happy kids have an infectious energy and no matter my mood, she makes me smile.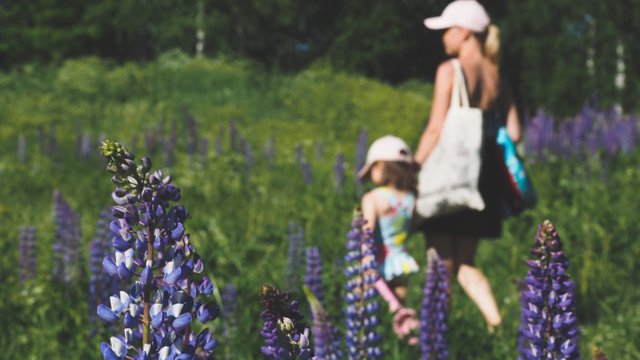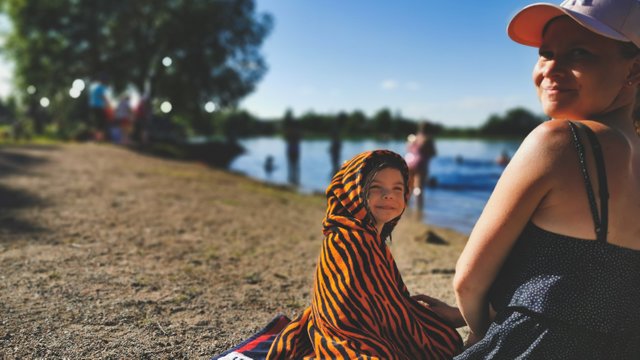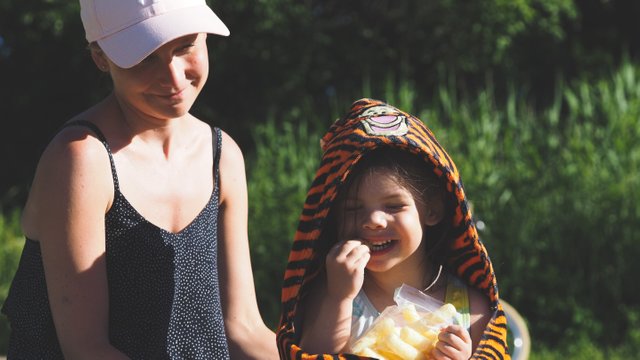 Every kid has their moments, but I am glad that beyond the various challenges we have faced over the last 4 years, moments with smallsteps are overwhelmingly positive and we are very lucky that while she has a very strong personality - she also got my sweetness ;)
And speaking of sweetness, the first strawberries are starting to poke their head out of their flowercaps and while they aren't ready yet, things are looking good. It might even be that Smallsteps will be able to have a few of these after all, as we had a bit of a successful test with some fresh strawberries the other day.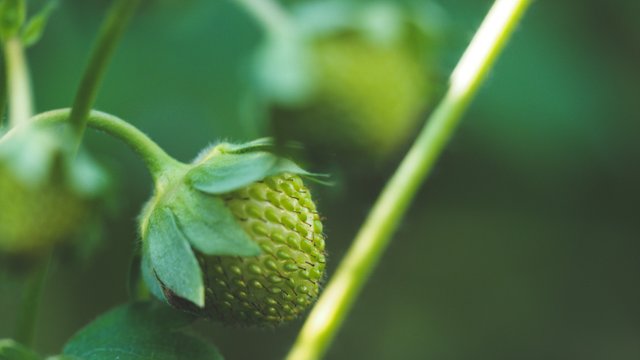 And you can't have summer without some daisies...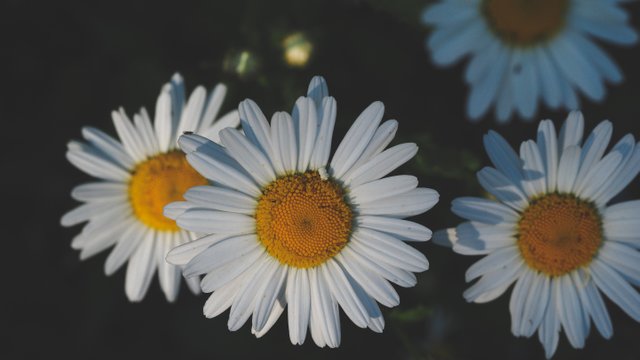 ... and both cherry trees are bearing fruit - as are the apple trees, pear tree and various berry bushes that we have randomly growing here. It is great to see the garden start to become more practical and offer something back after all the water and love we have given it. Okay, not so much love, but I like it a lot.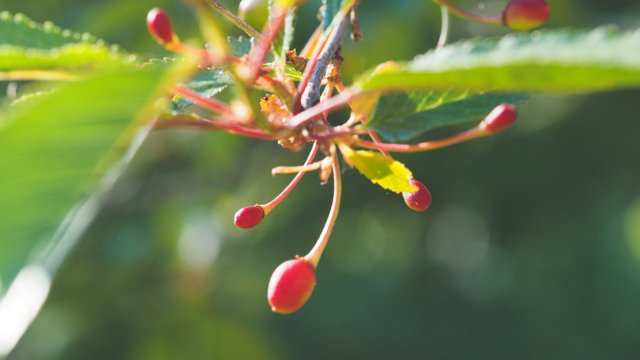 And an ugly bee. If one is short real bees, flies are great stand-ins to practice with. I was actually chasing some small blue dragonflies that I saw in the area the other day, but it wasn't to be - they seemed to have cleared out. One of the problems with a short summer is that things come and go very quickly - it is take the opportunity when it presents now - or miss it.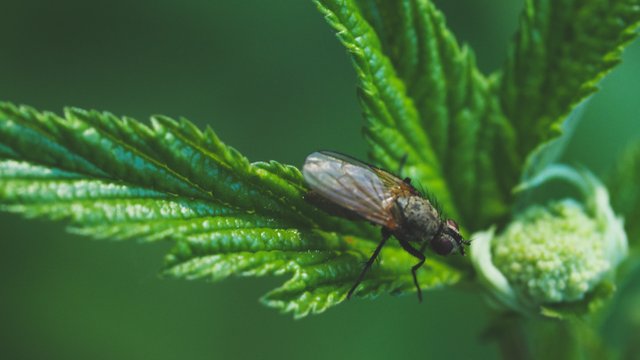 And then, what we started the day with. There is a new "attraction" in the city, which is a rooftop walk around an old textile factory building. Finlayson is one of the traditional Finnish companies and is celebrating its 200th birthday this year - It was founded by a Scot.
The walk is with a guide who was cute and friends, but didn't speak much and was there mainly to stop anyone from jumping out of the harness attached to wound steel cable. The guidance came via a headset and it wasn't until 20 minutes in that the guide realized I had no idea what was going on and apologized for not giving me an English version - if they had one - which they don't. I am guessing that they will have to eventually.
Two things I did learn:
There are sniper points built into the clock tower, just in case.
One hotel was serving alcohol even under prohibition, because that is where the police drank.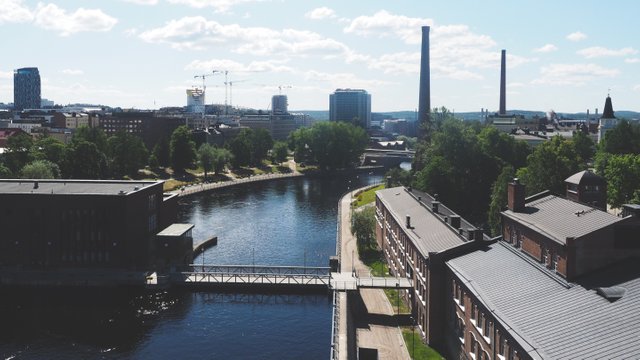 This next photo is taken by the cute guide. I don't know if she was cute to be honest, but she was an "eye-smiler" which I have always found attractive. I think I have looked out for them ever since as a very young kid I read a Roald Dahl book called, Danny, the champion of the world and it was described in there. Eye smiles are genuine, they can't be faked - even by Americans.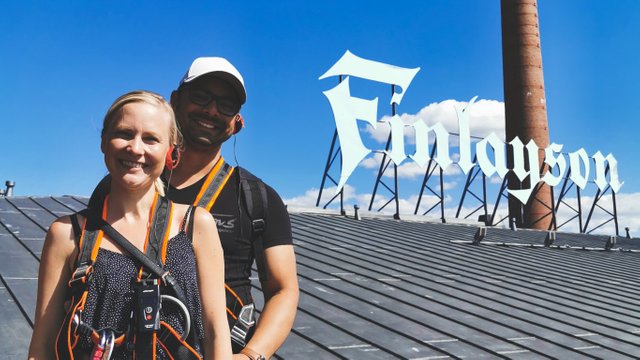 No one wants to see pictures of me, so the next few are of my wife as we headed back to the starting point and then to a rooftop cafe for a salad and a cup of tea. What is cool (and I don't have a good picture of) is they keep a hive on the roof and collect the honey for the cafe. Not only that there is a live feed of the hive available, but if tuning in as this is posted, remember that it is after midnight here and they might not be out and about as much - but you can see inside the hive too if you watch as the camera changes angles.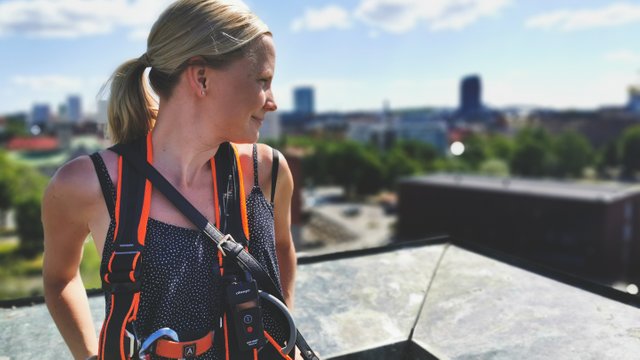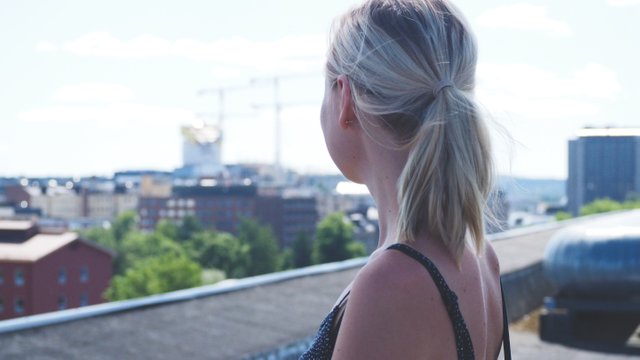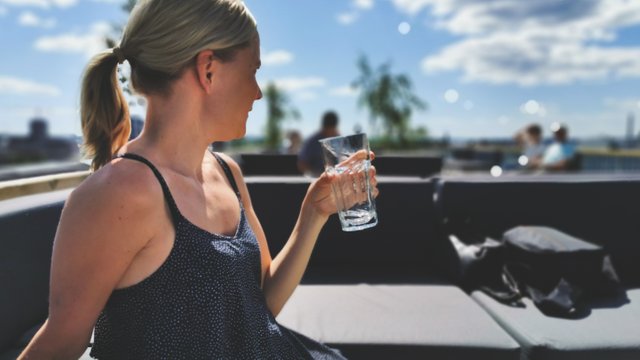 It was a pretty good day and it ended up that we got nearly everything on our list ordered online, including the bathroom mirror and toilet roll dispensers - the important stuff. It really is amazing how expensive some things are these days and how fast the "small purchases" add up. Scope creep is a very real issue with a project of this size with amateurs (my wife and I) at the helm, but it has been bearable so far - just a few more years ahead. The greys are filling my head faster than my wife's though and by the time it is over, I might look even a little more haggardly. She might trade me in.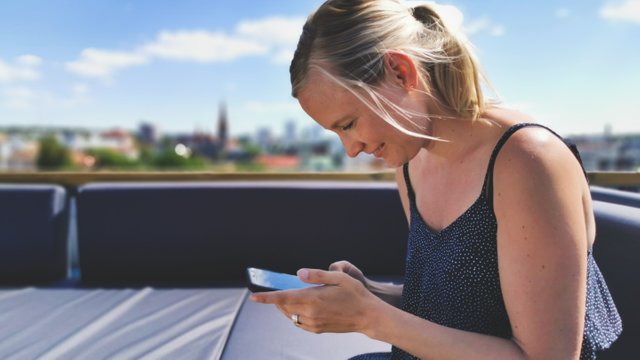 Perhaps that is him on the phone now :D
Taraz
[ Gen1: Hive ]