The same personal business that took me out of town for the Death Wish for #marketfriday also gave me the opportunity to have a nice meal at a Ming's Asian Cuisine with an old friend. The restaurant was quite reasonably priced, although the decor made it look fancy. There was a lot of black-and-white in the theme, with splashes of color here-and-there. At once point, I decided that a trip to the Ladies' Room was in order.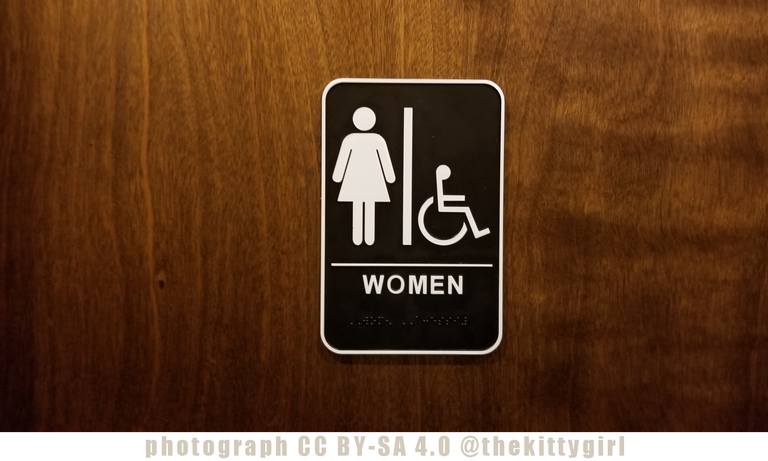 They carried the black-and-white theme into the Ladies' Room as well, and it was quite a striking appearance when I walked in the door! Normally, I don't think of snapping photos in a restroom, but it was so pretty in there that I thought immediately about the #toiletthursday initiative by @brittandjosie 😁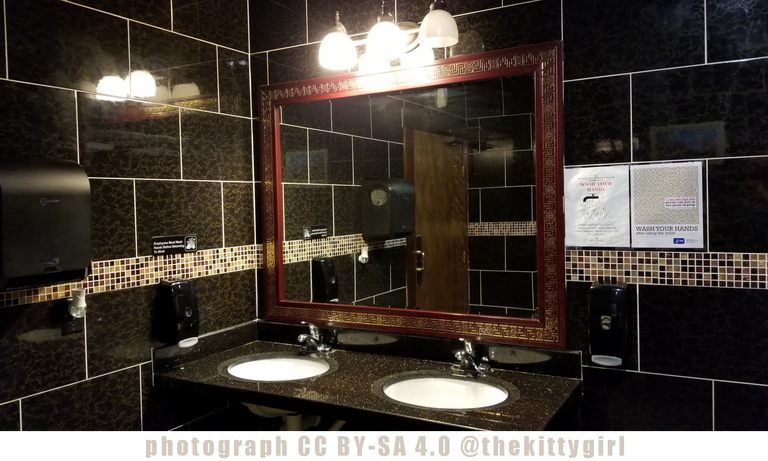 There were black marble-looking tiles on the wall, which might have been real marble, I am not an expert on such things. It certainly looked pretty with the white grout between the tiles. The paper-towel holder was also black as well as the counter top around the sinks. Most of the metal in the room was shiny silver (faucets, railing on the stall doors, the fixtures that held the light bulbs).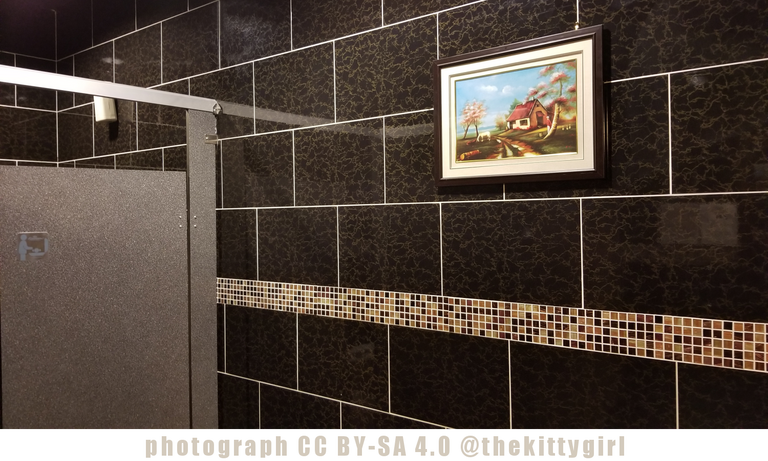 There was a simple, but lovely, piece of art on the wall opposite the sink depicting a rural scene with a cottage and a horse grazing nearby. With no artist signature, though, it must have been a random piece of art sold by a company that furnishes business establishments.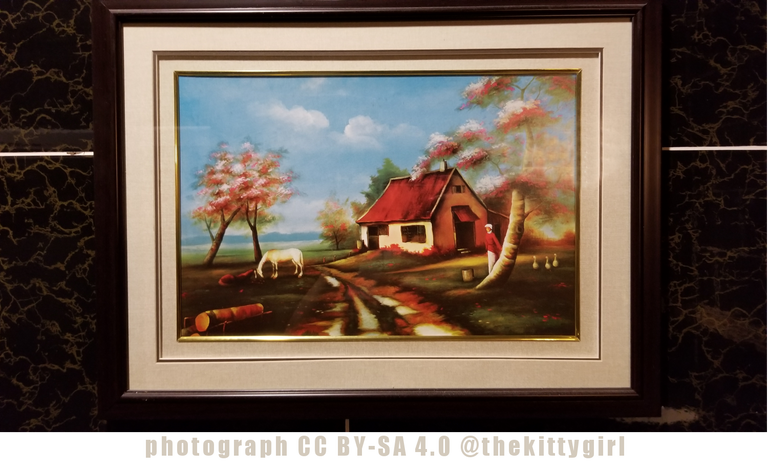 I was quite taken by the ribbon of tile work that appeared along the wall, completely encircling the room. It was composed of small, square pieces of tile laid close together. I thought it was very attractive!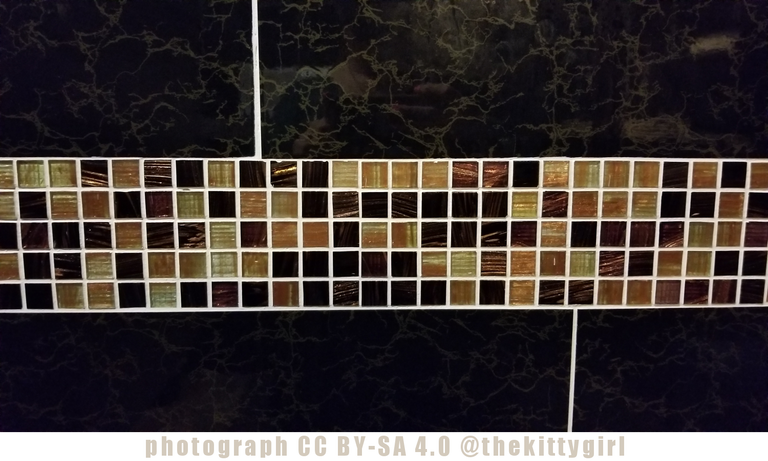 Here is a closeup of the ribbon of tile. Such a simple thing, really, but it added an artistic and fascinating depth to the overall decor of the room!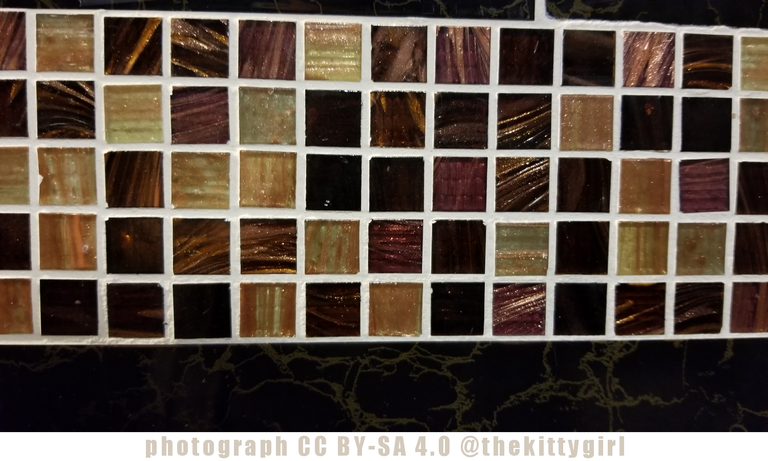 Thanks to the sign hanging over one of the soap dispensers, we now know that one trillion germs can live in one gram of poop!
😱 😳 😷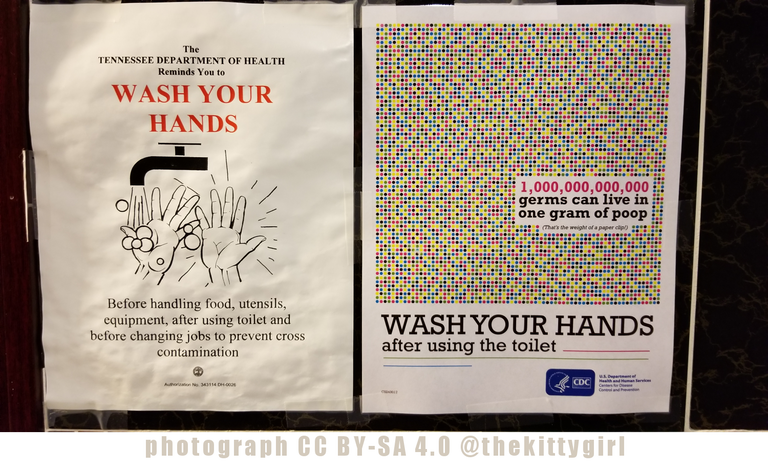 Coming out of the Ladies' Room, I was greeted by a gorgeous floral artwork in a frame on the wall opposite the door. It was larger than shown here, but this was all I could fit in the field-of-view while standing in the narrow hallway. I fell in love with the pretty colors of this piece! Again, there was no artist's signature. I would be delighted to have this hanging in my home!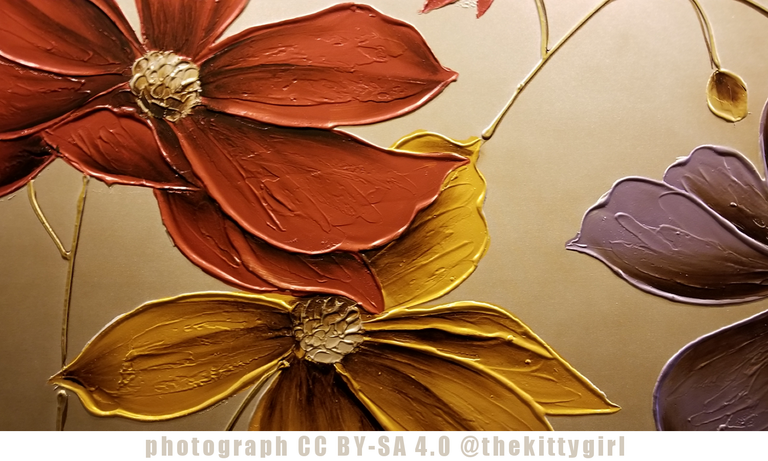 Isn't it nicer using a classy-looking facility than a plain one? It makes 'going' more fun! 😁 When ya gotta go, go in style!

 😊





to learn more about either of these projects, please visit: @heyhaveyamet or @theterminal

10-Sep-2020