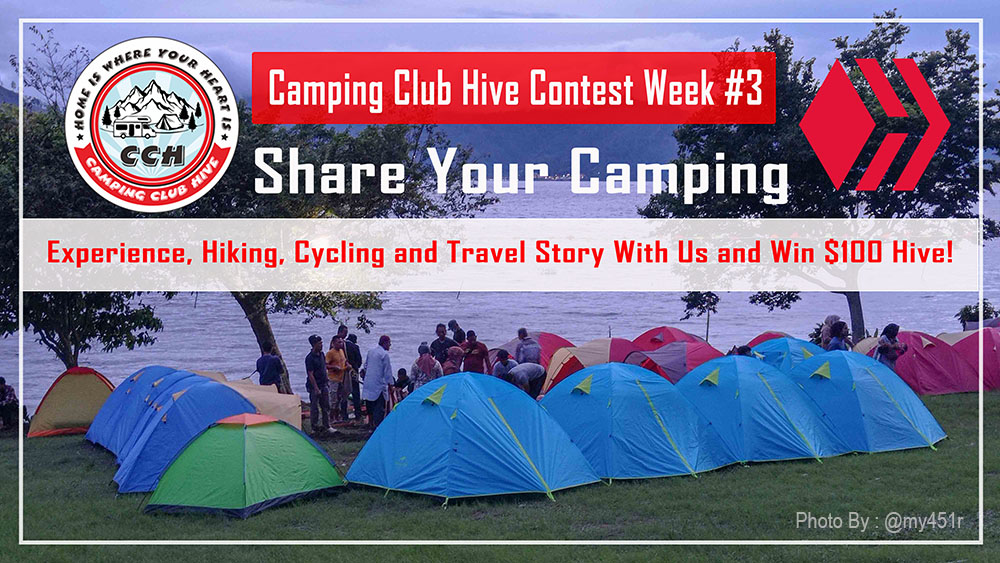 Dear friends on CampingClubHive!
Camping Club Hive Contest Week #3 which we opened last week, we are extending it for the next 7 days! Come on, prepare your posts !.
Lets see here are the rules:
The contest is open for all Hivers
Participants must write a story about travel experience whether are travelling with a tent, caravan, camper, hiking or cycling. You can also post all kinds of travel story with some photos.
The story must be your own. Stealing other works will be muted and reported
Make sure You have Subscribe CCH community, caused Posts must be published through the CCH community.
You must use tag #campingclubhive in the first of your tags.
Write the title: "Camping Club Hive Contest Week #3" in the title of your entry
Write the text about your entry at least 350 words in English
Photos must be original participants own.
Participants must submit a minimum of 5 photos in 1 post.
Participants must use the tag #cch-contest,that to make easy find your entry.
Reblog this post and paste your post your entry in the comments of the post.
Last entries by 12 pm Indonesia time, 10th Mei 2021. local time. In the "Camping Club Hive Contest Week #3", we will provide 100 Hives for 3 winners.
First Place: 50 Hive
Second Place: 30 Hive
Third place: 20 Hive
**
The entry for Camping Club Hive Contest Week #3 will judged by me and @ericha, The winners will be announced on the eighth day after this post going on. Come on friends, lets showtime, and win the prize. thank you! .

Come on friends, what are you waiting for, let's join us in the CampingClubHive (CCH) community. Click here https://hive.blog/trending/hive-117778
I also hope this community gets support from @blocktrades @ocd @acidyo, @trafalgar and @theycallmedan
Best Regards,
THANKS FOR VISIT BLOG CAMPING CLUB HIVE (CCH) COMMUNITY
BEST REGARDS
Camping Club Hive Community