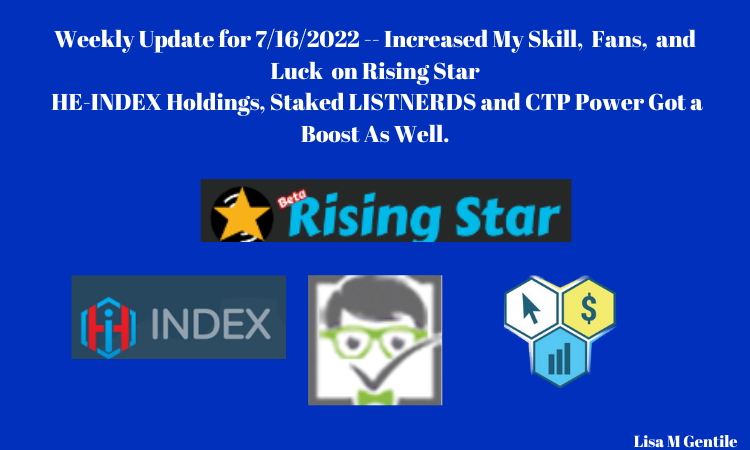 Image Created in Canva.com
A Little Closer to Dolphin Each Week

I am now only 120.587 Hive Power away from 5000 Hive Power.
97.6% there.
Waiting to find out how much HP I actually need to be officially a Dolphin.
I put a question on the CTP Chat Post asking for Comments with questions for the 7/15 episode of the CryptoManiacs podcast.
I was out doing errands yesterday so I am listening to the replay right now.

Friday Buy Day 7/15
My weekly dollar cost average fiat investment yielded $11.21 USD worth of Litecoin.
I went to Bloctrades.us to get my wallet address to deposit to my Hive account. This week I got 25.432 Hive from Blocktrades. I already had 2.30970042 Swap.Hive in my wallet on Hive Engine. I ended with just under 28 Swap.Hive to use after trading some other tokens.
HE-INDEX and Rising Star

I bought 20 more HE-INDEX this week 0.539999 Swap.Hive each for a total of 10.79998 Swap.Hive. I love this token because I am getting passive income from it by just holding it.
My new total HE-INDEX holdings is 1717.0002637 HE-INDEX tokens.

I bought a few more cards in Rising Star this week.
I play more regularly now and I want to advance some more so I am looking for cards that I feel will help with that.
My wallet on Hive-Engine still had 4840 Starbits in it. I with drew 1000 Starbits from the game and deposited it into my Hive-Engine wallet.
I bought 25121 Starbits @ 0.00014685 Hive each and a total of 3.692536 Hive
Okay, 30,961 Starbits is a nice little bit to work with.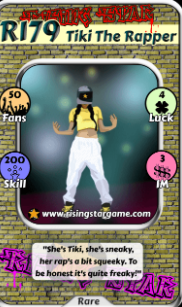 I got this Rare card for 7200 Starbits and gained 200 more skill, 50 fans, 4 luck and 3 Income Modifiers.
I bought another Pizza Box for 7500 Starbits to store the discarded slices that I find. My energy keeps restoring before it needs to because my two Pizza Boxes were full. So, now I have three.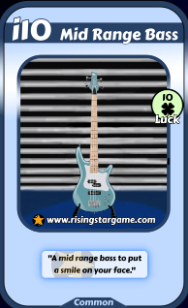 This one got me 10 more luck and was 5800 Starbits.
And bought another Coffee Cup card for 5000 Starbits so that my energy gets restored more quickly.
So, I am looking forward to seeing what these will do to advance my game play.

Other Progress This Week
###CTP Power on CTPtalk
Total as of 7/9: 52361.158
7/10: Claimed and staked: 53.487 New total: 52414.645
7/11: Claimed and staked: 17.074 New total: 52431.719
7/12: Claimed and staked: 24.572 New total: 52456.291
7/13: Claimed and staked: 20.999 New total: 52477.29
7/14: Claimed and staked: 12.592 New total: 52489.882
7/15: Claimed and staked: 24.752 New total: 52514.634
I had 3.528 Swap.Hive left after my other purchases.
I bought 155 more @0.0227 Hive each for a total of 3.5185 Hive.
I had 22.172 CTP waiting to be staked now before this purchase
So I will be staking 177.172 more CTP tomorrow 7/16 and get closer to my next goal of 75K staked CTP
7/16 Claimed and staked: 177.172 New total: 52691.806
Increase of 330.648 (0.63%) Staked CTP tokens this week
22,308.194 away from 75K Staked CTP Goal or 70% of goal achieved

LISTNERDS Staked on ListNerds
Total as of 7/9: 13156.758
7/10 Claimed and staked: 1571.377 (1,317.424 from an email sent on 7/2 and a solo mail sent on 7/9 both verified and paid out at 658.712 each and 253.953 earned passively from staked LISTNERDS) New total: 14728.135
7/11 Claimed and staked: 283.607 New total: 15011.742
And new goal: 20000 LISTNERDS Staked
7/12 Claimed and staked: 288.119 New total: 15299.861
7/13 Claimed and staked: 295.292 New total: 15595.153
7/14 Claimed and staked: 299.987 New total: 15895.140
7/15 Claimed and staked: 245.022 New total: 16140.162
Bought more LISTNERDS while they're still on Sale
64.909 LISTNERDS New total of 16205.071 LISTNERDS staked
7/16 Claimed and staked: 252.215 New total: 16457.286
3,300.528 (25%) Increase in Staked LISTNERDS tokens
New goal of 20000 Staked LISTNERDS set on 7/11 and I am 82% there.

So, that's about it for this week!
I just finished listening to the replay of yesterday's CryptoManiacs podcast while I was writing this post. Always enjoy listening to the great questions and answers. And @jongolson said he would find out where I can learn exactly how much Hive Power I will need to officially be a Dolphin.
I just keep showing up every day anyway and I know I will get there.
It is close enough that I am fighting with myself about straying from my dollar cost average routine.
Enjoy your Saturday and the rest of your weekend.