If I'm not too late I would like to join the weekly plantbased cooking challenge which has six items to choose from. I chose eggplant, sweet potato and herbs as greens.

For this I will travel to Sicily by making a Sicilian dish called Caponata.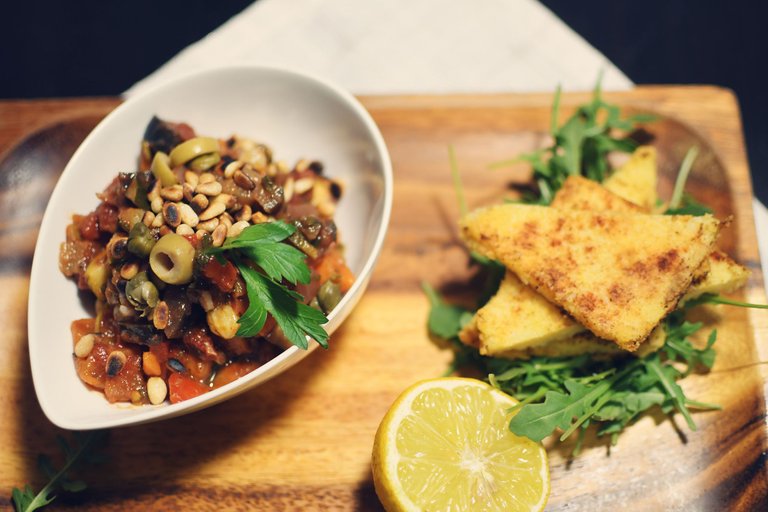 There are different ways that this dish is made. Like in any culture, each family and area may add, take away or substitute certain ingredients. This dish is more like an appetizer usually eaten with bread. I personally think it's enough for a meal.
I have chosen some basic popular ingredients, including eggplant.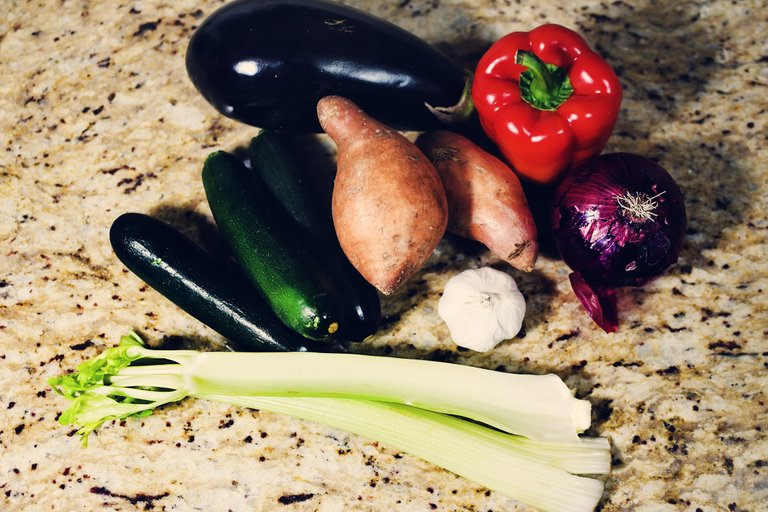 Caponata
1 large eggplant diced
2 zucchini diced
2 stalks celery diced
1 red onion
2 small sweet potatoes diced
1 can diced tomatoes or fresh plum tomatoes diced.
1 red bell pepper diced
4 cloves garlic minced
1 cup sultana raisins
1 cup green olives sliced
3 tablespoons capers
1 cup minced Italian parsley
1/4 cup minced fresh oregano
1/2 cup red wine vinegar
2 tablespoons tomato paste
1/2 cup olive oil
3 tablespoons sugar(I used agave nectar)
Toasted pine nuts to garnish (or almonds)or both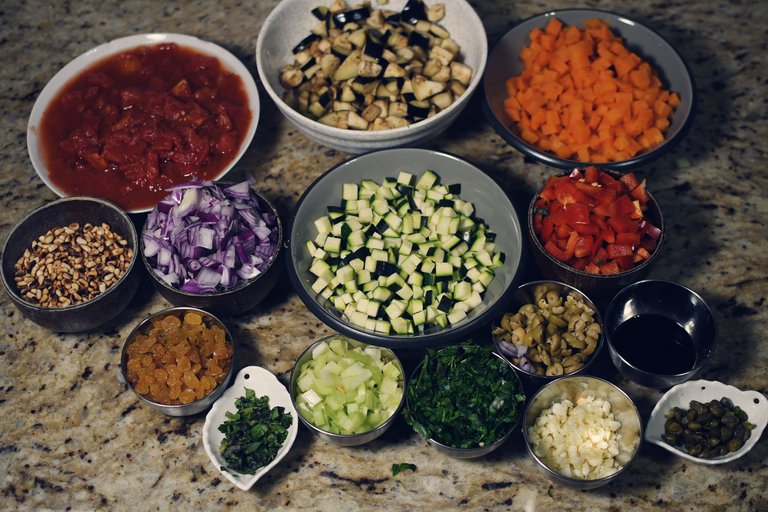 If I would have not forgotten to buy fresh basil, this would have been the star of the herbs but I just omitted it. I was too tired to go up the street and wait in line to get in the supermarket that has the basil. Fortunately I remembered the parsley and the oregano.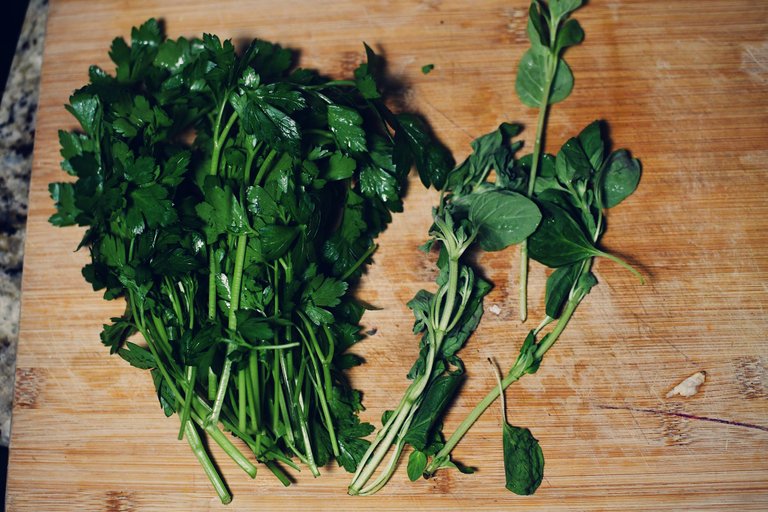 The eggplant was done first so in could sit in a coating of salt for around half an hour. This takes the moisture out making the eggplant meatier which is good for this dish.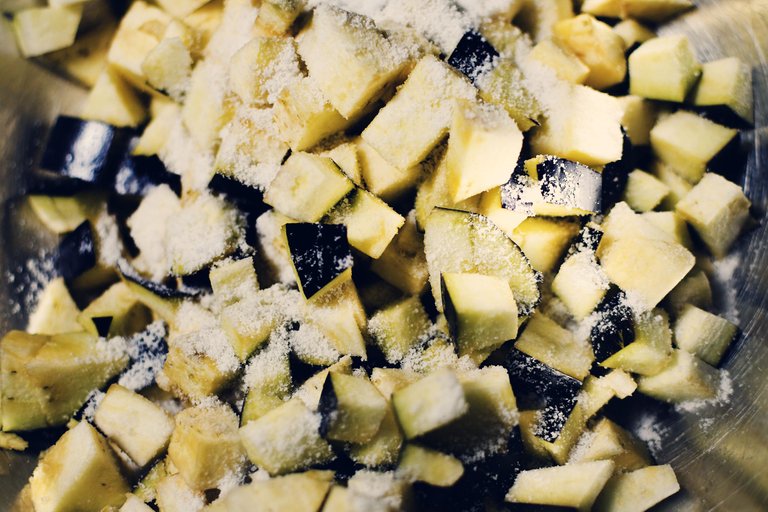 I was pushing it by using my new non stick pan that was just big enough to fit all of the ingredients. I just had to use it. It was a purchase to compensate for the loss of my oven's bottom element which blew up last week. I am afraid to ask them for a new one. The caretaker is a grump. Baking days are over unless I work up the nerve.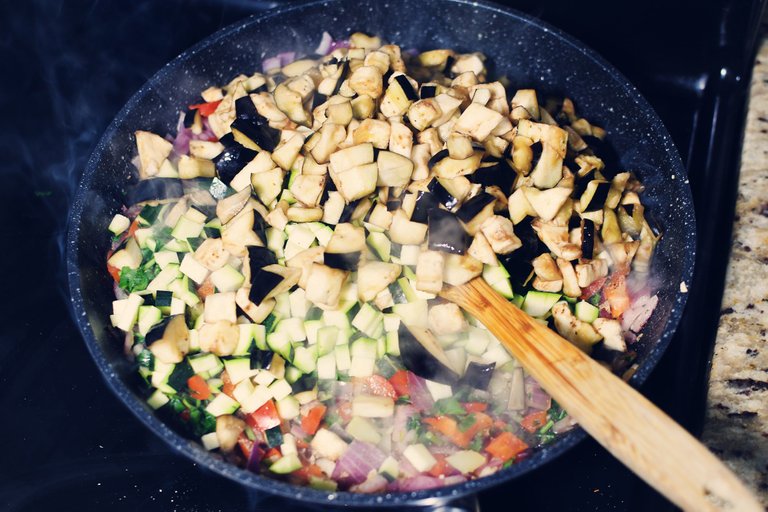 I started by cooking the onions and garlic in olive oil, then adding the other ingredients one by one. The sweet potatoes were blanched first.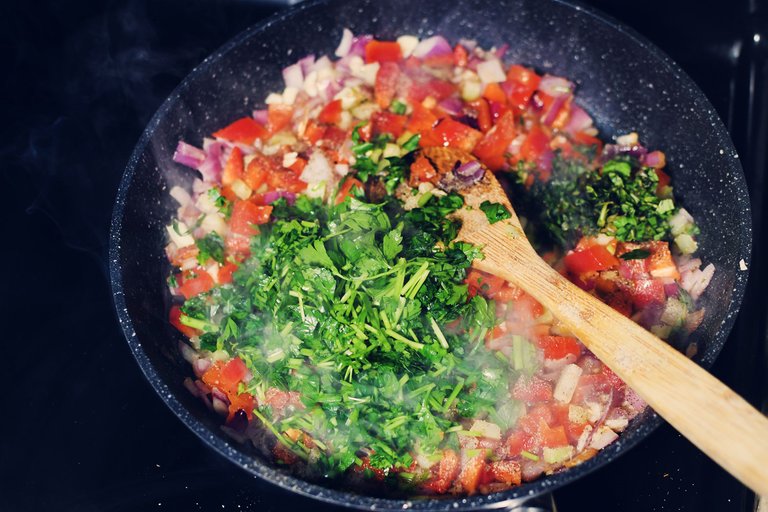 This dish needs to sit overnight to be perfect which is why I may be late with this post.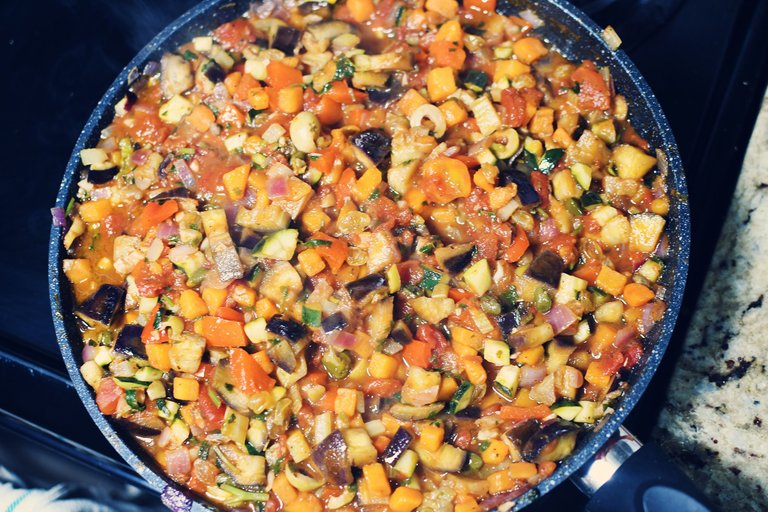 I decided to have this with a quinoa bread which was gluten free, and to also make some polenta which is gluten free. I have gluten free days randomly and this was one of them.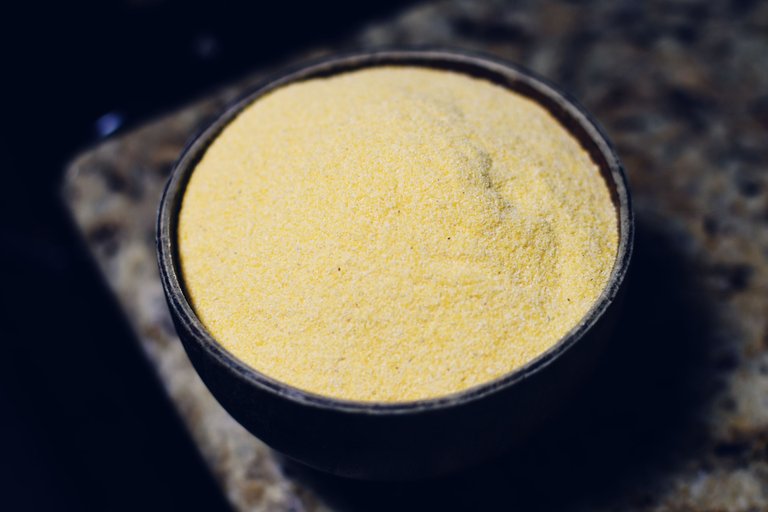 I had some cornmeal in the cupboard that was asking to be used. Polenta is an easy thing to make and a nice accompaniment with something Mediterranean.
Polenta is often made by adding cheese but I didn't bother since I don't consume dairy. I made a basic one by boiling around 4 cups of water with salt and adding 1 cup of the cornmeal which was sort of fine but not the finest. I also added around 3 tablespoons of olive oil.
When it's poured into the water I shut the burner off and keep stirring until it's smooth. I put it in a shallow baking pan and put it in the fridge to cool.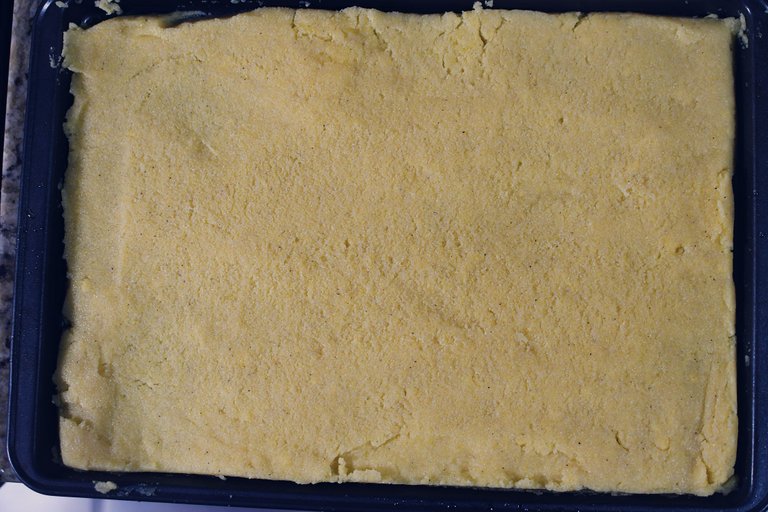 When it was cool I took it out and cut it into squares then browned them in my new favorite non stick pan using just a little olive oil.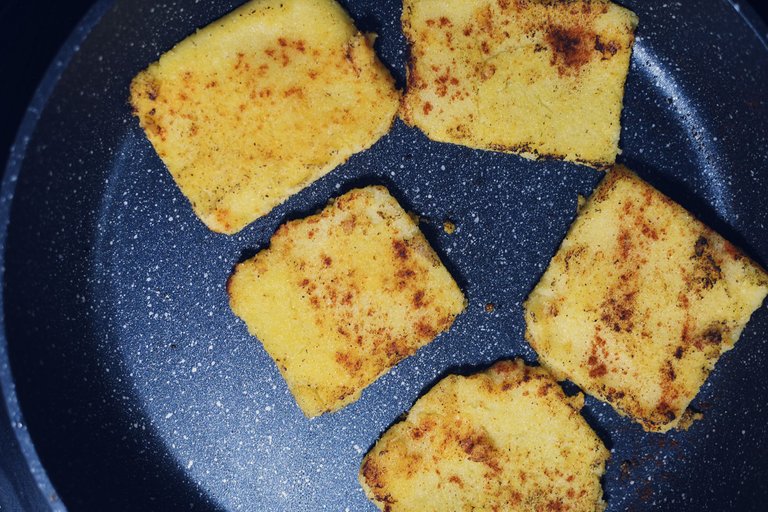 While in the pan I added salt pepper and paprika.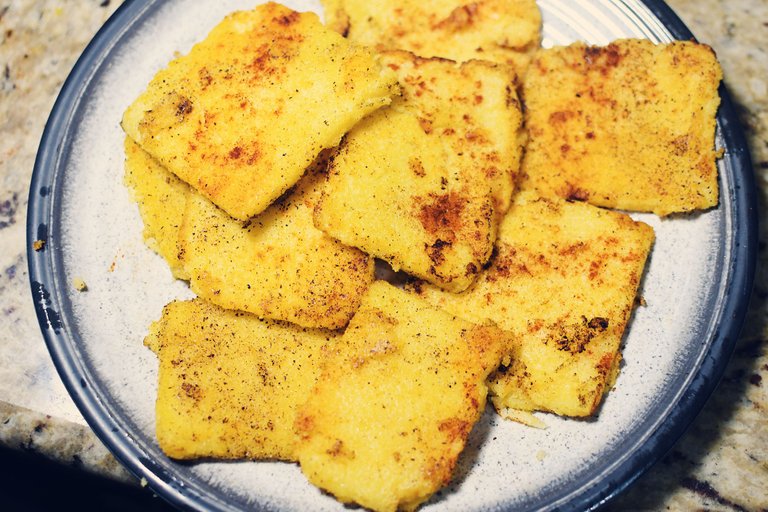 I garnished with toasted pine nuts which I didn't use all of, so I hid the rest from Marc to stop him from eating them all. They cost almost 10 dollars for a small hand full. They are such a treat for us. I could have used almonds but I wanted to have the full experience.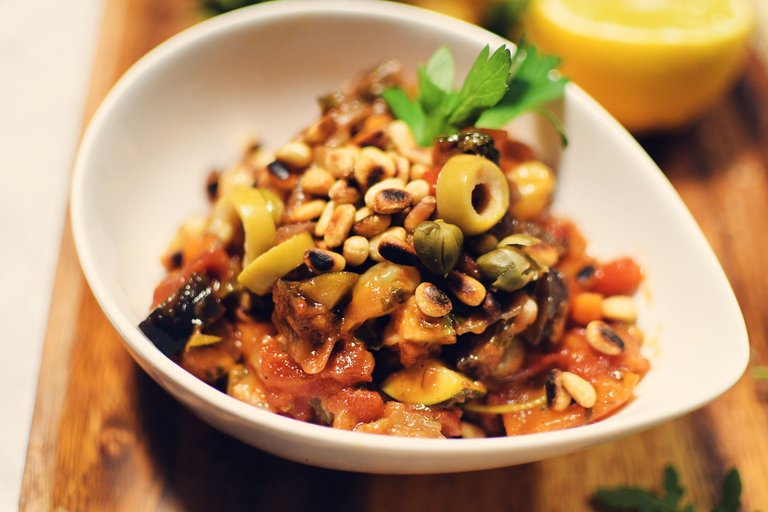 I have a jar of vegan parmesean that I made a while back so I sprinkled some on as well.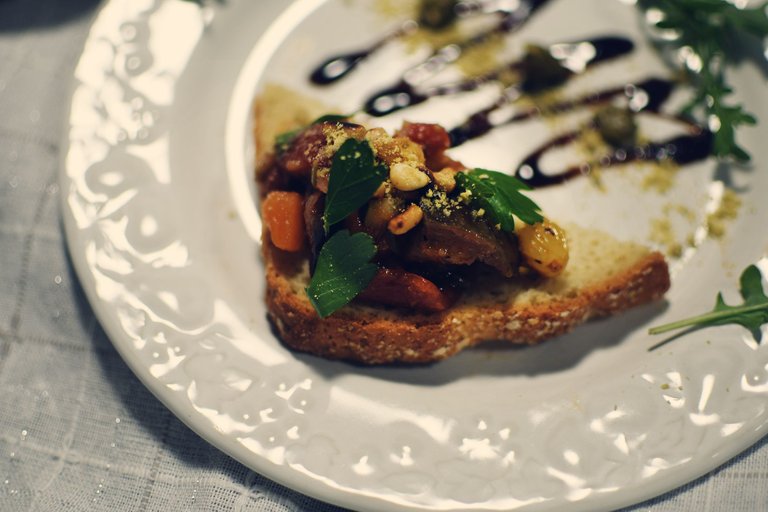 The parmesean is a simple blend of sunflower seeds, salt, nutritional yeast, onion powder and garlic powder. The seeds would be better toasted but I didn't bother. Sometimes I use ground almonds, or cashews.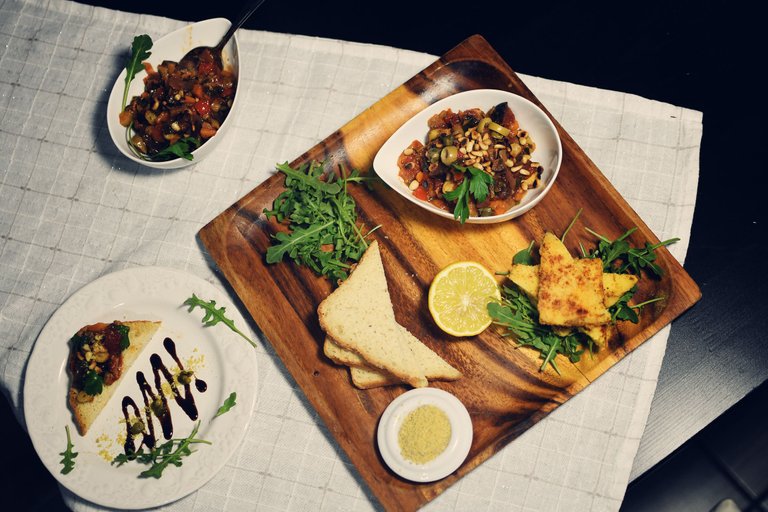 This dish is salty, tangy and a little sweet. I didn't use sugar which is usually added but I did add a little agave nectar. This along with the raisins are the perfect sweetness for me. The sweet potatoes were part of the sweetness as well. The saltiness from the capers and the olives and the salt balance it out. The red wine vinegar and tomatoes add to the tanginess.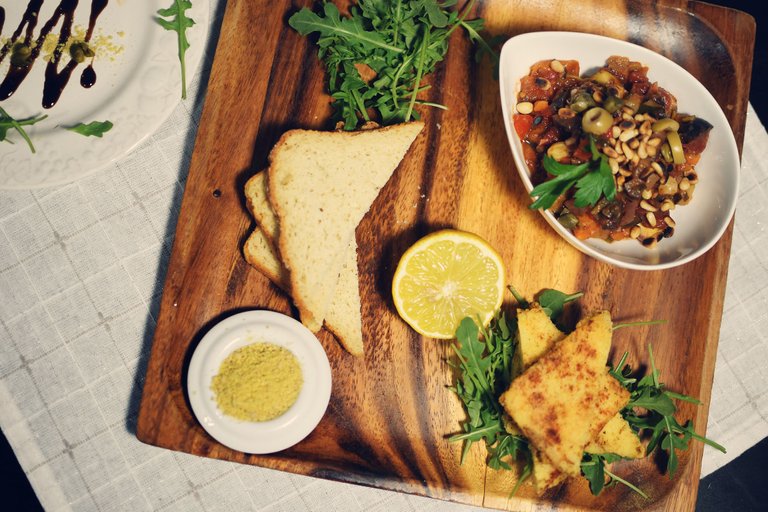 There was far too much left over so I will take it to work to share with our co worker and take a baguette. I like to have gluten free days but that will come to an end soon. I live in French Canada, so there are baguettes everywhere. This caponata will be even better on a fresh baguette. It's a guilty pleasure since I grew up with a father that only bought whole grain bread, brown rice and mostly health store products. We were not vegetarian though. I love my dad for having done that so I can at least be aware and take responsibility for what I eat and the consequences.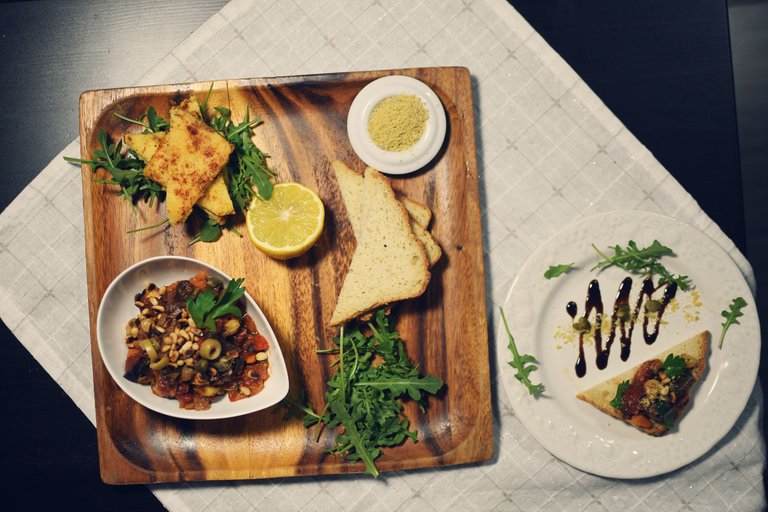 I wish you all a great day!