Saludos querida comunidad, hoy les quiero compartir mi experiencia usando Aloe Vera en mi piel después de sufrir una quemadura.
La planta de Aloe Vera es originaria de la Isla de Barbados pero hoy es muy común que crezca en zonas de clima tropical. También se le conoce con el nombre de Sábila. El Aloe Vera es un arbusto que no supera el medio metro de alto. Su nombre deriva del griego "aloê" que significa: "la sustancia amarga brillante".
Greetings dear community, today I want to share with you my experience using Aloe Vera on my skin after suffering a burn
.
The Aloe Vera plant is native to the island of Barbados but today it is very common to grow in tropical climate zones. It is also known as Aloe Vera. Aloe Vera is a shrub that does not exceed half a meter in height. Its name derives from the Greek "aloê" which means: "the shiny bitter substance".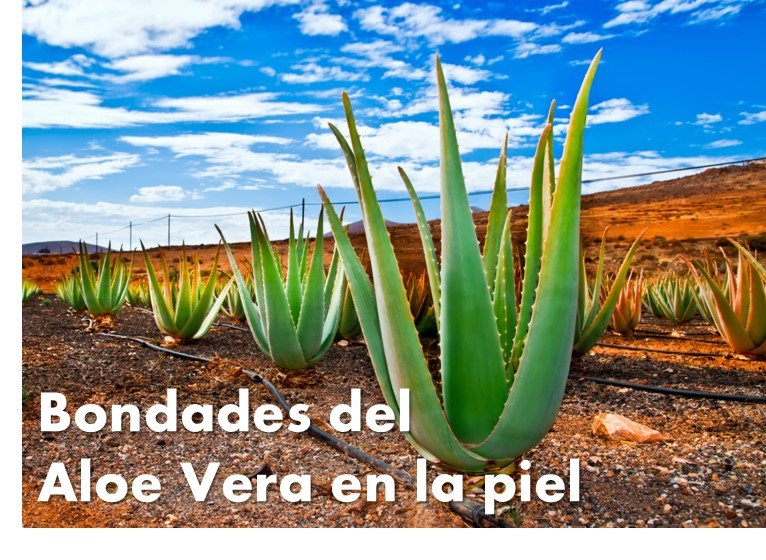 Hay más de 300 especies de Aloe Vera pero la más usada con fines medicinales es la Aloe barbadensis Miller de la que se extrae un gel transparente que se ubica en la parte central de sus hojas. El gel de la sábila tiene muchos minerales, aminoácidos y vitaminas en especial la vitamina E y precursores de la vitamina A los cuales favorecen la regeneración de las células dañadas en la piel reduciendo el edema, dolor y favoreciendo el proceso de cicatrización.
There are more than 300 species of Aloe Vera but the most used for medicinal purposes is Aloe barbadensis Miller from which a transparent gel is extracted from the central part of its leaves. The aloe vera gel has many minerals, amino acids and vitamins, especially vitamin E and precursors of vitamin A, which favor the regeneration of damaged skin cells, reducing edema, pain and favoring the healing process.

La estructura del gel del Aloe Vera le permite almacenar mucha agua, la cual al colocarla sobre la piel favorece la hidratación de la zona. Cuando se va a utilizar el gel del Aloe Vera se corta la penca de la planta con un cuchillo de plástico ya que el gel en contacto con los metales y oxígeno se oxida perdiendo parte de su actividad biológica, así que el gel debe ser extraído de forma rápida y enjuagada con abundante agua para eliminarle la aloína, una sustancia que le dá amargor a este gel. Una vez extraído se sugiere guardarse en el refrigerador tapado con papel film.
The structure of the Aloe Vera gel allows it to store a lot of water, which when placed on the skin favors the hydration of the area. When the Aloe Vera gel is going to be used, cut the stalk of the plant with a plastic knife because the gel in contact with metals and oxygen oxidizes losing part of its biological activity, so the gel should be extracted quickly and rinsed with plenty of water to remove the aloin, a substance that gives bitterness to this gel. Once extracted, it is suggested to keep it in the refrigerator covered with plastic wrap.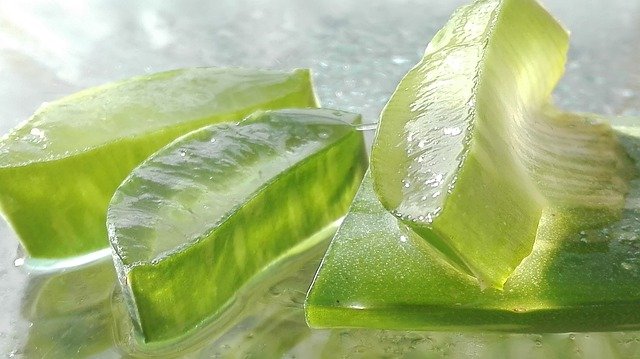 Para los que me conocen, saben que amo cocinar, es una actividad por la cual siento una inmensa pasión, pero a veces un simple descuido puede terminar en un accidente doméstico.

Mientras preparaba el almuerzo puse a calentar aceite para sofreír unos vegetales y al incorporarlos la humedad de éstos hizo que el aceite brincara hacia mi antebrazo provocándome una quemadura extensa pero no profunda. No obstante esto no evitó que se inflamara y fuese doloroso.

Justo en ese instante recurrí a unos ángeles @aurodivys @sacra97 @lisfabian y @tarot911 quienes me aconsejaron qué hacer en esos minutos iniciales de la quemadura en especial para evitar la formación de la burbuja de piel, que al romperse deja una marca horrible.

Después de los primeros auxilios básicos, el ardor era muy fuerte así que procedí a aplicar el gel del Aloe Vera en mi brazo, el cual coloqué através de todo el día en especial el que tenía en refrigeración para así lograr desinflamar la zona.
For those of you who know me, you know that I love cooking, it is an activity for which I feel an immense passion, but sometimes a simple carelessness can end in a domestic accident.

While I was preparing lunch I heated some oil to sauté some vegetables and when I incorporated them, the humidity of the vegetables made the oil jump towards my forearm causing a large but not deep burn. However, this did not prevent it from becoming inflamed and painful.

Just at that moment I turned to some angels @aurodivys @sacra97 @lisfabian and @tarot911 who advised me what to do in those initial minutes of the burn, especially to avoid the formation of the skin bubble, which when it breaks leaves a horrible mark.

After the basic first aid, the burning was very strong so I proceeded to apply the Aloe Vera gel on my arm, which I applied throughout the day, especially the one I had under refrigeration, in order to reduce the inflammation of the area.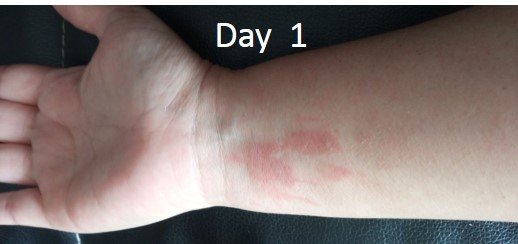 Photo property of the author

Todos los días de forma religiosa lavaba con mucho cuidado la zona y colocaba el gel de Aloe Vera en mi brazo y miren cómo estaba la zona quemada a la semana del evento.
Every day I religiously washed the area very carefully and put the Aloe Vera gel on my arm and look how the burned area was a week after the event.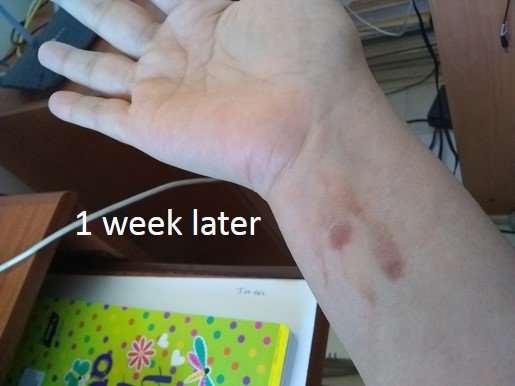 Photo property of the author

En la medida que pasaban los días cuidé mucho de no exponer esta zona a la luz solar para así evitar que las nuevas células de la epidermis de la piel se oscurecieran y así evitar que quedara una mancha.
As the days went by, I was very careful not to expose this area to sunlight in order to prevent the new skin epidermis cells from darkening and thus avoid leaving a stain.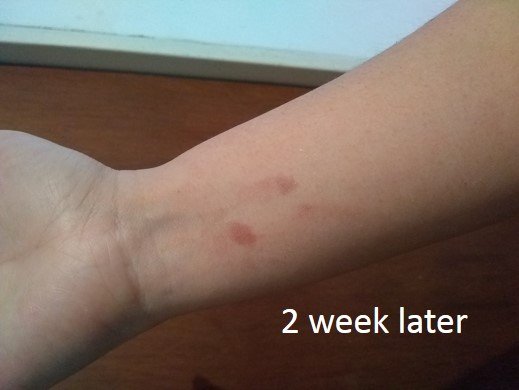 Photo property of the author

Como pueden apreciar ya van 3 semanas desde que sufrí la quemadura y se puede apreciar la diferencia y la recuperación de la zona. Aún falta un poco más de tratamiento con el gel de Aloe Vera, pero sé que el tiempo que me lleve valdrá la pena.
As you can see, it has been 3 weeks since I suffered the burn and you can see the difference and the recovery of the area. I still need a little more treatment with the Aloe Vera gel, but I know that the time it will take will be worth it.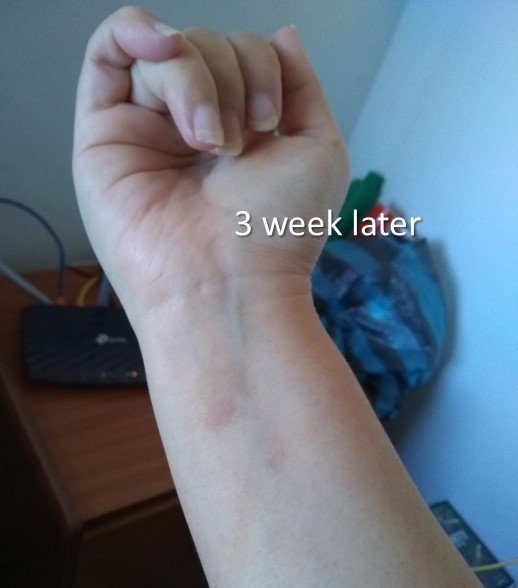 Photo property of the author

¡Gracias por leerme, espero que esta publicación te haya gustado y en especial puedas apreciar a través de las imágenes los beneficios del gel del Aloe Vera. ¡Nos vemos en una próxima publicación!
Las imágenes son de libre uso. Las fuentes de referencia aparecen al dar click sobre ellas.
Thank you for reading, I hope you liked this post and especially that you can appreciate through the images the benefits of Aloe Vera gel, see you in a future post! The images are free to use. The reference sources appear when you click on them.