Ah, we just can't resist. We're running TWO challenges for the month of November (read about the other one here) as well as continuing our #mentalhealthawareness encouragement project where you earn more stars on your Hive.Buzz badge. Are we gluttons for punisment or what?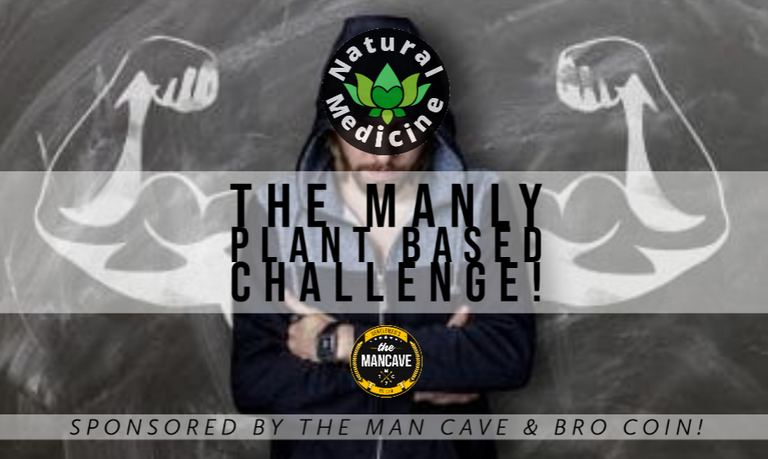 Well - we might be gluttons - because we're super keen to read your delicious plant based inspired recipes, this time around the theme of MANLY MEALS. And if you don't want to cook or share a recipe, there's plenty of other options to write about too!
Why? Because @raymondspeaks from the Man Cave invited @riverflows to the cave, where @justinparke thought - hmmm - wouldn't a Natural Medicine/Man Cave collab be fun? What about a manly man plant based challenge? Because you know that old meme that if you are vegetarian or vegan, you clearly don't have balls? Well, something like that. All those myths that eschewing meat makes you less virile, less strong, less - MAN. Pfft. Just ask this guy: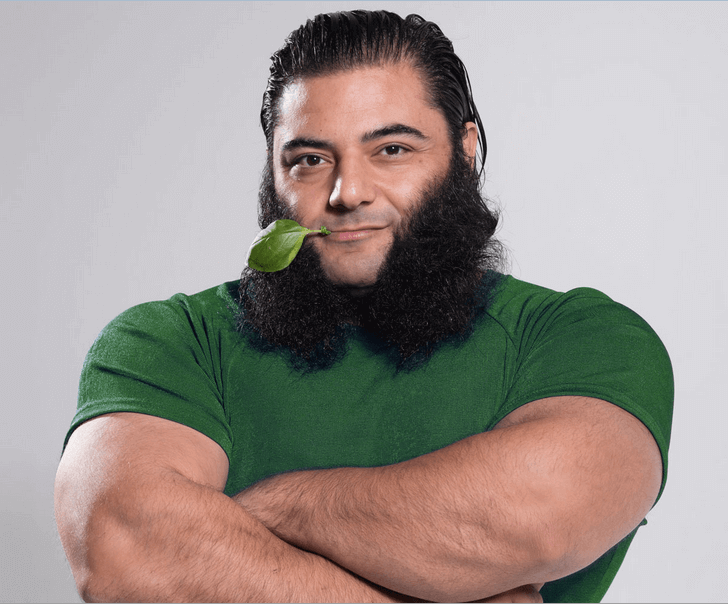 Vegan Strong Man, Patrick Baboumian
So this challenge is about putting this myth to the test. Here's a few ideas to get you going - you could choose one, or come up with your own angle. We're happy to have vegan or vegetarian posts, it's up to you - and you can enter as many times as you like for the rest of the month.
What's been your personal experience as a man who doesn't eat meat? Have you had to fend off jokes, jibes and jabber about your manliness? How do you respond to them?
Is there any truth to the meat and virility myth?
What's the manliness plant based meal you can think of? Is it fake meat in a fake blood burger, or is it all carbs and cheese? Barbecued and smoky, or just lots of it?
Check out the arguments against male athletes on plant based diets and SMASH them to pieces!
Cook a meal for a meat eating male lover/friend/partner/colleague and write about their response/or reaction
What plant based foods are supportive of men's physical and mental health?
As a man, what's your experience with plant based eating?
Refute all the arguments for being a plant based man & play the devil's advocate!
What you can Win!
50 HIVE to the ultimate winner
100 BRO TOKENS
200 LOTUS
A feature and part beneficiary in any of the many curations @naturalmedicine puts out each week, including Thursday's #plantbased curation
Your post tweeted
Tips for extra special posts
Upvotes by Man Cave crew with staked LOTUS (just drop your link in their Discord in the #lotuscorner channel)
Reblogs by @naturalmedicine, @lotusshares and @uplotus
Conditions of Entry
500 words minimum
Original photos or sourced images
Original content
Posting in Natural Medicine community, second tag #mancave, followed by any other tag you like (first 5 are always HIVE based, other 5 are good to be found outside HIVE - try #plantbased #vegan #health #wellness)
Drop the link to your post under this one so we can find it!
Reblog this challenge or any of the #plantbased curation posts by @naturalmedicine this month.
We'll be awarding the winners in the first week of December. You can enter as many times as you like - and have fun!

Earn Instantly For Writing Good Natural Health Content
If you would like to earn rewards for sharing your natural health content on www.naturalmedicine.io, you can sign up for a free FREE account by emailing [email protected] Read more about us on our Welcome Page. We support writers sharing about herbalism, TCM, yoga, meditation, vegan and other healthy diets, as well as earth centred practices such as foraging, permaculture and biodynamics.


Please consider delegating to help keep this collective going. For any questions, come ask in our friendly Discord here !