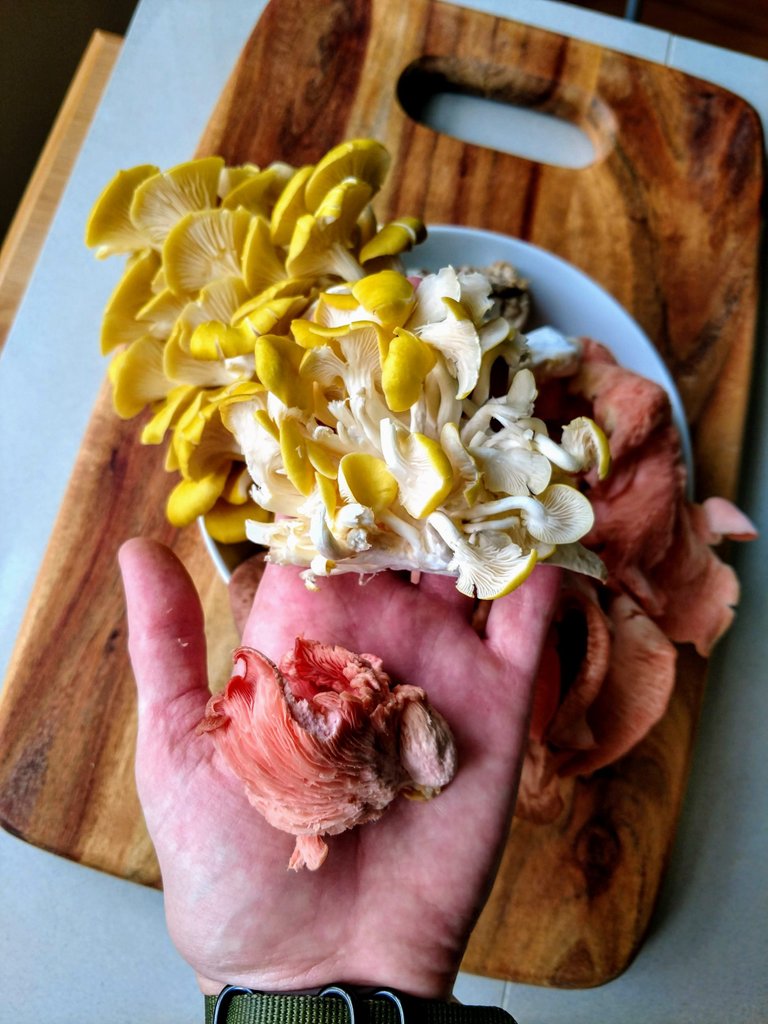 Hello friends! I hope everyone had a fantastic weekend and a good start to the new week. I couldn't let my Monday pass without sharing once again how amazing my farmers market is. Seriously, my farmers and local vendors still surprise me sometimes with the new things popping up. This week a new vendor Bella Vita Mushrooms joined the Marietta family. As soon as I saw her booth I hurried right over to wait my turn to see all the stunning mushrooms that she had for purchase. Crazy to think just a few years ago I would turn my nose up at the thought of mushrooms starring on my plate, but here I am writing a whole post about them!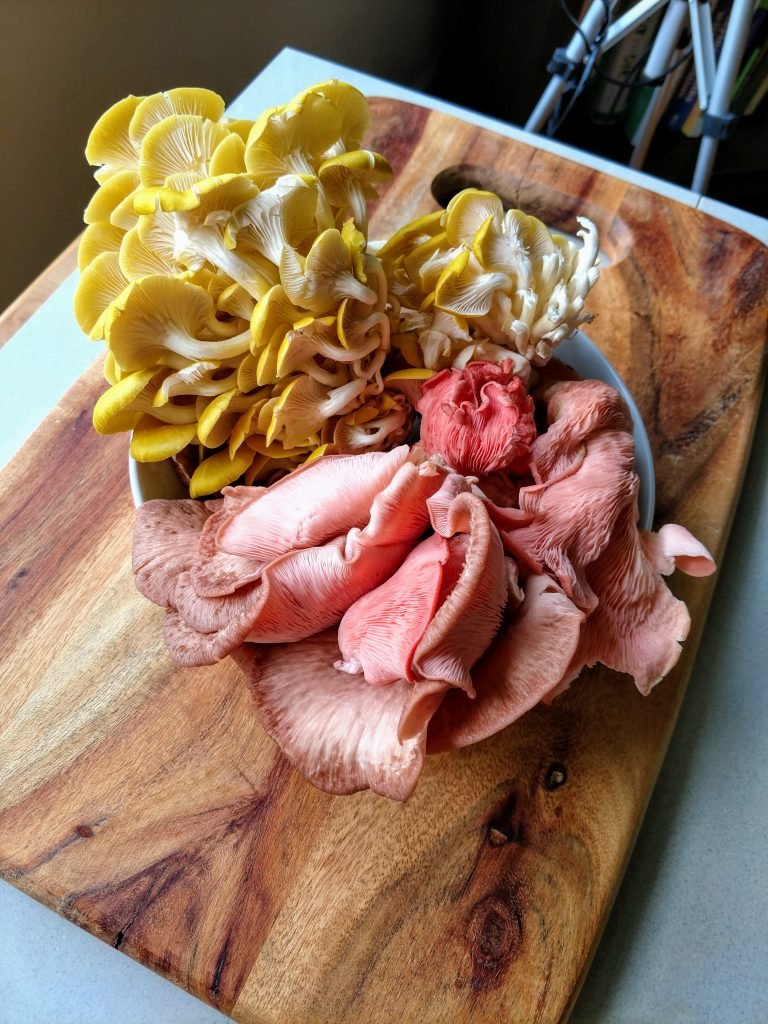 I should have taken a picture of the booth, but just imagine a whole table filled with oyster mushrooms galore, lion's mane, chanterelle's and I think one or two other varieties I'm forgetting at the moment. I have seen the typical white oyster mushrooms before, but never have I seen pink ones! The pink and yellow were too gorgeous not to purchase. What stunning muses to work with in the kitchen, right?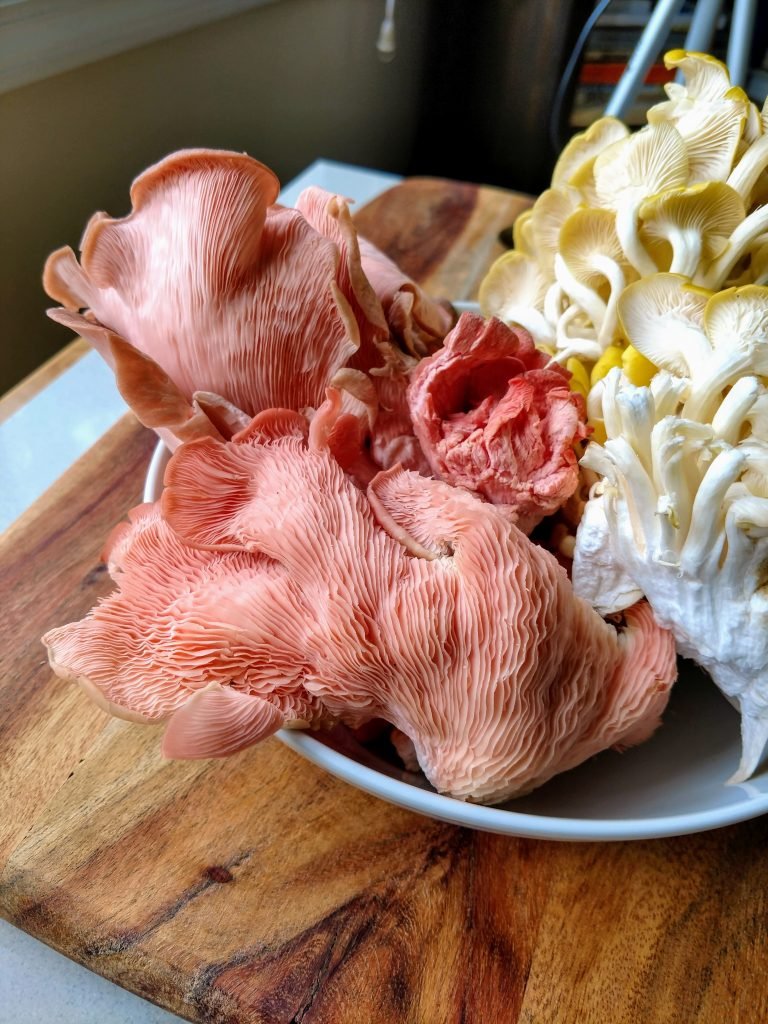 The pink oyster (Pleurotus djamor), are almost floral in their appearance, but the pink hue does fade once cooked. Nature really is amazing when you look around and find all of these varying shades of color in edible items. Once I got home I looked up some information about my haul on healing-mushrooms.net on differences in flavor and beneficial properties. A wonderful resource that I'm happy to have landed upon, though I'm lucky to know some other great mushroom aficionados through blogging that have given me some great information, as well.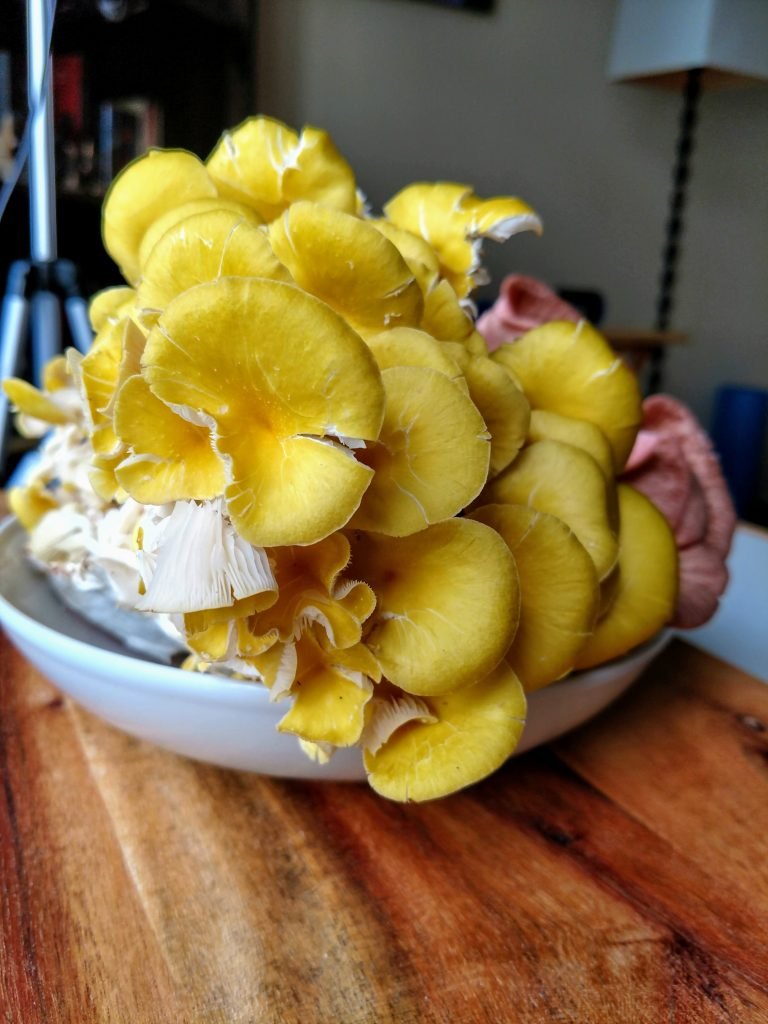 The yellow, or golden (Pleurotus citrinopileatus) oyster mushrooms are no less eye-catching in their own appearance. The color is inviting, but the clusters of growth are so cool to see. I'm sure it would be a blast to get some spores to try to grow some at home at least once or twice, but I'm also quite happy supporting a local female-owned business. Lots of lady farmers in the Atlanta area rocking it right now! (Sorry fellas, you know I love you, too) 😉
Besides just looking so rad and mushrooms being a great way to add umami and texture to vegan dishes, oyster mushrooms like other edible fungi are reported to have many health benefits. They're low in calories and have no cholesterol, but shrooms have a decent about of protein, fiber and other nutrients like B vitamins, potassium and many antioxidants. They have been studied to be beneficial in lowering inflammation, supporting the immune system, reducing cholesterol and promoting stable blood pressure. Of course no one food is a magic bullet for perfect health, but a diet full of beneficial ingredients certainly doesn't hurt to keep your body in tip top shape from the inside out!
Speaking of diet, I'm sure you want to see how I enjoyed incorporating these beauties into my cooking this time around. The boyfriend has gotten good at making homemade pizza dough, so I set him to work Saturday evening to make us a nice weekend meal. He started working on the dough and I whipped up a yummy pesto with fresh oregano from the garden, fennel fronds, sunflower seeds, nutritional yeast, garlic and red wine vinegar. He added onions, Swiss chard, halved cherry tomatoes and some vegan cheese as a treat for the top. While the pizza was cooking I sauteed the golden oyster mushrooms with sliced green onions from the garden so that the mushrooms would be cooked to perfection. Once the pizza came out of the oven I finished it off with the mushroom mixture on top. Perfection!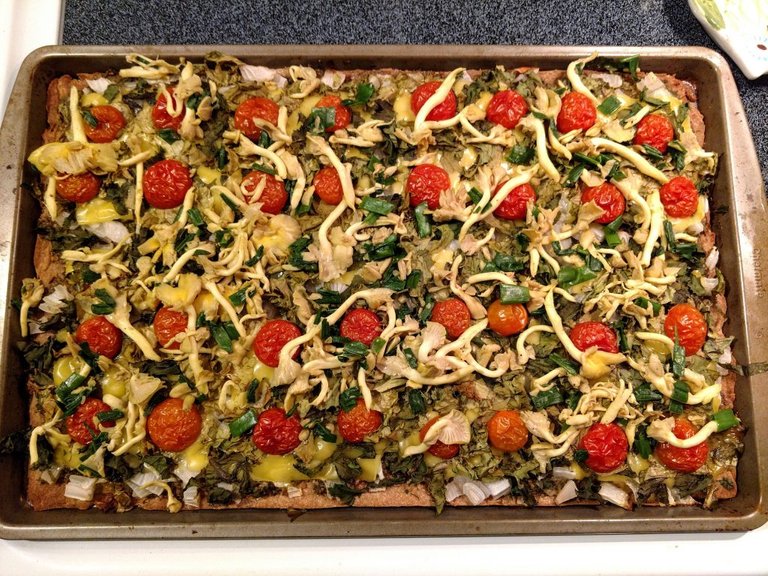 We polished off half on Saturday, then had the rest for lunch on Sunday afternoon. The mushrooms were chewy and slightly nutty, adding a great texture to the pizza. This might just be one of the best pizzas we've made at home! Who needs takeout?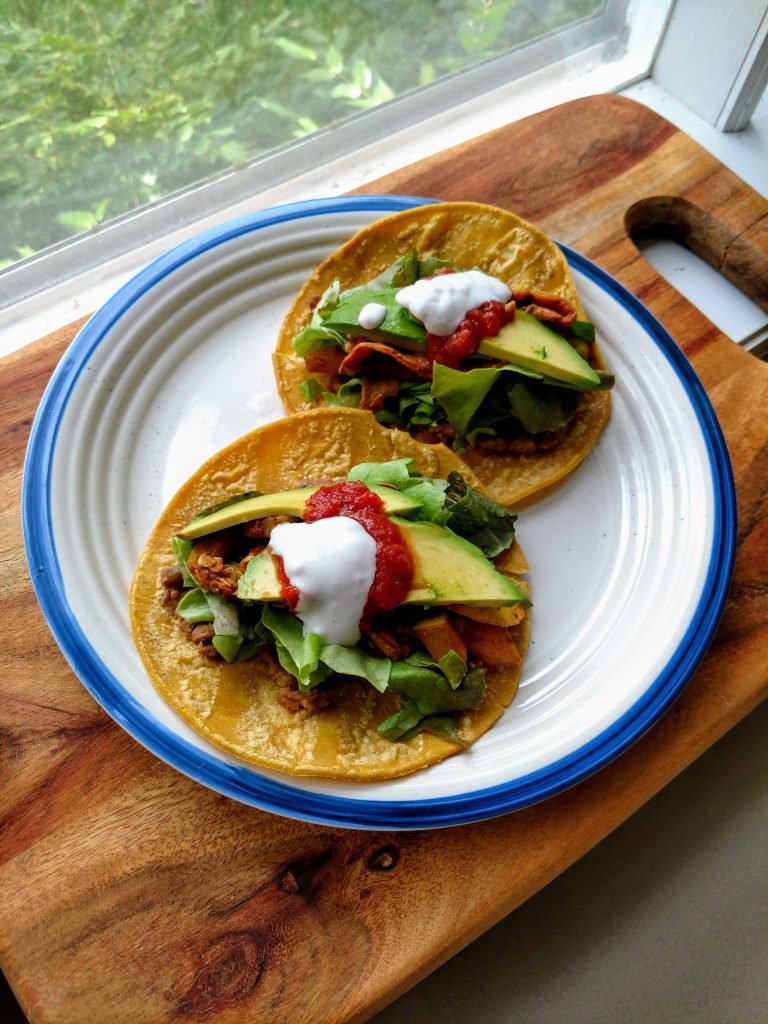 Not wanting the pink mushrooms to dry out, I got to work incorporating those into some homemade tacos last night. I had made a big batch of pinto beans to pop in the freezer in the morning, so I kept a few cups out to turn into a non-fried re-fried bean addition to spread on the base of the taco. The mushrooms I sliced up to saute with red onions and some of my fresh patty pan squash from the garden. I took the easy route with organic store bought salsa and a new vegan sour cream (Forager brand) made from cashews and coconut cream that was a delicious tangy topper.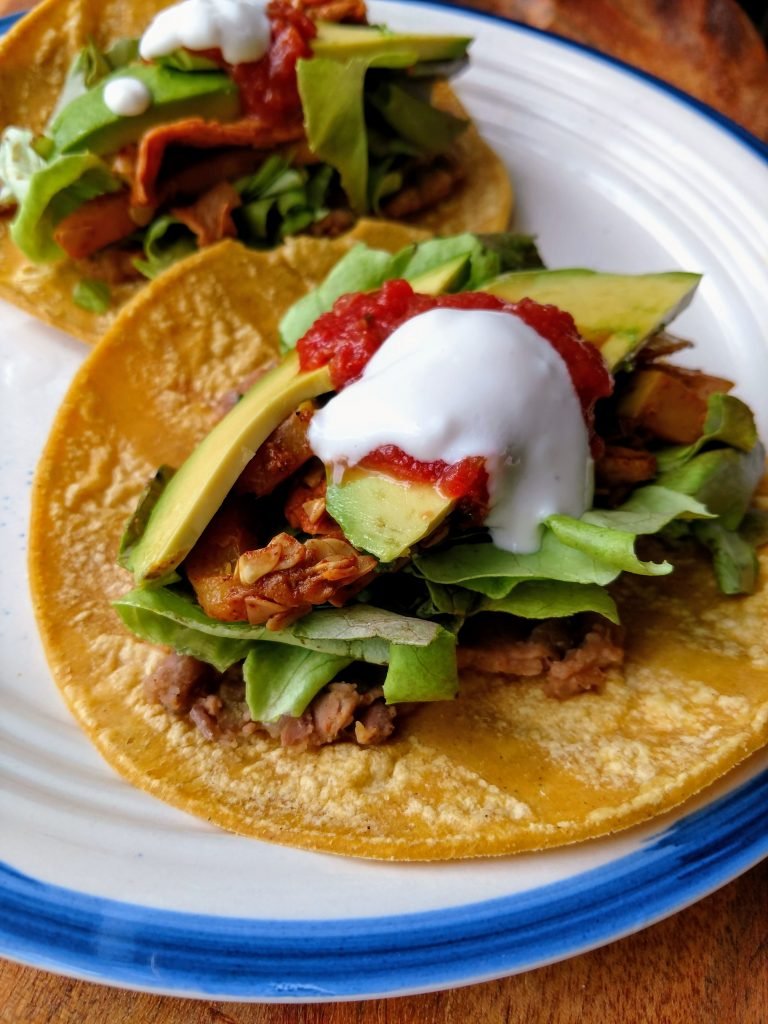 I added a lot of spices to the pan when cooking up the mushroom mixture, so their flavor wasn't really pronounced in the final dish. They had a great meaty texture, though, and the dish was another winner. I think Dave went back for seconds and thirds...
Definitely some fun with fungi this week! I'll have to get back in the kitchen today to cook up the rest of my delicious market goodies. This time of year is just heaven at the farmers market with all the glorious summer produce in such abundance. I know my pal @lenasveganliving would be in #fruitsandveggiesmonday heaven if she could visit, and @fionasfavourites has threatened to block me if I taunt her much more with my vibrant finds. I truly am a lucky foodie to live here in Atlanta!
Happy cooking my friends!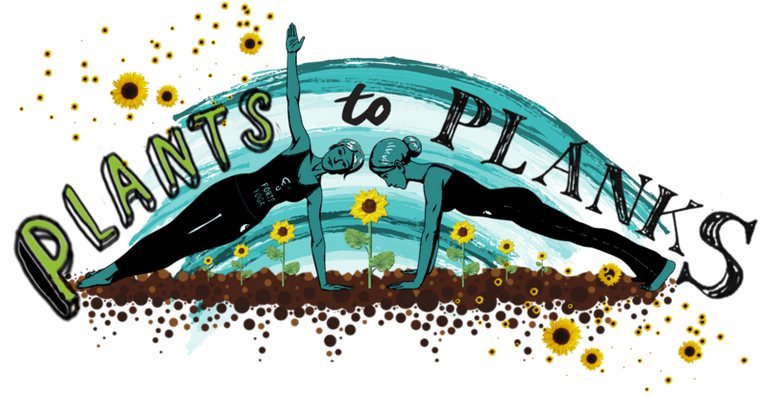 Banners by @woman-onthe-wing and @dksart

Join The Best Natural Health Community on Hive
---
Posted from my blog with SteemPress : https://plantstoplanks.com/amazing-market-finds-picture-perfect-oyster-mushrooms/
---