Once in a while I write about the scraps of herbal medicinal projects I'm working on - the kind of things that don't warrant a longer piece of writing, but still fill my days with joy and interest. The more I explore the herbal world, the less I know, and the more I desire to know, and the more I narrow down the field of herbal medicine that I enjoy - simple, folky and born from pottering in the garden, communing the wild plants, and foraging.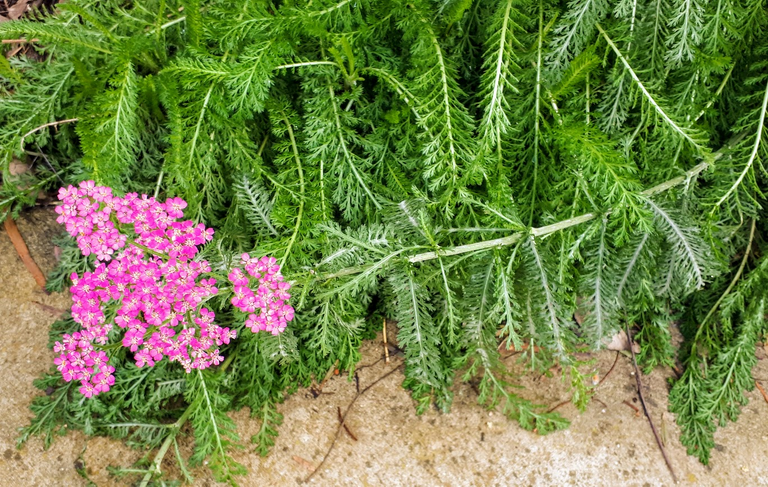 Beautiful and feathery pink yarrow
At this time of year everything is giving up their offerings to birds and soil, and hands such as mine that pluck and glut on berries, flowers and leaves as they finish this cycle of bursting from the soil and spreading seeds in various ways. We've had
bucketloads
of hops, which I struggle to give away unless to bearded brewers who hold the strobiles up to joyful noses which glisten with yellow pollen and
appreciate
this ancient plant. I manage to give away a few handfuls at the garden's meet up to those willing to try one in their evening tea, bitter and sleep inducing. The rest is dried and put in a large jar to last the winter. Perhaps
this
year is the year we make beer.
Gotu Kola is a new one on me - for the last two years, it's been growing away nicely in a wicking tub which provides this Asian plant with constant water, which it likes. I pick leaves on the way to feed the chooks and nibble on them - Centella asiatica or Brahmi as it's also known, as it contains a plethora of nutrients (vitamin A, B, C and D, as well as calcium, magnesium, potassium and more) and is said to help brain function. But this time I'm also picking it to dry, so I can infuse in an oil to make my father a psoriasis lotion bar with vitamin E and beeswax, a recipe I find that looks interesting. Gotu kola contains triterpenoids, which help heal wounds, boosting antioxidants and increasing blood supply to the area. Whilst I've been growing it, I haven't really studied it until late, and wish I'd grown more to dry as tea. Next year, I might transplant some to the second tub wicking bed so I can juice it and dry it for tea.
Every year is a learning opportunity.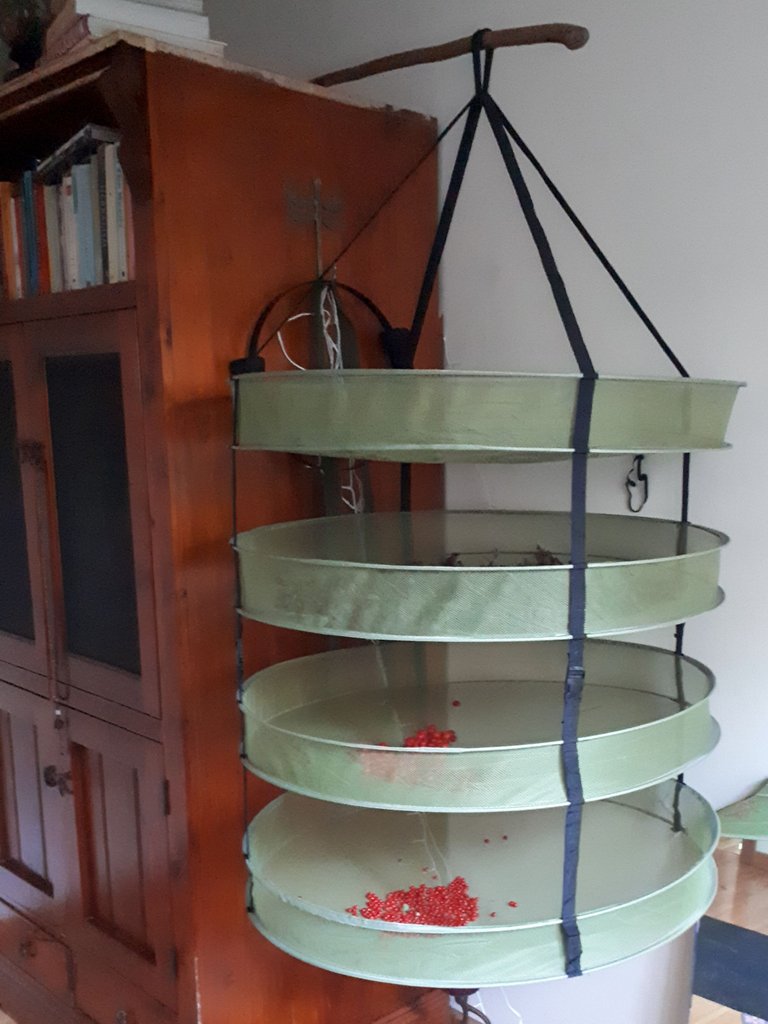 I finally have drying rack - there are another 3 sections you can add on.
As I am bringing in handfuls of herbs every night to dry - yarrow (which I have to fight for, as the chickens love it too), lemon balm, peppermint and tulsi, my beautiful man suprised me with a drying rack. He's not known for his gifting abilities (aside from love) so this touches me deeply. It doesn't take long for me to excitedly transfer the drying hawthorn and rosehips to the rack, along with various green leaves from the above named plants, and even black chillis from the greenhouse which I plan to grind for a chilli chocolate truffle.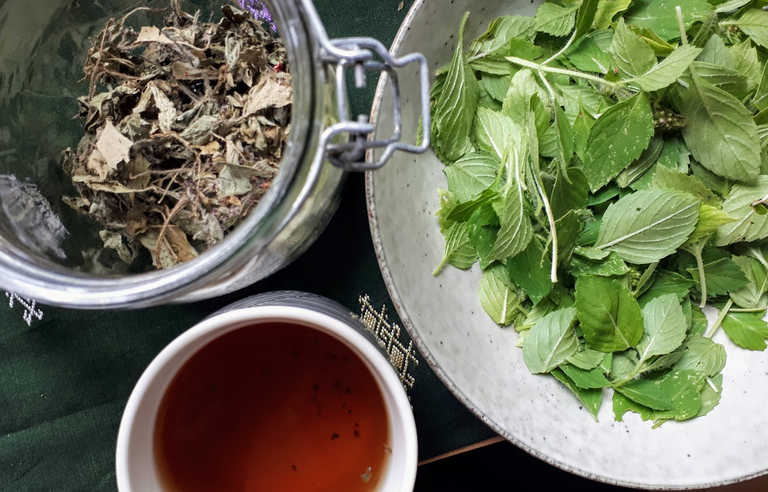 A nightly tulsi tea to help with stress
I'm also planning to invigorate a neglected corner of the vegetable garden near the larger wicking beds that is quite close to the kitchen door, creating a little path and a crescent moon stuffed with lemon balm (currently under the elders and covered in purple bird shit from their glutting on berries), peppermint, chamomile, thyme, sage and other culinary and medicinal plants, containing them in a more central area. They're still welcome to plant themselves throughout the tangle of my garden, but I'd like them close on hand in this more contained space.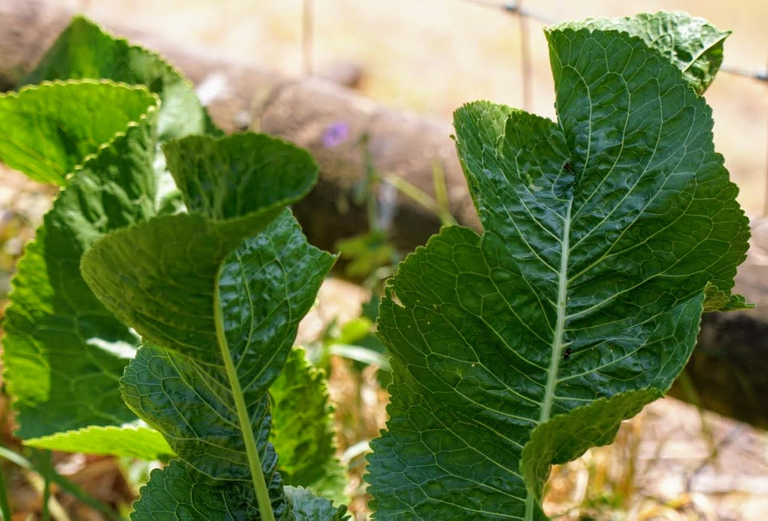 Horseradish waiting to be dug up for fire cider
The horseradish and turmeric sit underground still - I'm scared to check their roots to see if they are edible yet. I plan on more hothouse exotics this year - more turmeric, some ginger, galangal and a curry plant, and maybe even a tamarind.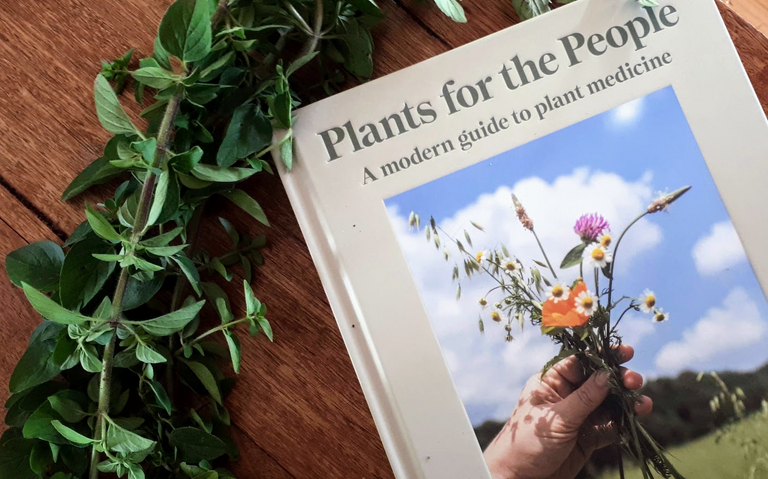 One of my recent herb book purchases, bookmarked with oregano
It's more than a delight to immerse myself in the world of herbs. I have piles of books marked with leaves and stalks, considering recipes for balms and brews, and jars of various oxymels - the latest being tulsi and hibiscus, which I cannot wait to try.
There are worse ways to spend my time.
What herbs are you growing, collecting, foraging or working with?
With Love,
https://gateway.ipfs.io/ipfs/QmcGSZxvsXD8YbSCNAo6KWc4a9RjXyRCjWupZdPXJapkXk