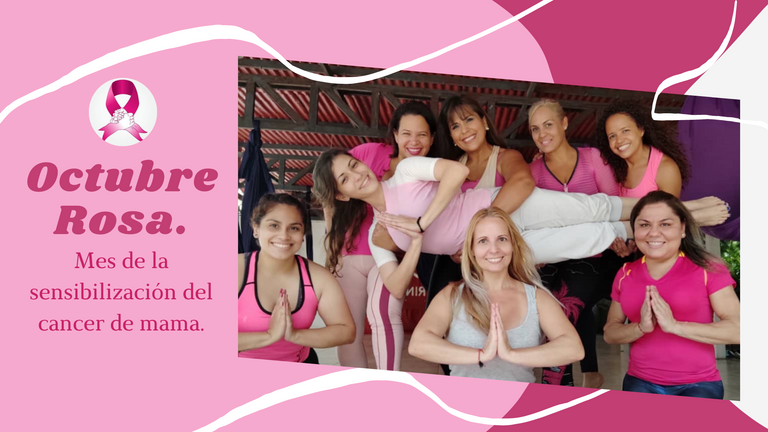 Hola hermosa comunidad, me tomo un momento para agradecer la existencia de @naturalmedicina y todas las personas de luz que la conforman, el mundo necesita mas espacios así, donde lo natural predomine, para así ser más humanos, más sensibles ante la vida y los seres vivos. Agradezco que siempre apoyan lo autentico, lo valioso de la existencia, la naturaleza... es muy lindo encontrar espacios así, donde podemos Ser .
Hello beautiful community, I take a moment to thank the existence of @naturalmedicina and all the people of light that make it up, the world needs more spaces like this, where the natural predominates, in order to be more human, more sensitive to life and living beings. I appreciate that they always support the authentic, the valuable of existence, nature ... it is very nice to find spaces like this, where we can be.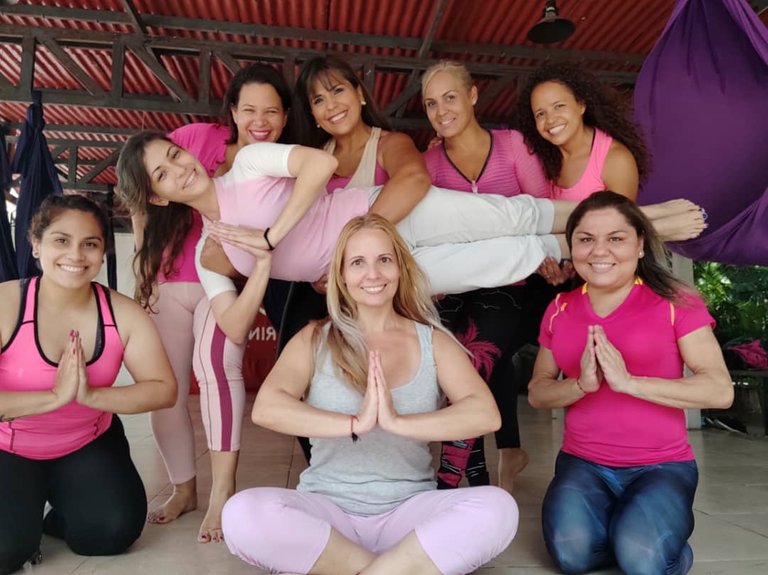 Un día como ayer, di mi clase de yoga aéreo, como todos los jueves, de repente encuentro a mis estudiantes todas de rosado y me sorprendo, no es que no me guste el rosado pero prefiero colores oscuros para vestir. Seguidamente me causa mucha curiosidad y les pregunto jocosamente: ¿Y eso que están de rosado? y ellas me responden: ¡Ay profe!, ¿no lo leyó en el grupo?, es que nos organizamos para apoyar: "El Mes de La sensibilizacion del cáncer de mama o Mes Rosa. Y me pareció hermoso, hasta llevaron una camisa para mi.
One day like yesterday, I gave my aerial yoga class, like every Thursday, suddenly I find my students all in pink and I am surprised, it is not that I do not like pink but I prefer dark colors to wear. Then it causes me a lot of curiosity and I ask them jokingly: And what are they in pink? and they answer me: Oh, teacher! Didn't you read it in the group? We organized ourselves to support: "Breast Cancer Awareness Month or Pink Month. And I thought it was beautiful, they even wore a shirt to me.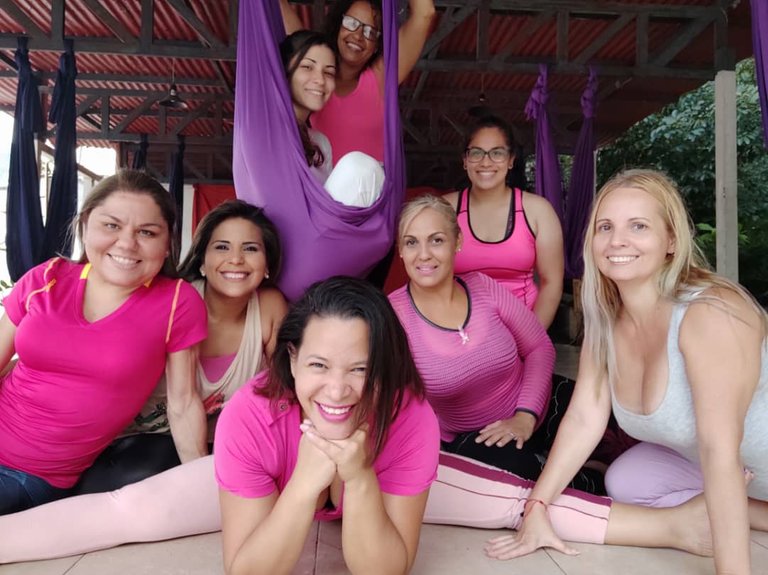 Cuando pasan cosas así, tan lindas y maravillosas es donde entro en reflexión y me cuestiono acerca de como necesitamos mucho amor y apoyo de nuestros seres queridos y amistades, más empatia, más sensibilidad. Agradezco por todas las personas que conozco, y que el yoga me ha regalado. Por ahí leí que una persona no va a recordar lo que le dijiste, sino lo que le hiciste sentir en las clases.. y eso es consecuencia de todo el amor que vibra en yoga aereo. Siento que mas que enseñar, yo estoy aprendiendo en las clases que imparto... espero que siempre sea así, que sea reciproco, que cada día no nos conformemos con lo aprendido, sino que vayamos por más y si nos equivocamos pues, aprendemos de ello y seguimos avanzando y creciendo.
When things like this happen, so beautiful and wonderful, it is where I enter into reflection and wonder about how we need a lot of love and support from our loved ones and friends, more empathy, more sensitivity. I am grateful for all the people I know, and that yoga has given me. I read that way that a person is not going to remember what you said to him, but what you made him feel in the classes ... and that is a consequence of all the love that vibrates in aerial yoga. I feel that more than teaching, I am learning in the classes that I teach ... I hope it will always be like that, that it is reciprocal, that every day we do not settle for what we have learned, but that we go for more and if we make mistakes then, we learn from this and we continue to advance and grow.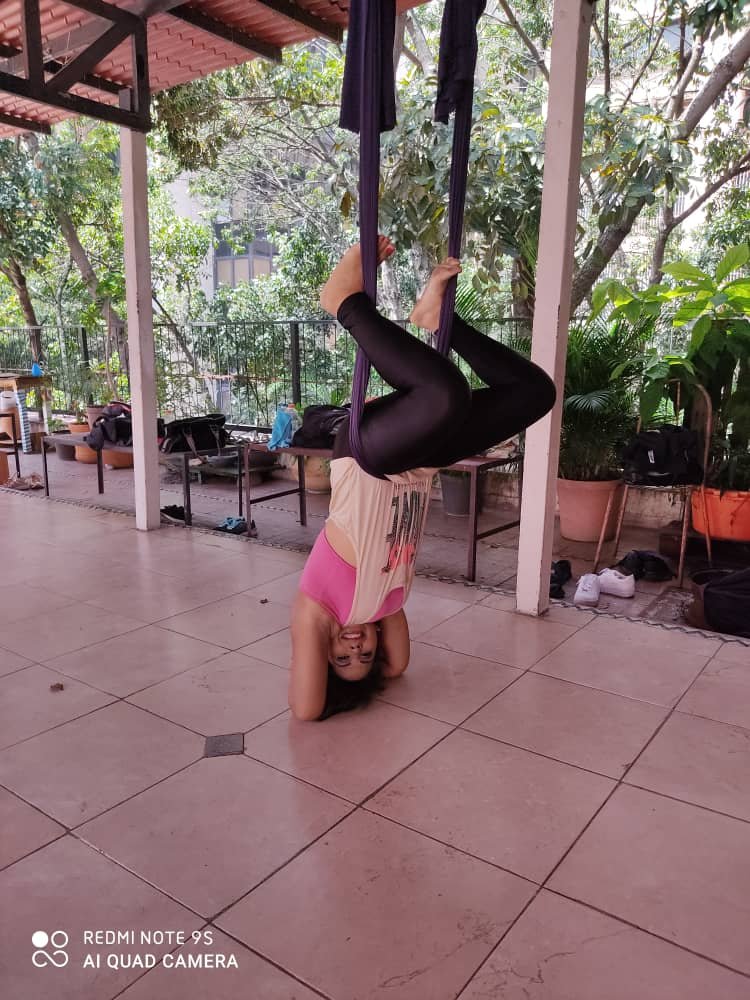 Hoy apoyo a todas las mujeres que están pasando por alguna enfermedad, en especial la del cáncer, y les deseo fuerza y mucho amor, solo el amor nos puede salvar y seguidamente la fe. También quisiera recomendarles que busquen el camino de la espiritualidad, se que no es tan sencillo dar ese paso, pero la meditación tiene muchos beneficios. Hay muchos tipos de meditación, cada quien encuentra la que mejor se sientan cómodos, tranquilos.. en sintonia con Dios o con el universo y de esta manera te sumerge en ti mismo y sale a relucir el poder que tenemos cada uno de nosotros, porque si, cada uno tiene un Poder que esta esperando ser descubierto para proyectarse.
Today I support all women who are going through some disease, and I wish them strength and much love, only love can save us and then faith. I would also like to recommend that you seek the path of spirituality, I know that it is not so easy to take that step, but meditation has many benefits. There are many types of meditation, each one finds the one that best feels comfortable, calm ... in tune with God or with the universe and in this way immerses you in yourself and brings out the power that each of us has, because Yes , each one has a Power that is waiting to be discovered to be projected.

Las fotos fueron tomadas con el celular redmi note 9S, por unas de las estudiantes de mis clases impartidas de yoga aéreo, con mucho amor las compartió conmigo, la primera foto fue editada como siempre en canva. y el logo fue tomado en pinterest:Fuente de Imagen del logo.
The photos were taken with the redmi note 9S cell phone by one of the students of my aerial yoga classes, with much love she shared them with me, the first photo was edited as always in canva. and the logo was taken on Pinterest: Logo Image Source.