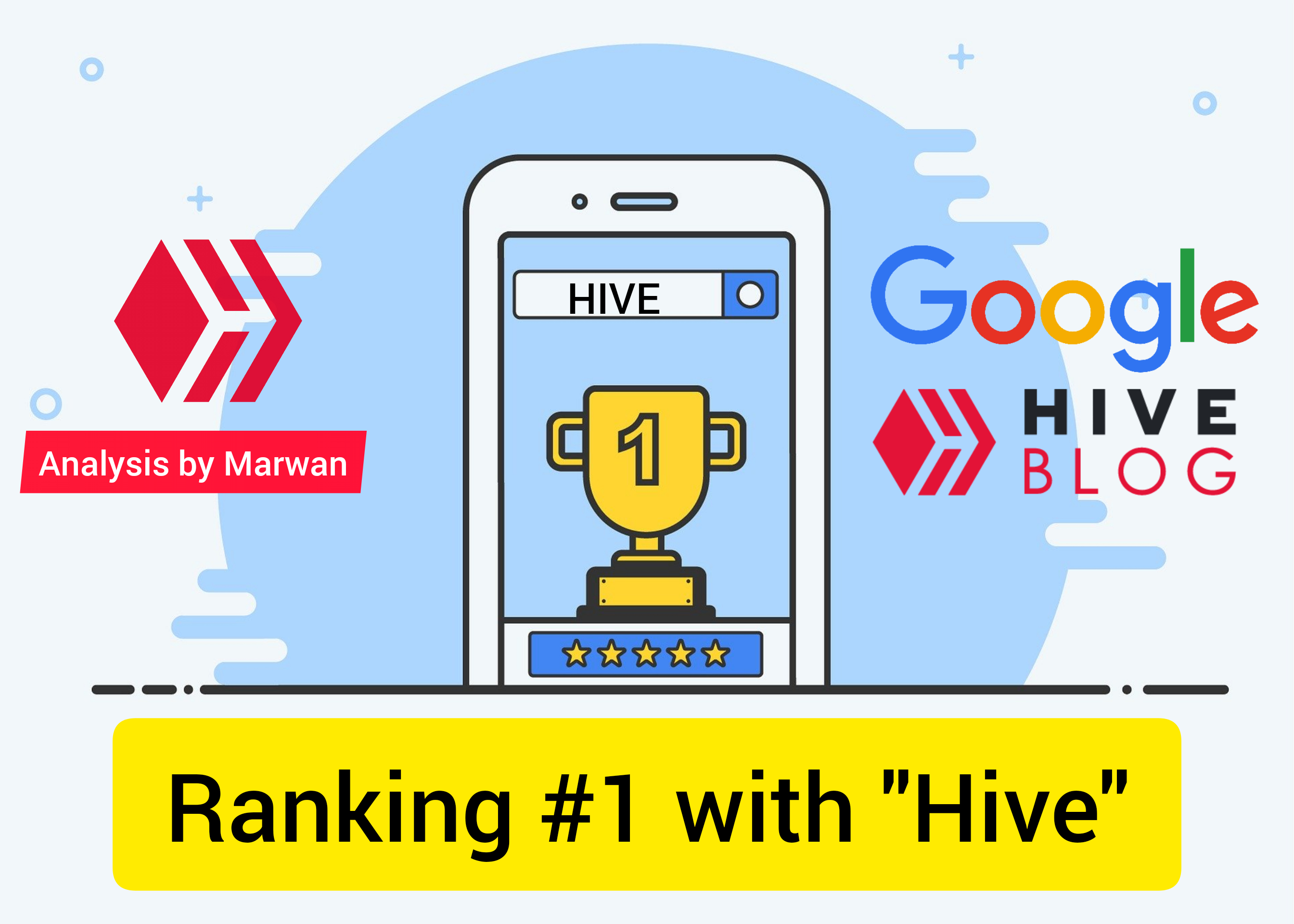 I posted an article around ten months ago saying that - When you search on Google by the keyword "Hive", you'll not find Hive Blog easily. Because it's in the 52nd position at this moment, which is on the 6th page. And the good thing is it wasn't even in the first 100 websites a few weeks ago.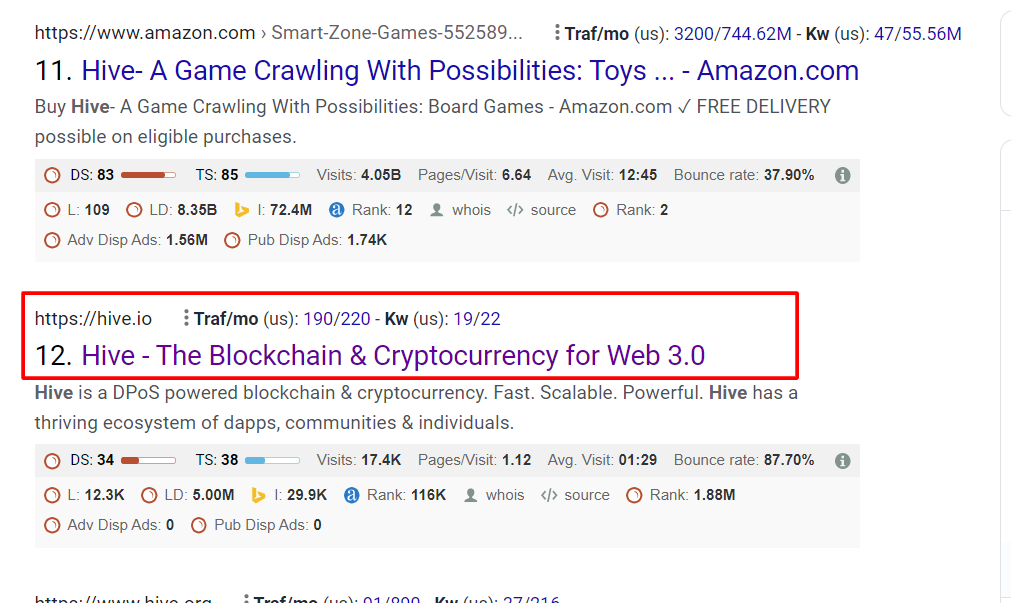 But after these ten months, look at the search page now. Hive.io now in the number 12 position with the keyword "Hive". Within ten months, we made it to the 12th position from 52. This is an outstanding achievement, and it's now a matter of time that we are going to the first position with the keyword Hive.
If we can rank the keyword Hive on the first page of Google, what will happen?
We will get thousands (Maybe Millions) of extra visitors to Hive blog than it's getting now. We will get more newcomers in the chain for sure to see they can get some bucks for their contents.

Look at the data! Globally, 1,220,000 times people search "Hive" on Google. Which is HUGE!!!
The truth is that most of the visitors mainly check the websites shown on the first page in the search result. Only 3% to 5% of visitors go to the second page. And if you ask me, I only check the first few websites when I search for anything on Google.
That means if we can rank Hive.IO in the 7th or 8th position with the keyword "Hive" within few months, let's assume that we may get 30% of the global visitors. That's an average of 366,000 visitors per month. Not bad, right?
And if we can, at last, get the first position, we will get almost all the visitors in our bucket. That's 1,220,000 visitors per month besides our regular visitors! Can you believe that? That's one million two hundred twenty thousand extra visitors besides Hive's regular visitor.
Now, if you ask me, that's the most authentic, organic, and potential way to onboard thousands of new people.

Now, look at this data, how many people are searching on Google with the keyword "Hive" from the USA. This is important because we aren't getting enough visitors from the USA.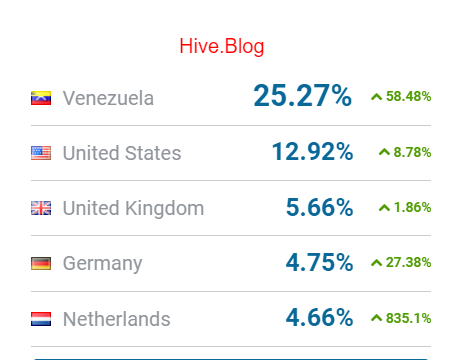 Most of the visitors of Hive Blog are from Venezuela, which is around 25.27%. No offense, lots of love from all Venezuelan users here in Hive.
And among all the visitors, 12.92% of visitors are from the United States.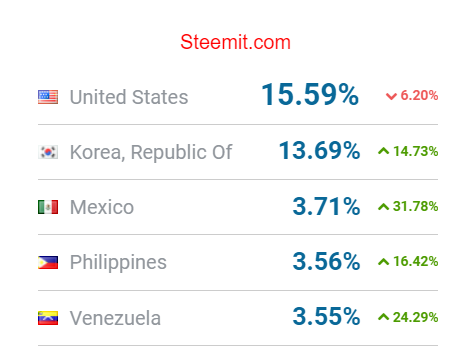 On the other hand, one of our top competitors, Steemit.com, is getting 15.59% visitors from the USA. Though they are losing visitors from the USA, and Hive is gaining more visitors from the USA, which is good!
So, who is our biggest competitor on the path of making Hive.Blog or Hive.IO number one? Steemit?
No, it's not. Our biggest competitor is Hive.com, which was founded in 2013.
Let's compare the data of Hive.blog with Hive.com.
Please note that Hive.io (not hive.blog) is now ranked in the 12th position. At this moment, our focus here to rank the link Hive.io. While doing SEO on Dapps like Hive Blog, Ecency, PeakD, we're actually helping the main website Hive.io to rank. I am not a technical guy; I just do SEO. I am not sure why doing SEO on these Dapps is pushing the website Hive.io high. It will be highly appreciated if any expert clarifies this to us.
We can also use the hive.io link in our posts (where needed) to rank it fast.
| Topic | Hive.blog | Hive.com |
| --- | --- | --- |
| Year Founded | 2020 | 2013 |
| Total Visits (March 2021) | 502.10K | 324.19K |
| Total Visits (February 2021) | 430k | 440k |
| Pages per visit | 3.76 | 7.71 |
| Average Visit Duration | 10.45 | 6.32 |
| Bounce Rate | 44.44% | 40.07% |
| Global (Alexa) Rank | 28487 | 39030 |
| Traffic from Search | 32.83% | 23.09%% |
| Organic Traffic | 100% | 97.95% Organic (2.05% paid) |
| Traffic from Social media | 4.65% | 1.53% |
| Top Social Media (for Traffic) | Twitter | YouTube |
_Data were collected using similarweb
_For the month March 2021
_All data are approximate. No guarantee of accuracy.
I was so excited when I was typing this data. Because we are doing just great, I should say incredible! I also checked the data of the second-ranked website Hive Apache, and the data are almost the same. We already crossed both websites in many ways and booming.
You can see from the chart, the main reason behind "why hive.com is at the top" is it was old enough, founded in 2013. Google loves senior websites which have some good traffic. And hive.com didn't have any strong competitors in terms of SEO until now. And we can't just beat them by going back to 2013 using a time machine. We need to have patience in this matter.

As you can see in the stat, the Hive.blog is ahead of hive.com in every month in terms of traffic. We already crossed them by traffic in 2020. And traffic of the Hive blog is increasing day by day. This is a marvelous thing, but we need to keep in mind that Hive.com is an old site and getting approx 300,000 visits every month. Their total pageviews are far more higher than ours. Again, all we have to do is more advertising, more social media sharing, and more SEO. And then just wait!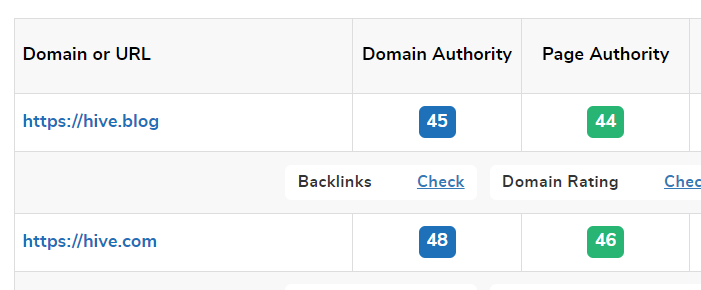 Check the last year's DA(Domain authority) and PA(Page Authority) data of the previous year (May 2020). Our DA was 36, almost 12 down from hive.com.
Now, look at current data(April 2021)! We are already crossing them, whereas the hive.com website still in the same position. So this means we are just doing fine.
And just doing more SEO can help Hive be at the top of every website, on the top of Google search.
---
---
Good to have @amr008 as a moderator of our newly created community Hive SEO. I believe his insights and knowledge will help us to learn more about SEO.
Looking forward to getting more SEO-related / SEO-optimized posts from everyone.