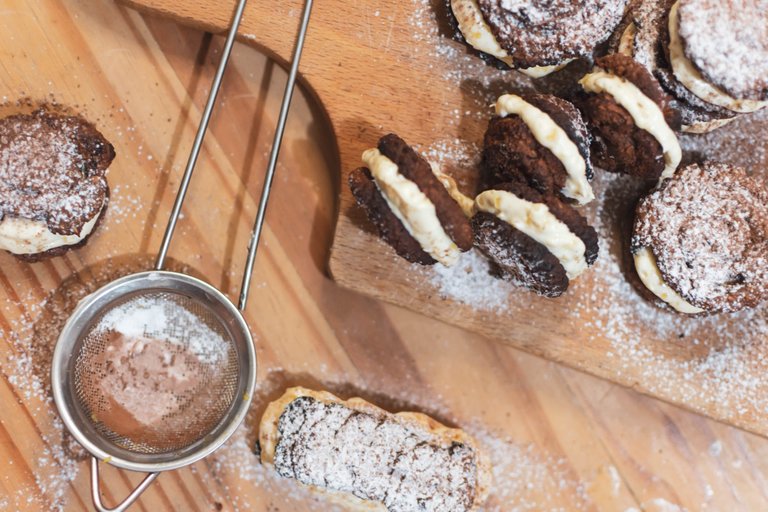 Wheat flour is on the break, and oats are stepping in the game! It's Sunday, and by law, Sundays should be easy, so why not make dessert easy as well?
I'm not sure if anyone has the same problem, but sometimes I have to hide certain ingredients around the house, such as chocolate...😏 it magically disappears.
It's the season of biscuits, cinnamon, candied fruit, and any other aroma that makes us feel at ease and happy. These little oat fellows exude all that, with every bite.
The recipe was created using the principle of grabbing everything that hasn't magically vanished from the house.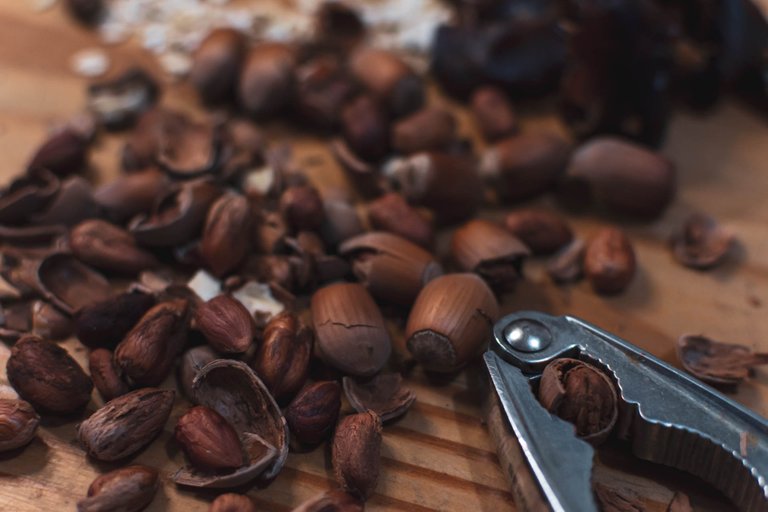 You'll need the following ingredients to make the dough (which I intended to be similar to those butter biscuits that you can endlessly eat):
Oatmeal (300 g)
Butter/margarine (100g)
80 g carob powder
5 dates, teaspoon of baking soda, and one lemon juice
(100 g) hazelnuts, ground
teaspoon of cinnamon and ginger powder
(100 g) dark chocolate, grated
a spoonful of hazelnut cream (optional), few spoons of water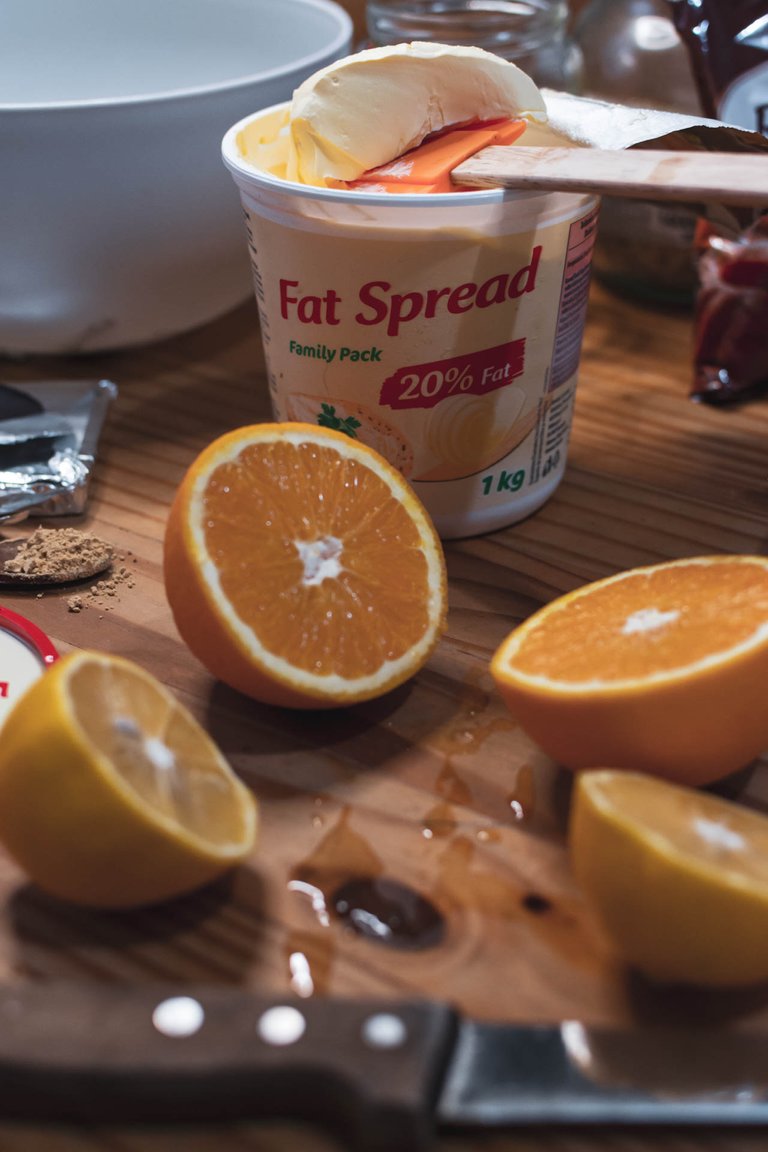 This fatty spread is a 2022 discovery for me; bought it at Lidl, and it is otherwise a mixture of palm, sunflower, and general vegetable fats. The texture and fat content are comparable to whole milk butters, and it is excellent for making butter dough and biscuits.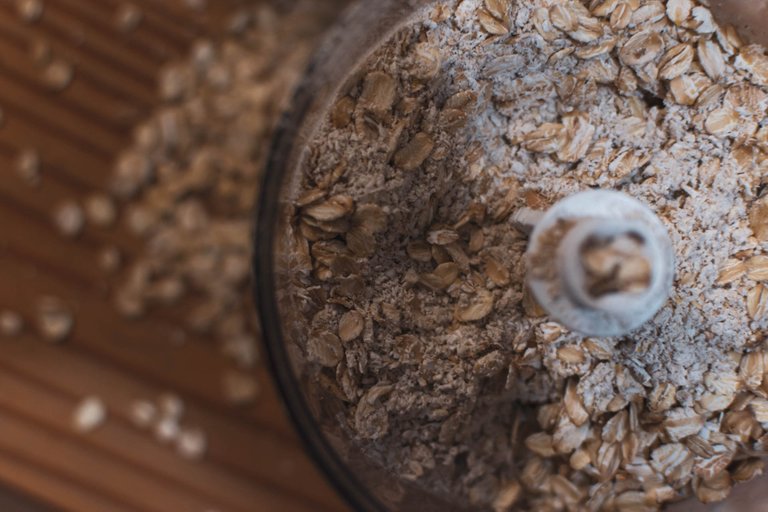 I always have oats on hand and grind them in a blender when I make bread or oatmeal. Also a great companion on days when I want to crush a ton of cookie dough. The finer the flour, the smoother and nicer the texture of the biscuits.
Clean the dates and soak them in warm water to soften them (then blend them with liquid (about 50 milliliters)) before combining all of the dough ingredients.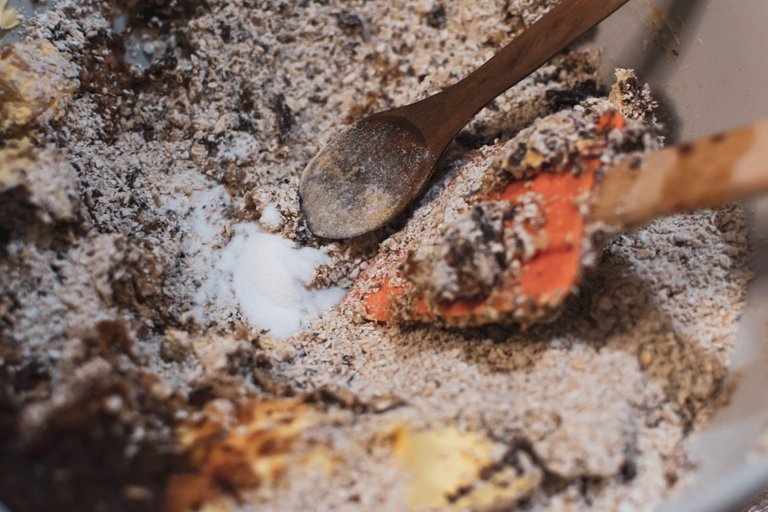 Baking soda and lemon will play nicely together, producing the same effect as if we had baking powder in the dough. The buttery flavor will be formed by hazelnuts, carob, and chocolate, with lemon bitterish taste as the finishing touch. I wanted the filling to have a strong orange flavor, almost like jelly, while remaining creamy.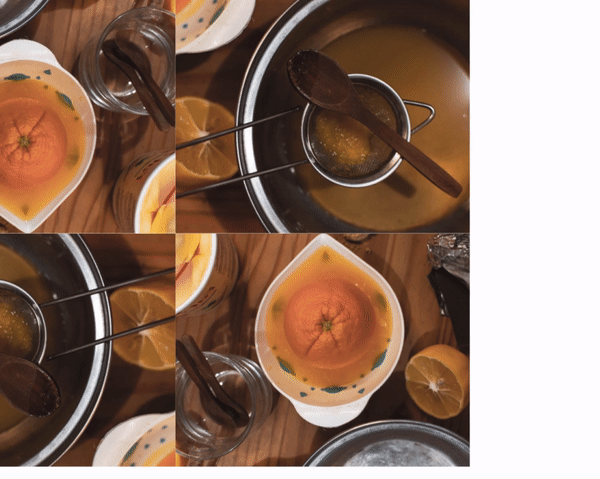 Squeeze the juice from one large orange, strain and remove the pulp, weigh 100 grams of sugar, and cook on low heat for about 15 minutes. I didn't have gelatin, so I substituted cornstarch. Cook with boiled orange juice after combining 4 full spoons of starch in 100ml of water.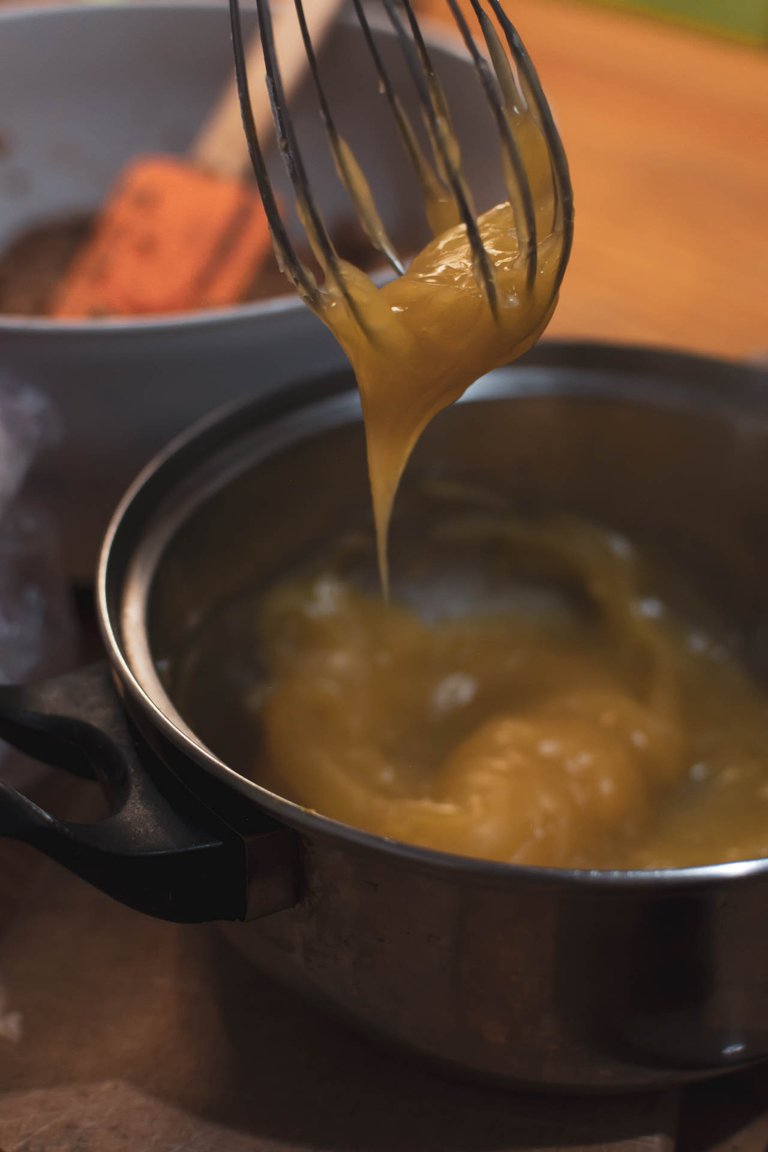 Even though it was still warm, it tasted delicious, leave the orange filling to cool completely. Its time to shape the biscuits and bake them!
You can shape them with a regular spoon, but I had more fun with a decorating syringe.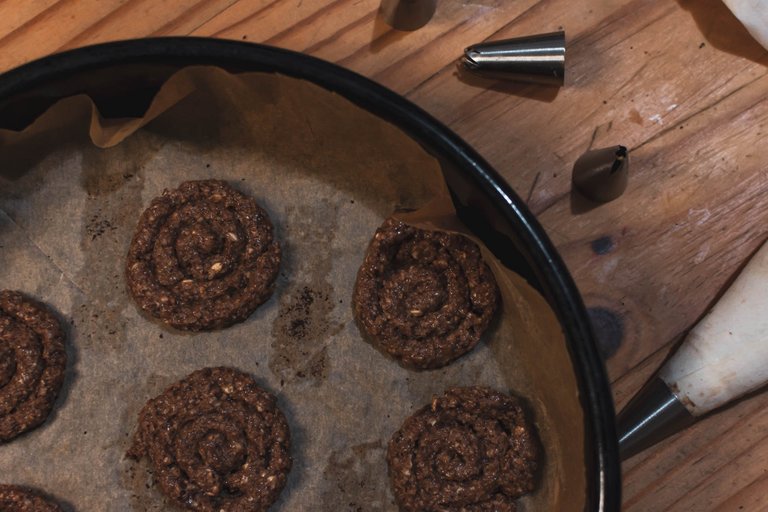 Bake at 150 degrees for no more than 10 minutes. The dough is quite soft on its own, and the oatmeal is sensitive to overheating. At the same time, high temperatures can cause them to turn black.
After the biscuits have cooled, combine the cooled filling with 2-3 tablespoons of butter.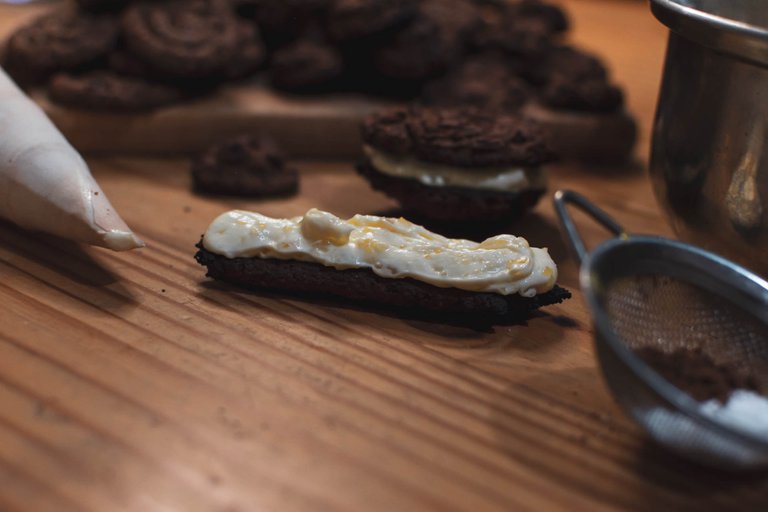 I didn't cover the bowl while cream was cooling, which led to the formation of a crust on the top and lumps in the mixing process. It actually turned out to be super yummi because the lumps are tiny orange juice pieces.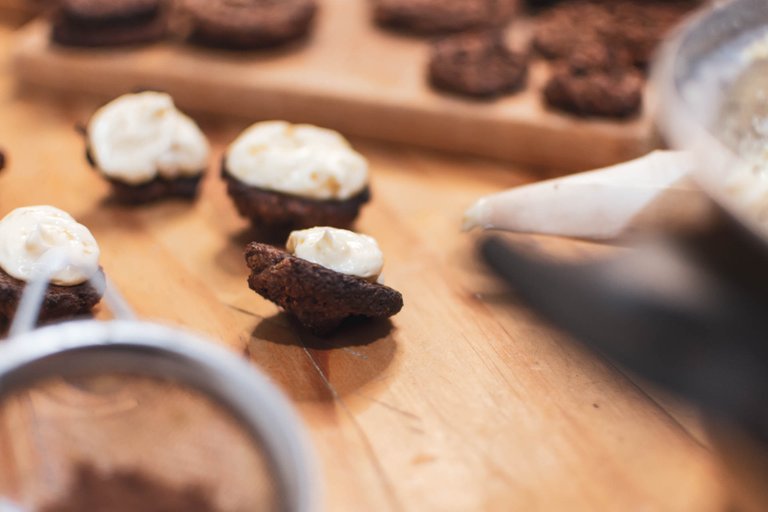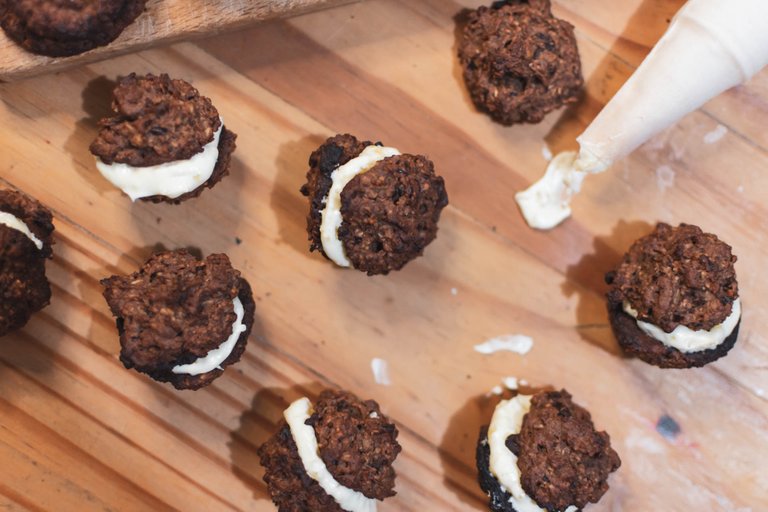 The biscuits may appear dry and lifeless in the photographs, but the first bite would convince you otherwise. I only realized that adding at least one whole egg might help the mass bind tightly when I was already halfway through baking.
Though, that wasn't necessary. Lemon and date puree provided a nice unifying element.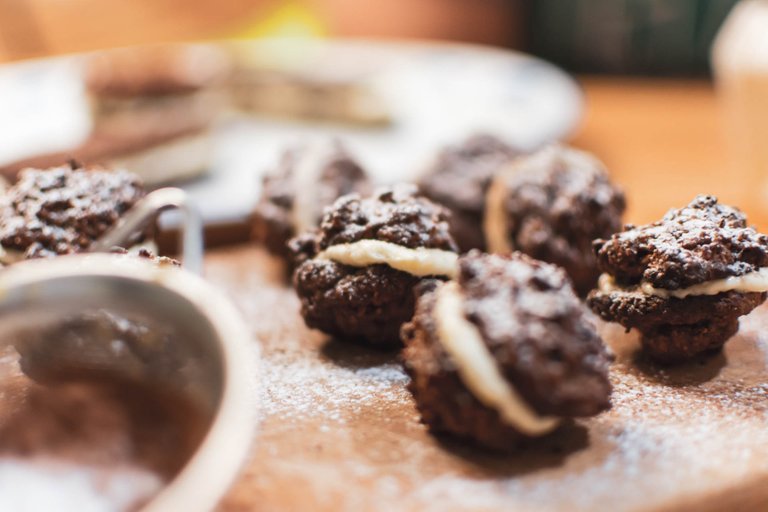 Sprinkle the cookies with a spoonful of the powdered sugar and cocoa powder mixture.
These biscuits are one of those that beg you to eat them delicately because of the combination of ingredients, which you can literally feel in layers. The orange cream made the biggest impression on me; I'll tweak it a little in the future, but I already have some ideas for an iconic kid-friendly treat (based on oranges).
However, we'll discuss that at a later time. In the meantime, a few more photos of these delightful snacks.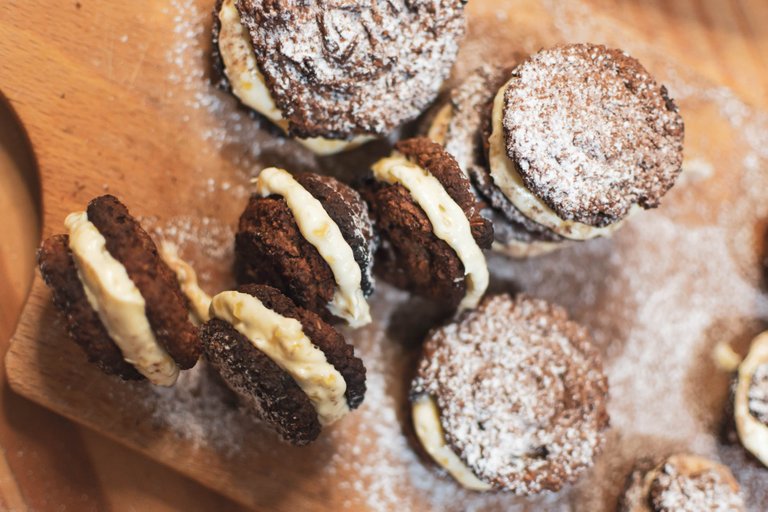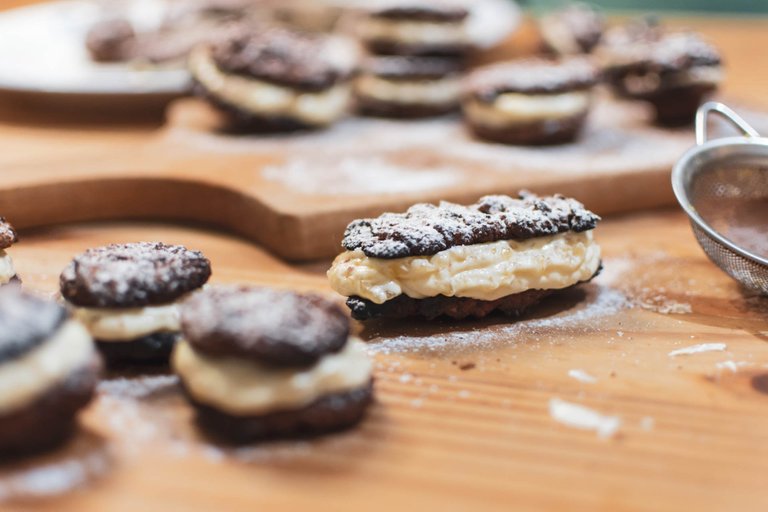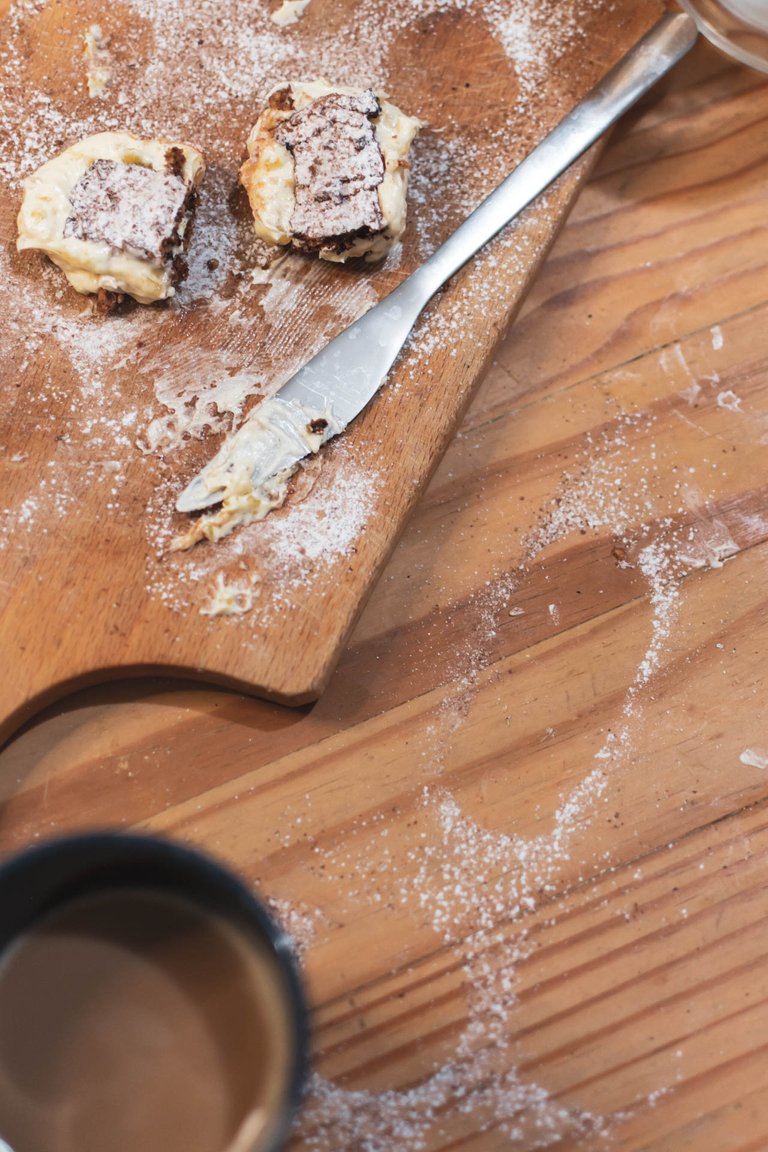 Bon appetite!

Almost forgot, I still haven't named these, curios to hear some suggestions before I write the recipe down in the cookbook, anyone?