Hola!
Hoy quiero compartir esta receta que me enseñó mi suegro, es uno de los platos más sencillos y deliciosos que tienen las tierras venezolanas, el famoso "Palo a pique", que no es más que una mezcla de pocos ingredientes con un resultado suculento. Lo más curioso de esto es que mi suegro es de la República de Colombia, con dotes de cocinero nato y apasionado por la comida, pero no cualquier comida, la BUENA COMIDA. A pesar de ser de otro país, ha vivido mucho tiempo acá (40 años) y se siente hijo de dos Naciones y no puedo negar que su habilidad culinaria para esta receta es digna de cualquier experto venezolano. Esta vez, decidimos hacerlo lo más criollo posible, por lo que lo hicimos a la leña, lo que le da un particular sabor ahumado a la comida y con esta receta en especial se convierte en el maridaje perfecto. Como estábamos reunidos en familia lo hicimos para 10 porciones, pero puedes ajustar las medidas según lo que necesites.
Hello! Today I want to share this recipe that my father-in-law taught me, it is one of the simplest and most delicious dishes that the Venezuelan lands have, the famous "Palo a pique", which is nothing more than a mixture of few ingredients with a succulent result. The most curious thing about this is that my father-in-law is from the Republic of Colombia, a born cook and passionate about food, but not just any food, GOOD FOOD. Despite being from another country, he has lived here for a long time (40 years) and feels like a son of two nations and I can't deny that his culinary skills for this recipe are worthy of any Venezuelan expert. This time, we decided to make it as Creole as possible, so we made it wood-fired, which gives a particular smoky flavor to the food and with this recipe in particular becomes the perfect pairing. As we were gathered as a family we made it for 10 portions, but you can adjust the measurements according to what you need.

---
Ingredientes:
Arroz (6 tazas)
Frijol ( 500 gr)
Carne de cochino (1 kg)
Cebolla (200 gr)
Ajo ( 2 cabezas)
Ají dulce ( 100 gr)
Cebollín ( 100 gr)
Condimentos: Orégano, Comino, Sal, Pimienta
Onoto
Aceite
Ingredients:
Rice (6 cups)
Beans (500 gr)
Pork (1 kg)
Onion (200 gr)
Garlic ( 2 heads)
Sweet bell pepper ( 100 gr)
Chives ( 100 gr)
Seasoning: Oregano, Cumin, Salt, Pepper.
Onoto
Oil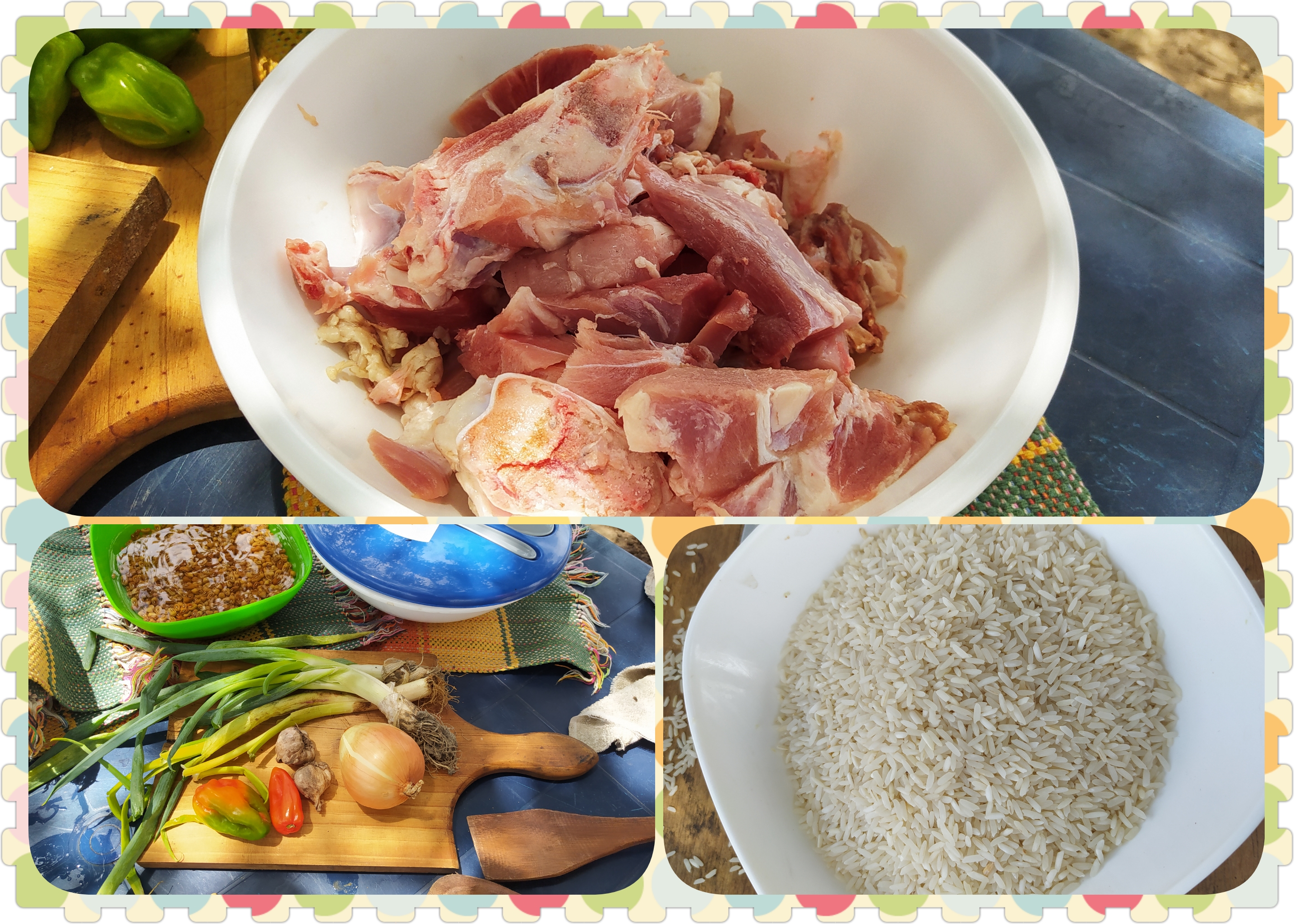 ---
Preparación
Lo primero es preparar los ingredientes. - Picar la carne de cochino en trozos pequeños y reservar, un buen truco es usar las partes que tengan más grasa para ponerla en un caldero al fuego y obtener su grasa que puede servir más adelante para sofreír los aliños.
Preparation

The first thing to do is to prepare the ingredients.

-

Chop the pork into small pieces and set aside, a good trick is to use the parts that have more fat to put it in a pot on the fire and get the fat that can be used later to sauté the seasonings.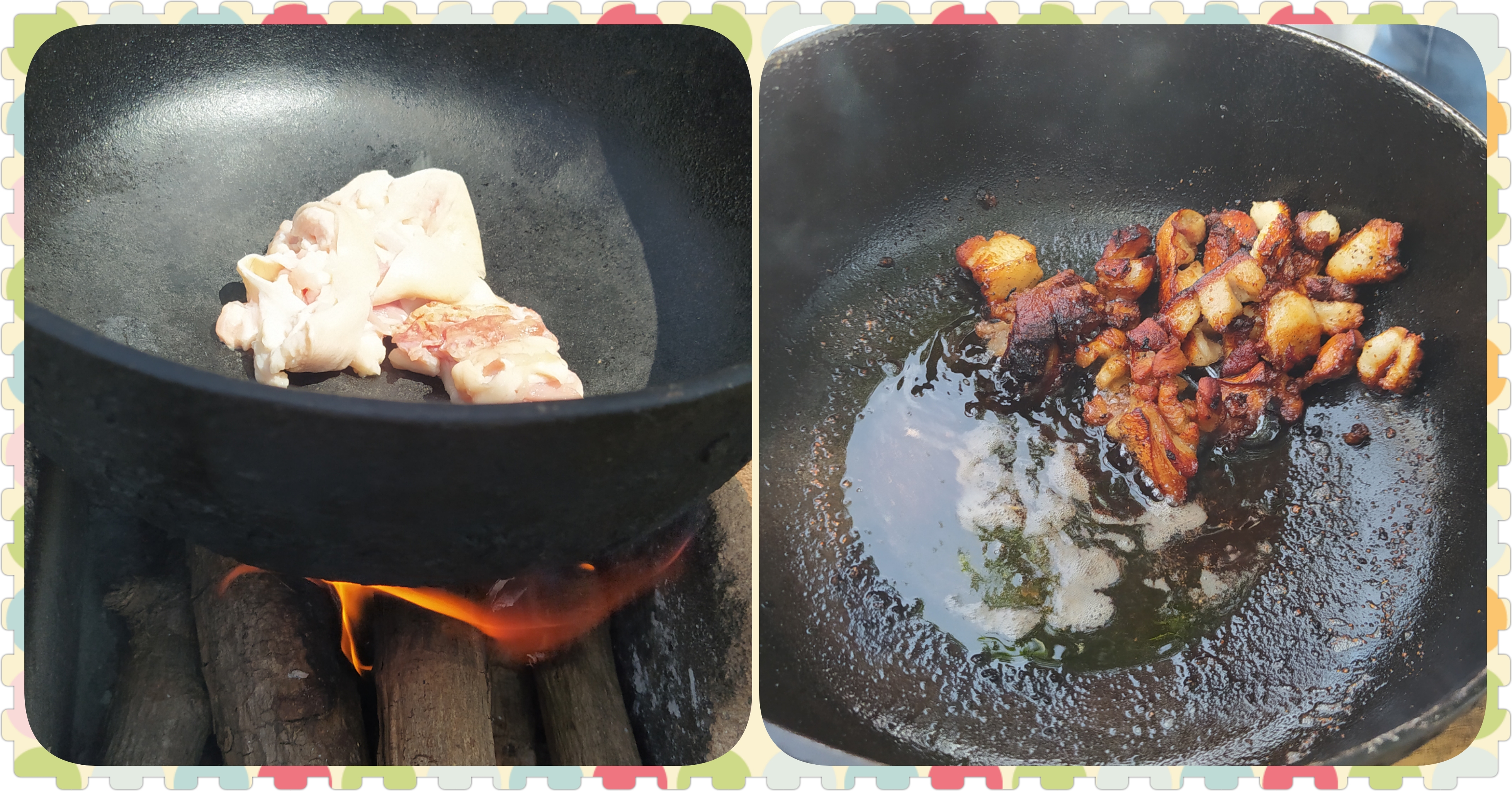 -

Revisar el frijol, pues muchas veces tienen piedritas y otras suciedades, retirar los granos que estén malos y lavar lo seleccionado.

-

Lavar y picar todos los aliños, de la forma de tu preferencia. Dicen que "todo hecho a mano es mejor".
-

Check the beans, as many times they have small stones and other dirt, remove the beans that are bad and wash the selected ones.

-

Wash and chop all the seasonings, in the way you prefer. They say that "everything handmade is better".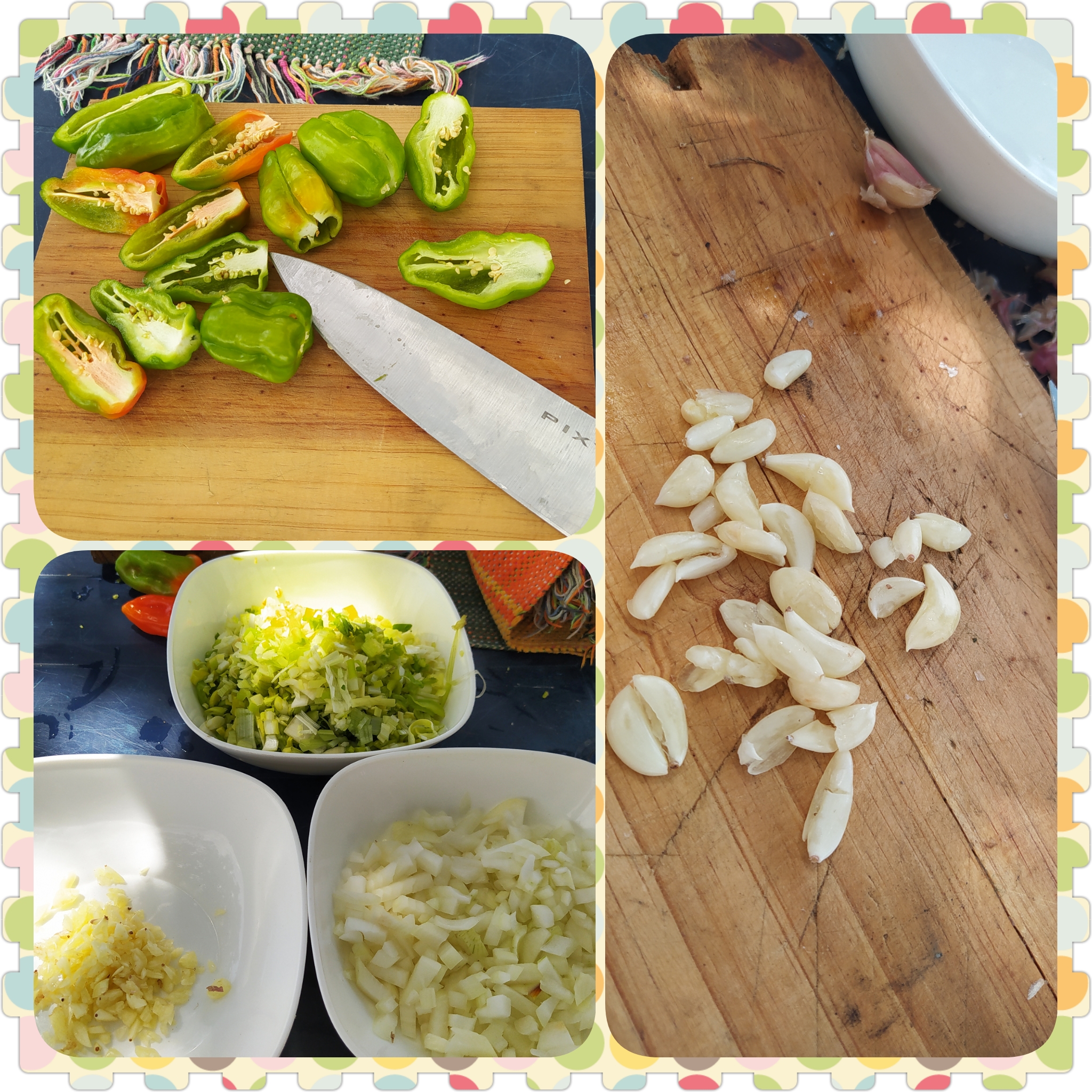 -

Si tienes onoto en polvo está bien, pero si lo tienes en granos, agrega dos cucharadas a la cantidad de aceite que vas a utilizar para el sofrito. Esto no aporta ningún sabor en particular, solo da un color bastante vistoso, típico de las comidas venezolanas. Puedes guardar en un envase tapado y no se va a dañar, la clave es no dejar quemar el onoto al prepararlo, para evitar un sabor que puede ser amargo.

> -

If you have onoto powder it is fine, but if you have it in grains, add two tablespoons to the amount of oil you are going to use for the sofrito. This does not add any particular flavor, it just gives a very colorful color, typical of Venezuelan food. You can keep it in a covered container and it will not be damaged, the key is not to let the onoto burn when preparing it, to avoid a flavor that can be bitter.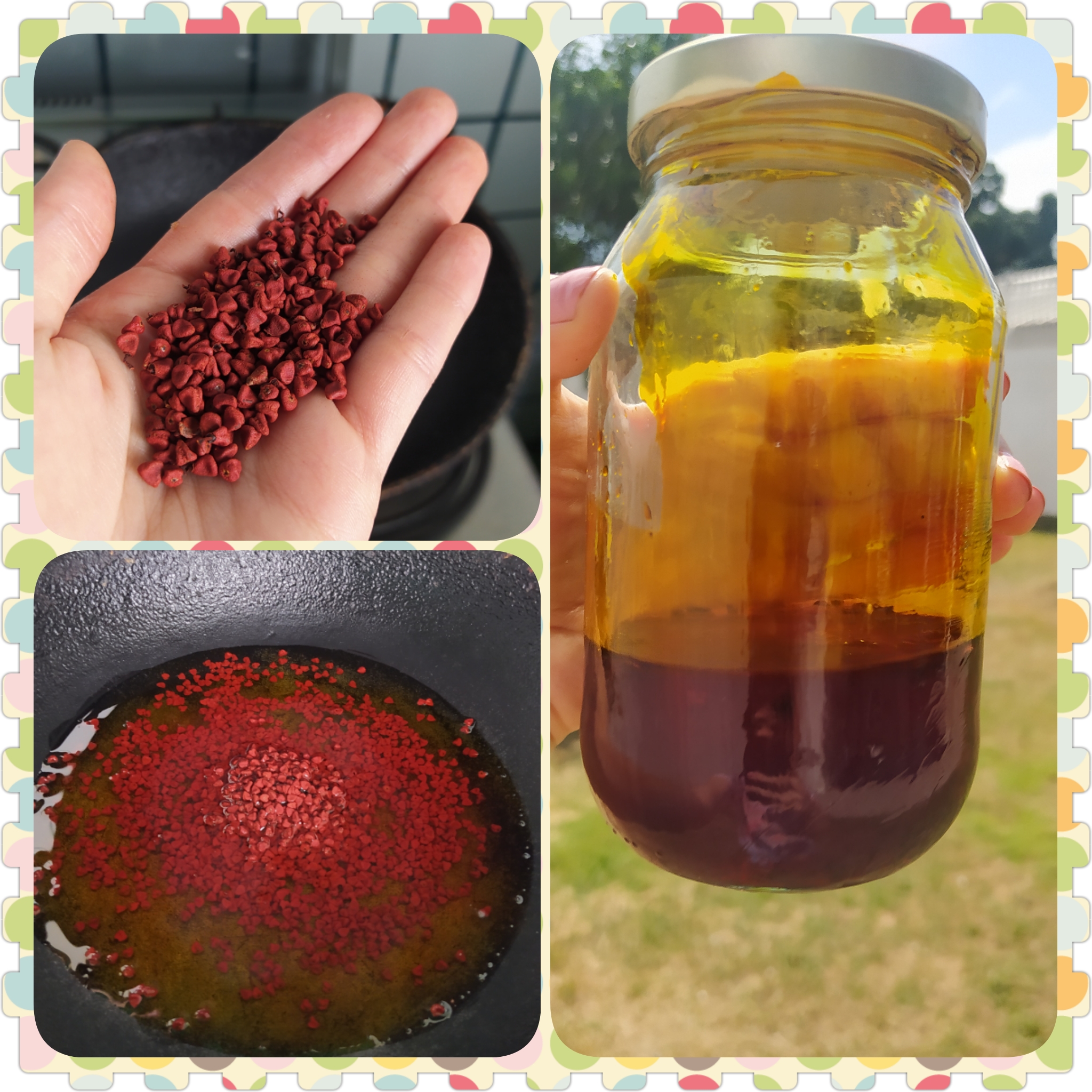 ---
Una vez que tengas todo listo puedes pasar a la verdadera acción. No es comer, no todavía 😆
> Once you have everything ready you can move on to the real action. It's not eating, not yet 😆.
---
En una paila pon a aflojar los frijoles solo con agua (por cada taza de frijol, dos tazas de agua). Nosotros lo hicimos en un fogón pequeño aparte para adelantar los siguientes pasos. En otra paila pon un poco de aceite pintado con onoto (y la grasa obtenida del cochino) y añade los aliños, sofríe y luego agrega la carne de cochino, a esta mezcla se añaden los condimentos al gusto (sal, pimienta y comino). Dejamos en el fuego hasta que la carne de cochino este cocida.
In a pan, loosen the beans with water only (for each cup of beans, two cups of water). We did it in a separate small stove to advance the following steps.

>

In another pan put some oil painted with onoto (and the fat obtained from the pork) and add the seasonings, sauté and then add the pork meat, to this mixture add the seasonings to taste (salt, pepper and cumin). Leave on the fire until the pork is cooked.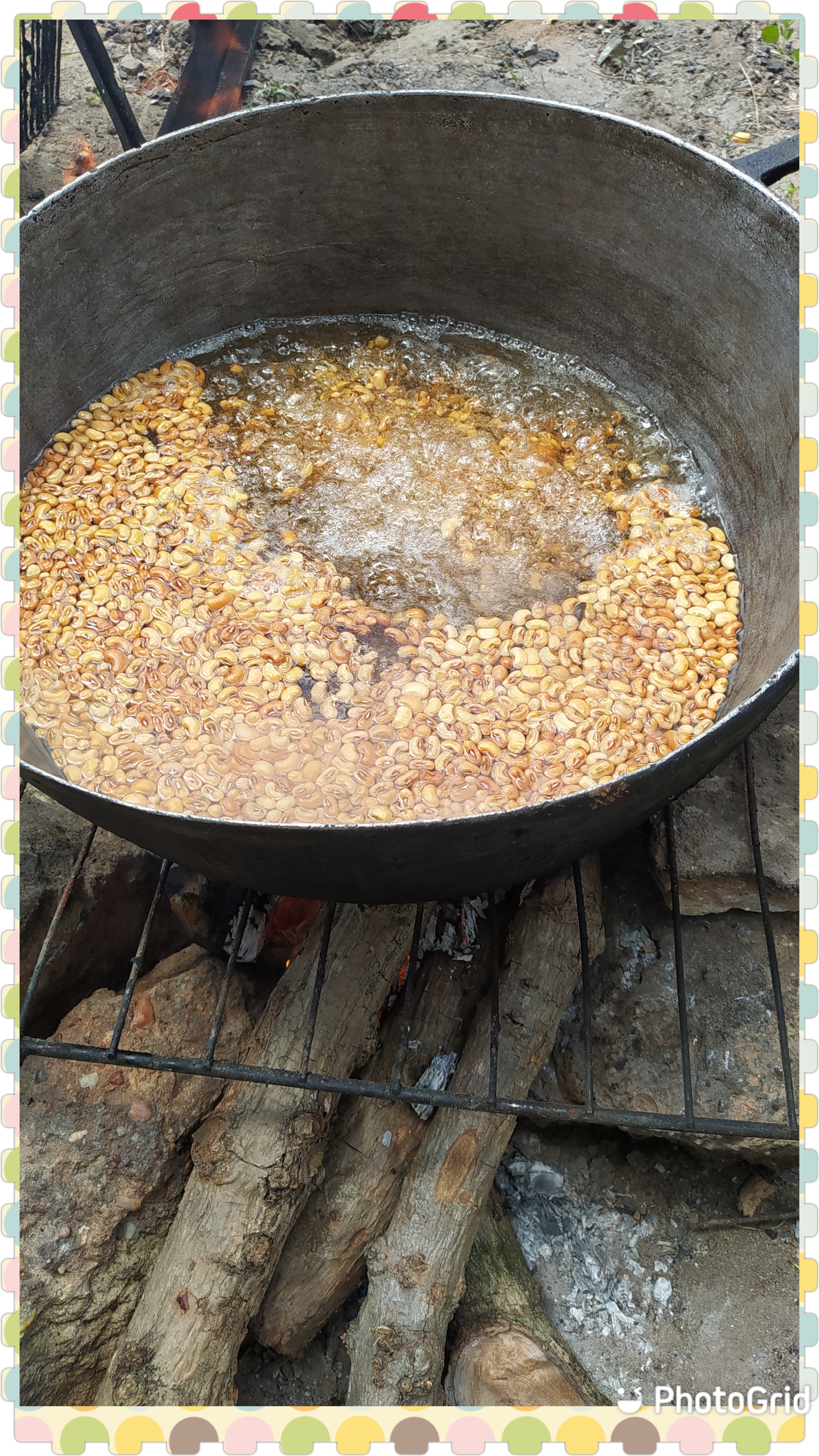 No puede faltar el comino, es el que le da su sabor de lujo.
Una vez que se hayan ablandado los frijoles, se suman a la carne de cochino que está sofrita. Un buen dato de las abuelas, es que no se debe agregar sal a los granos cuando se van a aflojar, porque si se hace quedan duros.
Por último, añade el arroz, mezcla y se agrega agua suficiente para su cocción (dos veces la cantidad de agua que de arroz), no olvides corregir la el punto de sal. En muchos lugares prefieren que quede con un efecto de "asopado" por lo que añaden más agua de la necesaria, nosotros preferimos hacerlo "al dente". Antes de que esté seco el arroz, se añade el orégano.
You can't miss the cumin, it is the one that gives it its luxurious flavor.
Once the beans have softened, they are added to the fried pork. A good tip from the grandmothers, is that you should not add salt to the beans when they are going to be loosened, because if you do, they will be hard.
Finally, add the rice, mix and add enough water to cook it (twice the amount of water than rice), do not forget to correct the salt level. In many places they prefer to leave it with an "asopado" effect so they add more water than necessary, we prefer to do it "al dente". Before the rice is dry, add the oregano.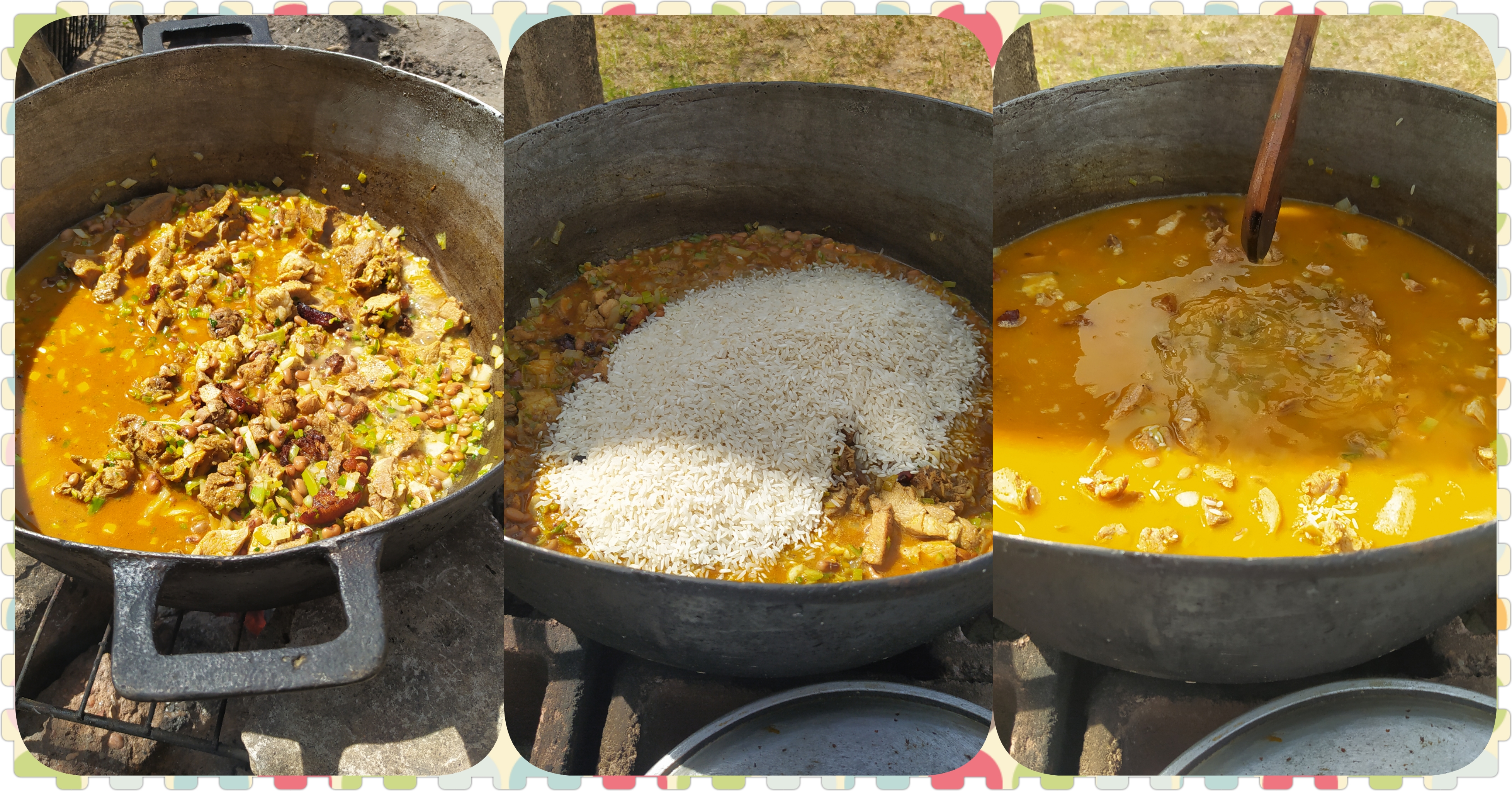 ---
Una vez que esté listo se retira del fuego, se espera que enfríe un poco, se mezcla nuevamente y se sirve.
Once it is ready, remove from the heat, wait for it to cool a little, mix again and serve.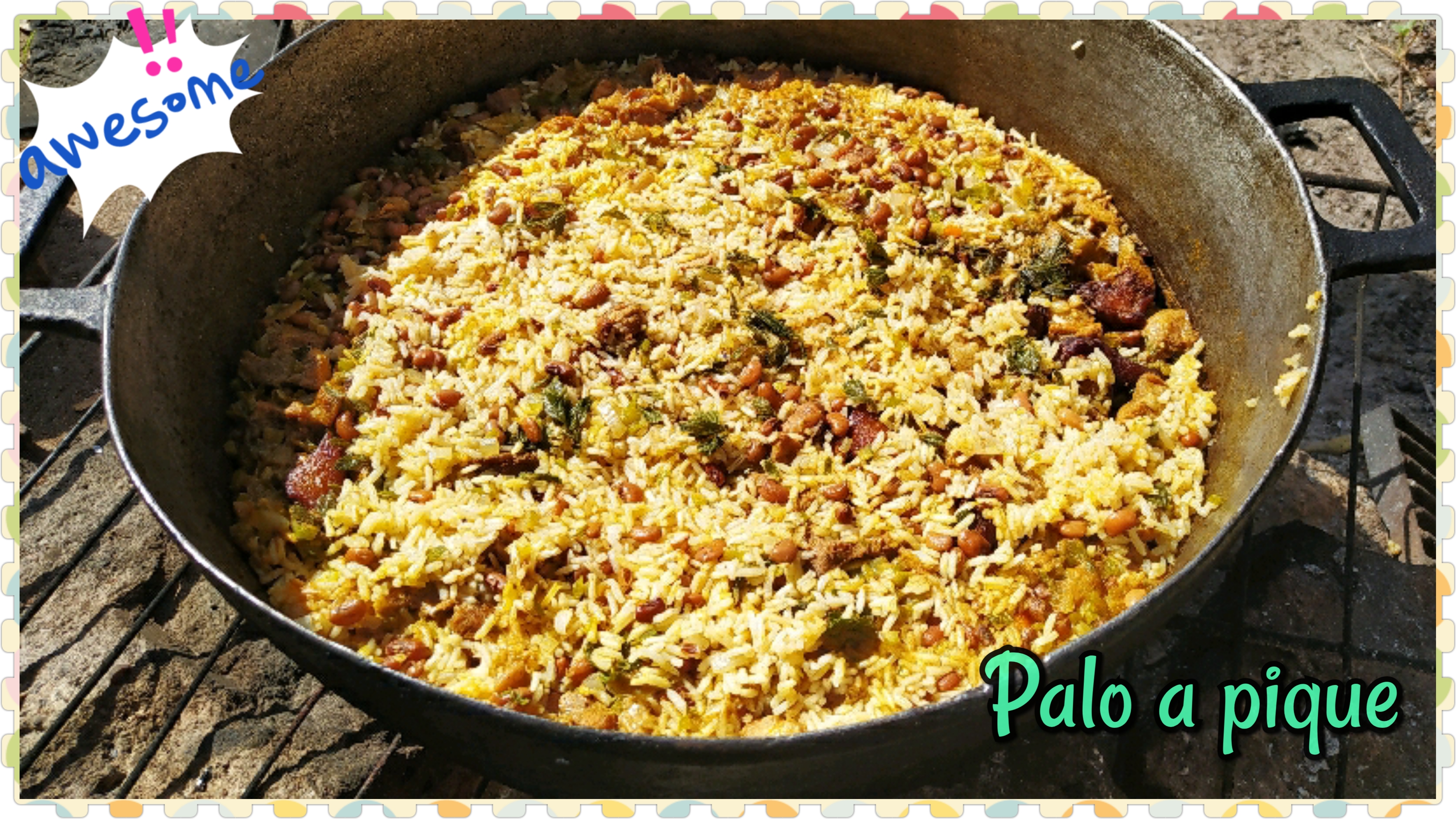 ---
Ahora sí, a disfrutar!!
Pueden comerlo sólo, es una comida bastante completa, pero si gustas puedes acompañarlo de ensaladas, tajadas, otras verduras, guasacaca o mojitos!
Nosotros lo disfrutamos con aguacate, ensalada y casabe.
Now, let's enjoy!

You can eat it alone, it's a very complete meal, but if you like you can accompany it with salads, slices, other vegetables, guasacaca or mojitos!
We enjoyed it with avocado, salad and cassava.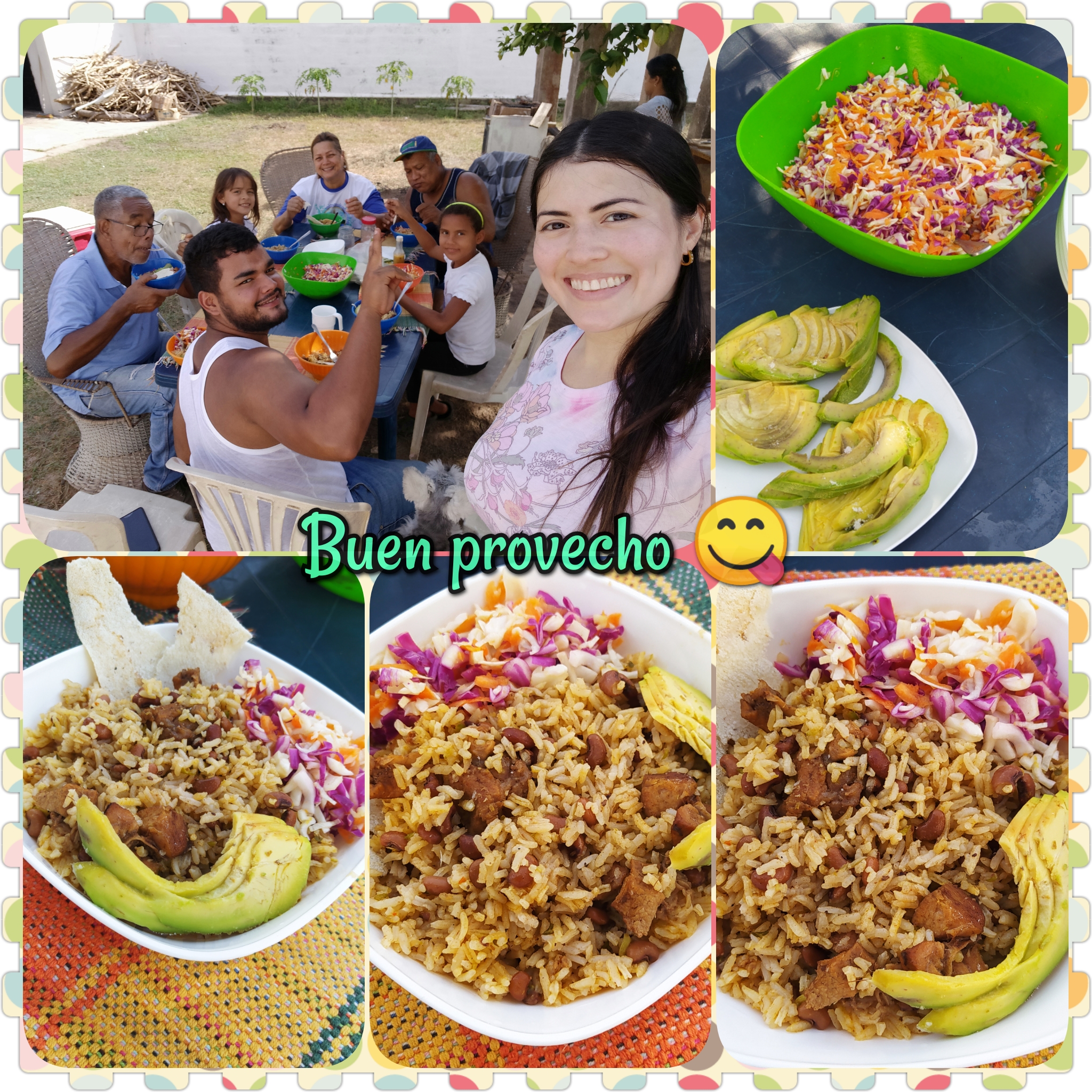 Gracias por leerme, espero que les haya gustado esta receta de mi suegro, que se animen a intentarlo y disfruten! Saludos ✨
Nos vemos en el siguiente post.
Thanks for reading me, I hope you liked this recipe from my father-in-law, that you are encouraged to try it and enjoy! Greetings ✨
See you in the next post.
---
Todas las imágenes son de mi autoría, editadas con PhotoGrid. El contenido fue traducido con Deepl.