¡HOLA A MIS ADORADOS HIVERS COMELONES O AMANTES DE LA BUENA COCINA! Esta tarde quería preparar un buen arroz sazonado, probar alguna fuente de proteína del mar, saborear la frescura de una ensalada y lo gratificante de las verduras al vapor ¡Todo en un solo plato! Pero sin olvidar que sea un plato balanceado y que nos aporte todos los nutrientes que nuestro cuerpo necesita para seguir caminando firme en este camino llamado vida.
¡HELLO TO MY LOVED EATS HIVERS OR LOVERS OF GOOD COOKING! This afternoon I wanted to prepare a good seasoned rice, try some source of protein from the sea, savor the freshness of a salad and the gratification of steamed vegetables, all in one dish! But without forgetting that it is a balanced dish and that it provides us with all the nutrients that our body needs to continue walking firmly on this path called life.
Así que esta proyección, debí ejecutarla para convertirla en una rica acción. Mi objetivo general y con sus objetivos específicos se delimitaron en preparar: SARDINAS FRITAS CON ARROZ AL PIMENTÓN, ENSALADA DE TOMATE Y PAPAS AL VAPOR. ¡Que bomba tan nutritiva!
So this projection, I must have executed it to turn it into a rich action. My general objective and its specific objectives were limited to preparing: FRIED SARDINES WITH PEPPER RICE, TOMATO SALAD AND STEAMED POTATOES. ¡What a nutritious pump!
¡Se parte junto conmigo de esta sabrosa experiencia! :)
¡Join me in this tasty experience! :)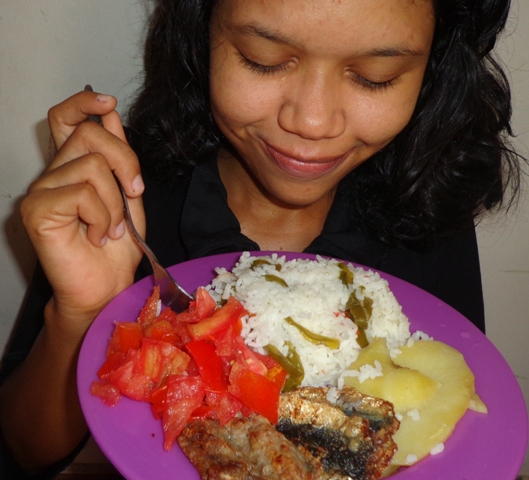 Fotografía tomada por @artmedina.
Yo de manera ordenada y bella a la vista. Pique lo correspondiente a 2 AJIES, 6 DIENTES DE AJO Y 1 PIMENTÓN VERDE.
Me in an orderly and beautiful way to look at. Chop the corresponding to 2 AJIES, 6 GARLIC TEETH AND 1 GREEN PEPPER.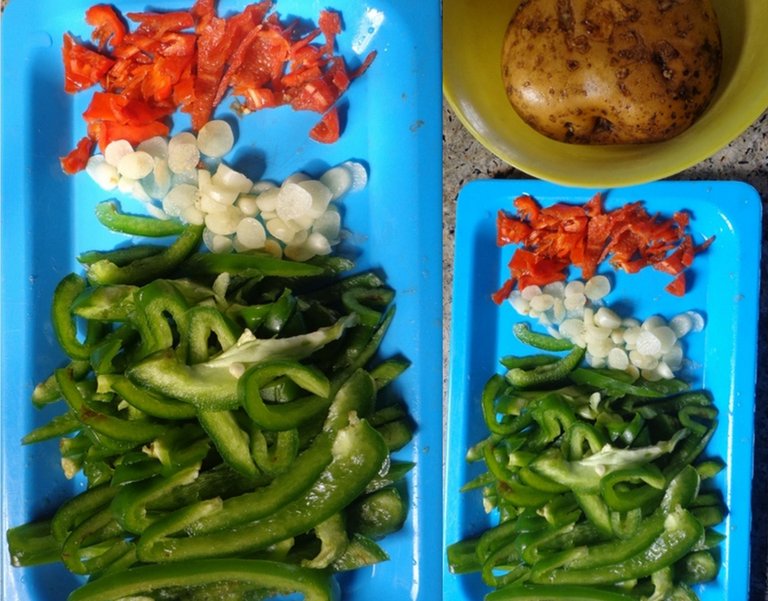 Fotografía tomada por @artmedina.
Coloque a sofreir con 1/2 cucharada de sal y aceite vegetal toda esa variedad de aliños.
Place all that variety of dressings to fry with 1/2 tablespoon of salt and vegetable oil.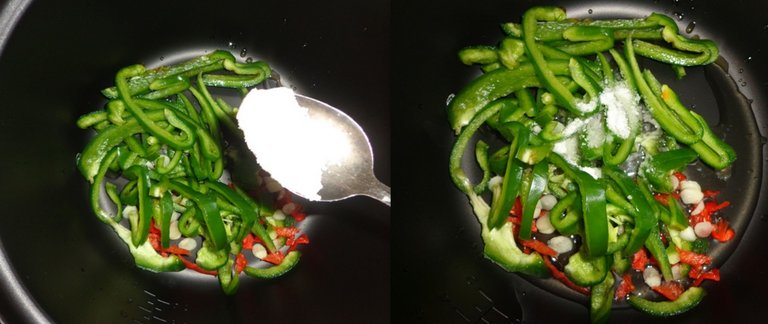 Fotografía tomada por @artmedina.
Que lindos y sabrosos se ven sofriendose. Para darle paso al arroz.
How cute and tasty they look stir-fry. To make way for the rice.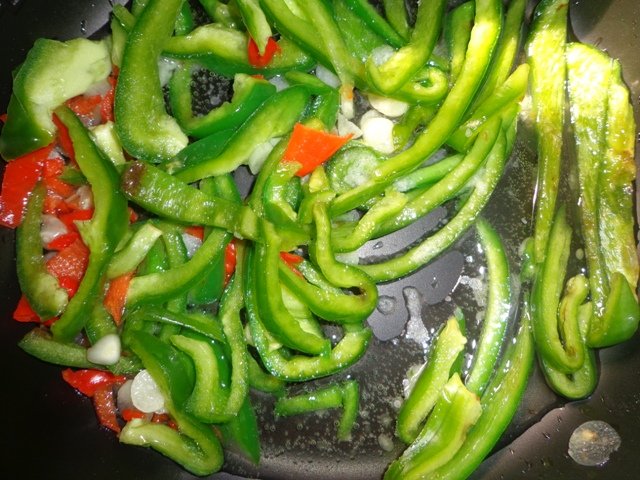 Fotografía tomada por @artmedina.
Con respecto a las papas, solo necesite 1 PAPA GRANDE, la cual pele y rebane para cocinarlas al vapor.
Regarding potatoes, you only need 1 LARGE POTATO, which you peel and slice to steam.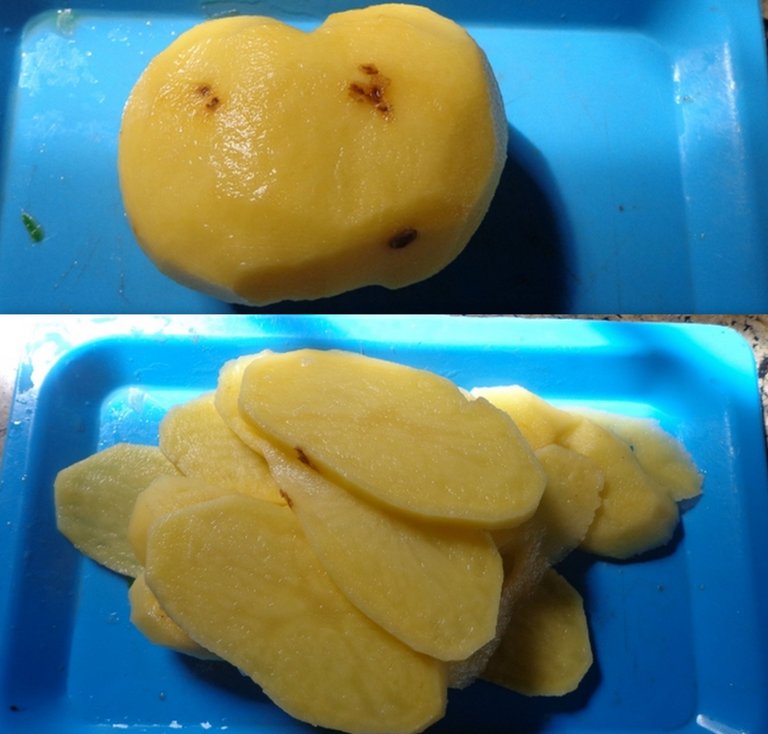 Fotografía tomada por @artmedina.
Estas papas se cocinaran al mismo tiempo con el vapor que se genera al cocinar el arroz en una arrocera.
These potatoes will be cooked at the same time with the steam that is generated when cooking the rice in a rice cooker.


Fotografía tomada por @artmedina.
Al sofreír los aliños agregue 400 GRS DE ARROZ y revolver por un 2 minutos, PARA LUEGO AGREGAR 900 MILILITROS DE AGUA.
When frying the dressings add 400 GRS OF RICE and stir for 2 minutes, THEN ADD 900 MILLILITERS OF WATER.


Fotografía tomada por @artmedina.
El arroz lo deje cocinar de manera automática con la ayuda de la arrocera.
Let the rice cook automatically with the help of the rice cooker.

Fotografía tomada por @artmedina.
Las sardinas las prepare en el durante que se cocinaba en arroz y las papas.
En un 1 kG DE SARDINA lavadas y fileteadas, agregue 1/4 de sal y 2 cucharadas de HARINA DE TRIGO.
I prepared the sardines in the during which it was cooked in rice and potatoes.
In a 1 kg OF SARDINE washed and filleted, add 1/4 of salt and 2 tablespoons of WHEAT FLOUR.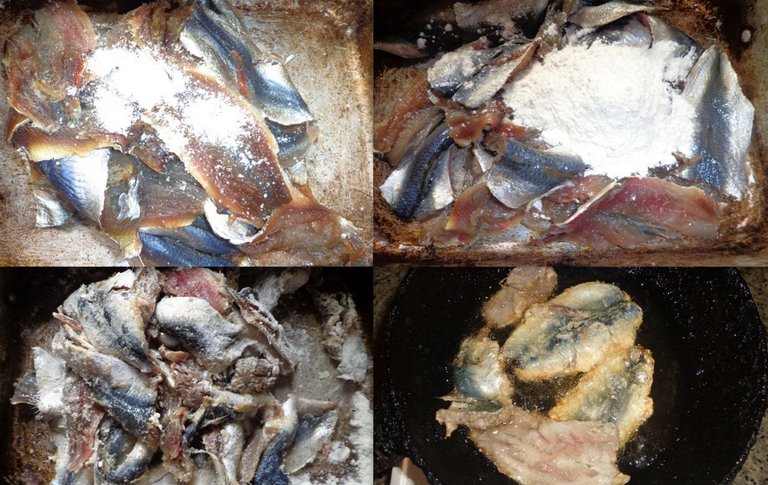 Fotografía tomada por @artmedina.
En un caldero verti aceite vegetal y lo calente bien. Fui añadiendo de 4 unidades de sardina para que se frieran de lado a lado.
In a cauldron I poured vegetable oil and heat it well. I was adding 4 units of sardines to fry from side to side.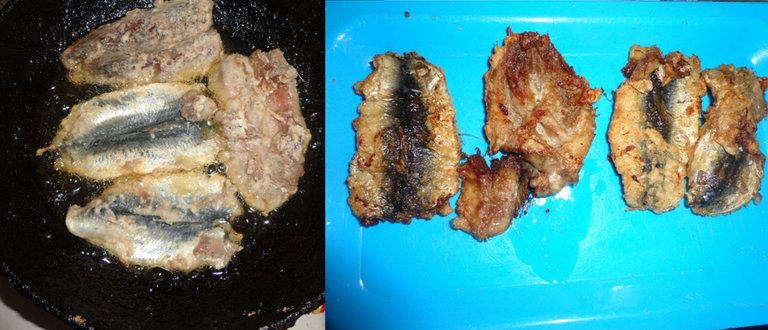 Fotografía tomada por @artmedina.
Seguidamente prepare una simple ensalada con 1 TOMATE, pizca de sal y 1/4 de jugo de limón.
Then prepare a simple salad with 1 TOMATO, a pinch of salt and 1/4 of lemon juice.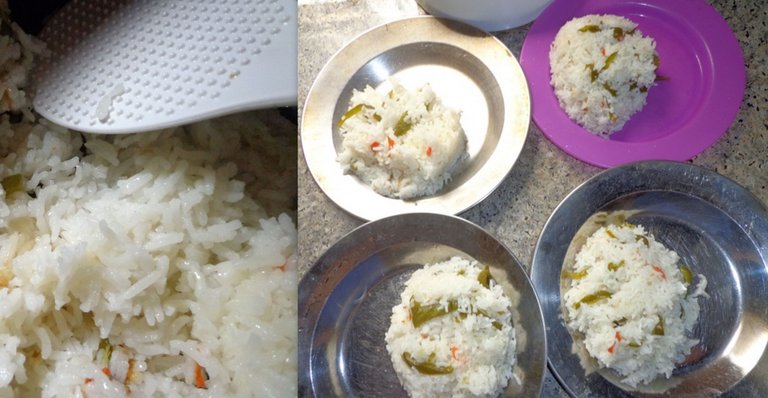 Fotografía tomada por @artmedina.
Para empezar a adornar los platos, empece con agregar el arroz (cantidad al gusto) SOY ARROCERA. Asi queee... XD
To start garnishing the dishes, start with adding the rice (amount to taste) SOY RICE. Soee ... XD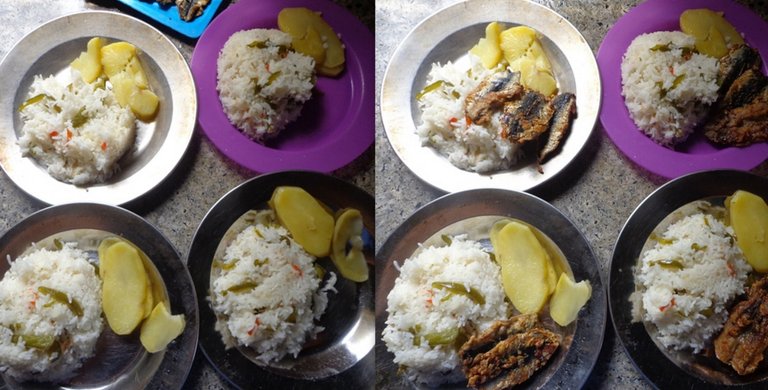 Fotografía tomada por @artmedina.
Otros contornos que pueden variar la combinación del plato son: EL PAN, PLÁTANO FRITO O ENSALADA DE ZANAHORIA.
Other contours that may vary the combination of the dish are: BREAD, FRIED BANANA OR CARROT SALAD.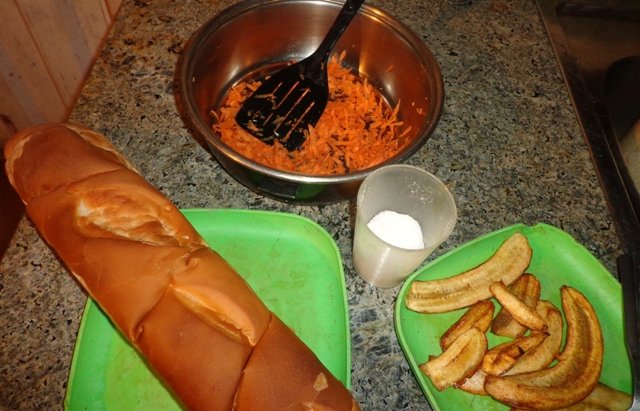 Fotografía tomada por @artmedina.
Aquí me ven orgullosa y satisfecha con mi plato. Solo queda degustar con agradecimiento a Dios por las provisiones otorgadas de lo alto. ¡Amén!
Here they see me proud and satisfied with my plate. It only remains to taste with gratitude to God for the provisions granted from on high. ¡Amen!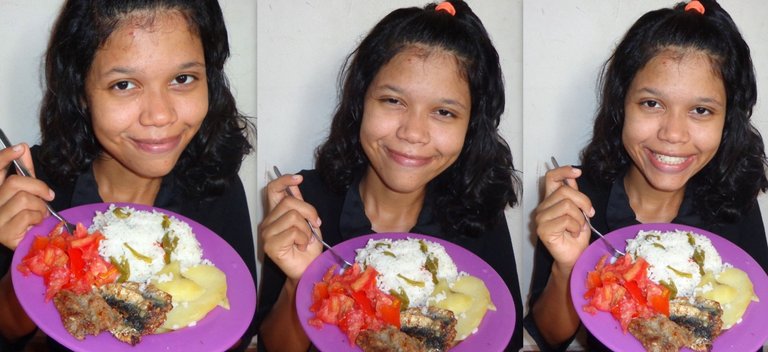 Fotografía tomada por @artmedina.
ESPERO QUE LES HAYA GUSTADO ESTA PUBLICACIÓN ¡BENDICIONES!
I HOPE YOU LIKED THIS PUBLICATION BLESSINGS!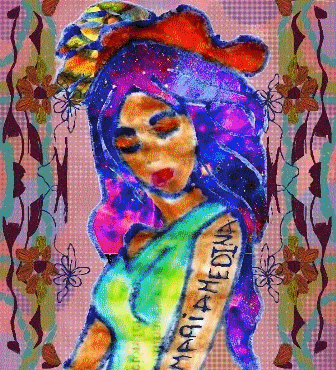 I hope you like it.
See you in the next post.
¡GRACIAS!
Copyright @artmedina - All rights reserved