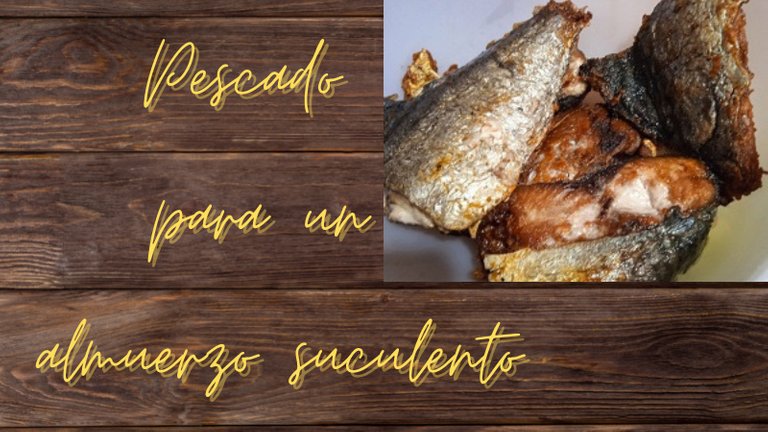 Good luck always to all the foodies of this community!
¡Buen provecho siempre para todos los comensales de esta comunidad!

Today I don't have a special recipe to share with you all. Today I am sharing with you what I consider to be the perfect combination of proteins and vegetables for a succulent lunch, whose protagonist, this time, is fish. This lunch that we prepared, especially for my mother who was visiting us at home, was a true delicacy from the gods, and the best part, it kept us satisfied and grazing on Sunday afternoon.
We all know that we must maintain a balanced diet to keep our body healthy and well nourished and for this the best thing to do is to consume lots of vegetables and greens in our main meals. Also, it is important to include a good portion of the proteins that come from animal meats in those meals that are considered important in the diet. The latter for those who, like me, like to have animal proteins on the plate.
Hoy no traigo una receta especial para compartir con todos ustedes. Hoy les comparto lo que considero la combinación perfecta entre proteínas y vegetales para un almuerzo suculento, cuyo protagonista, esta vez, es el pescado. Este almuerzo que preparamos, especialmente, para mi madre que estuvo de visita en casa fue un verdadero manjar de los dioses, y lo mejor, nos mantuvo satisfechos y rozagantes el domingo por la tarde.
Todos sabemos que debemos mantener una dieta balanceada para mantener nuestro cuerpo sano y bien nutrido y que para esto lo mejor es consumir muchas verduras y vegetales en nuestras comidas principales. También, es importante incluir una buena porción de las proteínas que provienen de las carnes de animales en esas comidas que se consideran importantes en la alimentación. Esto último para los que, como a mí, les gusta que estén presentes las proteínas animales en el plato.
When thinking about what we are going to prepare for lunch, the first thing we think of is protein, whether it is chicken, meat or fish; and around it, we incorporate carbohydrates and other nutrients needed to complete the value of the meal which can be grains, pasta, vegetables or fresh or cooked vegetables.
In my house, we like to eat salads every day and for some time now, I prefer to eat them rather than grains such as rice, for example.
A la hora de pensar en qué vamos a preparar para el almuerzo, en lo primero que pensamos es en la proteína, ya sea pollo, carnes o pescado; y alrededor de ella, incorporamos los carbohidratos y otros nutrientes necesarios para completar el valor de la comida que pueden ser granos, pastas, verduras o vegetales frescos o cocidos.
En mi casa, nos gusta consumir ensaladas todos los días y de un tiempo para acá, yo las prefiero comer antes que los granos como el arroz, por ejemplo.
As for animal proteins, I would not know what I like more, because I love chicken in any presentation, I love a good piece of pork more than beef and I enjoy fish in its entirety, that is, I even eat the heads of whole fish, and if it is at the edge of the beach, as a good cumanesa, the pleasure is indescribable.
En cuanto a las proteínas de origen animal, no sabría decir qué me gusta más, pues me encanta el pollo en cualquier presentación, deliro por un buen pedazo de carne de cerdo más que de carne de res y el pescado lo disfruto en su totalidad, es decir, me como hasta las cabezas de los pescados enteros, y si es a la orilla de la playa, como buena cumanesa, el placer es indescriptible.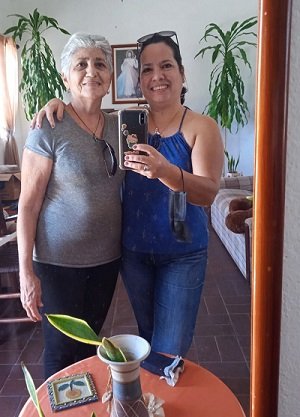 The day before, we had decided to buy fish to make our Sunday lunch with my mom memorable.
So, after a good Sunday breakfast with scrambled eggs, cheese and arepitas that my husband prepared for us, we got ready and went shopping.
Desde el día antes, habíamos decidido comprar pescados para hacer memorable nuestro almuerzo del domingo, al lado de mi mamá.
Así, después de un buen desayuno dominical con huevos revueltos, queso y arepitas que nos preparó mi esposo, nos arreglamos y salimos de compras.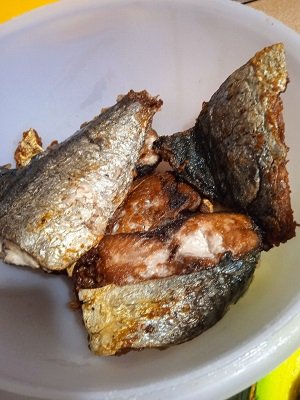 There are several places in Cumana where we can get fresh fish at a good price. In our favorite place we got one known as caballa or cabaña blanca. This is a very tasty fish, with white meat that can be eaten fried or in soups. Many times, we eat half of the fish and with the heads my mom makes soups that are delicious.
Hay varios lugares en Cumaná donde podemos conseguir pescados frescos y a buen precio. En nuestro sitio favorito conseguimos uno conocido como caballa o cabaña blanca. Este es un pescado muy sabroso, de carne blanca que se puede comer frito o en sopas. Muchas veces, nosotros nos comemos la mitad del pescado y con las cabezas mi mamá hace unas sopas que le quedan buenísimas.
Whitefish is a very tasty and meaty fish, it is also very nutritious because of all the properties it has, including vitamins and minerals such as phosphorus, selenium and potassium. Here you can learn more about this exquisite blue fish.
La cabaña blanca es un pescado muy sabroso y carnoso, además es muy nutritivo por todas las propiedades que tiene y que incluye vitaminas y minerales como el fósforo, el selenio y el potasio. Aquí se puede saber más sobre este exquisito pescado azul.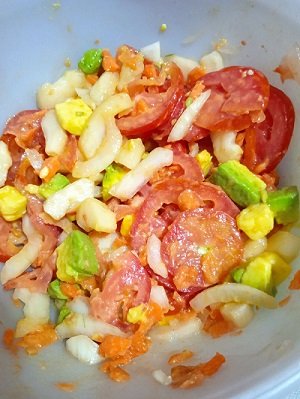 Among the vegetables we wanted to buy to make a delicious and fresh salad, avocado was at the top of the list, and how could it not be, since it was my mom's wish!
She had already told me, a few days before, how much she wanted to eat avocado, I had searched, but I didn't get some as good as the ones I found on Sunday.
Entre los vegetales que queríamos comprar para hacer una deliciosa y fresca ensalada, el aguacate estaba en primer lugar en la lista. ¡Y cómo no, si era un deseo de mi mamá!
Ya ella me había dicho, unos días antes, lo tanto que quería comer aguacate, yo había buscado, pero no conseguí antes unos tan buenos como los que encontré el domingo.
Buying avocados is a lottery as my husband says. However, there are vendors who know a lot and recommend the ones that are good for the day and they get it right. This happened to us on Sunday, thank God. The girl assured us that the avocados she was offering us were very good and creamy, and lotería! they were.
Eso de comprar aguacates es una lotería como dice mi esposo. Sin embargo, hay vendedores que saben mucho y recomiendan los que están buenos para el día y aciertan. Esto nos pasó el domingo, gracias a Dios. La chica nos aseguró que los aguacates que nos ofrecía estaban muy buenos y cremosos, y ¡lotería! así fue.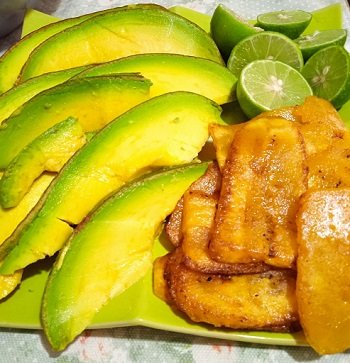 I have no words to tell you how good the avocados were. A real delight, so much so that the one we served at lunch, we ate the whole thing, and I forgot to tell you that it was very big. In the photos you can see the color, suddenly the creaminess, but the taste... the flavor... no! and I wish this could be possible.
No tengo palabras para transmitirles lo bueno que estaban los aguacates. Una verdadera delicia, tanto que el que servimos en el almuerzo, nos lo comimos completo, y se me había olvidado contarles que era muy grande. En las fotos se puede observar el color, de repente la cremosidad, pero el sabor... el sabor ¡no! y me gustaría que esto pudiera ser posible.
We did not feel any kind of remorse after this delicious lunch with fish and lots of avocado, because we already know that avocado has many properties, it is also one of the so-called good fats and its consumption helps us fight bad cholesterol and reduces cardiovascular risk. So we were contributing a little grain to our health ;)
No sentimos ningún tipo de remordimientos después de comer tanto aguacate, pues ya sabemos que este tiene muchas propiedades, además es de las llamadas grasas buenas y su consumo nos ayuda a combatir el colesterol malo y reduce el riesgo cardiovascular. Así que estábamos aportando un granito a nuestra salud ;)
You know what I regret, not having taken pictures of the plating. I was busy taking pictures of each part of the lunch and then I made a lemon and paprika juice, while my husband took everything to the table and everyone served themselves. When I sat down, I went straight to the point, hahaha, and I didn't take any more pictures.
Saben lo que lamento, no haber tomado fotos al emplatado. Yo me ocupé de ir tomando fotos de cada parte del almuerzo y luego me dediqué a hacer un jugo de papelón con limón, mientras mi esposo llevaba todo a la mesa y cada uno se sirvió. Cuando yo me senté, fui directo al grano, jajaja, y ya no tomé más fotos.

Definitely, the fish was our best choice to please my mother with a succulent lunch, accompanied by a fresh salad of tomato, onion, carrot and avocado, fried plantain slices and a refreshing juice of papelón with lemon.
I owe the photo of the finished dish to you for next time.
Definitivamente, el pescado fue nuestra mejor elección para complacer a mi madre con un suculento almuerzo, acompañado de ensalada fresca de tomate, cebolla, zanahoria y aguacate, plátano frito en tajadas y un refrescante jugo de papelón con limón.
La foto del plato terminado se las debo para una próxima vez.

A delicious lunch! /¡Un almuerzo delicioso!/
Enjoy!/¡Buen provecho!

Todo el contenido de esta publicación es contenido original y trabajo creativo personal. Los separadores y el banner son mis diseños en Canva. Las fotos son de mi propiedad, se pueden ver en mis redes o en otras publicaciones.
All the content of this publication is original content and personal creative work, the separators, and the banner are my designs in Canva. The photos are my property, you can see them in my networks or in other publications.