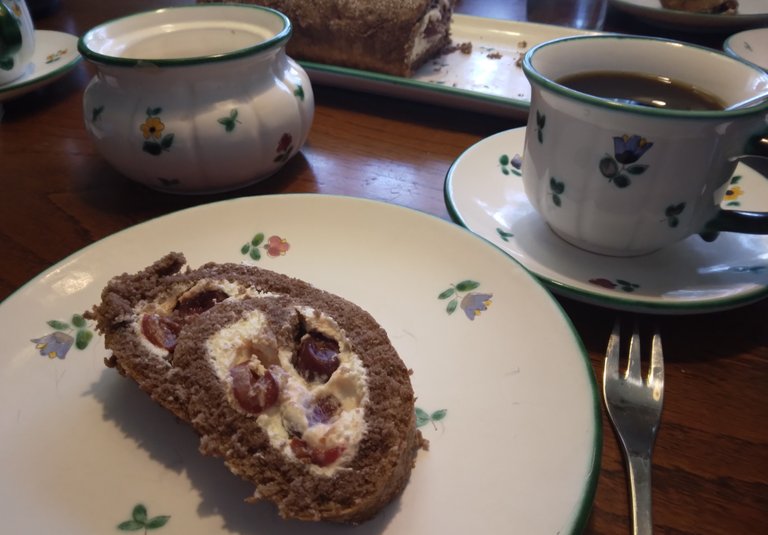 ( EN / DE ) Father's Day in Austria is always celebrated on the 2nd Sunday in June, exactly one month after Mother's Day. Since my dad is a huge cherry fan there was for him today a kind of "Schwarzwälder Cherry Roll", but without cherry brandy because of the great-grandchildren.
Ingredients dark biscuit dough:
5 eggs
1 egg yolk
75 g sugar
1 pck. vanillin sugar
90 g wheat flour
½ teaspoon baking powder
2 tsp. dark cocoa
Such a biscuit roll is not as difficult as you may think. The dough must be mixed until it makes a nice mass, then simply bake it on a greased tray.
After only 15 minutes at 180 degrees convection, the dough must be immediately turned out onto a "sugared kitchen towel" (yes, sprinkle some sugar on it before you put the daugh there) and rolled up first without filling, so it can cool down.
For the filling, beat 400 g of whipped cream with a packet of cream stiffener and provide pitted cherries.
The cooled dough is now carefully rolled up, spread with the cream (Leave a strip free at the end!). Then put the cherries on top of the cream and roll up the dough with the cloth so that the roll is as tight as possible.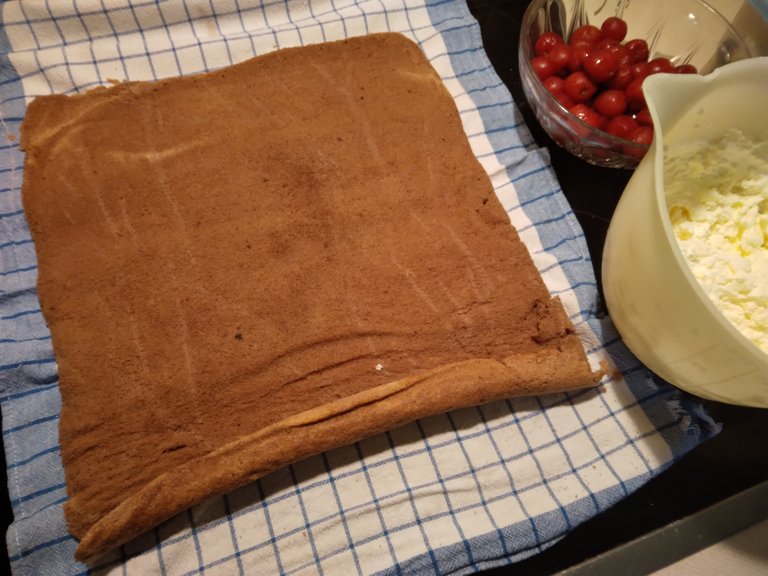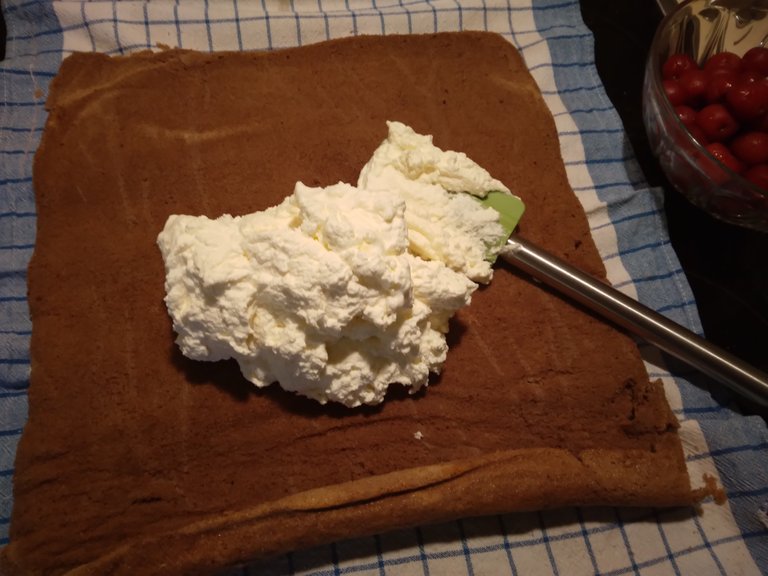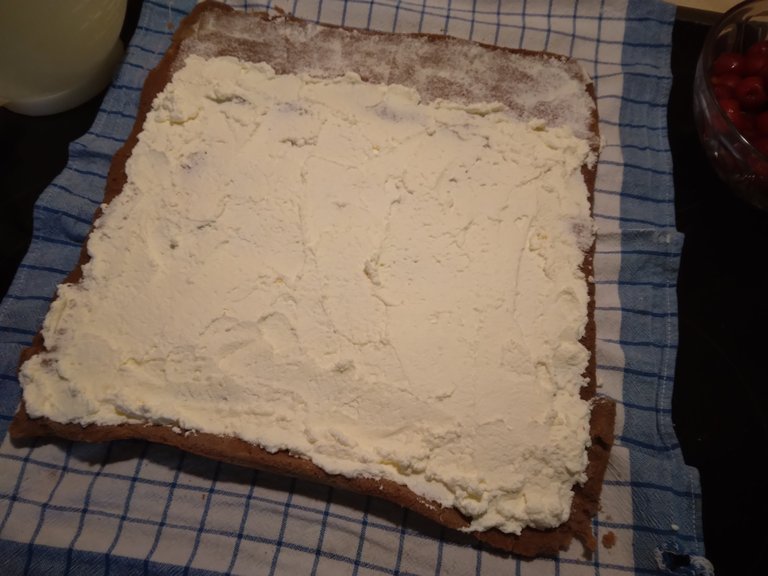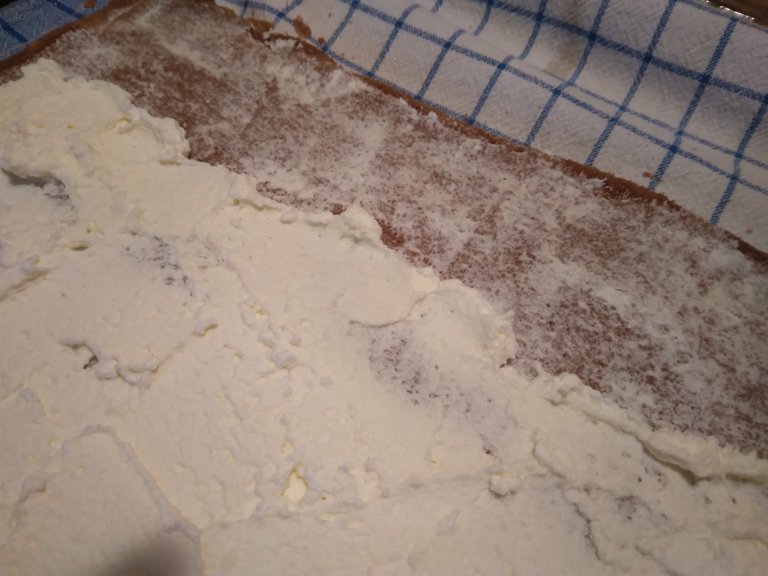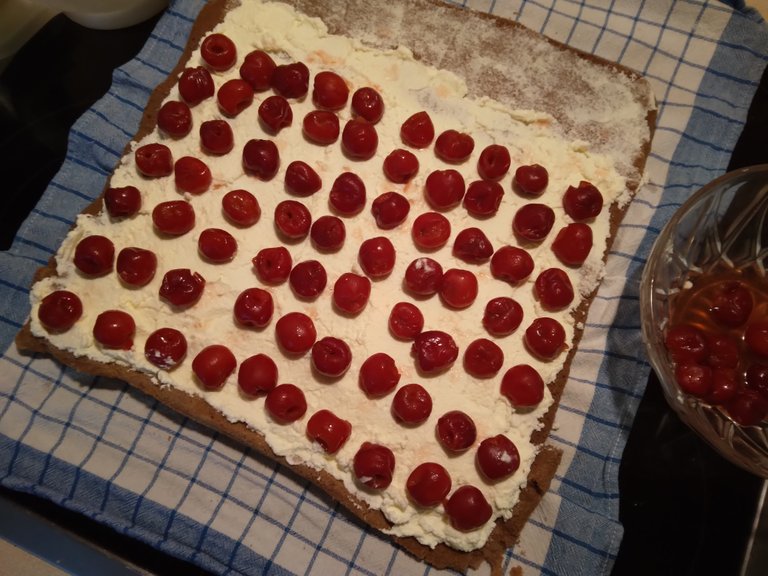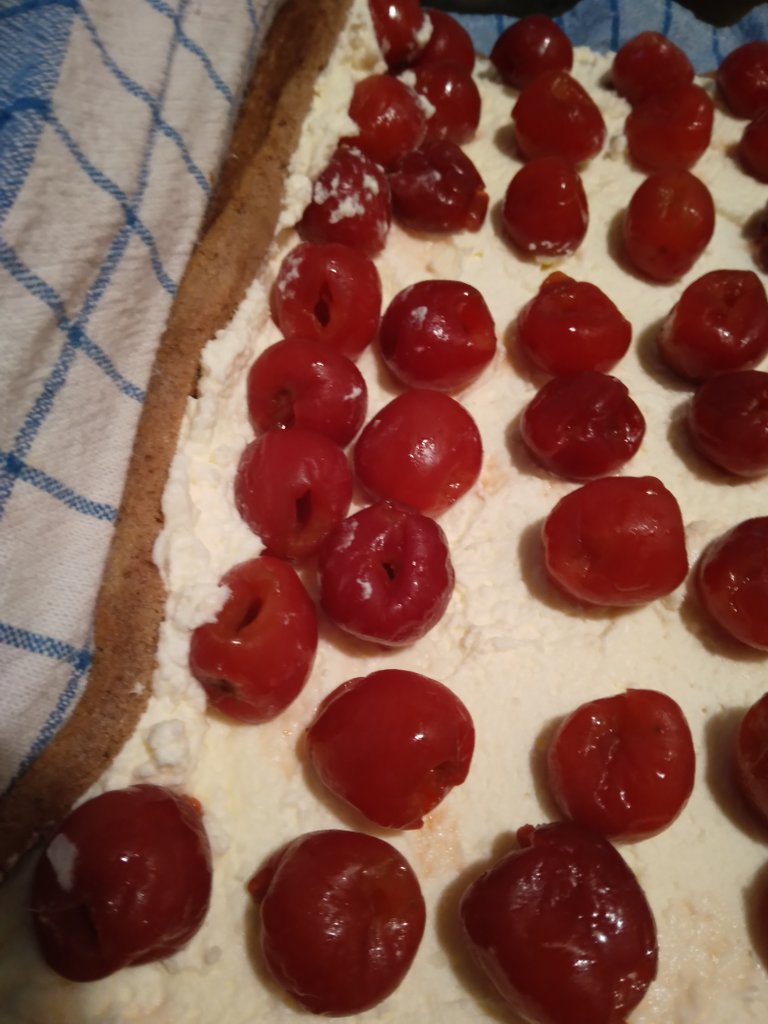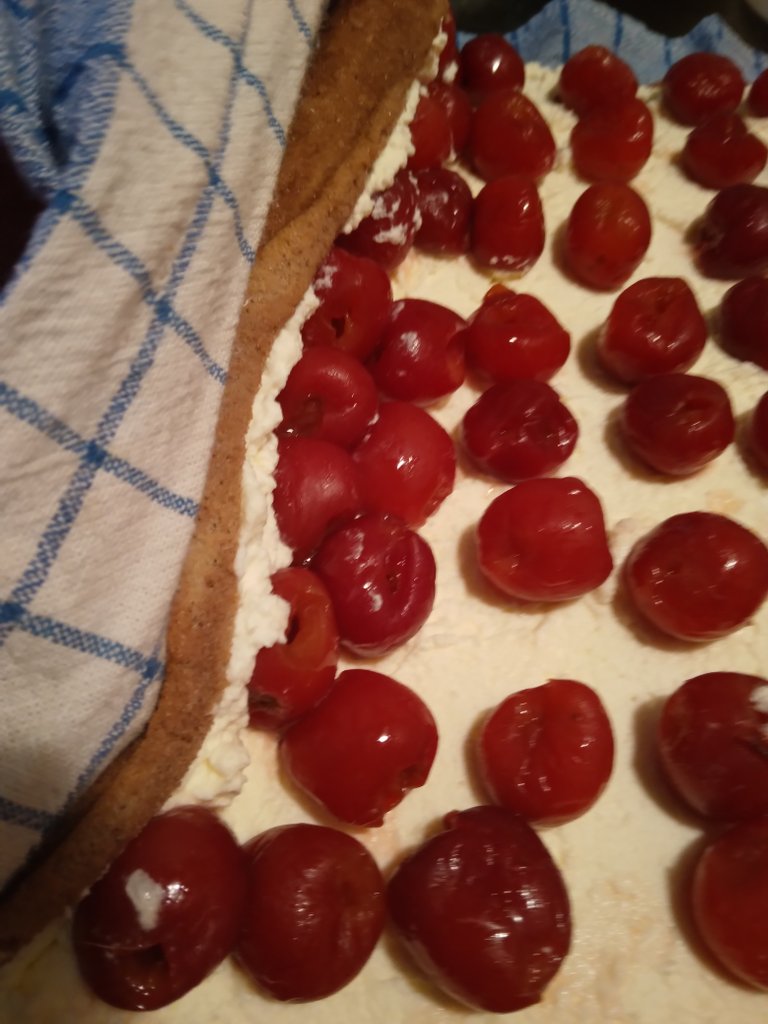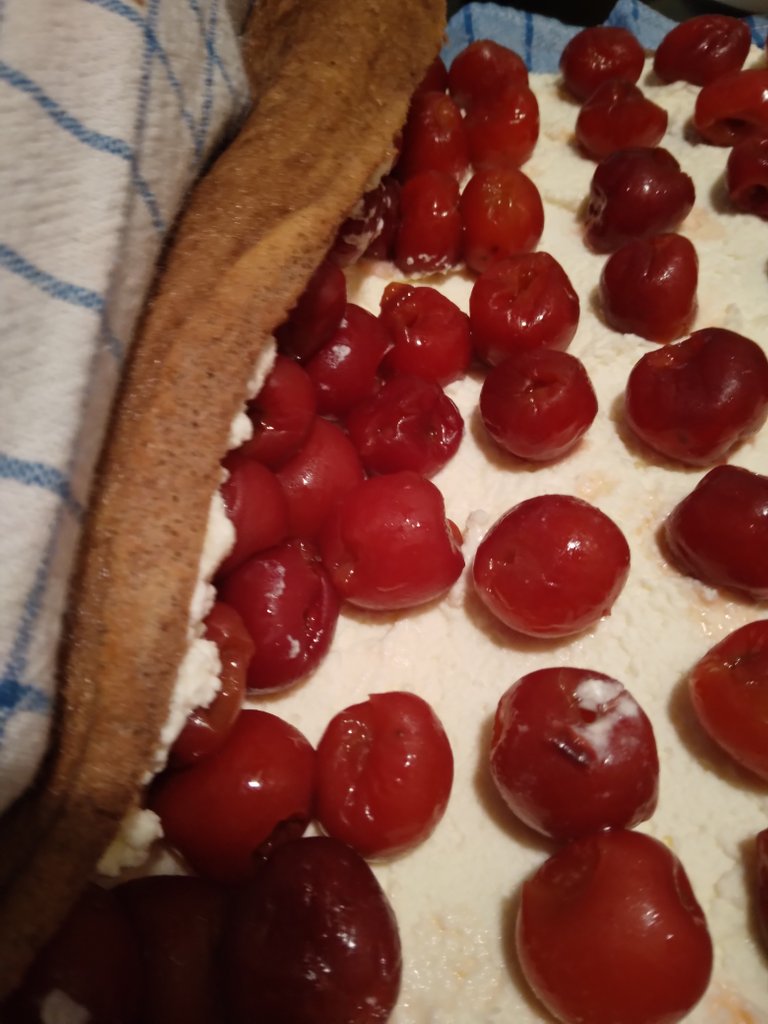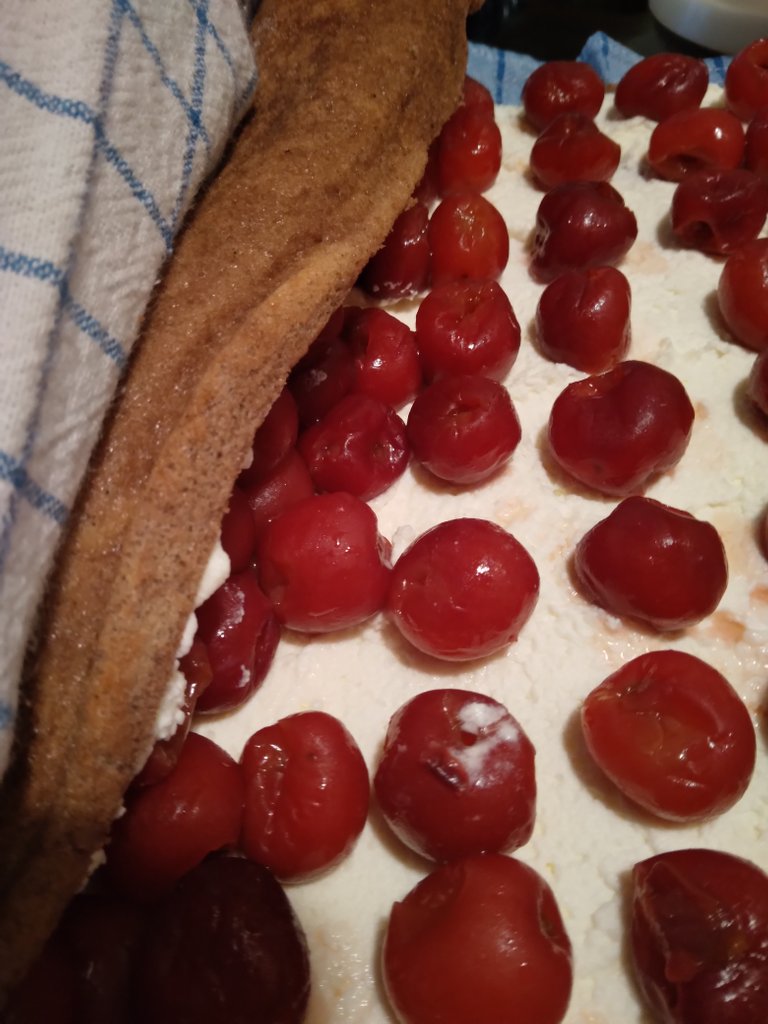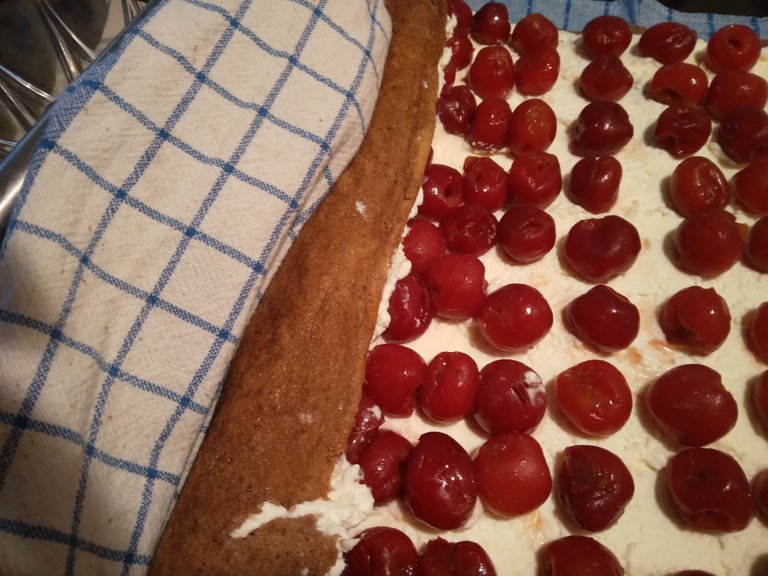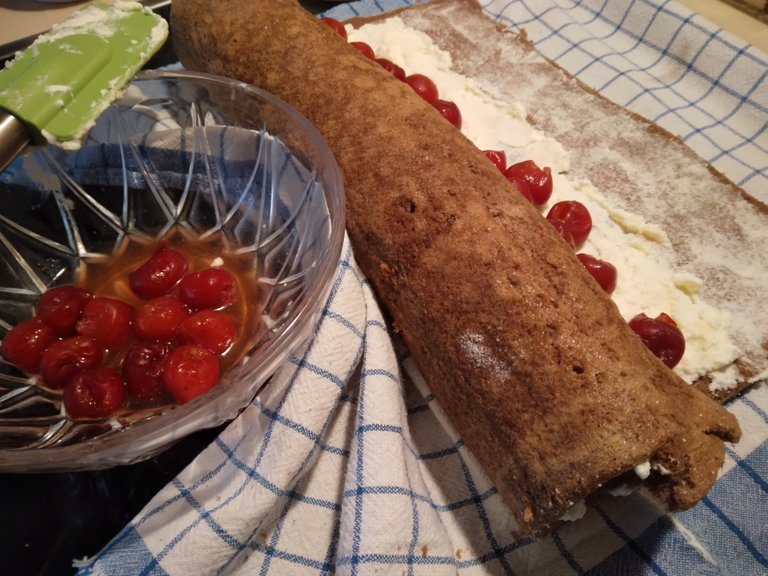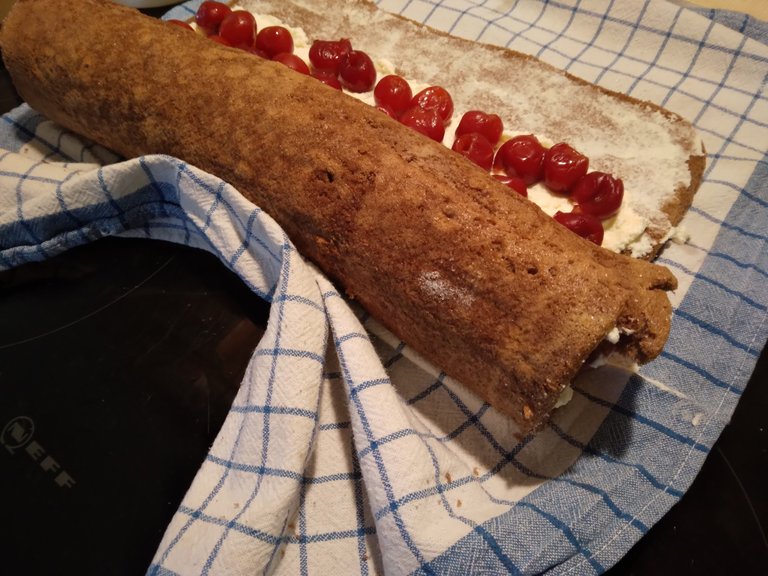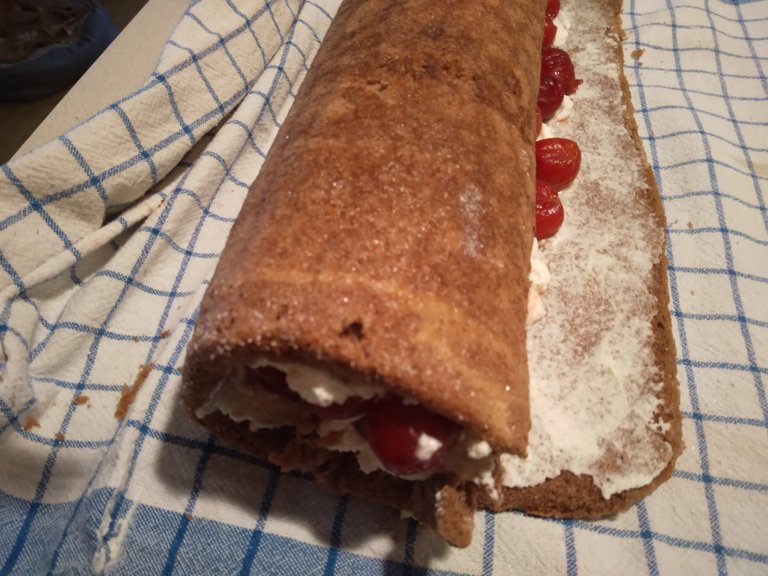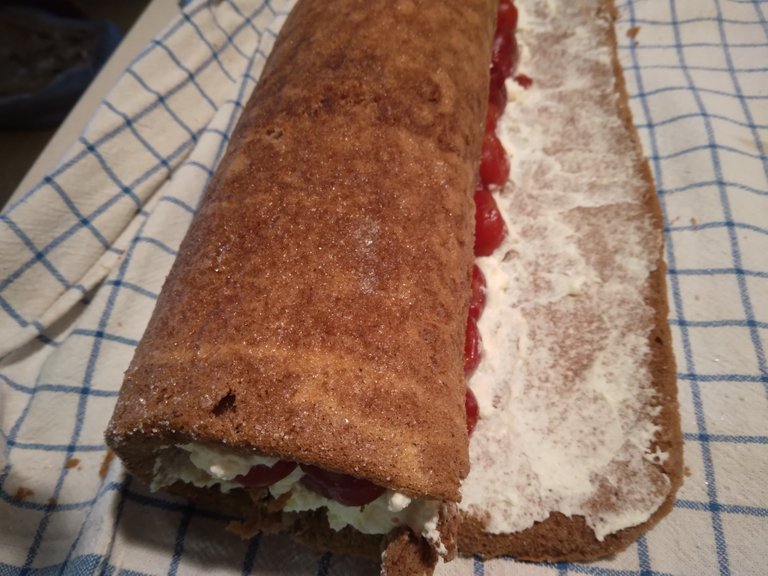 At the end, simply roll onto the plate on which it will be served. The ends of the roll must be cut straight, then the roll goes into the refrigerator to cool nicely.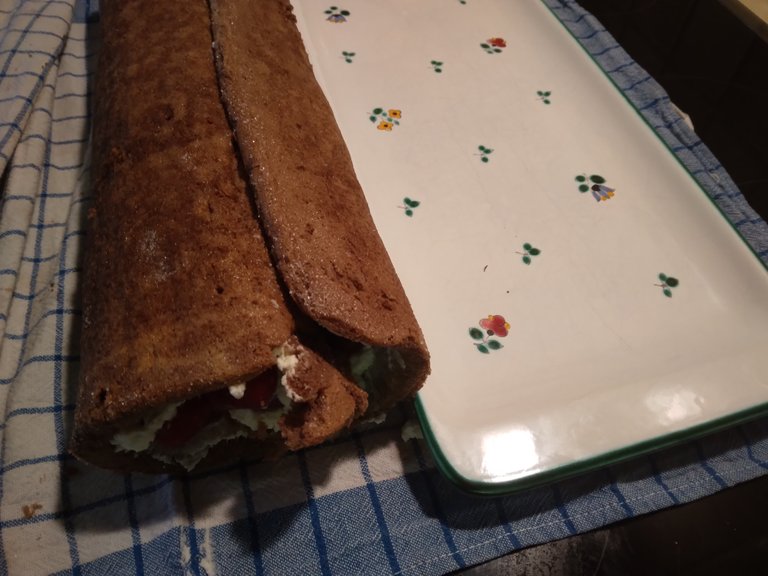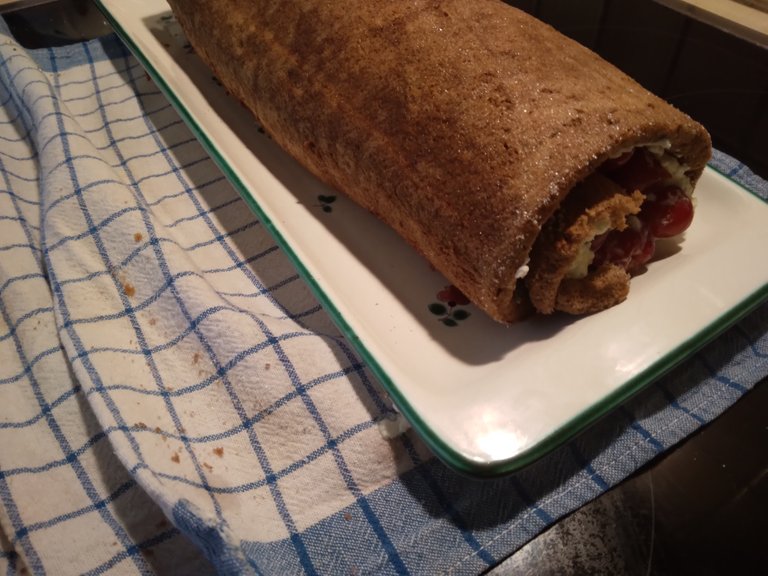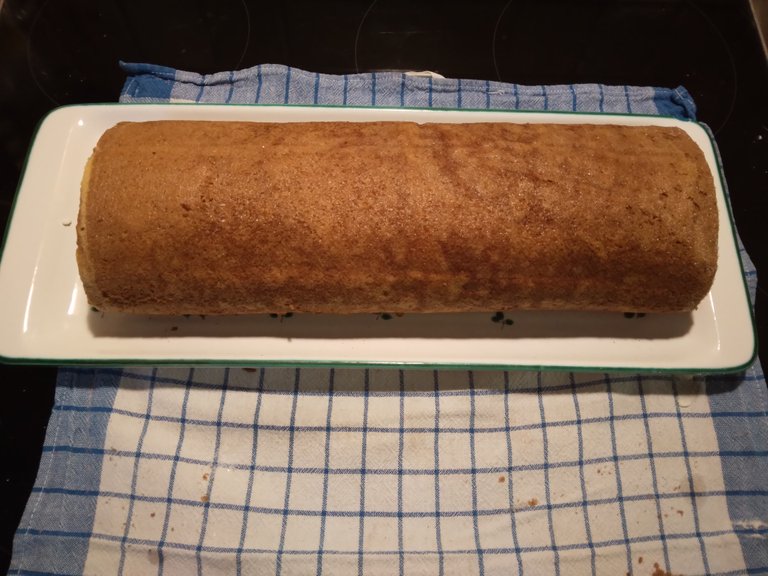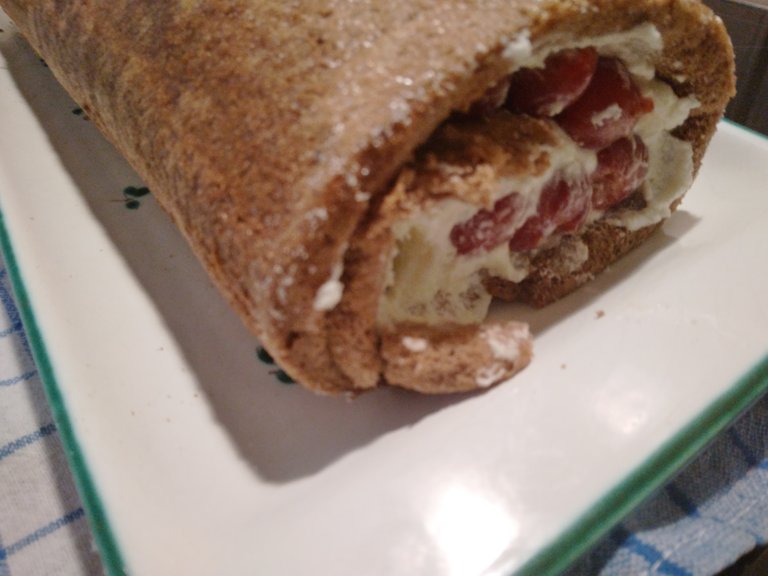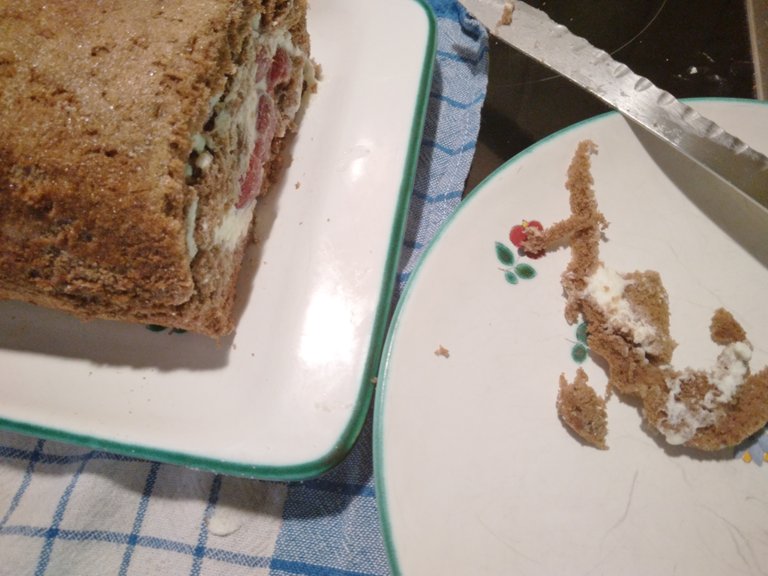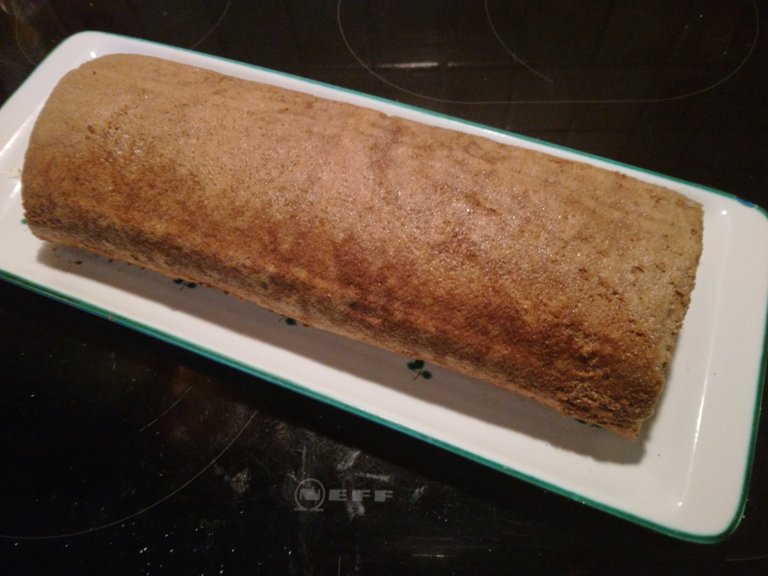 ---
---
DEUTSCH / GERMAN
Vatertag in Österreich - wie rollt man eine Biscuitrolle
Am 2. Sonntag im Juni wird in Österreich immer der Vatertag gefeiert, genau einen Monat nach dem Muttertag. Da mein Dad ein riesiger Kirschen Fan ist gab es für ihn heute eine Art "Schwarzwälder Kirsch Rolle", aber ohne Kirschschnaps wegen der Urenkelchen.
Zutaten dunkler Biskuit Teig:
5Eier
1Eigelb
75 gZucker
1 Pck.Vanillin-Zucker
90 gWeizenmehl
½ TLBackpulver
2 TL dunkler Kakao
So eine Biscuitrolle ist gar nicht so schwierig, wie viele denken. Der Teig muss solange gemixt werden, bis er eine schöne Masse ergibt, danach einfach auf einem gefettenen Blech einen backen, für die dunkle Teig Variante dem Teig zwei Teelöffel echten Kakao zufügen.
Nach nur 15 Minuten bei 180 Grad Umluft muss der Teig sogleich auf ein "gezuckertes Küchentuch" (ja! etwas Zucker auf das Tuch streuen bevor der Teig darauf kommt) gestürzt und erst einmal ohne Füllung eingerollt werden, um so auszukühlen.
Für die Füllung 400 g Schlagsahne mit einem Päckchen Sahnesteif schlafen und entkernte Kirschen bereitstellen.
Der ausgekühlte Teig wird nun vorsichtig aufgerollt, mit der Sahne bestrichen (Am Ende einen Streifen frei lassen!). Danach kommen die Kirschen auf die Sahne und man rollt den Teig mit dem Tuch auf, sodass eine möglichst feste Rolle entsteht.
Am Schluss rollt man einfach auf den Teller, auf dem auch serviert werden soll. Die Enden der Rolle müssen gerade geschnitten werden, danach kommt die Biskuitrolle in den Kühlschrank um schön durchzukühlen.
Vor dem Servieren einfach mit Puderzucker bestreuen und fertig ist der leckere Traum! Die Fotostrecke findet sich oben im Englischen Teil, der Post wäre sonst leider zu lange geworden.
---
---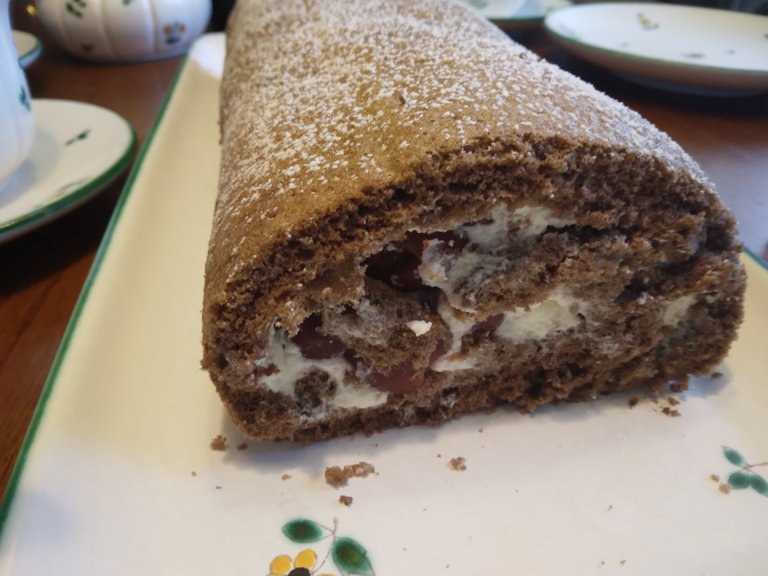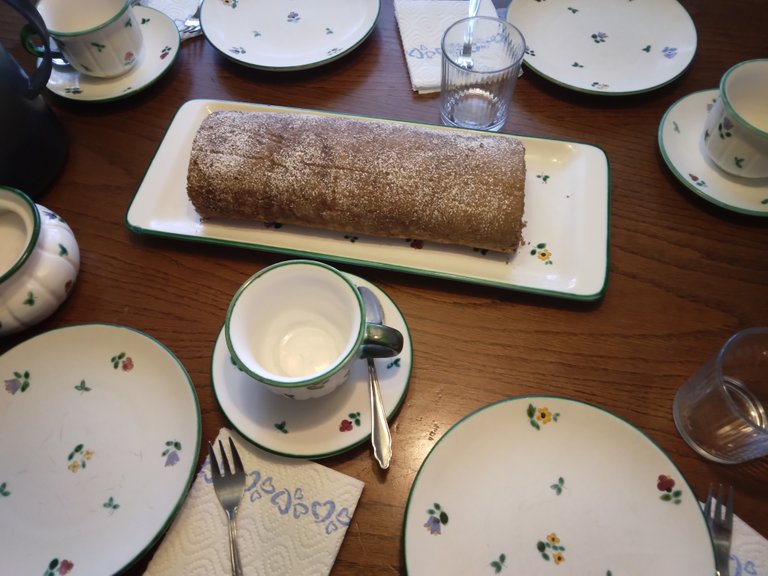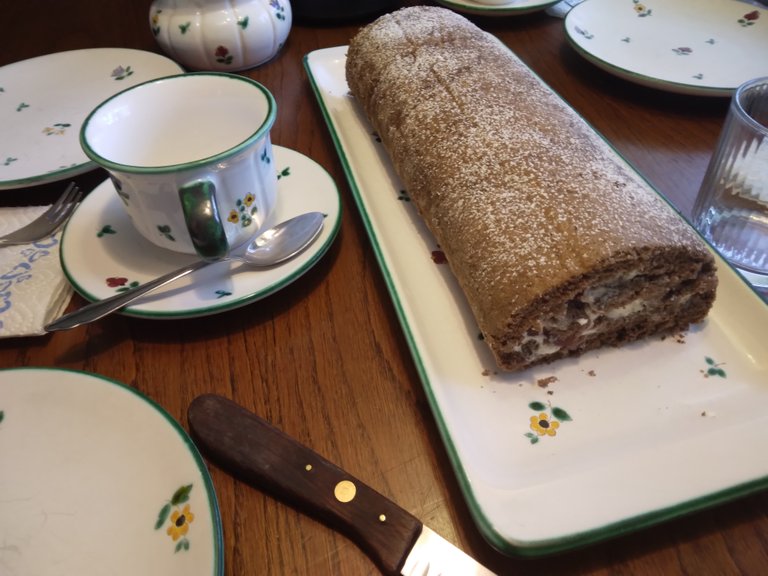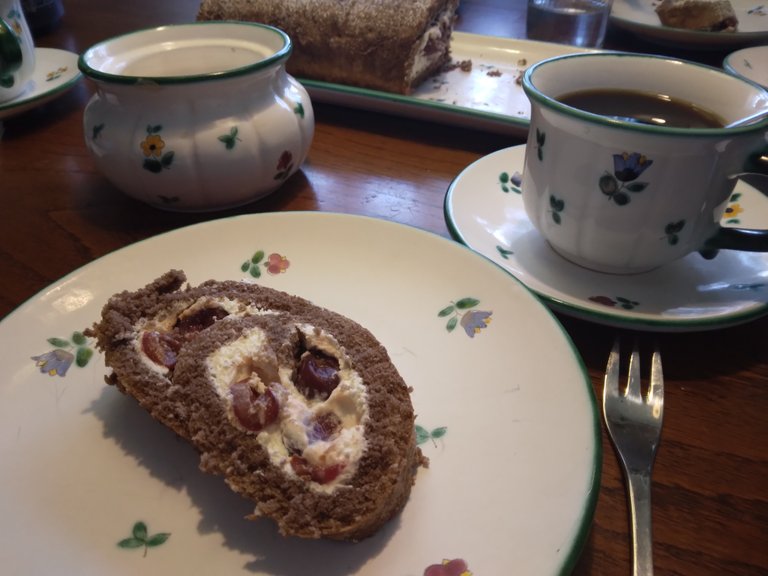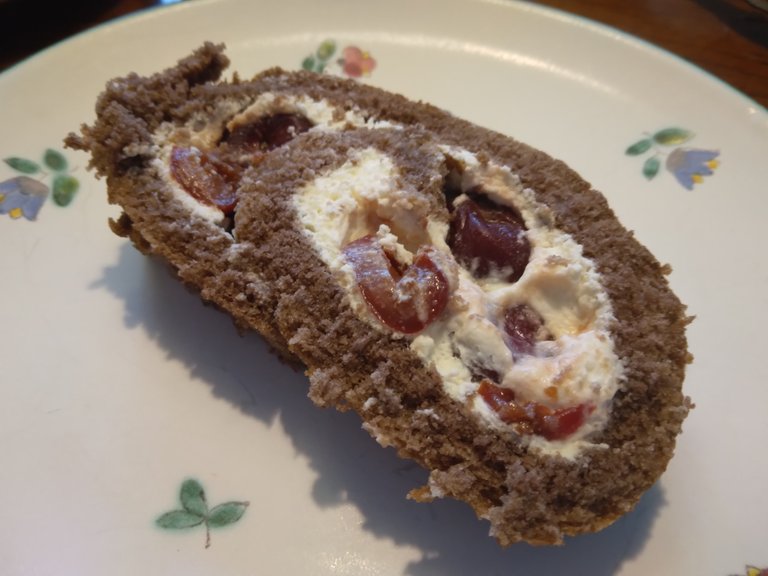 Before serving, simply sprinkle with powdered sugar and this sweet dream is ready!
It was delicious for everyone, especially for our dad, grandpa and great-grandpa all in one person.
Es hat allen vorzüglich geschmeckt, vor allem unserem Dad, Opa und Urgroßvater in einer Person.
As always I hope you enjoyed my posting :-) Yours, B
---
all photos by @beeber
mostly Translated with www.DeepL.com/Translator (free version)
---