Saludos y bendiciones 😊 a toda esta linda comunidad.
Greetings and blessings 😊 to all this beautiful community.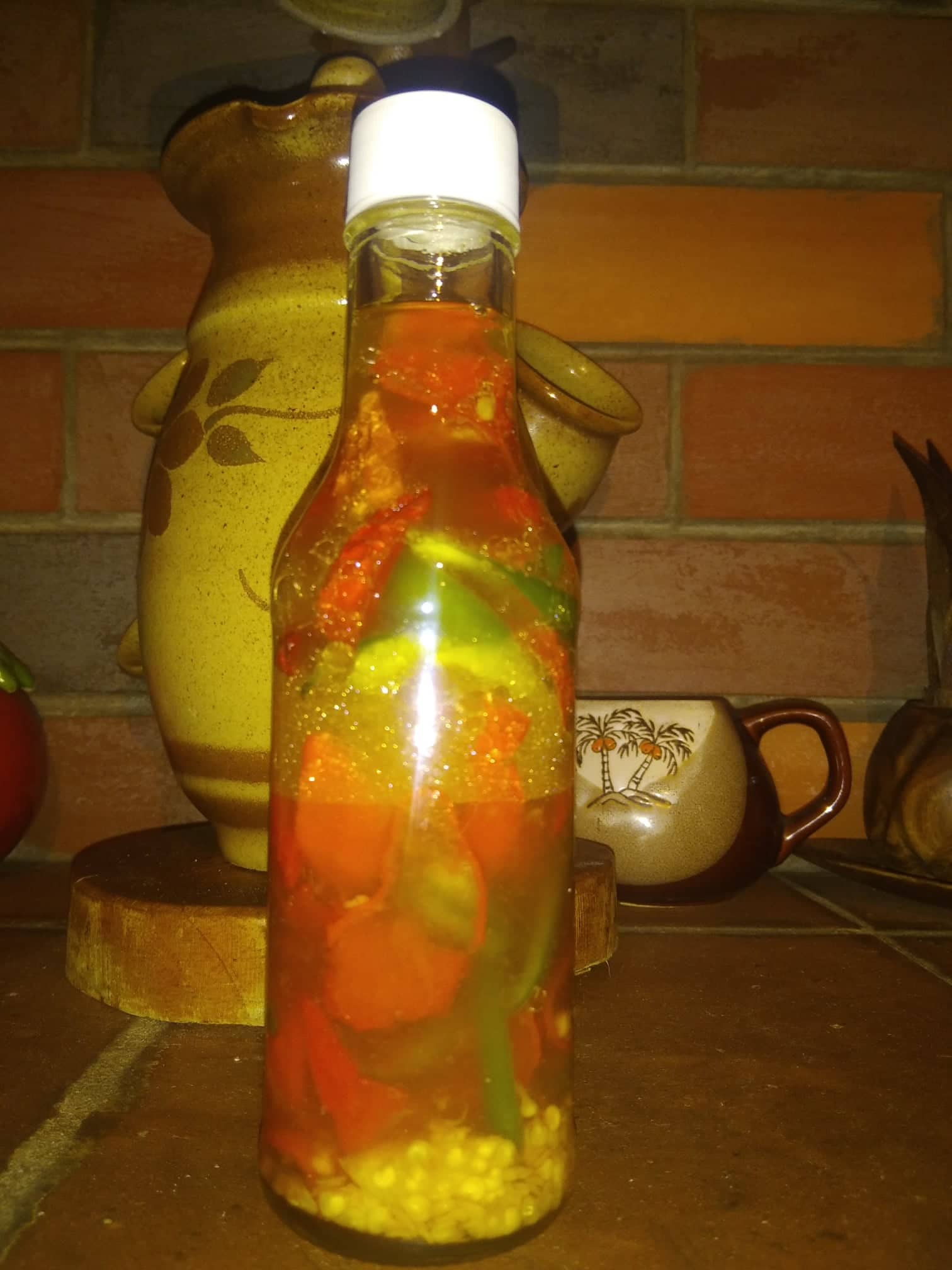 Dónde nos reunimos para compartir una parte que que llena nuestras vidas de alegría y satisfacción como lo es todo aquello que degustamos. Desde un rico postre hasta una rica comida, de diferentes países. O simplemente platos o recetas que hacemos nuestras poniéndole nuestro sazón.
Where we meet to share a part that fills our lives with joy and satisfaction as is everything we taste. From a delicious dessert to a delicious meal, from different countries. Or simply dishes or recipes that we make our own by adding our seasoning.
En está p oportunidad les quiero compartir algo que le da más gusto a un plato en particular o solamente el acompañante para una rica sopa o a unas ricas empanadas, como nos gusta a muchos aquí en Venezuela echarle un poco de picante.
In this opportunity I want to share with you something that gives more flavor to a particular dish or just the companion for a rich soup or some delicious empanadas, as many of us here in Venezuela like to add a little spice.
Se trata de un picante casero, muy de mi gusto...me encanta el picante y a aunque no suelo abusar de él, siempre cuando tengo en casa le coloco un poco a mis comidas.
It is a homemade spicy, very much to my taste... I love spicy and although I do not usually abuse it, I always add a little to my meals when I have it at home.
Y como lo mencioné antes, este lo hice con la cosecha en mi huerto. Los cuales nacieron sin pensarlo. Ya que suelo tirar las semillas en mis materos, y me quedé fascinada como se dieron estos ricos y muy picantes ajíes.
And as I mentioned before, I made this one with the harvest in my garden. Which were born without thinking. Since I usually throw the seeds in my pots, and I was fascinated how these rich and very spicy peppers were produced.
Cómo suelo reciclar los frascos de vidrios, tenía guardado uno donde venía una salsa. Y me decidí hacerme mi ajicero...les cuento como lo preparé:
How I usually recycle glass jars, I had one saved where a sauce came from. And I decided to make myself my ajicero... I'll tell you how I prepared it:
Ingredientes:
Varios ajíes picantes.
Agua y un poco de sal.
Tres dientes de ajo.
Varias tiras de pimentón verde.
Aceite de soya, solo un poco.
Ingredients:

Various hot peppers.
Water and a little salt.
Three cloves of garlic.
Several strips of green paprika.
Soybean oil, just a little.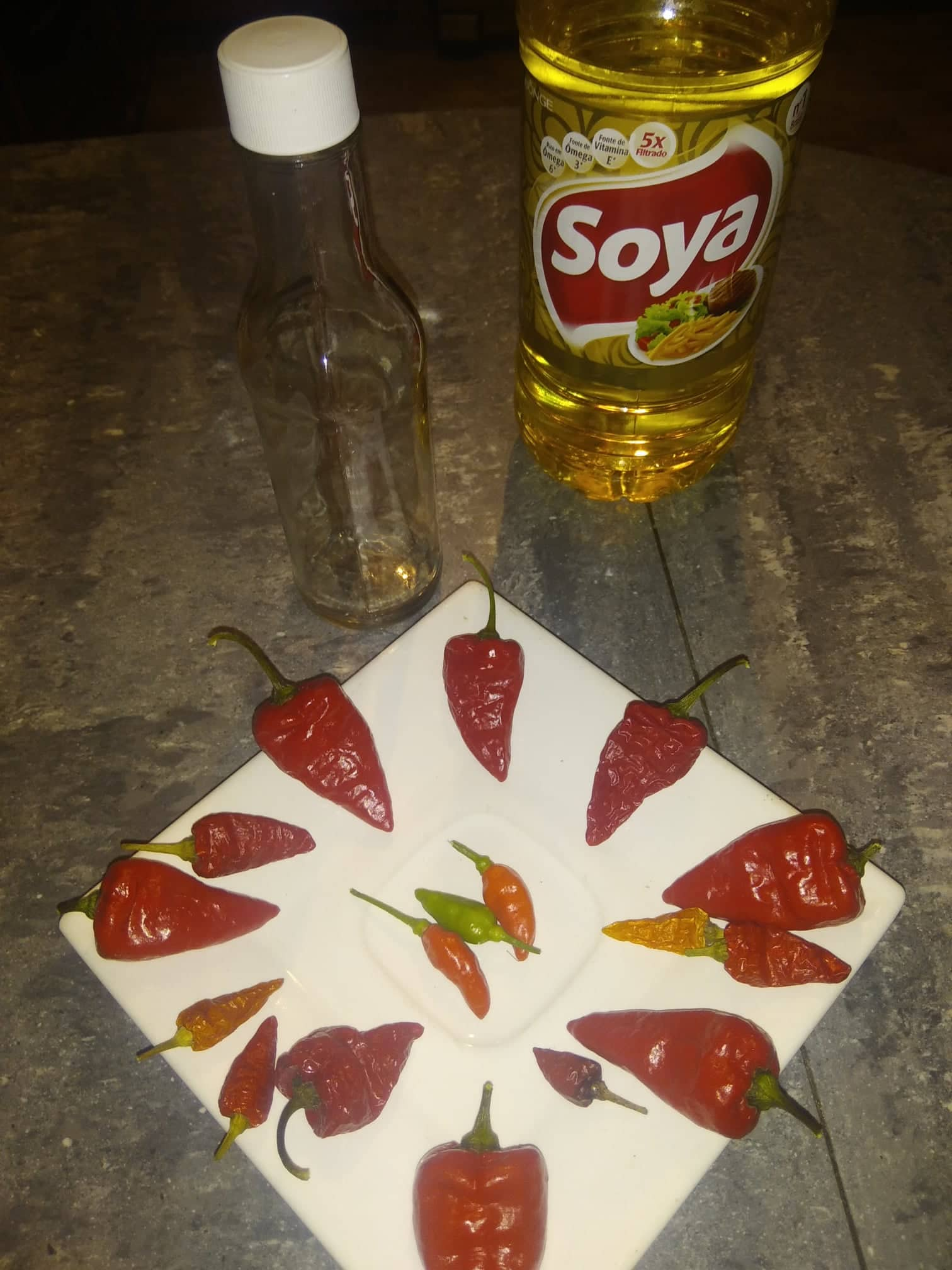 Procedimiento:
Process:
Lo primero que hice fue lavar los ajíes.
The first thing I did was wash the peppers.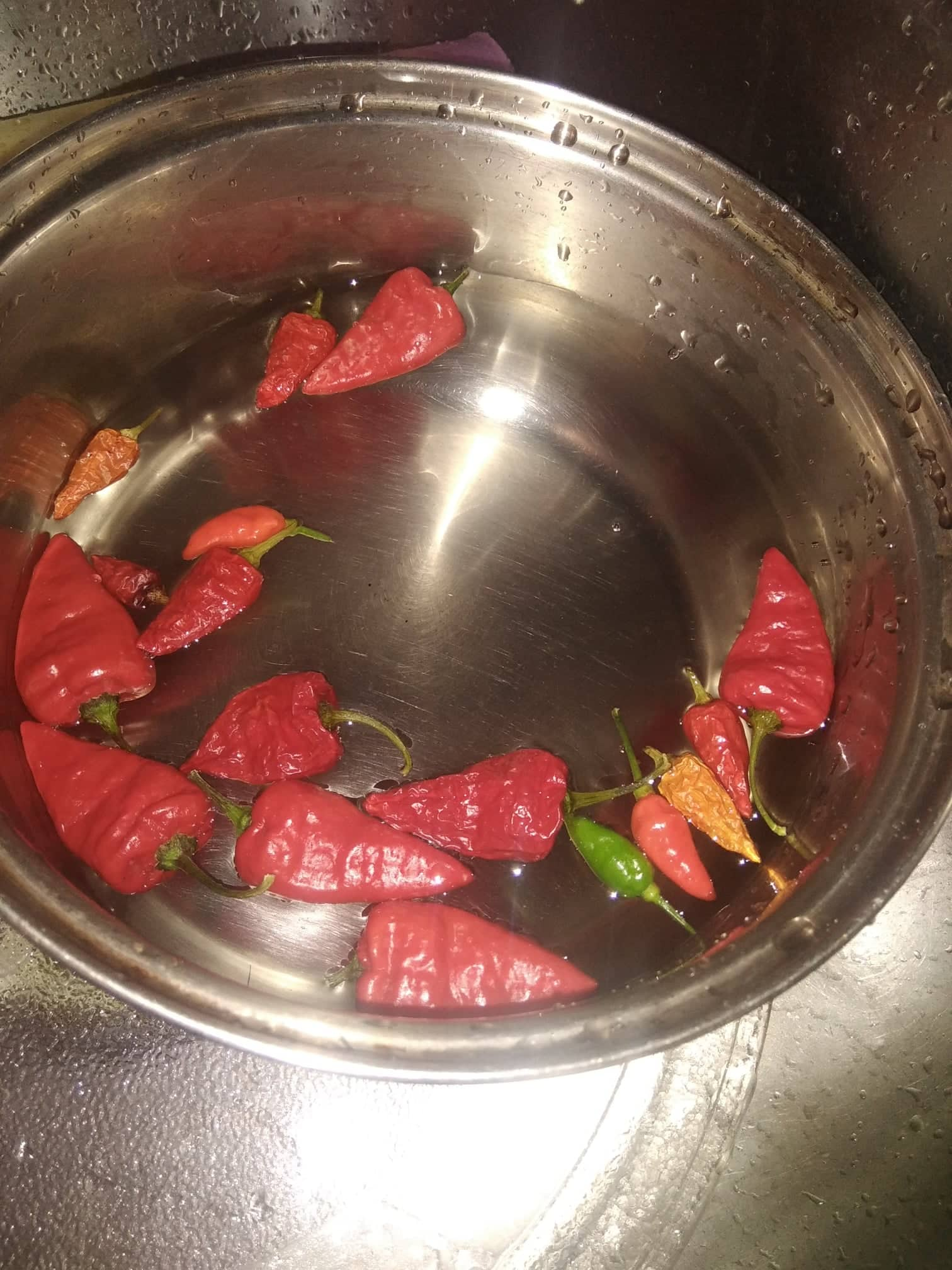 Después me dispuse a cortar los más grandes, y dejar enteros algunos que ya tenía guardado antes y estaban arrugados.
Then I got ready to cut the largest ones, and leave whole some that I had already saved before and were wrinkled.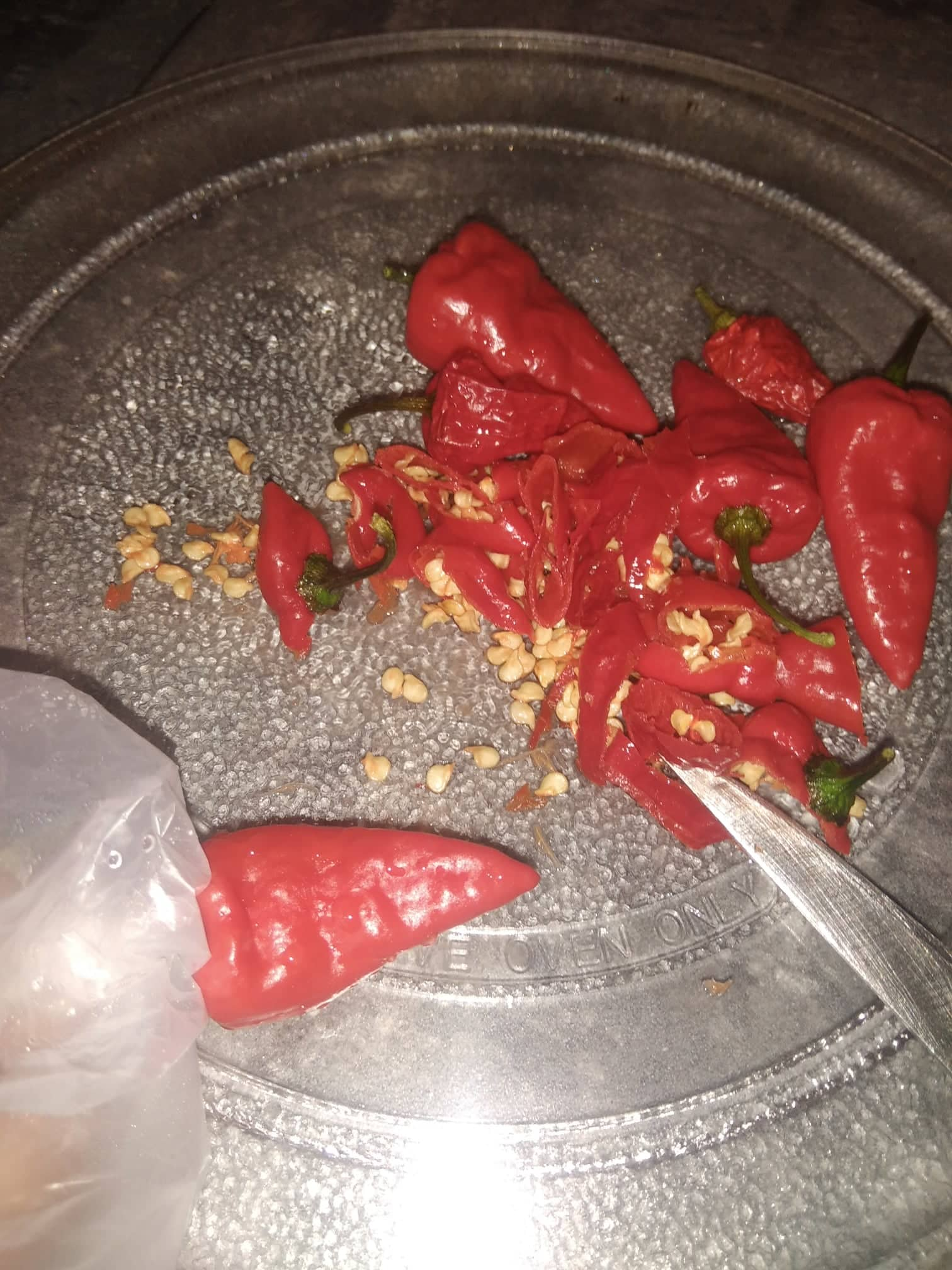 Ah, pero antes me puse una bolsa en la mano derecha, con la que iba agarrar los ajíes, para que no pícara.( Cómo no tenía guante, improvisar usando una bolsa y resultó muy bien).
Ah, but before I put a bag in my right hand, with which I was going to grab the peppers, so it wouldn't sting. (How I didn't have a glove, improvise using a bag and it turned out very well).
Después de cortarlos le coloque un poco de agua y los lleve a cocción a fuego medio bajo, le puse un poco de sal y espere q que se cocinarán un poco o que soltaran ese aceite que llevan en su costra.
After cutting them, add a little water and cook them over medium-low heat, add a little salt and wait for them to cook a little or release the oil they carry in their crust.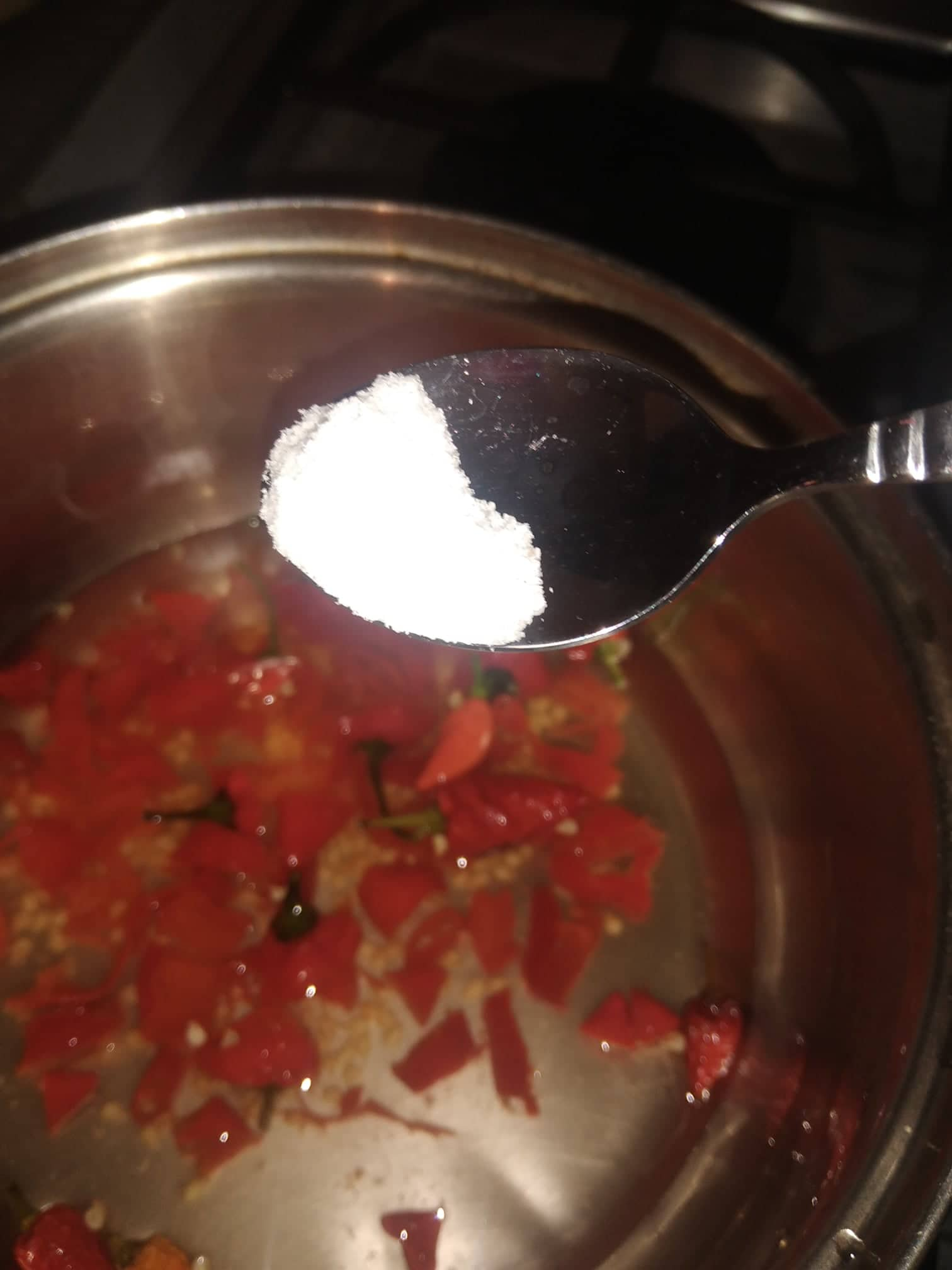 Una vez reposado. Le coloque el aceite en el frasco y le fui echando los ajíes dentro. Así como los ajos y el pimentón verde.
Once rested. I put the oil in the jar and I was pouring the peppers inside. As well as garlic and green pepper.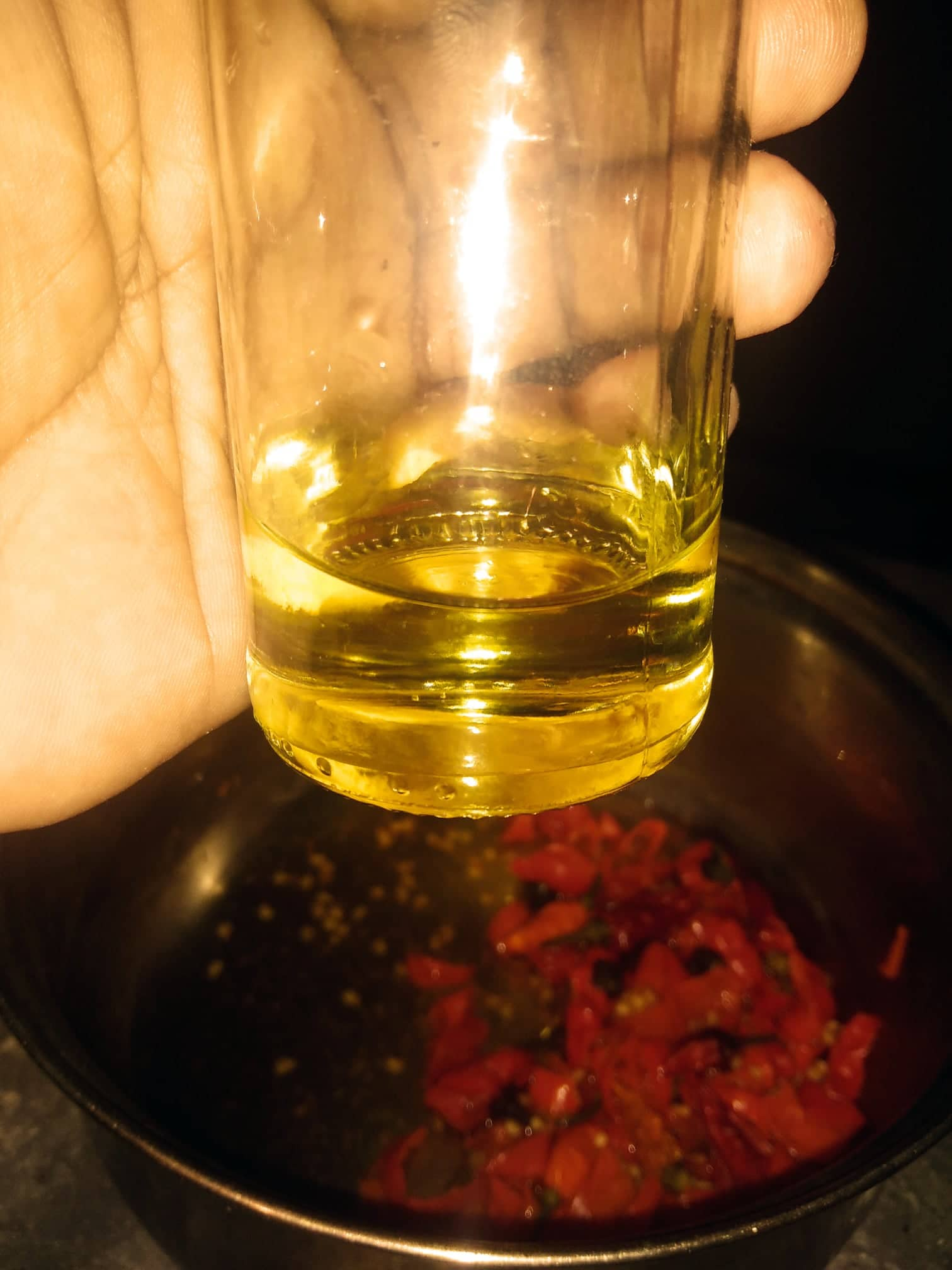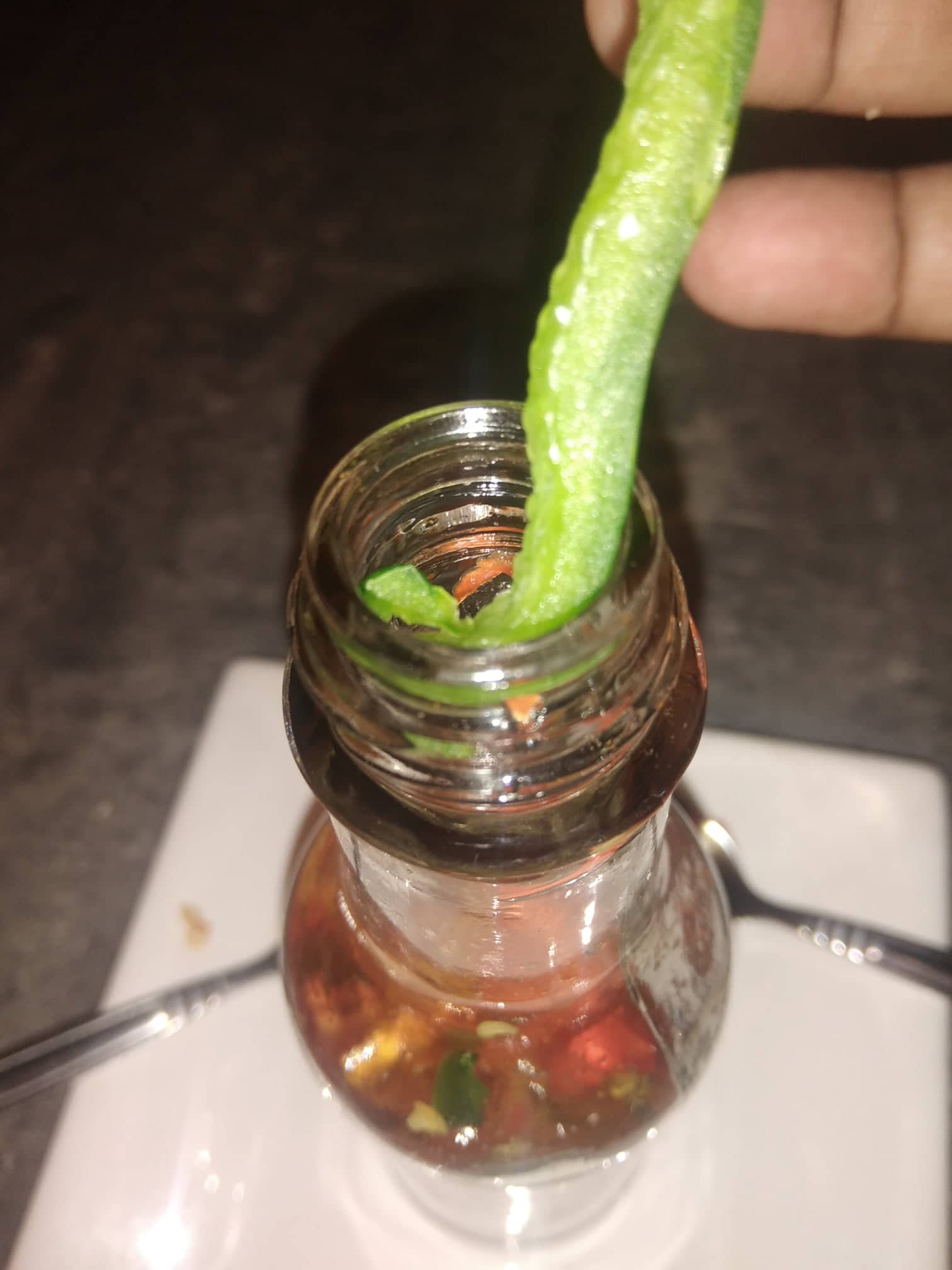 También le eché el agua donde hirvieron los ajíes.
I also poured the water where the peppers were boiled.
Llene hasta casi el borde del frasco, quedando así mi ajicero casero.
Fill almost to the edge of the jar, leaving my homemade ajicero.
A esperar solo de echarle un poco a aquello 😛 que quieras degustar con ese toque de picante
Waiting just to add a little to what 😛 you want to taste with that touch of spice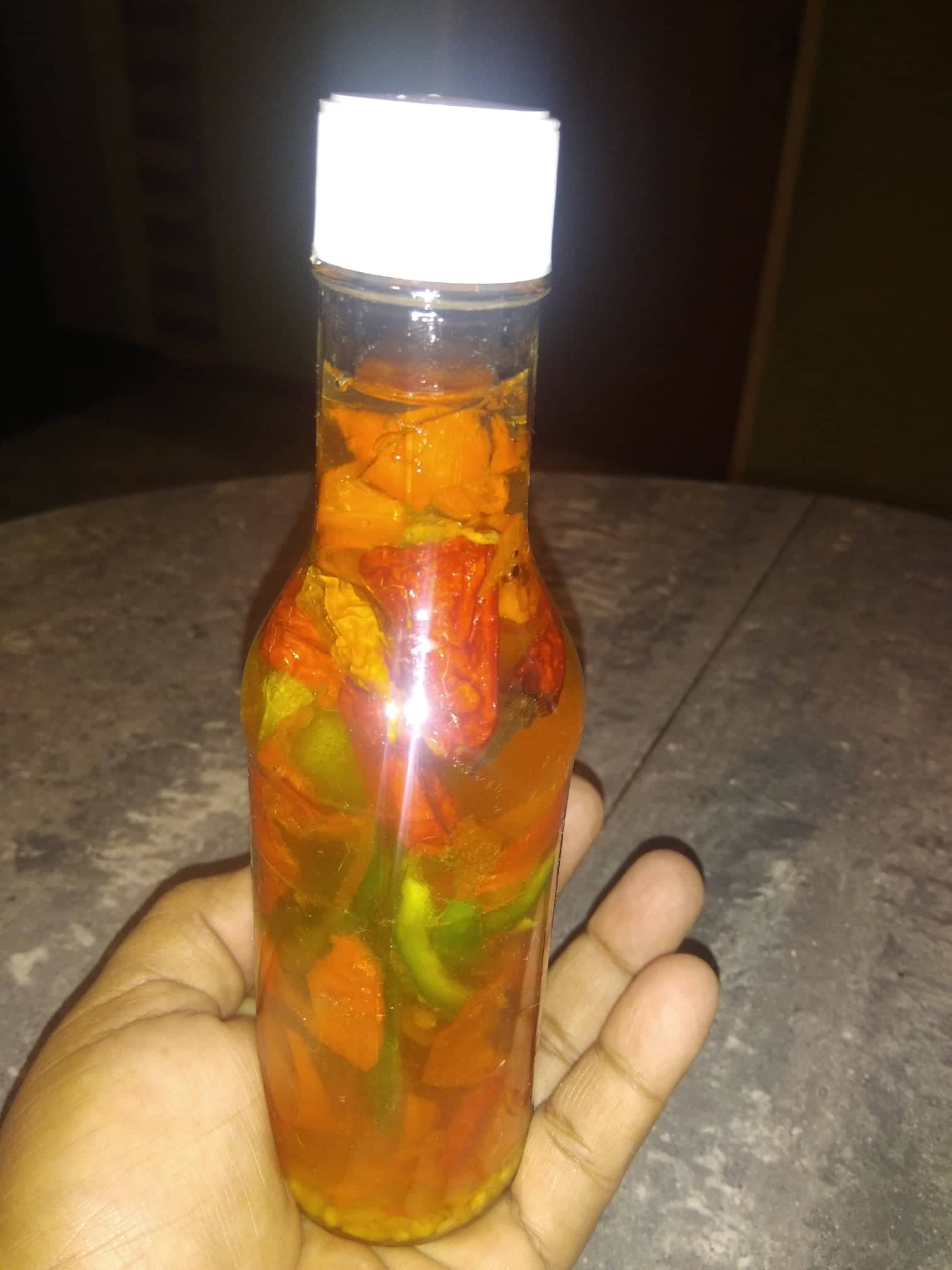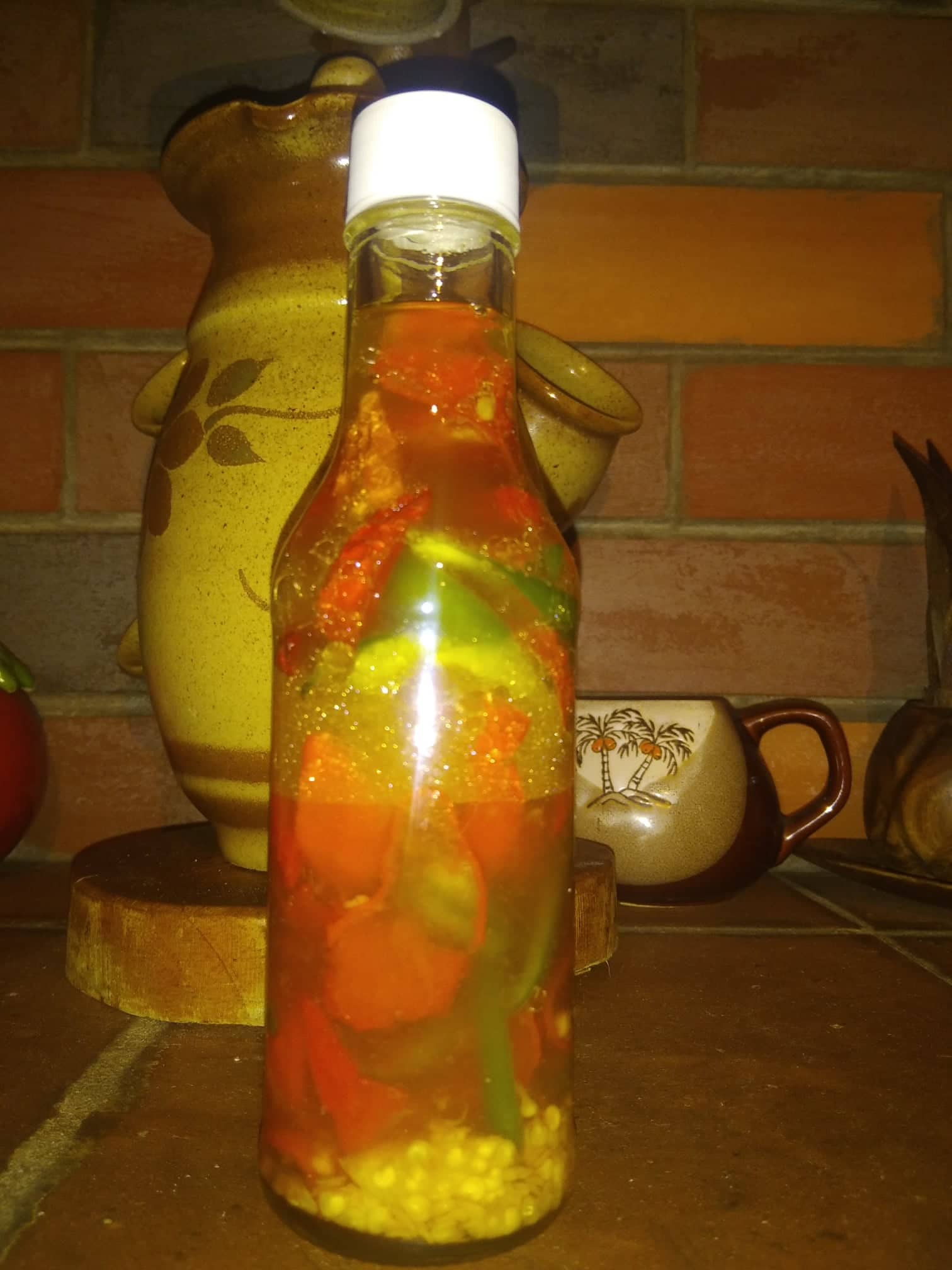 Siempre presente en nuestra cultura gastronómica y un deleite para los que nos gusta el picante.
Always present in our gastronomic culture and a delight for those of us who like spicy.
Espero que haya Sido de su agrado y les digo que me quedo muy rico y picante aún con solo esos pocos ingredientes.
I hope it has been to your liking and I tell you that I am very rich and spicy even with only those few ingredients.
Que Dios nos bendiga.
God bless us.
Hasta muy pronto queridos amigos 😘.
See you very soon dear friends 😘.