Hola querida comunidad
@foodiesbeehive
Hoy toca consentir a los peques de la casa, así que nada mejor que una hamburguesada, pero con pan hecho en casa. Es una receta muy fácil de elaborar y en especial te permite disfrutar de un pan suave y fresco.
Hello dear community @foodiesbeehive. Today it's time to pamper the house´s little kids, so nothing better than a hamburger, but with homemade bread. It is a very easy recipe to make and especially allows you to enjoy a soft and fresh bread.
---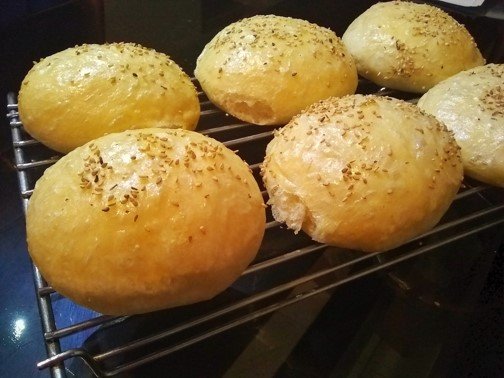 ---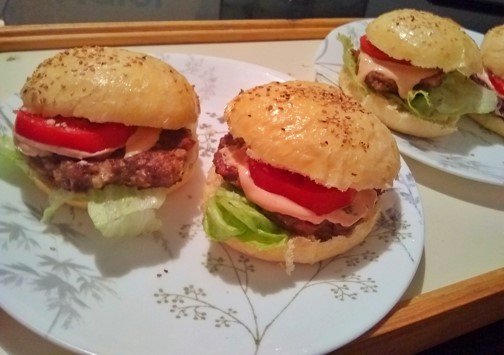 ---
Ingredientes:
2 tazas de harina todo uso
1 cucharada de levadura instantánea
1 cucharada rasa de sal
2 cucharadas rasas de azúcar
3/4 de taza de leche líquida
2 huevos enteros
2 cucharadas de aceite vegetal semillas de ajonjolí tostado al gusto
Ingredients:
2 cups of all-purpose flour
1 tablespoon of instant yeast
1 level spoonful of salt
2 tablespoons of sugar
3/4 cup liquid milk
2 whole eggs
2 tablespoons of vegetable oil
roasted sesame seeds to taste
---

---
Paso 1
Coloca en un recipiente todos los ingredientes secos como la harina, la levadura, el azúcar y la sal. Con ayuda de un tenedor mezcla todos los polvos bien.
Step 1
Place all dry ingredients such as flour, yeast, sugar and salt in a container. With the help of a fork mix all the powders well.
Paso 2
Abre un agujero en el centro de los ingredientes secos y añade la leche, los huevos y el aceite. Mezcla con ayuda de un tenedor.
Step 2
Make a hole in the center of the dry ingredients and add the milk, eggs and oil. Mix with the help of a fork.
---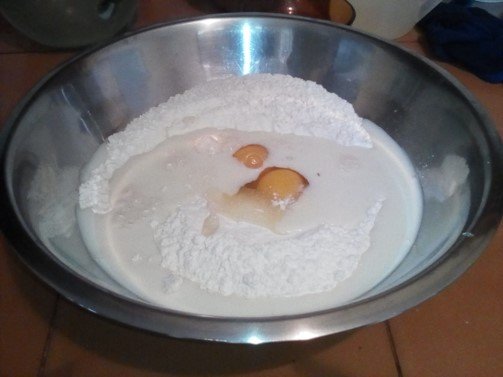 ---
Paso 3
Vierte la mezcla al mesón previamente con un poco de harina en su superficie y procede a amasar, hasta que se forme una masa de consistencia homogénea. Coloca en un envase, tápalo y deja reposar por 1 hora.
Step 3
Pour the mixture to the counter previously with a little flour on its surface and proceed to knead, until a dough of homogeneous consistency is formed. Put it in a container, cover it and let it rest for 1 hour.
---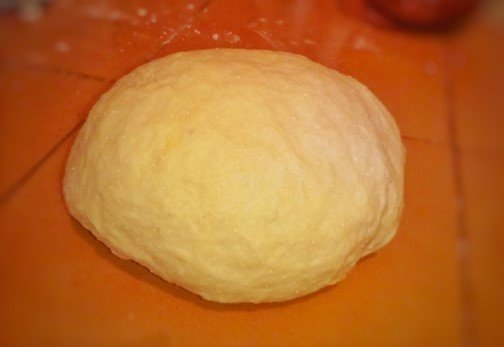 ---
Paso 4
Presiona la masa para botar el gas. Colóca la masa en el mesón, forma un bastón y procede a dividir la masa en 12 pedazos iguales.
Procede a bolear para darle una forma uniforme a cada pedazo. Coloca cada pieza en una bandeja previamente engrasada y aplana cada uno, quedando como un disco.
Step 4
Press the dough to release the gas. Place the dough on the counter, form a stick and proceed to divide the dough into 12 equal pieces. Proceed to bowl to give a uniform shape to each piece. Place each piece in a previously greased tray and flatten each one, leaving it as a disc.
---

---
Paso 5
Barniza la superficie de cada círculo con yema de huevo y espolvoréales por encima ajonjolí tostado. Tapa y deja reposar 1 hora más.
Step 5
Paint the surface of each circle with egg yolk and sprinkle them with toasted sesame seeds. Cover and let stand for 1 hour more.
---

---
Paso 6
Una vez transcurrido el tiempo, mete al horno la bandeja con las masas levadas y hornea por 30 minutos a 180°C.
Step 6
Once the time has elapsed, place the tray with the dough on it in the oven and bake for 30 minutes at 180°C.
---
Si quieres hacer más panes, solo basta con doblar la cantidad de los ingredientes. Una vez horneados se pueden guardar en una bolsa plástica y dejar a temperatura ambiente. Duran 3-4 días. Si deseas prolongar su tiempo de duración puedes guardarlos en el refrigerados, eso sí, debes después calentarlos en el horno por solo 10 minutos.
Espero puedas realizar esta receta en casa y así consentir a tu familia. Si tienes hijos una hamburguesada siempre será motivo de alegría para ellos.
If you want to make more breads, just double the amount of ingredients. Once baked they can be stored in a plastic bag and left at room temperature. They last 3-4 days. If you want to extend their duration you can store them in the refrigerator, but you must heat them in the oven for only 10 minutes.
I hope you can make this recipe at home and thus spoil your family. If you have children, a hamburger will always be a joy for them.
---
Gracias por visitar mi blog. ¡Nos vemos en el próximo post!
Thanks for visiting my blog, see you in the next post!
---
Todas las fotos son propiedad de la autora.
La traducción al idioma inglés se realizó con Deepl.
All photos are property of the author. Traslated with Deepl.