This post is written in two languages and divided for ease of reading.
Este post está escrito en dos idiomas y dividido para facilitar la lectura.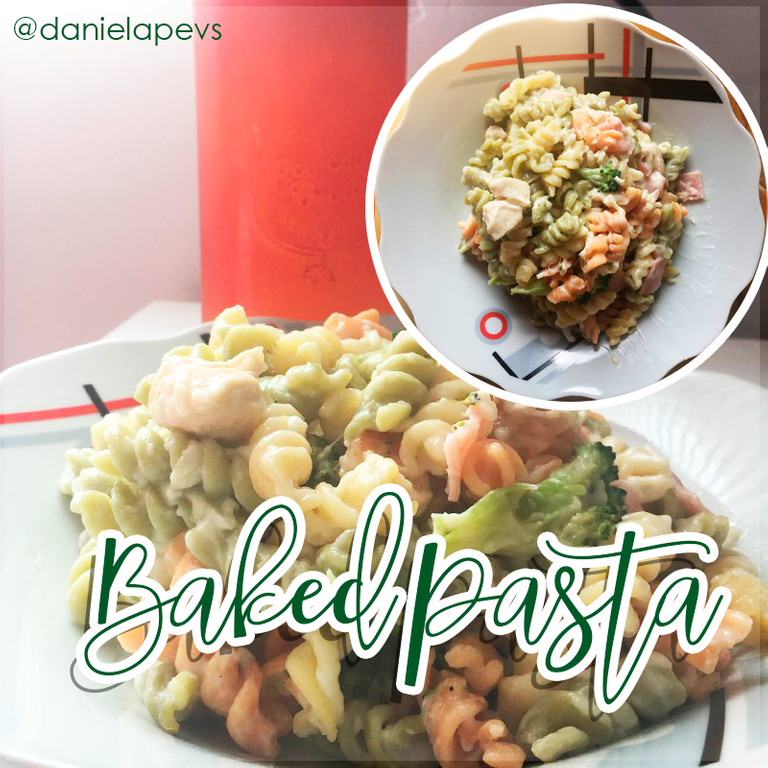 Desde que tengo mi cocina con horno, estoy realmente afanada con cocinar todo en el y, el sábado teniendo ganas de comer pasta, decidí preparar una con bechamel al horno. 😍
Since I have my kitchen with oven, I'm really busy cooking everything in it and, on Saturday I felt like eating pasta, so I decided to prepare one with baked bechamel sauce. 😍


| INGREDIENTES | INGREDIENTS |
| --- | --- |
| 1/2 KG PASTA FUSILLI | 1/2 KG FUSILLI PASTA |
| 3 MILANESAS DE POLLO EN CUADROS | 3 CHICKEN MILANESAS IN SQUARES |
| BRÓCOLI | BROCOLI |
| JAMON Y QUESO | HAM AND CHEESE |
| SALSA BECHAMEL | BECHAMEL SAUCE |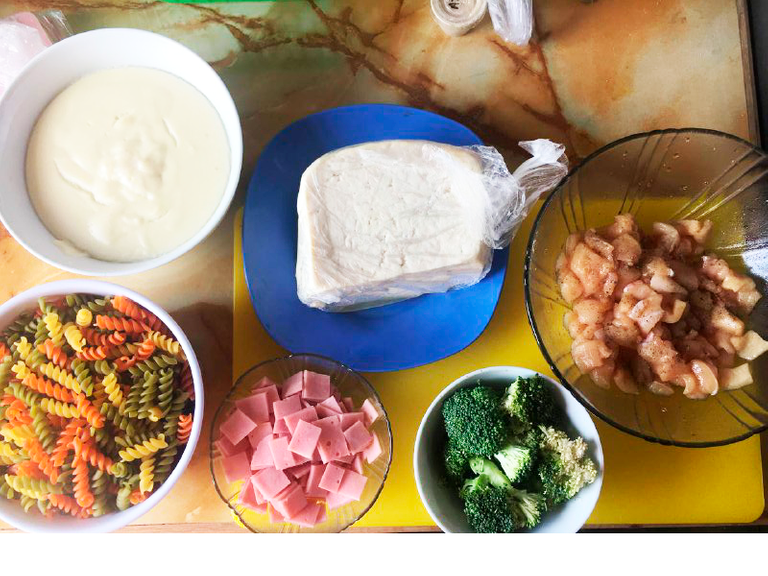 Comenzaremos por cocinar nuestro pollo, el brócoli y la pasta, ésta última debe quedar al dente ya que se terminará de cocinar en el horno.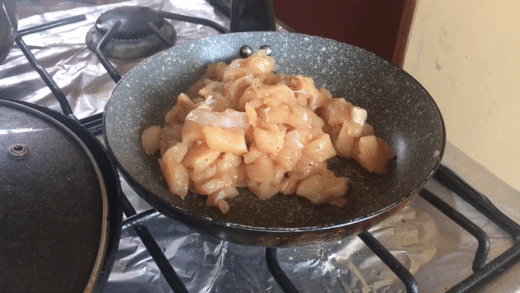 We will start by cooking our chicken, broccoli and pasta, the latter should be al dente as it will be finished cooking in the oven.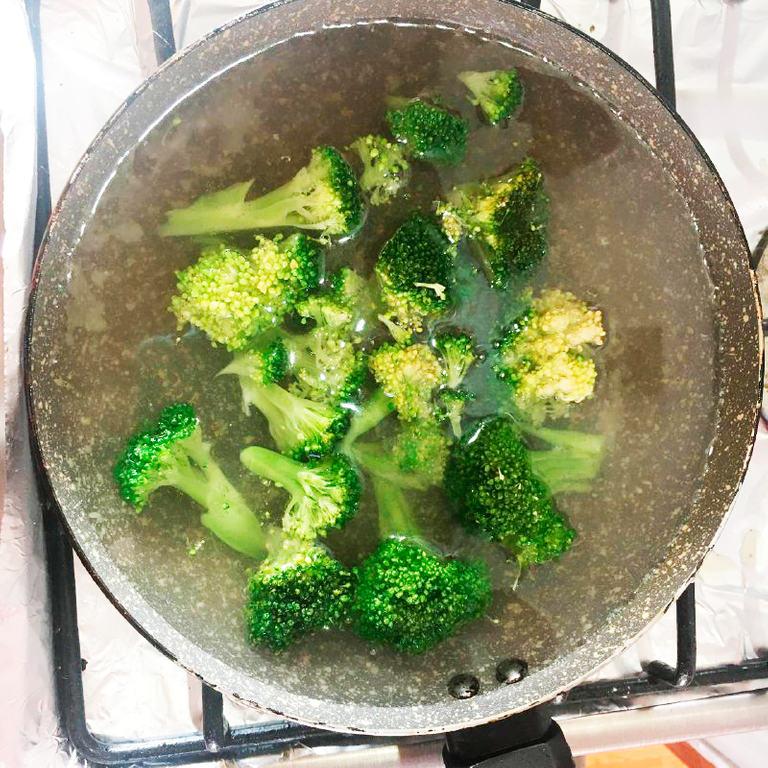 Cuando nuestra pasta esté al dente, procederemos a colarla y la enfriaremos con agua (puede ser del grifo o en un bowl con agua y hielo) esto para detener su proceso de cocción.
Una vez que nuestros ingredientes estén listos, en un bowl grande mezclaremos todos.
Empezando por la pasta, seguido del pollo, el queso, brócoli, jamón y por último la salsa bechamel.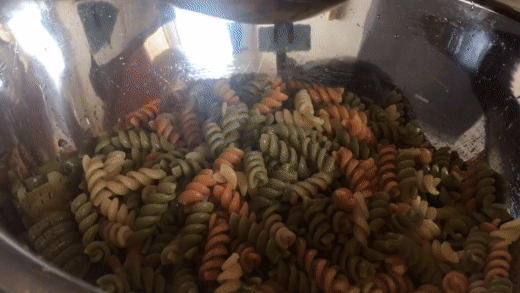 Ya por último, colocaremos toda nuestra mezcla en una fuente de vidrio y terminaremos poniendo un topping de queso.
Yo tenía algunas láminas de queso edam y también se las coloque.
When our pasta is al dente, we will proceed to strain it and cool it with water (it can be tap water or in a bowl with water and ice) to stop the cooking process.
Once our ingredients are ready, in a large bowl we will mix them all together.
.
Starting with the pasta, followed by the chicken, cheese, broccoli, ham and finally the bechamel sauce.
Finally, we will place all our mixture in a glass dish and finish with a topping of cheese.
.
I had some slices of edam cheese and put them in as well.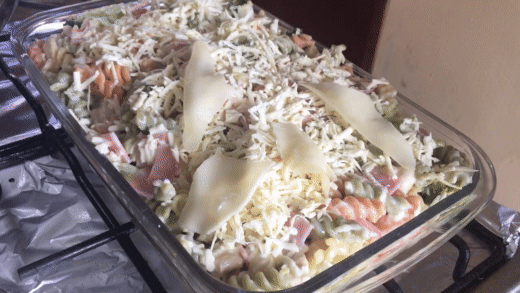 Llevaremos nuestra pasta al horno durante 25 minutos a 350ºF. Esto para que nuestra pasta terminé de cocinarse y el queso gratine un poco.
We will take our pasta to the oven for 25 minutes at 350ºF. This will allow our pasta to finish cooking and the cheese to gratinate a little.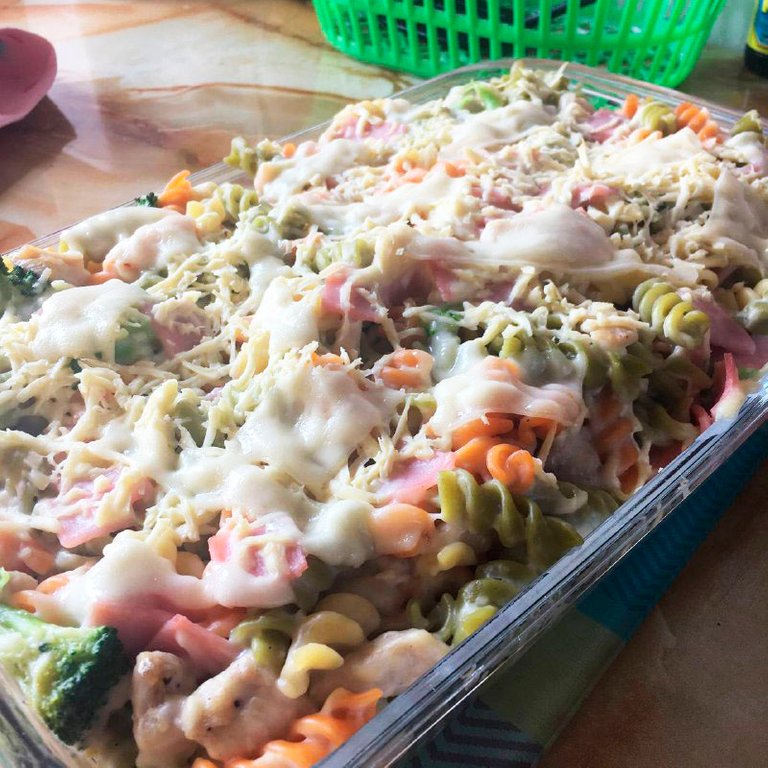 Es momento de servir y a degustar. 😍
It is time to serve and taste. 😍
¡Bon Appétit!