---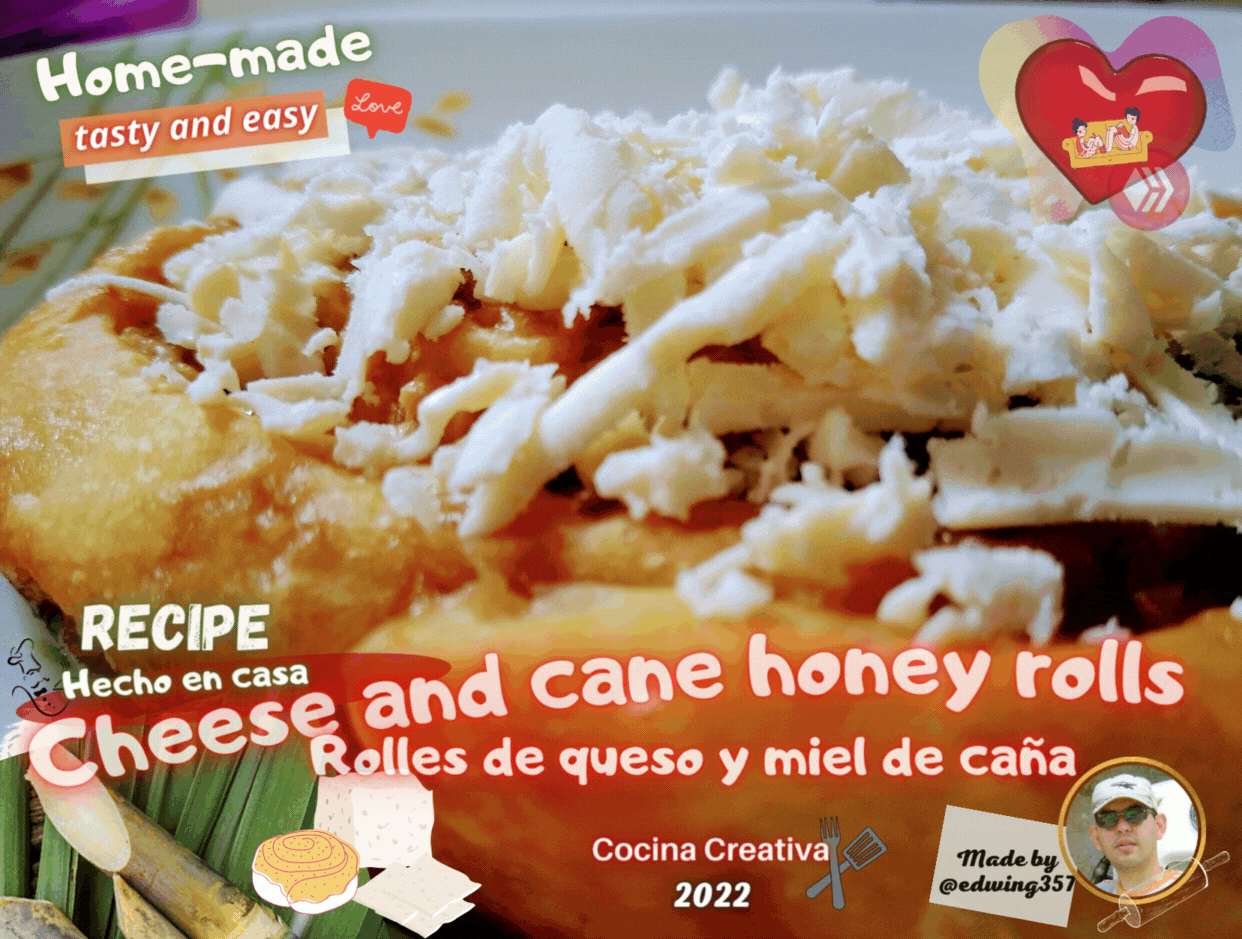 ---

---
Rolles de queso y miel de caña (Golfeados)
Cheese and cane honey rolls
---
Spanish 🇻🇪
---

---
Hola mis amantes de la comida, como siempre es un gusto poder compartirles cosas ricas 😁
---
Para hoy les tengo una deliciosa merienda, típica de mi país pero con el toque de mi cocina 😋
---
Son los famosos golfeados, que muchos intentan replicar, pero entre la gran variedad de masas que pueden encontrar yo les voy a dar la más sencilla y práctica
---
Esta masa es rápida de elaborar y el resultado ya lo verán jajaja, nada de complicaciones, cocina creativa les trae solo lo mejor 😊
---
¿Ya están listos? si! entonces vamos a poner manos a la obra!
English 🇺🇸
---

---
Hello my food lovers, as always it's a pleasure to share with you delicious things 😁.
---
For today I have a delicious snack for you, typical of my country but with the touch of my kitchen 😋
---
They are the famous golfeados, which many try to replicate, but among the great variety of doughs that you can find I'm going to give you the simplest and most practical one.
---
This dough is quick to make and the result you'll see hahaha, no complications, creative cuisine brings you only the best 😊
---
Are you ready? yes! then let's get to work!
---

---
¿Qué necesitamos? - What do we need?
---
Para la masa:
500 gramos de harina de trigo
30 gramos de azúcar
1/2 cucharada de levadura instantánea
02 cucharadas de aceite vegetal
1 y 1/2 cucharada de margarina
250 mililitros de agua
1/2 cucharadita de sal fina
Para el relleno:
1/2 cucharada de anís en granos
Una barra de miel de caña (papelón)
300 gramos de queso blanco
Margarina (la necesaria)
For the dough:
500 grams of wheat flour
30 grams of sugar
1/2 tablespoon of instant yeast
02 tablespoons of vegetable oil
1 and 1/2 tablespoons margarine
250 milliliters of water
1/2 teaspoon fine salt
For the filling:
1/2 tablespoon of aniseed grains
1 stick of sugar cane honey (papelón)
300 grams of white cheese
Margarine (as needed)
---

---
¿Cómo lo hacemos? - How do we do it?
---
Lo primero que haremos es hacer un almíbar, con papelón o barra de miel de caña de azúcar
The first thing we will do is to make a syrup with sugar cane syrup or sugar cane honey bar.
---
Para los que no lo conocen, el papelón esta hecho con el jugo que se extrae de la caña dulce y se cocina a altas temperaturas para sacar esta delicia
For those who do not know it, the papelón is made with the juice extracted from the sweet cane and cooked at high temperatures to obtain this delicacy.
---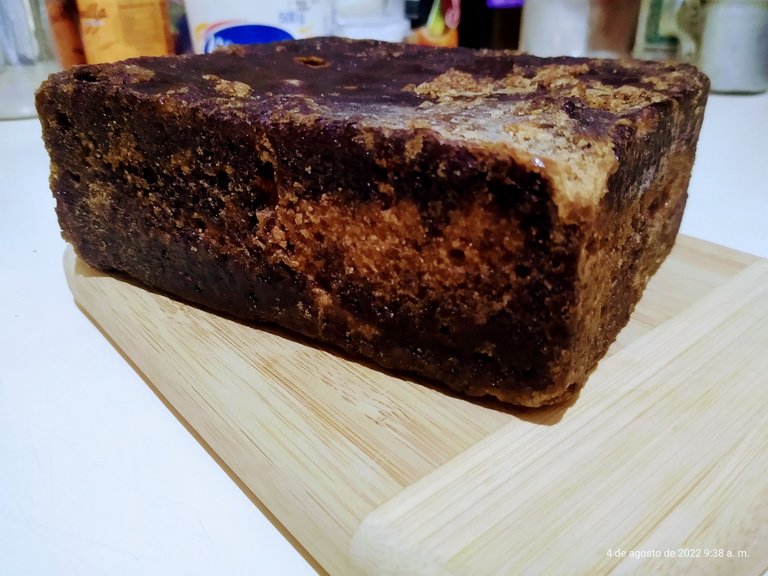 ---

---
Usaremos solo una parte del papelón, que fundiremos en una taza y media de agua a fuego medio-alto, hasta obtener un almíbar espeso
We will use only a part of the papelón, which we will melt in a cup and a half of water over medium-high heat, until we obtain a thick syrup.
---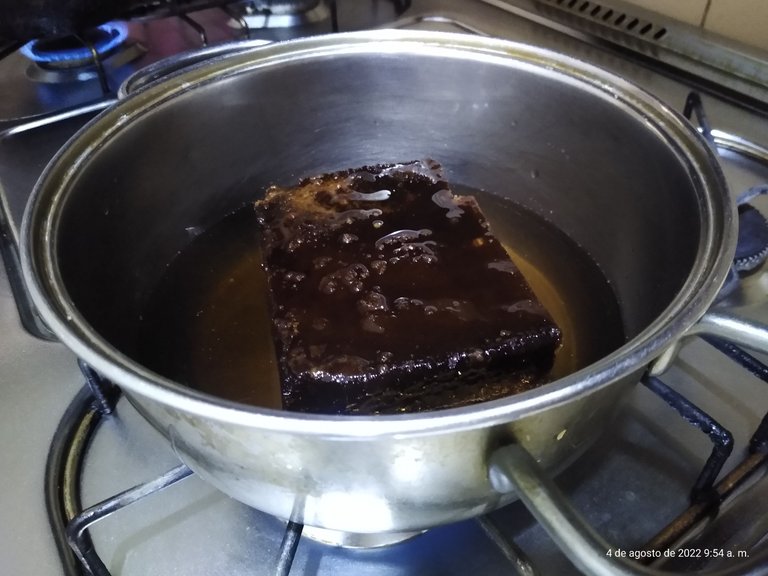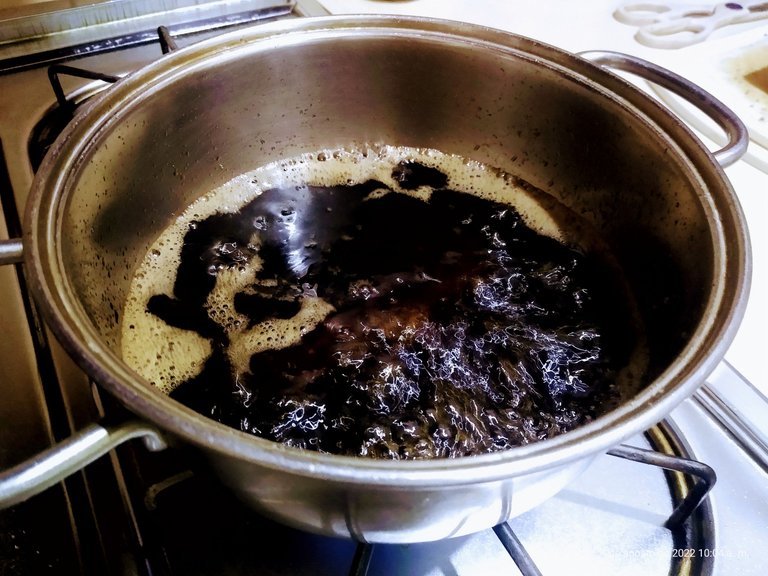 ---

---
Luego vamos a rallar el resto del papelón y también el queso blanco, los cuales dejaremos por separados para usarlos más tarde
Then we will grate the rest of the papelón and also the white cheese, which we will leave separately for later use.
---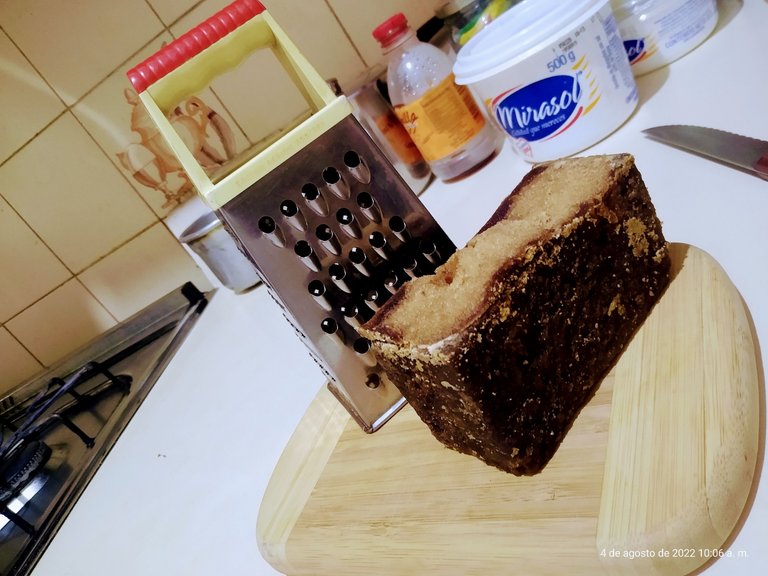 ---
Si no logran rallar el papelón, pueden rasparlo con el filo de un cuchillo 😉
If you do not manage to grate the papelón, you can scrape it with the edge of a knife 😉.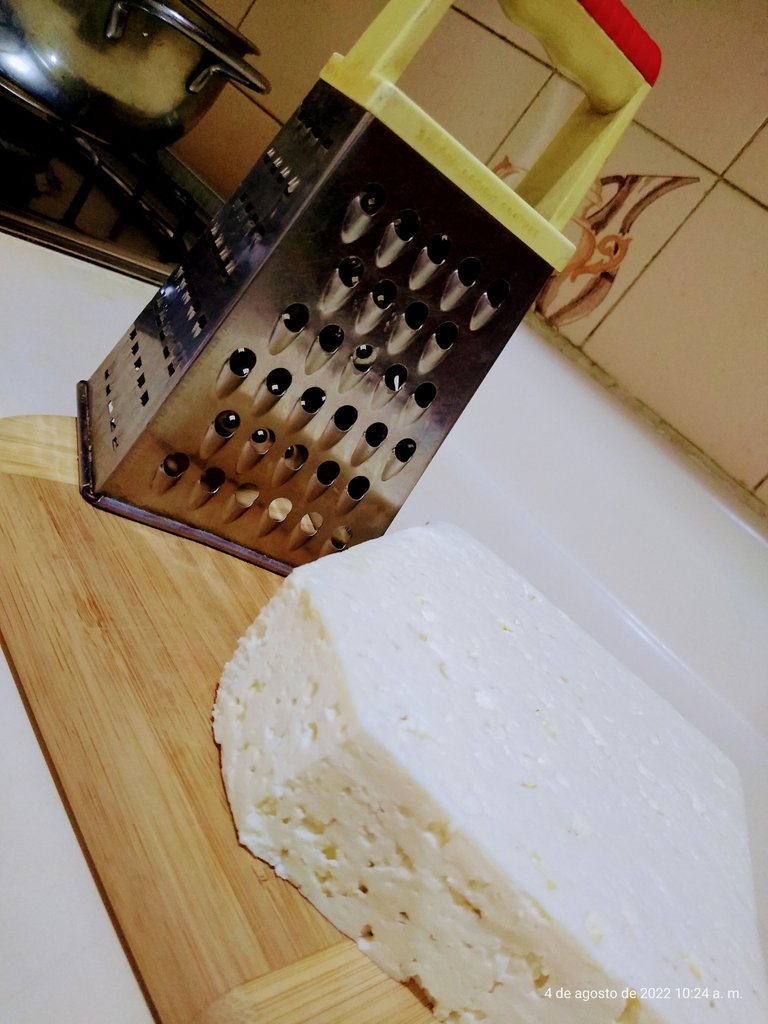 ---

---
Ahora preparamos la masa, colocando todos los ingredientes secos, mezclamos bien y en el centro ponemos el resto de los demás
Now we prepare the dough, placing all the dry ingredients, mix well and in the center we put the rest of the other ingredients.
---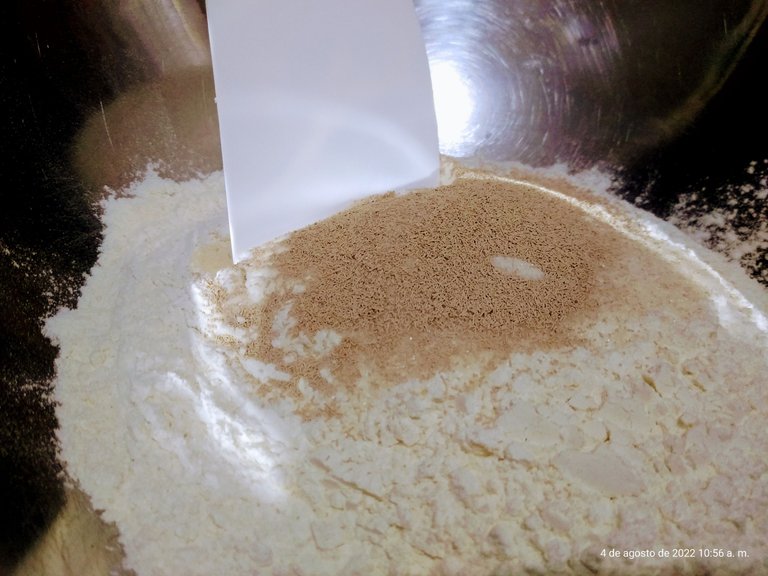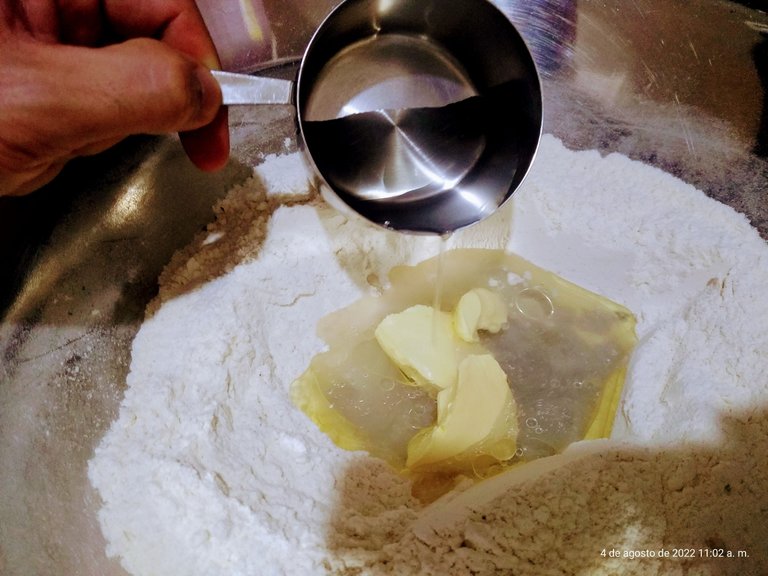 ---

---
Volcamos poco a poco la harina en el líquido y vamos integrando todo hasta ir formando la masa
Gradually pour the flour into the liquid and integrate everything until the dough is formed.
---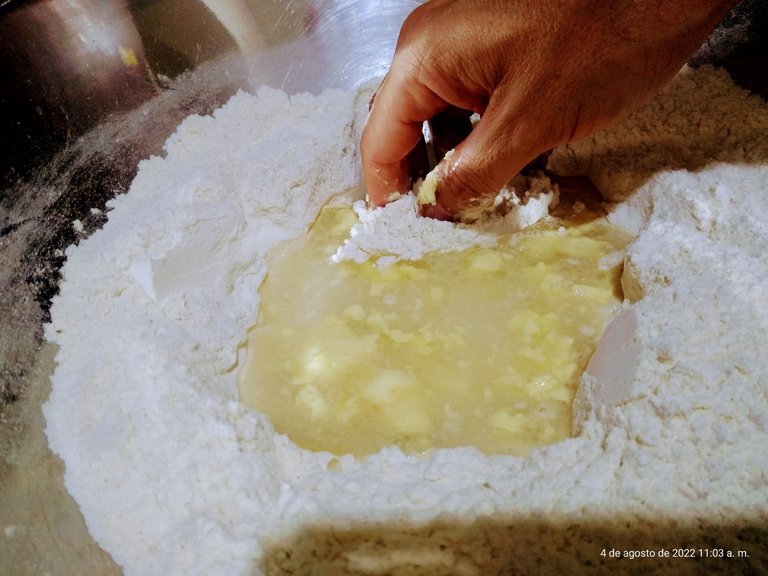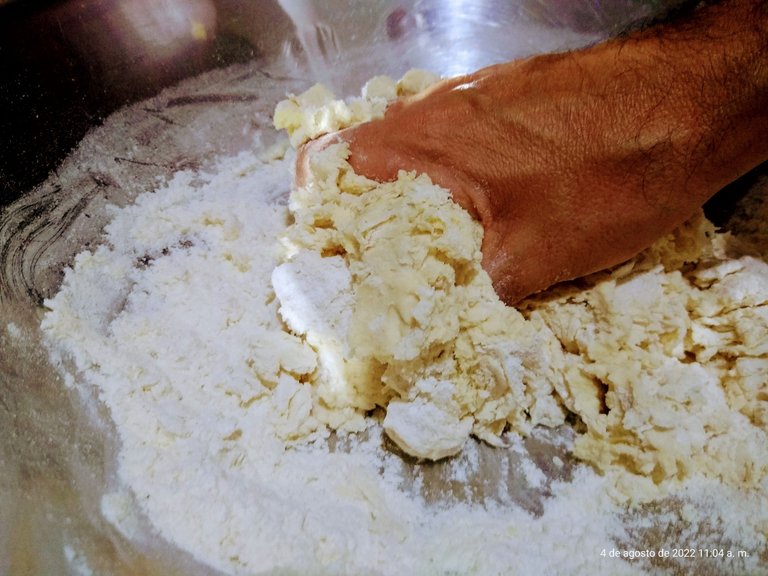 ---

---
Luego pasamos al mesón de trabajo y amasamos unos minutos hasta obtener una masa suave y prolija que dejaremos reposar 15 minutos
Then we move to the work surface and knead for a few minutes until we obtain a soft and smooth dough that we will leave to rest for 15 minutes.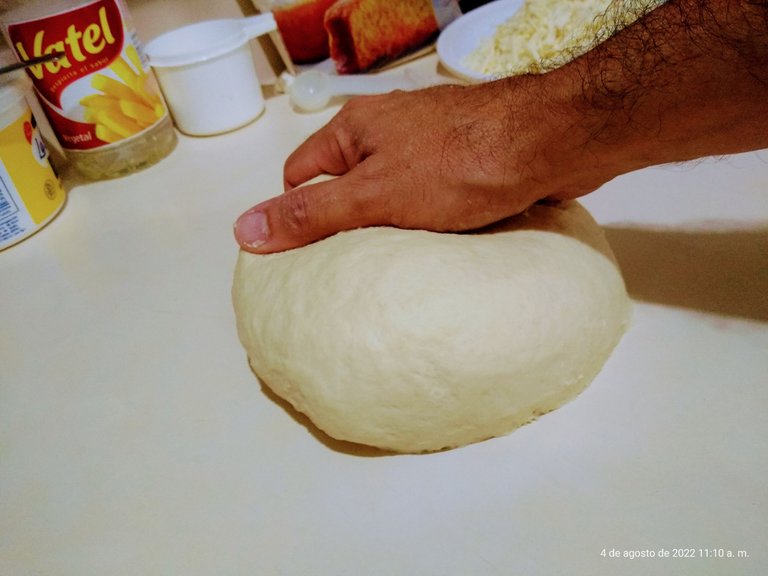 ---

---
Pasado el reposo le espolvoreamos harina y usamos el rodillo para aplanar y formar un rectángulo de masa
After resting, sprinkle with flour and use the rolling pin to flatten and form a rectangle of dough.
---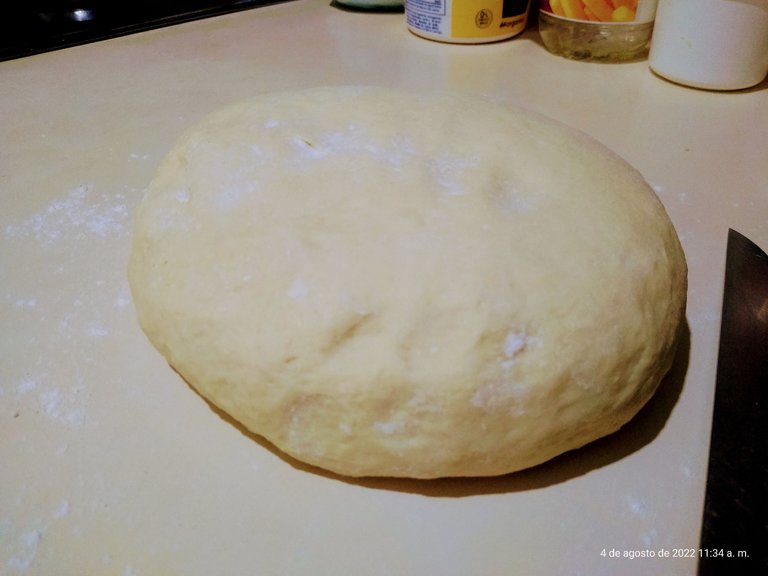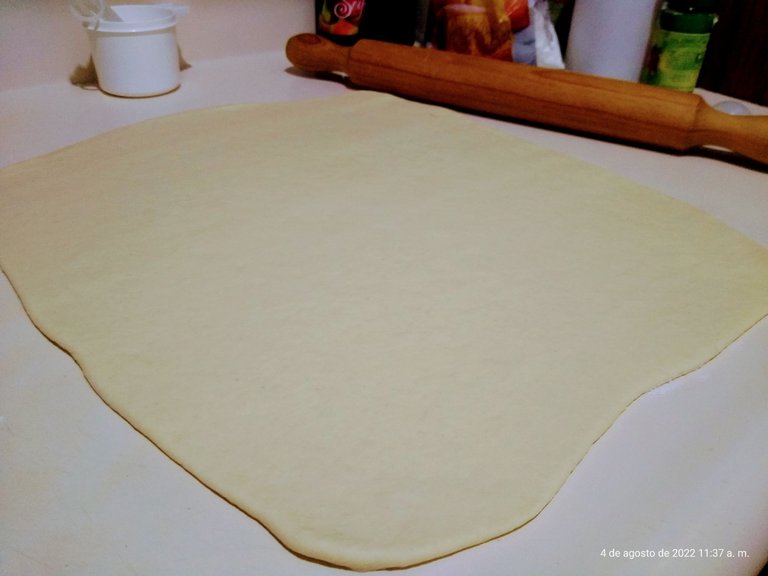 ---

---
Ahora con la ayuda de una cucharilla vamos a untar margarina por toda la superficie
Now, with the help of a teaspoon, spread margarine all over the surface.
---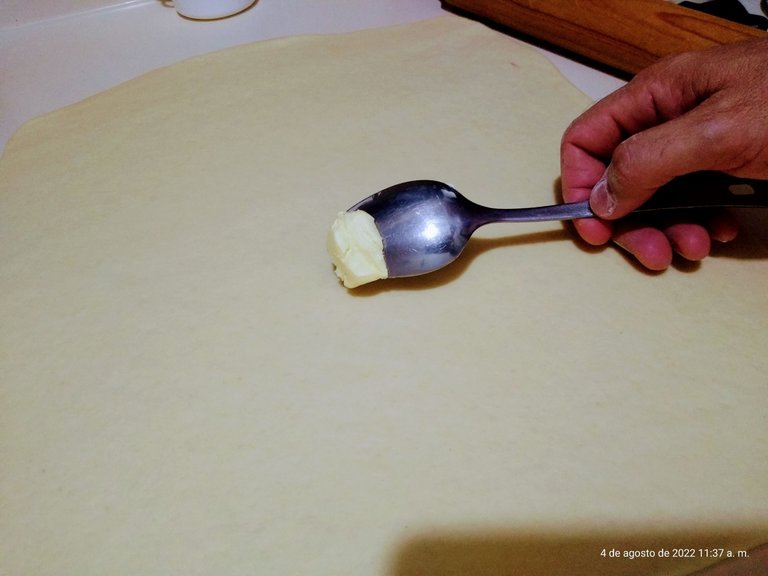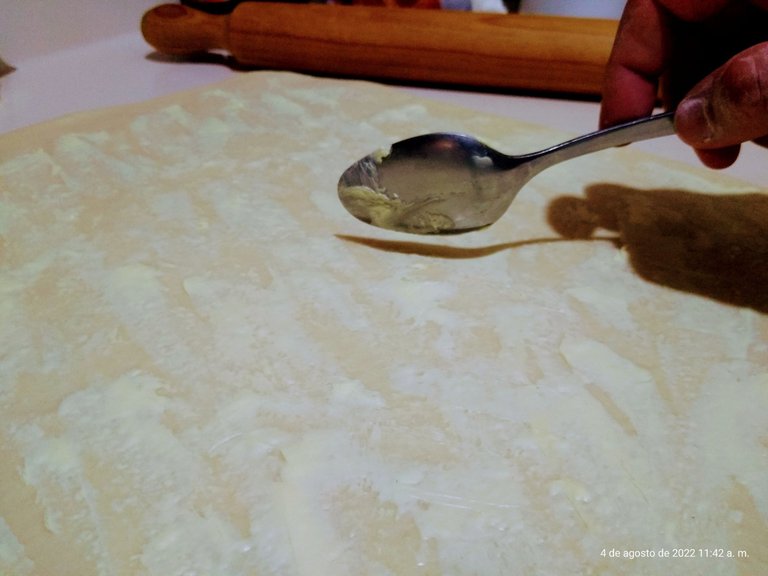 ---

---
Es este punto agregamos el anís en granos, por toda la masa como se aprecia en la imagen inferior derecha
At this point we add the aniseed grains throughout the dough as shown in the image below right.
---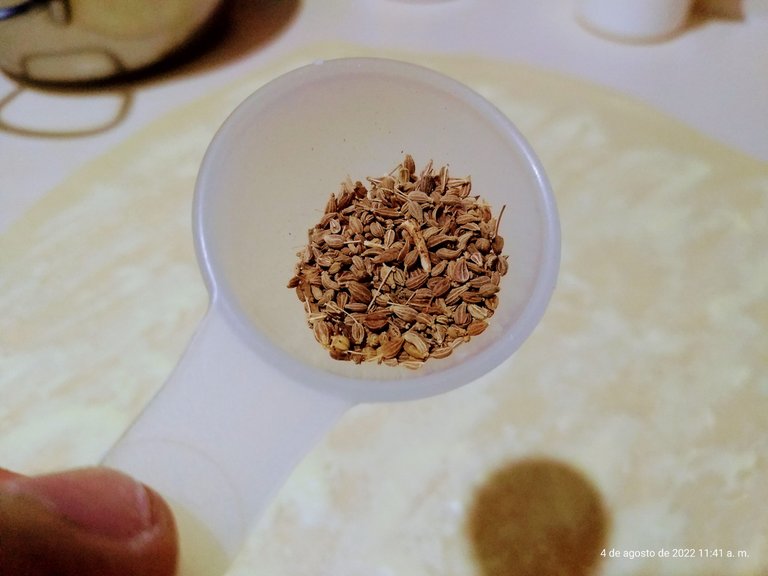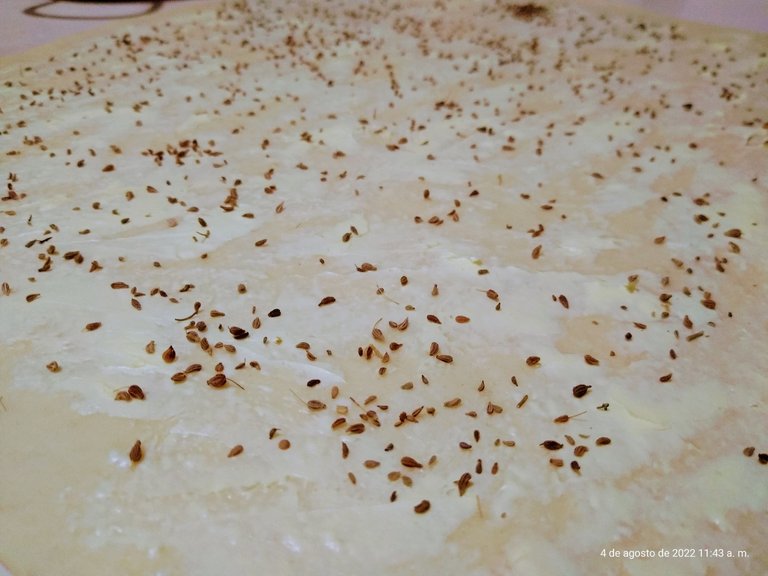 ---

---
Ahora continuamos con un poco de almíbar y la ralladura de papelón, que vamos a extender por toda la supefície
Now we continue with a little syrup and the grated paprika, which we are going to spread all over the surface.
---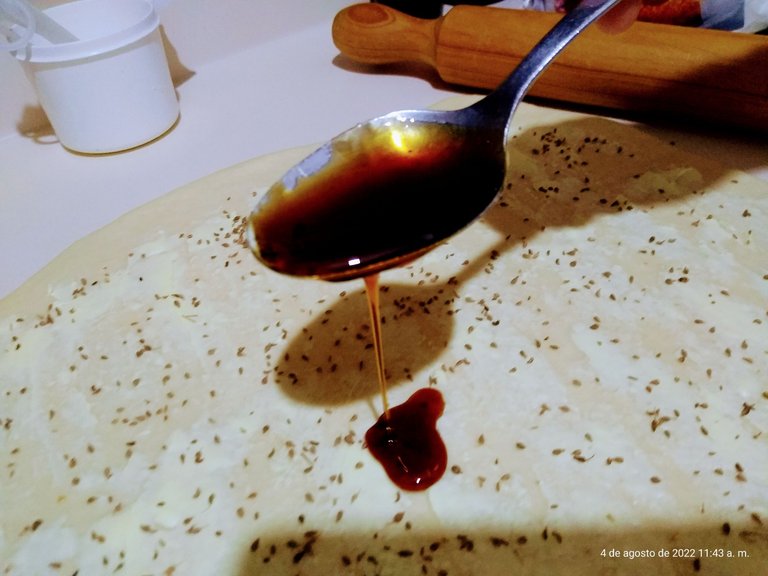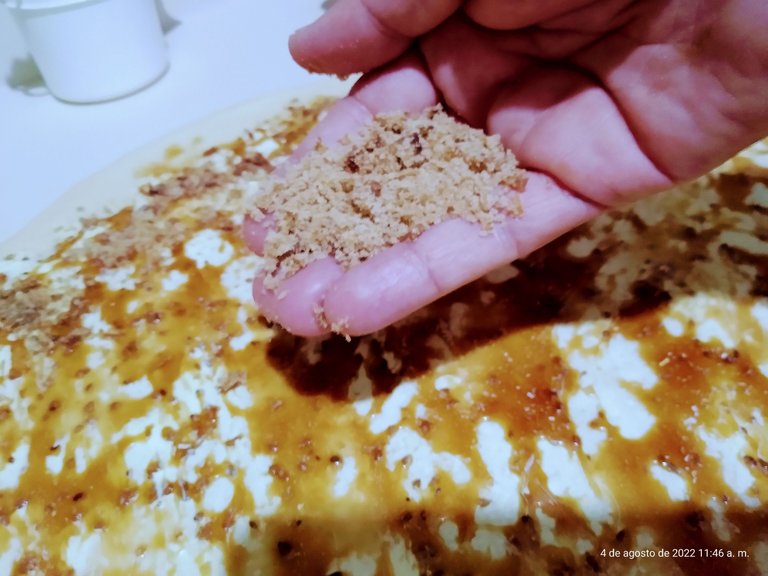 ---

---
Deben cubrir toda la masa dejando solo un dedo libre por todos los extremos, así no se sale el relleno cuando estemos finalizando el proceso
They should cover all the dough leaving only one finger free at all ends, so that the filling does not come out when we are finishing the process.
---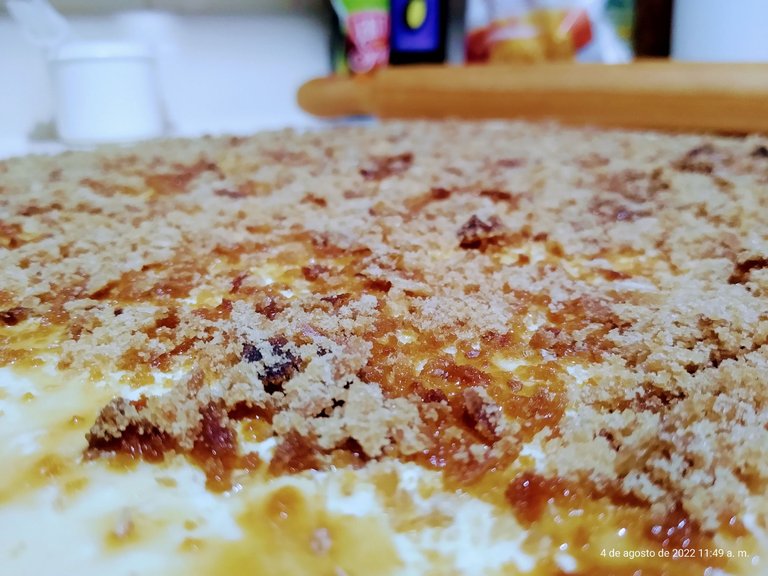 ---

---
Por último agregamos el queso, cubriendo toda la ralladura de papelón y casí terminamos jajaja
Finally we add the cheese, covering all the grated paprika and almost finished hahaha
---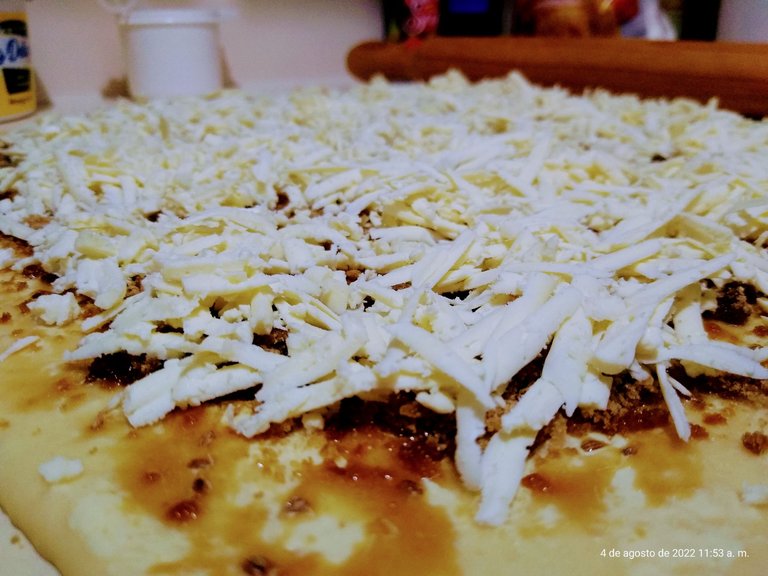 ---

---
Ahora solo vamos enrollando por el extremo más corto, sin apretar mucho la masa
Now we only roll up the shorter end, without pressing the dough too tightly.
---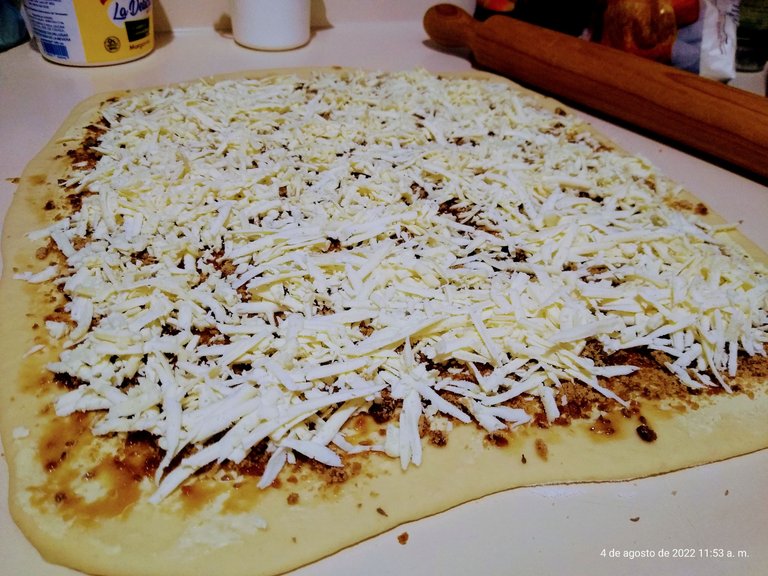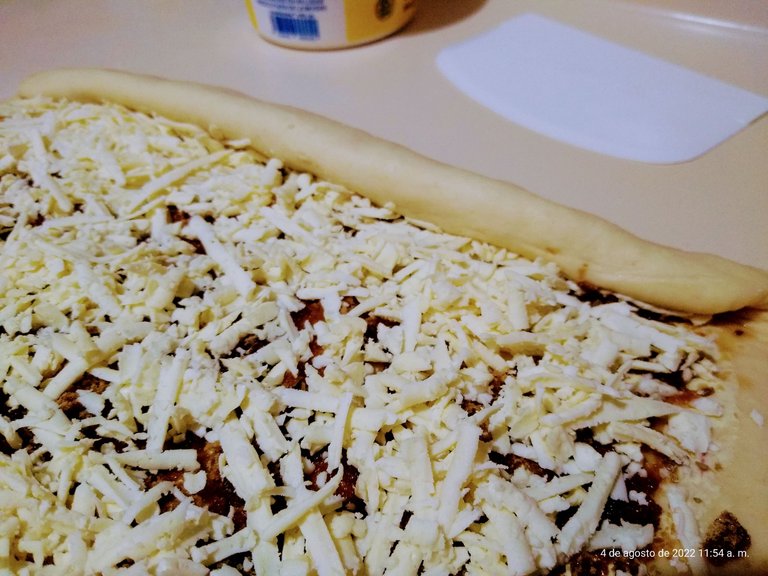 ---

---
Verán como poco a poco el rollo va creciendo hacia los extremos, así que con las manos lo vamos estirando suavemente, para que quede totalmente uniforme
You will see how little by little the roll is growing towards the ends, so with your hands we stretch it gently, so that it is completely uniform.
---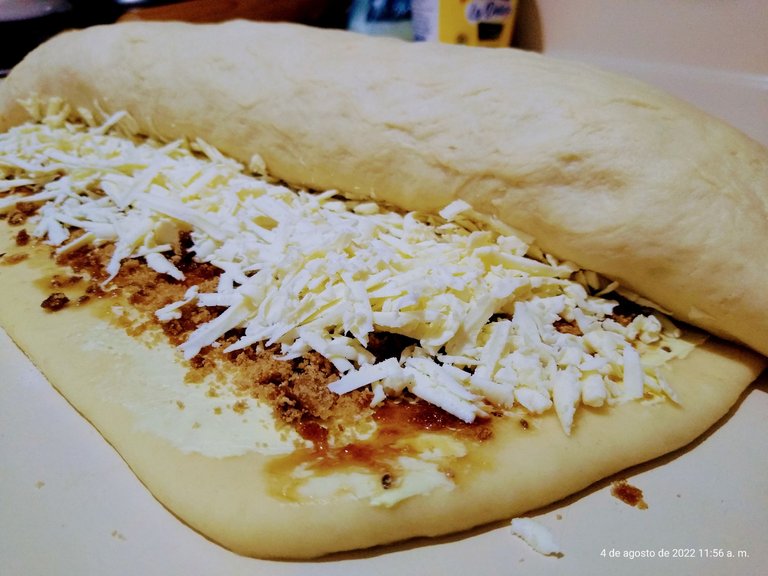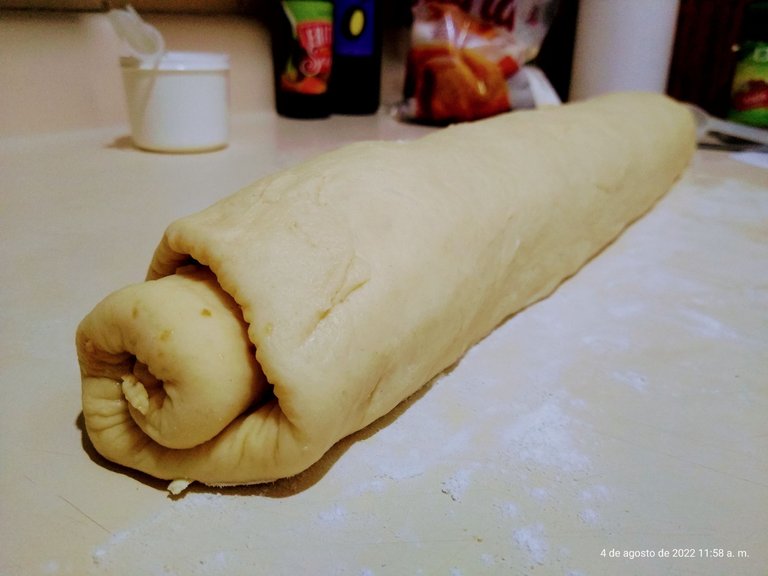 ---

---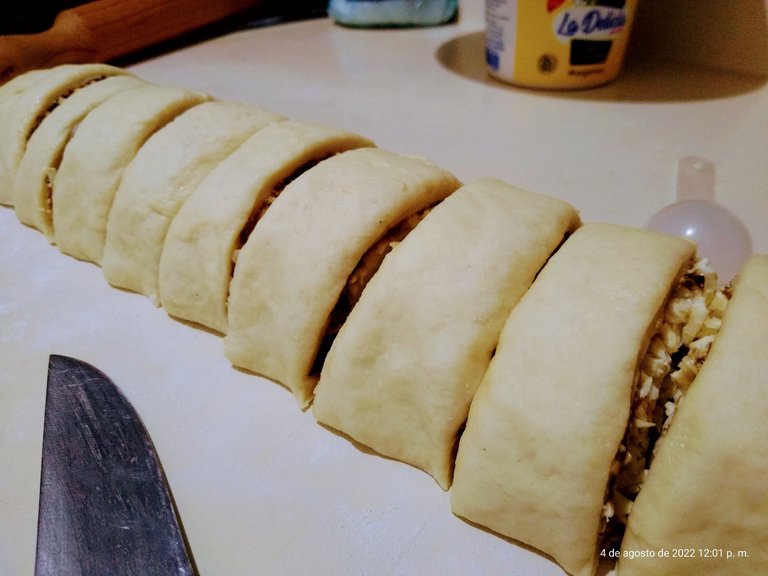 Luego con un cuchillo de buen filo cortamos con una medida de dos dedos aproximadamente, comenzando desde el centro del rollo
Then, with a sharp knife, cut with a measure of approximately two fingers, starting from the center of the roll.
---

---
Colocamos las porciones separadas en una bandeja de borde alto y engrasada con manteca vegetal
We place the separated portions in a high rimmed tray greased with vegetable shortening.
---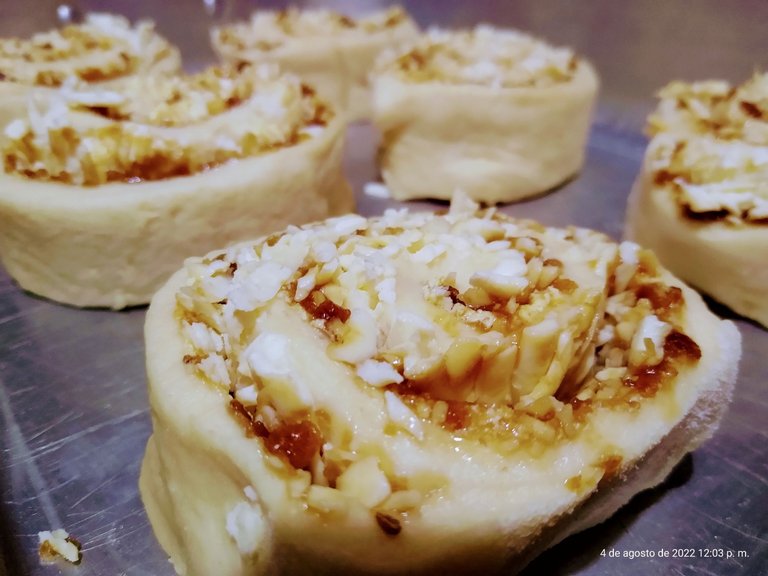 ---

---
Luego de dejarlas reposar hasta duplicar su tamaño, le agregamos más almibar por encima sin importar que caiga a los lados, allí va el secreto de esta preparación
After letting them rest until they double their size, we add more syrup on top without worrying about it falling to the sides, that is the secret of this preparation.
---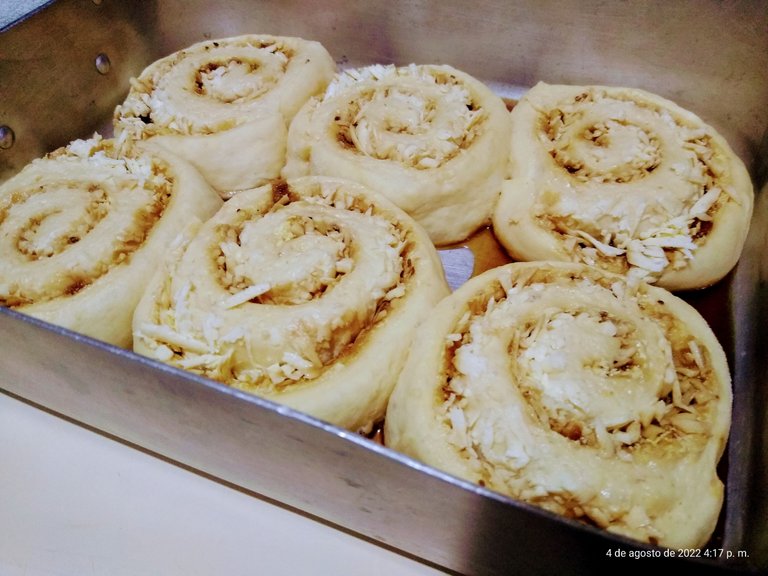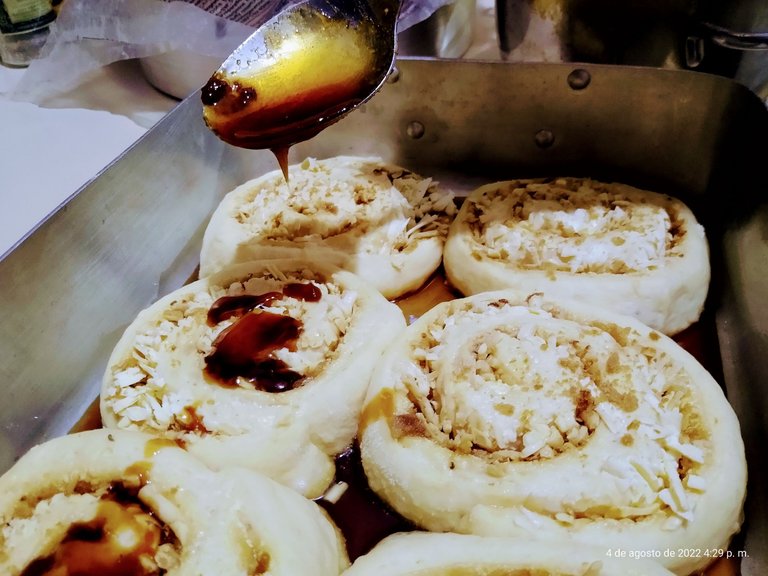 ---

---
Los llevamos al horno a 220 grados celsius por media hora aproximadamente, pero dependerá de su horno 👨‍🍳
Bake them in the oven at 220 degrees Celsius for about half an hour, but it will depend on your oven 👨‍🍳
---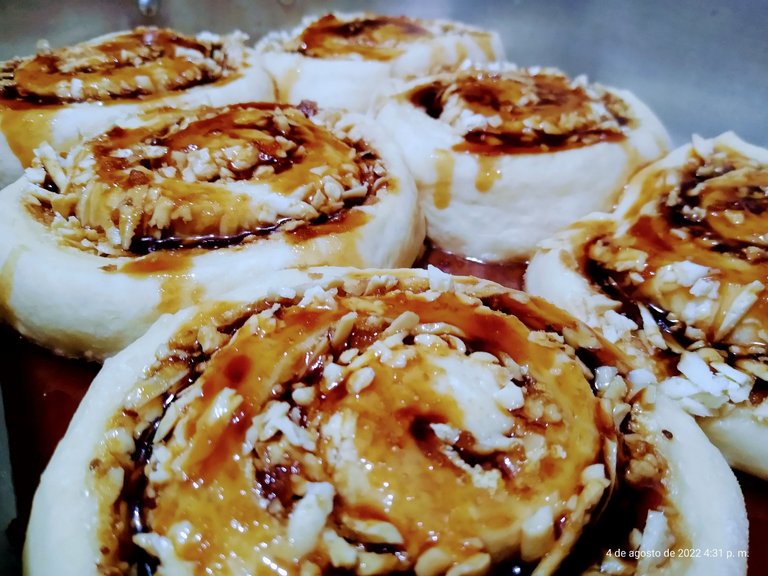 ---

---
Al pasar los primeros 20 minutos los sacamos y agregamos más almíbar por toda la superficie, los regresamos al horno y cinco minutos antes de terminar le agregamos más queso
After the first 20 minutes we take them out and add more syrup all over the surface, we return them to the oven and five minutes before the end we add more cheese.
---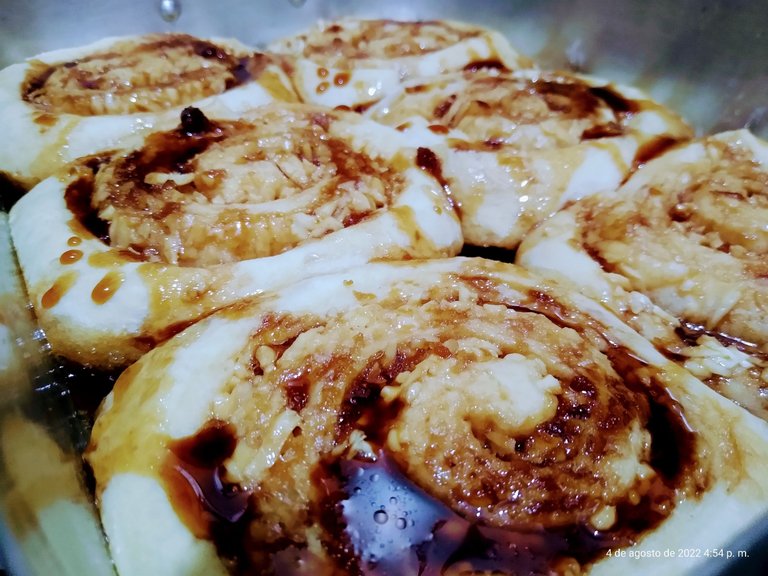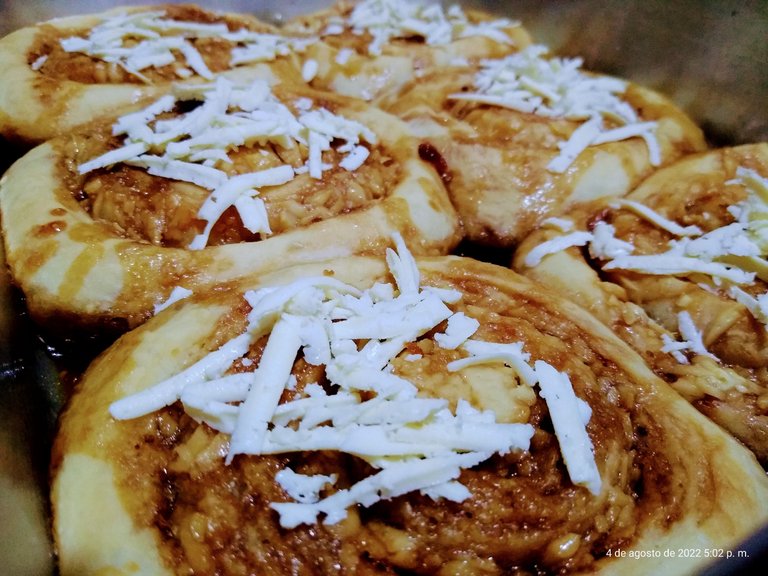 ---

---
El olor es embriagador...
The smell is intoxicating...
---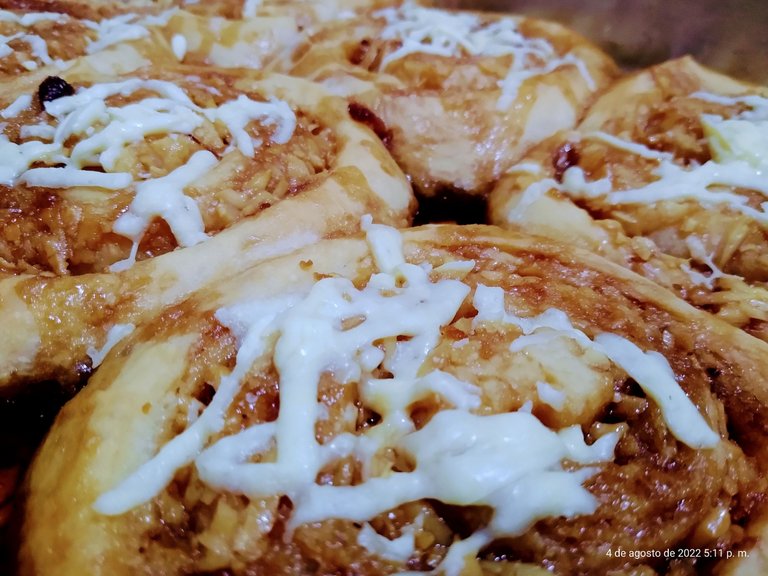 ---

---
¡Mira esta ricura!
Check out this cutie!
---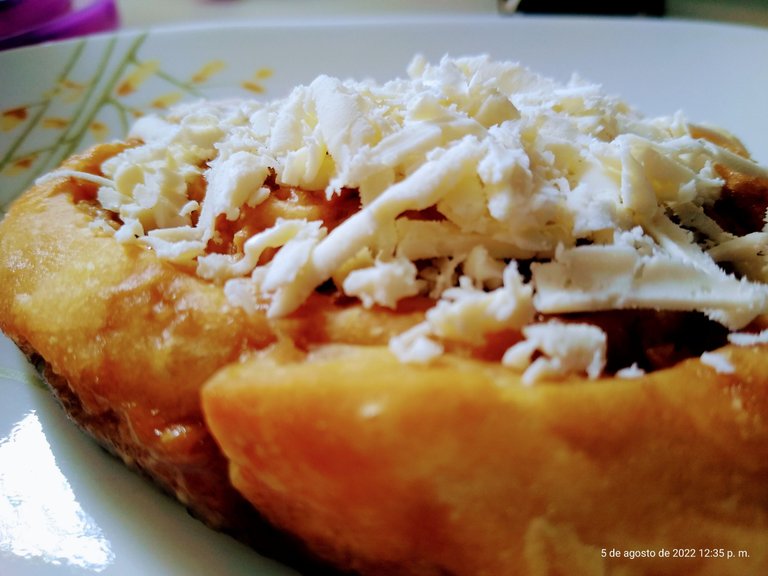 ---

---
El sabor es espectacular! 🤤
The taste is spectacular! 🤤
---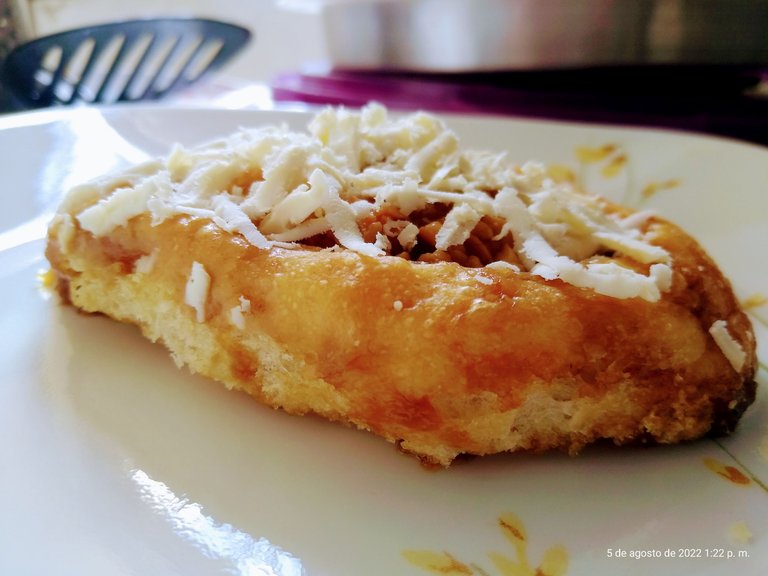 ---

---
Siempre les pregunto cuantos te comerías jajaja, pero uno de estos equivale a cientos de postres en uno solo, uff se me hace agua la boca
I always ask them how many would you eat hahaha, but one of these is equivalent to hundreds of desserts in one, uff my mouth is watering.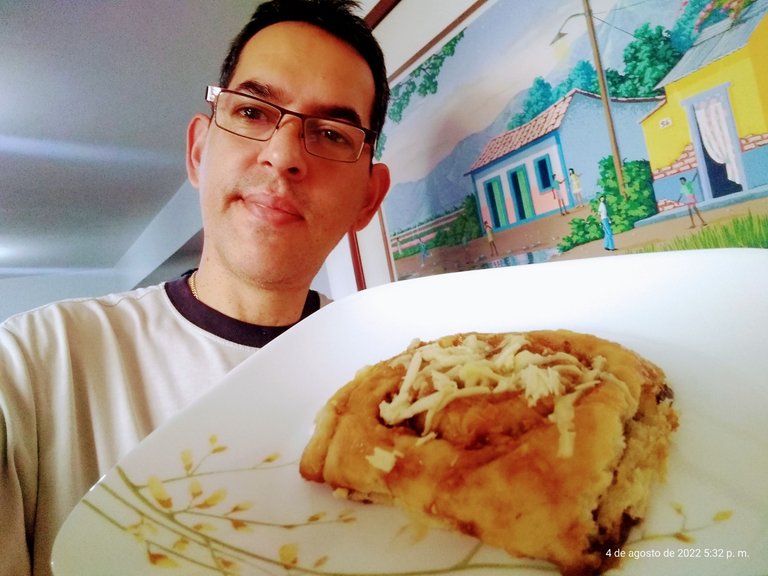 ---

---
Por debajo... Son una capa de pura y dulce miel 😍
Underneath... They are a layer of pure, sweet honey 😍
---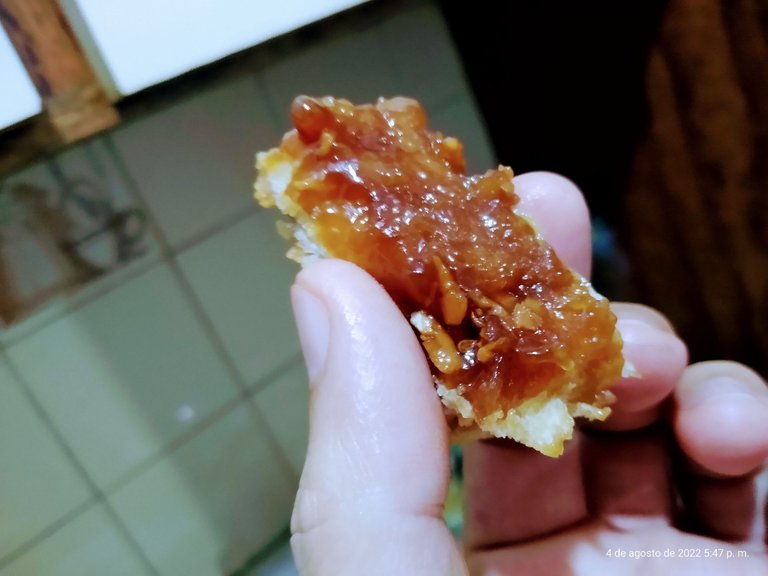 ---

---
Los puedes acompañar con un vaso de leche
You can accompany them with a glass of milk
---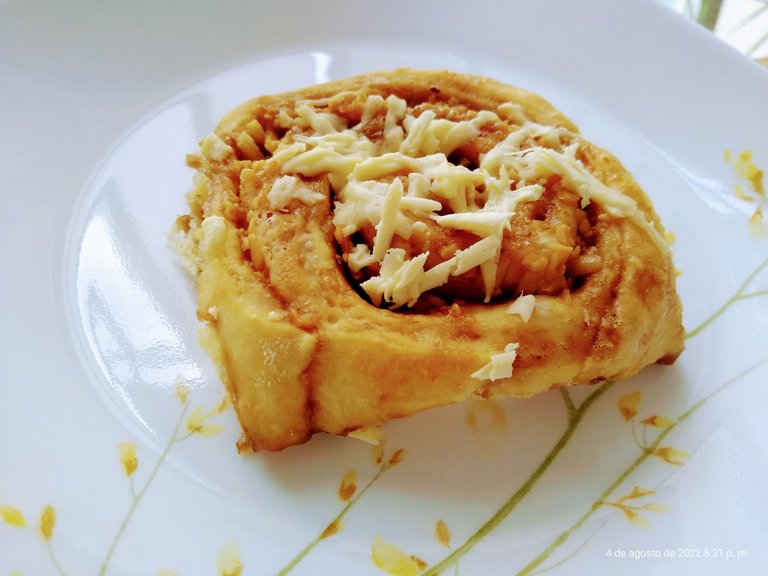 ---

---
¿Te atreves a comerte más de dos?
Dare you dare to eat more than two?
---
---

---
¿Y tú con que te los comerás?
And what will you eat them with?
---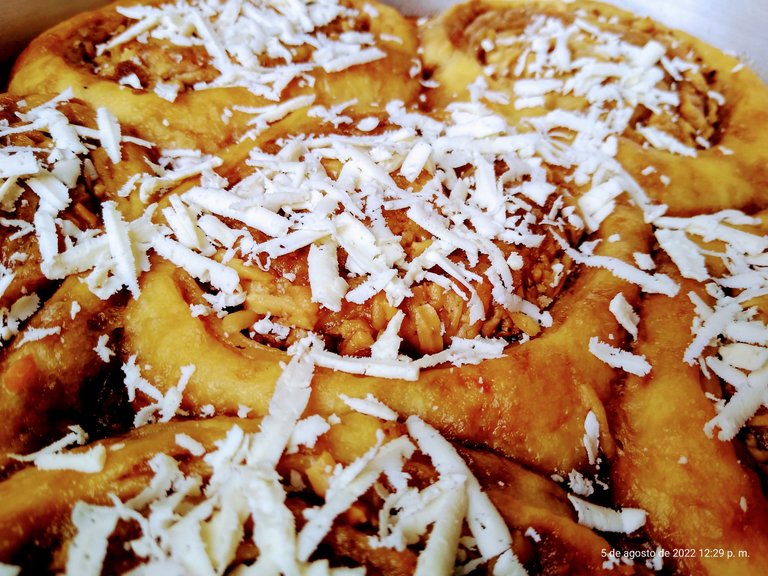 ---

---
Todas las imágenes y textos son de mi autoria. Los separadores y banner personal los realice con Canvas. Fotos : Cámara motoG7 power
Tradución realizada con https://www.deepl.com/es/translator
---
All images and texts are my own. The separators and personal banner were made with Canvas. Photos : motoG7 power camera
Translation made with https://www.deepl.com/es/translator
---

---

---
Muchas gracias por ser parte de los lectores de cocina creativa y sazón con amor, si te gusto la receta de hoy los invito a dejar sus comentarios o sugerencias, todos son siempre bien recibidos
Thank you very much for being part of the readers of cocina creativa y sazón con amor, if you liked today's recipe I invite you to leave your comments or suggestions, all are always welcome.
---

---
2022👨‍🍳