Excellent Thursday have all my dear panitas pleased once again to be able to share with you all the preparation of a healthy and nutritious dish of a fried catalana accompanied by cucumber salad with carrot and avocado plus parboiled pumpkin and fried plantains, uff really a delicacy of food, sincerely I had a long time that I did not taste this fish because of its high cost but today I had the opportunity thanks to a neighbor who works in fishing boats gave it to me as a gift and I did not want to miss the opportunity to prepare a tasty and different dish for all of you.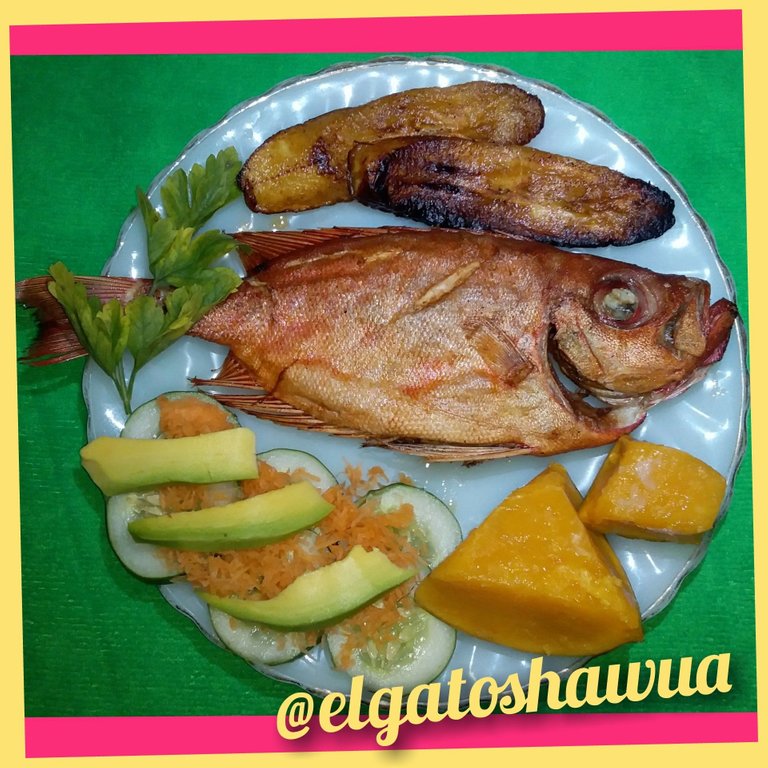 Excelente jueves tengan todos mis queridos panitas complacido una vez más de poder compartir con todos ustedes la preparación de un saludable y nutritivo platillo de una catalana frita acompañada de ensalada de pepino con zanahoria y aguacate además de auyama sancochada y plátanos fritos, uff realmente una exquisitez de comida, sinceramente tenía mucho tiempo que no degustaba de este pescado a consecuencia de su alto costó pero hoy tuve la oportunidad gracias a que un vecino quién trabaja en barcos pesquero me la dio de obsequio y no quise desaprovechar la oportunidad para preparar un plato sabroso y diferente para todos ustedes.
Ingredients:
Catalana fish, cucumber, carrot, avocado, oil, vinegar, salt, auyama, plantain.
Ingredientes:
Pescado Catalana, pepino, zanahoria, aguacate, aceite, vinagre, sal, auyama, plátano.
Preparation:
We begin by arranging the fish to remove the viscera and make the necessary cuts to add salt then put to fry in a preheated pan with enough oil to flip and remove from heat when it is already cooked toasted on the other hand we must wash with water with vinegar vegetables such as cucumber, carrot then to chop the cucumber into slices and grate the carrot, avocado julienne in this way we will assemble our salad and we will dress with a drizzle of oil, vinegar and salt to taste to continue we must peel / chop the pumpkin into large pieces then we put to parboil in a pot on the fire with enough salted water and when ready we proceed to strain and now we would not miss the dishes and we will peel in large slices and place to fry in a preheated pan with enough, to be ready each of the ingredients proceed to serve master plate being as I present in the different photographs.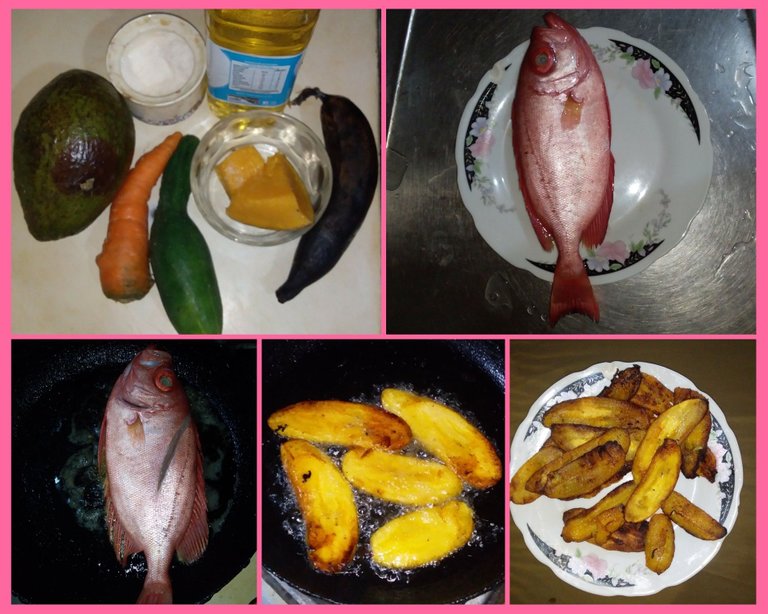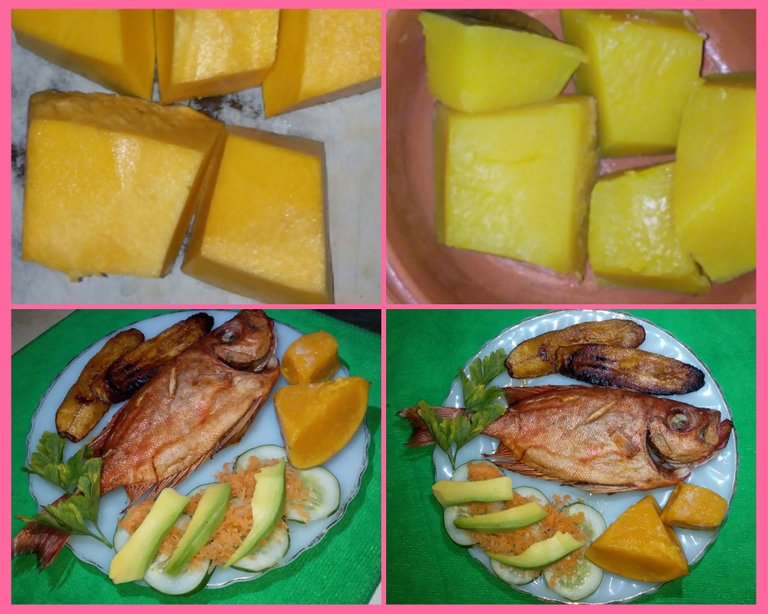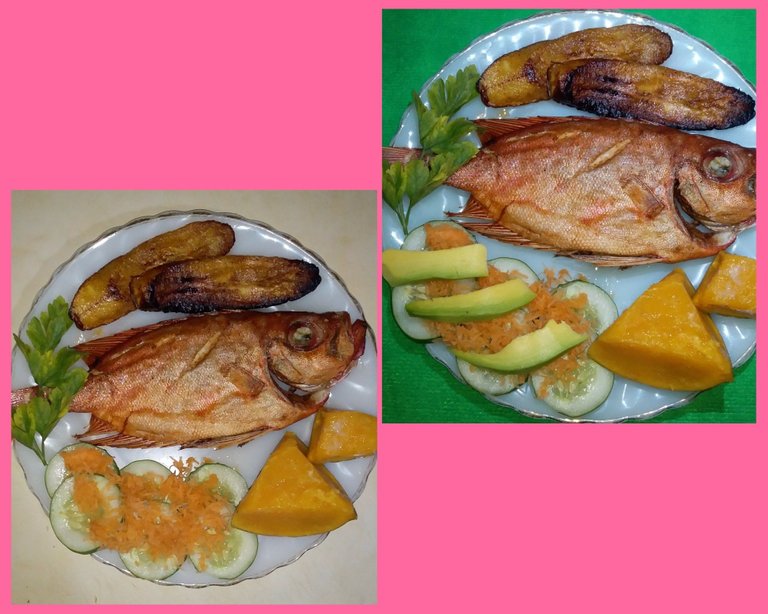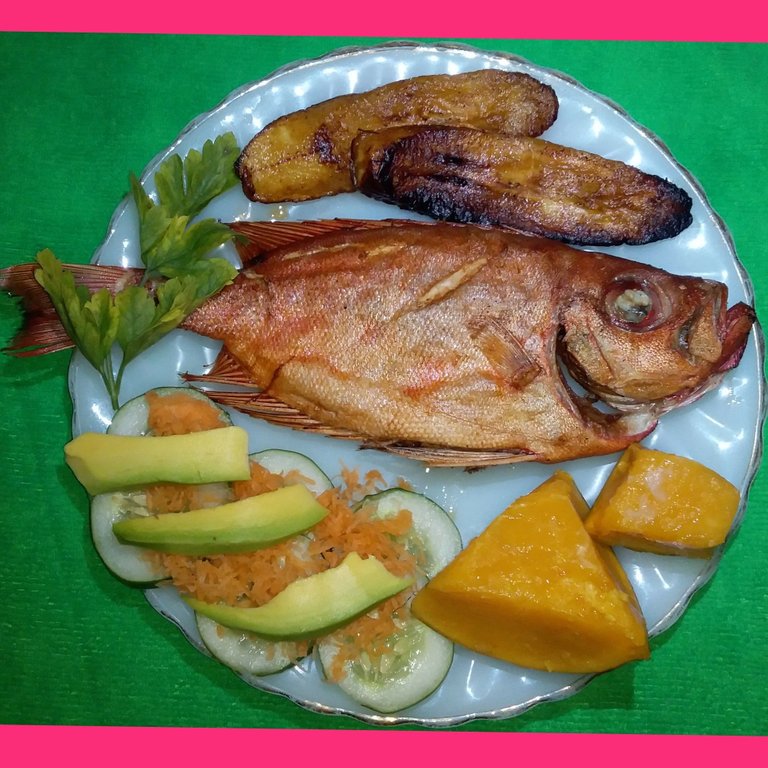 Preparación:
Iniciamos arreglando el pescado para retirar las vísceras y hacer los cortes necesarios para agregarle la sal después poner a freír en una sartén precalentada con suficiente aceite para voltear y retirar del fuego cuando ya esté cocida tostadita por otro lado debemos lavar con agua con vinagre los vegetales como pepino, zanahoria seguidamente a picar en rodajas el pepino y rayar la zanahoria, julianas de aguacate de esta manera vamos a armar nuestra ensalada y vamos aderezar con un chorrito de aceite, vinagre y sal al gusto para continuar debemos pelar/ picar la auyama en trozos grandes seguidamente ponemos a sancochar en un caldero al fuego con suficiente agua con sal y al estar lista procedemos a colar y ahora no faltaría los platos y vamos a pelar en tajadas grande y colocar a freír en una sartén precalentada con suficiente, al estar lista cada uno de los ingredientes procedemos a servir maestro plato quedando como le presento en las diferentes fotografías.
Photos by me @elgatoshawua.
Translated by DeepL.
Fotos de mi autoría @elgatoshawua.
Traducido por DeepL