A couple of days ago talking with a childhood friend, we remembered a cake that was sold in the school canteen, there were two types, some came with candied fruit and others came with vanilla and chocolate, the truth is that I loved them and I always asked my dad when we went to the supermarket to buy them so I would always have them at home. The truth is that I really craved these cakes, and when I went this morning to the supermarket to buy the things I needed at home I was looking everywhere and I did not get it, to tell the truth, I have years that I do not see it anywhere, but that was not going to be an obstacle for me to enjoy them again.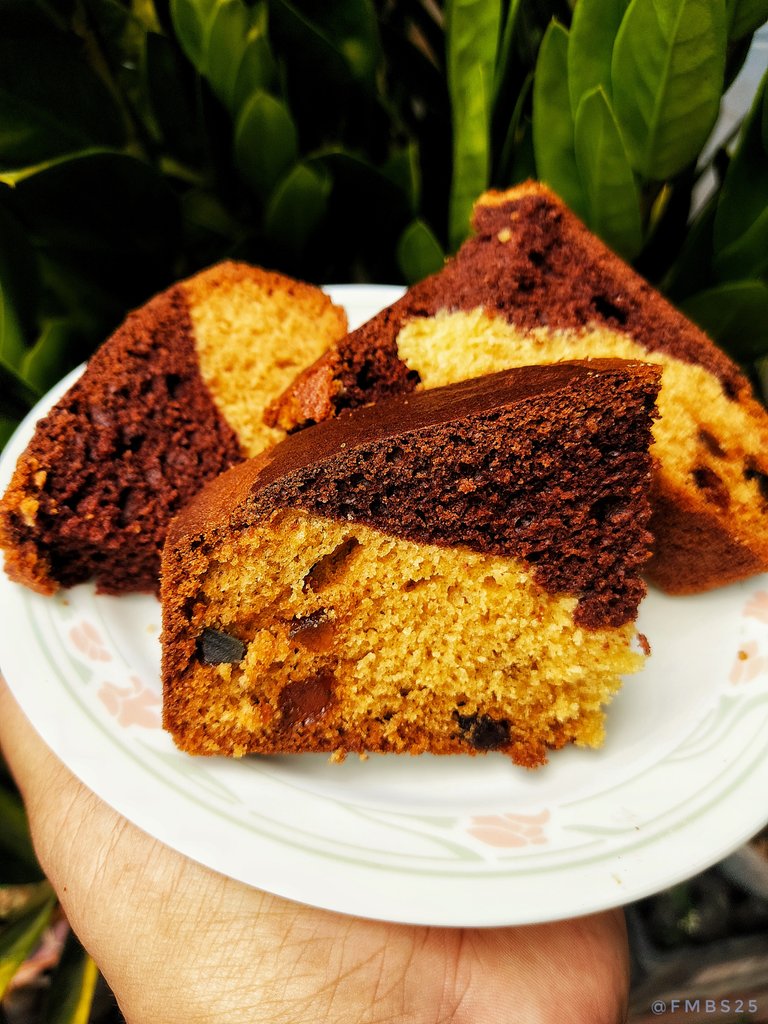 Since I could not find it anywhere, I decided to prepare a cake that emulated this delicious cake, or at least as close as possible to that delicious flavor, and the truth is that I think I succeeded, I even made a combination of that cake with fruit and vanilla and chocolate in a single cake. My house was flooded with a delicious smell of cake that took me back to my childhood, and I remembered those afternoons when my mother baked a cake for us, which also made me much happier because it had been a long time since my nose had perceived precise and undistorted smells.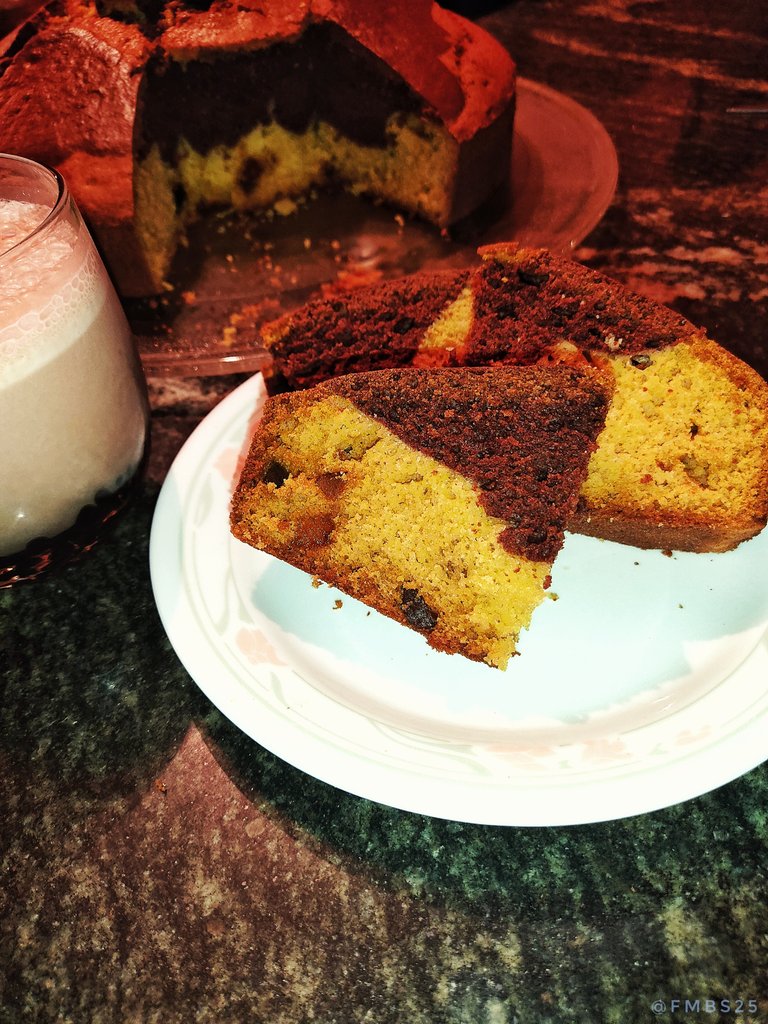 This is a simple preparation, with a few extra ingredients but certainly make a difference and will leave you wanting to eat the whole cake. Join me and I'll show you how to prepare it.

Ingredients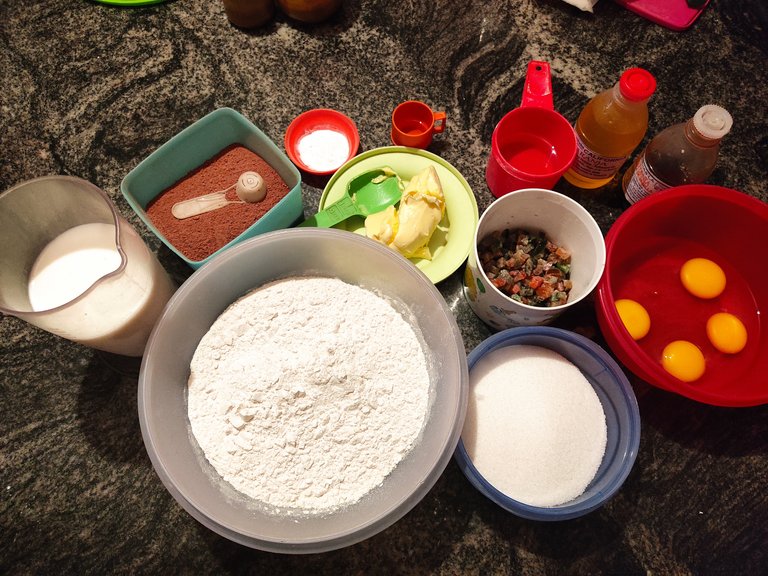 4 Cups all-purpose wheat flour.
2 Cups of sugar.
3 Tbsp butter.
1/2 Cup sunflower oil.
4 Eggs.
400 ml of milk.
200 gr of candied fruits.
1/2 Tbsp baking soda.
1 Tbsp vinegar.
3 Tbsp unsweetened cocoa powder.
1 tsp vanilla essence.
1 tsp orange essence.
Preparation
.
Preparation time: 10 Minutes.
Cooking time: 60 Minutes
.

To begin this preparation, in a bowl add the butter, sugar and oil, and mix until well integrated and get a white cream, continue adding the eggs one at a time and continuing to beat, until a homogeneous mixture.

On the other hand, we mix the wheat flour with the baking soda, and we are adding to the previous mixture, interspersing milk and wheat flour until integrating them in its totality. After this we divide the mixture in a proportion of 60 - 40 %.

In the smallest portion, add the cocoa powder previously sifted and mix until well integrated, add the vanilla and half of the vinegar to this mixture. On the other hand, we add a tablespoon of wheat flour to the candied fruits, stir and add to the rest of the cake batter, with the orange essence and the rest of the vinegar, stir to integrate well,

In a pudding mold (it would be ideal, but since I don't have one, I wanted to improvise and the invention didn't work out very well), first add the orange mixture with candied fruit and then the cocoa mixture, without mixing. Bake in a preheated oven at 180 °C for about 60 minutes or until a toothpick comes out clean.

I wanted to improvise a mold for pudding, placing a smaller mold in the middle, and when I took it to the oven it turned over, so I had to remove it hahaha. For the next one I must place it filled with water or some grains that do not allow this to happen.
I went back to my childhood, running through the aisles of the school to buy these delicious ponqués, so delicious that you did not want to eat just one hahaha, I took the opportunity to serve my Mathias for his snack accompanied with a nice glass of cold chocolate and the truth is that they were delicious and I could achieve a taste quite similar to that commercial brand.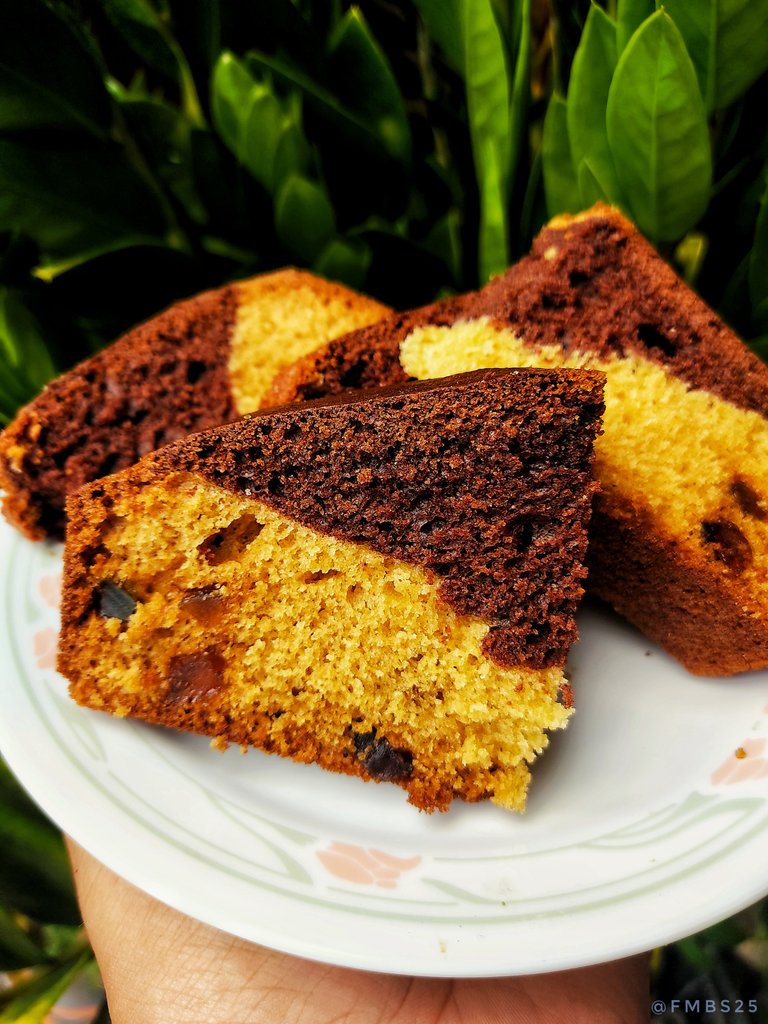 Images of my property, taken with the camera of my Xiaomi Redmi Note 9S Edited with Snapseed.
Thank you for taking the time to read this post, if you have any questions, criticisms, or suggestions, I would appreciate it if you would put them in the comment box, and remember, You too can make magic in the kitchen and wherever you go!


[ES]

Hace un par de días conversando con un amigo de la infancia, recordábamos un ponqué que vendían en la cantina del colegio, habían de dos tipos, unos venían con frutas confitadas y otros venían de vainilla con chocolate, la verdad es que yo los amaba y siempre le pedía a mi papa cuando íbamos al supermercado que comprara para de esta manera tener siempre en casa. La verdad es que se me antojaron mucho estos ponqués, y cuando fui esta mañana al supermercado a comprar las cosas que necesitaba en casa lo estuve buscando por todos lados y no lo conseguí, a decir verdad, tengo años que no lo veo por ningún lado, pero eso no iba a ser obstáculo para yo disfrutar de ellos nuevamente.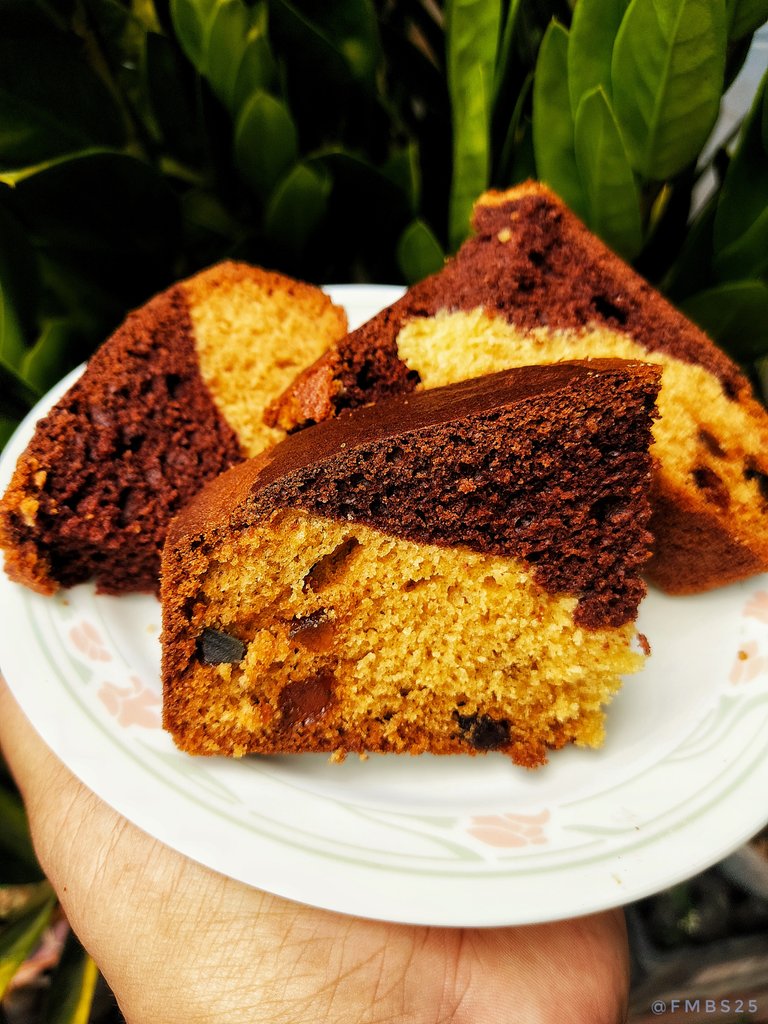 En vista de que no lo encontré por ningún lado, decidí preparar un bizcocho que emulara este delicioso ponqué, o que al menos se acercara lo más cerca posible de aquel delicioso sabor, y la verdad es que creo haberlo logrado, incluso hice una combinación de aquel ponqué con frutas y el de vainilla con chocolate en un solo bizcocho. Mi casa se inundó con un delicioso olor a torta que me remonto a mi niñez, y recordé esas tardes en las que mi madre horneaba torta para nosotros, eso además me alegra mucho más, pues hacía mucho rato que mi nariz no percibía olores precisos y sin distorsión.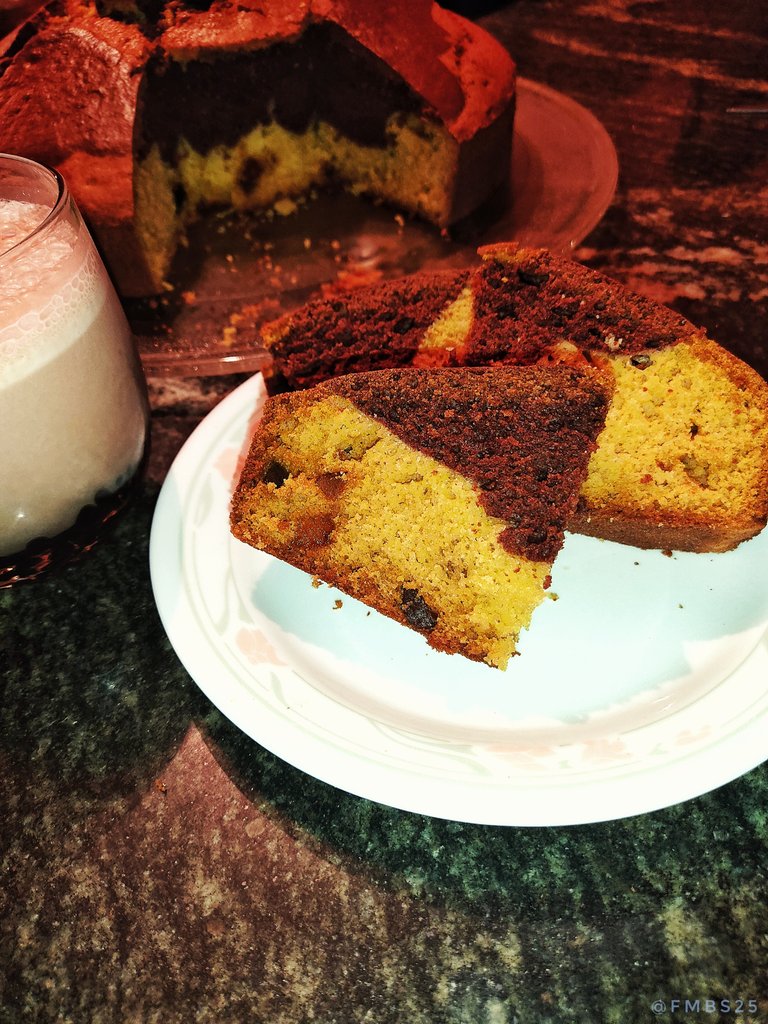 Esta es una preparación sencilla, con algunos ingredientes extras pero que sin duda marcan la diferencia y los dejaran con ganas de comerse todo el bizcocho. Acompáñame y te muestro como lo prepare.

Ingredientes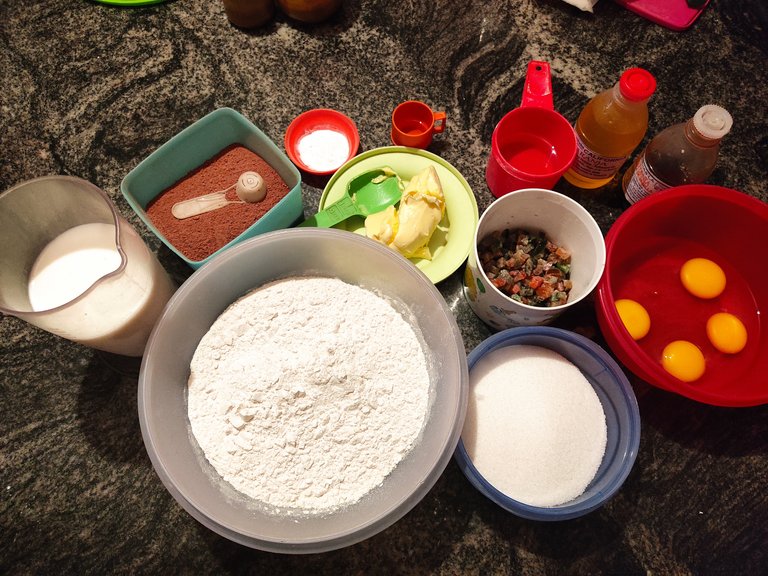 4 Tazas de harina de trigo de todo uso.
2 Tazas de azúcar.
3 Cdas de mantequilla.
1/2 Taza de aceite de girasol.
4 Huevos.
400 ml de leche.
200 gr de frutas confitadas.
1/2 Cda de bicarbonato de sodio.
1 Cda de vinagre.
3 Cdas de cacao en polvo sin azúcar.
1 Cdta de esencia vainilla.
1 Cdta de esencia de naranja.
Preparación
Tiempo de preparación: 10 Minutos.
Tiempo de cocción: 60 Minutos

Para comenzar esta preparación, en un tazón agregamos la mantequilla, el azúcar y el aceite, y mezclamos hasta integrar muy bien y obtener una crema blanca, continuamos agregando los huevos de uno en uno y sin dejar de batir, hasta lograr una mezcla homogénea.

Por otro lado, mezclamos la harina de trigo con el bicarbonato de sodio, y vamos agregando a la mezcla anterior, intercalando leche y harina de trigo hasta integrarlos en su totalidad. Luego de esto dividimos la mezcla en una proporción de 60 - 40 %

En la porción más pequeña, agregaremos el cacao en polvo previamente tamizado y mezclamos hasta integrar muy bien, le añadimos a esta mezcla la vainilla y la mitad del vinagre. Por otro lado, agregamos una cucharada de harina de trigo a las frutas confitadas, revolvemos y agregamos al resto de la masa del bizcocho, con la esencia de naranja y el resto del vinagre, revolvemos para integrar bien,

En un molde para budín (sería lo ideal, pero como no tengo, quise improvisar y no me salió muy bien el invento), agregamos primero la mezcla de naranja con frutas confitadas y seguido la mezcla de cacao, sin mezclar. Llevamos a un horno pre calentado a 180 °C por unos 60 minutos o hasta que al pincharlo con un palillo este salga limpio.

Les cuento que quise improvisar un molde para budín, colocándole un molde más pequeño en el medio, y cuando lo llevaba al horno este se volteó, por lo que tuve que retirarlo jajaja. Para la próxima debo colocarlo lleno de agua o algunos granos que no permitan que esto suceda.
Regrese a mi infancia, correteando por los pasillos del colegio para comprar estos deliciosos ponqués, tan deliciosos que no querías comerte uno solo jajaja, aproveche de servirle a Mi Mathias para su merienda acompañado con un rico vaso de chocolate frio y la verdad es que quedaron deliciosos y pude lograr un sabor bastante similar al de aquella marca comercial.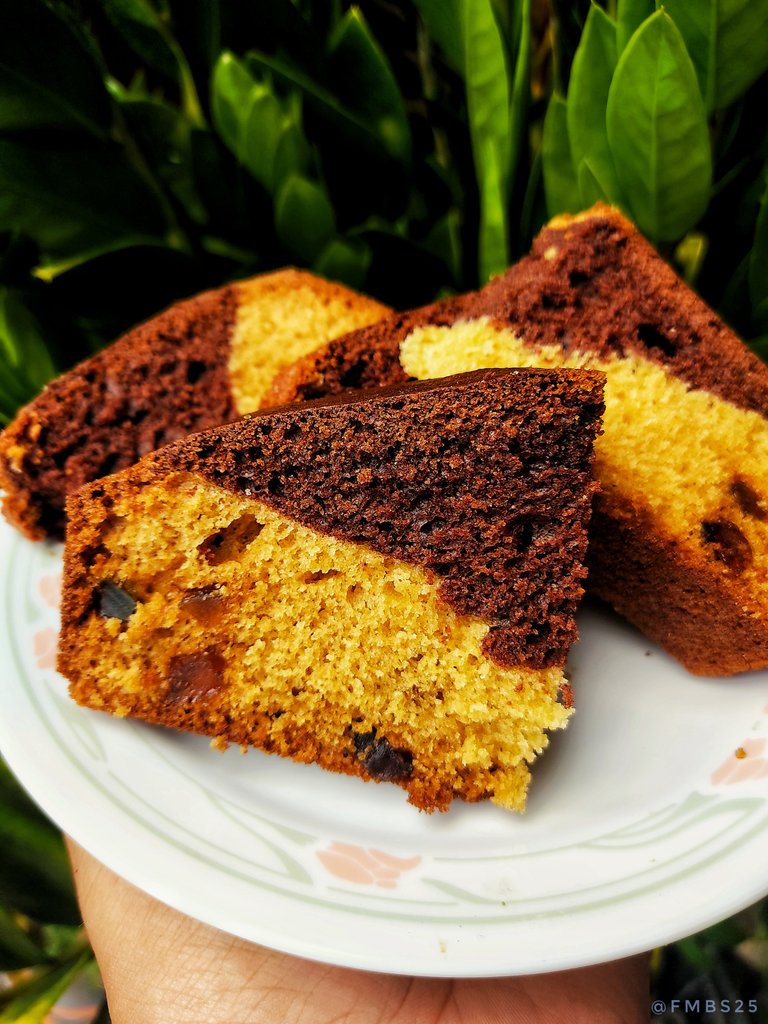 Imágenes de mi propiedad, tomadas con la cámara de mi Xiaomi Redmi Note 9S Editadas con Snapseed .
Gracias por tomarse el tiempo de leer esta publicación, si tiene alguna pregunta, crítica o sugerencia, la agradecería que la pusiera en la caja de comentarios, y recuerda, ¡Tú también puedes hacer magia en la cocina ya dondequiera que vayas!



Created by @robinsonlgil



---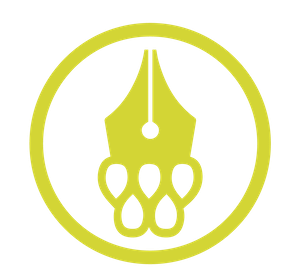 Come and support @Cervantes as Witness in https://peakd.com/me/witnesses
---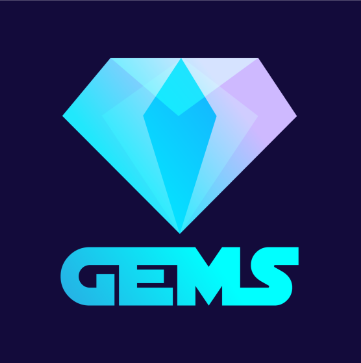 Join
@gems-community
's
Discord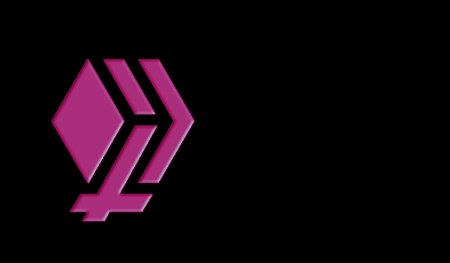 Created by @derangedvisions