A few weeks ago I shared with you the recipe to make ketchup sauce, and the truth is that after making it, I have not bought it again in the supermarket, I'm left with the one I prepare at home, so, after that super success, I set out to investigate how I could prepare mustard because for me ketchup has to be always accompanied with mustard, so, after doing a lot of research and watching several videos and recipes on the internet, I adapted the recipes of many to what I had at home and to the flavors that seemed ideal for my homemade mustard. Then on Saturday last week, I started the preparation of my mustard and it was not until today that I tasted how delicious it was and I think that after this I will probably never buy mustard again.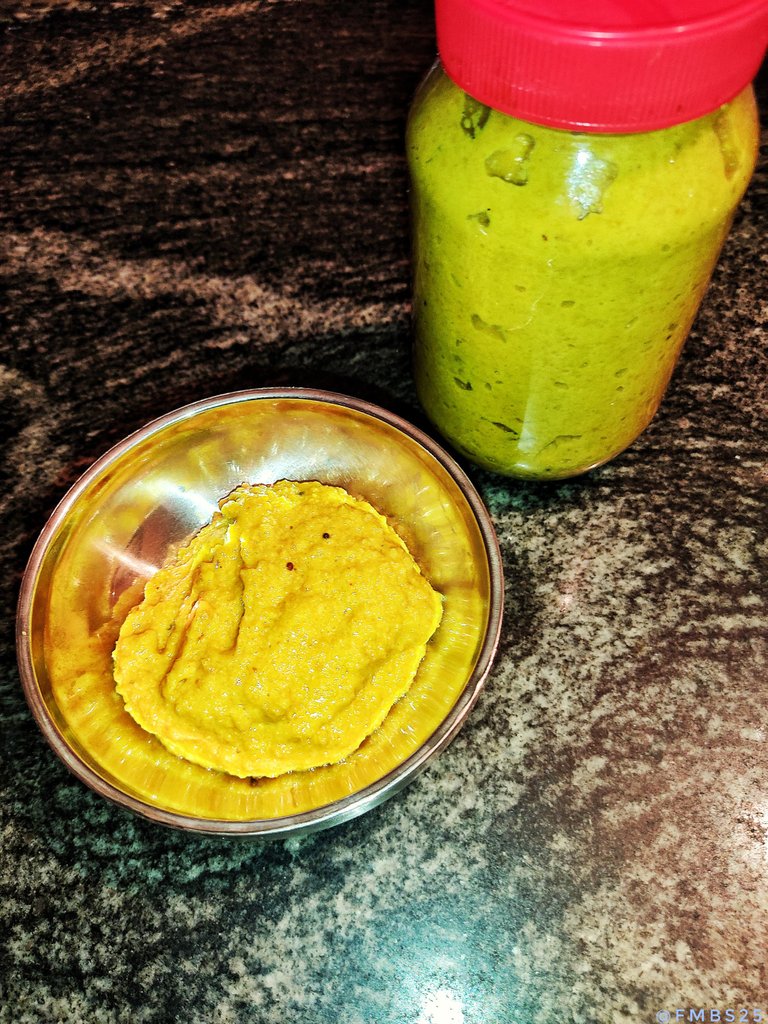 It is a really simple recipe, however, is the fermentation time (waiting) which makes it something annoying, but for those who have no problem waiting, this is a perfect recipe, plus preparing the mustard at home we save a good amount of money because with what you buy a jar of 200 gr of prepared mustard, you can buy all the ingredients to prepare the equivalent of 2 notes of 450 grand you have money left, yes, so yielding is this recipe. In addition, you can use this mustard both to spread on a good sandwich and to season a delicious chicken.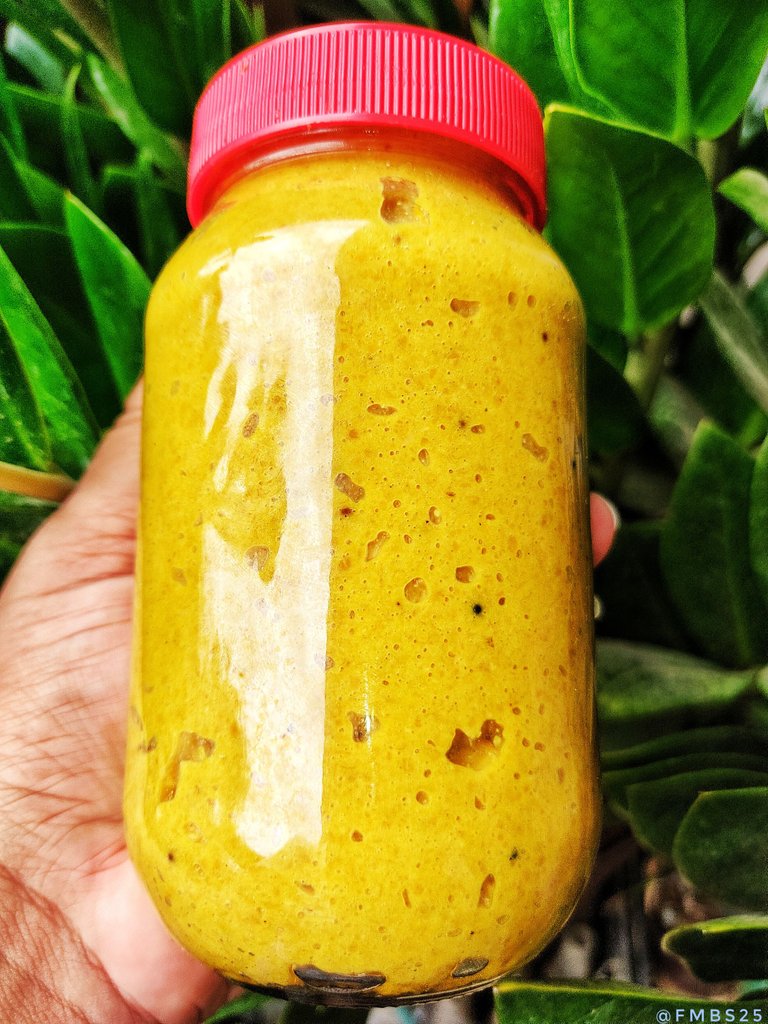 You will not believe how easy it is to prepare this recipe, because basically it is to add everything in a bowl mix and let stand and then process, if you want to see that I'm not lying to you, join me and I'll show you.

Ingredients
.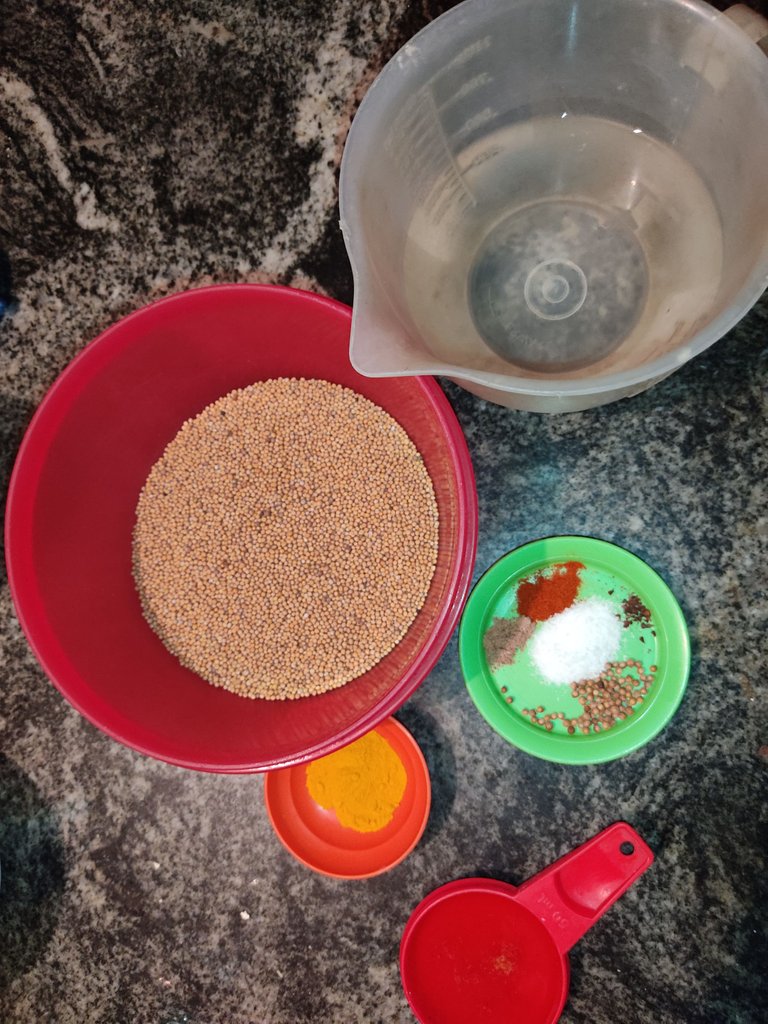 200 g mustard seeds.
400 ml of alcohol vinegar.
1 tsp turmeric powder.
50 ml of honey.
1 pinch of cloves.
1 tsp coriander seeds.
1 pinch of hot paprika (optional).
1/8 tsp ground black pepper.
1 tsp salt.
Preparation
.
Preparation time: 5 Minutes.
Cooking time: N/A.
Hydration Time: 24 Hours.
Fermentation Time: 1 Week.

To begin we add the mustard seeds in a container with enough space for the seeds, taking into account that these will double in size, and also that it is a container with a lid. Add the mustard seeds followed by the spices (turmeric, salt, black pepper, coriander seeds, spicy paprika, cloves), and finally add the honey. I add hot paprika because at home we love pepper with that spicy touch. Stir everything well.

We continue adding the alcohol vinegar and stir very well again, cover and leave in the refrigerator until the next day, 24 hours should be hydrating our mustard. After that time you will be able to see that it has doubled in size and there is almost no liquid left in the container.

We proceed to strain the seeds and reserve the liquid, place in a glass to process with a hand blender, or you can also do it with a blender base, you just have to have a lot of patience to do it there, we are processing and adding the liquid as required by the preparation, I used it all.

After processing our mustard very well, we pack it in a sterile glass jar and cover it, take it to the refrigerator again, and forget about the mustard for a week. Why do we have to leave it so long? Well, because freshly processed mustard has a very strong flavor that is attenuated with the days and the effect of vinegar, in my case by adding spicy paprika, the taste was so spicy that it made my tongue fall asleep, once the fermentation time has passed the taste is really delicious, if like me, you are a mustard lover, you will fall in love with this recipe.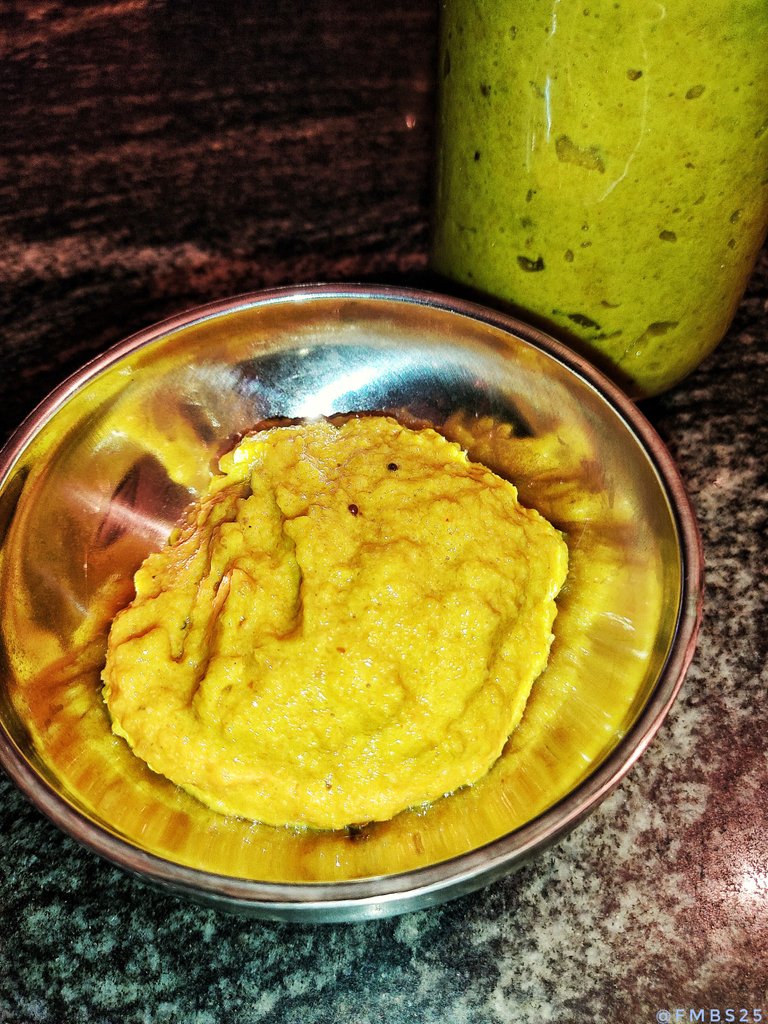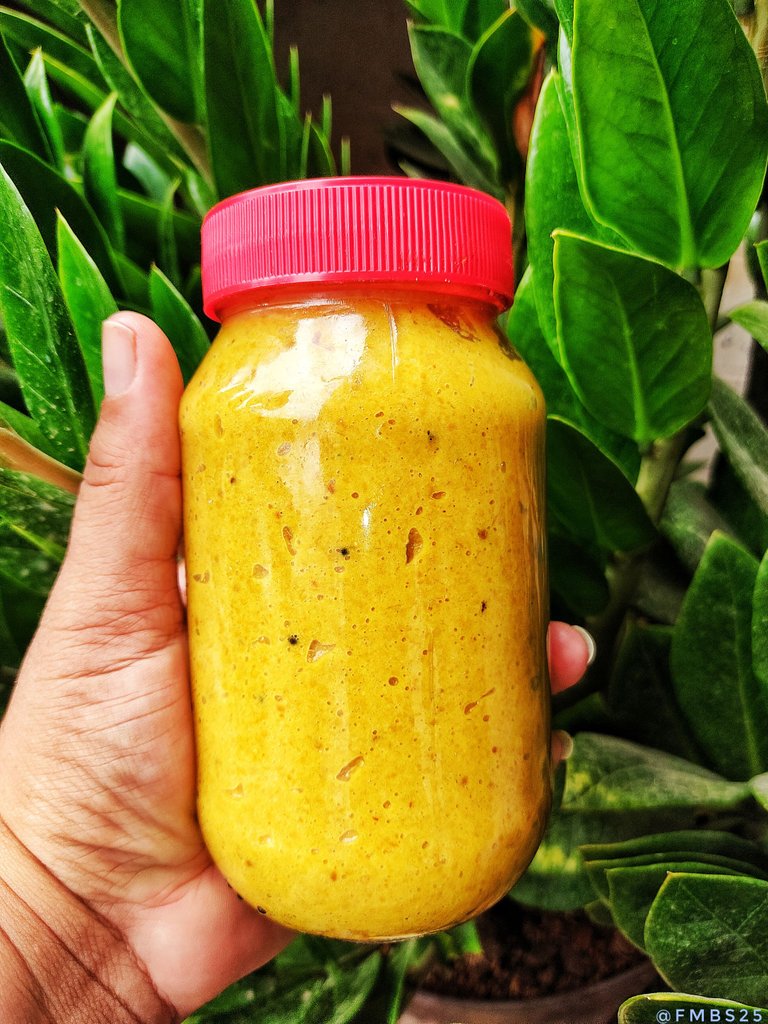 Images of my property, taken with the camera of my Xiaomi Redmi Note 9S Edited with Snapseed.
Thank you for taking the time to read this post, if you have any questions, criticisms, or suggestions, I would appreciate it if you put them in the comment box, and remember, You too can make magic in the kitchen and wherever you go!


[ES]

Hace unas semanas les compartí la receta para hacer salsa Kétchup, y la verdad es que después de hacerla, no he vuelto a comprar en el supermercado, me quedo con la que preparo en casa, así que, luego de ese super éxito, me dispuse a investigar como podía preparar mostaza, pues para mí el kétchup tiene que ir siempre acompañado con la mostaza, entonces, luego de indagar mucho y ver varios videos y recetas por internet, adapte las recetas de muchos a lo que tenía en casa y a los sabores que me parecieron ideales para mi mostaza casera. Entonces el sábado de la semana pasada empezó la preparación de mi mostaza y no fue hasta hoy que probé lo deliciosa que quedo y creo que después de esto es probable que no vuelva a comprar mostaza.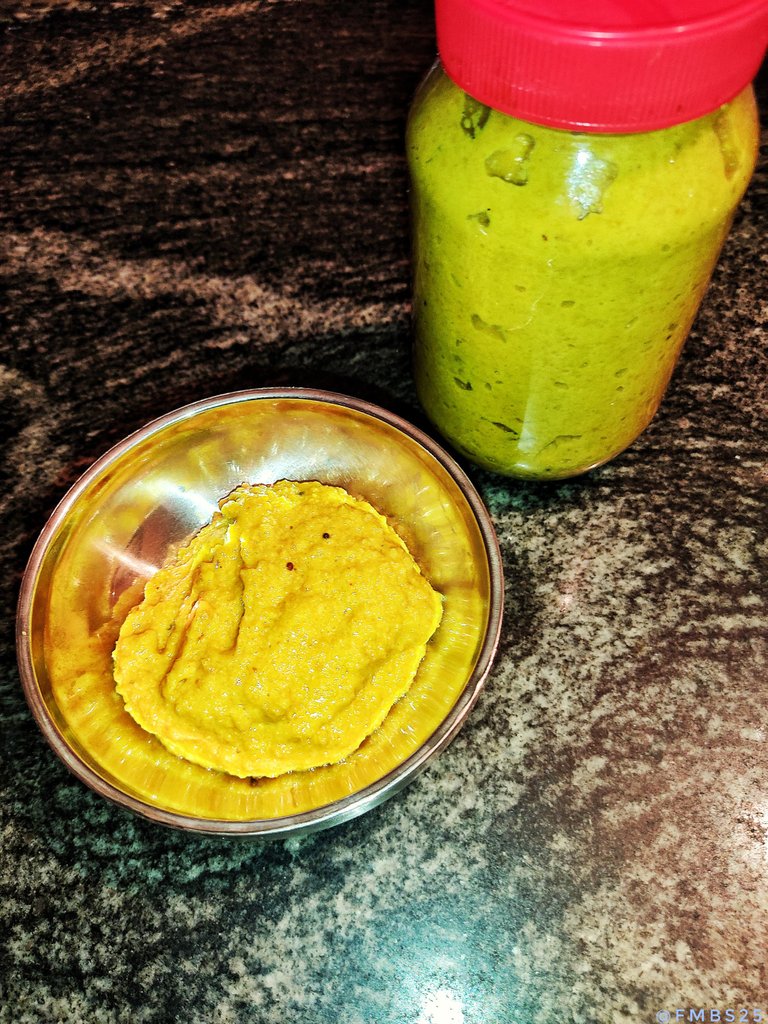 Es una receta realmente sencilla, sin embargo, es el tiempo de fermentación (espera) lo que hace de ella algo fastidiosa, pero para los que no tienen problemas en esperar, esta es una receta perfecta, además de que preparando la mostaza en casa nos ahorramos una buena cantidad de dinero, pues con lo que compras un bote de 200 gr de mostaza preparada, puedes comprar todos los ingredientes para preparar el equivalente a 2 notes de 450 gr y te queda dinero, si, así de rendidora es esta receta. Además, puedes utilizar esta mostaza tanto para untar en un buen sándwich como para condimentar un delicioso pollo.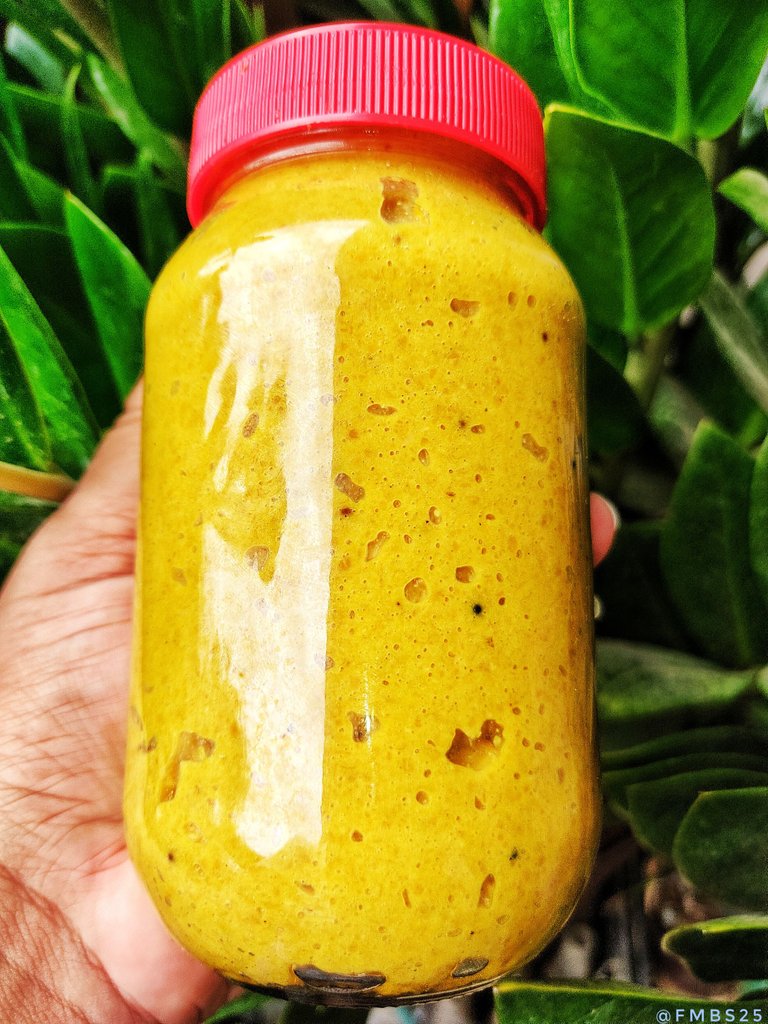 No van a creer lo fácil que es preparar esta receta, pues básicamente es agregar todo en un tazón mezclar y dejar reposar para luego procesar, si quieres ver que no te miento, acompáñame y te muestro.

Ingredientes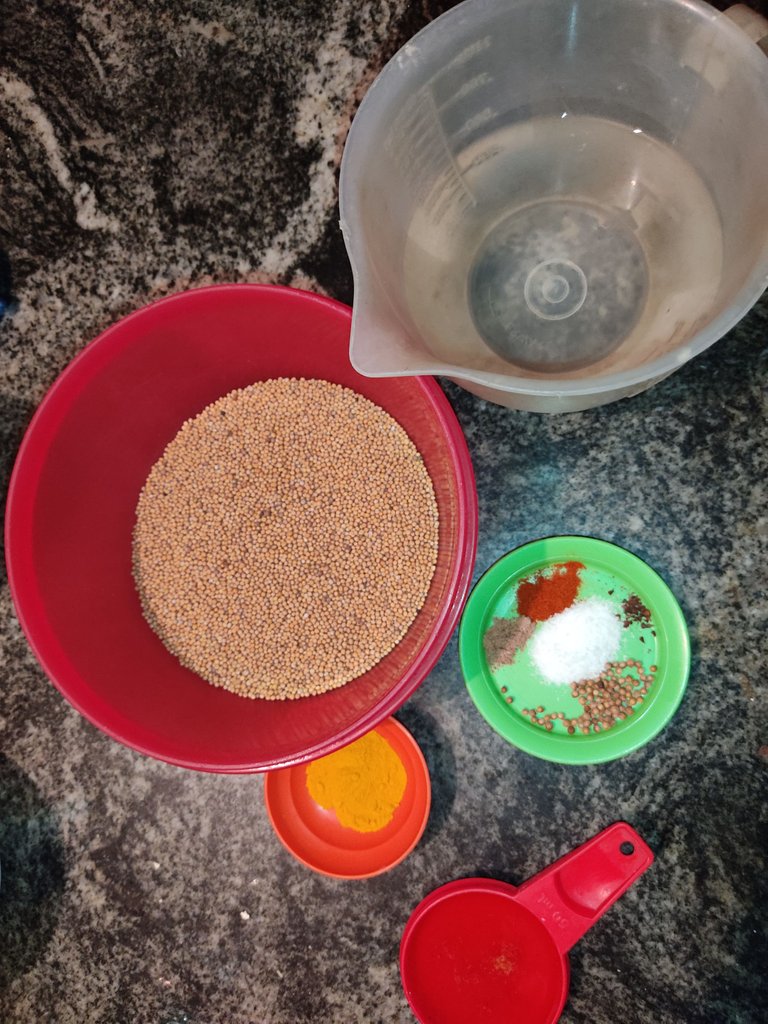 200 gr de semillas de mostaza.
400 ml de vinagre de alcohol.
1 Cdta de cúrcuma en polvo.
50 ml de miel.
1 Pizca de clavo de olor.
1 Cdta de semillas de cilantro.
1 Pizca de paprika picante (opcional).
1/8 Cdta de pimienta negra molida.
1 Cdta de sal.
Preparación
Tiempo de preparación: 5 Minutos.
Tiempo de cocción: N/A.
Tiempo de Hidratación: 24 Horas.
Tiempo de Fermentación: 1 Semana.

Para comenzar agregamos los granos de mostaza en un recipiente con suficiente espacio para las semillas, tomando en cuenta que estos duplicaran su tamaño, y que además sea un recipiente con tapa. Agregamos los granos de mostaza seguido de las especias (cúrcuma, sal, pimienta negra, semillas de cilantro, paprika picante, clavo de olor) y por último agregamos la miel. Le agrego paprika picante pues en casa amamos la pimienta con ese toque picante. Revolvemos bien todo.

Continuamos agregando el vinagre de alcohol y revolvemos muy bien nuevamente, tapamos y dejamos en el refrigerados hasta el día siguiente, 24 horas debe estar hidratándose nuestra mostaza. Luego de ese tiempo podrán ver que ha doblado su tamaño y no queda casi liquido en el envase.

Procedemos a colar las semillas y reservamos el líquido, colocamos en un vaso para procesar con una licuadora manual, o puedes hacerlo también con una licuadora de base, solo tienes que tener mucha paciencia para hacerlo allí, vamos procesando y agregando el líquido a medida que lo requiera la preparación, yo la utilice toda.

Luego de procesar muy bien nuestra mostaza, envasamos en un frasco de vidrio estéril y tapamos, llevamos al refrigerador nuevamente y nos olvidamos de la mostaza por una semana. ¿Porque debemos dejarla tanto tiempo? Pues porque recién procesada tiene un sabor muy fuerte que se va atenuando con los días y el efecto del vinagre, en mi caso por agregarle paprika picante, el sabor era tan picante que me dormía la lengua, una vez pasado el tiempo de fermentación el sabor es realmente delicioso, si como yo, eres amante de la mostaza, te vas a enamorar de esta receta.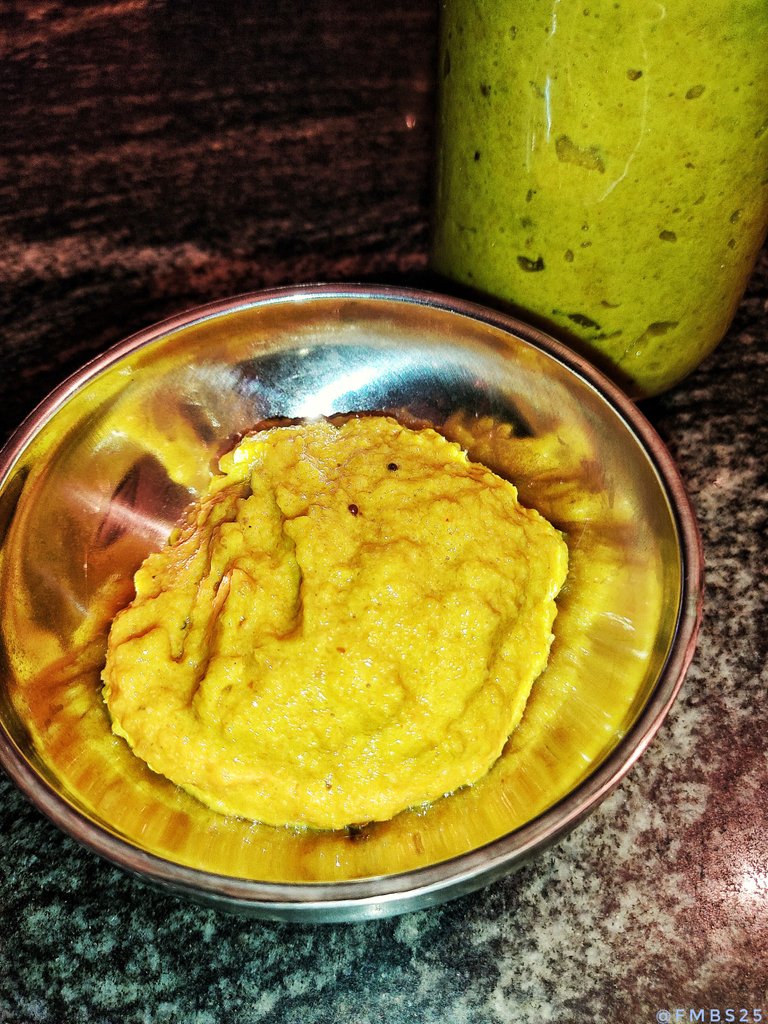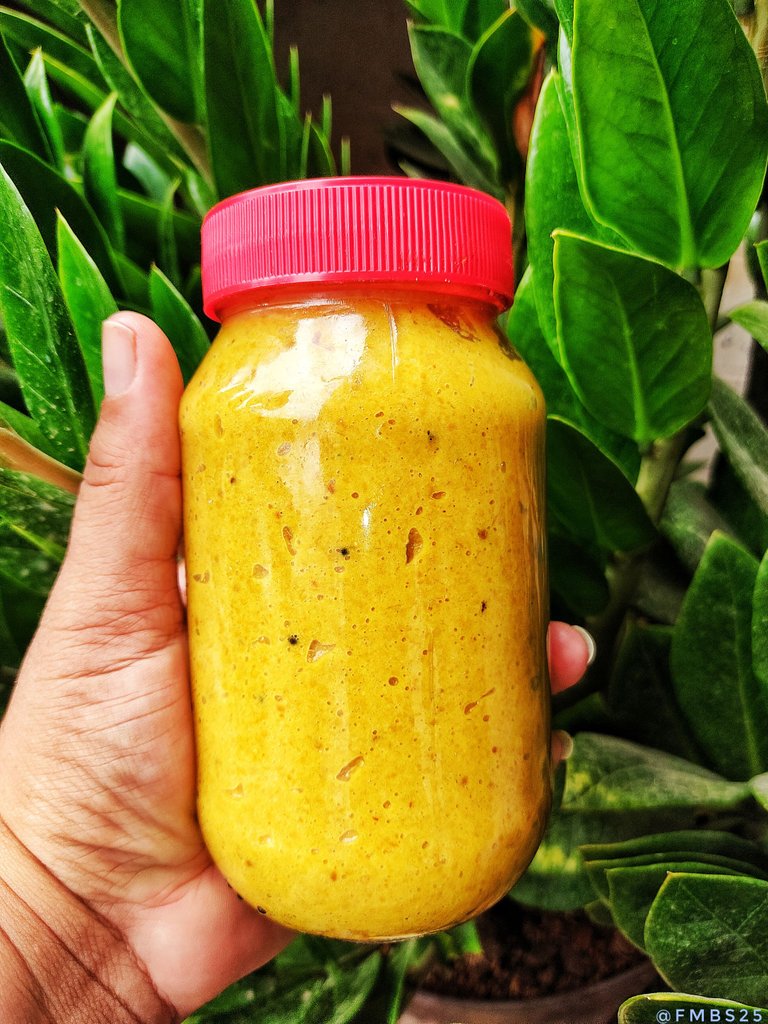 Imágenes de mi propiedad, tomadas con la cámara de mi Xiaomi Redmi Note 9S Editadas con Snapseed .
Gracias por tomarse el tiempo de leer esta publicación, si tiene alguna pregunta, crítica o sugerencia, la agradecería que la pusiera en la caja de comentarios, y recuerda, ¡Tú también puedes hacer magia en la cocina ya dondequiera que vayas!



Created by @robinsonlgil



---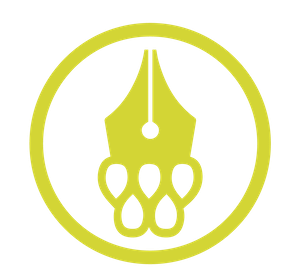 Come and support @Cervantes as Witness in https://peakd.com/me/witnesses
---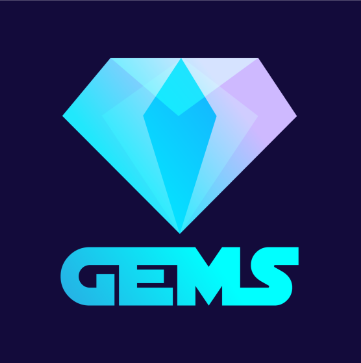 Join
@gems-community
's
Discord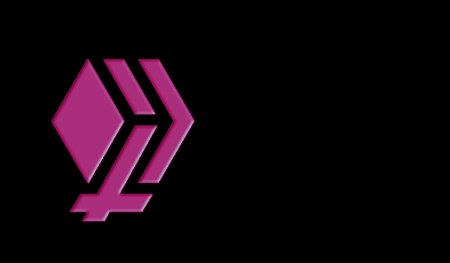 Created by @derangedvisions