My recipes do not always end up being a success, and I think that happens to all of us who love cooking, at least once in life, actually, it happens to me more often than I would like, but what do we do? That's life, that's my life! Hahaha. Yesterday after so much begging from my Mathias I decided to make him some fried donuts, I always make them baked, because in my opinion they are healthier and have less work than the fried ones, although I must admit that fried they are more delicious hahaha. The thing is that they were not as beautiful as we see them in the stores, although I must admit that they were delicious.
The truth is that making donuts is no big deal, and the dough yields a lot, compared to what you would spend buying 6 donuts or less in a store, you can make up to 20 or 24 donuts depending on the size, so once in a while, it is not bad to prepare this recipe. Now, why do I say that it didn't turn out the way I wanted? Well because the dough was not as fluffy as I would have liked, I think there was an error in the calculation of yeast, this is something fundamental, and therefore we must always measure the amounts well and not rely on the I think it's fine! Many times for a gram or two (in this case of yeast) a recipe can fail, as was about to happen to me in this case.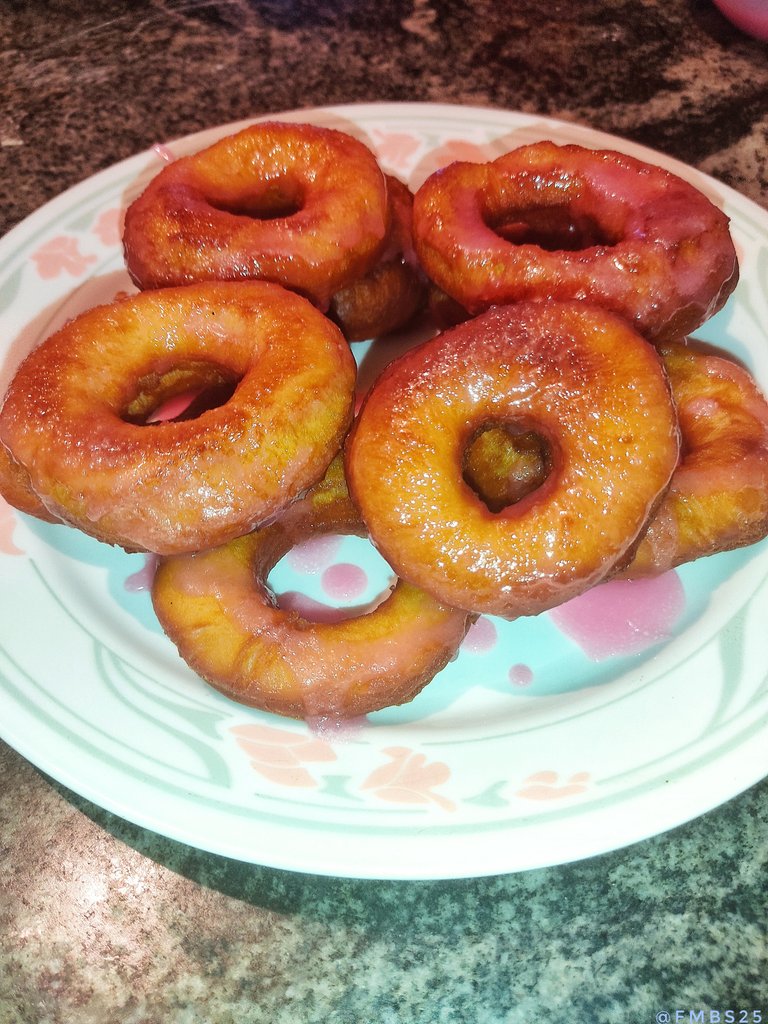 My mistake, in this case, was that at the end I added more wheat flour than I should instead of kneading calmly and there was the failure, obviously the dough would need more yeast and therefore did not grow as much as it should, anyway, the donuts were delicious, not as fluffy as I would have liked, but certainly had a good time preparing them and tasting them my son and me. Join me and I'll show you how I prepared them because basically, that's how they should be made, as long as we respect the measurements.

Ingredients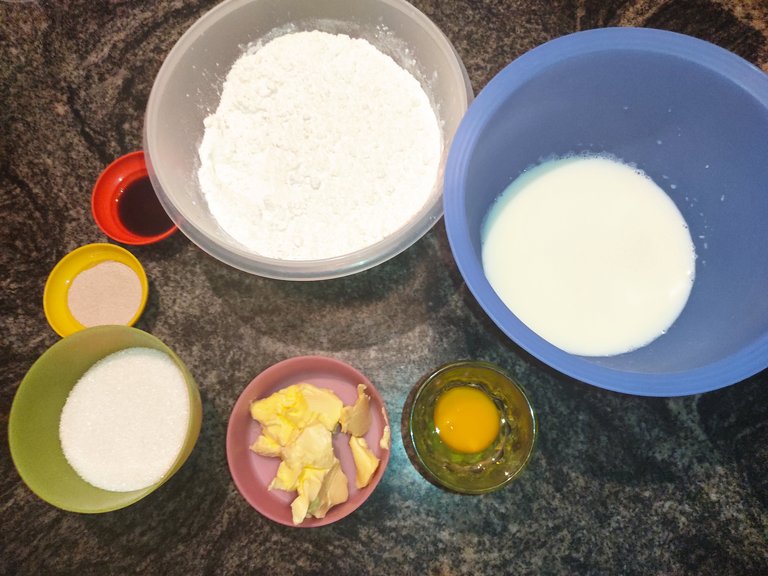 500 g wheat flour.
50 gr of butter.
1 egg.
1 cup of warm milk.
1 cup sugar.
1 tsp vanilla.
8 gr instant yeast.
Preparation
.
Preparation time: 120 Minutes.
Cooking time: 10 Minutes.

To begin we prepare the pre-ferment, for this in a cup with warm milk (that we can introduce the little finger and count to 10 without burning) add a couple of tablespoons of sugar, yeast, and a couple of tablespoons of wheat flour, beat well to integrate and avoid lumps in the yeast, and take cover in an oven off for 15 minutes.

On the other hand, we add the rest of the sugar in the remaining wheat flour and mix, once the 15 minutes of the pre-ferment we add it to the wheat flour and the vanilla.

We continue adding the egg and start kneading, when we have unified the ingredients, add the butter at room temperature and continue kneading, until you get a dough that does not stick to the fingers. (Here is my mistake, by calculating and not measuring, I added 50 ml more milk and had to add more wheat flour to achieve the desired consistency of the dough).

Form a bun and let it rest covered in the oven until it doubles in size, about an hour. After this time, we degas and with the help of a rolling pin stretch the dough until it is about 5 millimeters thick, with the help of a cutter we make the circles, and with a smaller one or with a nozzle to decorate we make the smallest circle. Let stand for about 30 minutes more.

Once finished the second rest of our donuts, we proceed to fry in plenty of hot oil, over medium-low heat, so that they are cooked well and are not raw inside, brown on both sides and let cool slightly, we cover them with a simple glaze that is made from 200 grams of powdered sugar and 2 tablespoons of milk.

Although my donuts did not grow much in the rest, when they were fried they did, they were fluffy and really delicious, if I had not added so much wheat flour they would have been much more fluffy, and beautiful, but although they were not what I expected, my son was very happy and satisfied, mostly because he helped me in the preparation and was very happy to be included.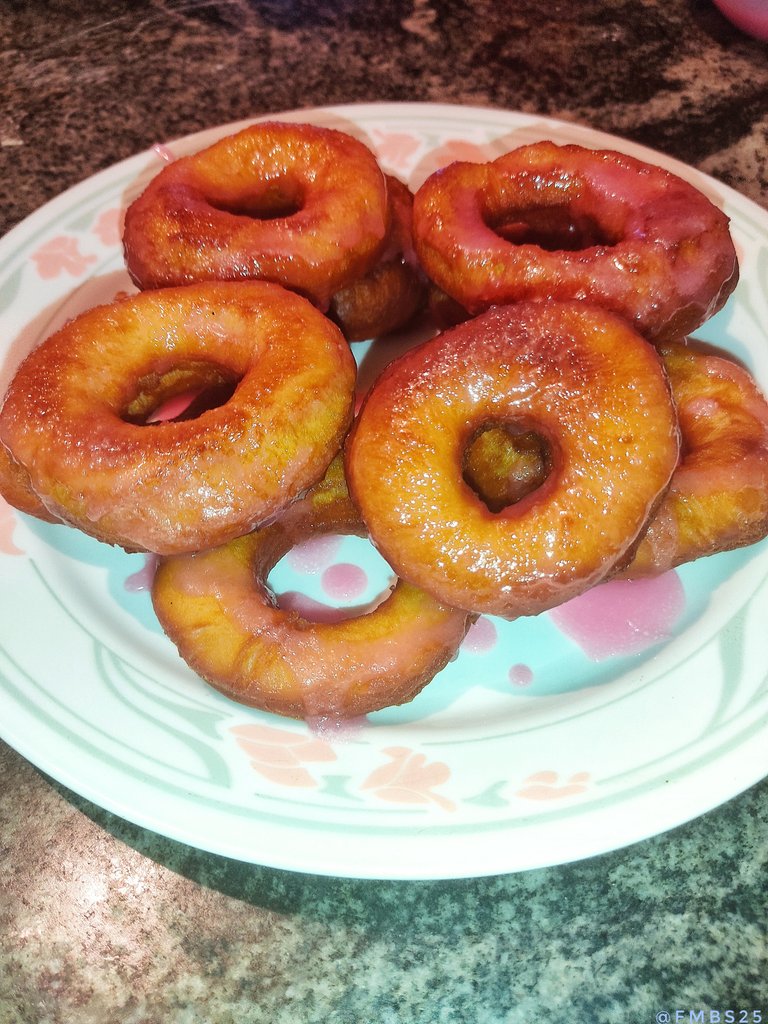 Images of my property, taken with the camera of my Xiaomi Redmi Note 9S Edited with Snapseed.
Thank you for taking the time to read this post, if you have any questions, criticisms, or suggestions, I would appreciate it if you would put them in the comment box, and remember, You too can make magic in the kitchen and wherever you go!


[ES]

Mis recetas no siempre terminan siendo un éxito, y creo que eso nos pasa a todos los que amamos la cocina, al menos una vez en la vida, realmente a mí me pasa más seguido de lo que me gustaría, pero ¿Que le hacemos? Así es la vida, ¡Así es mi vida! Jajaja. Ayer después de tanta suplica de Mi Mathias me dispuse a prepararle unas donas fritas, siempre se las hago horneadas, pues a mi parecer son más sanas y tienen menos trabajo que las fritas, aunque debo admitir que fritas son más deliciosas jajaja. El caso es que no quedaron tan hermosas como las vemos en las tiendas, aunque debo admitir que quedaron deliciosas.
La verdad es que hacer donas no es nada del otro mundo, y la masa rinde muchísimo, en comparación a lo que gastarías comprando 6 donas o menos en un local, puedes hacer hasta 20 o 24 donas dependiendo del tamaño, así que de vez en cuando no está mal preparar esta receta. Ahora bien, ¿Por qué digo que no resulto como quería? Pues porque la masa no quedo tan esponjosa como habría deseado, creo que hubo un error en el cálculo de la levadura, esto es algo muy importante y por ello siempre debemos medir bien las cantidades y no confiarnos en el ¡Creo que está bien así! Pues muchas veces por un gramo o dos (en este caso de la levadura) una receta puede fallar, como estuvo a punto de sucederme en este caso.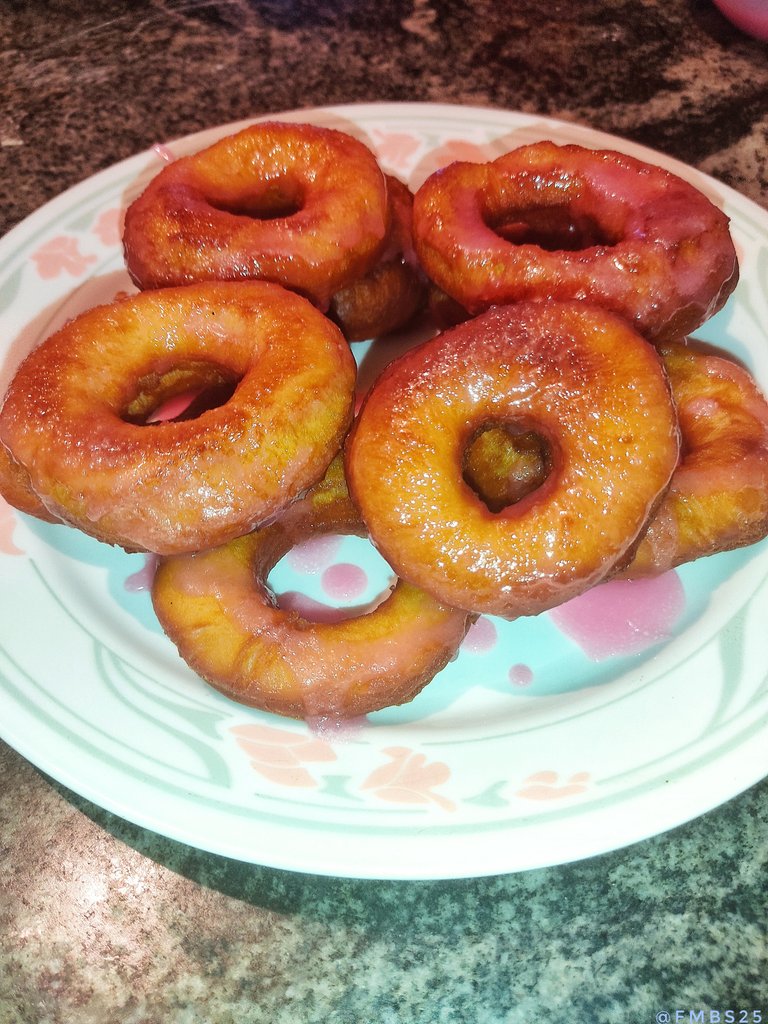 Mi error en este caso estuvo en que al final agregue más harina de trigo de la que debía en lugar de amasar con calma y allí estuvo la falla, evidentemente la masa necesitaría más levadura y por eso no creció tanto como debía, de igual manera, las donas quedaron deliciosas, no tan esponjosas como habría deseado, pero sin duda pasamos un buen rato preparándolas y degustándolas mi hijo y yo. Acompáñame y te muestro como las prepare, pues básicamente es como deben hacerse, siempre y cuando respetemos las medidas.

Ingredientes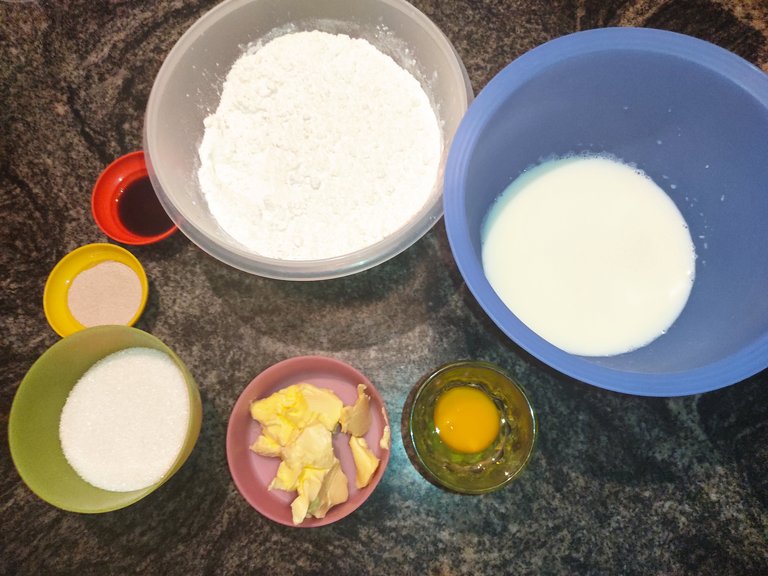 500 gr de harina de trigo.
50 gr de mantequilla.
1 Huevo.
1 Taza de leche tibia.
1 Taza de azúcar.
1 Cdta de vainilla.
8 gr de levadura instantánea.
Preparación
Tiempo de preparación: 120 Minutos.
Tiempo de cocción: 10 Minutos.

Para comenzar preparamos el pre fermento, para ello en una taza con la leche tibia (que podamos introducir el dedo meñique y contar hasta 10 sin quemarnos) agregamos un par de cucharadas de azúcar, la levadura y un par de cucharadas de harina de trigo, batimos bien para integrar y evitar grumos en la levadura, y llevamos tapado a un horno apagado por 15 minutos.

Por otro lado, agregamos el resto del azúcar en la harina de trigo restante y mezclamos, una vez pasados los 15 minutos del pre fermento lo agregamos a la harina de trigo, y la vainilla.

Continuamos agregando el huevo y empezamos a amasar, cuando hayamos unificado los ingredientes, añadimos la mantequilla a temperatura ambiente y continuamos amasando, hasta obtener una masa que no se pegue de los dedos. (He aquí mi error, por calcular y no medir, agregué 50 ml más de leche y tuve que agregar más harina de trigo para lograr la consistencia deseada de la masa)

Formamos un bollo y dejamos reposar tapado en el horno, hasta que doble su tamaño, aproximadamente una hora. Pasado este tiempo, desgasificamos y con ayuda de un rodillo estiramos la masa hasta que tenga unos 5 milímetros de espesor, con ayuda de un cortante hacemos los círculos y con uno más pequeño o con una boquilla para decorar hacemos el circulo más pequeño. Dejamos reposar por unos 30 minutos más.

Una vez terminado el segundo reposo de nuestras donas, procedemos a freír en abundante aceite caliente, a fuego medio bajo, para que se cocinen bien y no queden crudas por dentro, doramos por ambos lados y dejamos enfriar un poco, las cubrimos con un glaseado simple que se elabora a base de 200 gr de azúcar glas y 2 cucharadas de leche.

A pesar de que mis donas no crecieron mucho en el reposo, al momento de freírlas si lo hicieron, quedaron esponjosas y realmente deliciosas, de no haber agregado tanta harina de trigo habrían quedado muchísimo más esponjosas, y hermosas, pero aunque no fueron lo que esperaba, mi hijo quedo muy feliz y satisfecho, más que todo porque me ayudo en la elaboración y se sintió muy feliz por ser incluido.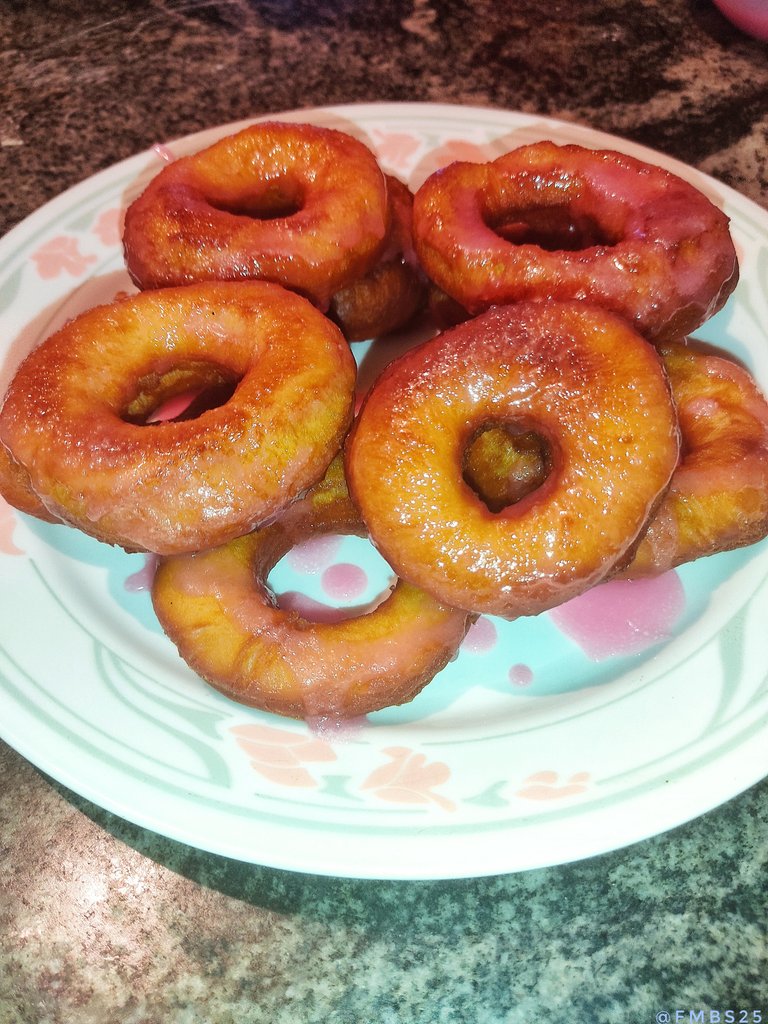 Imágenes de mi propiedad, tomadas con la cámara de mi Xiaomi Redmi Note 9S Editadas con Snapseed .
Gracias por tomarse el tiempo de leer esta publicación, si tiene alguna pregunta, crítica o sugerencia, la agradecería que la pusiera en la caja de comentarios, y recuerda, ¡Tú también puedes hacer magia en la cocina ya dondequiera que vayas!



Created by @robinsonlgil



---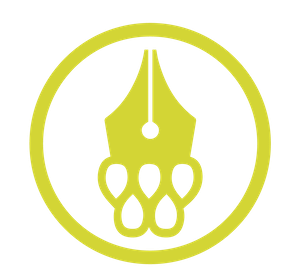 Come and support @Cervantes as Witness in https://peakd.com/me/witnesses
---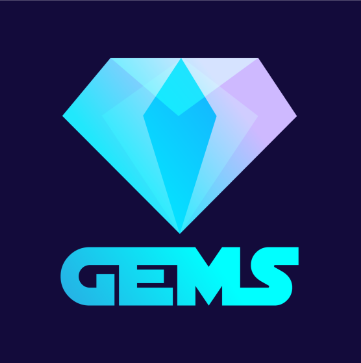 Join
@gems-community
's
Discord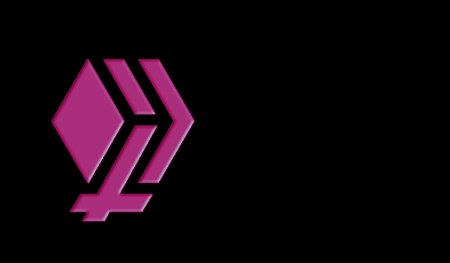 Created by @derangedvisions