Hello friends, today I want to present a delicious dish that I usually eat when I travel with my family to the beach.
When I am by the beach contemplating the sea and it is time to eat, there is not much to choose from the menu, for me the first option is always fried fish, it could not be any other. However, since confinement keeps us away from the possibility of going to the beach and experiencing such wonderful moments, I wanted to recreate a bit of that beach gastronomy at home.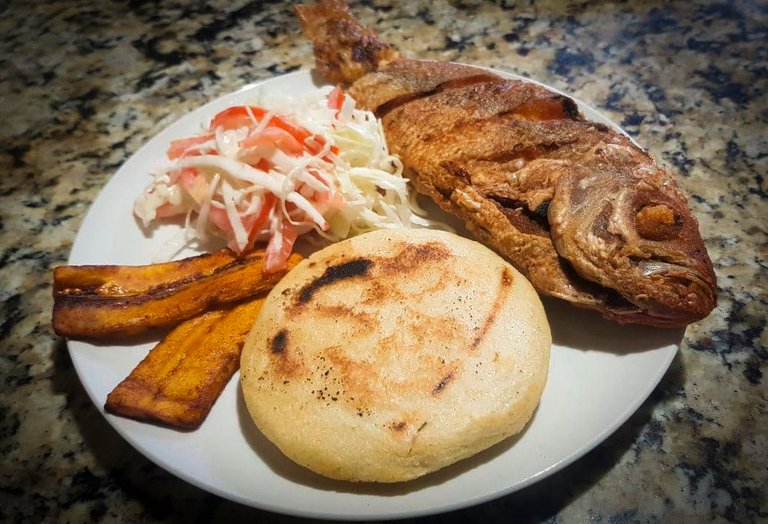 At home we eat little fish, and it is something we regret, because we are aware that it is very healthy, but when we do, we try to eat one that is really delicious and with few bones. That is why when it comes to choosing a fish I opt for those with white and delicate flesh like Red Snapper, this is one of my favorite fish, its flavor is exquisite, and the smell it gives off when you cook it is sublime.
The fried red snapper is easy to prepare, I for example only put a touch of salt and pepper, and straight into the hot oil. When it is frying, the fish's skin starts to get crispy and golden, and the smell that this fish gives off evokes the smell of the sea.

To accompany the fish, I cooked some cornmeal arepas, which is a staple food for every Venezuelan. There are many ways to cook arepas, but I particularly like them roasted in the aripo, so the arepas are crispy on the outside and soft on the inside, just add a little butter and they are glorious by themselves.

Fish and arepas is a combination that with salad and fried plantains is simply perfect. Although I must admit that the addition of avocados would have made this meal a sensation.
For the salad I selected some fresh vegetables, some white cabbage finely cut into strips, cucumber pieces, slices of fresh red tomatoes and some diced onion; dressed with a spoonful of mayonnaise, salt and lemon.

As I mentioned, the fried ripe plantain could not be left out, it adds an exquisite sweetness to the palate and is a must in this dish.

Now that everything is ready, we are ready for the best moment of every meal, and I am not only referring to the tasting, but also to the sharing with the family. A dish like this gives a lot to talk about at the table, because its flavors and smells are able to transport you to relive anecdotes and experiences of pleasant shared moments...that's when we say, bon appetit!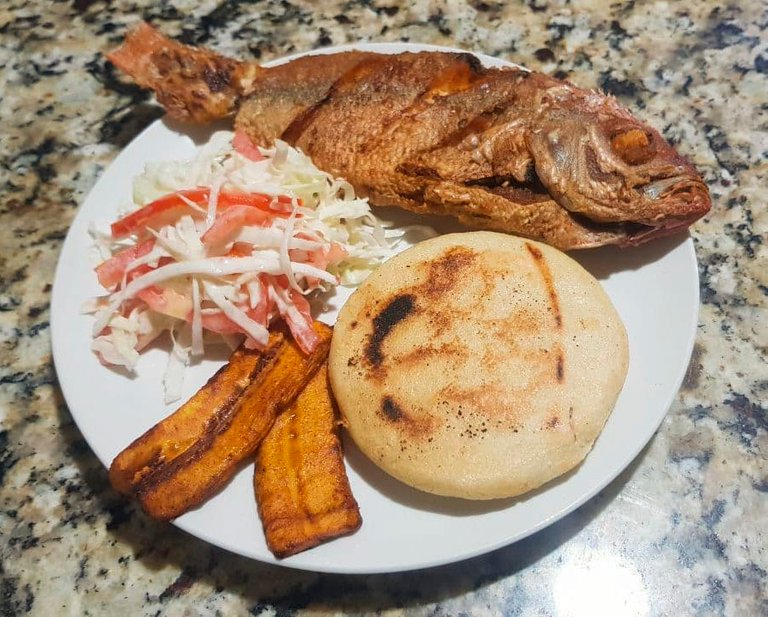 All photographs in this post were taken by me with a Samsung S9 phone.

ESPAÑOL

Hola amigos, hoy les quiero presentar un delicioso plato que acostumbro comer cuando viajo con mi familia a la playa.
Cuando estoy a orilla de playa contemplando el mar y llega la hora de comer, no hay mucho que seleccionar del menú, para mí la primera opción siempre es pescado frito, no podría ser otra. Sin embargo, como el confinamiento nos aleja de la posibilidad de ir a la playa y vivir momentos así de maravillosos, entonces quise recrear un poco de esa gastronomía playera en casa.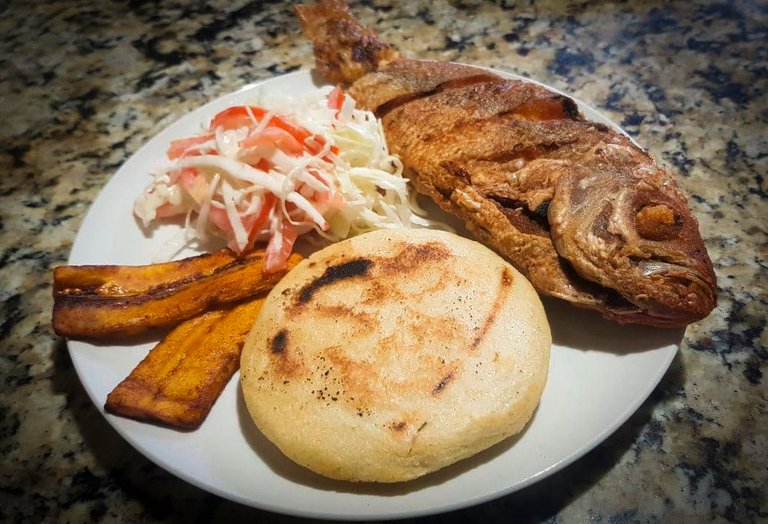 En casa consumimos poco pescado, y es algo que lamentamos, porque estamos conscientes que es muy saludable, pero cuando lo hacemos, procuramos comer uno que sea realmente delicioso y con pocas espinas. Por ello a la hora de elegir un pescado me decanto por los que son de carne blanca y delicada como la del Pargo Rojo, este es uno de mis pescados favoritos, su sabor es exquisito, y el olor que desprende cuando lo cocinas es sublime.
El pargo rojo frito es de fácil preparación, yo por ejemplo solo le puse un toque de sal y pimienta, y directo al aceite caliente. Cuando se está friendo comienza a ponerse la piel crujiente y dorada, y el olor que desprende este pescado, evoca irremediablemente el olor del mar.

Para acompañar el pescado, cociné unas arepas de harina de maíz, que es una comida insigne para todo venezolano. Hay muchas formas de cocinar las arepas, pero a mi particularmente me gustan asadas en el aripo, así las arepas quedan crujientes por fuera y suavecitas por dentro, solo le colocas un poco de mantequilla y ya por si sola son gloriosas.

Pescado y arepas es una combinación que acompañada de ensalada y tajadas es sencillamente perfecta. Aunque debo reconocer que haber incorporado aguacates, habría hecho de esta comida toda una sensación.
Para la ensalada seleccioné unos vegetales frescos, un poco de repollo blanco finamente cortado en tiras, trozos de pepino, rodajas de tomates rojos frescos y un poco de cebolla cortadas en cuadritos; aderezada con una cucharada de mayonesa, sal y limón.

Como les mencioné, no podía quedar por fuera el plátano maduro frito, este le aporta un exquisito dulzor al paladar y resulta infaltable en este plato.

Ya con todo preparado, estamos listos para el mejor momento de toda comida, y no me refiero solo a la degustación, sino al compartir en familia. Un plato como este da mucho de que hablar en la mesa, porque sus sabores y olores son capaces de transportarte para revivir anécdotas y experiencias de gratos momentos compartidos…es entonces cuando decimos, ¡buen provecho!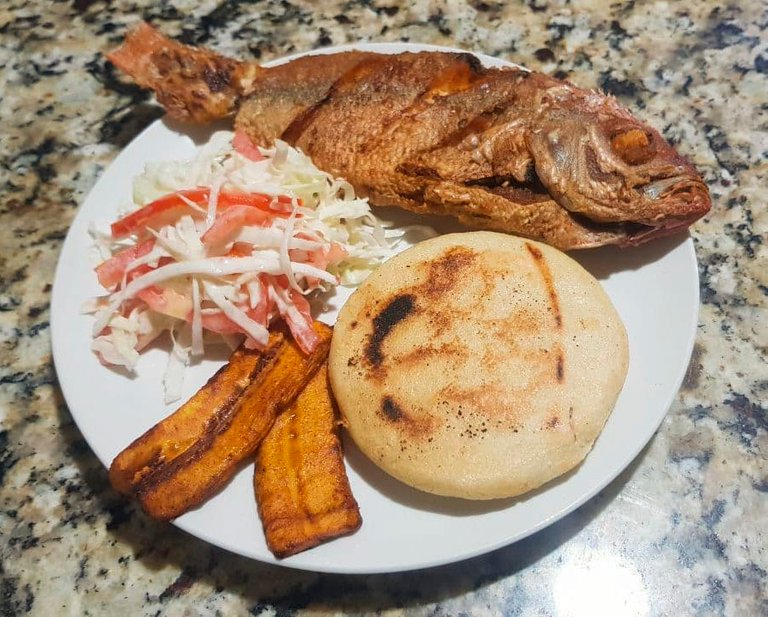 Todas las fotografías de esta publicación fueron tomadas por mi, con un teléfono Samsung S9.