Homemade Cinnamon Rolls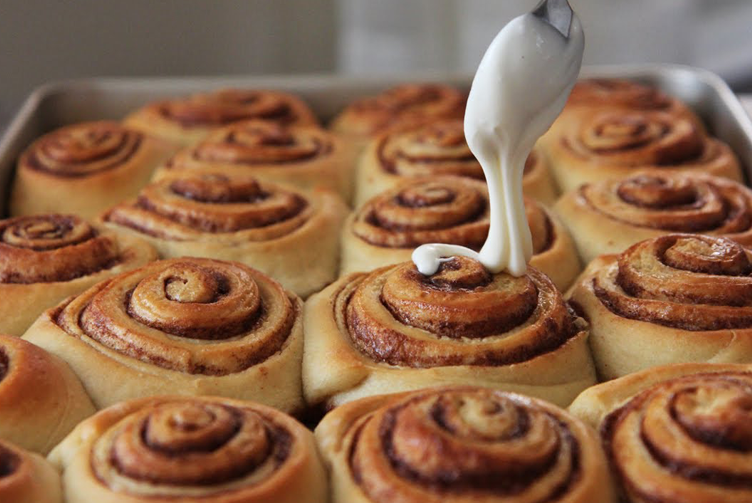 Nothing beats the smell of warm freshly baked Cinnamon rolls. This is a family recipe that has been handed down for generations and altered along the way making the perfect Cinnamon roll. The rolls are my moms version while the cream cheese frosting is from my grandmothers.
What I always find interesting is whenever I make these it instantly takes me back to the moment when I was little in gubgrandma kitchen during the holidays. It's funny how smells can trigger such old memories and bring forth some of the best and most love moments of my life.

Starting Guide
Pre Time: 2 Hours
Cooking Time: 30 minutes
Ready In: 2 hours 30 minutes
Level: Intermediate

Ingredients
--- Dough
3 sups of all purpose flour
1/3 cup sugar
1/2 tsp. salt
2 1/4 tsp. instant yeast
1/2 cup milk
1/4 cup water
3 1/2 tbsp. butter
1 egg at room temp.
--- Filling
1/2 cup butter softened
1 1/2 tbsp. cinnamon
1/3 cup sugar
1/4 tsp. salt
--- Cream Cheese Frosting
8 oz. cream cheese
1/2 stick margarine softened
2 tbsp. milk
3 cups confectioner's sugar powdered
1 tsp. vanilla extract

Instructions
Combine flour, sugar, salt and yeast into a large bowl and whisk together equally.
Combine milk, water and butter. Head in microwave until better is melted
Pour wet mixture into dry ingredients and add in room temp. egg. Stir together until a dough forms. If it's too dry add water 1tsp. at a time until it's a smooth consistency.
Flour a hard surface and knead dough for 3-4 minutes and place into bowl that is lightly greased with butter. Let rest for 10-15 minutes
After dough has rested roll dough out on floured surface into a 14x8 rectangle. Smooth softened butter used for filling over the surface of the dough. In a new bowl combine cinnamon, sugar and salt together. Sprinkle across the top of the dough.
Tightly roll dough from the bottom up. Use a knife to slice dough into 10-12 even rolls.
Place rolls into a greased with butter 9 inch glass pie dish.
Cover rolls with aluminum foil for 60-90 minutes allowing the dough to rise double in size.
Check rolls after 60 minutes to see if they doubled in size. If not allow them to keep growing. Preheat over to 375F
Bake rolls for 25-30 minutes until golden brown.
While baking you can make the cream cheese frosting by combining all ingredients together in a bowl.
Once rolls are done baking remove from oven and allow to cool. Once cool spread the frosting over them and ENJOY!
Want more great recipes? Check out my website All Recipes