Hello friends of Foodies bee hive! I hope you are very well, on this side of the world, Argentina, we are leaving the winter season and entering the beautiful spring. That means it's broccoli season! All greengrocers offer broccoli at a very low price, I usually incorporate it into my meals, but today I am going to propose a delicious recipe where broccoli is one of the main ingredients. The recipe is broccoli in bechamel sauce, this could go au gratin and that's it, it's delicious! but I'm a fan of noodles, sorry hahaha
Hola amigos de Foodies bee hive! espero que se encuentren muy bien, de éste lado del mundo, argentina, estamos saliendo de la epoca invernal y entrando en la hermosa primavera. Eso significa que es la epoca del brocoli! Todas les verdulerias ofrecen brocoli a muy bajo precio, yo suelo incorporarlo a mis comidas, pero hoy voy a proponerles una deliciosa receta donde el brocoli es uno de los principales ingredientes. La receta es brocoli en salsa bechamel, este podria ir gratinado al horno y ya, es delicioso! pero soy fanatica de los fideos, lo siento jajaja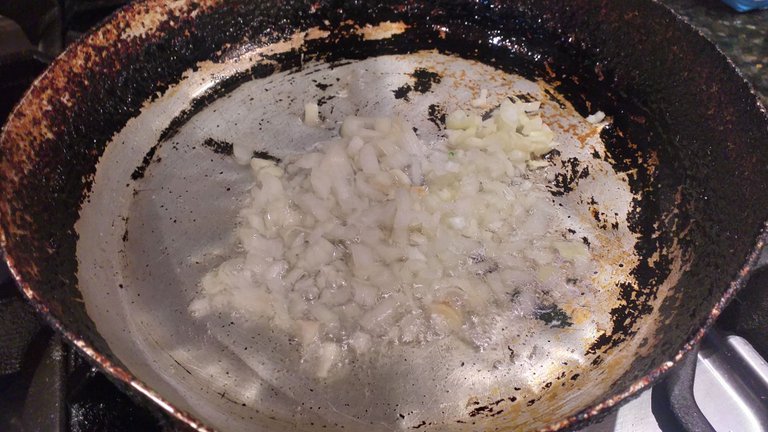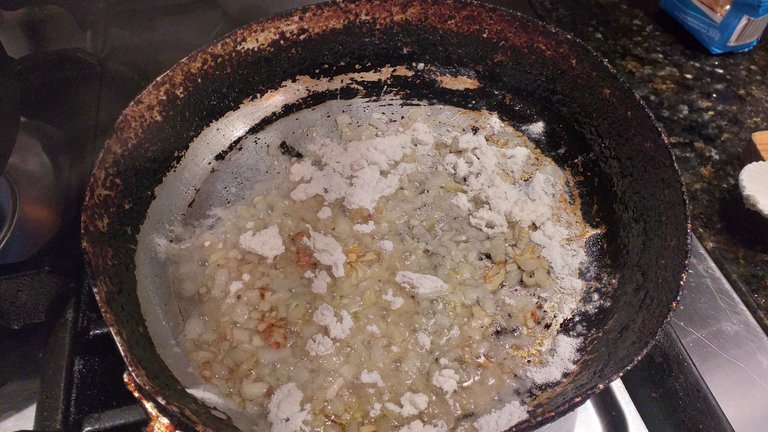 We are going to start with the recipe, in a frying pan with a little butter we are going to sauté onion and garlic cut sooo very little, season. When these are already transparent we are going to start with the base of the béchamel sauce, place a heaping tablespoon of flour, stir.
Vamos a comenzar con la receta, en una sarten con un poco de manteca vamos a saltear cebolla y ajo cortados muuuuy pequeñitos, salpimentamos. Cuando estos ya esten trasparentes vamos a comenzar con la base de la salsa bechamel, colocamos una cucharada colmada de harina, revolvemos.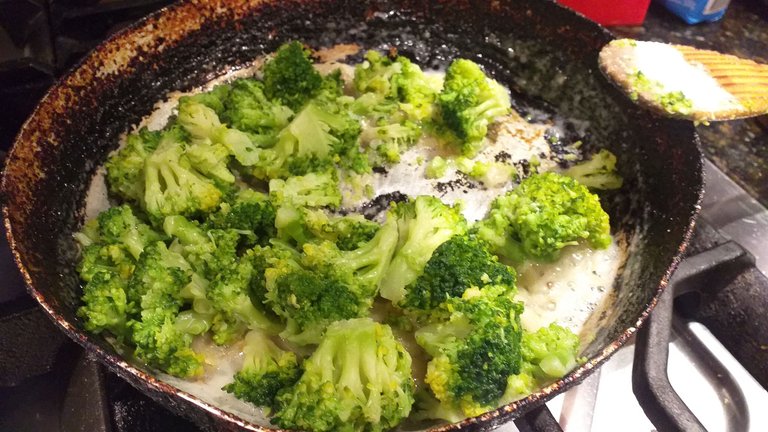 We add our star ingredient: broccoli. (Which was previously boiled) We stir.
Agregamos nuestro ingrediente estrella: el brocoli. (Que previamente fue hervido) Revolvemos.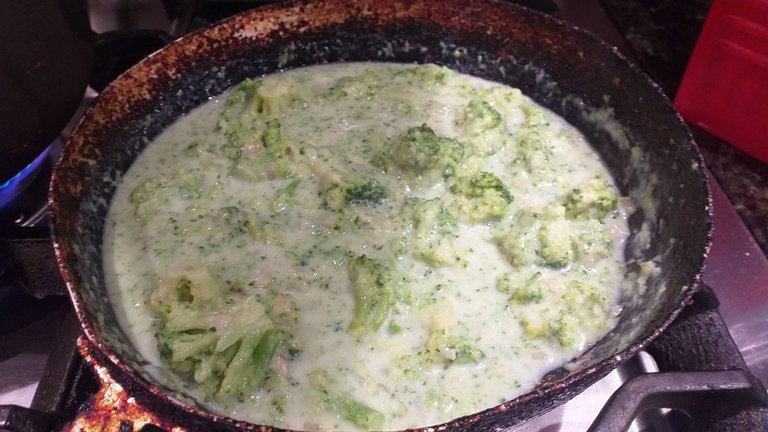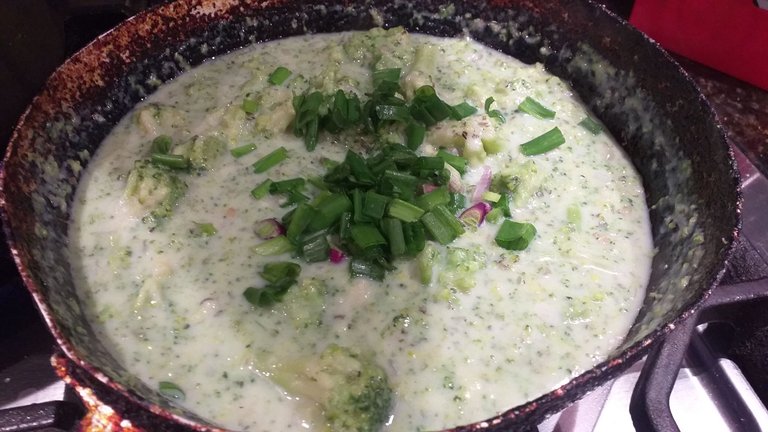 So, we are going to add milk. Preferably already hot. And we are going to stir carefully so that the broccoli does not break too much. Season to taste, the sauce will begin to thicken. It depends how you want it is the amount of milk you are going to add. When you have the desired consistency, you are going to add green onion (essential in my recipes)
Entonces, vamos a agregar leche. Preferiblemente que ya esté caliente. Y vamos a revolver con cuidado de que no se rompa demasiado el brocoli. Condimentamos a gusto, la salsa va a comenzar a espesar. Depende como tu la quieras es la cantidad de leche que vas a agregar. Cuando ya tengas la consistencia deseada vas a agregarle cebolla de verdeo (infaltable en mis recetas)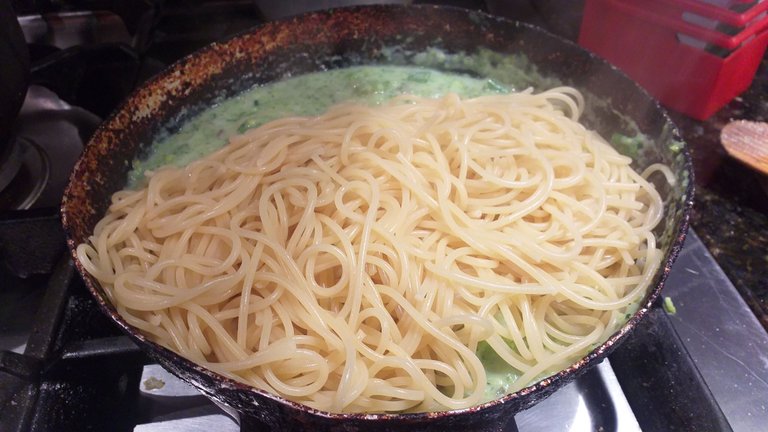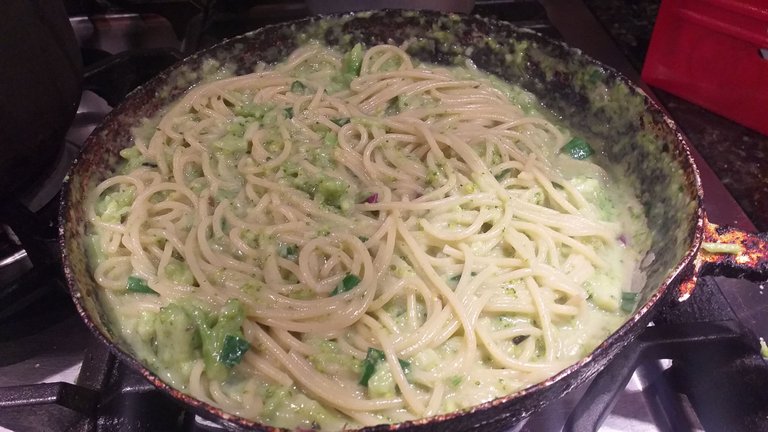 Here the recipe could already be ready, you can transfer it to a source and take it to the oven with Parmesan cheese on the surface, in a few minutes you would have a delicious broccoli gratin ♥ but I boiled some noodles and added them to the sauce.
Aquí la receta ya podria estar lista, puedes pasarla a una fuente y llevarla al horno con queso parmesano en la superficie, en unos minutos tendrias un delicioso brocoli gratinado ♥ pero yo herví unos fideos y se los agregué a la salsa.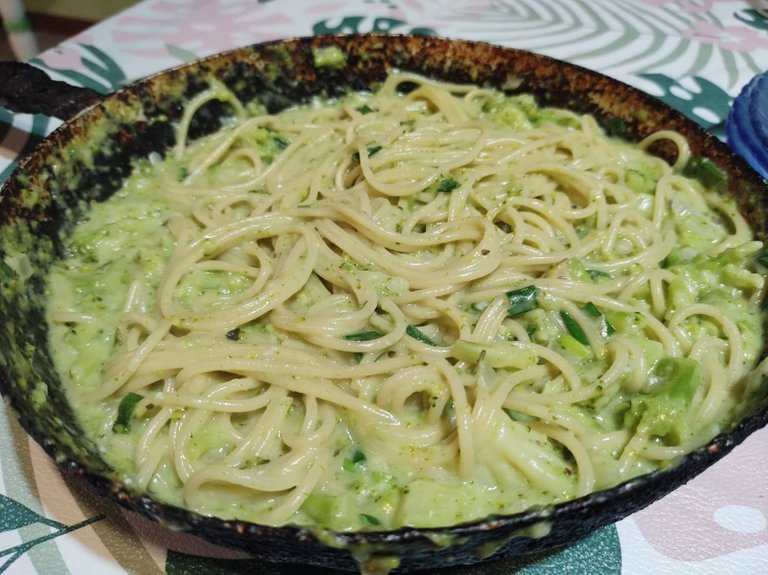 And this would be the finished dish! some delicious noodles with béchamel sauce and broccoli. What do you think of the recipe? as always super simple, and explained as best as possible.
Y éste seria el plato terminado! unos deliciosos fideos con salsa bechamel y brocoli. Que les pareció la receta? como siempre super sencilla, y explicado lo mejor posible.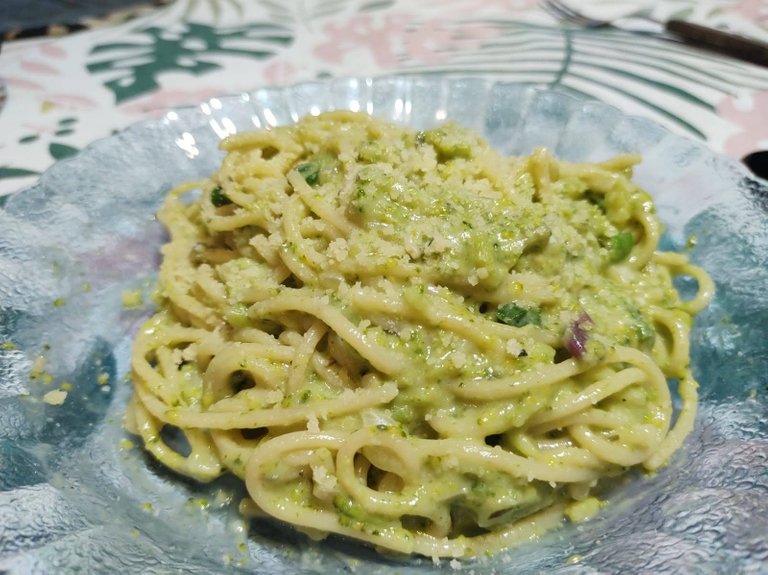 I hope you can replicate this recipe at home, anything, comment or doubt you can leave me a comment below! I will be attentive.


Thank you very much for reading my post!
a kiss and a hug, heypuch ♥




Espero puedas replicar ésta receta en casa, cualquier cosa, comentario o duda puedes dejarme un comentario aquí abajo! estaré atenta. Muchas gracias por leer mi post! un beso y un abrazo, heypuch ♥