Greetings to all those people who represent this community, where each one of us is dedicated to sharing its delights inside or outside the home, in order to leave a good learning experience.
I will share with you an extraordinary recipe for a snack, it is about coconut coquitos, which turned out delicious, apart from the few ingredients I used, it was very satisfying. Here I show you the ingredients and the steps.

Un saludo a todas esas personas que representan esta comunidad, donde cada uno de nosotros se dedica a compartir sus delicias dentro o fuera del hogar, con la finalidad de dejar un buen aprendizaje.
Compartiré con ustedes, de una extraordinaria receta para merendar, se trata de unos coquitos de coco, que me quedaron ricos, aparte con los pocos ingredientes que utilice, fue muy rendidor. Aquí les muestro los ingredientes y los pasos.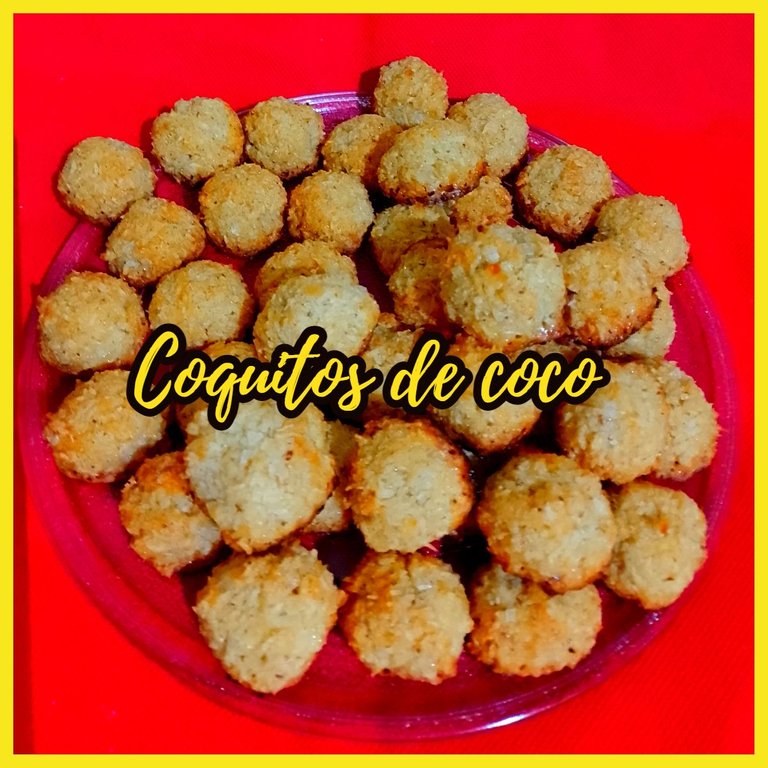 Ingredients:
√ Dried coconut.
√ Sugar.
√ 2 Eggs.
√ Vanilla.

Ingredientes:
√ Coco seco.
√ Azúcar.
√ 2 Huevos.
√ Vainilla.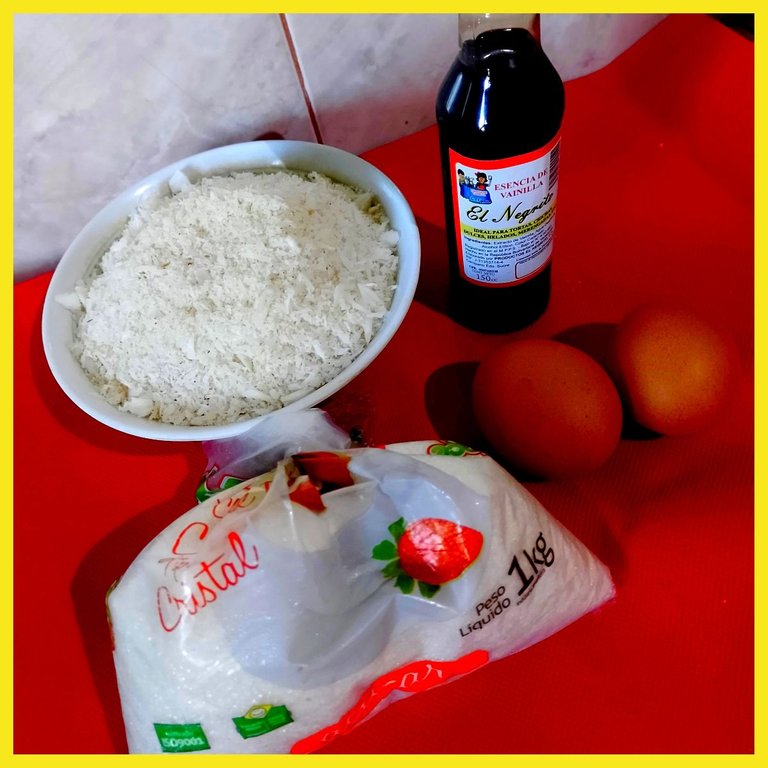 Step 1:
To a container add the 2 eggs, to beat them use a manual mixer.

Paso 1:
A un recipiente agregue los 2 huevos, para batirlos use un batidor manual.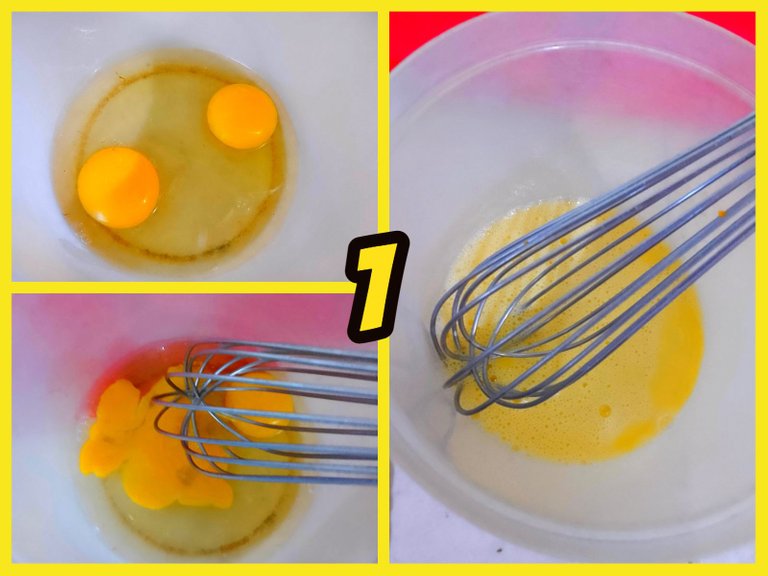 Step 2:
Add a few drops of vanilla to the mixture, then add 150g of sugar and continue beating. Now I put the 150g of dry coconut in it, and with a wooden palette I mixed all the ingredients in an enveloping way.

Paso 2:
A la mezcla, coloque unas gotas de vainilla, luego le incorpore 150 g de azúcar y seguí batiendo. Ahora le coloqué los 150 g de coco seco, y con una paleta de madera uni todos los ingredientes de forma envolvente.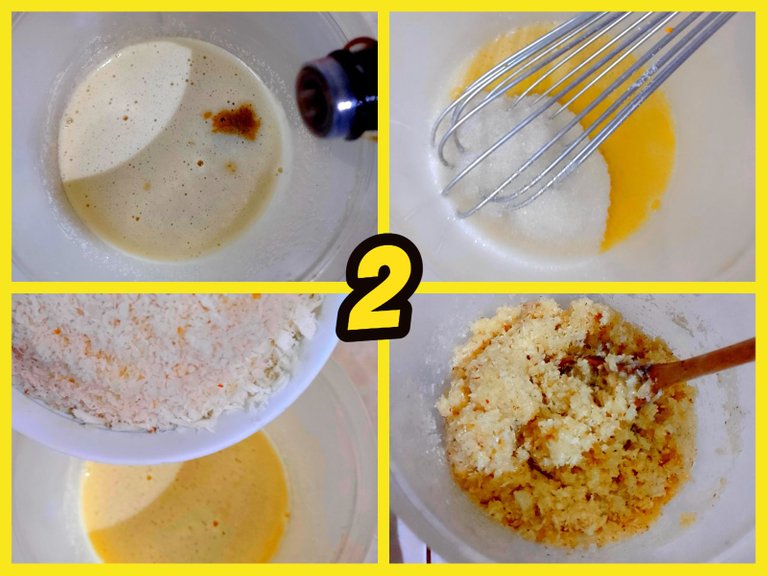 Step 3:
Grease the trays with a little butter, I made several balls, until the spaces were covered, take to the oven over medium heat for 25 minutes when you see that they were already golden, remove from the oven, let rest and carefully serve them on a plate. I tell you that it is very profitable, which I got 2 trays of coquitos, I invite you to try to do it, but that if with just exact measurements, so that the mixture can turn out well, and I assure you that you will eat some delicious coquitos coconut.

Paso 3:
Engrase las bandejas con poca mantequilla, hice varias bolitas, hasta cubrir los espacios, lleve al horno a fuego medio por 25 minutos al ver que ya estaban dorados, retire del horno, deje reposar y con cuidado los serví a un plato. Les digo que es muy rendidor, la cual me salieron 2 bandejas de coquitos, los invito a que intenten en hacerlo, pero eso si con justas medidas exactas, para que les pueda salir bien la mezcla, y les aseguro que se comerán unos ricos coquitos de coco.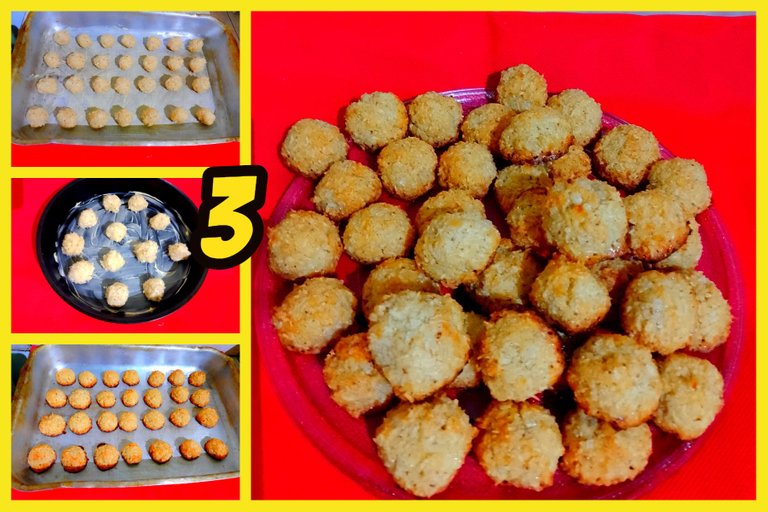 The photos were taken from a Canaima tablet.

Collage making program: Fotojet Link
Translated from google translator Link
Photo editing program: PhotoFiltre 7

Las fotos fueron tomadas desde una tablet Canaima.
Programa para hacer el collage: Fotojet Enlace
Traducido del traductor de Google Enlace
Programa para editar fotos: PhotoFiltre 7

I say goodbye until another opportunity.
Thanks for your support.

Me despido hasta otra oportunidad.
Gracias por su apoyo.

Copyright @imargasa. All rights reserved.