It has been almost a month since my last participation onto HIVE Creative Contest by @zord189. Somehow, this week's title of The Breakfast Recipe called loudly to me. And I figured, it will be good to share what is considered breakfast by my friends here in Vietnam.
Bánh Mì or banh mi is the Vietnamese word for bread. In Vietnamese cuisine, it is also referred to as a type of short baguette with thin, crisp crust and soft airy texture in the inside that is split lengthwise and filled with various savoury ingredients like a submarine sandwich and served as a main meal. Plain banh mi is also eaten as a staple food.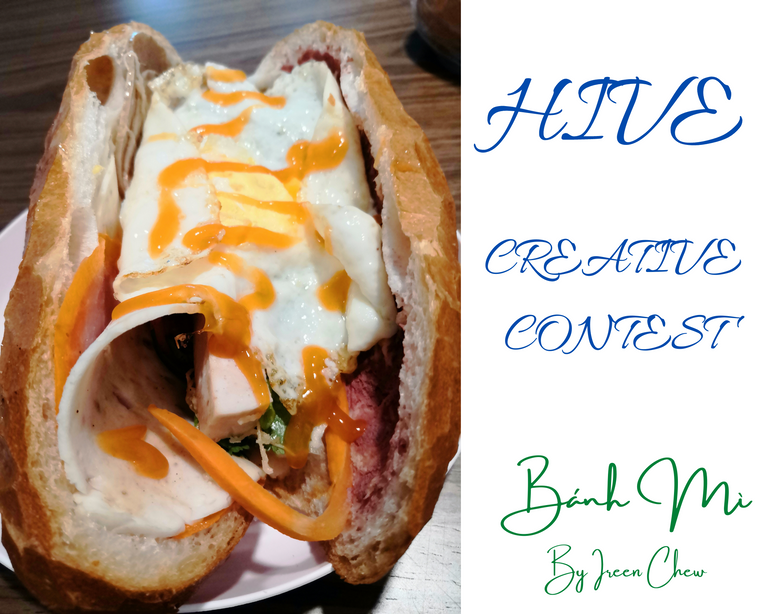 A typical Vietnamese sandwich is a combination of meat and vegetables such as chả lụa (pork sausage), coriander leaf (cilantro), cucumber, pickled carrots and daikon combined with condiments from French cuisine such as pâté, along with sliced chili and mayonnaise. In Vietnam, Bánh Mì are typically eaten for breakfast or as a snack.
Though Bánh Mì is very easily made on our own, many of my friends still choose to buy it on their way to work. People would stop their bikes next to the Bánh Mì stall, place their order and wait a few minutes for their breakfast to be ready. Some would even order their Bánh Mì via Grab Food or Now or Baemin and have it delivered to their homes or offices. Truth be told, delivery service in Vietnam is one of the most dependable industry amongst all; better than in any country, if I can say out loud.
Now, let me share with you my little recipe of Bánh Mì - Malaysian fusion style of course :)
Ingredients :
Meat - Pork Ham & Pork Sausage (lightly fried)
Vegetable - Lettuce, Cucumber, Tomatoes
French Pate - Lobster
Egg - optional (fried)
For the meat, you can also choose other options such as chicken or beef or even sardine fish. If you're on a vegan diet, you may opt out all meat and just enjoy the freshly baked Bánh Mì. It taste just fine as well.
The French pate is a MUST in Bánh Mì and for that I chose to use Lobster Pate since I had brought this from my home in Malaysia. Oddly enough, it was lying in my mom's home for months and no one knew how to eat it nor did I until I came to Vietnam 😁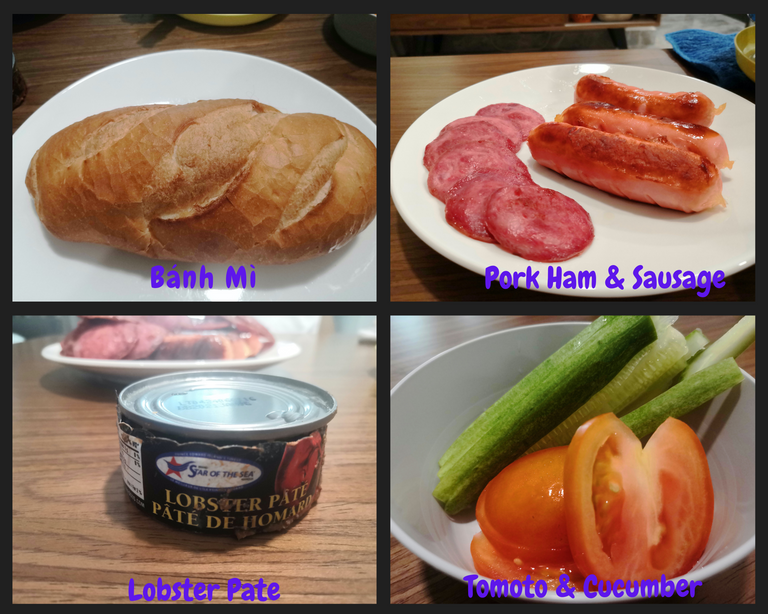 Just as any sandwich, slice the Bánh Mì into half lengthwise. Though I've always prefer to put into the oven for a few minutes so that it's warm and slightly crispy. Spread the inner half with some butter or margarine, followed by a thin spread of Lobster Pate. Then, arrange the lettuce, cucumber, tomatoes, pork ham & sausage as you wish. Lastly, drizzle chilli sauce all over for the finish touch of taste.
Yummy... My breakfast is ready, my first real breakfast for the entire week. Why so? Coz, I don't take breakfast during the weekdays as it's too early to stuff food into my body. However, on weekends I allow myself to indulge in luxury of time, thus the breakfast ME TIME comes in.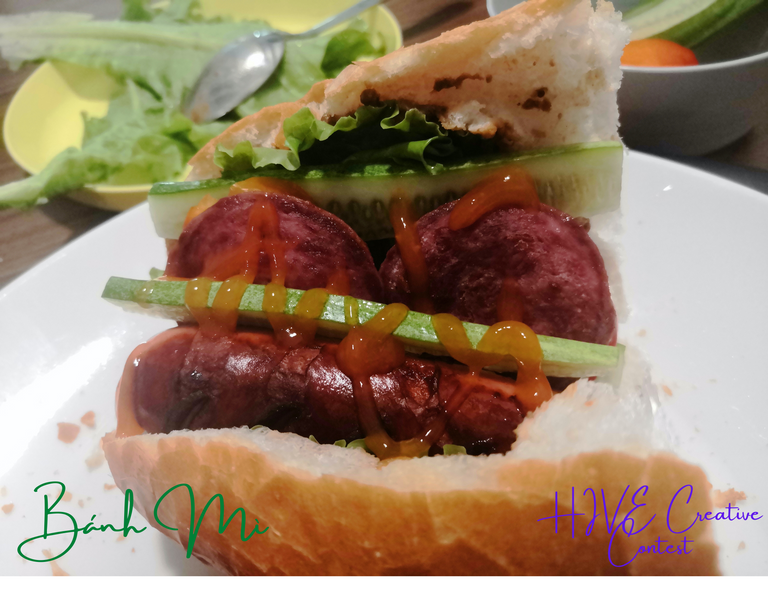 If I were to buy this from the Bánh Mì stall, it would've cost me VND20,000 = MYR3.52 = USD0.86 and save me a lot of mis-en-place & cooking time, not to mention the cleaning up after that. Then again, where is the fun in it... Sometimes, home cooking is fun and kills the time too.
Hope you enjoy my Malaysian fusion Bánh Mì. Easy to prepare and delicious to eat!