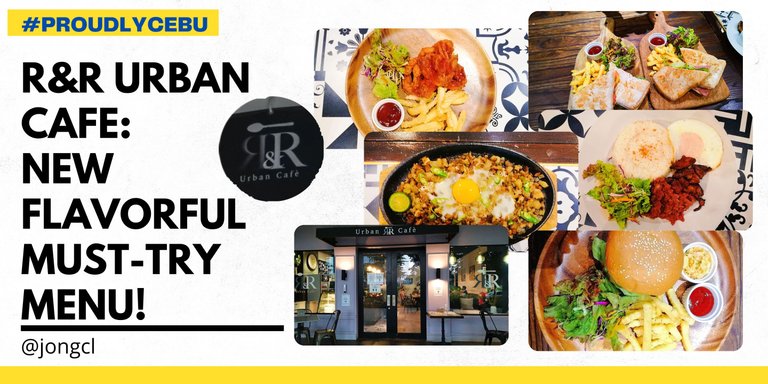 ---
R&R URBAN CAFE
PRESENTING THEIR NEW FLAVORFUL MUST-TRY MENU!
---
Good day, hivers! Last third of July this year, my sister @sassycebuana was invited to attend an onboarding seminar about a new blogging opportunity. I was glad she tagged me along, even though I am very inactive in the blogosphere, because had I not came, I wouldn't be here in Hive. I met lots of awesome people during the event, and it was the beautiful Miss Gilainne @purepinay who explained to us the whole concept of Hive and cryptoblogging in general. (I am thinking of writing another post about how I felt about Hive hehe, so stay tuned.)
The seminar took place in R&R Urban Cafe. It was my first time going to this cafe, and what caught my attention when I entered was their minimalist interiors. For me it is definitely "Instagrammable!"
For today's post, I would like to focus on giving you information on R&R Urban Cafe's new addition to their menu-- and boy, they sure look and taste good! Their new MUST-TRY MENU are the following: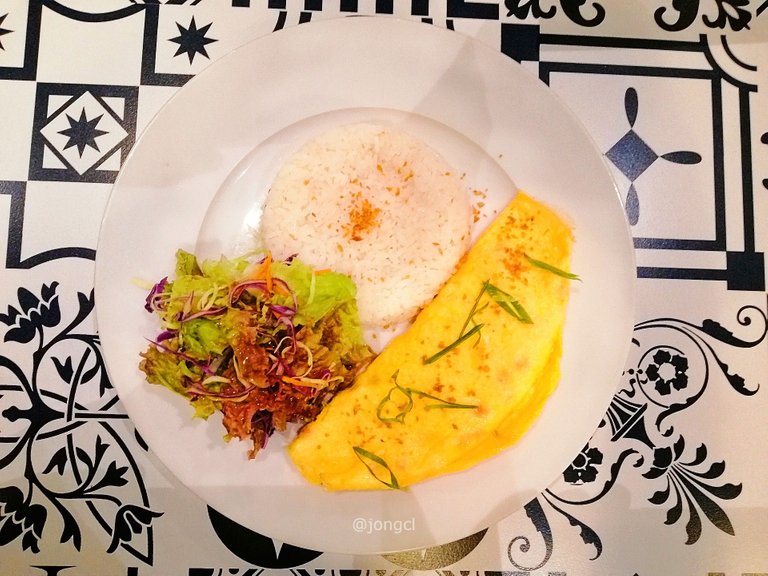 Breakfast Omelette with White Rice 180 PHP Only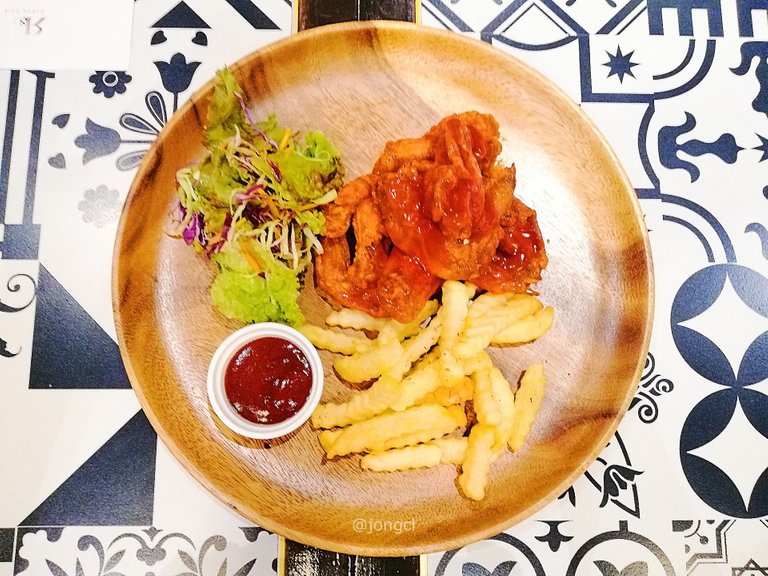 Fried Buffalo Chicken Wings 250 PHP Only (served with fries and lettuce coleslaw)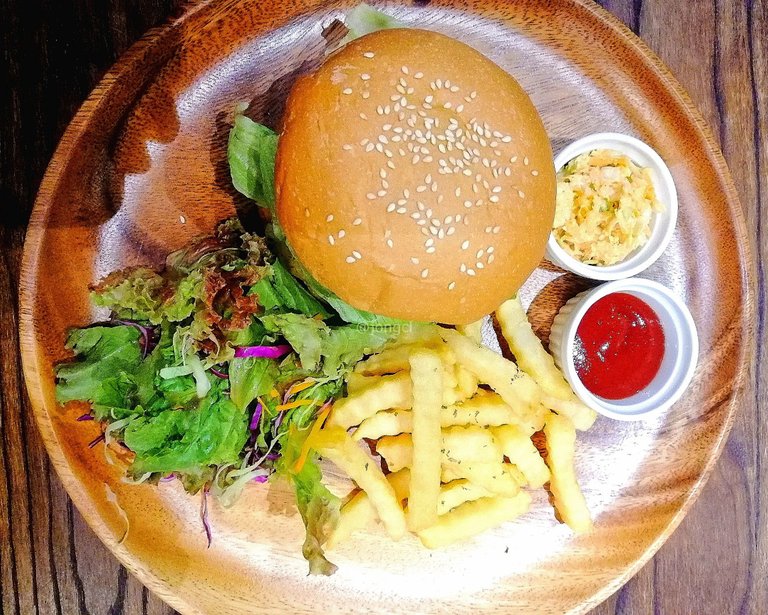 R&R Cheese Burger with Frech Fries 310 PHP Only (served with lettuce coleslaw)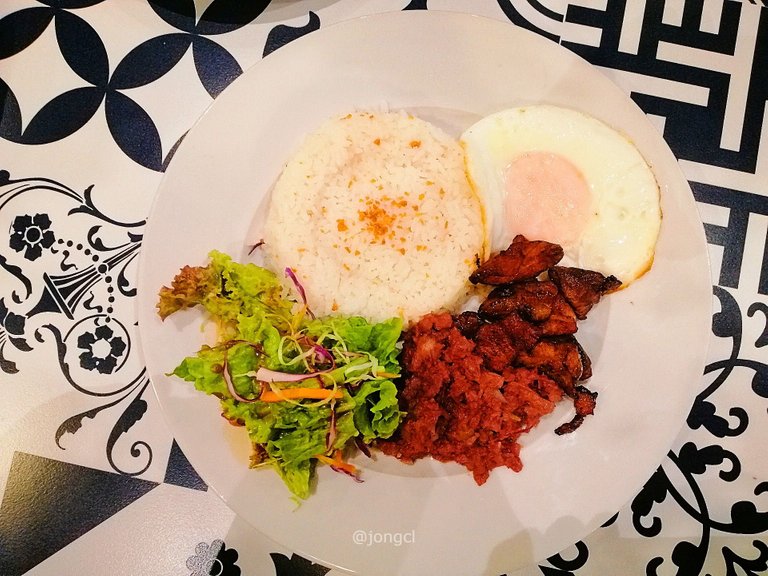 Pork Tocino and Corned Beef with White Rice & Fried Egg 210 PHP Only (served with lettuce coleslaw)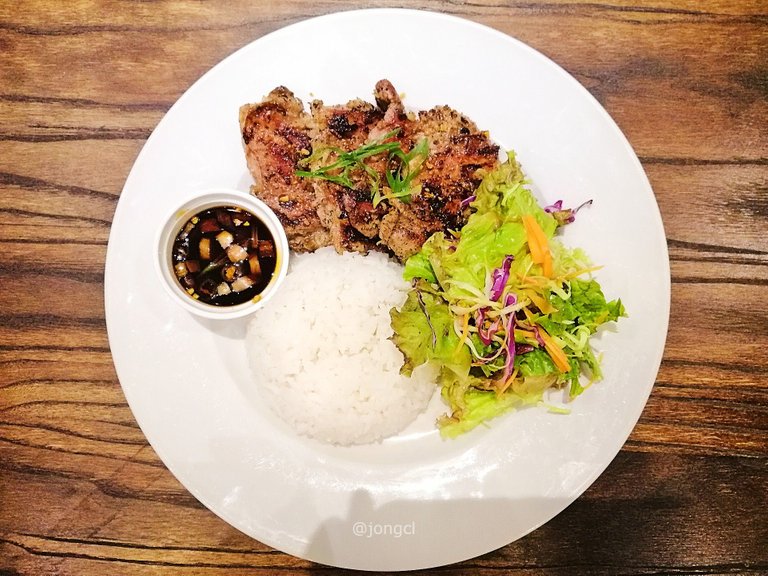 Grilled Chicken with White Rice 310 PHP Only (served with lettuce coleslaw)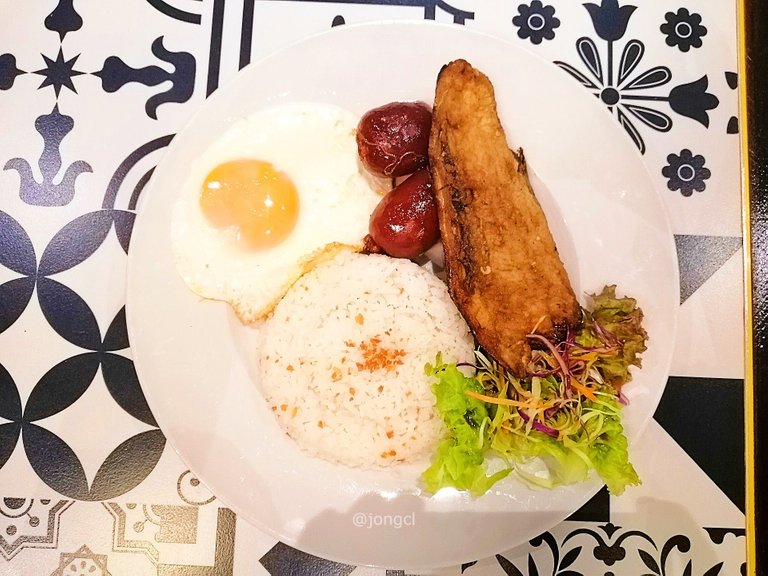 Chorizo and Bangus with White Rice & Fried Egg 190 PHP Only (served with lettuce coleslaw)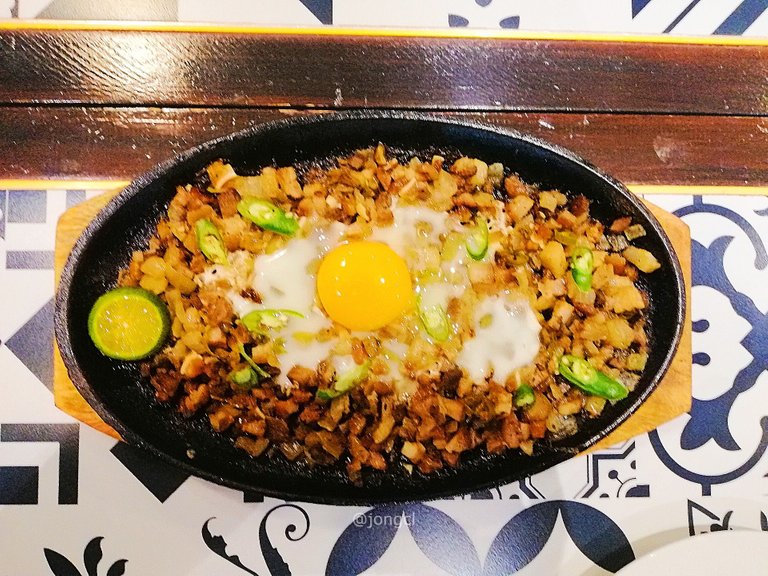 Sizzling Sisig with White Rice 200 PHP Only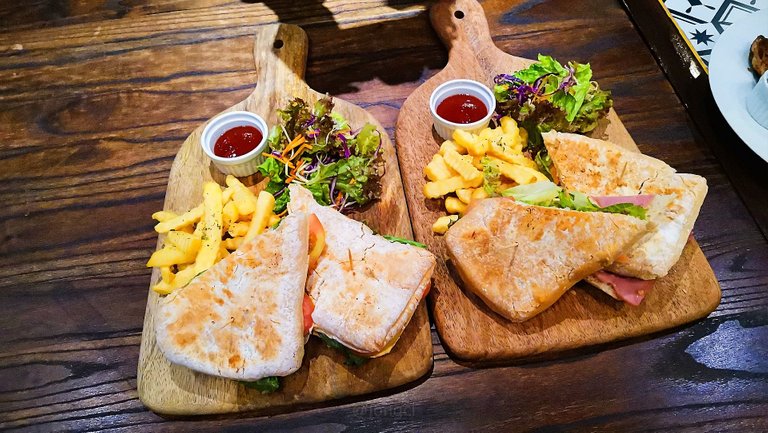 Tuna, Cheese and Tomato Sandwich with French Fries 310 PHP Only (Left side of the photo)
Ham, Cheese and Tomato Sandwich with French Fries 290 PHP Only (Right side of the photo)
(Both served with lettuce coleslaw)
---
MY COMMENTS
Reacting to their new menu
---
I was so lucky to be able to taste everything on their NEW menu. Yay! Both their sandwiches taste good, the bread is just right-- not too hard nor too soft, but I prefer the tuna since it is so creamy and just yummy. Their signature burger is YUUUUMMMM, too!!! The beef patty is so juicy and full of flavor! It would be something I want to eat again when I go back there. Their fried buffalo chicken wings are so tasty as well. The sauce is perfect and goes well with the well-cooked chicken. My super favorite is their GRILLED CHICKEN!! It is packed with ~amazing~ flavor that delights my taste buds. LAMI KAAYO--terms in Cebuano that are loosely translated as: It tastes so good! I would definitely recommend this dish whenever you're in this Cafe!
THEIR NEW MENU IS A MUST-TRY BECAUSE THEY TASTE SO, SO GOOD BUT SO AFFORDABLE. YAY!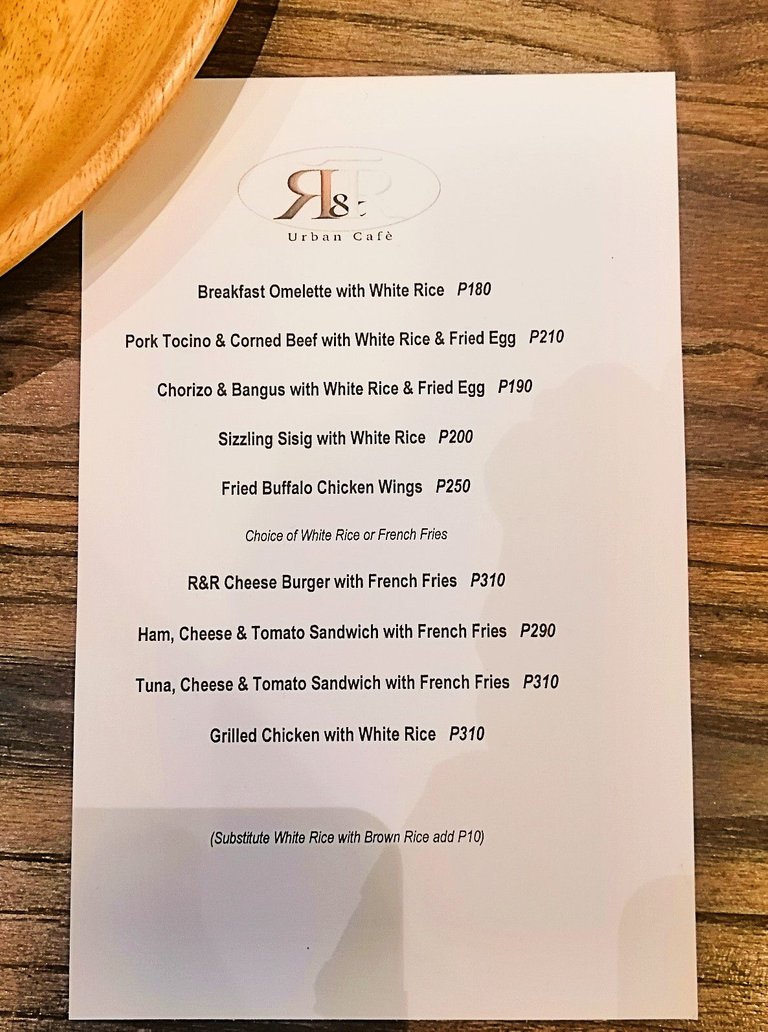 Here is a copy of their new menu-- just in case you might need it *winks, winks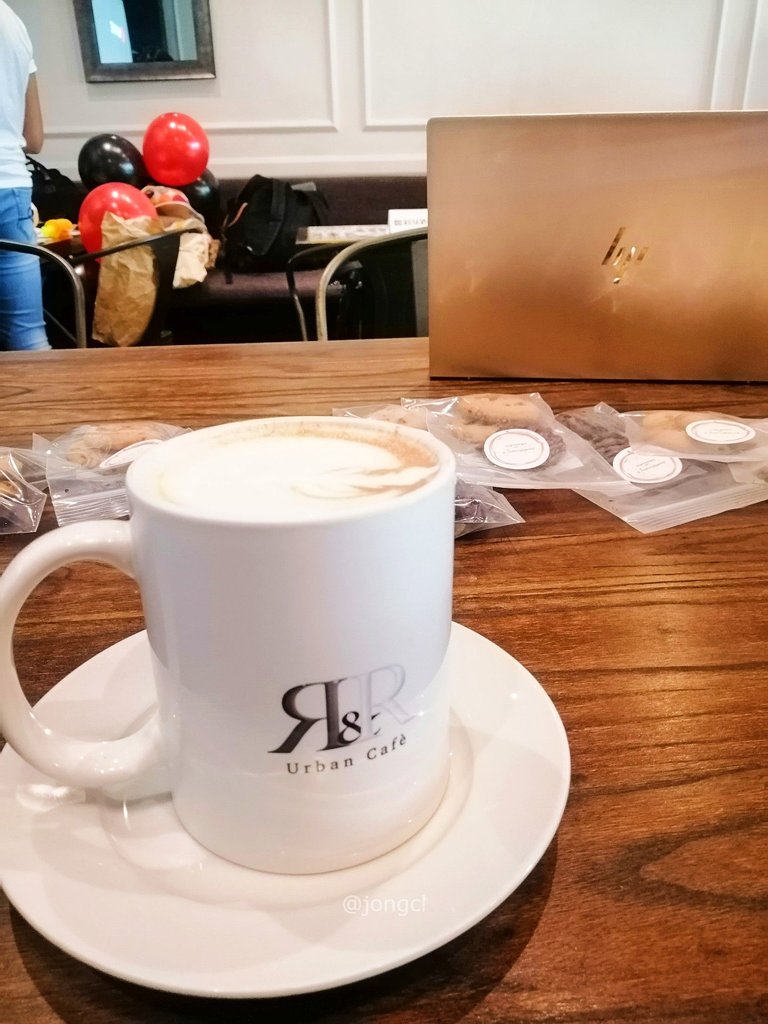 I tried their hot mocha macchiato, too! As a coffee fan, this one's G-O-O-D!! ❤️
---
PHOTOS
---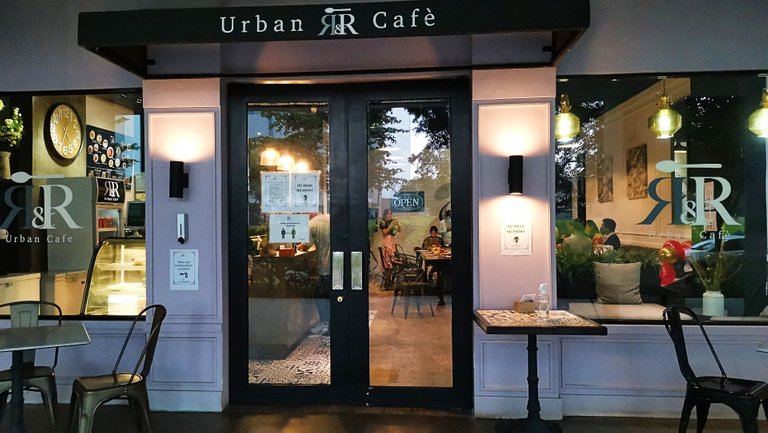 This is how the cafe looks like from the outside. (Pretty and cozy, right?) It is located at Sumilon Road, Ground Floor Tech Tower 6000 Cebu City Central Visayas. It is near Ayala Malls Cebu.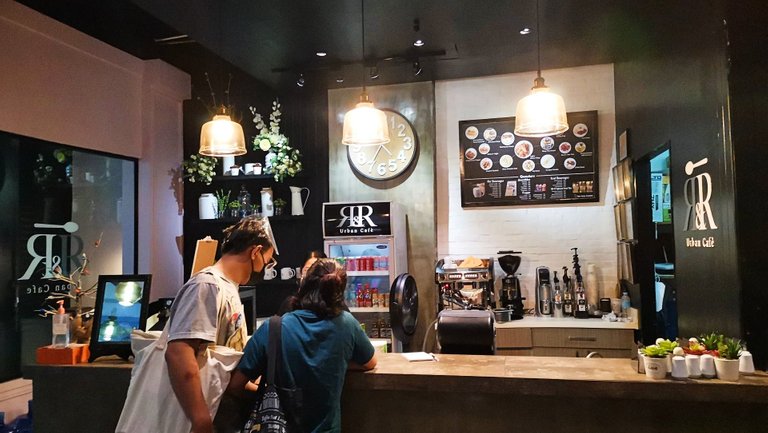 Minimalist black and white interiors <3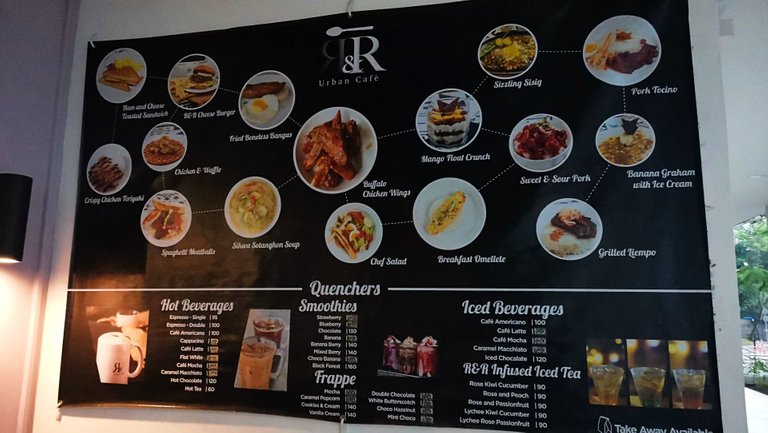 This is their original menu. So many to choose from omg!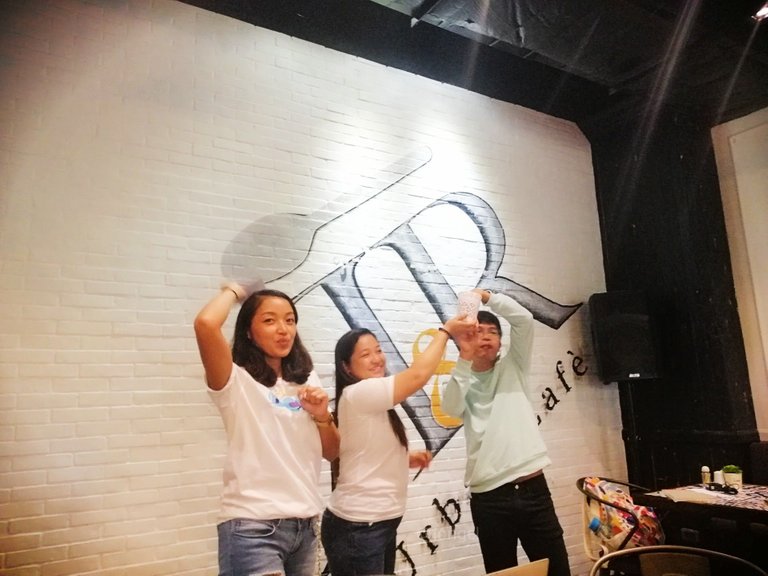 A stolen shot of @purepinay and @ybanezkim26 during the raffle draw <3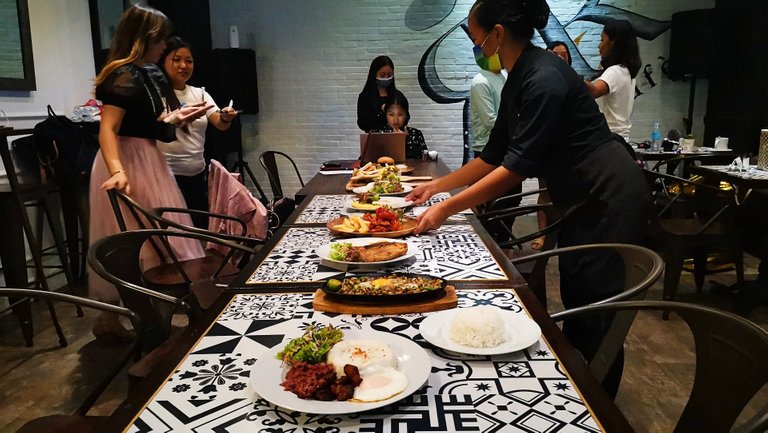 The food was served, yay! The whole cafe smelled so, so good during this part lol.
'Til the next post, hivers! Remember that you are loved beyond borders and beyond time & space. Okay? Okay. 💛❤️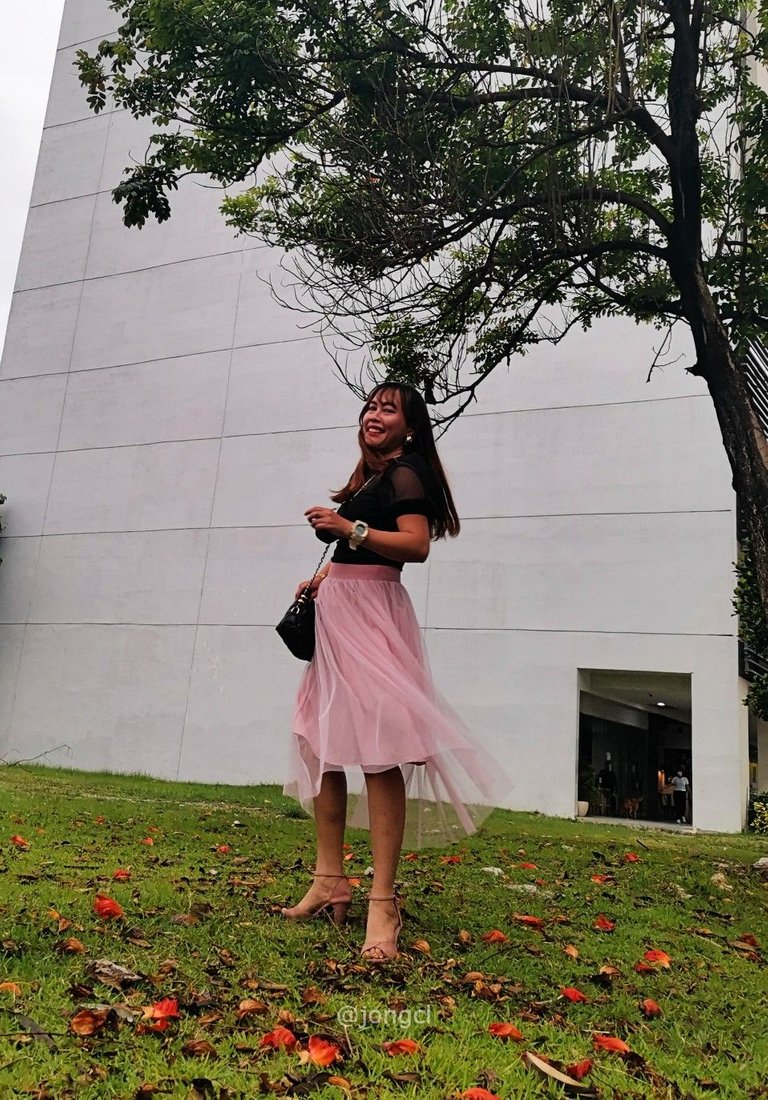 Ciao for now! 🤗🥰
---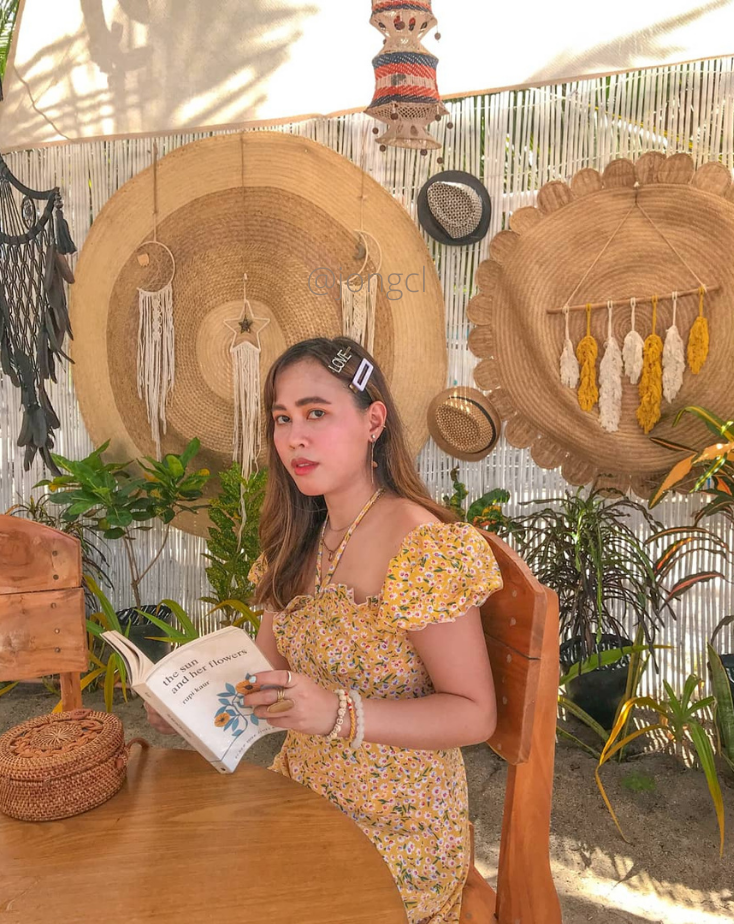 Jong CL
Hive-llo, everyone! Welcome to Jong's little buzz-y corner in Hive. Jong believes that every person she meets can teach her a thing or two (or three, or more) about life. She shares her love for life here-- the captivating beauty of life! To be more specific, but not necessarily in this order, she's interested in: wisdom, love, poetry, single life, books, travel, health&fitness, fashion, gratitude, unspoken hurts, heartbreaks and healing. Lastly, she loves Jesus.
Do you like her content? Make sure to upvote, then! Drop some love by leaving a comment-- she really appreciates listening to your thoughts! 💛 Feel free to reblog if her post resonated with you. Kindly follow her to not miss a post! Happy hiving, loves! 💛