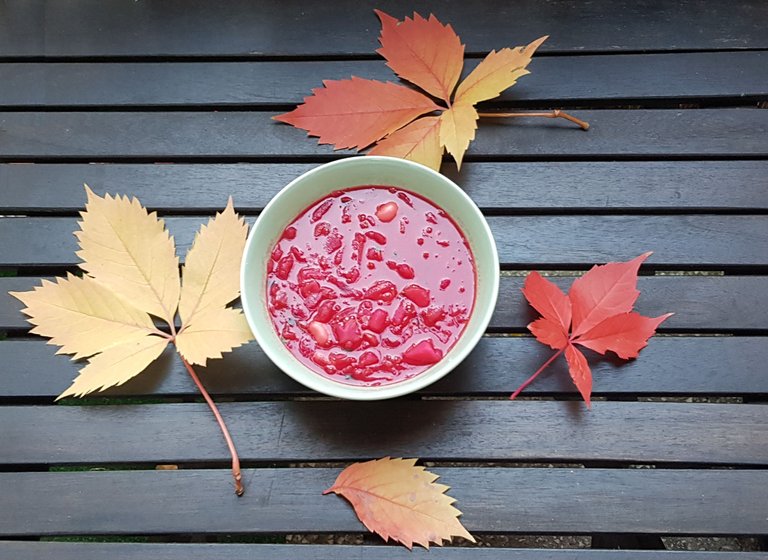 I haven't eaten Ukrainian borscht for a long time and today I decided to make it myself. It's a delicious soup with a variety of ingredients, because we can find white beans, beetroot, some cabbage, carrots and potatoes in it. So there are a lot of vitamins in this liquid dish. When it gets cold, i.e. in autumn and winter, I eat soups more often, which are great for warming up and energizing.
Dawno nie jadłam barszczu ukraińskiego i dzisiaj postanowiłam go sobie zrobić. To pyszna zupa z różnorodnymi składnikami, bo znajdziemy w niej i białą fasolę, buraki, trochę kapusty, marchewkę i ziemniaki. Czyli dużo jest witamin w tej płynnej potrawie. Gdy robi się zimno, czyli jesienią i zimą częściej jem zupy, które fajnie rozgrzewają i dodają energii.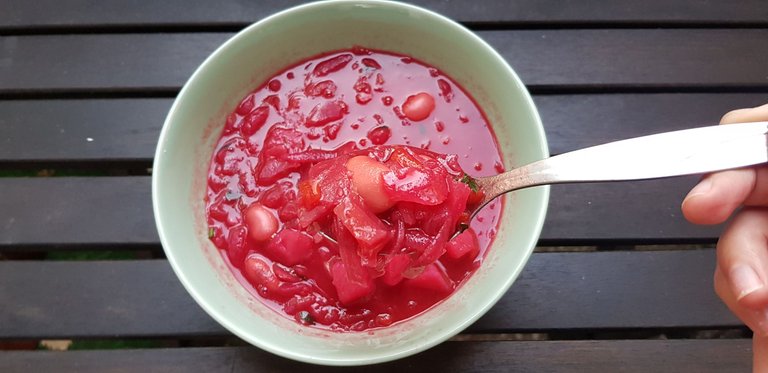 Ingredients:
broth
white beans
beetroot
kale
carrot
potatoes
allspice
Bay leaf
pepper, salt
parsley
onion
celery
butter
Składniki:
bulion
biała fasola
buraki
kapusta włoska
marchewka
ziemniaki
pietruszka
ziele angielski
liść laurowy
pieprz, sól
natka pietruszki
cebula
seler
masło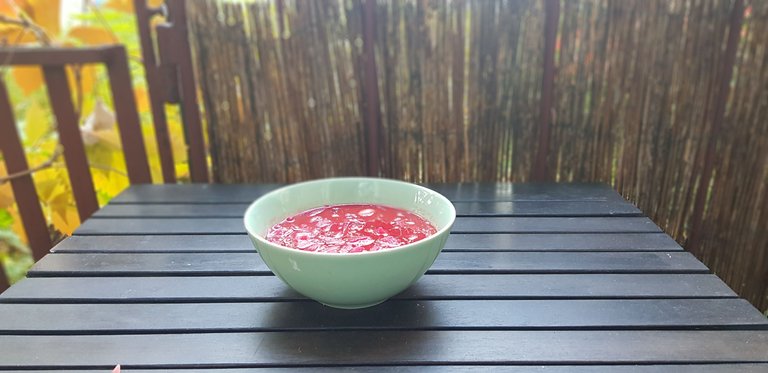 First, dissolve a little butter in a pot and then fry the onion, pieces of carrot, parsley and celery in it. In the next step, add the beetroots cut into small pieces and pour the broth into the pot. We cook the broth with vegetables. Later, add the remaining ingredients to the soup - beans, potatoes cut into small pieces, allspice, bay leaves and spices. We cook the soup for about 25 minutes.
Najpierw rozpuszczamy w garnku trochę masła, a następnie podsmażamy w nim cebulkę, kawałki marchewki, pietruszki i selera. W kolejnym kroku dodajemy pokrojone na małe kawałki buraki i wlewamy do garnka bulion. Gotujemy bulion z warzywami. Później dodajemy do zupy pozostałe składniki - fasolę, pokrojone na małe kawałki ziemniaki, ziele angielskie, liście laurowe i przyprawy. Gotujemy zupę ok. 25 minut.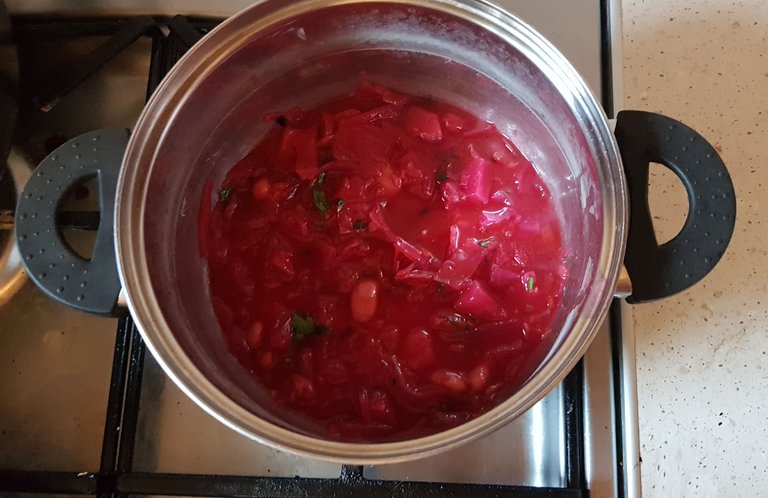 You can sprinkle the soup with parsley. It tastes delicious with the addition of bread. For me, potatoes in soup are never enough, I usually eat soup with pieces of bread. The borscht tasted great, I will be making it more often.
Zupę można posypać natką pietruszki. Pysznie smakuje z dodatkiem chleba. Mi nigdy nie wystarczają ziemniaki w zupie, zazwyczaj jem zupę z kawałkami chleba. Barszcz się udał, świetnie smakował, będę go robić częściej.