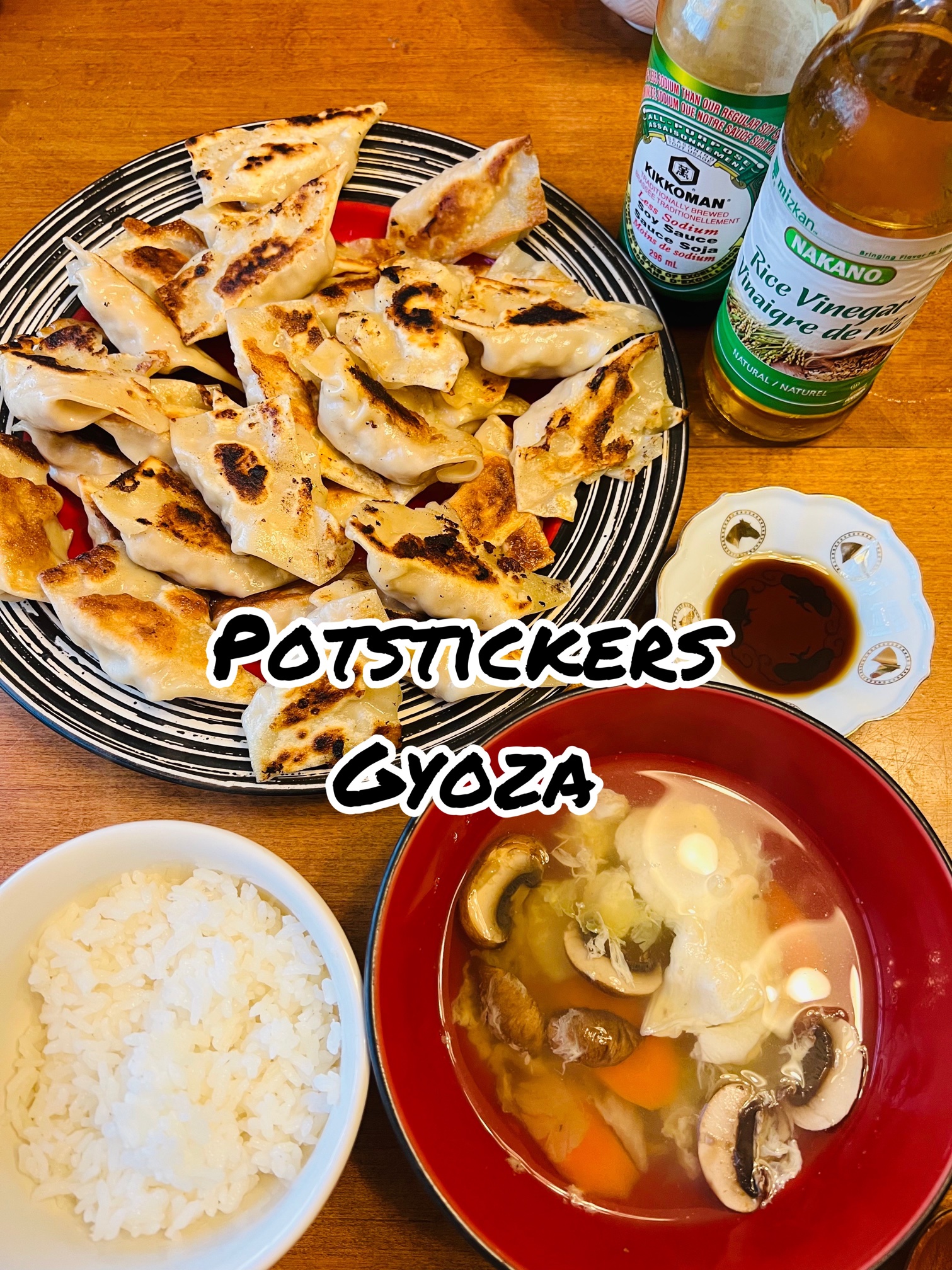 "Potstickers-Gyoza"
I made Potstickers called gyoza (餃子) in Japanese. Gyoza originally came from China and became a very famous Japanese food.
I sometimes make shells by myself in Nova Scotia, Canada because I can't buy gyoza shells all the time in my area. I sometimes find wonton shells or spring roll shells in my area. I use wonton shells for making gyoza if I can't make gyoza shells by myself.
I love gyoza very much! I can't stop eating easily once I start eating.
"餃子"
先日餃子を作りました。中国発祥の餃子は、日本食としてもとっても人気のメニューですね。
住んでいる地域では餃子の皮が手に入らないことが多いので、自分で作ることも多々あります。ワンタンの皮や春巻きの皮はたまに売っていることがあります。餃子の皮を作る暇がない時は、ワンタンの皮を買ってきて餃子を作ります。餃子は大好きです。食べ始めると美味しくて止まらなくなります!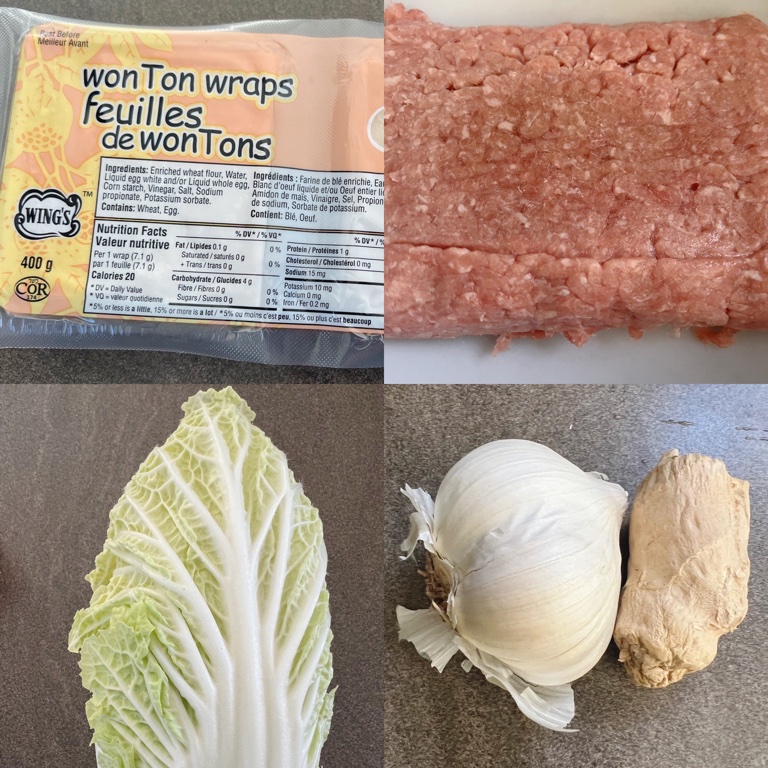 Ingredients
・Gyoza shells 400g
・Ground pork (or beef, chicken) 250g-300g
・Ginger 10-15g
・Garlic 2 pieces
・Chinese cabbage 10-15 leaves
・Water to seal gyoza shells.
・Oil 2 tablespoons
・Water to steam gyoza
Dipping sauce
・Soy sauce
・Rice vinegar
If you like add chili oil.
Cooking time about 1 hour including the preparation time.
材料
・餃子の皮 400グラム
・豚肉 (牛肉または鶏肉でも良い)250〜300グラム
・しようが 10〜15グラム
・ニンニク 2かけ
・白菜 10〜15枚
・水 餃子を閉じるため
・水 餃子を蒸す用
・油 大さじ2
つけだれ
・醤油
・酢
ラー油をお好みで。
調理時間は準備時間を含めて約1時間。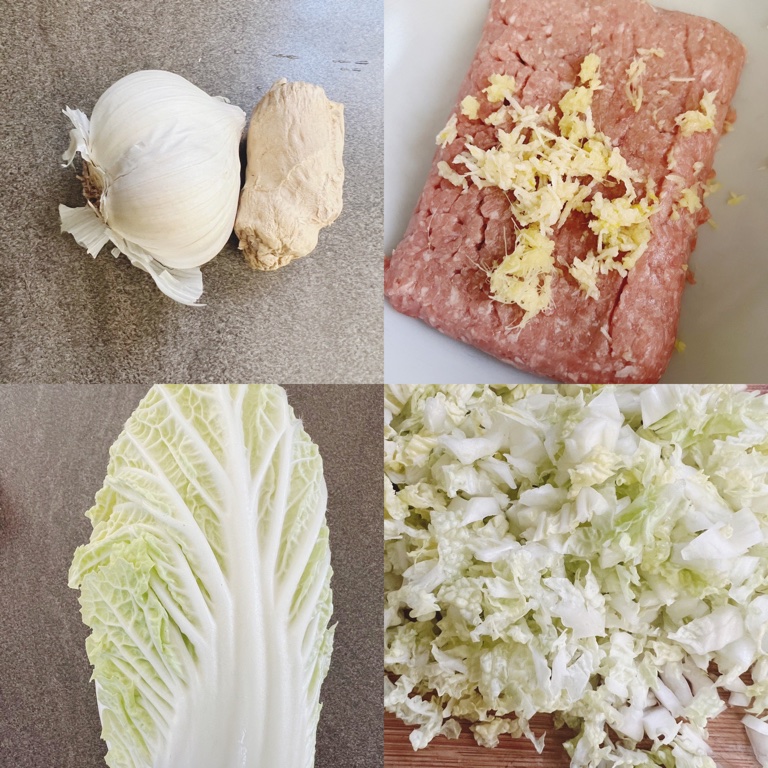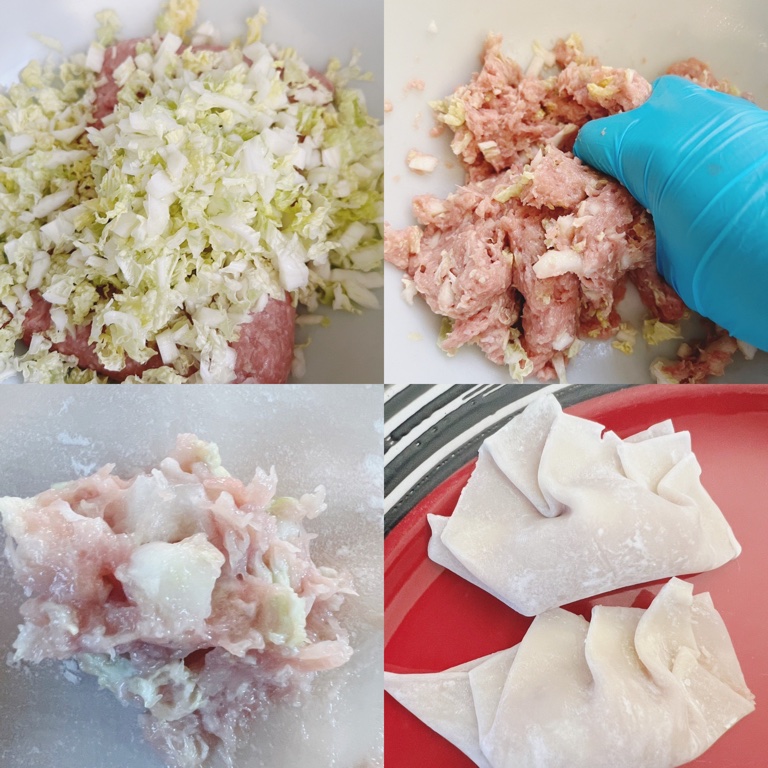 Peel ginger and garlic, grind them, and add into meat in a bowl.
Chop Chinese cabbage into small pieces, and add into the bowl.
Mix everything.
Put one tiny scoop with a teaspoon on a gyoza shell.
Wrap it and make folds, put water on the edge of the shell, and seal it.
1、しょうがとニンニクの皮を剥いて、ボールに肉と一緒に入れる。
2、白菜を細かく切ってボールに加える。
3、混ぜ合わせる。
4、小さじで少し餃子のタネをすくって、餃子の皮にのせる。
5、タネを包みこんで、ギャザーをよせ、淵に水をつけて閉じる。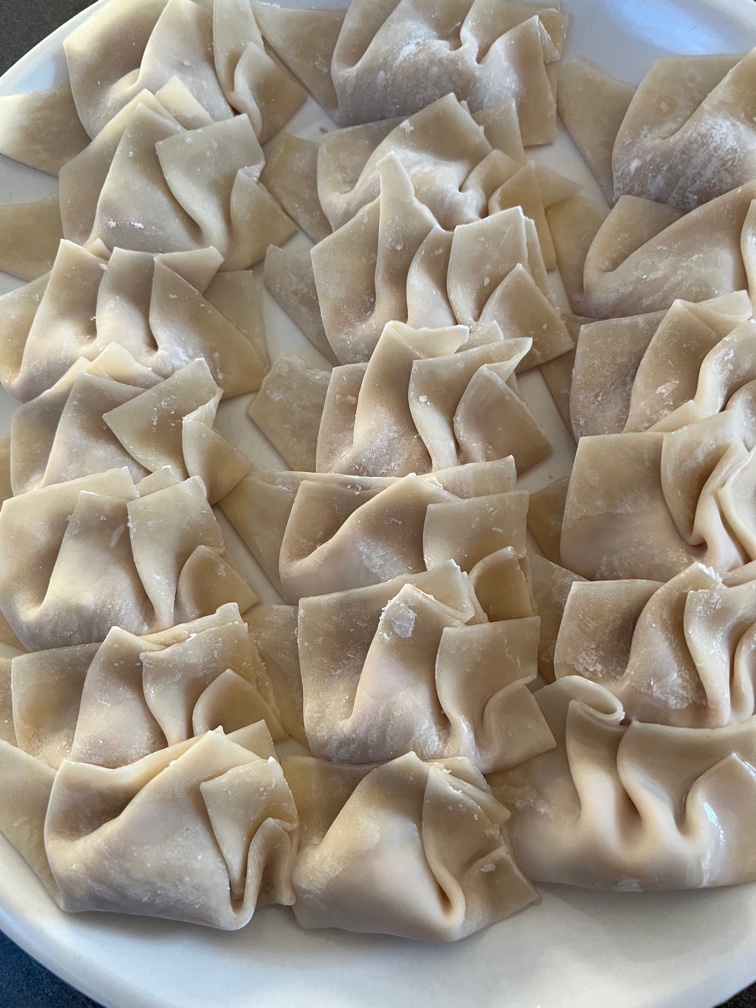 Done! Freeze some for next time if you like.
出来ました!多すぎる場合は冷凍するとよいです。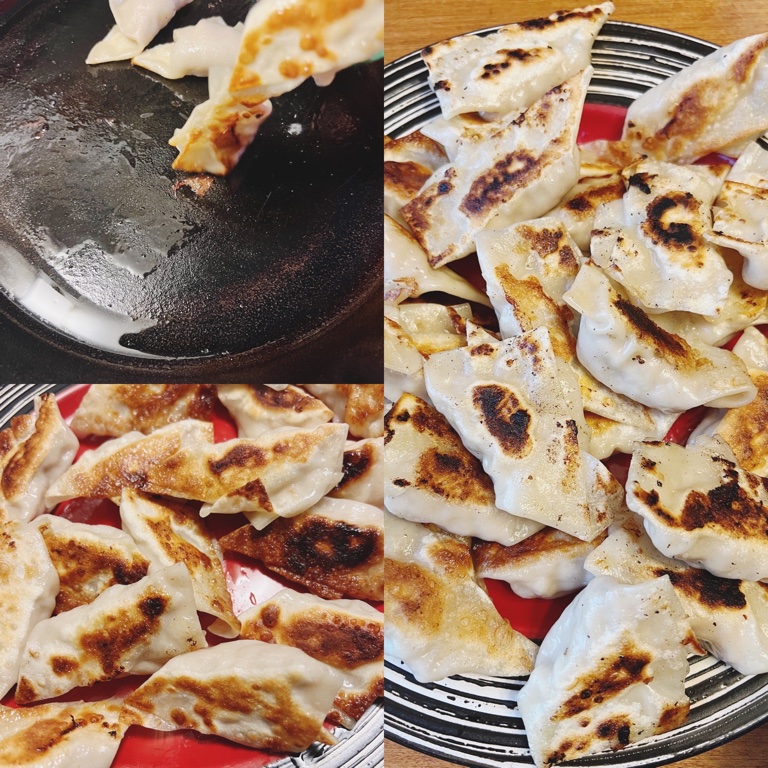 Heat a frying pan.
Put gyoza on the pan.
Cook them until they will become brown on the bottom at medium-high heat.
Pour water, put on the lid, steam and cook them for a while until gyoza become half clear (let all water evaporate).
1、フライパンを熱する。
2、餃子をフライパンにのせる。
3、強火〜中火にしながら餃子に焦げ目がつくまで焼く。
4、水を流し入れ、蓋をして、餃子の皮が半透明になるまで蒸し焼きにする。(水分は全部とばす)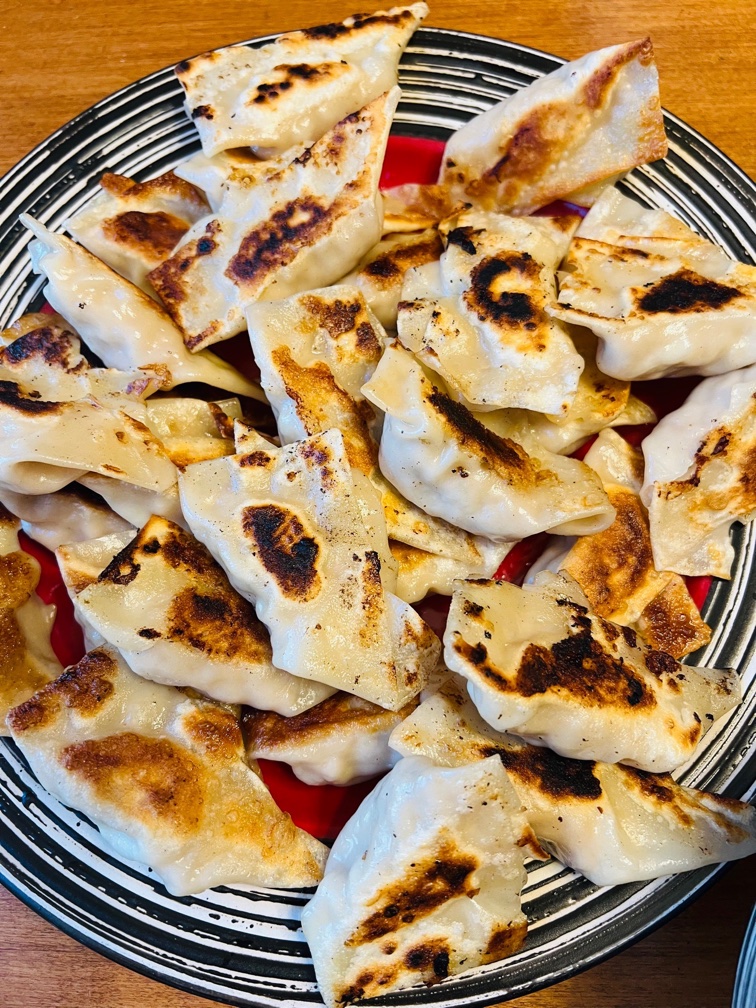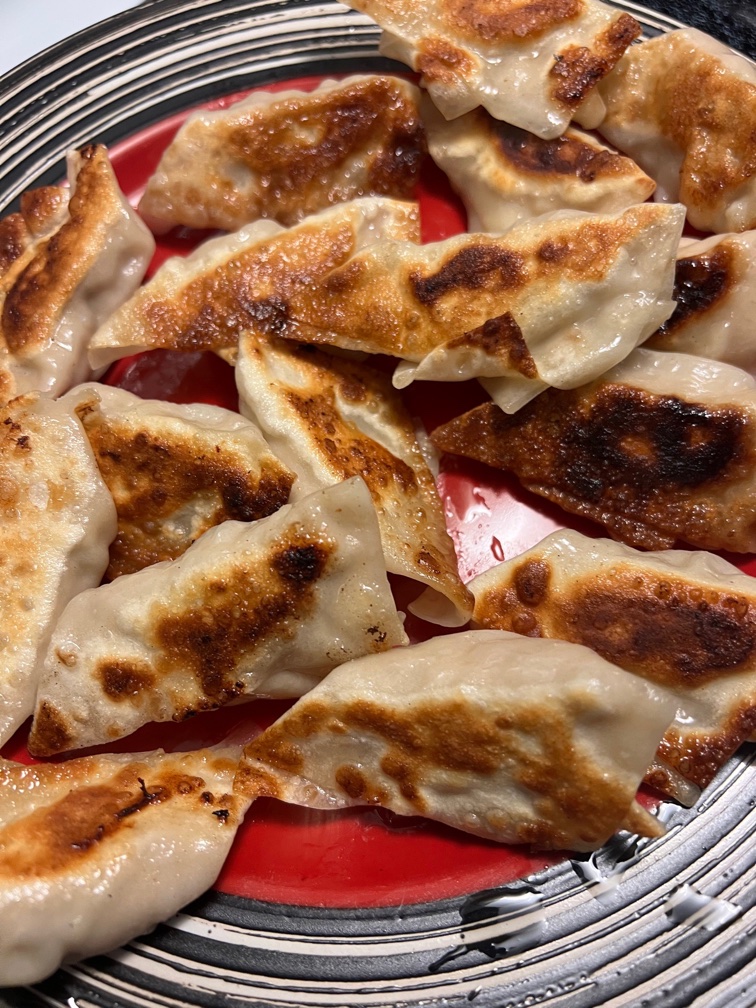 My husband is very good at making gyoza. I prepare and make gyoza and he cooks it usually.
わたしの主人は餃子を焼くのが上手です。大抵わたしが準備して餃子を作り、主人に焼いてもらう流れです。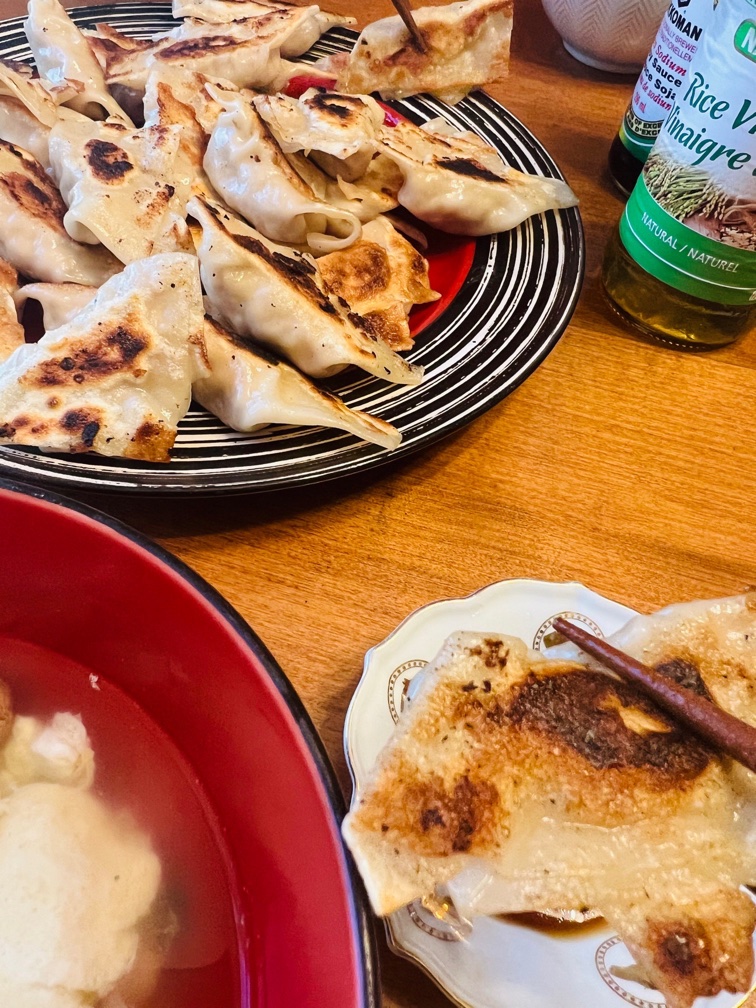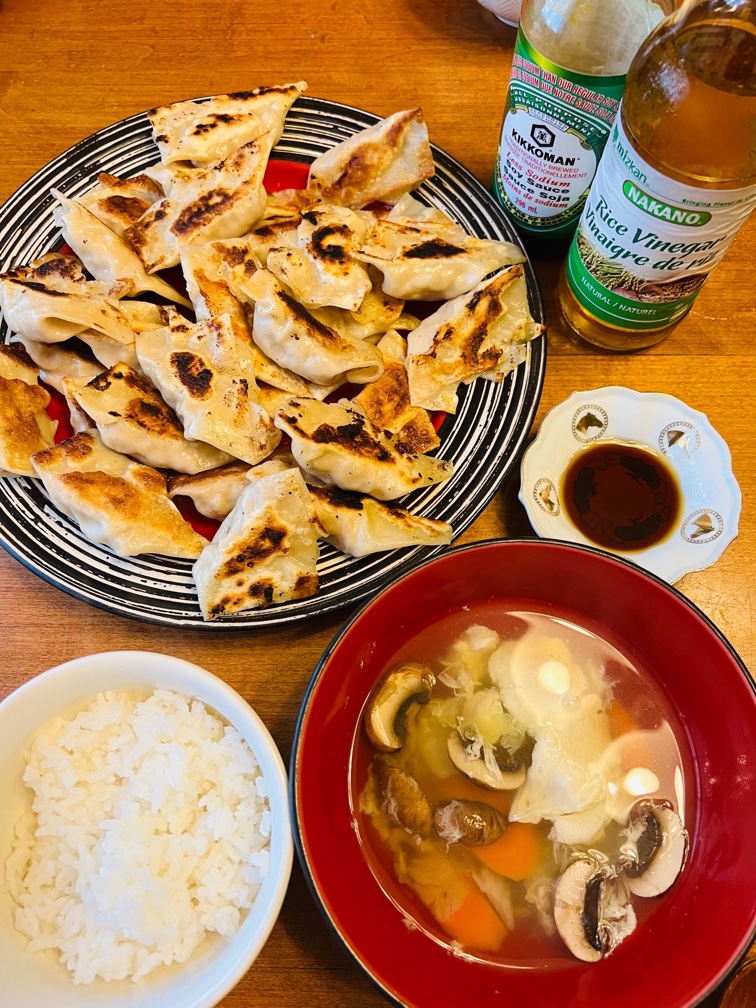 I dipped into soy sauce and vinegar sauce and had them with rice and miso soup. I couldn't stop eating. They were so sticky and soft.
醤油と酢につけて、ご飯と味噌汁と一緒にいただきました。もちもちで美味しくて箸が進みました!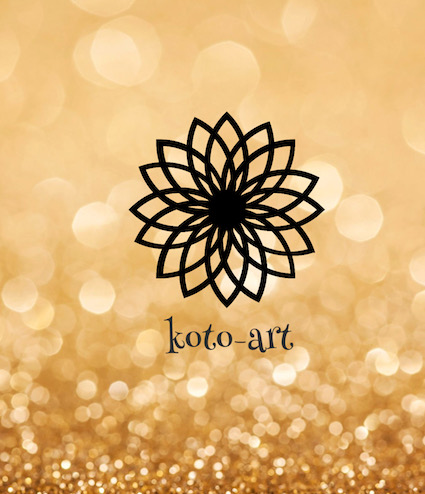 My Site: https://koto-art.wixsite.com/mysite-1/home