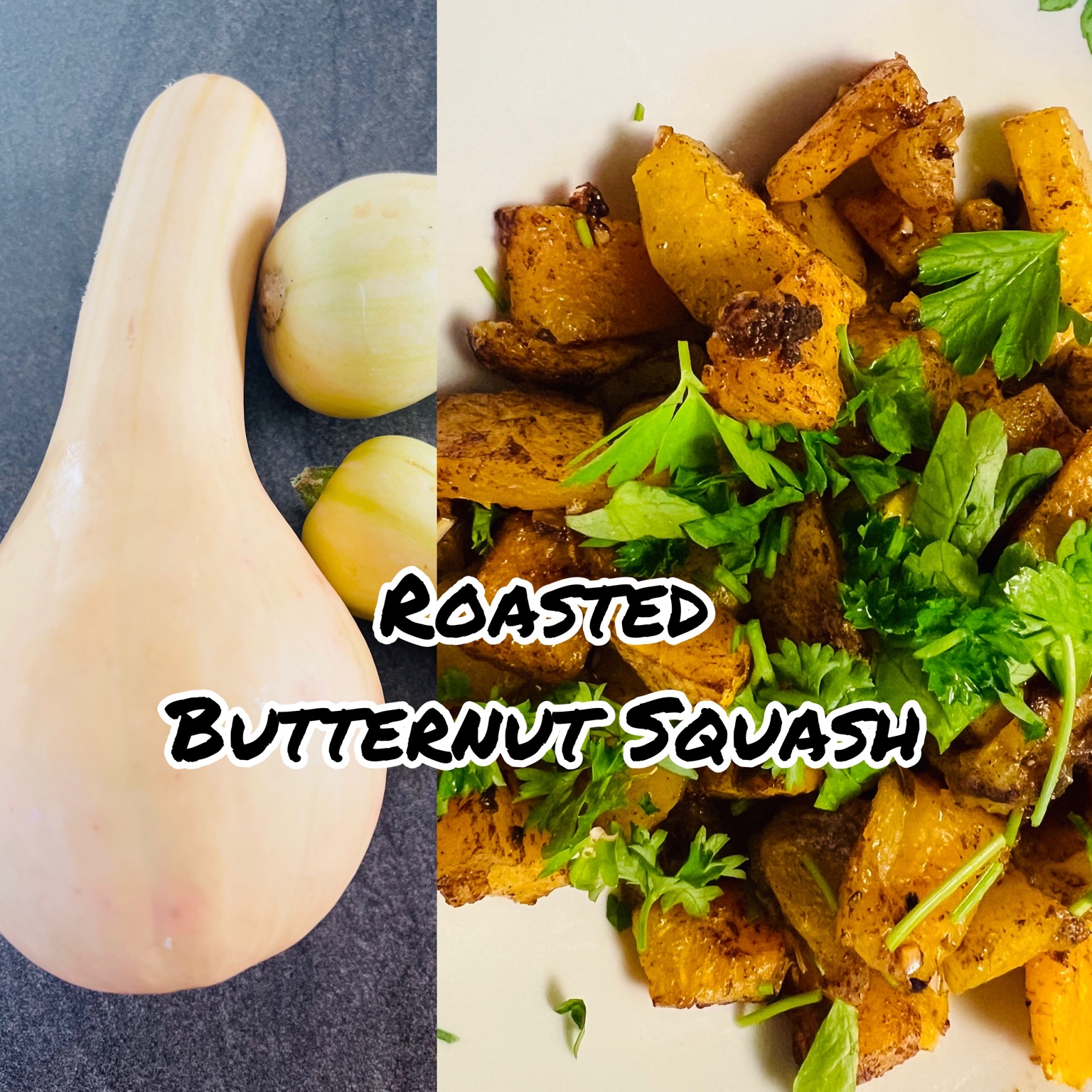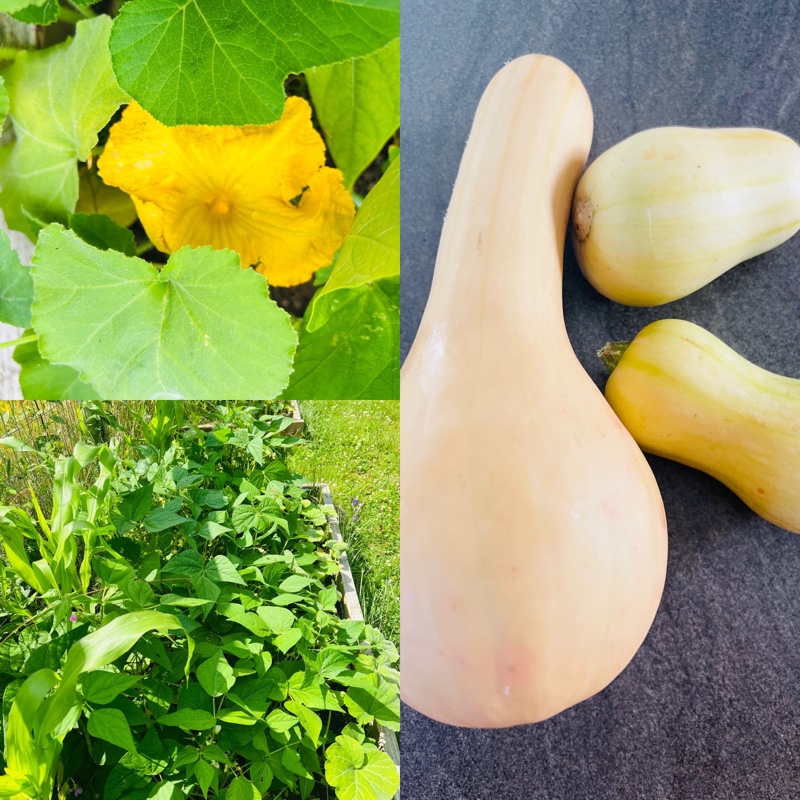 "Roasted Butternut Squash"
I harvested small butternut squashes from my garden. This year's corn and squash were very small. The dry summer weather damaged them a lot. Also, I was away in late summer so, I couldn't take care of them enough. I picked very small and irregular shape-looking butternut squashes.
However, the insides we're very good and their taste was actually very good. They were very fresh and juicy. I enjoyed cooking them. I made roasted butternut squash with a lot of spices. Delicious and easy!
"ロースト・バターナッツスクワッシュ"
バターナッツスクワッシュを畑から収穫しました。今年のスクワッシュととうもろこしはとても小さかったです。夏の熱波で野菜にダメージを与えてしまいました。さらに夏の終わり頃は自宅を空けていたので、面倒を十分に見れなかったのも原因かと思います。すごく小さなのと変わった形のスクワッシュを採りました。
ところが、中身がとても出来がよく、味も良かったです。新鮮でジューシーでした。料理するのが楽しかったです。たくさんのスパイスを使ってローストしました。簡単で美味しいです!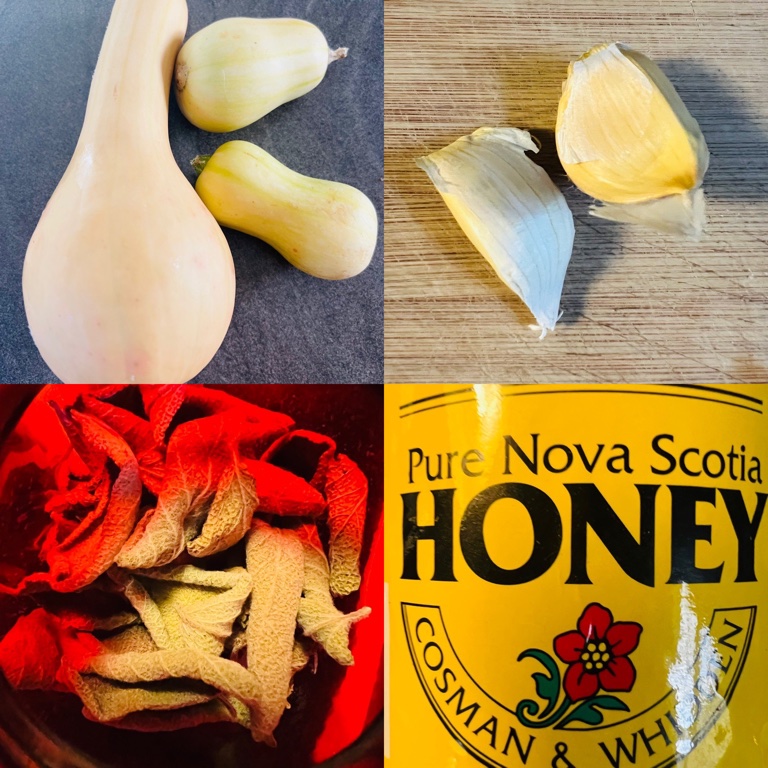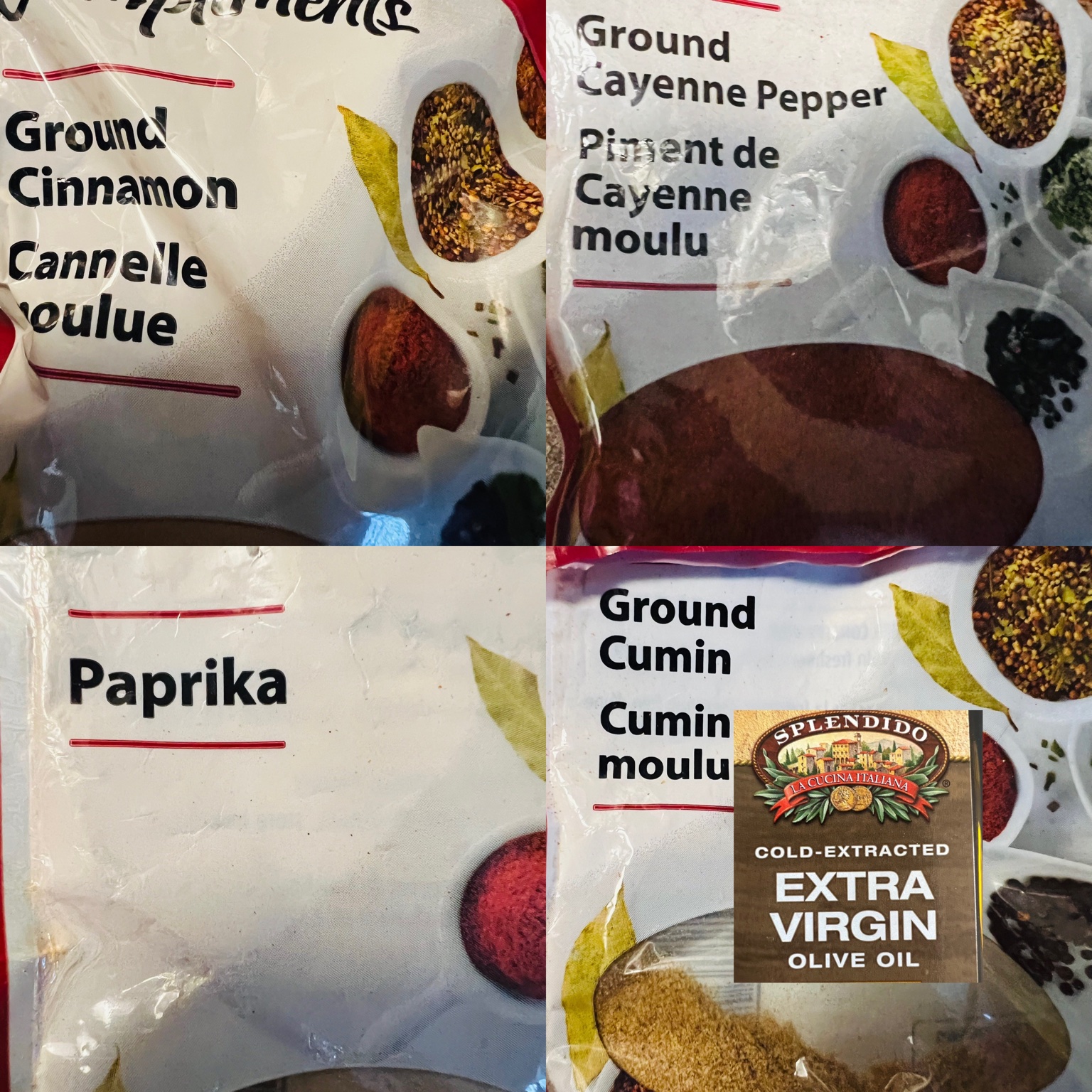 Ingredients
・Butternut squash 1-2 (I used 1 regular one and 2 super small ones)
・Garlic 2 pieces
・Olive oil 2 tablespoons
・Honey 1 tablespoon
・Salt and pepper to taste
・Dried sage leaves 2
・Ground cinnamon 1 teaspoon
・Ground cumin 1/2 teaspoon
・Ground cayenne pepper 1/2 teaspoon
・Paprika 1/2 teaspoon
・Fresh parsley to taste
Cooking time is about 1 hour including the preparation time.
材料
・バターナッツスクワッシュ 2個(とても小さなスクワッシュ2個と中くらいのサイズ1個を使用しました)
・ニンニク 2かけら
・オリーブオイル 大さじ2
・はちみつ 大さじ1
・塩こしょう 少々
・乾燥セージの葉 2枚
・シナモン 小さじ1
・クミン 小さじ1/2
・カイエンペッパー 小さじ1/2
・パプリカ 小さじ1/2
・新鮮なパセリ 少々
調理時間は準備時間も含めて約1時間。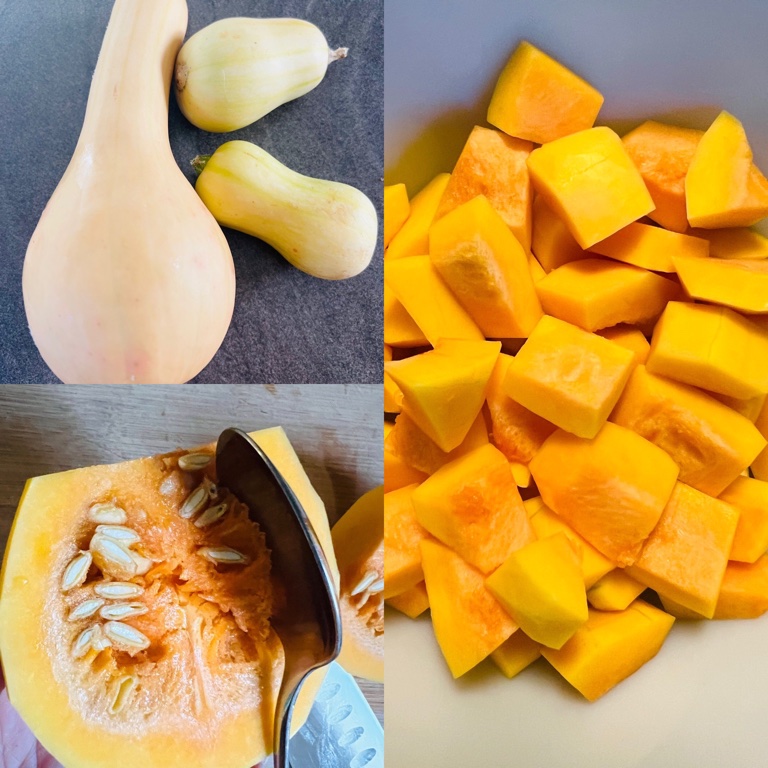 Wash squashes.
Peel skins.
Cut in half.
Take seeds out with a spoon.
Cut into small dice sizes.
1、スクワッシュを洗う。
2、皮をむく。
3、半分に切る。
4、スプーンで種を取り出す。
5、小さなサイコロサイズに切る。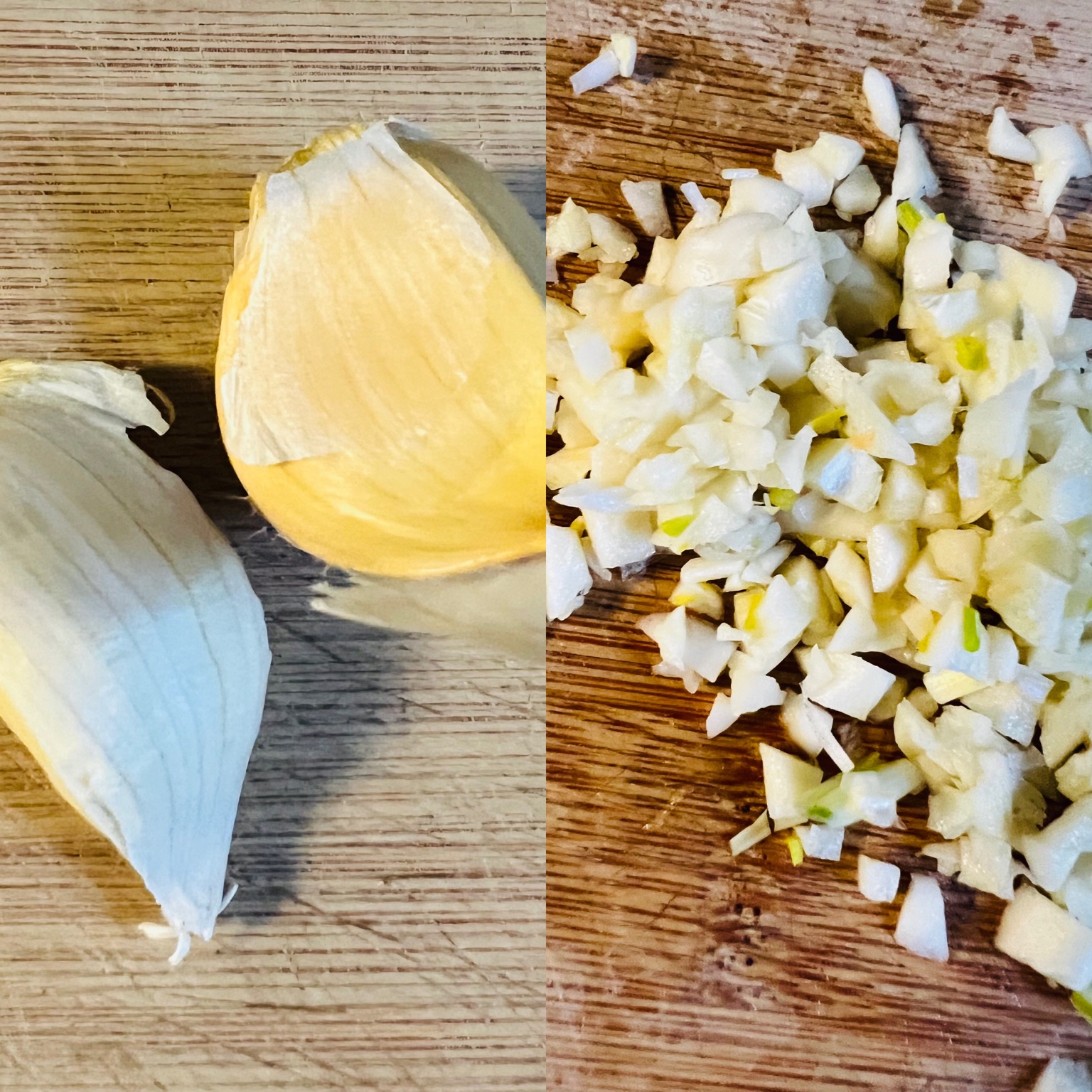 Cut garlic into small pieces.
1、ニンニクをみじん切りする。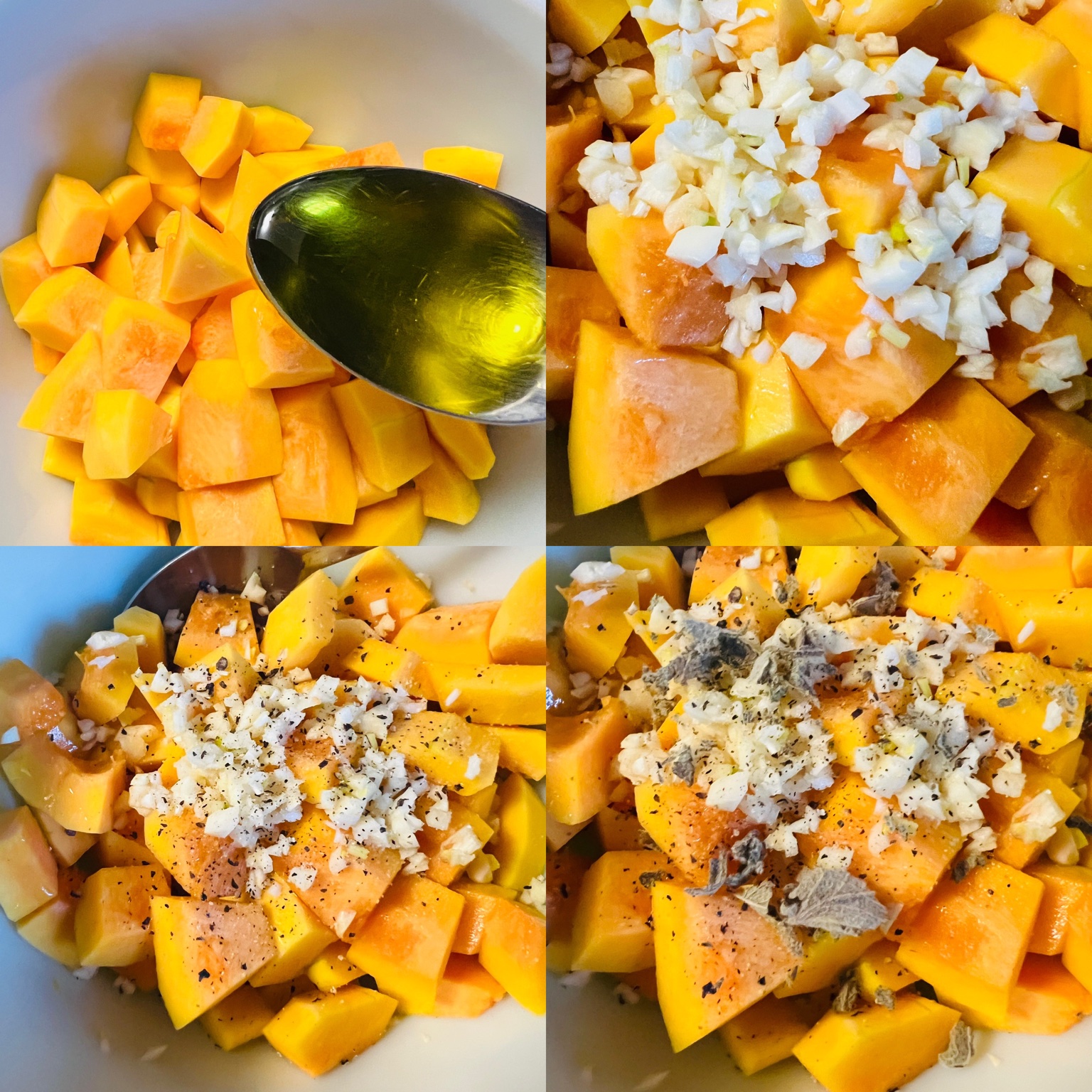 Put butternut squash in a bowl.
Add olive oil.
Add garlic.
Add salt and pepper.
Crush dried sage leaves by hand and add them.
1、バターナッツスクワッシュをボールに入れる。
2、オリーブオイルを加える。
3、ニンニクを加える。
4、塩こしょうする。
5、乾燥セージを手ですりつぶして入れる。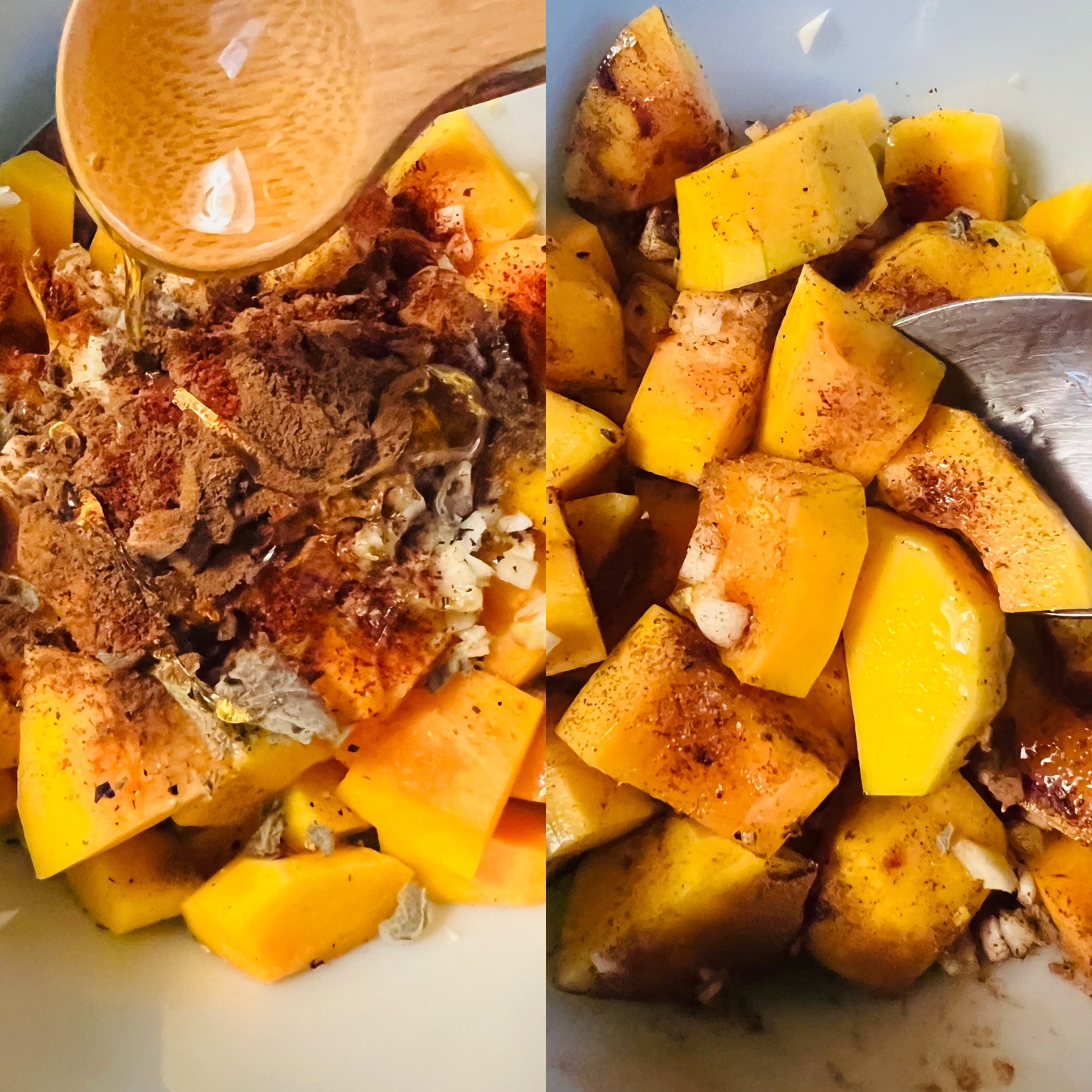 Add cinnamon.
Add cumin.
Add cayenne pepper.
Add paprika.
Mix well.
1、シナモンを加える。
2、クミンを加える。
3、カイエンペッパーを加える。
4、パプリカを加える。
5、よく混ぜ合わせる。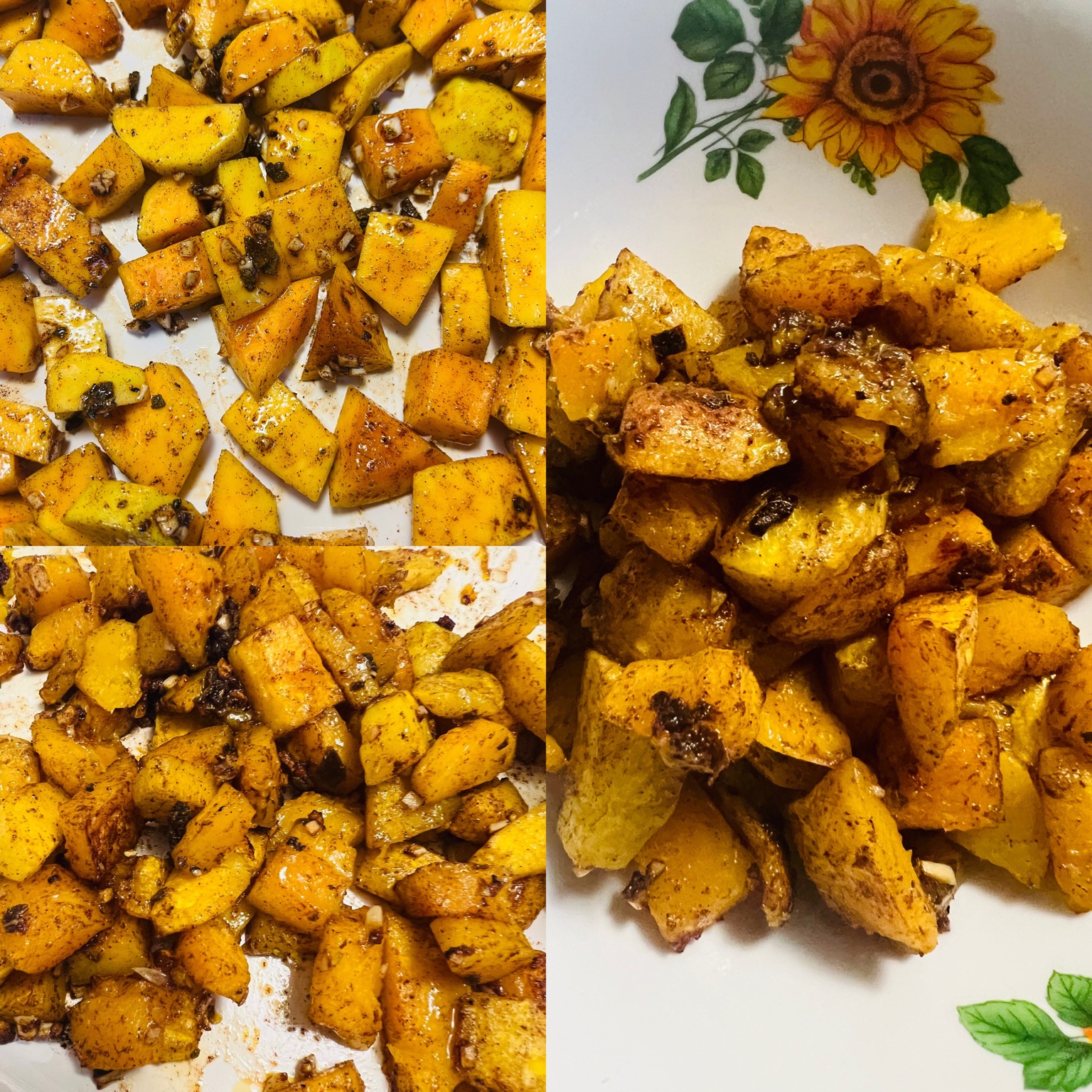 Heat oven at 400F.
Add seasoned butternut squash.
Roast it for around 25-30 minutes.
1、オーブンを200度に熱する。
2、シーズニングしたバターナッツスクワッシュを入れる。
3、約25分〜30分ローストする。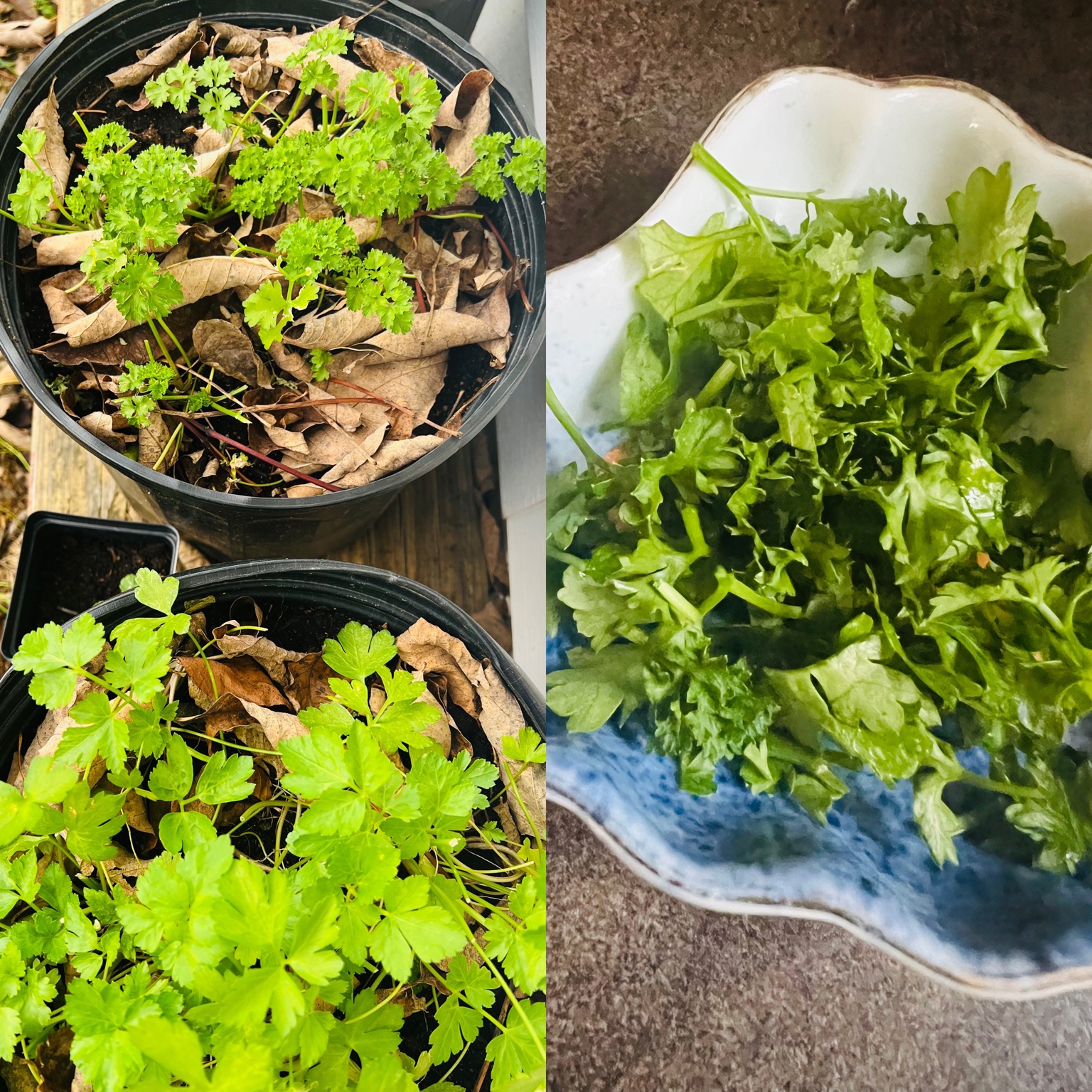 Cut parsley into small pieces.
1、パセリをみじん切りする。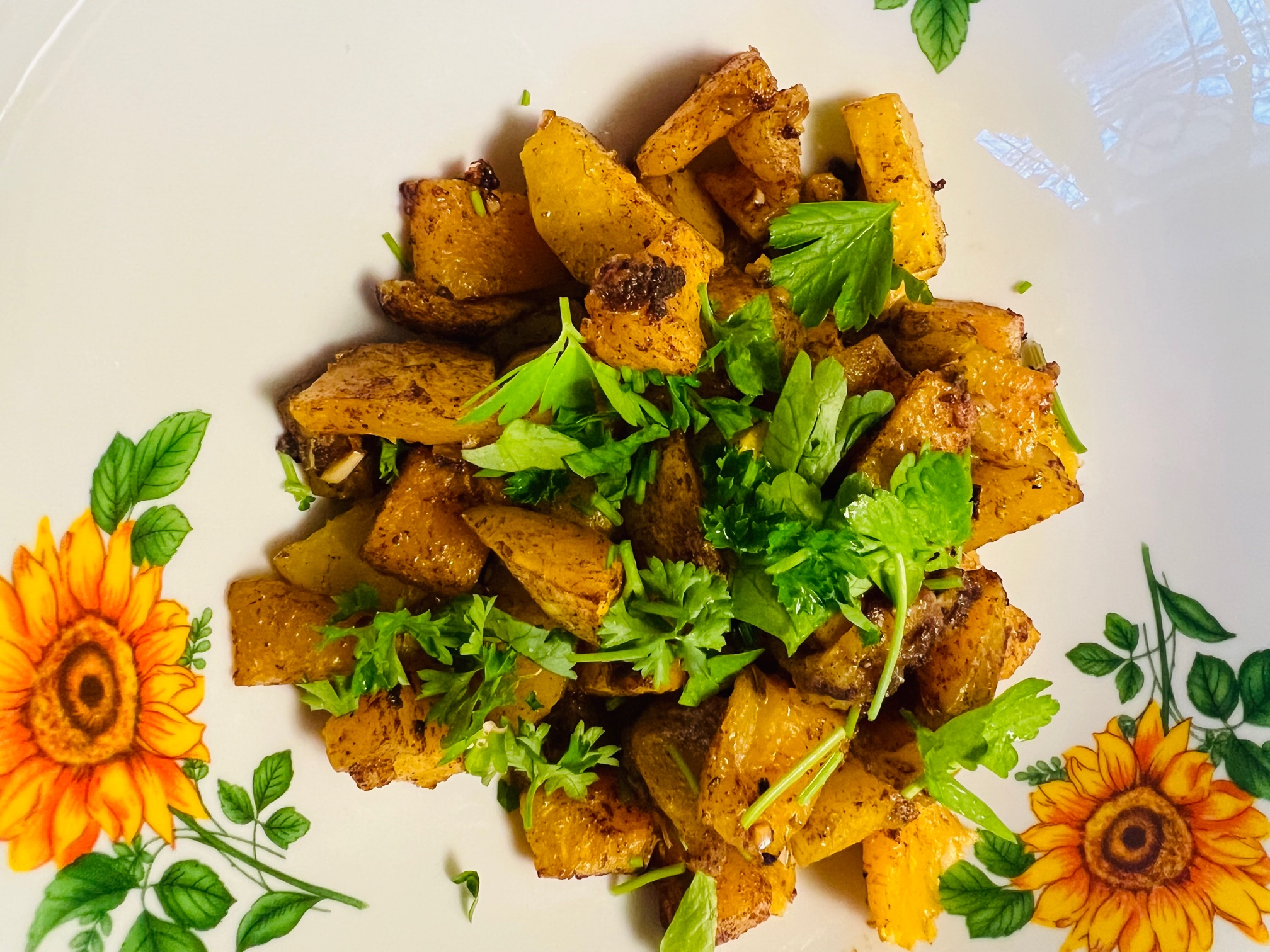 Done! Put parsley on top of the roasted butternut squash.
出来上がり!ローストしたバターナッツスクワッシュの上にパセリをトッピングする。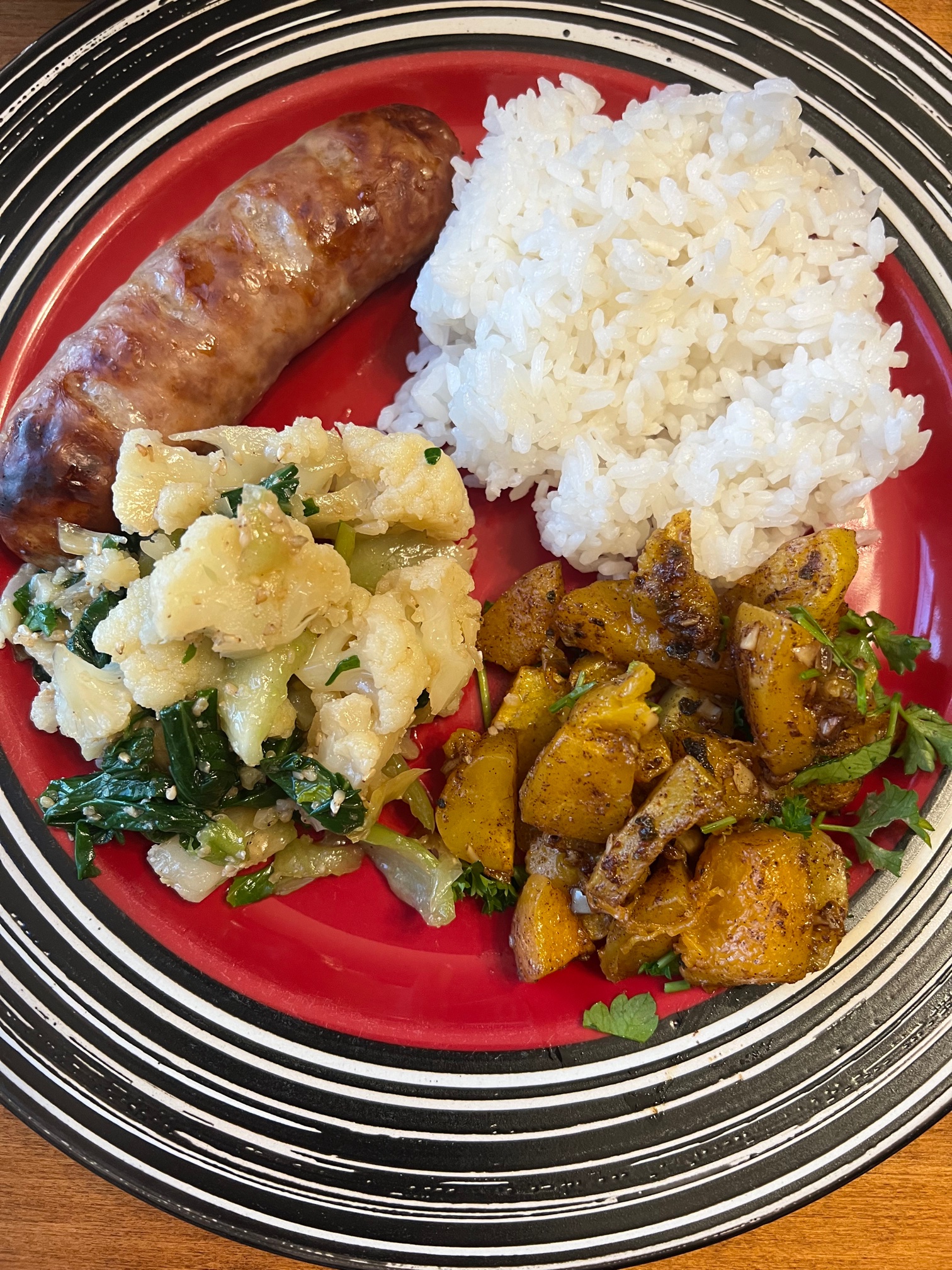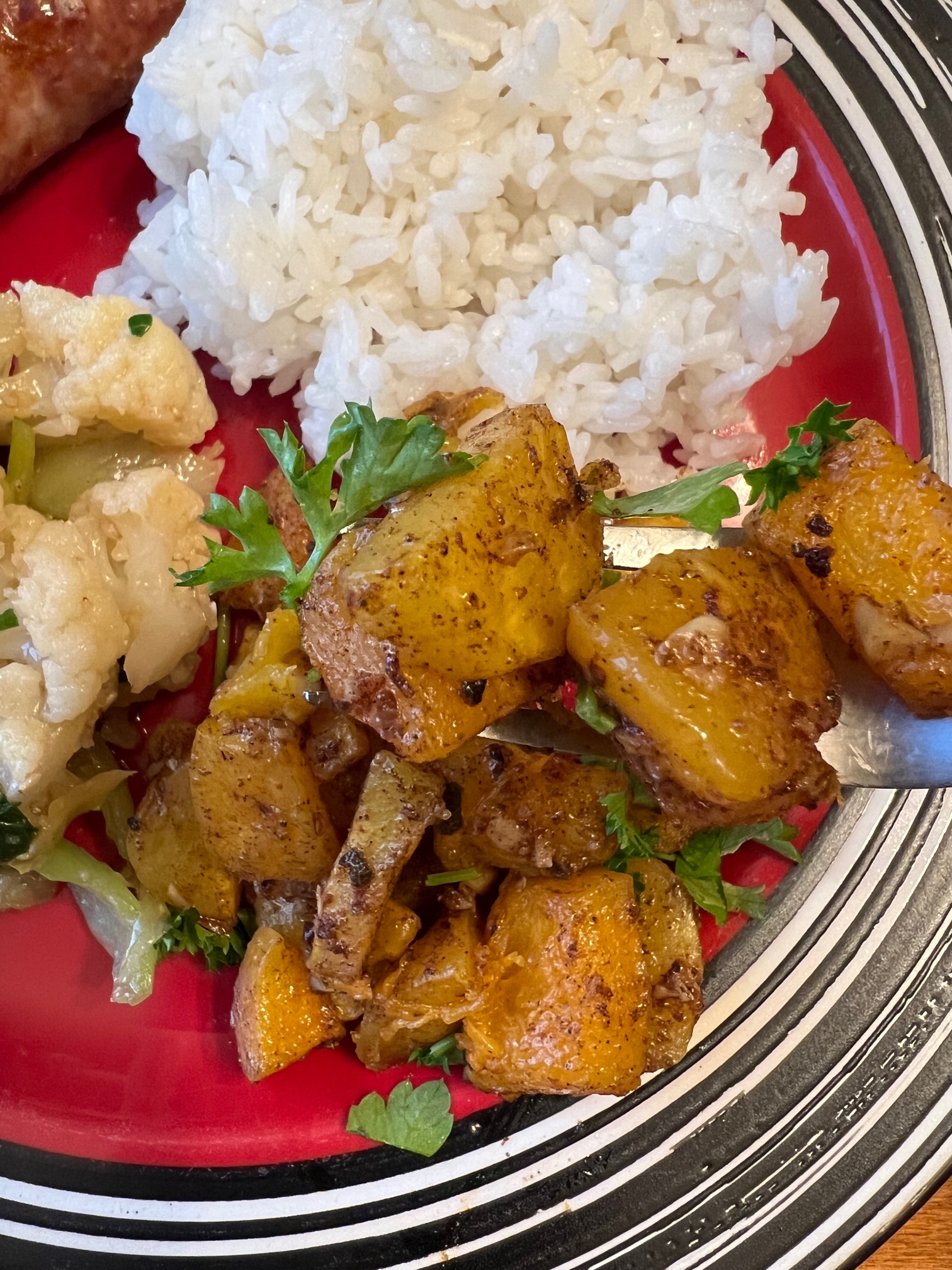 I had it with rice, sausage, and baby sesame seasoned boiled bokchoy.
ご飯、ソーセージ、チンゲンサイの胡麻あえと一緒にいただきました。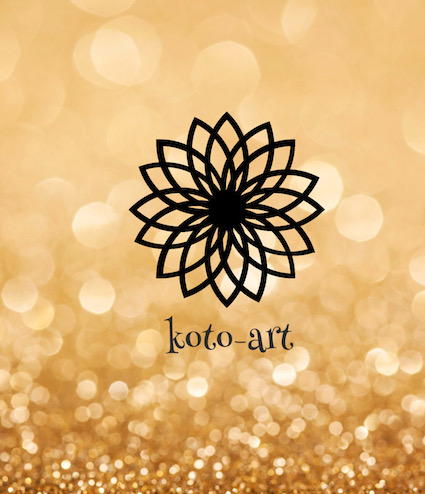 My Site: https://koto-art.wixsite.com/mysite-1/home