Good morning dear friends !!!
Buenos dias queridos amigos !!!
Today I want to share with you a super special recipe, "Sweet bread roscón, filled with Guava jam" ... this is a round sweet bread, shaped like a wheel, it is customary to fill with fruit jams, chocolate, nuts, among others delicious fillings.
Hoy quiero compartirles una receta súper especial, "Roscón de pan dulce, relleno de mermelada de Guayaba" ... este es un pan dulce redondo, con forma de rueda, se acostumbra rellenar con mermeladas de frutas, chocolate, nueces, entre otros deliciosos rellenos.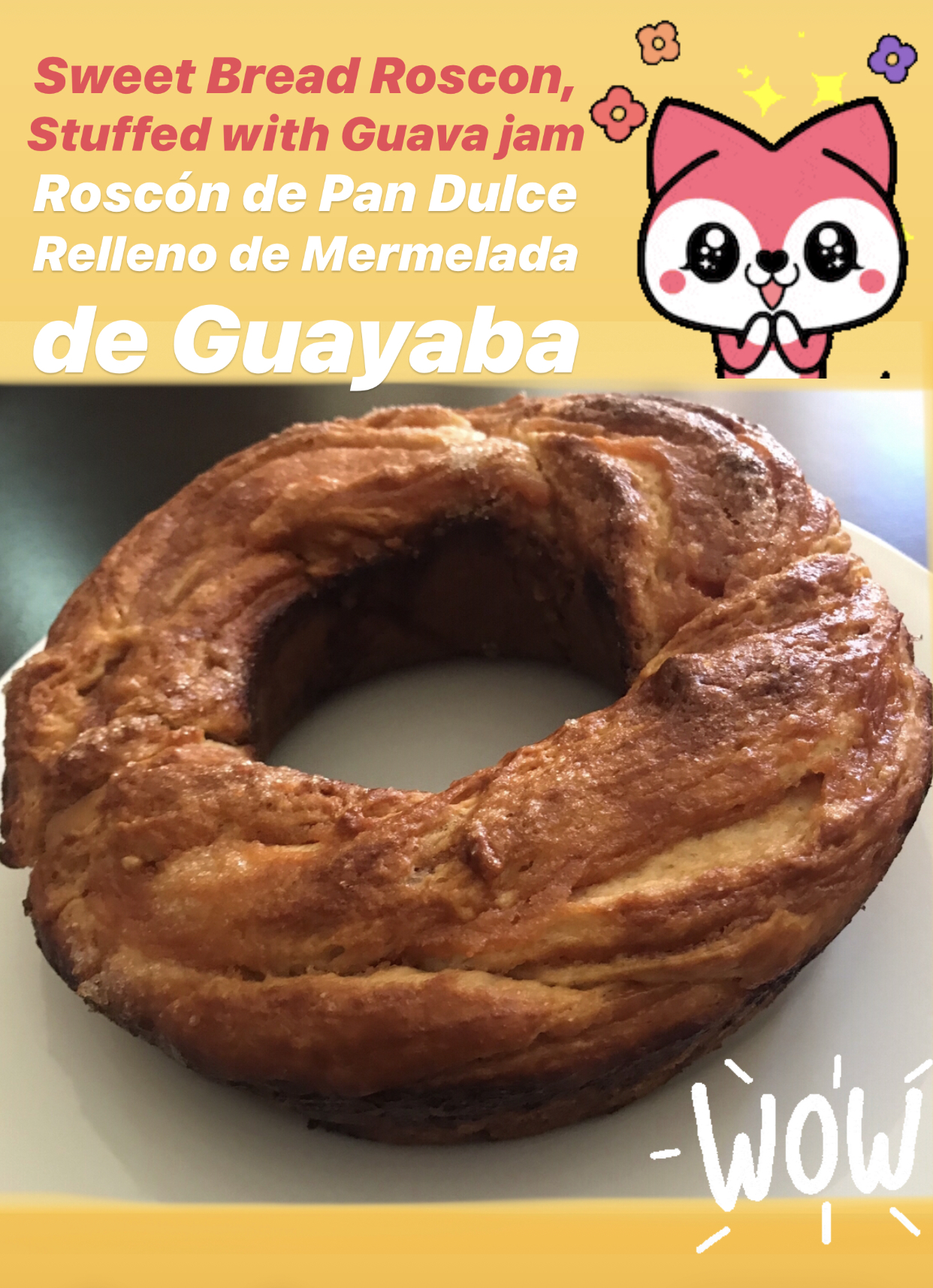 This Roscón is customary to prepare in many countries for the first days of January, during the Three Kings festivities, it can be prepared salty or sweet, as I will do on this occasion, with a rich guava jam.
Este Roscón es costumbre de preparar en muchos países para los primeros días de enero, durante las fiestas de Reyes Magos, se puede preparar salado o dulce, como lo haré en esta ocasión, con una rica mermelada de guayaba.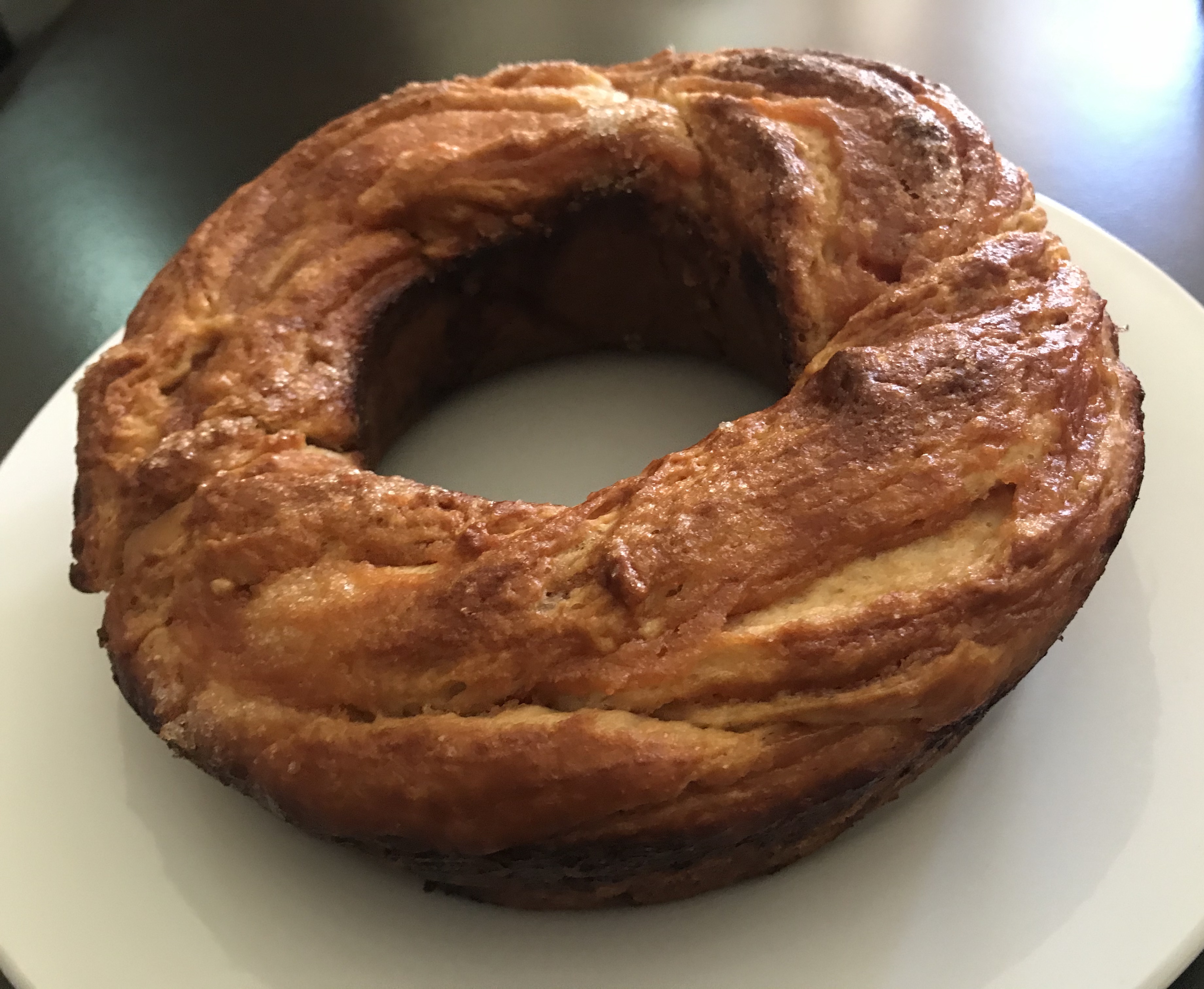 You will need the following ingredients:
Necesitará los siguientes ingredientes:
• 2 cups of wheat flour.
• 1/4 cup of butter.
• 1/4 cup of sugar.
• 1/4 cup of fluid milk.
• 1 egg.
• 1 teaspoon of yeast.
• 1 teaspoon salt.
• Guava jam or your preference.
• 2 tazas de harina de trigo.
• 1/4 taza de mantequilla.
• 1/4 taza de azúcar.
• 1/4 taza de leche líquida.
• 1 huevo.
• 1 cucharadita de levadura.
• 1 cucharadita de sal.
• Mermelada de guayaba o de su preferencia.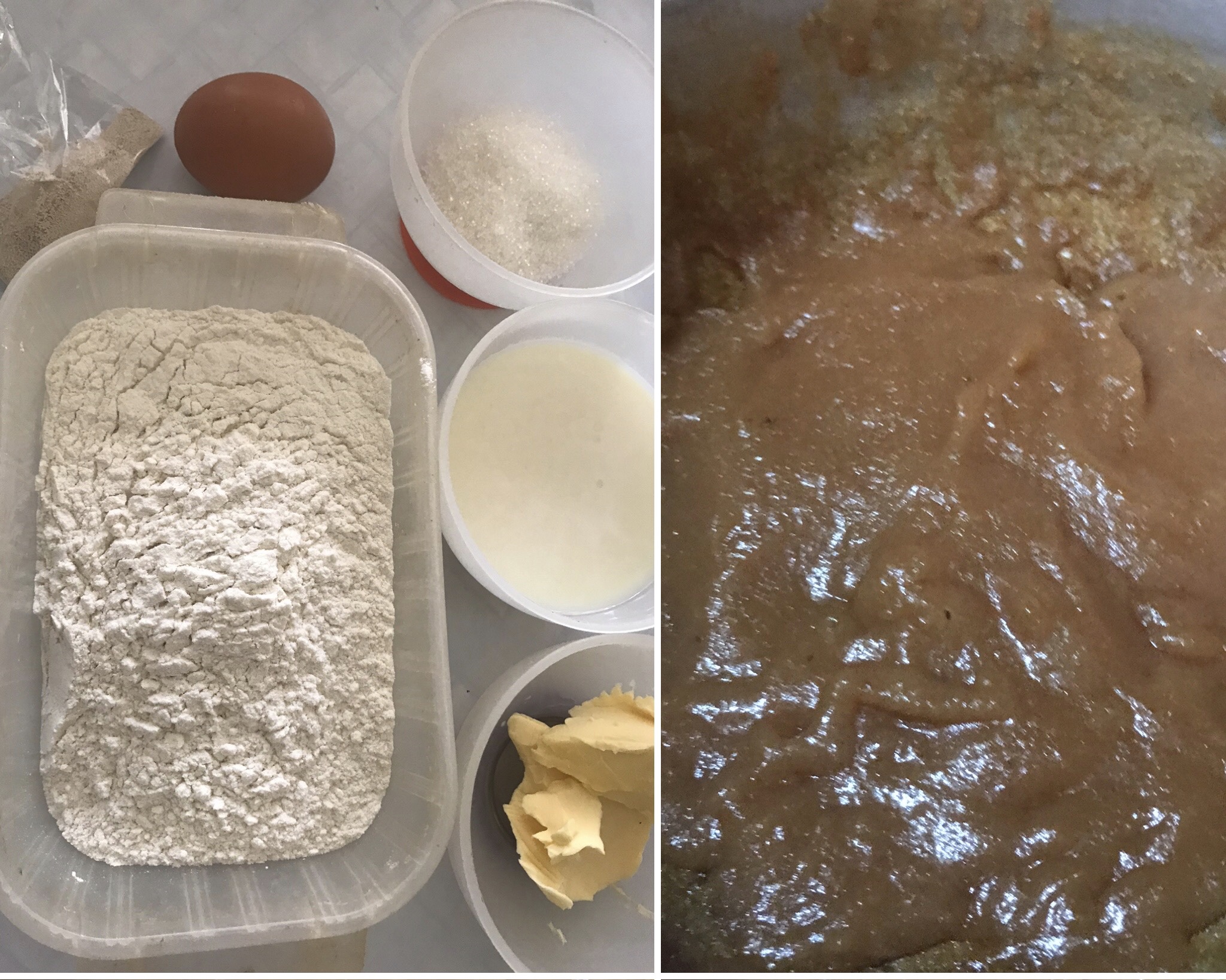 Preparation:
Preparación:
First you must add the milk in a container, with half a cup of wheat flour, stir with a spoon, add the sugar and yeast, keep stirring to integrate the ingredients, let it rest for 15 minutes until the yeast begins to react, forming bubbles on the surface of the mixture.
Primero debes agregar la leche en un recipiente, con media taza de harina de trigo, remover con una cuchara, agregar el azúcar y la levadura, seguir removiendo para integrar los ingredientes, dejar reposar por 15 minutos hasta que la levadura comience a reaccionar, formando burbujas en la superficie de la mezcla.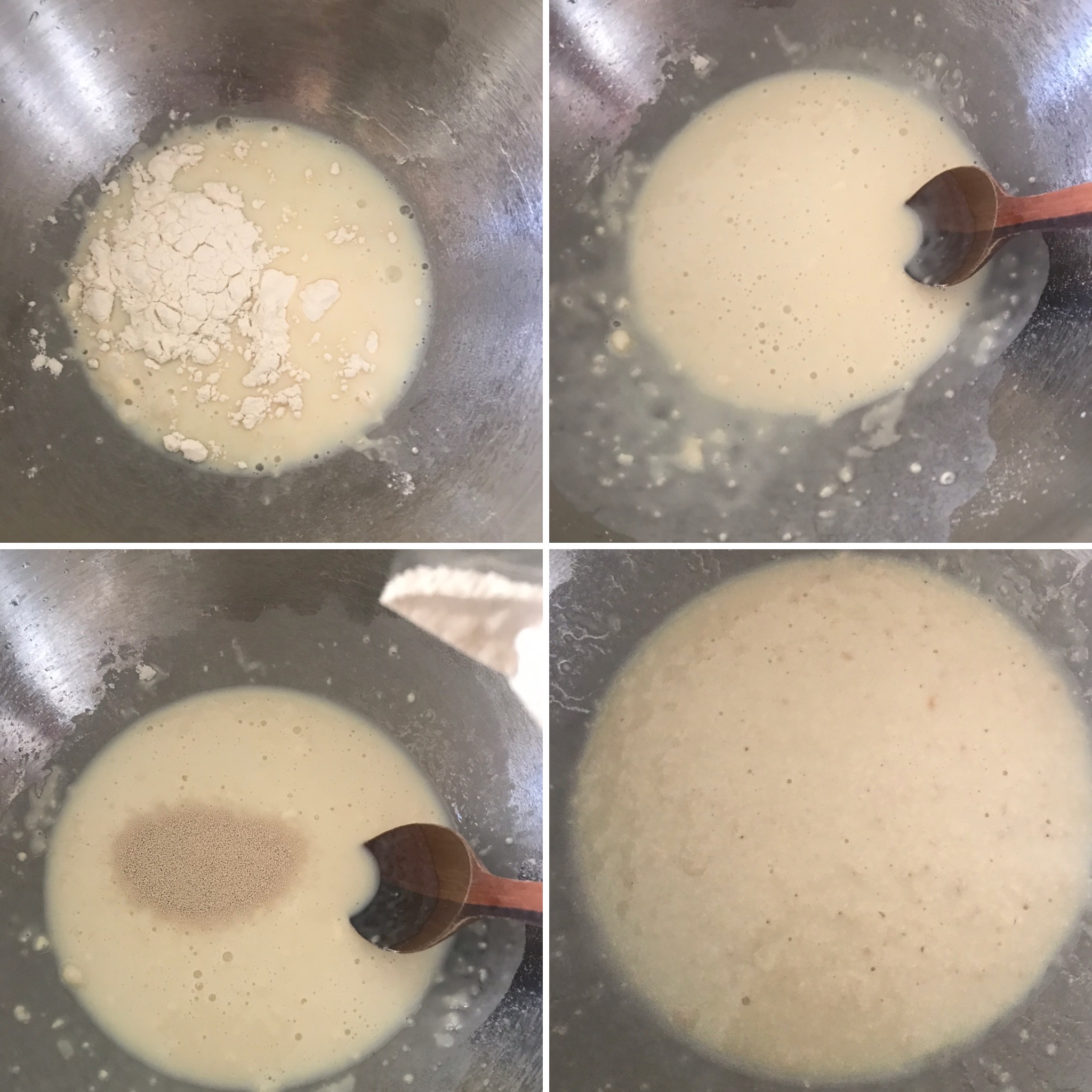 Then you must add the remaining wheat flour, butter, egg and salt, knead very well until you achieve a smooth and homogeneous dough, let it rest for an hour, until it doubles in size.
Luego debes agregar el resto de harina de trigo, mantequilla, huevo y sal, amasar muy bien hasta lograr una masa tersa y homogénea, dejar reposar por una hora, hasta que duplique su tamaño.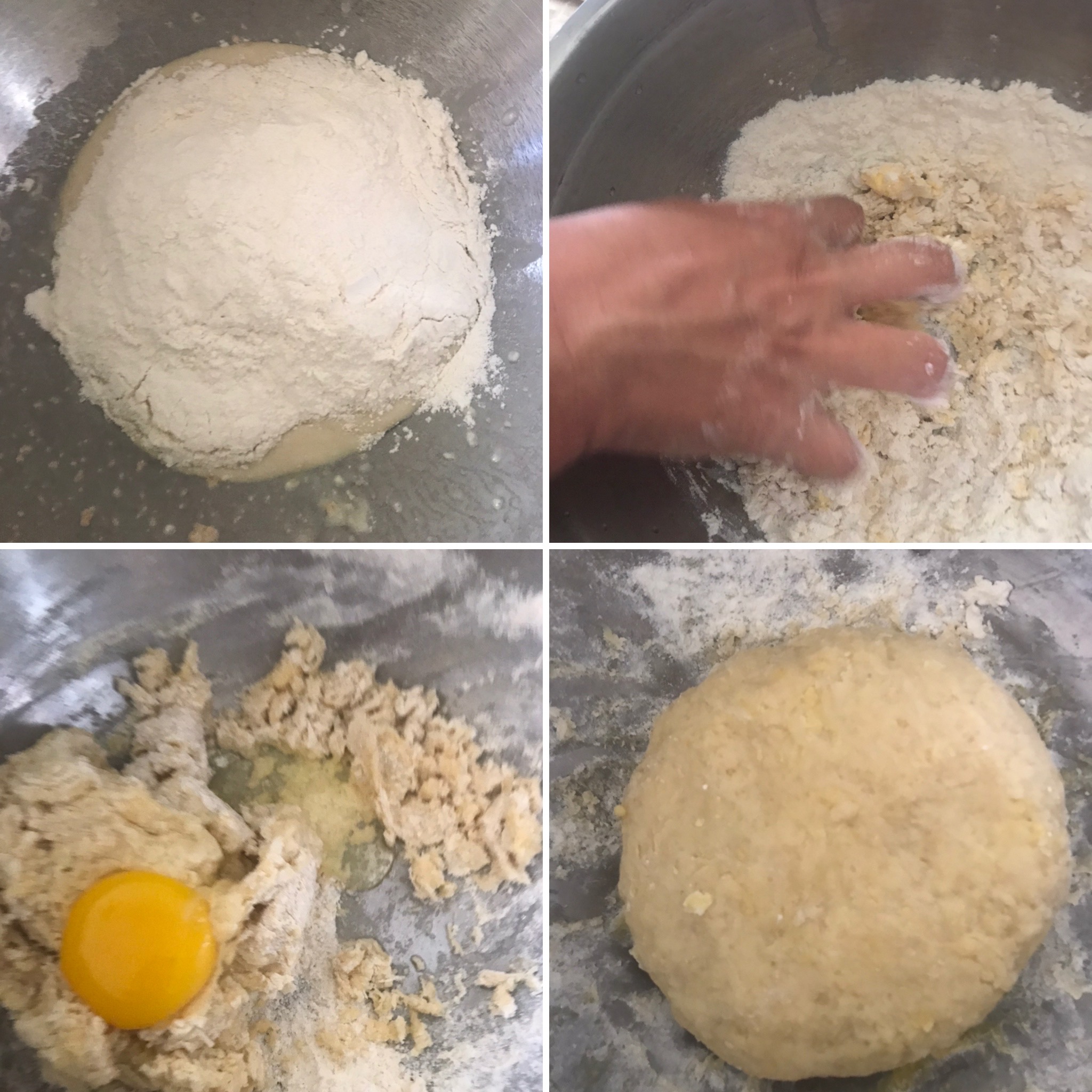 Then, when the hour is up, put a little flour on the table, knead a couple of minutes and then roll out the dough with the help of a rolling pin.
Luego, cuando haya pasado la hora, poner un poco de harina en la mesa, amasar un par de minutos y luego extender la masa con ayuda de un rodillo.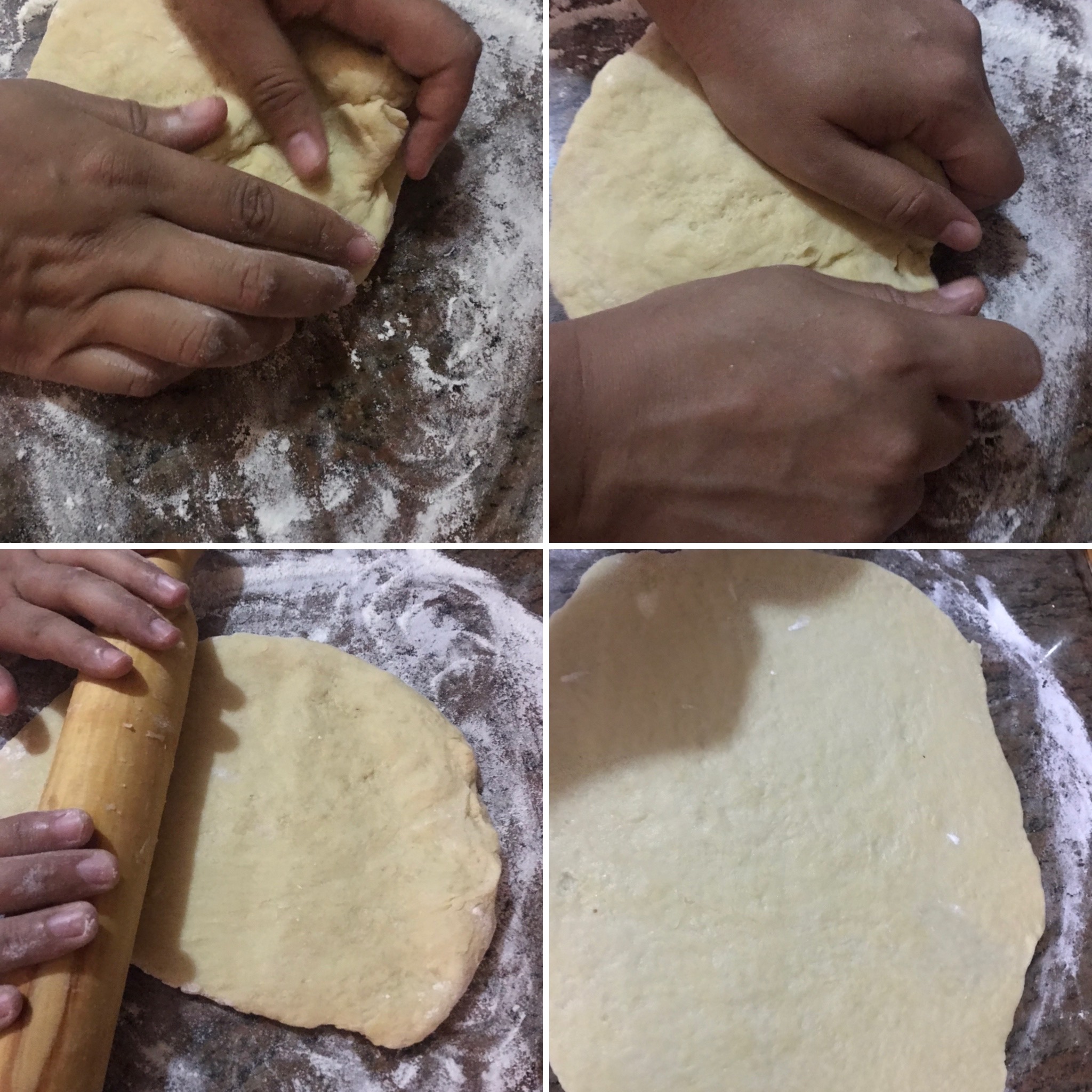 Now you need to spread the jam on the surface of the stretched dough, then form a roll, wrapping the dough from one end inwards.
Ahora debe extender la mermelada sobre la superficie de la masa estirada, luego formar un rollo, envolviendo la masa de un extremo hacia adentro.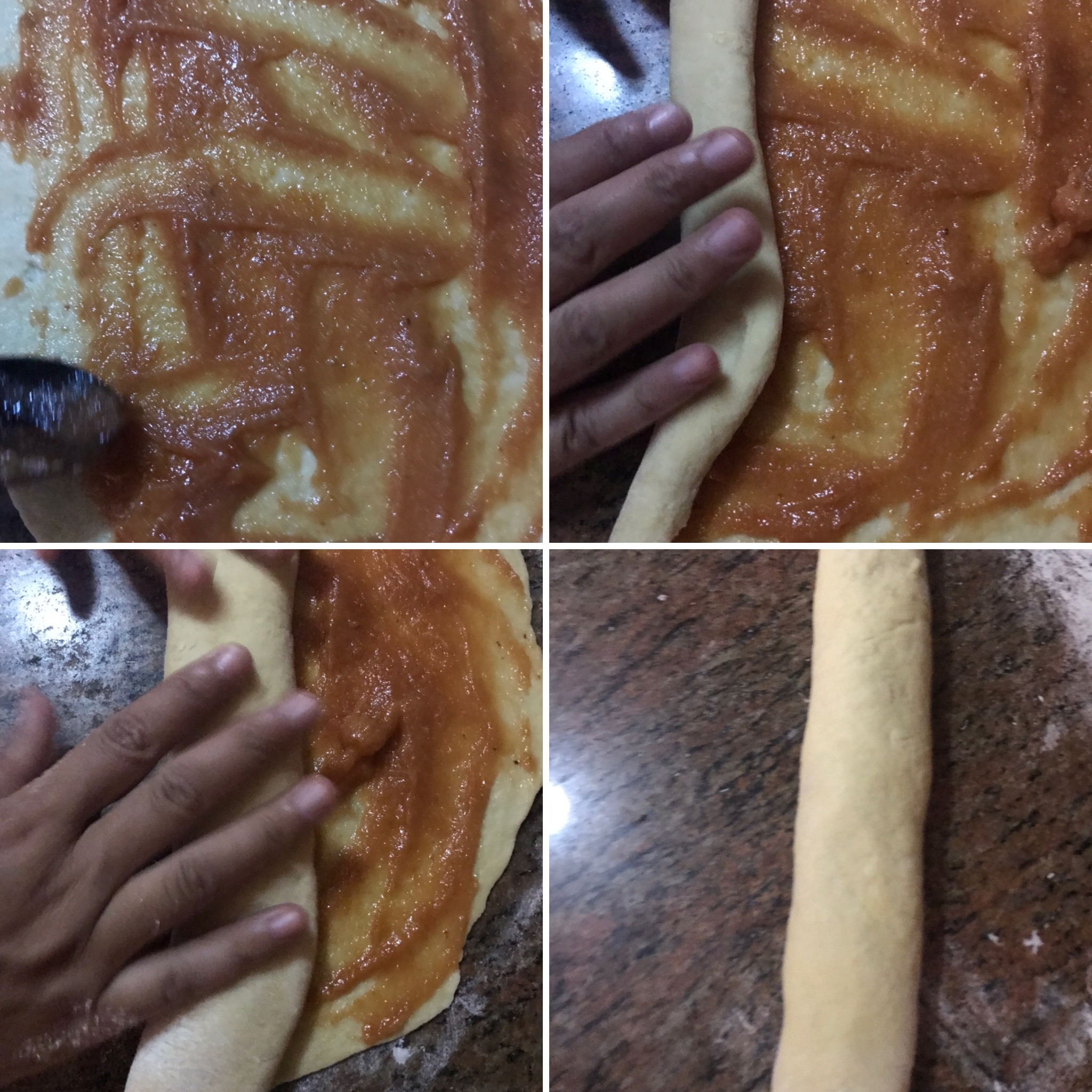 Once you have your roll, take some kitchen scissors and cut them in half, without reaching the end, you should leave approximately 5 cm uncut, then enter the ends of the dough and interlace, until forming a braid.
Una vez que tengas tu rollo, toma unas tijeras de cocina y córtalas por la mitad, sin llegar al final, debes dejar aproximadamente 5 cm sin cortar, luego ingresa los extremos de la masa y entrelaza, hasta formar una trenza.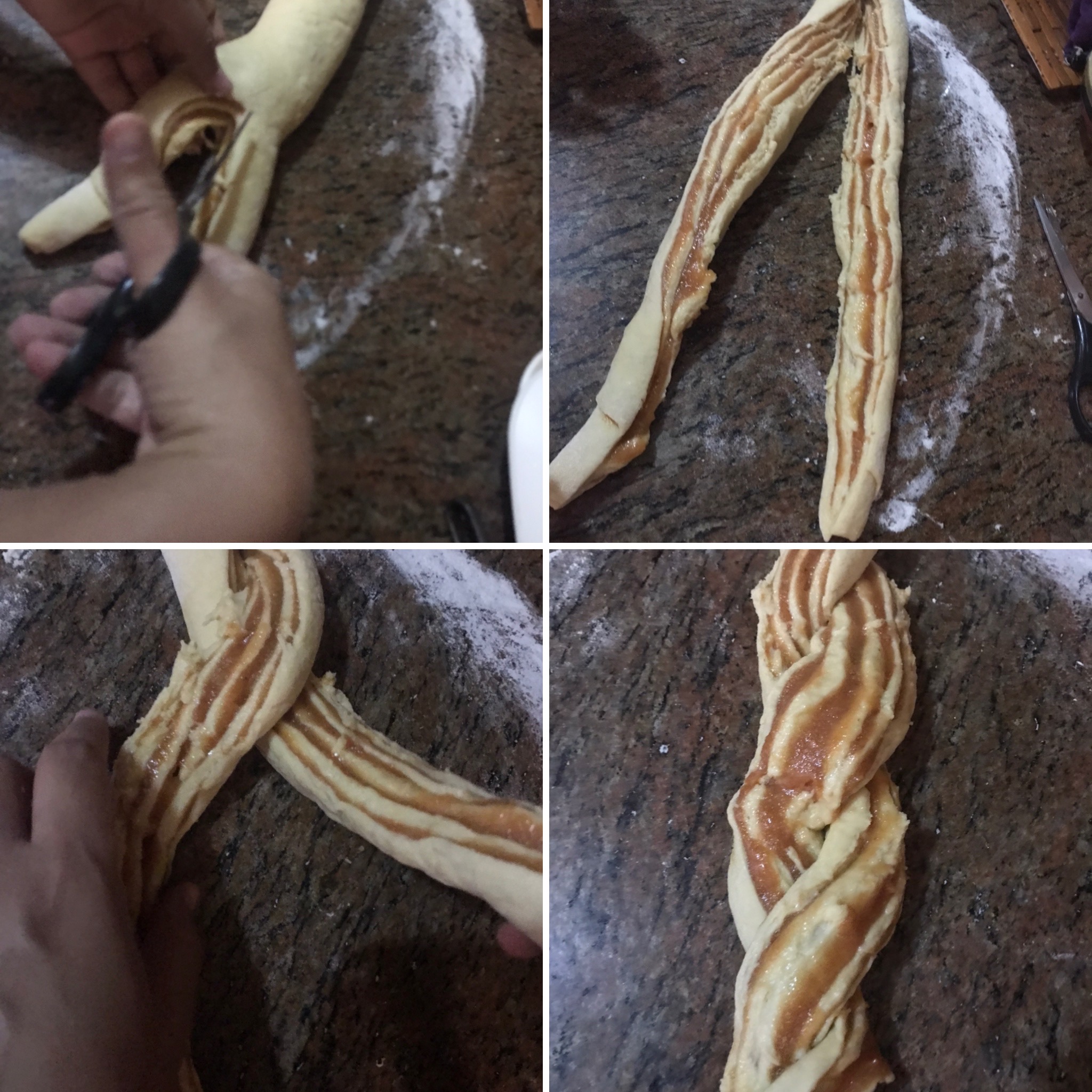 Finally take your braid and form your roscón, in my case I place it in a wheel-type mold, if you don't have one, assemble your roscón and place a metal container or cup in the middle hole so that it does not deform , and then with a kitchen brush you paint it with a mixture of beaten egg, take it to the oven for 40 minutes at 180 C.
Finalmente toma tu trenza y forma tu roscón, en mi caso lo coloco en un molde tipo rueda, si no tienes, arma tu roscón y coloca un recipiente o taza de metal en el agujero del medio para que no se deforme , y luego con un pincel de cocina lo pintas con una mezcla de huevo batido, lo llevas al horno durante 40 minutos a 180 C.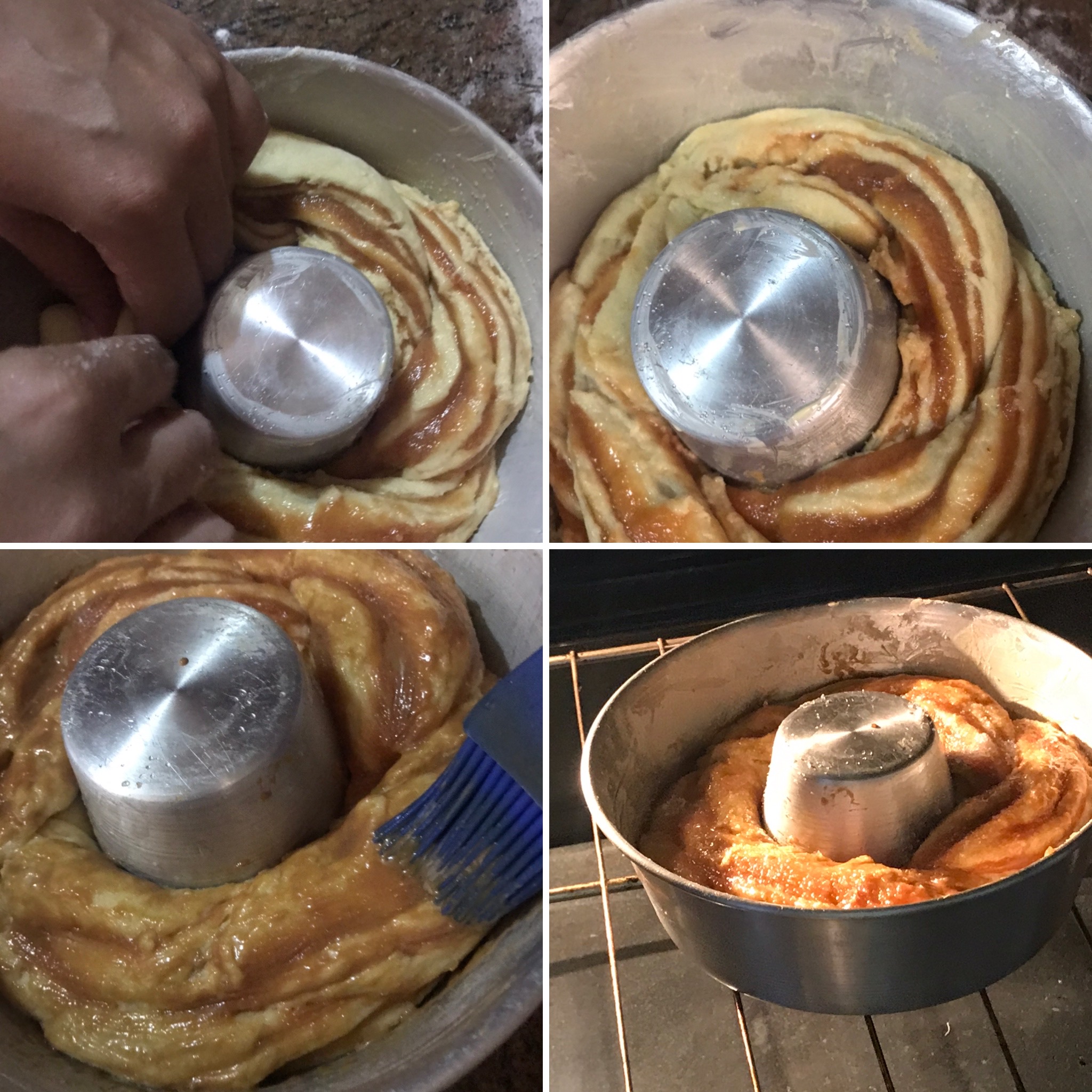 This is the result:
Este es el resultado: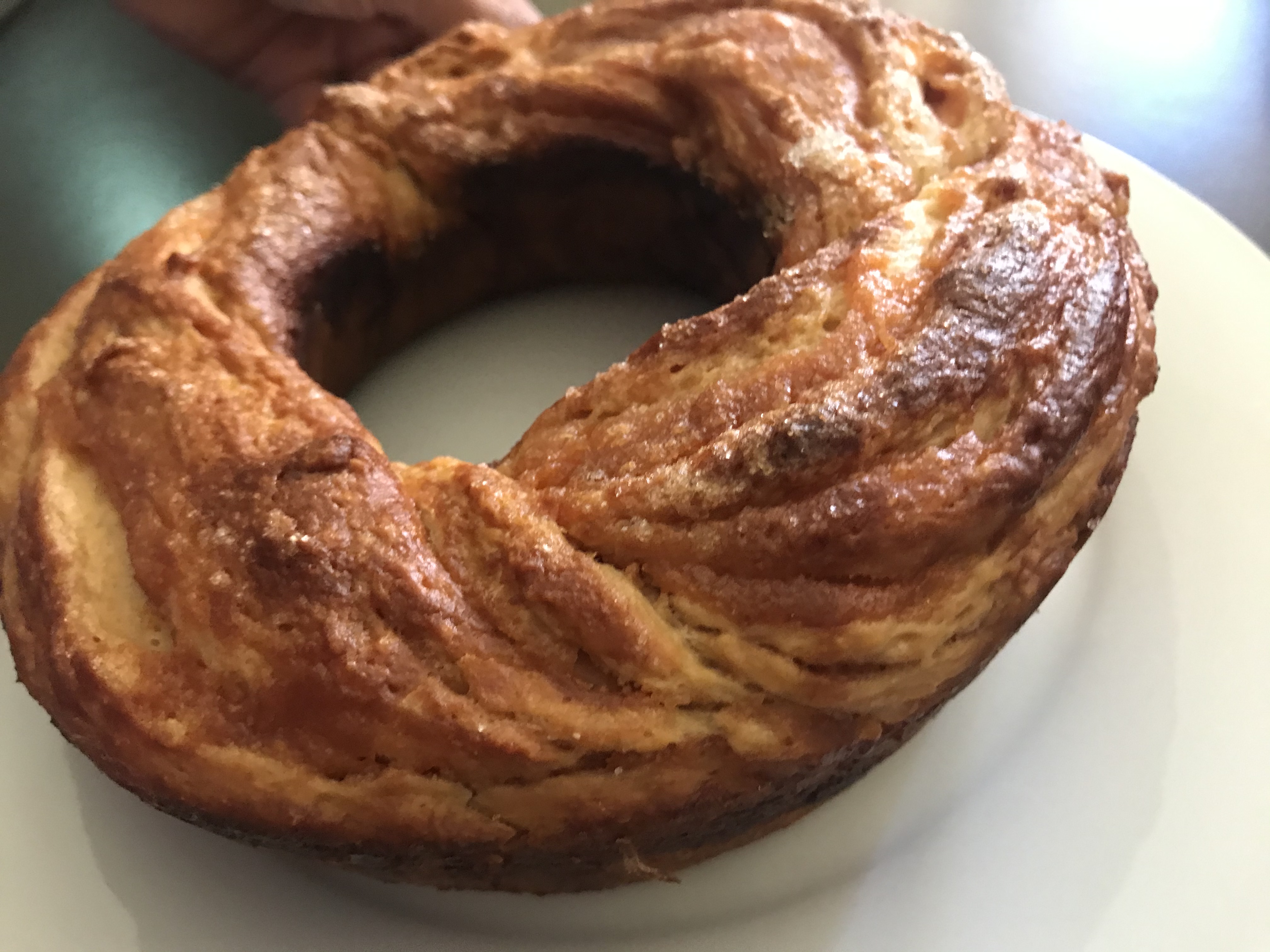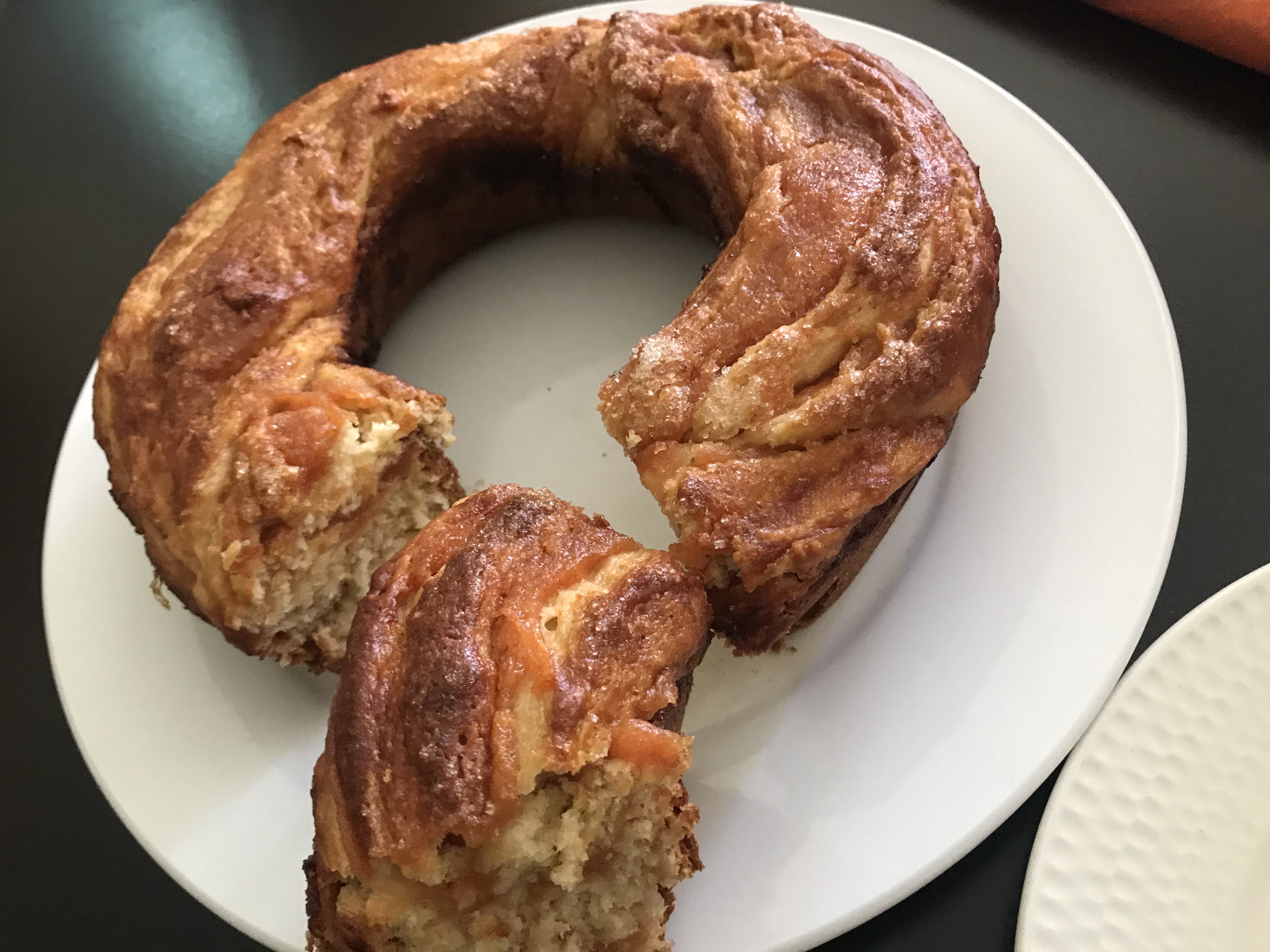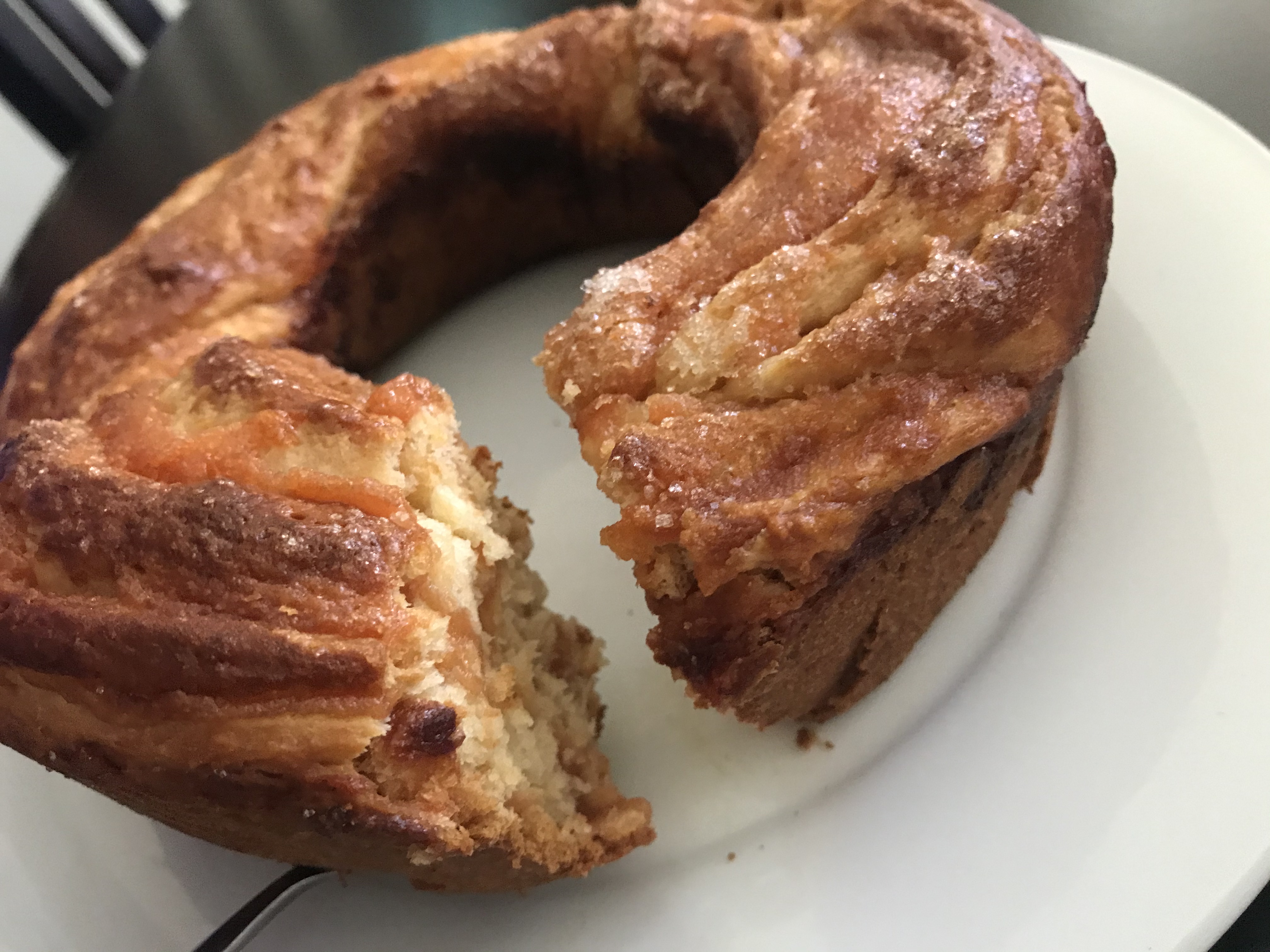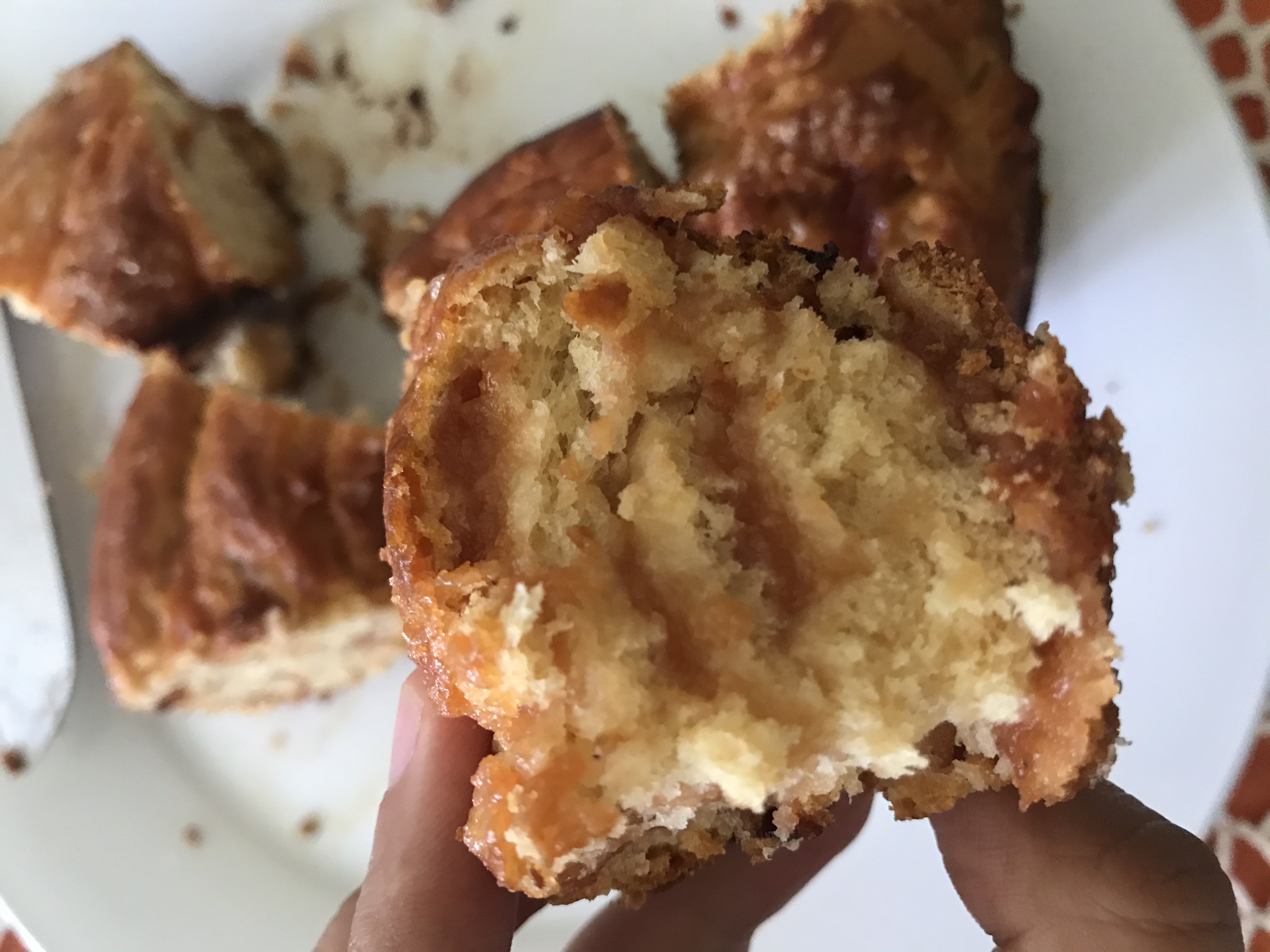 Friends !!! This sweet bread is really delicious, the jam forms a crunchy and golden layer on the bread and inside it is fluffy and soft, with layers of filling of the jam ... it is really surprising and very special.
Amigos !!! Este pan dulce es realmente delicioso, la mermelada forma una capa crujiente y dorada sobre el pan y por dentro es esponjoso y suave, con capas de relleno de la mermelada ... es realmente sorprendente y muy especial.
I hope you like my recipe ... thanks for reading my article. They are loved !!
Espero que les guste mi receta ... gracias por leer mi artículo. ¡¡Se les quiere!!