The other day @derangedvisions said he went for hotpot dinner in America and @coquicoin mentioned that's she's never had one in Venezuela before. Hotpots are like fondue and are very popular in Asia, with each country and restaurant having it's own twist. One of my favourite is a ginger and duck hotpot available in Taiwan during the winter, served on a charcoal stove.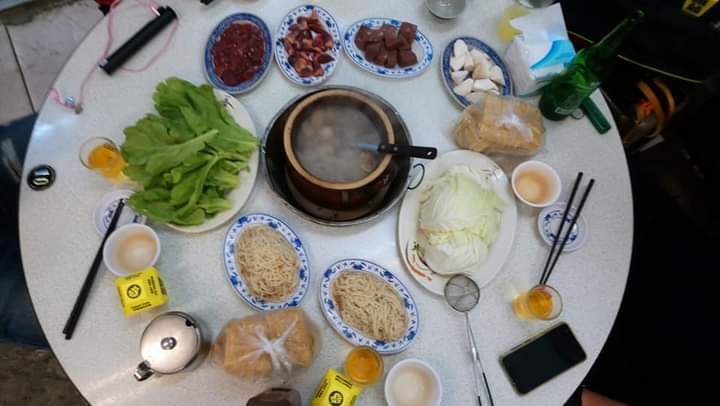 Hotpots can be eaten all year round, but they are even better in winter when it's cold as you have the hotpot cooking in front of you. Today I'll show you how to prepare and eat your own hotpot at home. It's a lot easier than you think and is also suitable for vegans.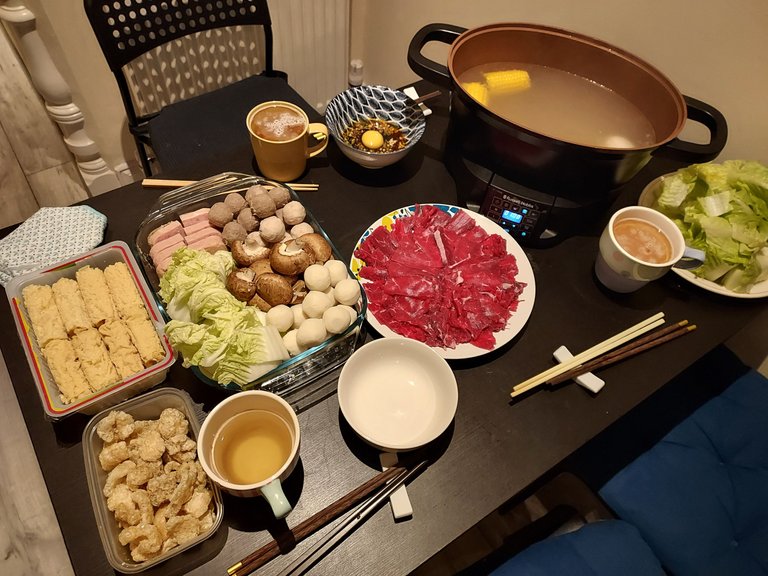 First of all you need some sort of table top stove. It can be a camping stove, an induction or electric cooking plate, or you can get a proper electric hotpot cooker. Basically anything that can heat water to boiling point works. I'm using my multi cooker.
Next is a saucepan and the broth. The saucepan must sit on the stove safely and hold at least 6-8 litres of water. Shallow and wide saucepans works better. The broth is of your choice. Some use chicken, fish or meat stock. Some people buy hotpot soup base from the Asian supermarket. And if you're vegan, you can use vegetable stock. Basically it's up to you, as long as it's a thin and not a thick broth it will be ok.
Now for the food. Normally there will always be a plate of thinly sliced beef. I've used skirt today and sliced it myself.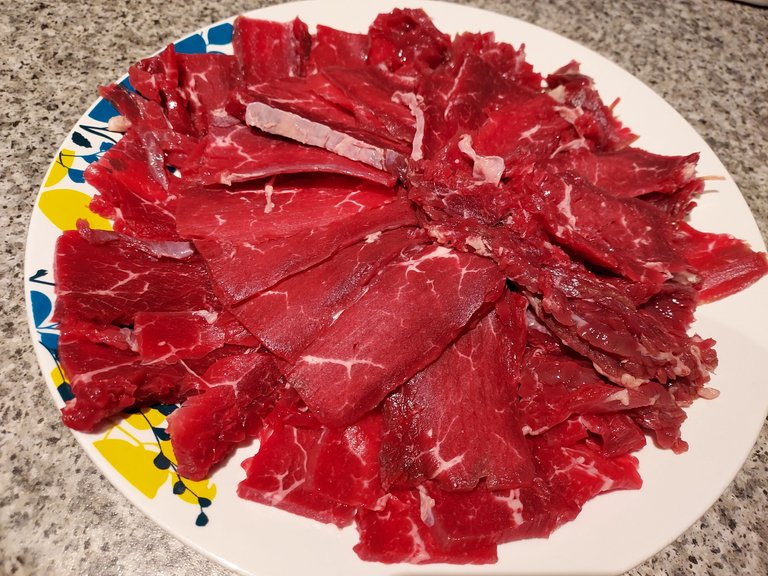 You can also have pork, lamb, fish, chicken, prawns, tofu, noodle, anything you like as long as it doesn't take too long to cook and doesn't go mushy once cooked. There's no set ingredient to be honest. Here's what I had today, and are all typical hotpot ingredients.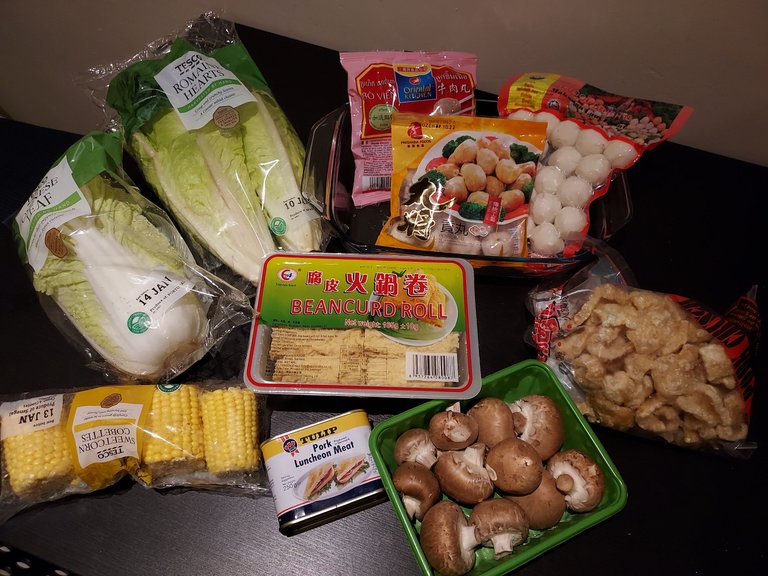 Green leaf vegetable, mushrooms, corn on the hob - you just add it in the pot and let it boil to enhance the soup base, and at the end you can nibble away. Meat balls, pork balls and fish balls are always a favourite for everyone, and luncheon meat is popular as well. The box in the middle is beancurd sheet rolled up like a little cigar, great for vegans. And finally, I have some unsalted pork scratching sitting in my cupboard for a long time. The least two ingredients are great to soak up the soup base.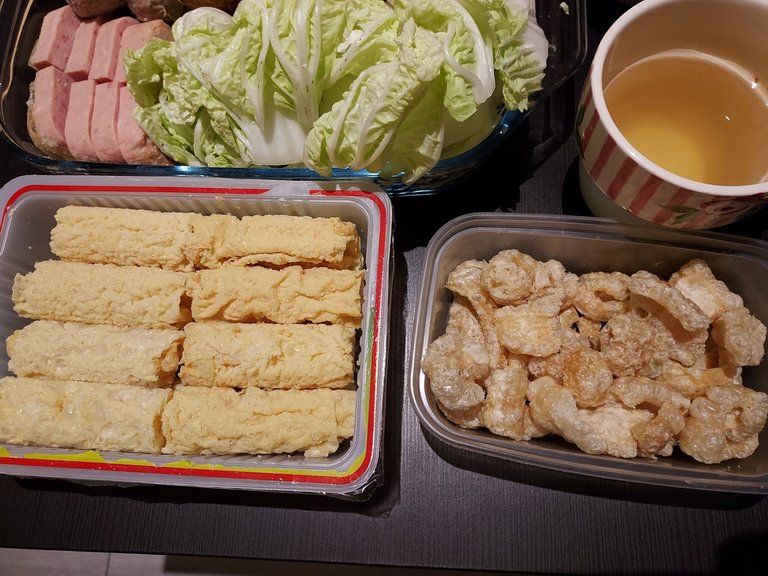 So you can see, making your own hotpot at home is very easy and versatile. You can use whatever ingredients to suit your diet even if you're a vegan.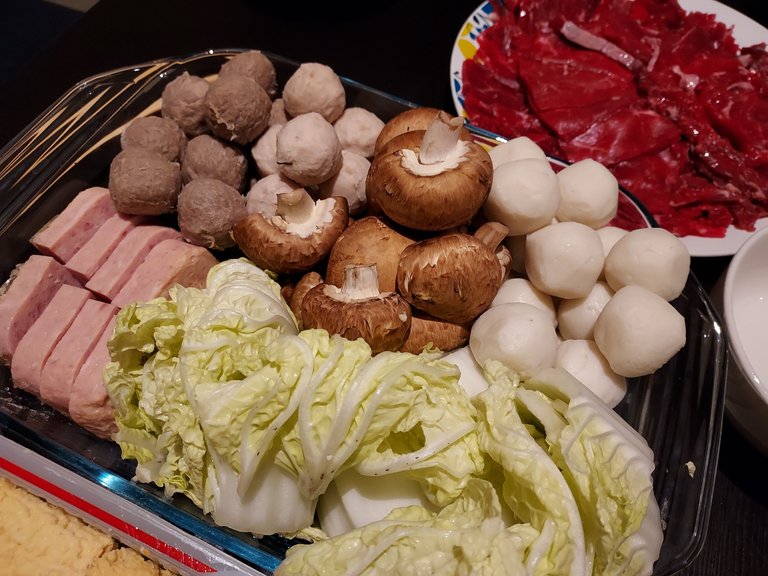 Oh, I forgot, you need two more things to enhance your experience. First is a dipping sauce, normally soy sauce. I like to add a dash of sesame sauce, and finely chopped garlic and spring onions to mine. Some people add a raw egg to it, like the bowl you see in the first image. If you like hot and spicy flavour, you can have chilli sauce. Second, if you can get hold of these little mesh ladles or have a slotted spoon it will help you retrieve the food from the hotpot. Otherwise you can use tongs.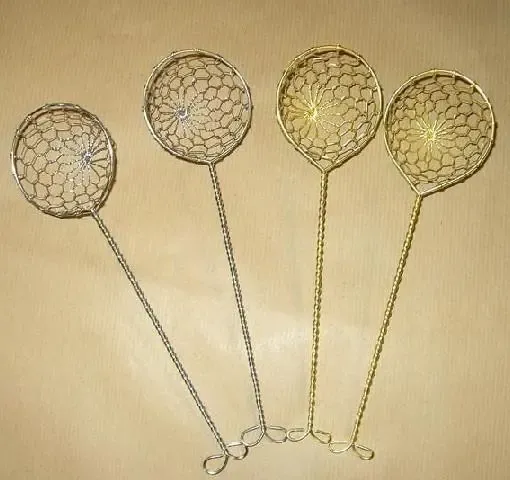 Source
Now all you need to do is lay out all the food on the table, and bring the hot pot to boil. The cooking of the food should be spaced out, for example throw a bunch of meatballs in first as it takes a few minutes and won't over cook. Meat slices can be cooked be each person themselves as it only needs to be quickly blanched, like the beef only takes 10 seconds or so. The idea is to eat the food straight from the hotpot via the dipping sauce.
Some people may question why all the hassle, and why not cook it in a saucepan and serve like a normal bowl of food? You can, but hotpot is all about the experience, like a barbeque. It's about no single person having to do all the cooking, it's about everyone can eat what they want when they want, and it's about sharing a prolong meal with friends over a good beer. What's not to like about it?
Have you tried a hotpot before, and if not, do you think you would enjoy it with friends and family? Let me know what you think?