Any Singaporean will tell you that Singapore fried noodles do not originate from Singapore. There are two schools as to its origins. The first being from Singapore's former parent, and it's neighbour Malaysia. Here, they flavour the noodles with tomato puree and chill sauce. The second being Singapore's former economic nemesis Hong Kong. The dish can be found in many local Hong Kong-style cafes and uses curry powder for a kick. In both cases, the dish consists of barbecue roast pork, prawns, egg, onion and pepper.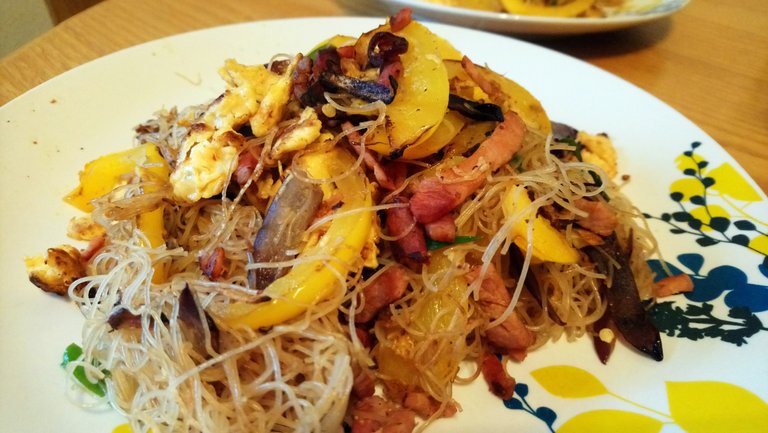 Today I'm going to show you my take on the Singapore fried noodles. Strictly speaking, this isn't my recipe, it's from my ex's dad. No matter what time of the day we turned up at his place, the old man would always have all the ingredients ready in the fridge to make us a plate of tasty fried noodle. Luckily I learnt to make it myself after we split up 😁


THE INGREDIENTS
Right, let's get down to business, and take a look at the ingredients first.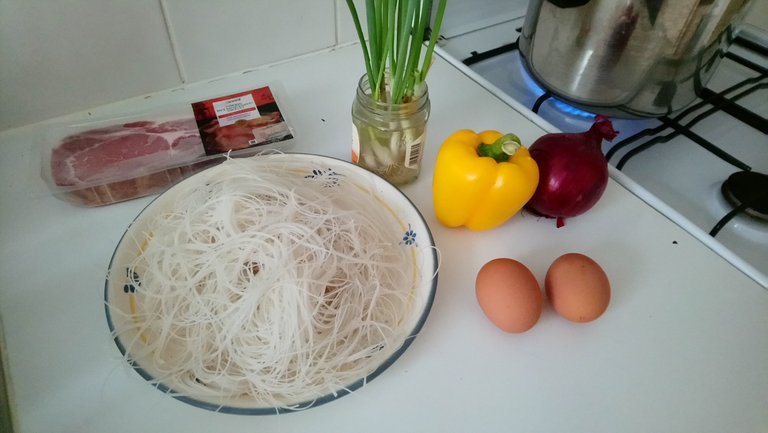 First of all, is the noodles of course. This is rice noodles. They're normally sold dried and since they're cooked already, all you need to do is to soak them in boiling water till they're soft. That only takes about 5 to 10 minutes without the heat on. Don't boil them as you don't want them to go too soft. You can also soak them in cold water if you have enough time. That will take a bit longer. When the rice noodles are soft, drain the water. Sometimes I put them in the fridge whilst I prepare the rest of the ingredients. It helps to dry them a little bit. It doesn't need to be completely dry, just not too moist or dripping with water.
I use bacon in my Singapore fried noodles, and I prefer the smoked ones to give a bit more flavour to the fried noodles. I have used three slices. Then there's one bell pepper, I used yellow for some colour contrast, but red, green or orange will be equally fine. Next is half a red onion and some fresh spring onions. Cut all these ingredients in thin strips so they match the rice noodles. Finally, I have two eggs.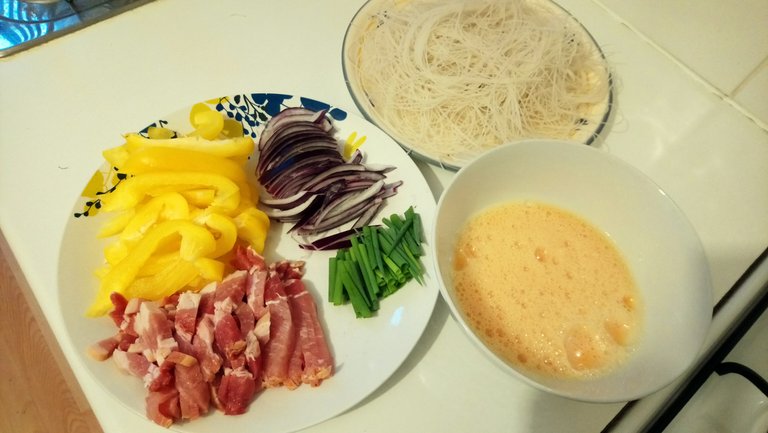 THE PROCESS
Making a Singapore Fried Noodles takes a bit longer than 8 minutes (my previous recipes are all done under 8 minutes), but the process isn't difficult at all.
TIP To make life easier for yourself, use a deep non-stick frying pan or wok. Also, it's handy to have a second spatula/turner.
First of all scramble the egg, then put aside

Fry the bacon till brown on the outside, put aside, separately from the egg

Next stir fry the onion for a minute, then add in the bell pepper. Keep stir-frying them until the bell pepper starts to soften a little. That should take about two or three minutes.

Now tip in the rice noodles. If your frying pan isn't deep enough this is where it can get a bit messy. Using a non-stick pan is also essential otherwise the rice noodles stick to the base very easily. The rice noodles are quite light and you want them to mix in with the other ingredients. This is where the second spatula comes in handy so you can toss the noodles from both sides. This process can actually be very therapeutic 🙃. Be careful that you don't toss all the ingredients over the stove!

I tossed the noodles for about three minutes, once they're softer, they start to mix with the peppers and onion. Add back in the bacon and keep tossing for two more minutes. Now is the time to add the seasoning. I used a bit of salt, not too much as the bacon is smoked. A little soy sauce, preferable dark, to add some colour. I only had light soy sauce. You also want some kick in the Singapore Friend Noodles. I normally add paprika, but again I didn't have any, so I used a few sachets of chilli powder from my instant noodles. For the kick, it's best to use powder and not sauce or paste as it mixes easier with the noodle.

When you're happy with the seasoning, and the ingredients are mixed well, add the egg back in and give it a few more tosses. You'll notice my noodles aren't mixed very well with the rest of my ingredients. That's because my frying pan is quite shallow and I was worried if I over toss things I might end up sharing half my noodles with the stove!

And finally, sprinkle the spring onions on top. Now that wasn't too difficult to make, was it?


It takes about 15 minutes to make this plate of delicious Singapore Fried Noodles, and I can tell you it tastes a lot better than it looks!





Do you remember I said at the beginning Singapore Fried Noodles doesn't originate from Singapore? Often, many dishes may have names that don't actually have any links to what they're named after. Today I read in the UK newspaper about critics towards cultural appropriation in the culinary industry, and how some has started self-censorship, possibly escalated due to the Black Life Matters movements.

Some cooking websites have gone through their recipe archives to review the use of terms and names that may deem to be cultural insensitive. Generic recipe names such as Asian salad had to be changed. Another website commented about their recipes

Those that "shoehorn in a trendy ingredient with no explanation" or fail to credit their cultural origins will be updated, with notes to address "past appropriation and tokenisation".

I love watching cooking programs on TV, but often cringe when I see chefs cook a Chinese dish, doing it all wrong yet say that's the proper way to cook it. I've even seen judges on cooking contest shows telling an Asian that their dish wasn't cooked correctly. Idiot, what you've been eating all your life has been adapted to suit your palette, it's not how we cook it for ourselves!!!!

Critique is acceptable if it's about disrespect and lack of understanding of one's culture. But when you're critiquing for the sake of critiquing, and people start self-censorship by dotting all the I's and crossing all the T's so they don't offend anyway, then it starts to get silly.

Singapore Fried Noodles has been around for a long time, no one really knows why it's called Singapore Fried Noodles and not Malaysian Fried Noodles or Hong Kong Fried Noodles. Does it really matter? Should we get rid of Singapore from the name because Singapore hasn't claimed its origin? Shall we just ignore the history, or rather lack of history for this dish and rename it because it's got nothing to do with Singapore?