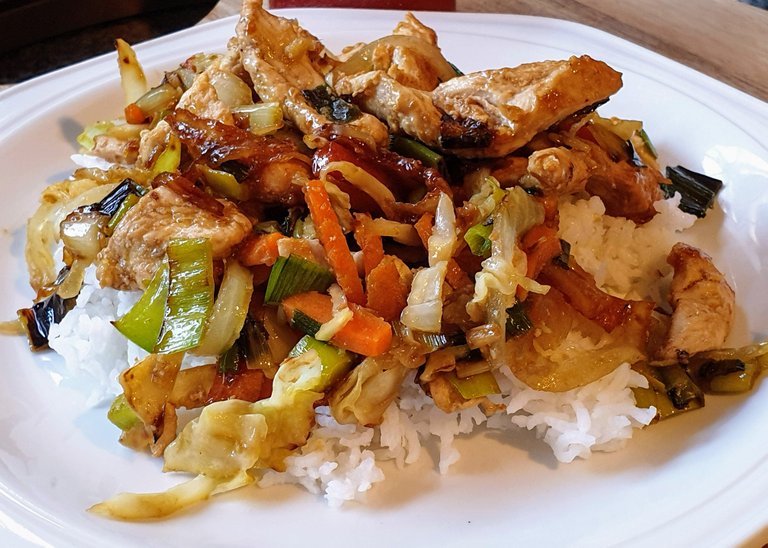 A Foodie Challenge I simply cannot resist, and add to this challenge the fact that it's run by none other than our talented maker of Personalized HIVE Profile Signatures, @zord189, and I'm caught, hook line and sinker!
Certainly will not let go of this bait;)
---
Pre-Pandemic days when we used to frequent some hidden gems in the restaurant industry, I would often end up ordering a Stir-fry option.
Nothing beats the crunchy, caramelized sweet and sour flavours of veggies stir-fried; add to that anything Seafood and I'm done for, especially when it's succulent plump garlicky Prawns.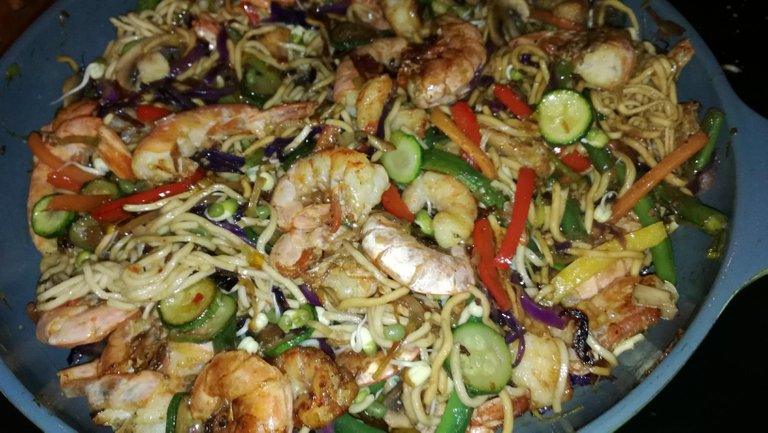 Pre-pandemic Delish Prawn Stir-fry with Chinese noodles.
However, we're now smack bang in the midst of a pandemic that's brought a new strain to our shores, and I'm not even sure which of our favourite spots have survived.
Further, we no longer simply jump into the car at a whim to run to the store for whatever takes our fancy as we're trying to practice social distancing for now so we first check the pantry/ freezer/ refrigerator or even the garden and use whatever we can find right here at home!
Ask any home cook how many times a stir fry has saved the day when time's run out and everyone is starting to raid the refrigerator looking for something to fill the hunger pangs!
Where was this cooking method first used?
China of course; where food ingredients were quick-fried in a small amount of oil in a Wok.
This quickly spread to other parts of Asia and has become very popular in the rest of the world.
This method of cooking further retains much of the nutrients, as it's not cooked to death nor is any of the liquids thrown down the drain as we do when we cook veggies!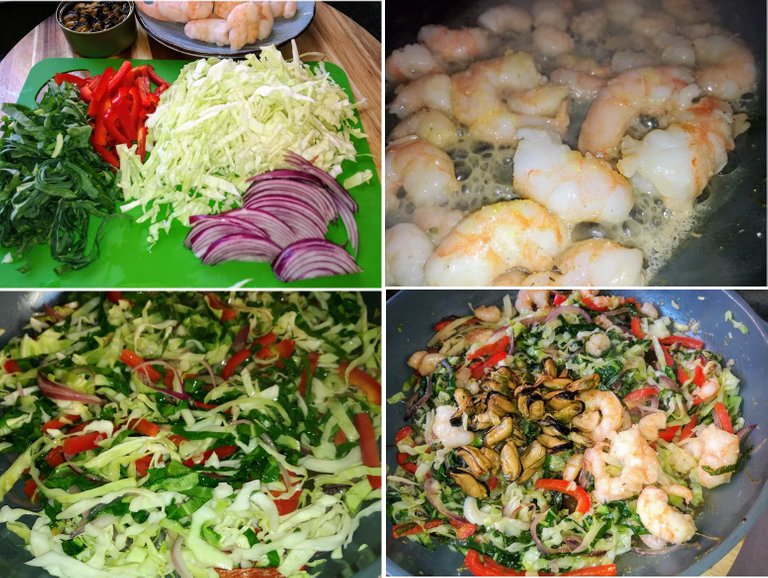 Yet another pre-pandemic Prawn & Smoked Mussels Stir-fry.


Let's get cooking for today's Smashing Stir-fry
What did I find in the pantry/ freezer/ refrigerator and the garden?
I'll firstly tell you what I would have wanted to, but did not find:
Chinese noodles, so I used Basmati Rice instead
Bell Peppers
Mushrooms, any type!
Prawns
No guessing what I've got on my next online shopping list!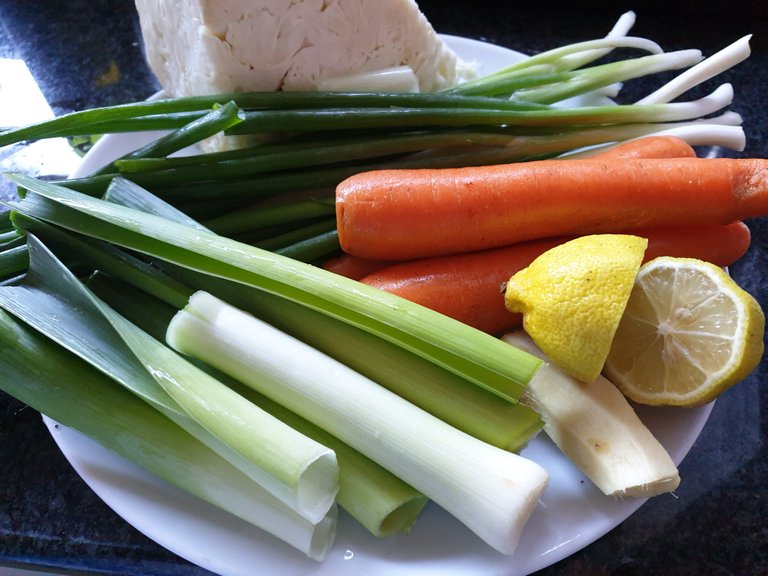 Base Ingredients:
Leeks, sliced
Spring Onions, sliced
1 Onion, thinly sliced
Carrots, cut into julienne strips
1/4 Cabbage, finely shredded
Fresh Ginger root, grated
Garlic, crushed
Lemon Juice, to marinade chicken fillets
Fresh Thyme
Chicken Breast Fillets, sliced thinly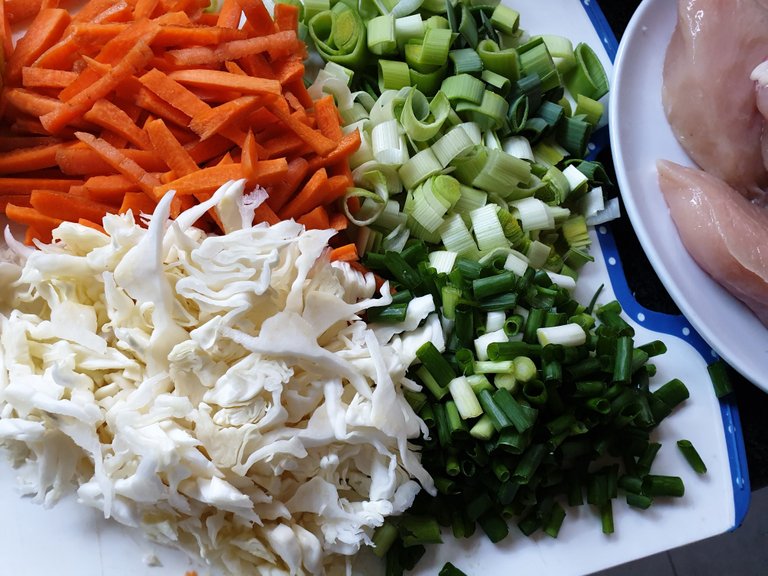 Marinade sliced Chicken fillets in lemon juice, thyme and seasoning.
Heat Olive Oil in wok or large pan, add garlic, spring onions, leeks, carrots and cabbage in small batches and stir-fry till veggies start to caramelize.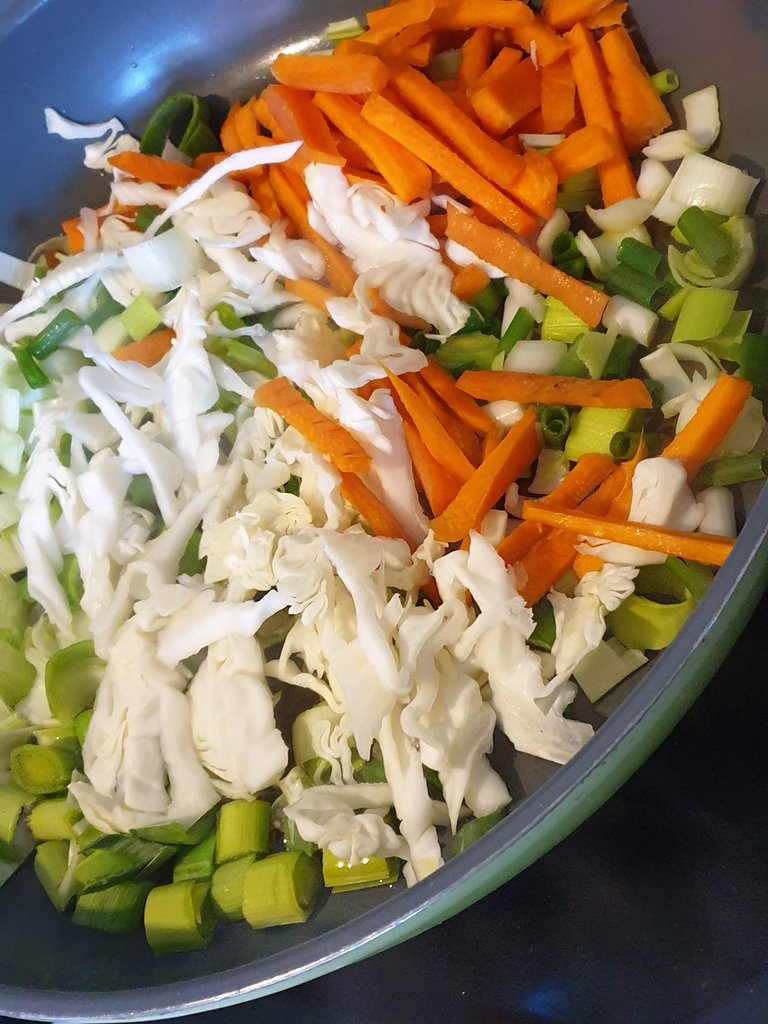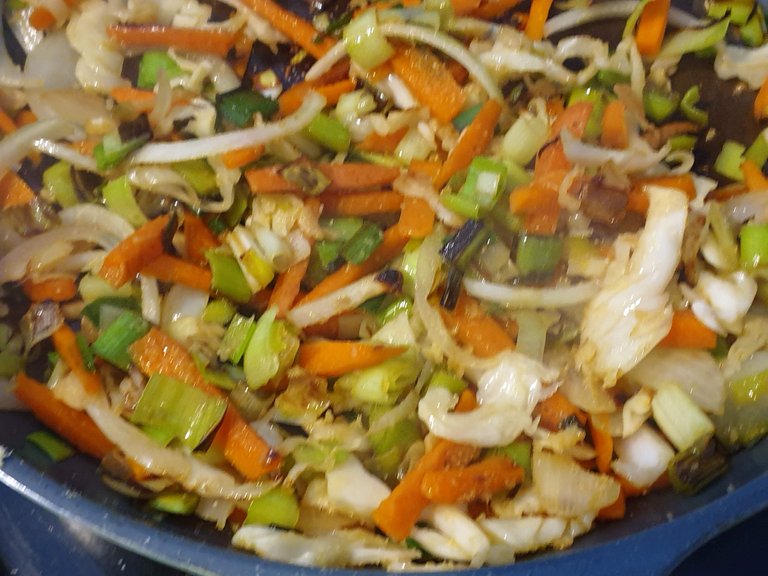 Remove from pan, add more Olive Oil, heat till almost smoking hot and add chicken fillets in small batches, stir-frying for a very short time, just to seal in the juices.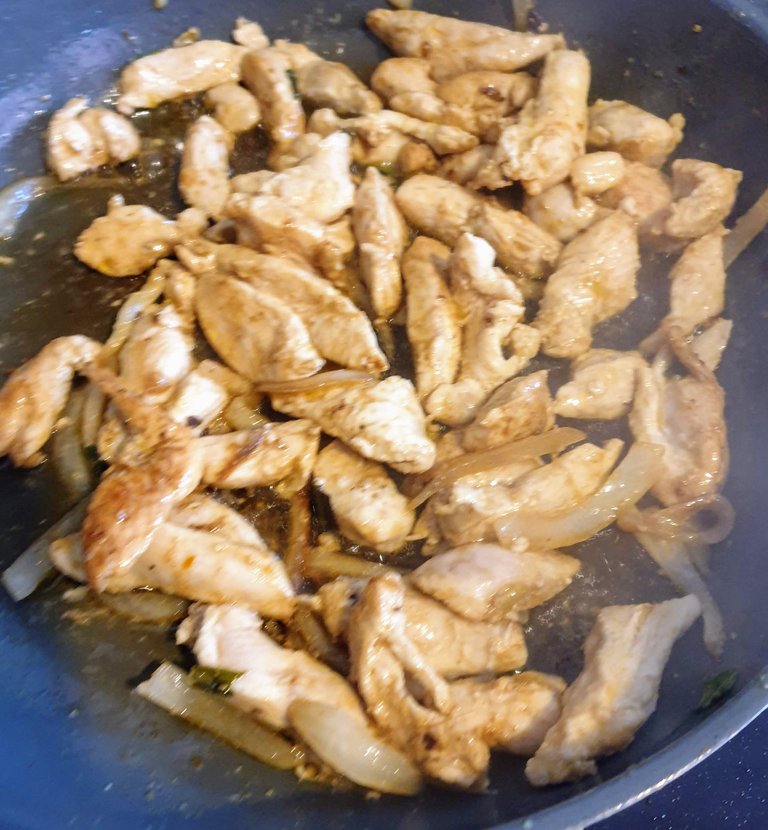 Smoking hot!
Return veggies to pan and stir-fry on high heat while mixing lightly.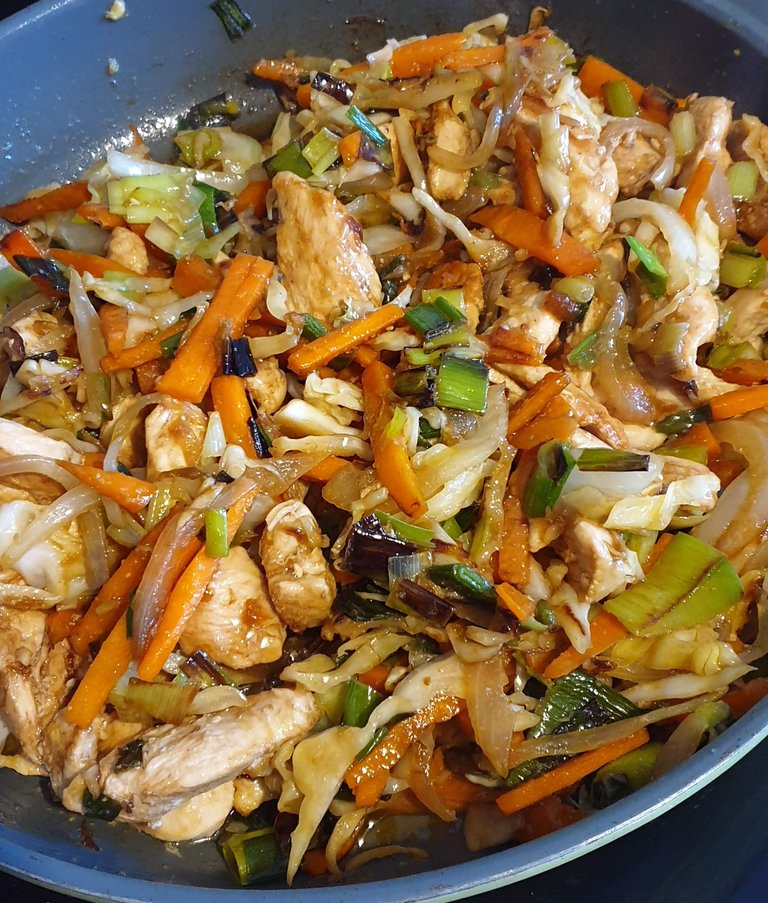 Add Ginger, Soy Sauce, Worcester Sauce and your favourite Sweet & Sour Sauce, season to taste.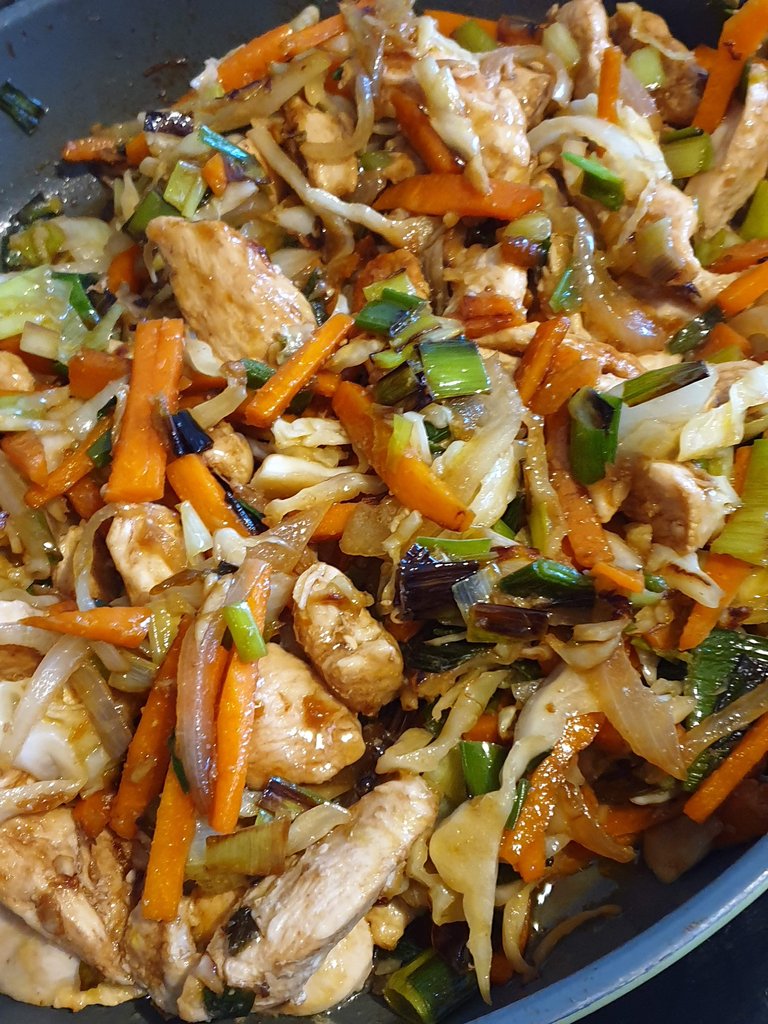 Serve with Basmati Rice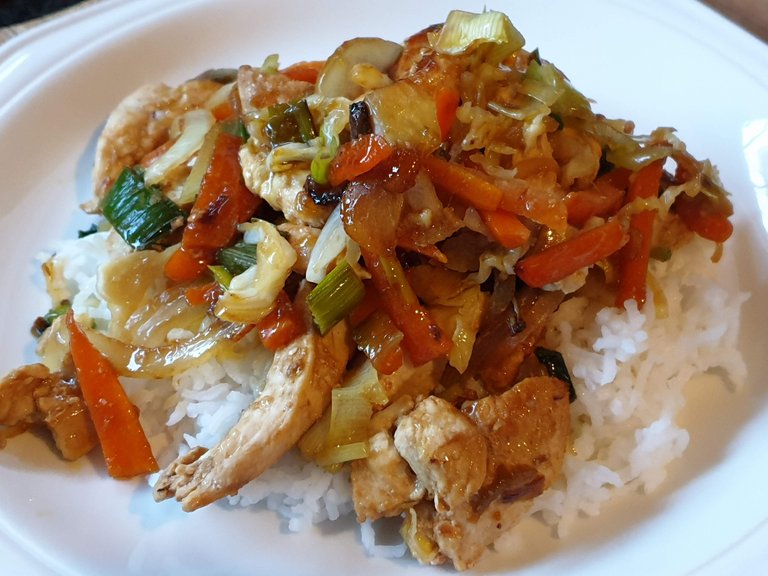 BON APPETIT FRIENDS!
--- Banner created by @zord189


Original Content by @lizelle
Thank you for stopping by
Copyright @lizelle – All Rights Reserved


Do you know this Badge?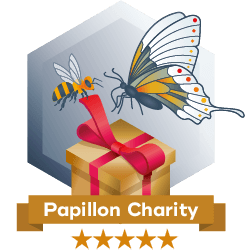 It says "Thank you for partnering with the Papillon Foundation by participating in the
Weekly Hive Charity Giveaway."
Do you want this Badge?
If you like this badge and if you want to help too, you can learn more about @combination and the badge in their blog post:
Some Exciting News! Badge release!


Why not join Hive RIGHT HERE and become part of this amazing community!


Banner created by @derangedvisions