Algo que me hace realmente muy feliz de esta temporada del año es que aquí en mi país, ¡es temporada de Mangos!. Realmente el Mango es una fruta nacional que se da aquí en Venezuela durante todo el año, pero la temporada alta ocurre desde finales del mes de abril hasta más o menos el mes de septiembre. Entonces, en estas fechas, es bastante normal visualizar mangos en todos los supermercados esperando a que te los lleves para tu casa y disfrutes de su delicioso sabor.
Yo soy fanática número uno de esta fruta, en realidad es una de mis frutas favoritas junto con la banana y las fresas. Hace unos días había aprovechado de comprar algunos mangos que vi en oferta y como tenía de sobra se me ocurrió hacer Tortitas de Mango, peeeero ¡oh-oh! como ya mis reservas de endulzante se agotaron tuve que añadir puré de banana madura para endulzar un poco más y que la preparación no resultara tan insípida. En un principio no me agradaba mucho la idea de añadir banana a la mezcla porque a veces ella resulta ser un poco invasiva y termina enmascarando los demás sabores y no quería que el sabor del Mango se perdiera completamente, pero al final el resultado sí estuvo bien y por eso no dudé en compartirlo aquí en mi Blog.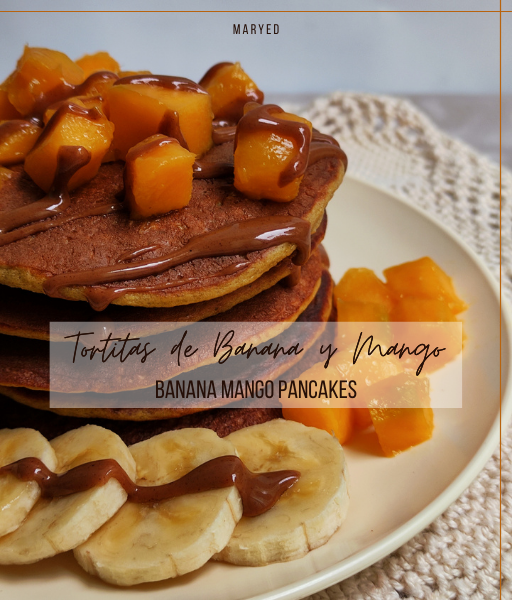 Something that makes me really happy about this time of the year is that here in my country, it's Mango season!. Actually, Mango is a national fruit that grows here in Venezuela all year round, but the high season is from the end of April until about September. So, at this time of the year, it is quite normal to see mangos in all the supermarkets waiting for you to take them home and enjoy their delicious flavor.
I am a number one fan of this fruit, actually it is one of my favorite fruits along with bananas and strawberries. A few days ago I had taken the opportunity to buy some mangos that I saw on sale and as I had some left over I had the idea to make Mango Pancakes, but oh-oh! as my sweetener reserves were already depleted I had to add mashed ripe banana to sweeten a little more and to make the preparation not so tasteless. At first I was not very pleased with the idea of adding banana to the mixture because sometimes it turns out to be a little invasive and ends up masking the other flavors and I did not want the flavor of Mango to be completely lost, but in the end the result was fine and that's why I did not hesitate to share it here on my Blog.

INGREDIENTES
INGREDIENTS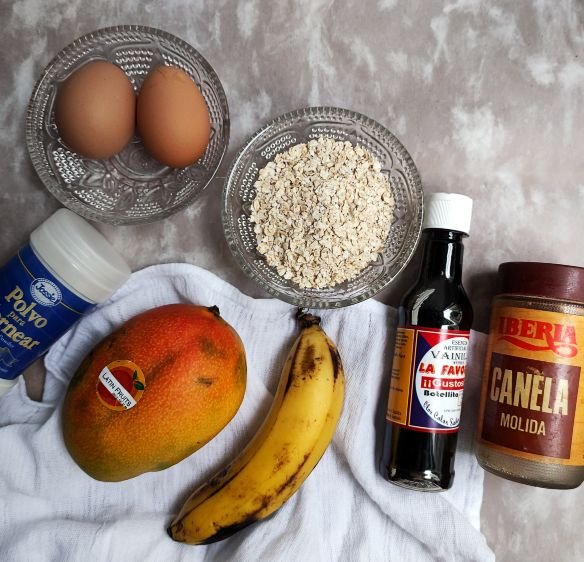 ✔ 2 a 3 cucharadas de copos de avena (sustituible por la harina de tu preferencia)
✔ ½ banana madura (la otra mitad la usaremos para decorar)
✔ ¼ de taza de mango picado en cubos
✔ 2 huevos
✔ 1 cucharadita de polvo para hornear
✔ Esencia de vainilla y canela al gusto
✔ 2 to 3 tablespoons oat flakes (can be substituted by the flour of your choice)
✔ ½ ripe banana (the other half will be used for decorating)
✔ ¼ cup mango diced
✔ 2 eggs
✔ 1 teaspoon baking powder
✔ Essence of vanilla and cinnamon to taste

PROCEDIMIENTO
PROCEDURE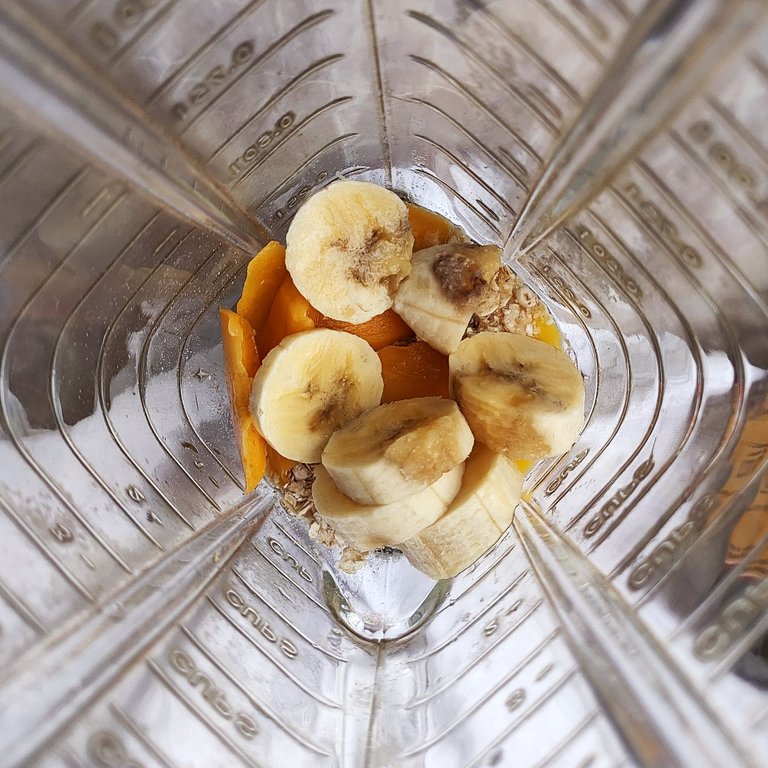 El procedimiento no tiene nada de complicado pues sólo hay que colocar todos los ingredientes en el vaso de la licuadora y triturar. Si notas que la mezcla está demasiado espesa (que ni siquiera se desliza por el vaso de la licuadora) entonces añade un chorrito de agua, leche descremada o bebida vegetal. Deja reposar la mezcla unos cinco a diez minutos antes de proceder a realizar las tortitas.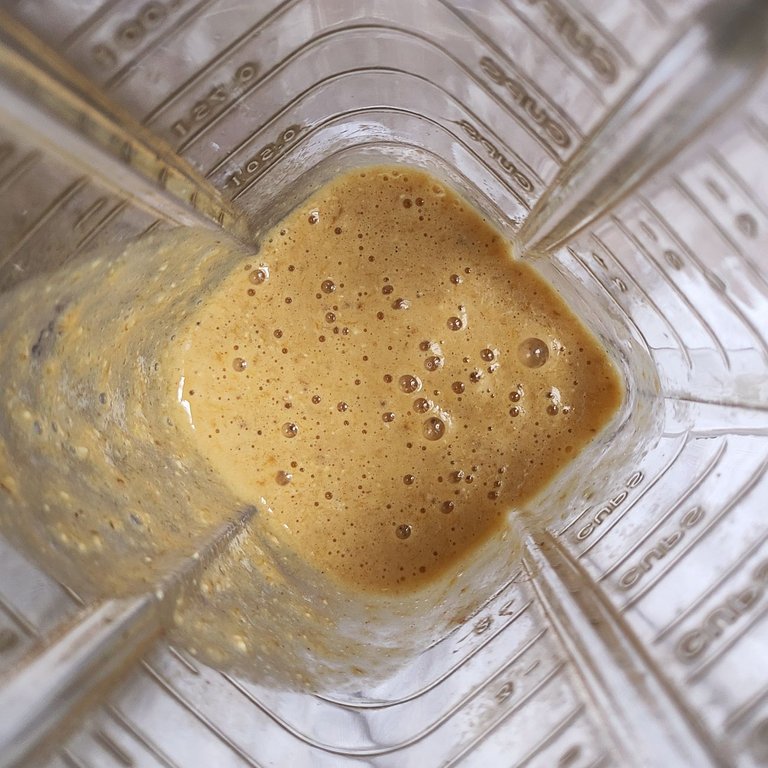 The procedure is not complicated at all, just place all the ingredients in the blender beaker and blend. If you notice that the mixture is too thick (it does not even slide through the blender cup) then add a splash of water, skim milk or vegetable drink. Let the mixture stand for five to ten minutes before proceeding to make the pancakes.
---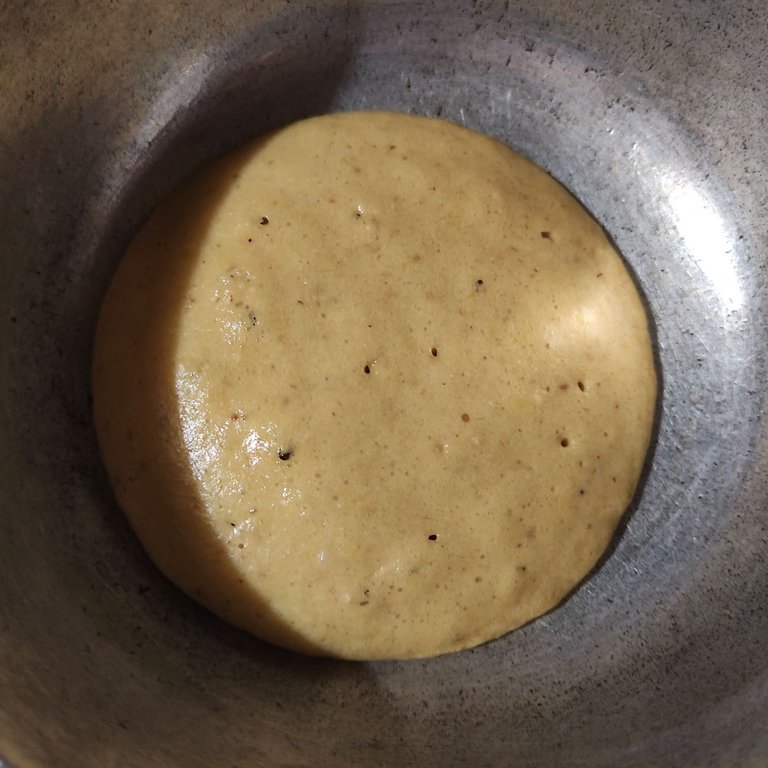 Coloca la mezcla en una sartén bien caliente y previamente engrasada para evitar que las tortitas se peguen. Tapa la sartén para que las tortitas se cocinen bien en su interior y cuando veas que comienzan a aparecer pequeñas burbujitas o que ya la mezcla está un poco seca en la superficie es momento de darle vuelta a la tortita para que se cocine por el otro lado.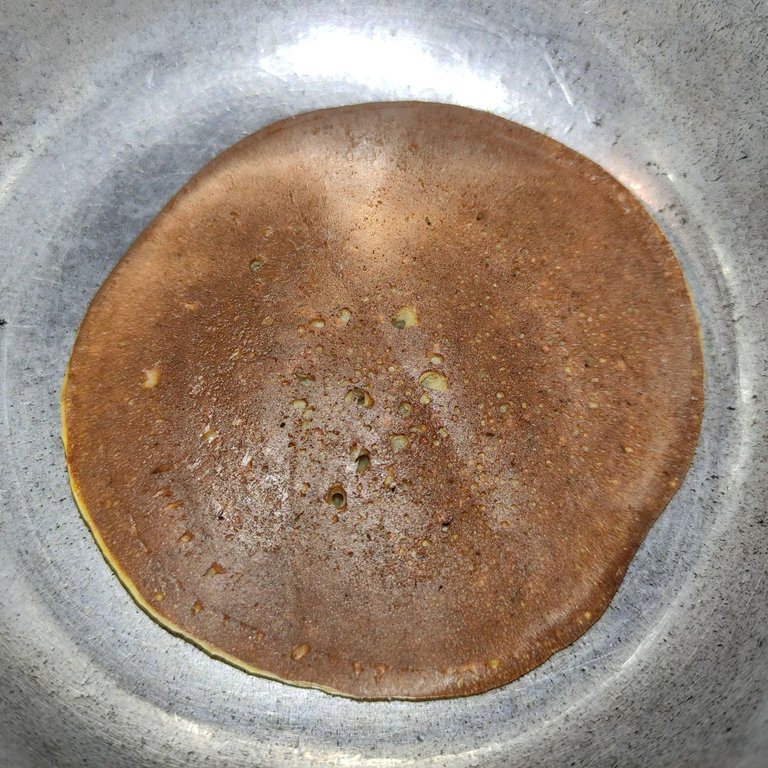 Place the mixture in a very hot skillet previously greased to prevent the pancakes from sticking. Cover the pan so that the pancakes cook well inside and when you see that small bubbles start to appear or that the mixture is a little dry on the surface, it is time to turn the pancake over to cook on the other side.

RESULTADOS
RESULTS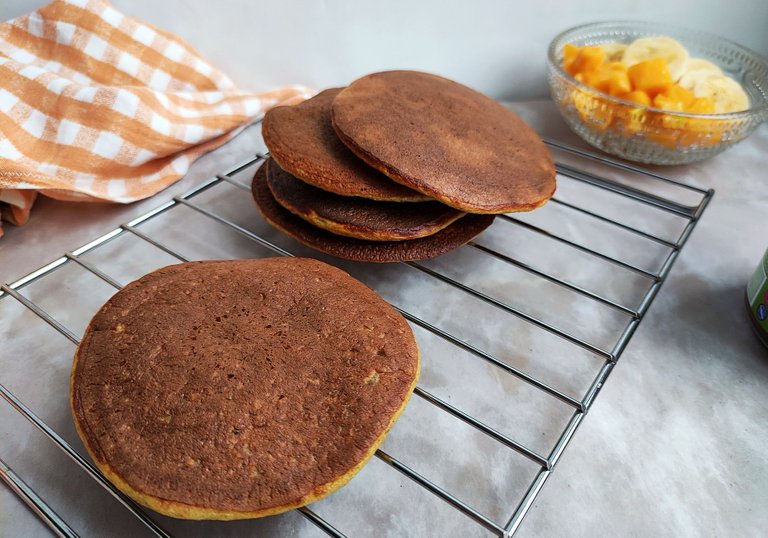 Puedes complementar tus tortitas con lo que más desees, yo en este caso complementé con la otra mitad de la banana, unos pequeños trozos de mango y una cucharadita de una crema de chocolate y maní que me encanta porque, a parte de que es deliciosa, está endulzada con estevia y no contiene aditivos ni conservantes de ningún tipo, es súper saludable la verdad y únicamente contiene esos tres ingredientes: cacao, maní y estevia.
You can complement your pancakes with whatever you want, in this case I complemented with the other half of the banana, some small pieces of mango and a chocolate and peanut cream that I love because, besides being delicious, it is sweetened with stevia and contains no additives or preservatives of any kind, it is really super healthy and only contains those three ingredients: cocoa, peanuts and stevia.
---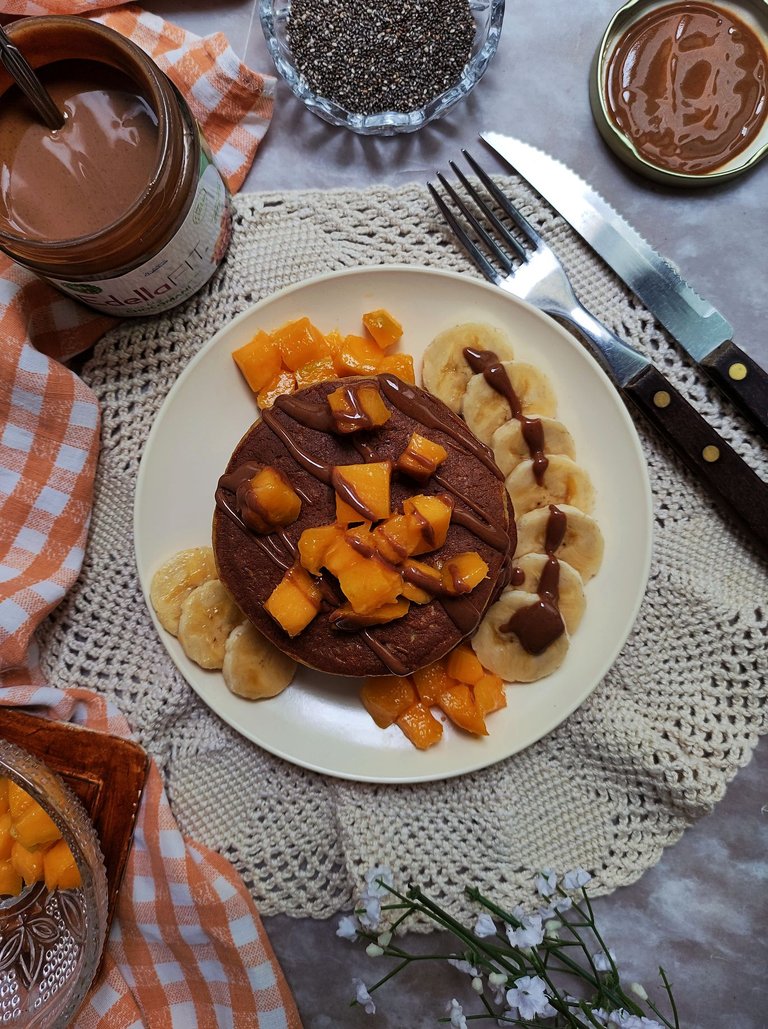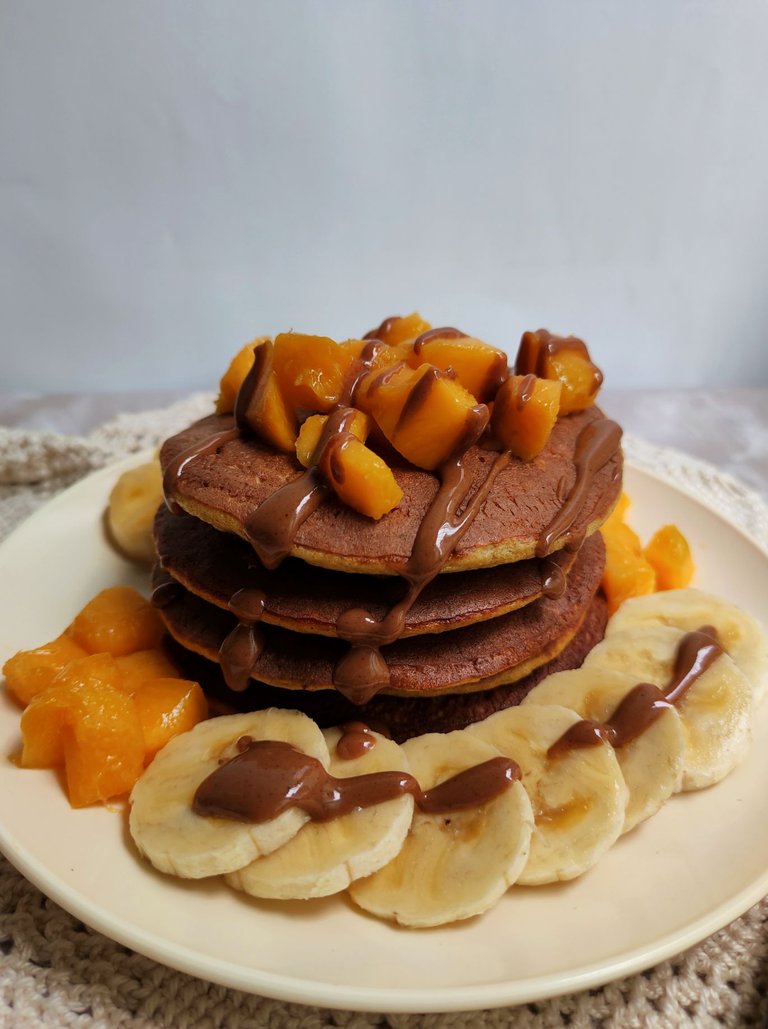 ---
Y como verán, estas tortitas quedan muy esponjocitas. De verdad nunca me cansaré de decir que las tortitas son el mejor desayuno que hay porque puedes incorporar a la mezcla lo que se te antoje, literalmente, LO QUE SEA para obtener un desayuno bastante completo y nutritivo.
And as you can see, these pancakes are very fluffy. I'll never get tired of saying that pancakes are the best breakfast ever because you can add to the mix whatever you want, literally ANYTHING to get a very complete and nutritious breakfast.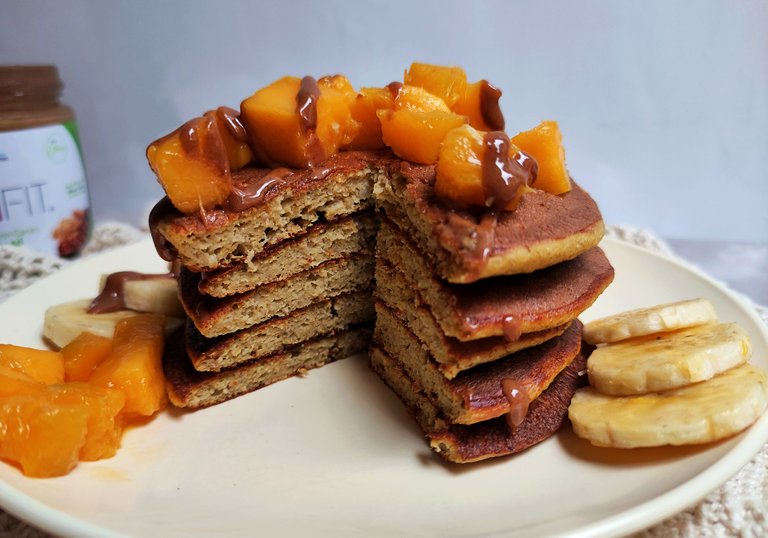 ¡Espero que les haya gustado esta receta y que se animen a prepararla! En serio, tienen que prepararla porque la amarán.
I hope you liked this recipe and that you are encouraged to prepare it! Seriously, you have to make it because you will love it.
---
Gracias por leer esta publicación. ¡Hasta la próxima, FoodLovers!
Thanks for reading this post. See you next time, FoodLovers!

---
📷 Fotografía por | Photography by: @maryed, Xiaomi Poco X3.
✎ Edición por | Edition by: @maryed, Pixlr Photo Editor.
✂ Separador | Separator: Separadores de texto para Blog
Translated with www.DeepL.com/Translator (free version)