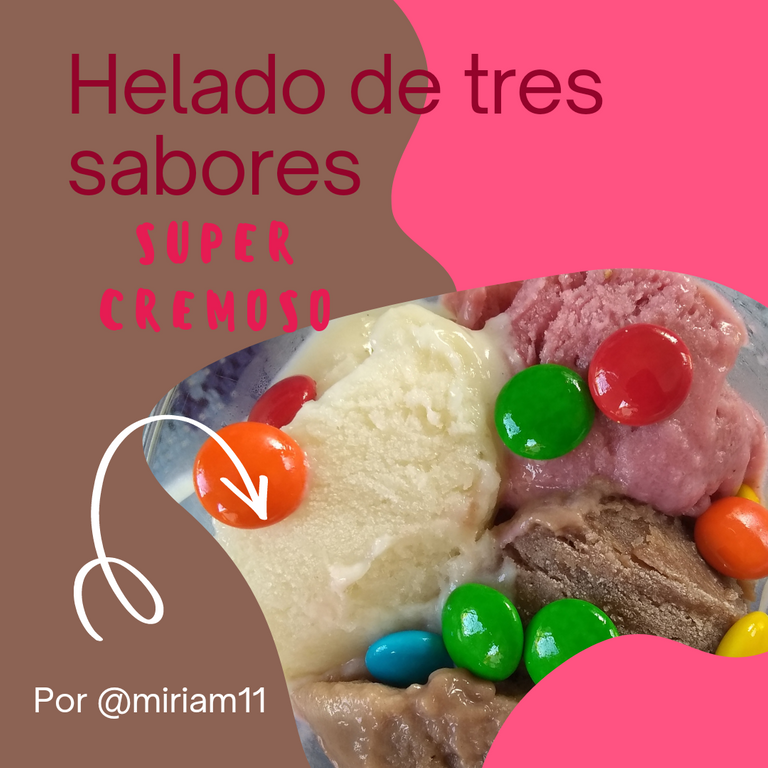 Saludos queridos Hivers amantes de comer y cocinar.
Estoy feliz y orgullosa de haber logrado preparar, un helado con la textura suave y cremosa como los helados industriales.
Fue una promesa que le hice a mi hija, que le prepararía un helado cremoso de tres sabores, así que hoy compartiré con ustedes esta dulce receta.
Dato importante:
En ves de usar emulsificantes químicos usaremos maicena y gelatina sin sabor como base, para dar esa textura suave y cremosa que tienen los helados industriales. Aparte de ser absolutamente inofensivo, no modifica el sabor natural de los ingredientes principales.
Ingredientes para preparar litro y medio de helado.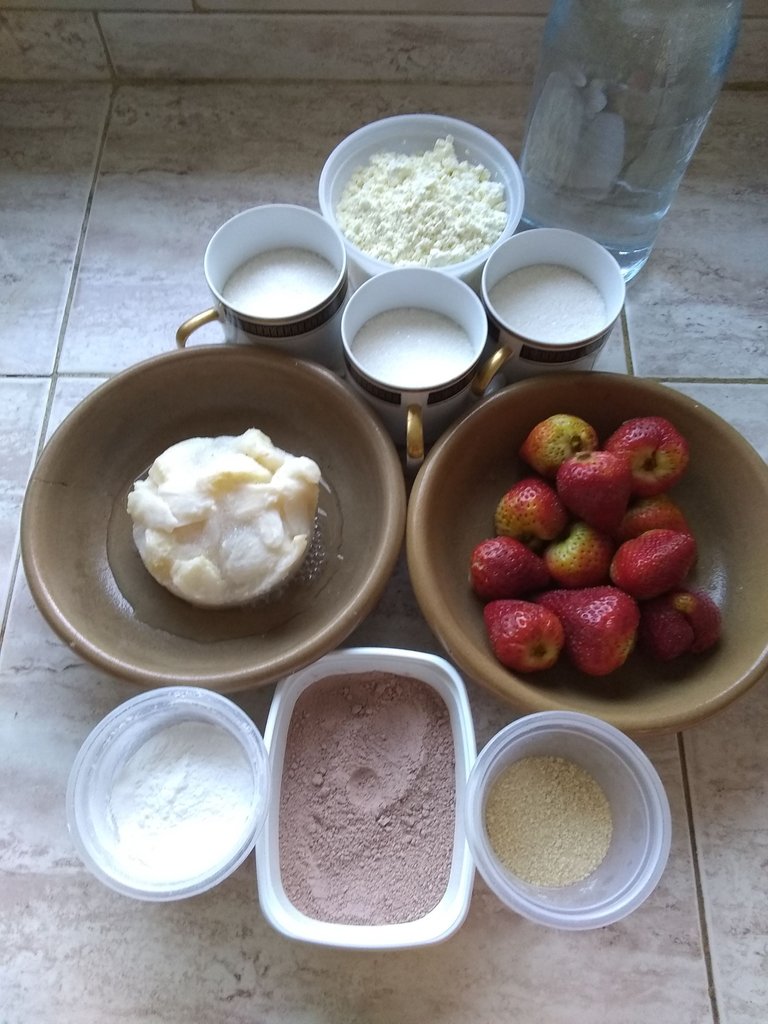 300 gramos de fresas.
300 gramos guanabana si semilla.
200 gramos de chocolate o cacao en polvo.
400 gramos de leche en polvo.
3 tazas de azúcar.
2 cucharadas de maicena.
1 cucharada de gelatina sin sabor.
1 litro de agua.
Preparación de la maicena:
En una olla, poner a calentar 750 mililitros de agua.
En una taza de agua, diluir las dos cucharadas de maicena, cuando el agua comience a hervir añadir la maicena diluida y remover constantemente por espacio de 4 minutos. Apagar y dejar enfriar.
Preparación de la gelatina:
En una olla pequeña, añadir una taza de agua y diluir la cucharada de gelatina en polvo, llevar al fuego removiendo hasta que rompa el hervor, apagar y dejar enfriar.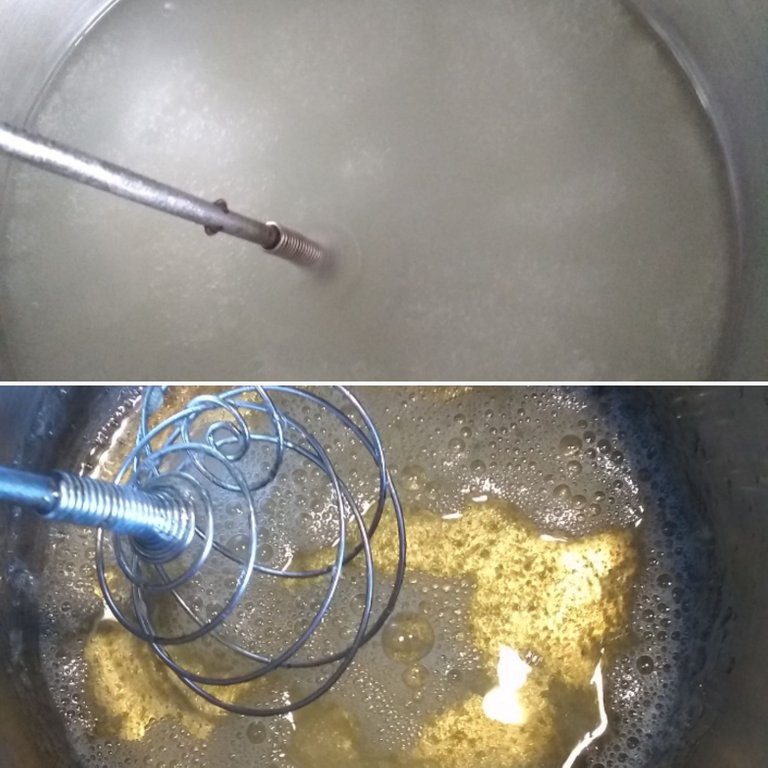 Con esto ya tenemos las bases que le darán la textura cremosa a los helados.
En la licuadora agregar la pulpa de guanábana, 250 ml de maicena preparada, 4 cucharadas de gelatina preparada, poner a licuar y añadir 100 gramos de leche en polvo, agregar poco a poco el azúcar y dejar licuar bien.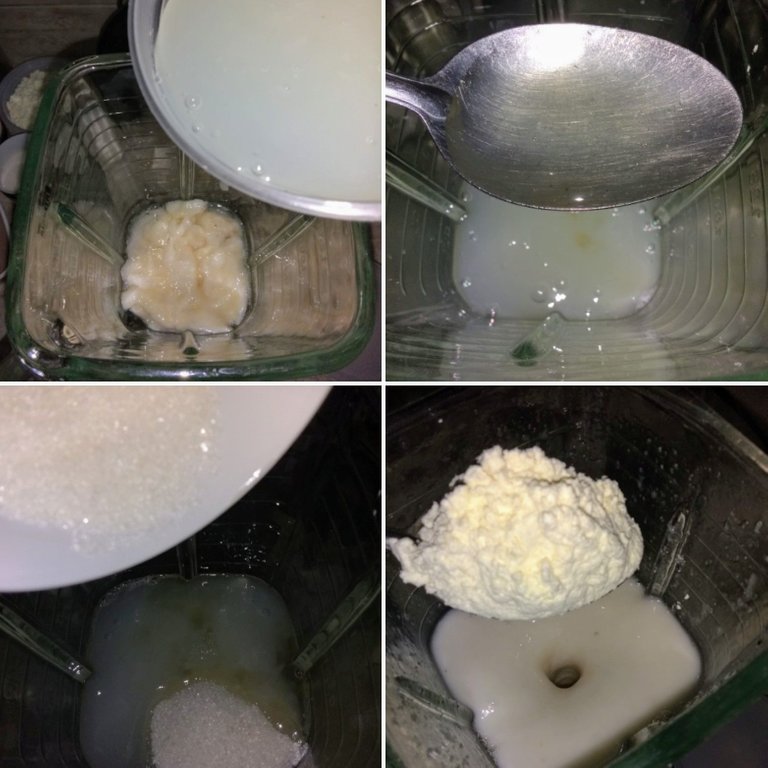 Vaciar la preparación en un envase de 500 ml tapar y poner a refrigerar.
Lavar el vaso de la licuadora, añadir las fresas y repetir el procedimiento con las cantidades anteriores.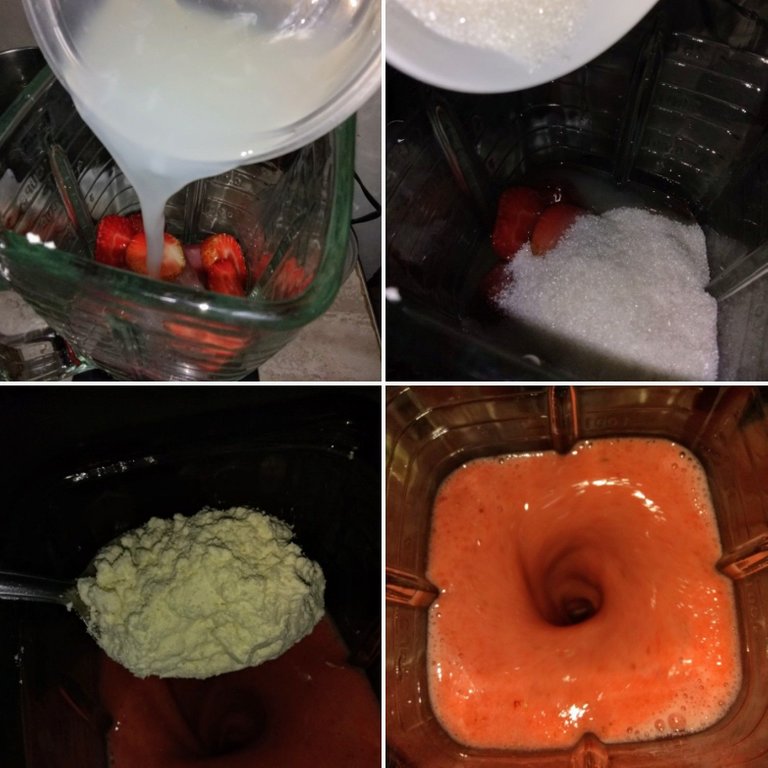 Vaciar en dos envases 250 ml. Tapar y refrigerar.
Lavar el vaso de la licuadora y añadir el resto de la base de maicena, la gelatina preparada, el chocolate, la taza de azúcar y licuar, poco a poco agregar la leche en polvo y dejar licuar bien. Vaciar la preparación en dos envases de 250 ml. Refrigerar .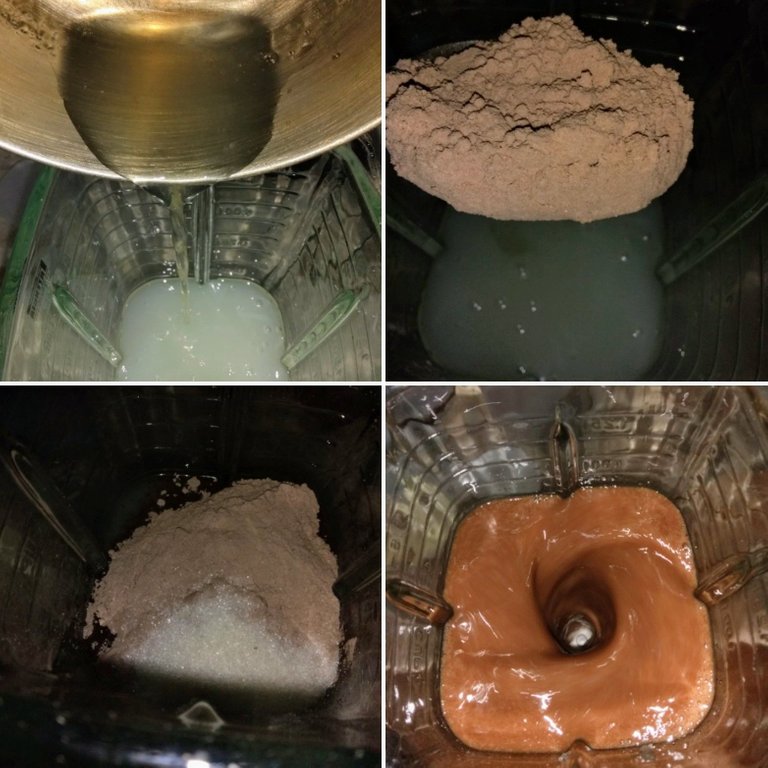 Una vez que se han congelado las preparaciones, pues a servir al gusto.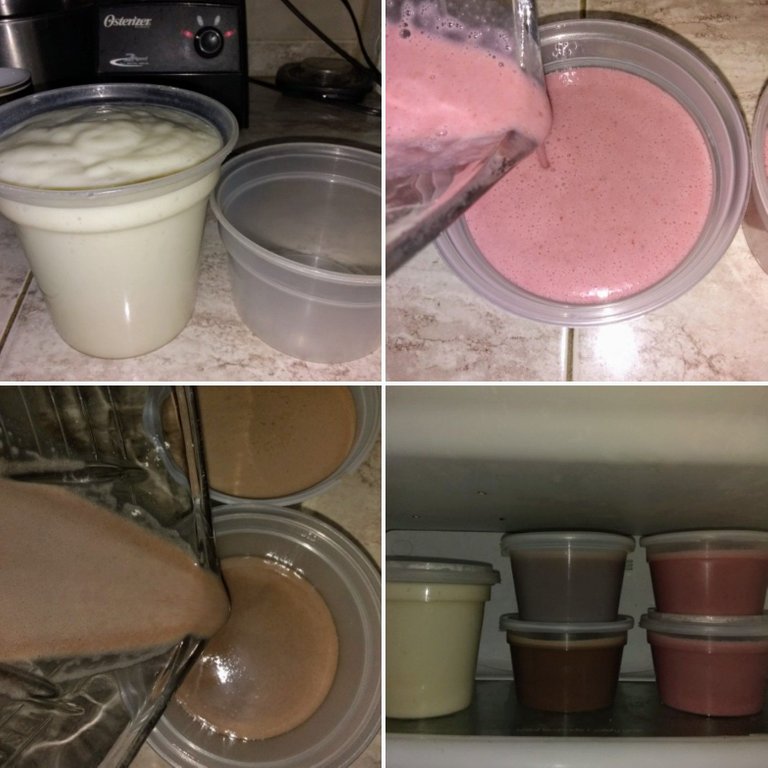 Una promesa es una palabra dada que debemos cumplir, me siento feliz y satisfecha de haberlo logrado, la felicidad de mi hija aunque sea en cosas simples es importante para mí.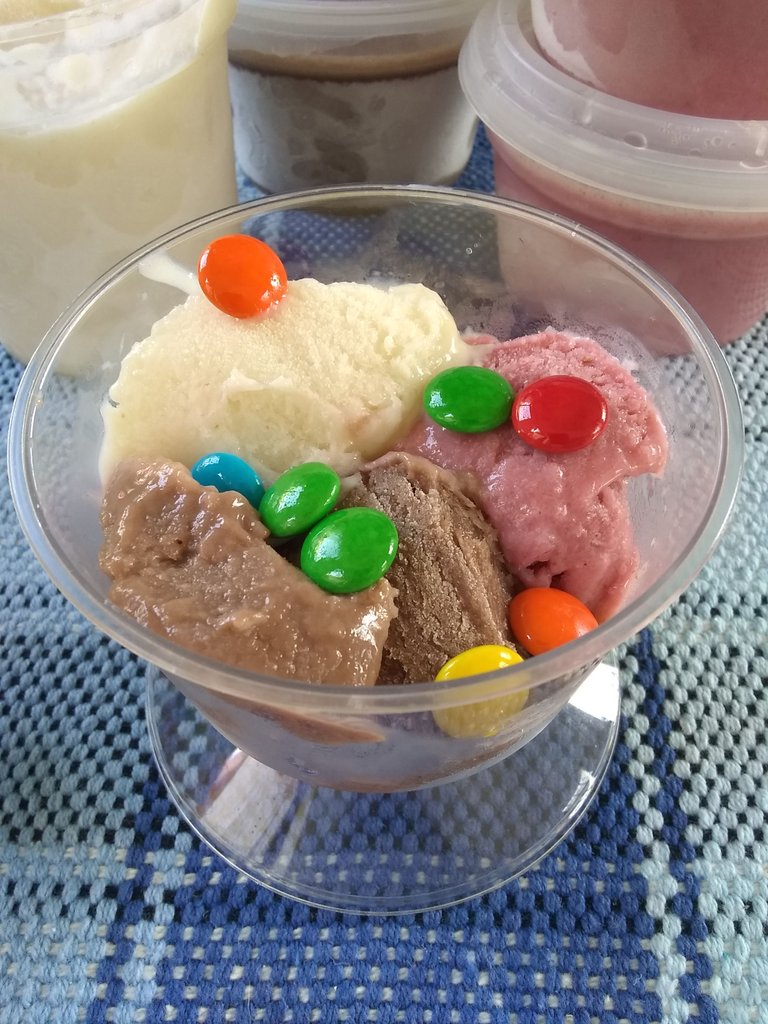 Espero que ustedes se animen a preparar unos helados cremosos y saludables con los sabores de su preferencia, garantizado que quedarán cremosos y suaves.
Todas las fotos son mi propiedad editadas en Canva y Layout.



Greetings dear Hivers who love eating and cooking.
I am happy and proud to have managed to prepare an ice cream with the soft and creamy texture like industrial ice creams.
It was a promise I made to my daughter, that I would prepare a creamy ice cream with three flavors, so today I will share with you this sweet recipe.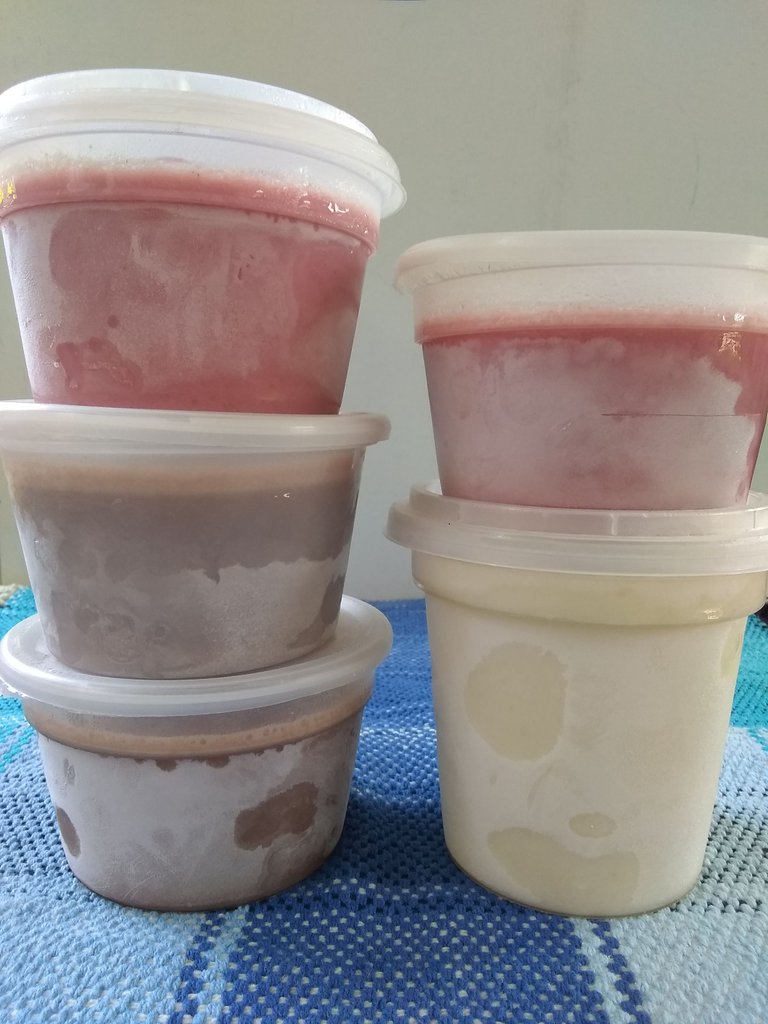 Important fact:
Instead of using chemical emulsifiers we will use cornstarch and unflavored gelatin as a base, to give that smooth and creamy texture that industrial ice creams have. Besides being absolutely harmless, it does not modify the natural flavor of the main ingredients.
Ingredients to prepare a liter and a half of ice cream.
300 grams of strawberries.
300 grams of soursop without seeds.
200 grams of chocolate or cocoa powder.
400 grams of powdered milk.
3 cups of sugar.
2 tablespoons cornstarch.
1 tablespoon of unflavored gelatin.
1 liter of water.
Preparation of the cornstarch:
In a saucepan, heat 750 milliliters of water.
In a cup of water, dilute the two tablespoons of cornstarch, when the water begins to boil add the diluted cornstarch and stir constantly for 4 minutes. Turn off and let cool.
Preparation of the gelatin:
In a small saucepan, add a cup of water and dilute the tablespoon of powdered gelatin, bring to the fire stirring until it comes to a boil, turn off and let it cool.
With this we already have the bases that will give the creamy texture to the ice cream.
In the blender add the soursop pulp, 250 ml of prepared cornstarch, 4 tablespoons of prepared gelatin, blend and add 100 grams of powdered milk, add sugar little by little and blend well.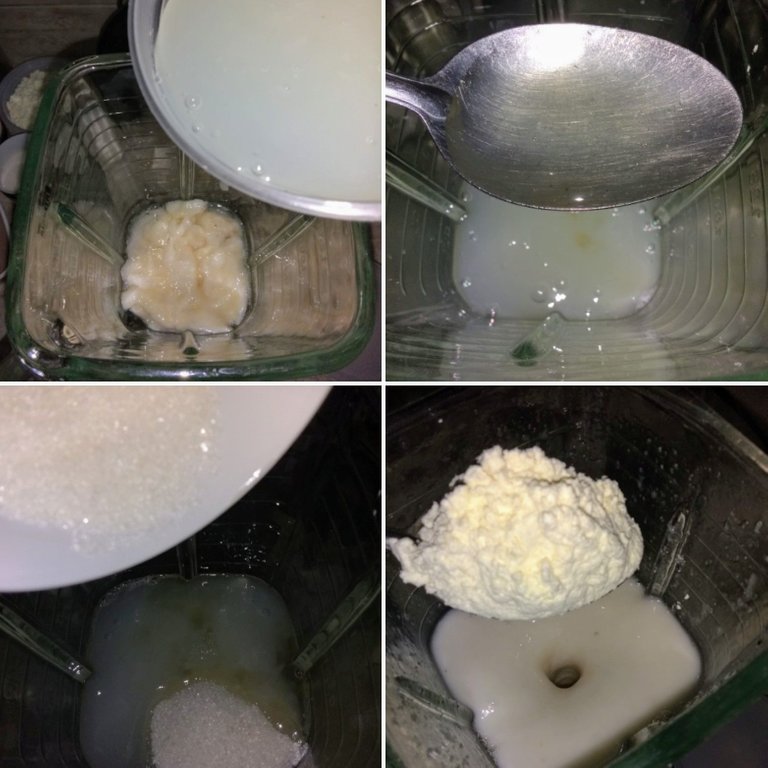 Pour the preparation in a 500 ml container, cover and put it in the refrigerator.
Wash the blender glass, add the strawberries and repeat the procedure with the previous quantities.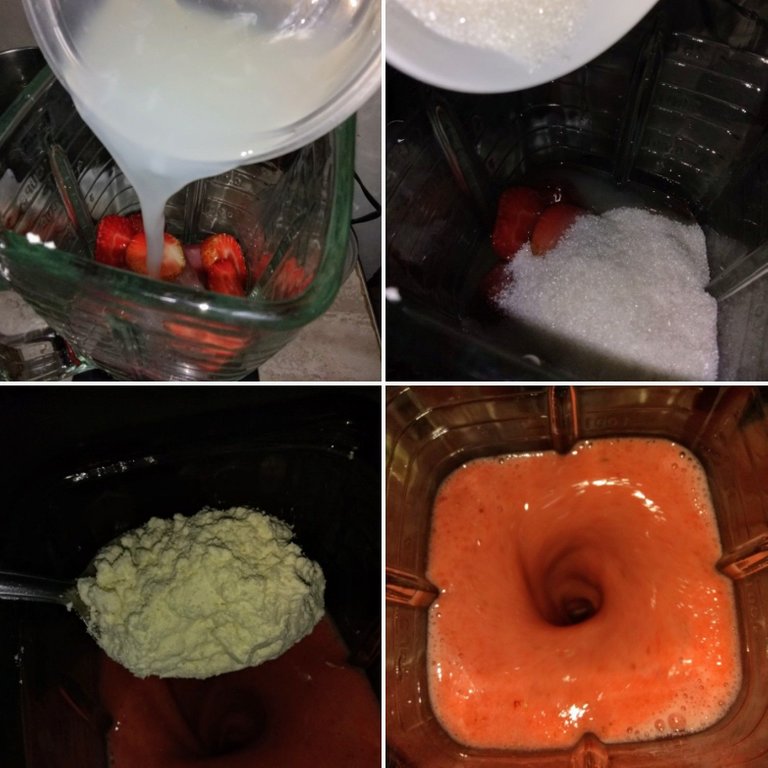 Pour into two 250 ml containers. Cover and refrigerate.
Wash the blender cup and add the rest of the cornstarch base, the prepared gelatin, the chocolate, the cup of sugar and blend, little by little add the powdered milk and let it blend well. Pour the preparation into two 250 ml containers. Refrigerate.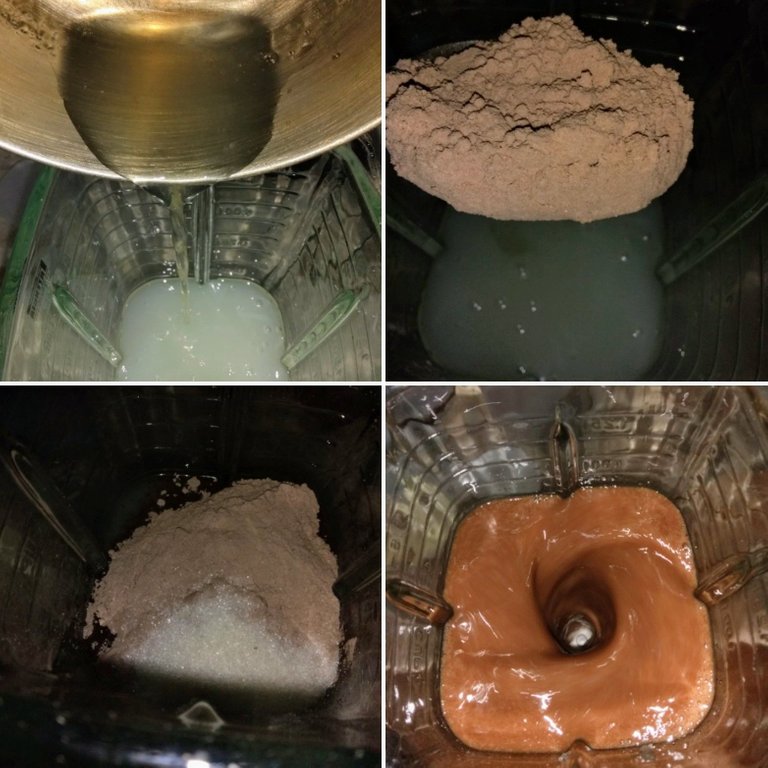 Once the preparations have been frozen, serve as desired.
A promise is a word given that we must keep, I feel happy and satisfied to have achieved it, the happiness of my daughter, even in simple things, is important to me.
I hope you are encouraged to prepare creamy and healthy ice creams with the flavors of your choice, guaranteed to be creamy and soft.
All photos are my property edited in Canva and Layout.
Translated with www.DeepL.com/Translator (free version)